This Grilled Cheese Sandwich is a classic, simple but delicious. This recipe is super easy and will show you how to make this family favorite perfectly every time.
If you love tasty classic sandwich recipes, try this tuna sandwich and turkey sandwich, too!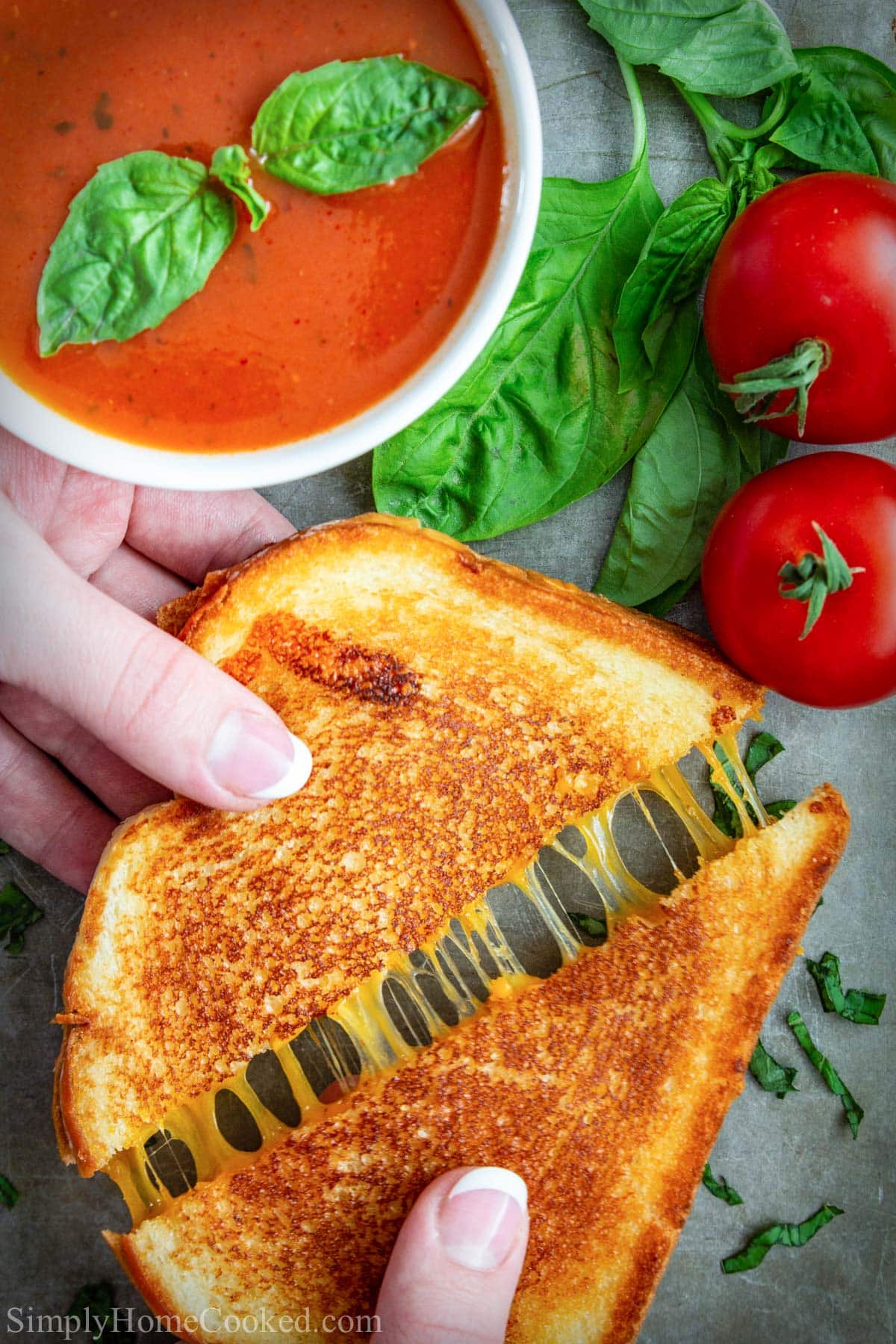 Table Of Contents
Grilled Cheese Sandwich Recipe Details
I love a nice sandwich for a fast meal and this Grilled Cheese Sandwich is one of the best. There are so many variations out there, which I'm sure taste amazing, but there's just something about the classic version that is pure nostalgia.
TASTE: Cheesy, buttery goodness, this sandwich is the ultimate comfort food.
TEXTURE: Toasty bread, melted butter, and gooey cheese make a great combo.
TIME: This Grilled Cheese Sandwich recipe is so easy. Nail it today and make it perfect every time.
EASE: This sandwich takes about 12 minutes, but it's worth every one.
What You'll Need
Cheddar Cheese– block
Unsalted Butter– softened
Country White Bread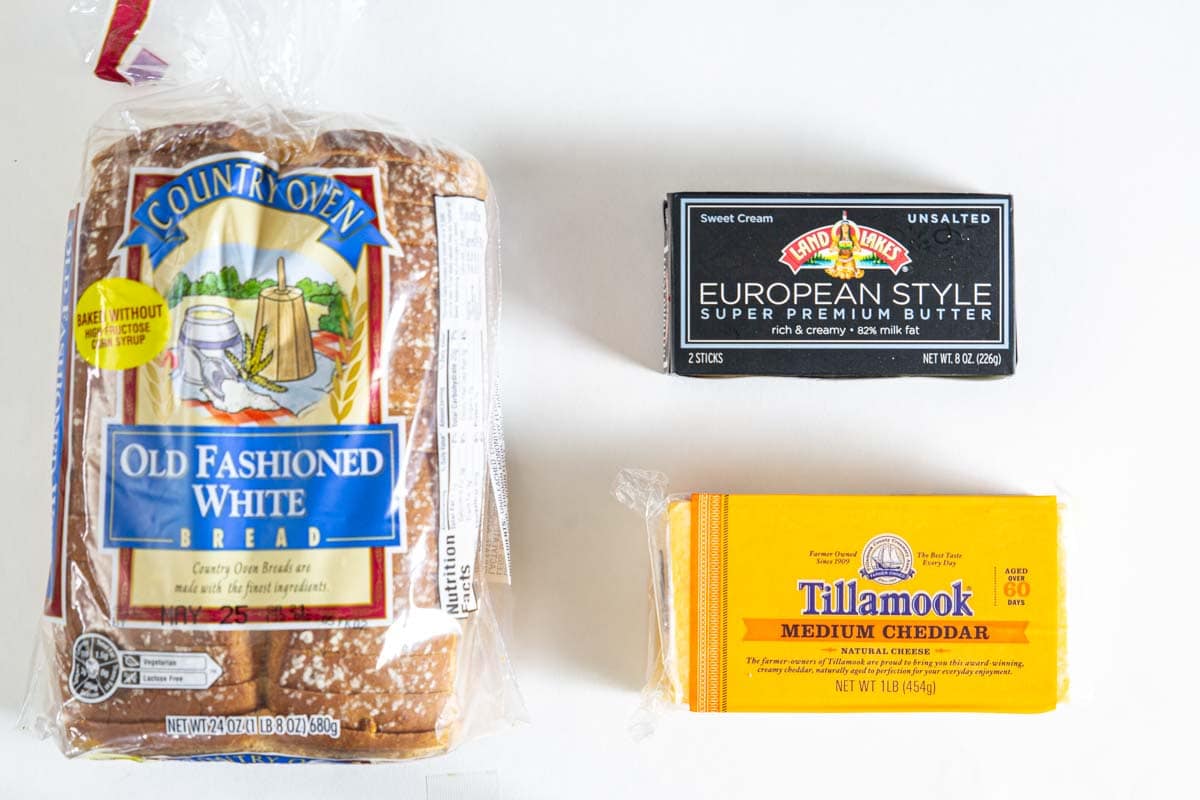 How to Make a Grilled Cheese Sandwich
Shred the cheese. Using a box grater, shred the cheddar cheese you'll be using for your sandwich.
Butter the bread. Spread softened butter generously on the outer sides of each slice of bread.
Grill. Place the bread, butter side down, on a pan over medium heat. Then top it with the shredded cheese, and finally the other slice of bread, butter side up. Allow it brown slightly before flipping, about 2-3 minutes on each side. Slice the grilled cheese sandwich and serve.
Pro Tip: If you forgot to soften your butter, you can just melt a few tablespoons of butter on the stove and brush it on the bread with a pastry brush.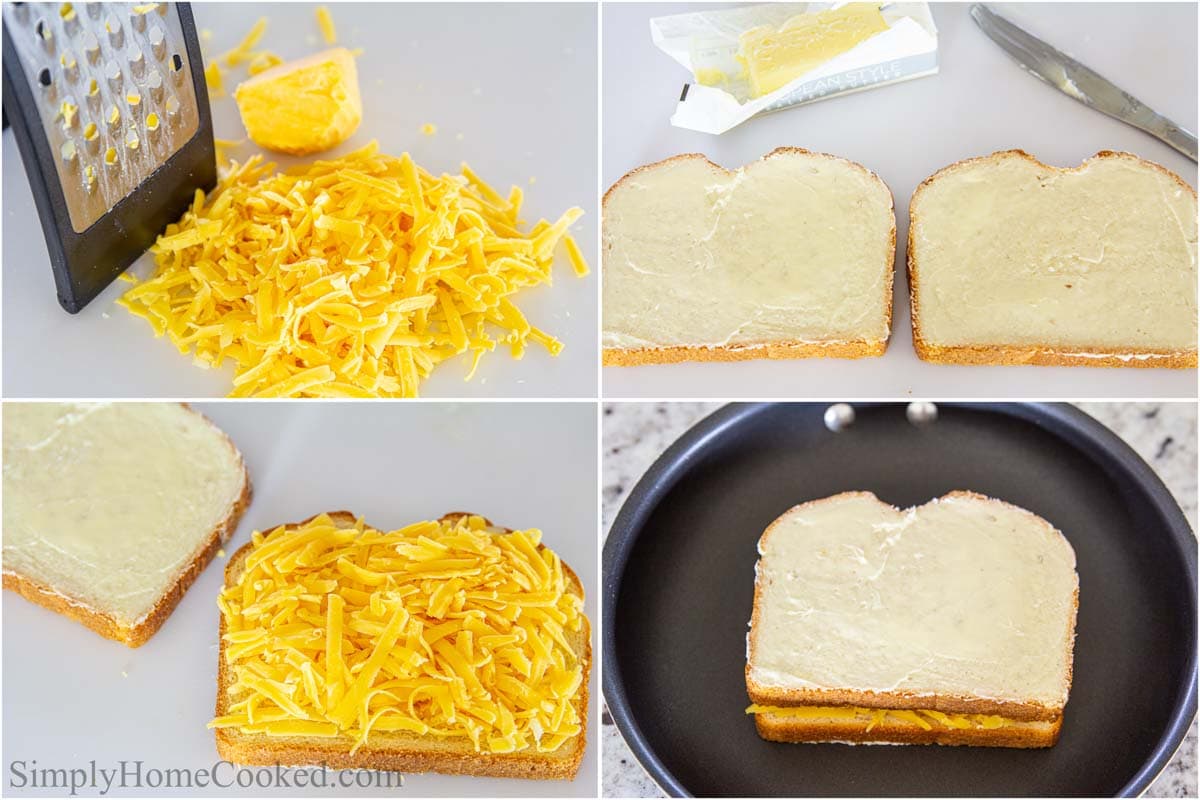 Recipe Tips
Use block cheese- Don't use pre-shredded cheese. Instead, grate your own cheese from a block of cheddar. The texture and taste of freshly grated cheese makes all the difference.
Butter the bread generously- Add softened butter to the bread slices instead of the pan. This will help you achieve an even golden crust.
Lightly press the grilled cheese sandwich- With a spatula, lightly press on the sandwich as it grills so that the butter and cheese seep into the bread, giving it a beautiful crust and extra flavor.
Add-ins and Substitutions
Add fruit or vegetables- Try this sandwich with sliced tomatoes, pears, apples, or avocado.
Substitute other cheeses- Using other melting cheeses is great, such as pepperjack, fontina, colby, and provolone.
Use different bread– White bread is classic, but you could also make grilled cheese sandwiches on wheat, sourdough, or rye.
Add bacon- Try some crisp bacon slices in your grilled cheese to make it extra flavorful.
FAQs
Which is better on a grilled cheese sandwich, butter or mayo?
Both of these ingredients help the bread to brown, but the taste is not the same. Butter yields a better flavor, but if you don't have any softened for easy spreading, then use mayonnaise instead.
Why is my grilled cheese soggy?
Here are a few things to do to avoid a soggy sandwich: butter the bread instead of the pan, use thicker-cut sandwich bread so it will not be flimsy, and skip squishy breads like Wonder bread. Having the right bread and technique makes your grilled cheese perfect every time.
Serving Suggestions
Grilled Cheese Sandwiches are perfect on their own or with any meal. Bread and cheese go with absolutely everything! Here are a few ideas: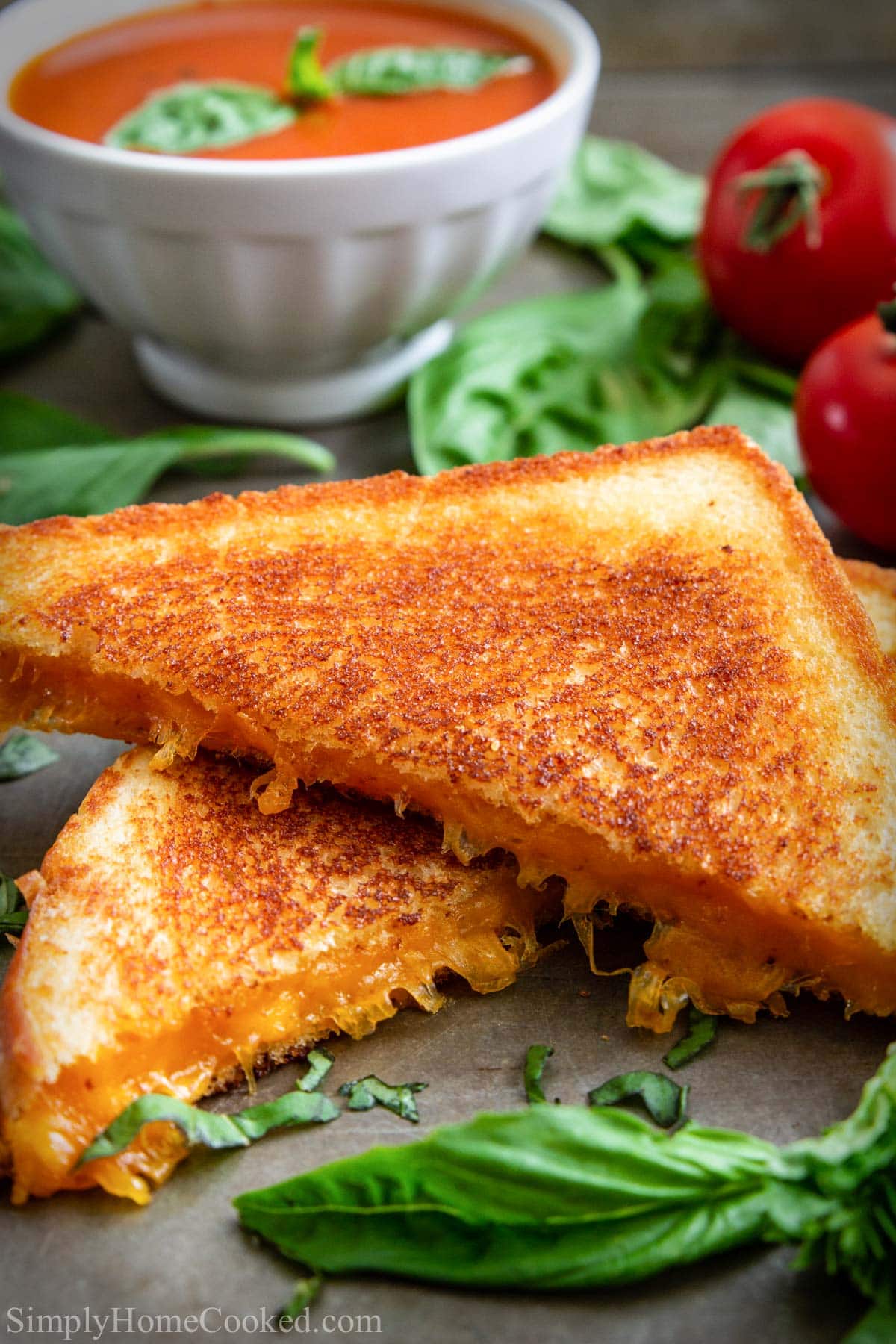 Make These Grilled Cheese Sandwiches in Advance
Make ahead: You can either assemble these Grilled Cheese Sandwiches "raw" or cook them and store them for later. Either way can be used for making them ahead of time.
Storing: You can store these sandwiches in an airtight container in the refrigerator for 2-3 days. Just allow them to cool first.
Freeze: Once they are cool, place them in a freezer ziplock bag and freeze for up to 1 month. Allow them to thaw before returning them to the stove to warm through and get crisp again.
More Tasty Sandwiches!
Full Recipe Instructions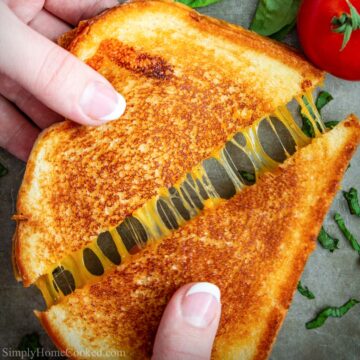 Grilled Cheese Sandwich
Have you ever wondered How to Make a Grilled Cheese Sandwich that is simple but delicious? This recipe couldn't be any easier but will give you a classic grilled cheese that is better than you've ever tasted.
Print
Pin
Rate
Ingredients
1

lb

block medium cheddar

4

tbsp

unsalted butter

4

slices

old fashioned white bread
Instructions
Shred the cheddar cheese (I use a box grater for this step). I usually grate a little over 1/4 cup for each sandwich. It's up to your how much cheese you want to put.

Butter both outer sides of the bread with softened unsalted butter. I put a pretty generous layer on. Tip: If you forgot to soften your butter, you can just melt a few tablespoons of. butter on the stove and brush it on the bread with a pastry brush.

Place the bread in a pan heated to medium heat (buttered side down) and add the shredded cheese on top, then place the other slice of bread (buttered side up). Once the bread becomes golden in color, carefully flip the sandwich over and brown the other side (about 2-3 minutes per side)

Once the sandwich is done, slice it and serve with tomato basil soup.
Nutrition
Calories:
457
kcal
|
Carbohydrates:
32.4
g
|
Protein:
15.3
g
|
Fat:
33.4
g
|
Saturated Fat:
20.6
g
|
Cholesterol:
91
mg
|
Sodium:
759
mg
|
Fiber:
8
g
|
Sugar:
4.2
g
his recipe was originally posted April 12, 2018, we've tweaked it a bit since then.