{CLOSED GIVEAWAY}
In honor of my first thousand followers on Instagram, I am hosting this amazing giveaway. Thank you to all my Instagram followers for your support, you guys are awesome!
Here is how to enter:
1.) Follow me on Instagram (@simplyhomecooked)  if you aren't already following me.
2). Repost this image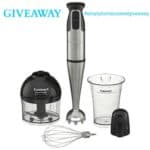 3.) Hashtag #simplyhomecookedgiveaway in the comment section of the image.
4.) Tag 5 friends in the comment section of the image.
Note: If your Instagram account is private, I won't be able to view your reposted image, so please comment on my giveaway image with "reposted, private" and tag 5 friends.
I will announce the winner this Thursday, August 27th.
Here is why I love this product so much:
1. When making dressings, it can be a little tough to mix the oils so well that they emulsify into the dressing. The hand blender does a fabulous job of blending in oils. I use it in my favorite salad dressing, Cilantro Lime Dressing.
2. The hand held blender or (immersion blender) is also super handy when making creamy soups. It saves me from washing extra dishes. In a matter of seconds you can take a chunky soup to a smooth and creamy texture without having take out a huge blender, or any other extra dish. I recently posted this delicious Potato Leek Soup using the hand held blender.
3. This Cuisinart set comes with a chopper and whisk attachment. The chopper attachment chops anything from herbs to walnuts with just the touch of a button. It has 2 different speed settings as well.  I used the chopper to make the garlic herb rub in my Roasted Leg of Lamb recipe.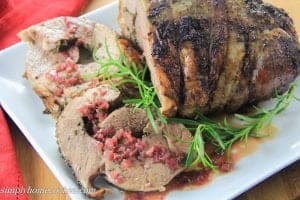 Disclaimer: Cuisinart is not sponsoring this giveaway. This giveaway is strictly hosted by me simply because I absolutely love this product 🙂

Cuisinart Hand Blender Giveaway!