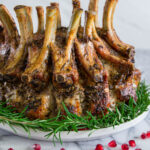 Print
Pork Crown Roast
This Garlic Herb Crown Roast of Pork Recipe is a show stopper of a dinner. It may look intimidating but its surprisingly easy to make with these step by step photos.

Remove the needles or leaves from the thyme and rosemary by holding the sprig at the top and sliding your fingers down. You should be able to strip the herb sprigs in one motion.

Place the rosemary, thyme, and sage leaves into a small food processor. Add the garlic and olive oil and pulse on high until it forms a paste.

Using a paper towel, pat the pork dry. Season the entire roast (inside and out) with salt and pepper.

Generously spread the herb paste over the entire roast. Place the roast on a large plate, then tightly cover with foil or plastic wrap and refrigerate overnight.

Remove the roast from the foil or plastic wrap. Wrap small pieces of foil over the top of each bone. This will prevent the bones from burning/charring. Place the pork into a roasting pan and bake at 400 degrees Fahrenheit for 30 minutes, then reduce the heat to 350 degrees Fahrenheit and bake for 1 hour and 15 minutes. If you're unsure if the roast is done, poke the thickest part of the meat with a meat thermometer, it should be at least 140 degrees Fahrenheit.
Let the butcher do the work- As long as you order it a day or two in advance, most butchers are happy to put this cut of meat together, and it saves you time and effort.
Pat the pork dry- Since water and oil don't mix, make sure to thoroughly dry any moisture from the outside of the pork crown so that the oil and herb mixture will stick.
Wrap the tops of the bones with foil- To avoid charring or burning the bones, wrap them tightly in foil before putting the roast in the oven.
Check the internal temperature- If you're not sure if the Pork Crown Roast is done, poke the thickest part with a meat thermometer. It should be at least 140 degrees Fahrenheit.
TIP: In the roasting pan, you can see that I baked a few seasoned potatoes along with the crown roast. I was just experimenting to see if they could be roasted at the same time as the pork; which totally worked out to an awesome one-pan dinner! That's totally optional though.
Serving:
2
ribs
|
Calories:
584
kcal
|
Carbohydrates:
2
g
|
Protein:
71
g
|
Fat:
30
g
|
Saturated Fat:
10
g
|
Cholesterol:
206
mg
|
Sodium:
416
mg
|
Fiber:
1
g