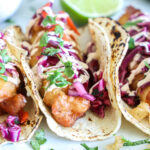 Print
Fish Tacos Recipe
The best crispy fish tacos! This recipe is made with fried cod, Baja cream, and purple cabbage cole slaw. Easy to make with these step by step photos.
Chop and shred all the vegetables. In a bowl, add 1/2 shredded purple cabbage, 1/4 cup chopped cilantro, 2 Tbsp diced red onion, and 1 shredded carrot.

Dressing for the slaw. In the same bowl, add 1 1/2 Tbsp honey and the juice of 1 lime. Then mix everything together using tongs. Cover with plastic wrap and let it sit in the refrigerator for at least 2 hours. The longer the slaw sits, the better flavor you will get.

Make the Baja cream sauce. In a small bowl, 1/2 cup combine sour cream, 1/2 cup mayonnaise, 1 Tbsp honey, 1/2 small pressed garlic clove, and the juice of half of a lime. Then add 1 finely chopped chipotle pepper in adobo sauce along with 1 tsp salt and 1/4 tsp black pepper. Whisk and set aside for later.

Create the dredge. In a large bowl combine 2 cups of all-purpose flour, 1 tsp chili powder, 1 tsp garlic powder, 1 1/2 tsp salt, and 1/4 tsp pepper. Now slowly pour in 16 oz of beer. Make sure to use a whisk to mix the beer into the flour mixture as your pour it in. Constantly stirring will ensure a smooth "pancake-like" batter.

Slice the fish. You want to cut 1 1/2-2 lb cod fillets into equal-sized pieces. Mine were about 3 inches long and 1 inch thick.

Fill a deep skillet or heavy-bottomed pot with about 1-2 inches of corn, canola, or vegetable oil and bring it to medium-high heat or 350-375 degrees Fahrenheit. It's best to monitor the oil temperature with an instant-read thermometer using the entire frying process.

Fry the fish. Dredge each cod fillet in the beer batter and fry them in the hot oil for about 4-5 minutes while turning them constantly to ensure even cooking. Then transfer them to a plate lined with paper towels to absorb any excess oil.
FAQs answered in the post above
How to freeze and bake later (total time saver!)
Add-ins and substitutes
Frying tips for perfectly crispy fish
Calories:
214
kcal
|
Carbohydrates:
21
g
|
Protein:
11
g
|
Fat:
8
g
|
Saturated Fat:
2
g
|
Polyunsaturated Fat:
4
g
|
Monounsaturated Fat:
2
g
|
Trans Fat:
1
g
|
Cholesterol:
29
mg
|
Sodium:
514
mg
|
Potassium:
341
mg
|
Fiber:
1
g
|
Sugar:
5
g
|
Vitamin A:
1200
IU
|
Vitamin C:
18
mg
|
Calcium:
39
mg
|
Iron:
1
mg