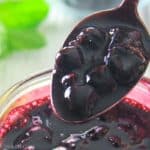 Print
Blueberry Pie Filling
In a saucepan, add 3 1/2 cups fresh blueberries, 1/2 cup granulated sugar, 1 teaspoon cornstarch, 2 tablespoons water, and 1 tablespoon lemon juice. Stir just to combine.

Cook the blueberries over medium-low heat for about 10-15 minutes or until it begins to thicken. Remove it from heat and let it cool down. Store in airtight glass jars.
How To Serve This Blueberry Pie Filling
Of course, this filling is perfect for a homemade blueberry pie. But there are other delicious ways to use this recipe. Top other tasty pies, cakes, and cheesecakes with it, such as this New York Style Cheesecake or atop a slice of Moist Lemon Pound Cake. Add it to a special breakfast of pancakes, waffles, or crepes, like these Buttery Belgian Liege Waffles. And don't forget to try some with ice cream. Yum!
Storing
Canning: Sterilize- Sterilize your canning jars, lids, and rings by boiling them in a pot of water. Fill and cover- Carefully fill the jars with the hot filling, leaving an inch of headspace and removing air bubbles. Then place the lids on tightly. Process- Process in a water bath canner for 20 minutes. Allow to cool and then store it. It will last for at least 3 months, but usually longer.
Fridge: An opened can of pie filling can store for up to 1 week in the refrigerator if kept wrapped or closed tightly.
Freezer: Fill half a gallon-sized plastic ziplock bag with the blueberry pie filling and squeeze the air out. Then close it shut tightly. Lay it flat and freeze for up to 6 months.
Calories:
87
kcal
|
Carbohydrates:
22
g
|
Protein:
1
g
|
Fat:
1
g
|
Saturated Fat:
1
g
|
Sodium:
1
mg
|
Potassium:
52
mg
|
Fiber:
2
g
|
Sugar:
19
g
|
Vitamin A:
35
IU
|
Vitamin C:
7
mg
|
Calcium:
4
mg
|
Iron:
1
mg