This Coffee Chocolate Mousse is a decadent dessert that any chocolate lover can appreciate. It's smooth, airy, and a hint of espresso only enhances the delicious chocolate flavor.
This mousse is amazing in raspberry chocolate mousse cake and with chantilly cream to top it off.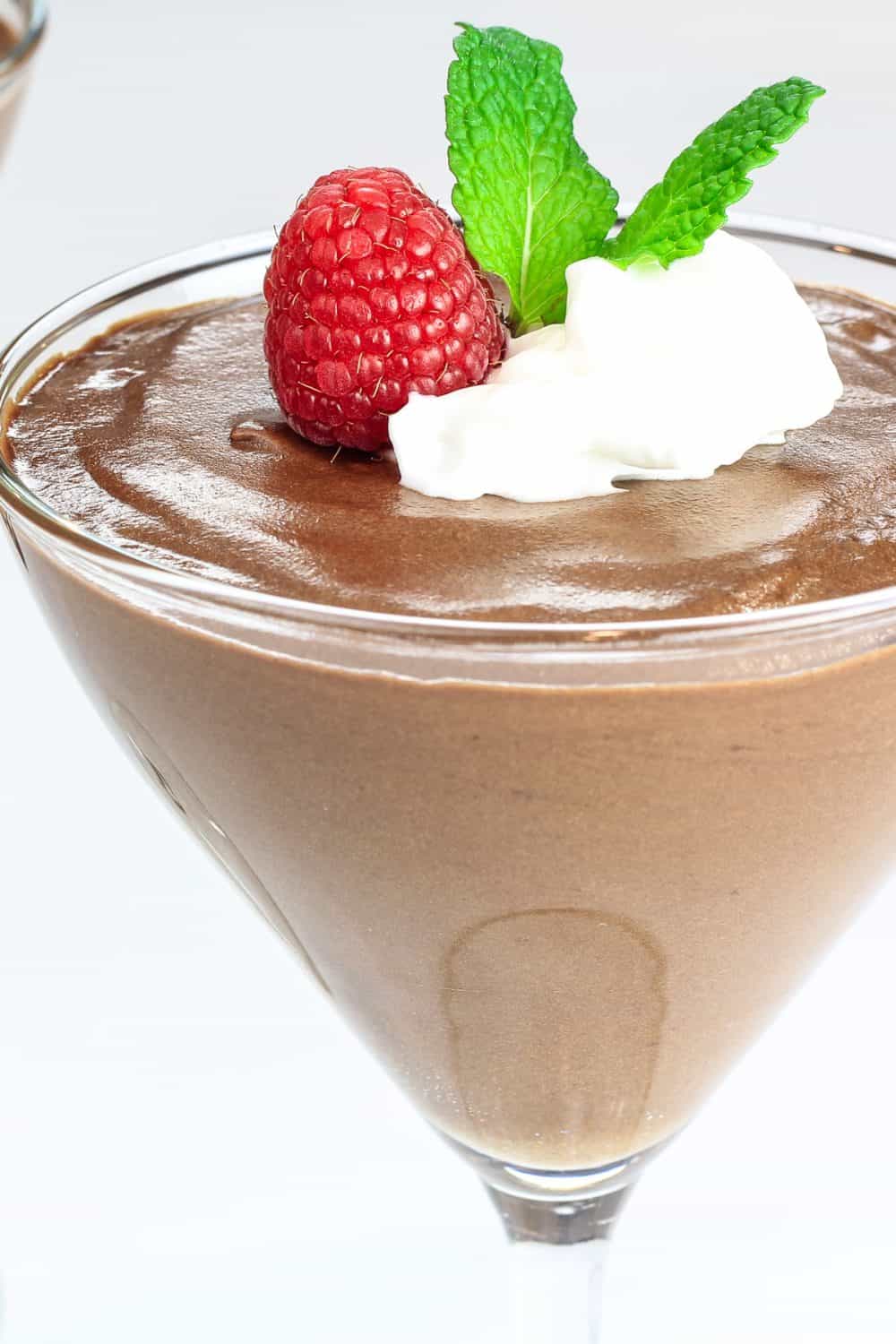 Coffee Chocolate mousse
Coffee Chocolate mousse is a simple yet elegant dessert, perfect for a sweet finish to dinner or if you're having guests over. This chocolate mousse is made with melted chocolate, butter, sugar, gelatin, and espresso, with whipped cream folded in to give it a light and airy texture
Coffee Chocolate Mousse is so easy to make and serve. With a few simple steps, you can make a delicious dessert that everyone will love. There are no complicated steps and you prepare it hours ahead of time, so there's no rushing on the night you serve it. Spoon it into a pretty glass and top with some raspberries and chantilly cream and you have a delicious dessert that looks as good as it tastes.
What does it taste like?
This Espresso Chocolate Mousse is sweet and rich, with a chocolate flavor that is enhanced even more when we add a hint of espresso. Unlike heavy puddings, mousse is also very light and airy. Tiny air bubbles are incorporated in the whipped cream that is folded in to give it a light texture that is a delightful contrast to the smooth, rich chocolate flavors. It's a great dessert because it's so satisfying but never heavy or filling. Its flavors and texture are what make chocolate mousse such a popular dish around the world.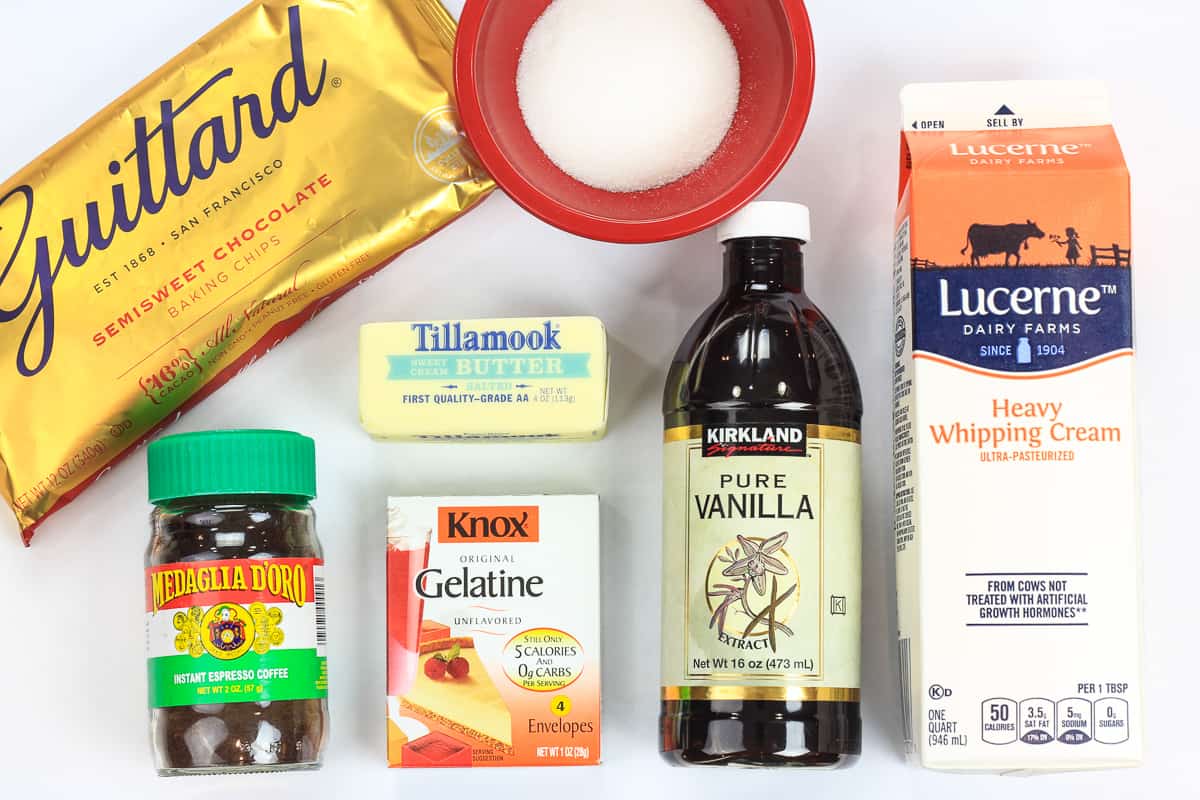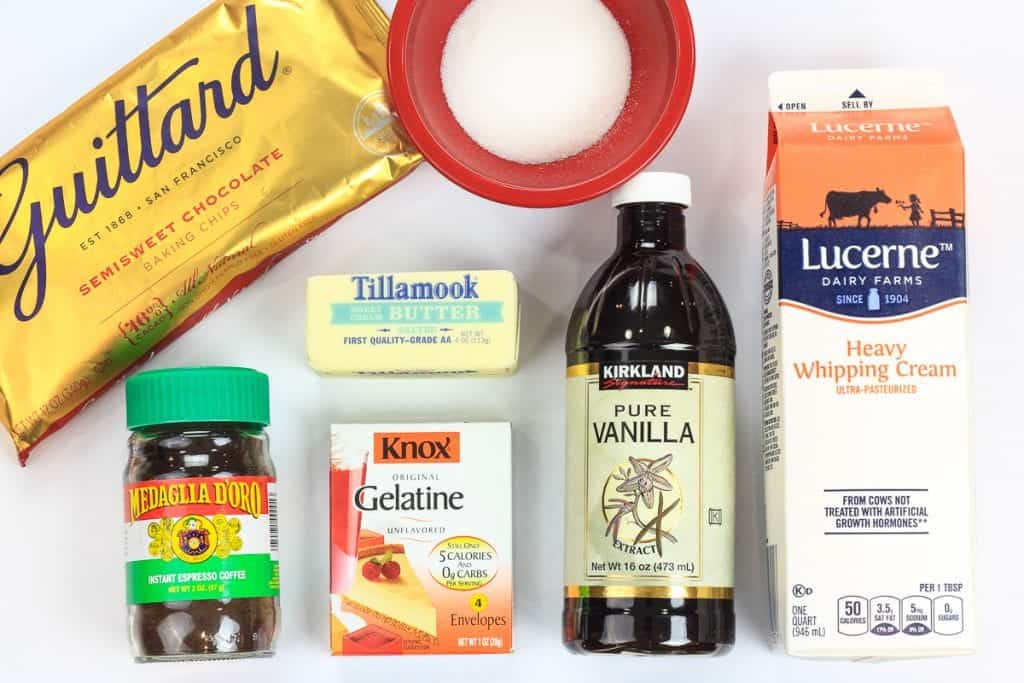 What goes into chocolate mousse?
Chocolate- good-quality, semisweet chocolate chips

Butter- unsalted

Hot water- used with the espresso powder
Espresso- in powder form

Gelatin- flavorless and dissolved in 2 tbsp water

Vanilla extract

Sugar

Heavy whipping cream- flavorless and chilled
Add-ins and variations
Mint Chocolate Mousse- instead of espresso, hints of mint complement the chocolate
Chocolate Peanut Butter Mousse- every Reese's Pieces fan can get behind this blend of PB and chocolate
Chocolate Avocado Mousse- super smooth and creamy, the avocado flavor is mild enough to go well with the chocolate
Pumpkin Mousse- a great variation for the fall holidays, it's very smooth and festive
Raspberry Cheesecake Mousse- this is a lighter take on a favorite dessert
Mango Mousse- light, creamy, and refreshing with sweet and tart mango flavor
How to make chocolate mousse
Dissolve the gelatin and espresso powder. Dissolve the espresso powder and set aside. Then soak the gelatin in water and let sit for 5 minutes.
Melt the chocolate. Melt the chocolate chips with the espresso and butter using a double boiler.
Add sugar, vanilla, and gelatin. Once the chocolate has cooled, add these ingredients and whisk just until combined.
Make whipped cream. Beat the heavy cream with a hand mixer until stiff peaks form.
Fold it in. Gently fold the whipped cream into the chocolate, but do not stir. Then pour the mousse into serving glasses and refrigerate for 5 hours, or overnight.
How long does it take to set?
It takes about 5 hours to set, but you'll see a significant firming after an hour. You can also set it a little faster by placing it in the freezer, but it will need to be put in the refrigerator an hour before serving so that it has time to thaw. Do not leave it in the freezer too long though, or it will become too hard.
Does it have to be refrigerated?
Yes, because of the ingredients, this coffee Chocolate mousse needs to be refrigerated. If the whipped cream becomes too warm, it will essentially melt and your mousse will go from light and airy to heavy and watery.
How long does chocolate mousse last?
In the fridge, your coffee chocolate mousse will last for 3 days in an airtight container. You can also keep it in the freezer for 1 month. But make sure you thaw it overnight and re-fluff it before serving.
Can I re-whip it after it's been made?
Yes, you can re-whip it. Just make sure that it is cold and add a few tablespoons of heavy cream before you re-whip it to help smooth out the texture.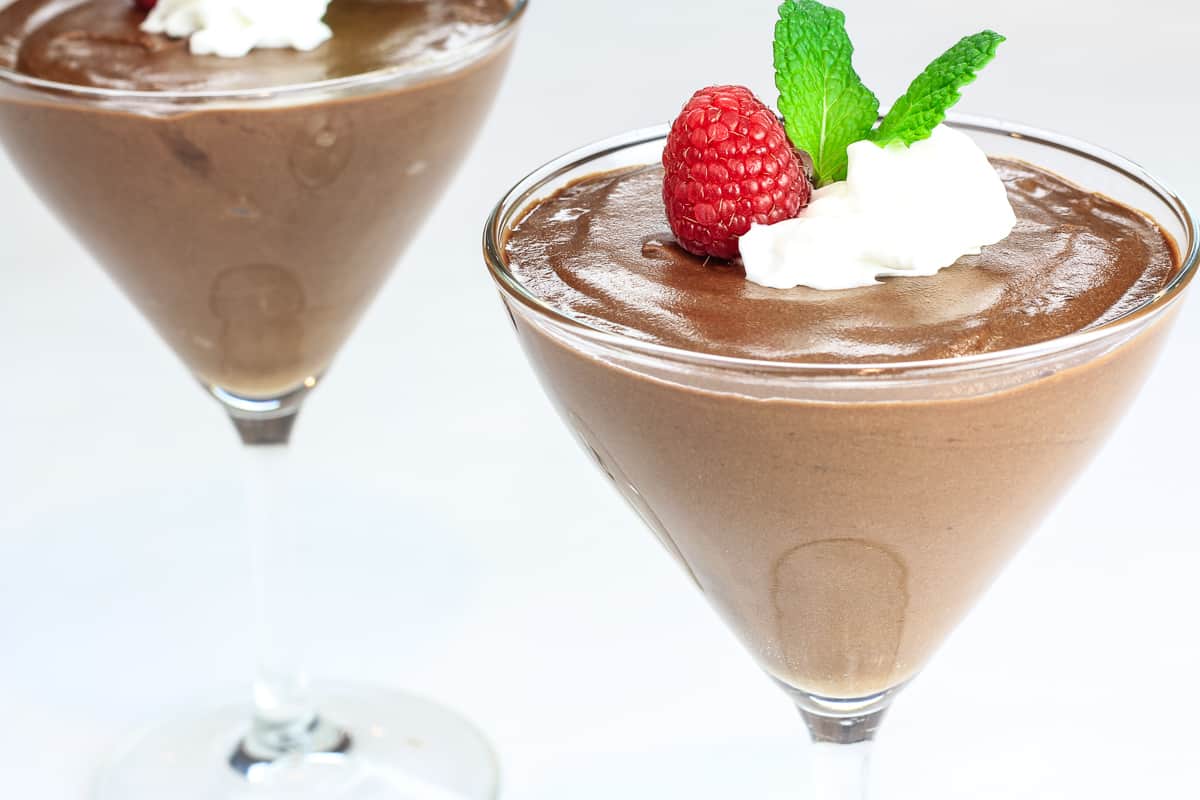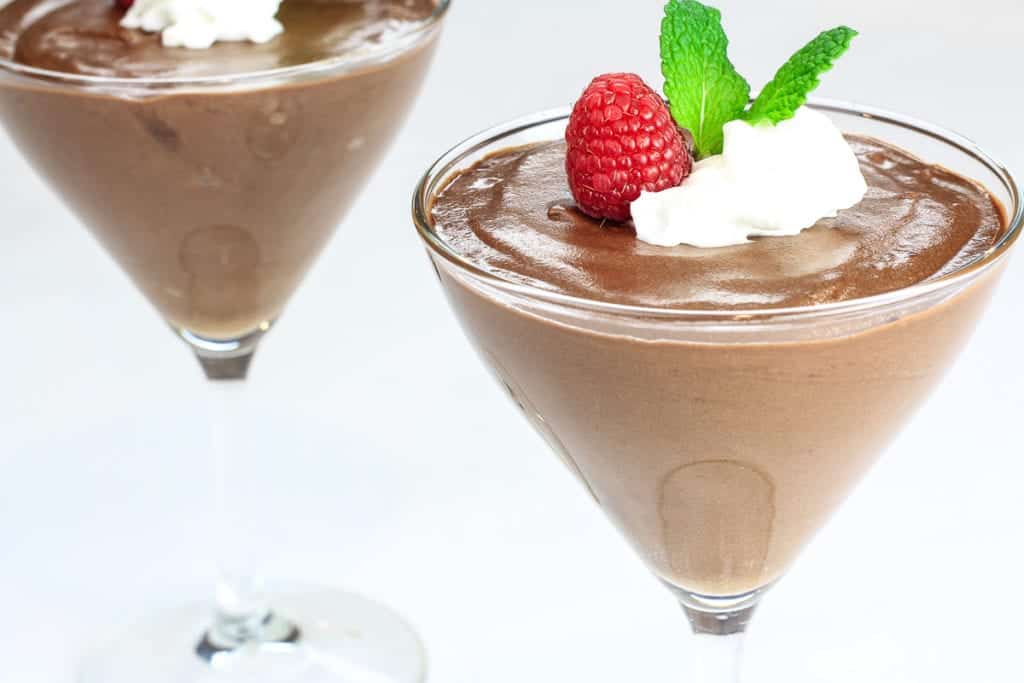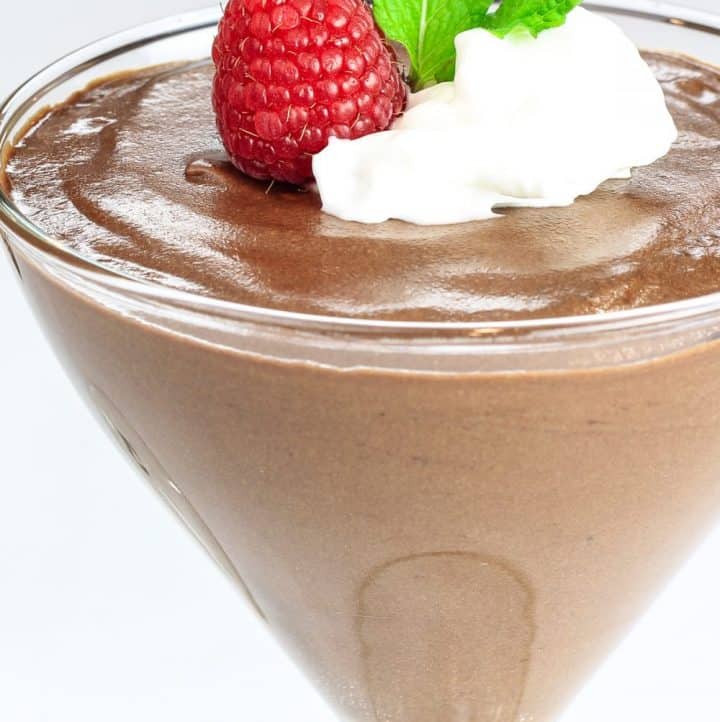 Ingredients
2

tbsp

hot water

2

tsp

instant espresso powder

1 1/2

cup

good quality semisweet chocolate chips

2

tbsp

unsalted butter

1

tsp

flavorless gelatin dissolved in 2 tbsp water

1/2

tsp

vanilla extract

2

tsp

sugar

3/4

cup

chilled heavy whipping cream
Instructions
Dissolve gelatin and espresso powder
Dissolve 2 tsp of espresso powder into 2 tbsp of hot water.

Meanwhile, soak the gelatin in 2 tbsp of water. Let it sit for about 5 minutes.
Melt chocolate and butter
Over a double boiler, melt chocolate, butter, and dissolved espresso powder.
Mix together everything but the whipping cream
Once the chocolate mixture has cooled to room temperature, add in the vanilla, sugar, and soaked gelatin. Stir with a whisk, just to combine.
Whip the cream
Using a handheld mixer, beat the chilled heavy whipping cream until stiff peaks form.
Fold cream into the chocolate mousse
With a spatula, fold the heavy whipping cream into the chocolate. Do not stir. Stirring will make the mouse lose its airy texture.

Once the chocolate and heavy whipping cream are blended well, pour the mousse into serving glasses and refrigerate for 5 hours or overnight
Notes
Can I rewhip it after its been made
Yes, you can re-whip it. Just make sure that it is cold and add a few tablespoons of heavy cream before you re-whip it to help smooth out the texture.
Nutrition
Calories:
1212
kcal
|
Carbohydrates:
78
g
|
Protein:
10
g
|
Fat:
96
g
|
Saturated Fat:
57
g
|
Cholesterol:
160
mg
|
Sodium:
49
mg
|
Potassium:
868
mg
|
Fiber:
11
g
|
Sugar:
54
g
|
Vitamin A:
1729
IU
|
Vitamin C:
1
mg
|
Calcium:
142
mg
|
Iron:
9
mg
This recipe was originally published on March 17, 2015, but we have tweaked it a bit since then.

Latest posts by simplyhomecooked
(see all)