These Roasted Air Fryer Vegetables are a healthy and delicious way to make crispy vegetables. This tasty side dish is full of flavor and really easy to prepare with an air fryer.
These roasted vegetables taste yummy alongside these air fryer pork chops or these air fryer steak bites.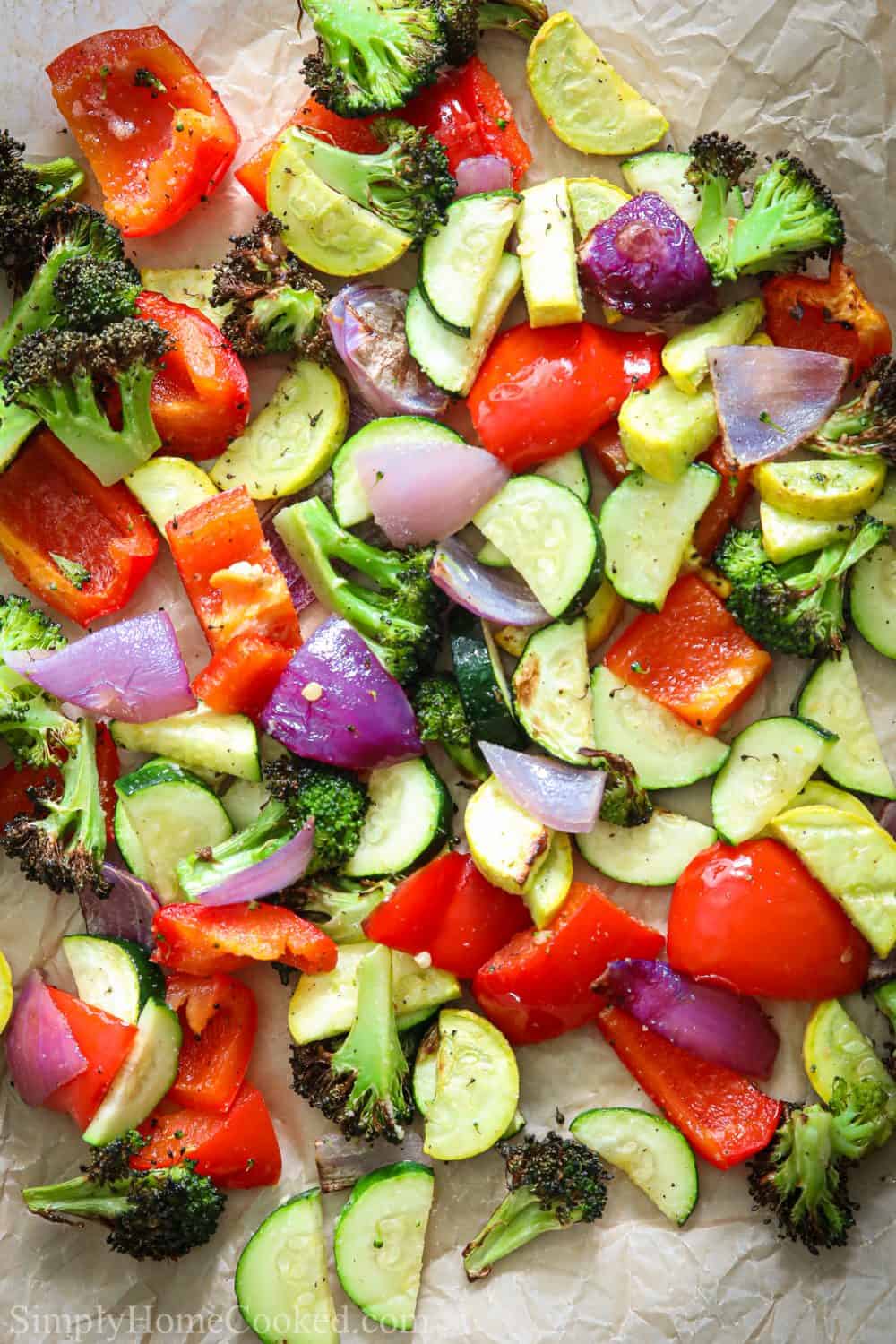 Roasted air fryer vegetables
If you're looking for a great way to add vegetables to your meals, these roasted air fryer vegetables are just what you need. A tasty assortment of seasoned veggies, they're cooked in an air fryer so they're nice and crispy, no mushiness. These vegetables go great with lots of main dishes, including our air fryer chicken tenders, air fryer salmon, and air fryer shrimp. You'll also love them with a delicious air fryer baked potato or french fries. The amazing texture and taste of these roasted veggies makes a great addition to any plate you're putting on your table.
Best vegetables for roasting
There are tons of vegetables to choose from, but some of the very best for roasting are Zucchini, Yellow squash, Red bell pepper, Broccoli, and Red onion. For seasoning in this recipe, you just need Salt, Pepper, and Garlic powder, plus some Olive oil for cooking.
What other vegetables can I use?
While these vegetables taste delicious in an air fryer, you can also try a few others, like Brussels sprouts, Asparagus, Carrots, Cauliflower, Sweet potato, Butternut squash, or Kale.
Flavor add-ins and variations
Add cinnamon and nutmeg for a delicious hint of fall in your veggie dish (this is especially good with butternut squash and sweet potato)
Make your vegetables spicy with some cayenne pepper, red chili flake, or tossed with some hot sauce.
Give them some Asian flavor with some curry and lemongrass mixed in.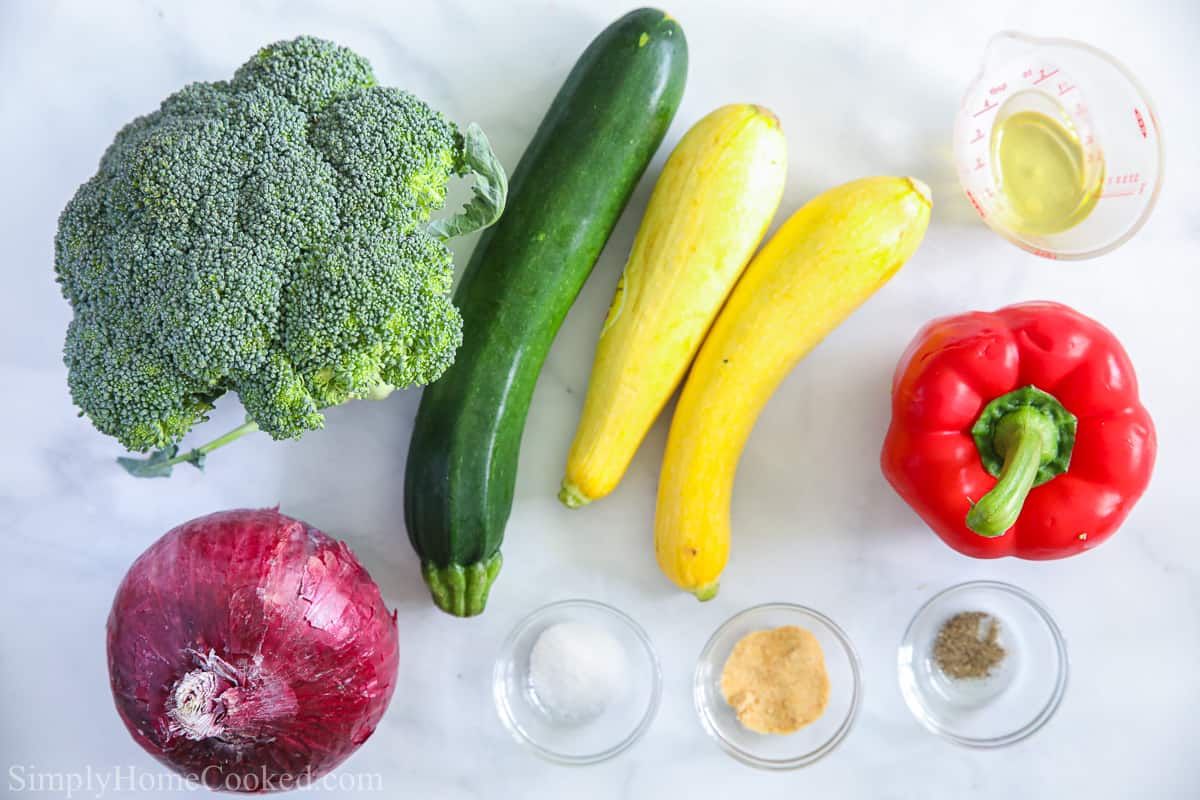 How to roast vegetables in an air fryer
Prepare the vegetables. Cut the zucchini, bell pepper, squash, onion, and broccoli into chunks, keeping them about the same size.
Season them. Place all the cut vegetables in a large bowl with the olive oil, garlic powder, salt, and pepper. Toss them until the vegetables are coated in oil and seasoning.
Cook. Place them in the bottom of the

air fryer

basket and roast them for 10-12 minutes at 400 degrees Fahrenheit. Serve.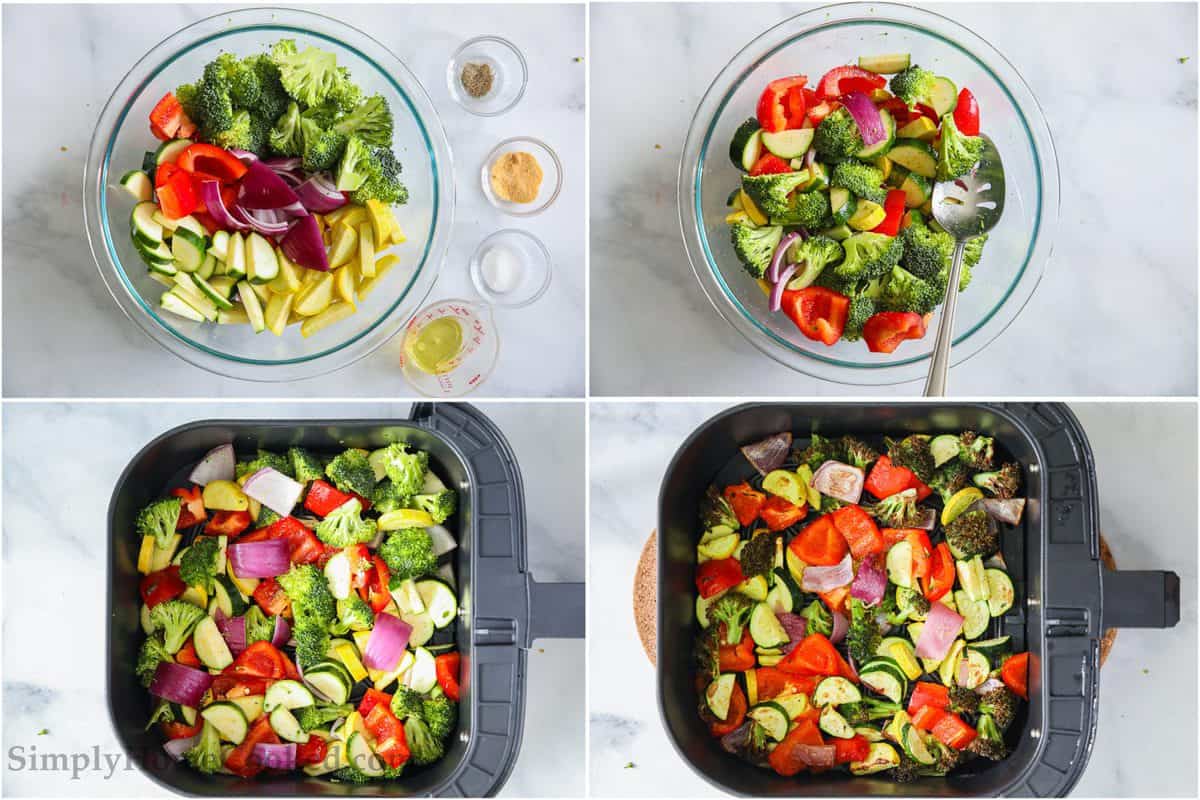 Can you air fry frozen vegetables?
Yes, you can! All you need to do is cook the frozen vegetables the same way you would thawed vegetables. As the air fryer cooks them, it will also dry them out so they come out perfectly crispy.
Are air fried vegetables healthy?
Air fried vegetables are very healthy. Not only are you getting the vitamins and minerals that can sometimes be lost when boiling veggies, you also achieve this crisp dish without all the unhealthy oil from traditional deep frying. Air fryer vegetables are a healthy alternative.
Can you steam vegetables in an air fryer?
Yes, you can. To steam your vegetables, just add about 1/4 cup of water to the bottom of the air fryer, under the basket, and in the basin. Then place the basket of vegetables inside and cook.
Best way to reheat the veggies
To reheat the veggies, place them back in the air fryer to cook for 3-4 minutes at 400 degrees. They will be just as crispy as they were the first time around.
More Air fryer recipes to try!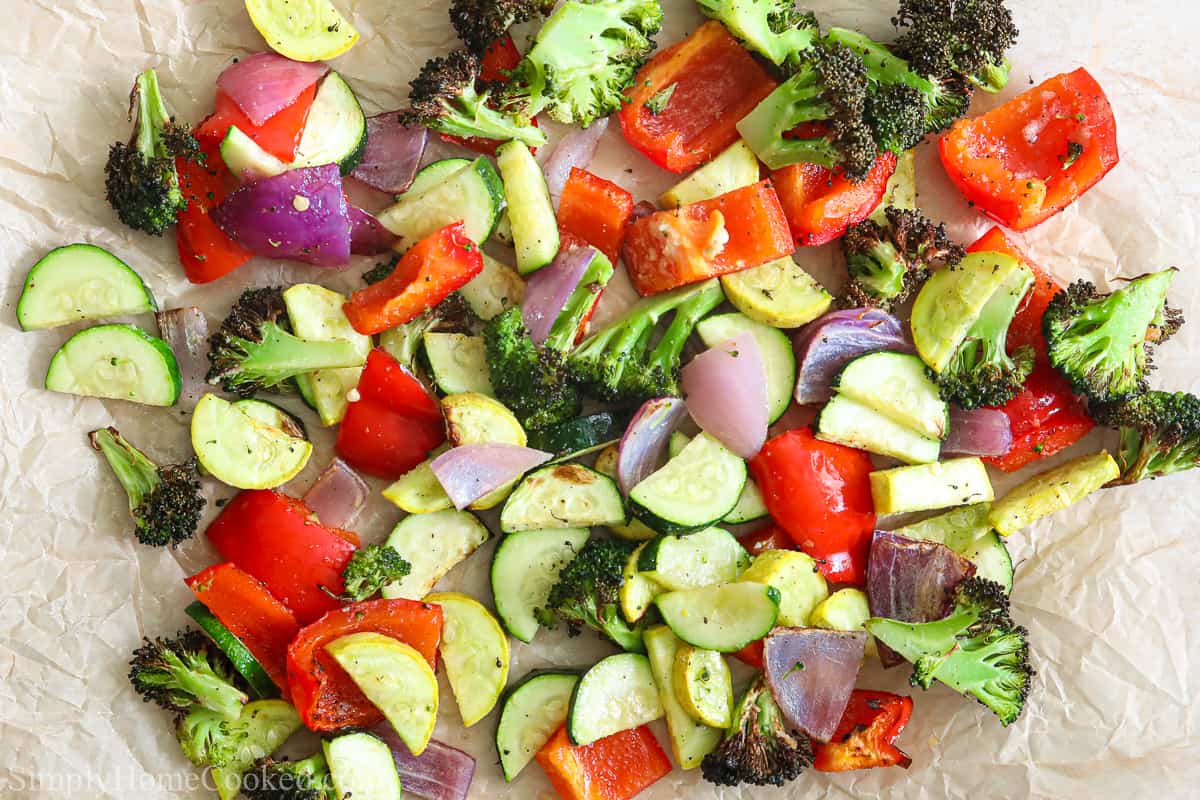 Full Recipe Instructions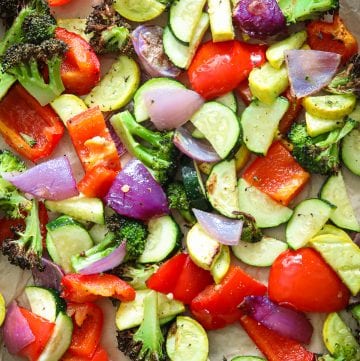 Roasted Air Fryer Vegetables
These Roasted Air Fryer Vegetables are healthy and delicious. You'll love how flavorful and crispy they turn out!
Print
Pin
Rate
Instructions
Cut up 1 red bell pepper, 2 small yellow zucchini squash, 1 zucchini, 1/2 a medium onion, and 1 cup of broccoli into similar sized chunks.

Add the sliced vegetables into a large bowl and toss them with 1 tablespoon of olive oil, 1/2 teaspoon salt, 1/2 teaspoon garlic powder, and 1/8 teaspoon black pepper.

Once the veggies a coated in the oil and seasoning, place them onto the bottom of your air fryer basket and roast for 10-12 minutes at 400 degrees Fahrenheit.
Notes
More Air fryer recipes to try!
Nutrition
Calories:
65
kcal
|
Carbohydrates:
7
g
|
Protein:
2
g
|
Fat:
4
g
|
Saturated Fat:
1
g
|
Sodium:
305
mg
|
Potassium:
391
mg
|
Fiber:
2
g
|
Sugar:
4
g
|
Vitamin A:
1269
IU
|
Vitamin C:
75
mg
|
Calcium:
26
mg
|
Iron:
1
mg