These Juicy Air Fryer Pork Chops are so scrumptious, you're not going to believe it. They're juicy on the inside, crunchy on the outside, and a healthy alternative to fried pork chops, too.
These delicious pork chops go great with our super creamy mashed potatoes and air fryer brussels sprouts.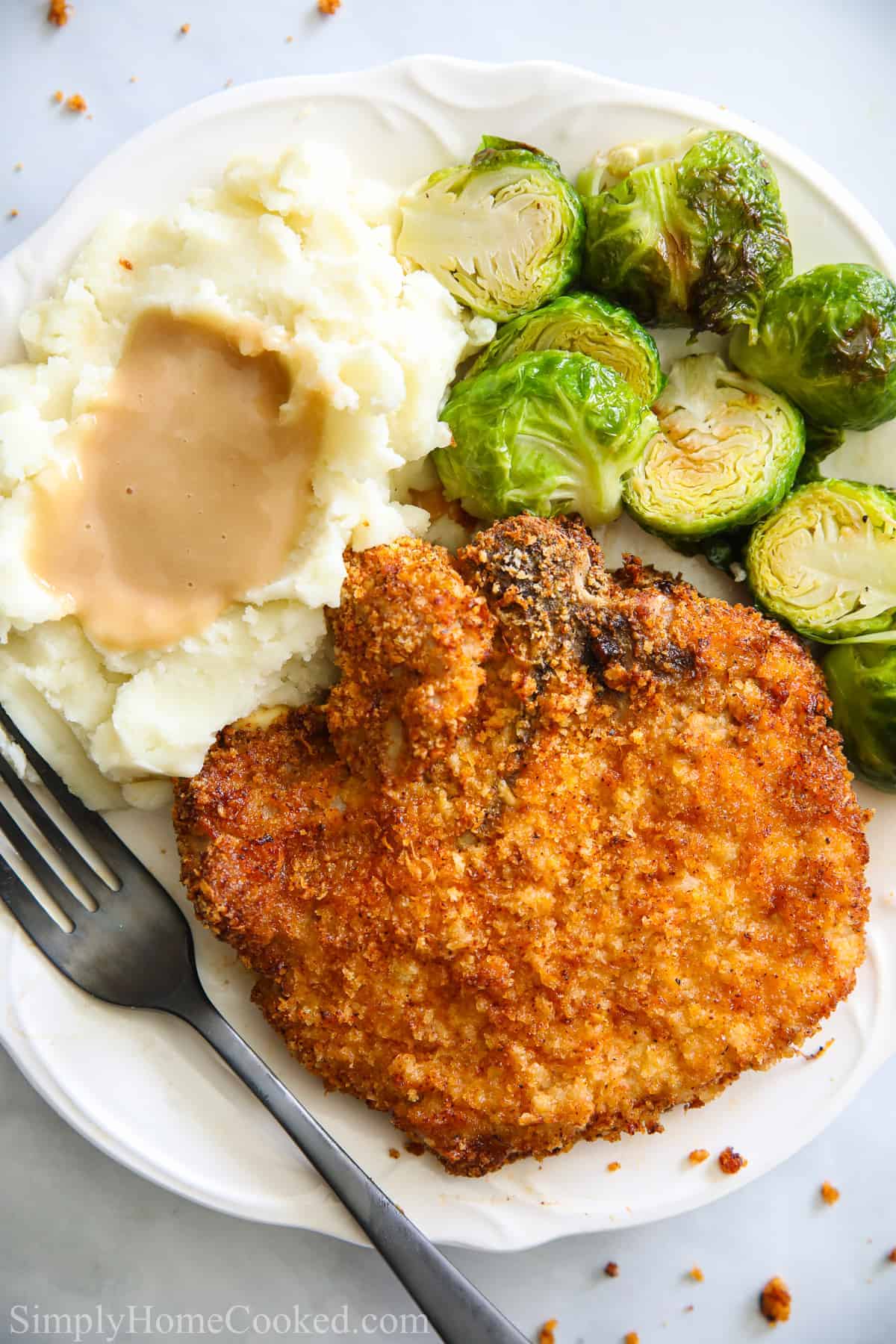 Juicy Air Fryer Pork Chops
Air Fryer Pork Chops are so tasty, from their incredible flavor to their contrasting textures. You are going to love this recipe! The outside of the pork chops is covered in a Panko crust, making it super crunchy. But the inside of the chop is tender and juicy. Every bite is the perfect balance between these two elements. Also, because these are cooked in the air fryer, you get the fried texture you love without all the unhealthy oil, just like with our air fryer chicken tenders, air fryer salmon, and air fryer chicken wings. These crunchy, juicy pork chops are the best of both worlds.
What type of pork chop is best for the air fryer?
The best type of pork chop for this air fryer recipe is bone-in pork loin chops. You will also need Panko bread crumbs, Grated Parmesan cheese, Paprika, Onion powder, Eggs, Garlic clove, Salt, and Pepper, plus Cooking spray.
Can I use boneless pork chops?
Yes, you can. Boneless pork chops work for this recipe, but keep in mind that the bone is what adds flavor and moisture to your pork chop. So, while boneless pork chops work, they may not be as juicy as the bone-in variety.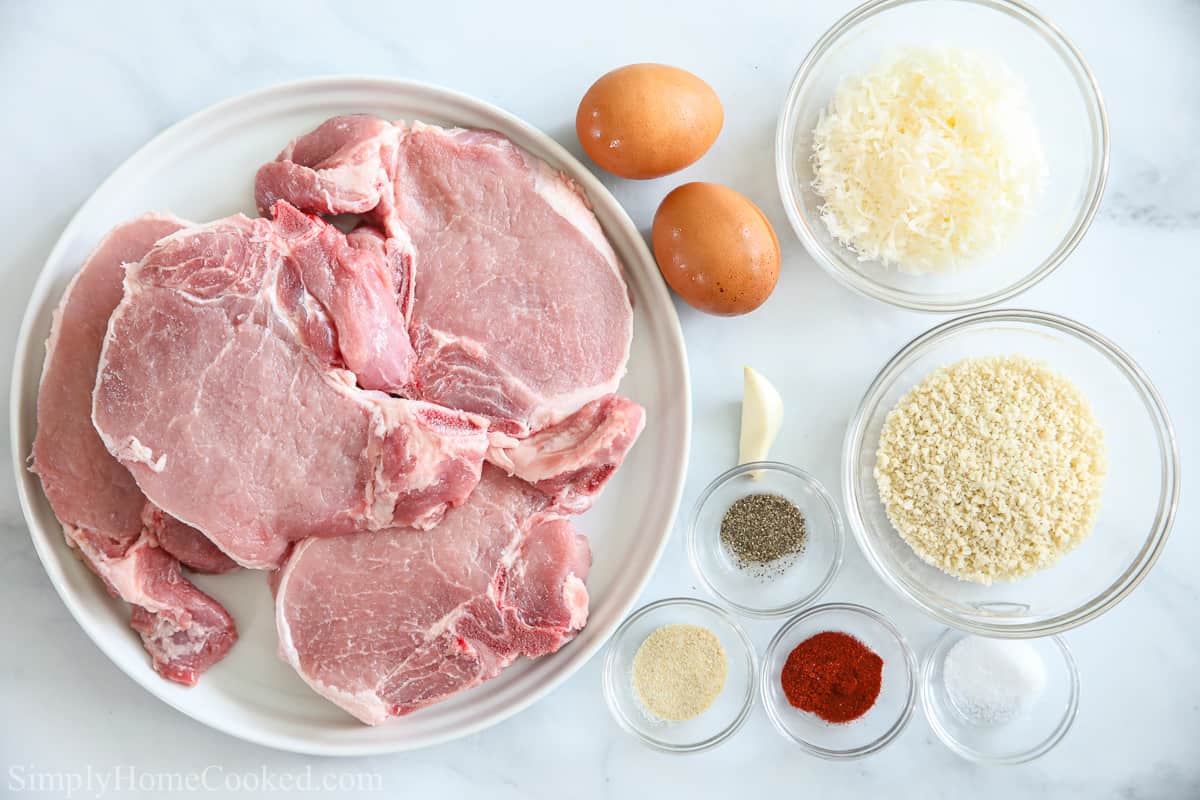 Best Air Fryer for cooking meat
We have tried multiple different air fryers and we found that the Gormia air fryer is one of the best. It's affordable and strong enough to cook meat for optimal crispness.
How to cook pork chops in air fryer
Make the breading. Grate the Parmesan cheese into a large bowl, then add the Panko breadcrumbs, onion powder, paprika, salt, and pepper. Mix thoroughly and set aside.
Make the egg mixture. For the dredge, add the eggs and grated garlic to a separate bowl. Then whisk them for about 1 minute.
Dredge the pork chops. Pat the pork chops dry and then dip them in the egg, coating them completely. Allow excess egg to drip off before placing them in the breading, covering all sides of the pork chop with the Panko mixture.
Preheat the air fryer. Preheat your air fryer to 400

degrees Fahrenheit. Spray the bottom of the basket with cooking spray.

Cook the pork chops. Place 2 pork chops in the basket and spray the tops of them with cooking spray. Cook them for about 10 minutes, flip, and then cook them for another 8-10 minutes, until they reach an internal temp of 145 degrees. I use a meat thermometer for this step. The cook time may vary depending on your pork chop's thickness. Continue cooking all of the pork, 2 at a time, until done.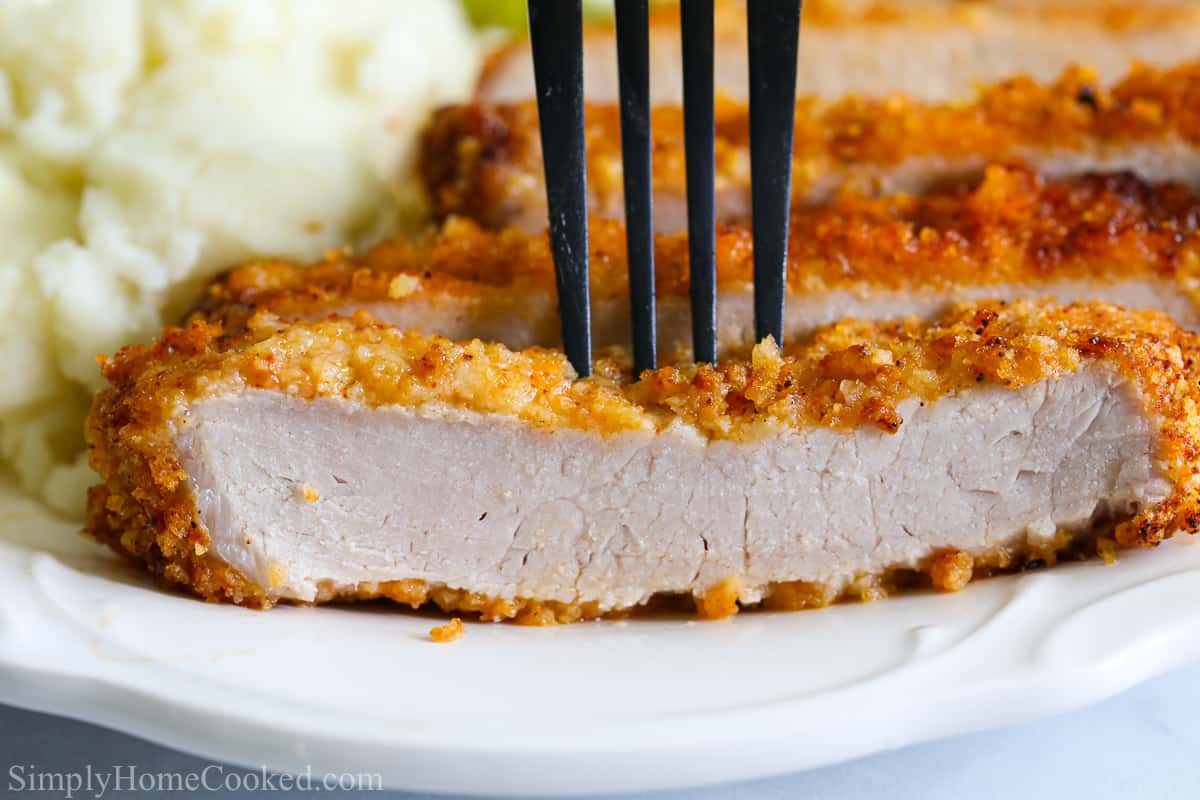 How long does it take for pork to cook in an air fryer?
If you are cooking your pork chops at 400 degrees Fahrenheit, they should be done within 20 minutes. However, the time depends on the thickness of your pork, so check the internal temperature to be sure they are completely done before taking them out of the air fryer.
Why you should preheat your air fryer
You should always preheat your air fryer so it is at the optimum temperature for cooking and air flow, ensuring that your food is perfectly crispy. If the temperature is too low or the air is not flowing correctly, you will land up with less crunch than you'd like on your pork chops.
What temperature are pork chops done?
Pork chops are done when their internal temperature reaches 145 degrees Fahrenheit. You can use a meat thermometer to check that they are done.
Can you use frozen pork chops in an air fryer?
Yes, you can use frozen pork chops. If you use frozen chops, then pat them dry before dredging and placing them in the air fryer. They will need a slightly longer cooking time than thawed pork chops, but otherwise will cook just fine.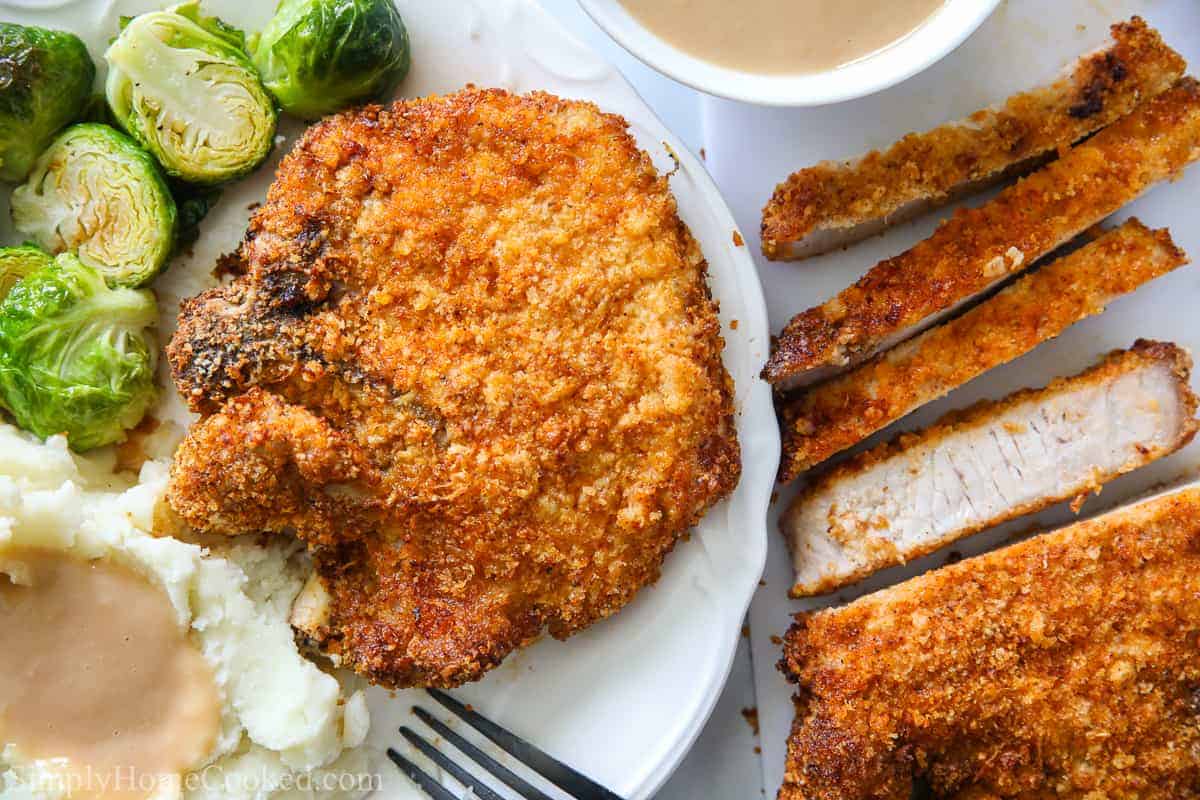 Make this recipe ahead of time!
If you need to save time on dinner prep, then make this recipe ahead of time by preparing the eggs and breading in advance. Then when it's time to cook the pork chops, all you'll need to do is dredge them before putting them in the air fryer.
How to reheat leftovers
To reheat any leftovers, just preheat the air fryer and place them inside, cooking for 3-5 minutes. They come out hot and crisp like before.
What to serve with air fryer pork chops
There are so many delicious sides that you can serve these juicy pork chops with, including: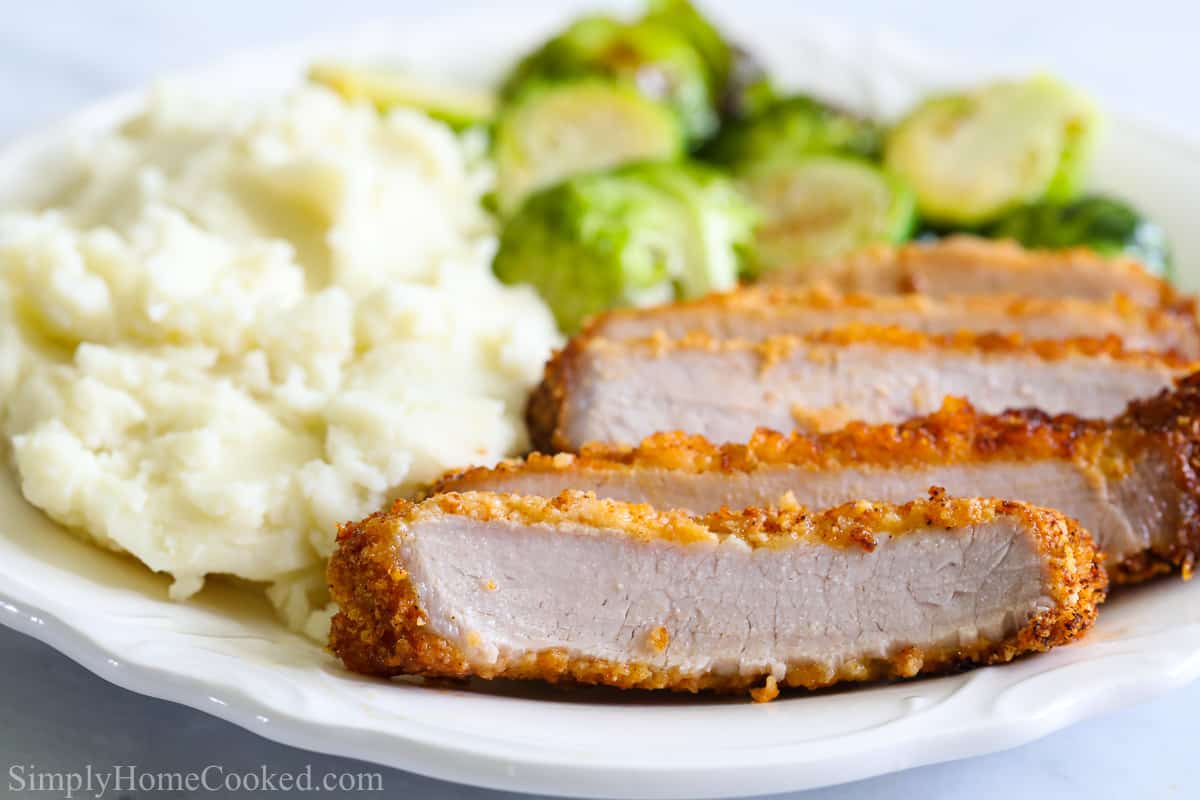 Whatch How to Make These Pork Chops Here: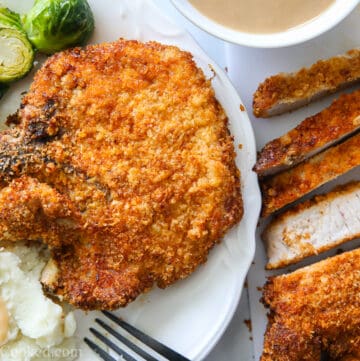 Juicy Air Fryer Pork Chops
These Juicy Air Fryer Pork Chops are moist & tender on the inside with a deliciously crunchy crust on the outside. You're going to love them!
Print
Pin
Rate
Instructions
Give it a thorough mix and set it aside.

Now in a separate bowl. Add 2 large eggs along with 1 grated garlic clove. Grab a whisk and whisk the eggs for about 1 minute.

Pat the pork dry and dip it into the egg coating. Make sure the entire chop is covered.

Then let the extra egg drip off and quickly place it into the panko-Parmesan mixture. Coat the top, bottom, and sides of each pork chop in the breading.

Now, preheat your basket air fryer to 400 degrees Fahrenheit. Once it's preheated, spread the bottom of the air fryer basket with nonstick spray and place 2 pork chops in at a time. Spray the top of the pork chops and cook for about 10 minutes.

Flip the pork chops over and cook for another 8-10 minutes.  cooking time may vary depending on the thickness of your pork chops. Always check the internal temperature of the meat with a meat thermometer to ensure that it's properly cooked. Fully cooked pork chops should read at least 145 degrees Fahrenheit.

Now serve it over your favorite gravy and enjoy!
Notes
Can I use boneless pork chops? Yes, you can. Boneless pork chops work for this recipe, but keep in mind that the bone is what adds flavor and moisture to your pork chop. So, while boneless pork chops work, they may not be as juicy as the bone-in variety. What to serve with air fryer pork chops
Nutrition
Calories:
543
kcal
|
Carbohydrates:
11
g
|
Protein:
55
g
|
Fat:
30
g
|
Saturated Fat:
14
g
|
Cholesterol:
222
mg
|
Sodium:
1631
mg
|
Potassium:
641
mg
|
Fiber:
1
g
|
Sugar:
1
g
|
Vitamin A:
1041
IU
|
Vitamin C:
1
mg
|
Calcium:
681
mg
|
Iron:
2
mg