This Caprese Salad is one of the easiest summer salads you'll come by. Although it's a very simple recipe, the classic combination of mozzarella, tomatoes, and basil is bursting with flavor.
If you love this salad, then you should try this Caprese Hot Panini and Chicken Caprese.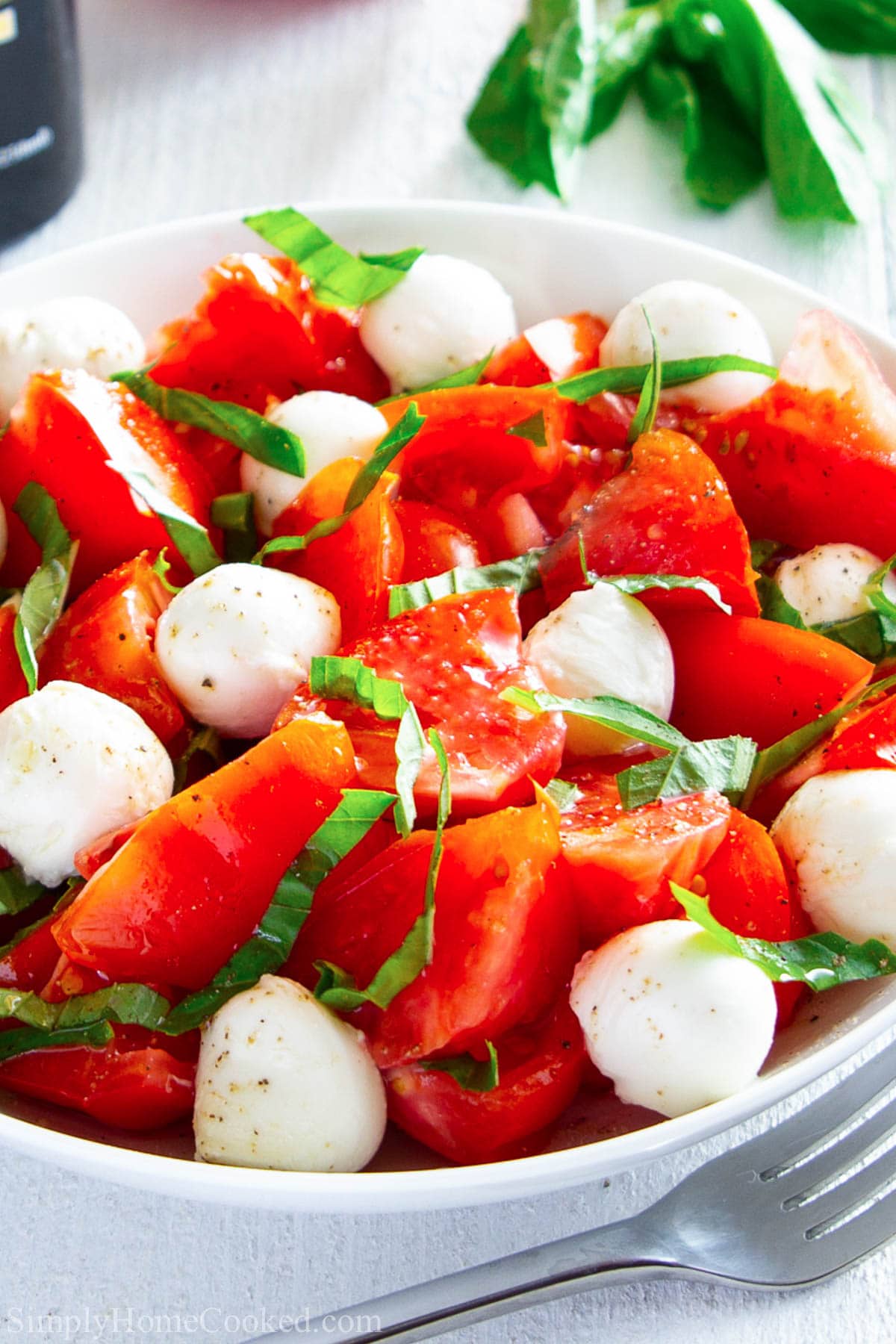 Table Of Contents
Caprese Salad Recipe Details
This is a wonderful summer dish! You will love the flavors of this (nearly) authentic Caprese Salad recipe.
TASTE: Sweet tomatoes, tangy vinegar, and fresh basil give this dish flavors that will burst in your mouth.
TEXTURE: The rich mozzarella and juicy tomatoes are the perfect combination.
TIME: This Caprese Salad is super quick. 10 minutes is all it takes.
EASE: These ingredients are easy to find and prepare. Three steps and you're done!
What You'll Need
Heirloom tomatoes
Basil leaves
Ciliegine mozzarella balls
Salt & Pepper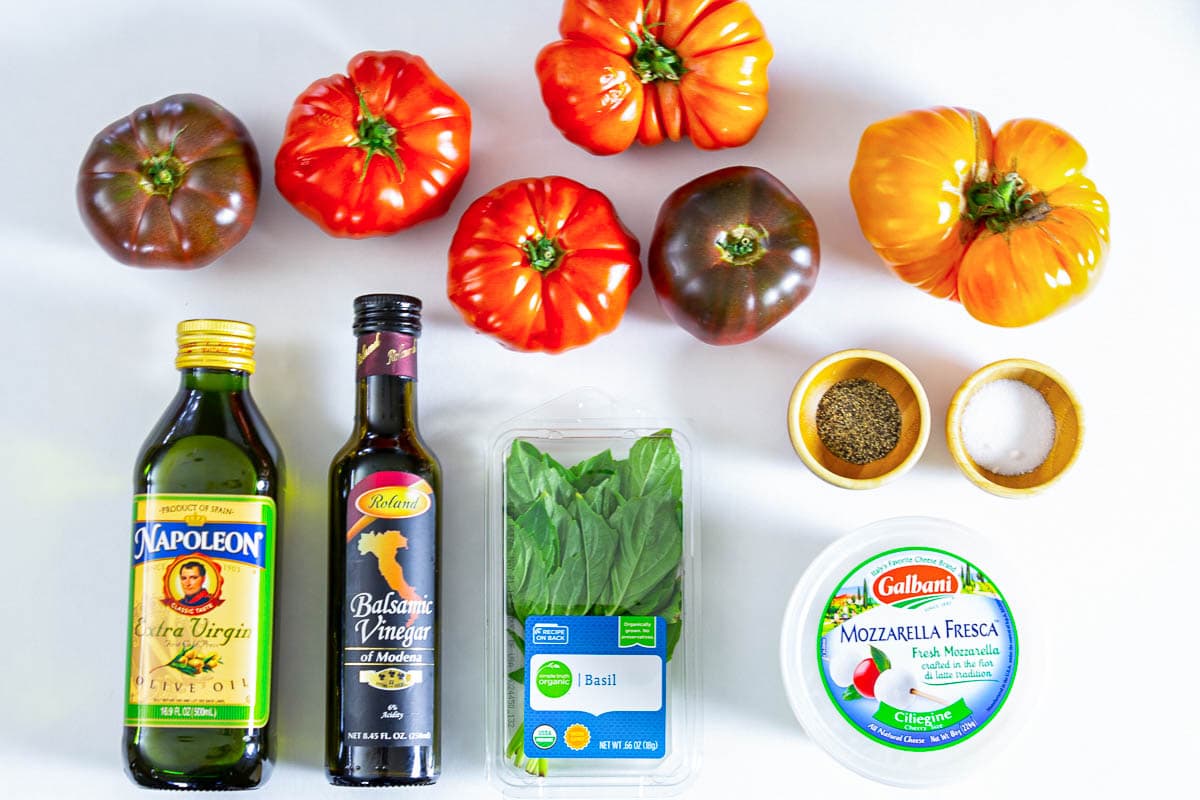 How to Make Caprese Salad
Dice the tomatoes. Using a sharp knife, dice the tomatoes into wedges.
Chop the basil. Now carefully cut the basil into thin slices.
Mix together. Add the mozzarella balls (drained), tomato wedges, and basil strips to a large plate or bowl. Season with salt and pepper, and drizzle with olive oil and balsamic vinegar. Serve.
Pro Tip: Slice the basil leaves thinly. If you cut the basil too thick, it will overpower the other flavors.
Recipe Tips
Use fresh basil leaves- While dried basil could be substituted, it is not nearly as delicious as fresh. So opt for the actual whole basil leaves to take the flavors of this Caprese Salad to the max.
Use a sharp knife for prep. A sharp knife will glide through the tomatoes and basil without tearing them. This also helps you avoid squishing too much juice from your ripe tomatoes.
Cut the tomatoes the same size as the mozzarella. I suggest cutting them into wedges if you are using mozzarella balls, and flat discs if you are slicing your cheese. This keeps one ingredient from overpowering another.
Add-ins and Substitutions
Substitute different tomatoes- I love heirloom tomatoes for Caprese Salad, but you could also make this with other varieties, such as cherry, Roma, and grape tomatoes.
Add fruit or nuts- Try this salad with fresh peach slices for a sweet flavor. Or add avocado for extra creaminess. For a little crunch, a sprinkle of pine nuts would pair nicely.
Substitute other herbs- Basil is authentic, but that doesn't mean you can't enjoy this with other fresh herbs, such as mint or dill.
Add pesto- A drizzle of basil pesto would add so much flavor to this summer salad. You can get it at the store or make your own!
FAQs
What is a Caprese Salad?
A Caprese Salad literally means "salad of Capri." It is the perfect Italian dish because the ingredients show off the colors of the Italian flag – red (tomatoes), white (mozzarella), and green (basil). It's traditionally drizzled with olive oil and seasoned with salt and pepper.
What is the best mozzarella to use in a Caprese Salad?
I chose Ciliegine mozzarella balls for this salad, but it's a matter of preference. Burrata is another popular choice. So long as you choose a fresh mozzarella that is spongy, soft, and packed in water, you should be fine.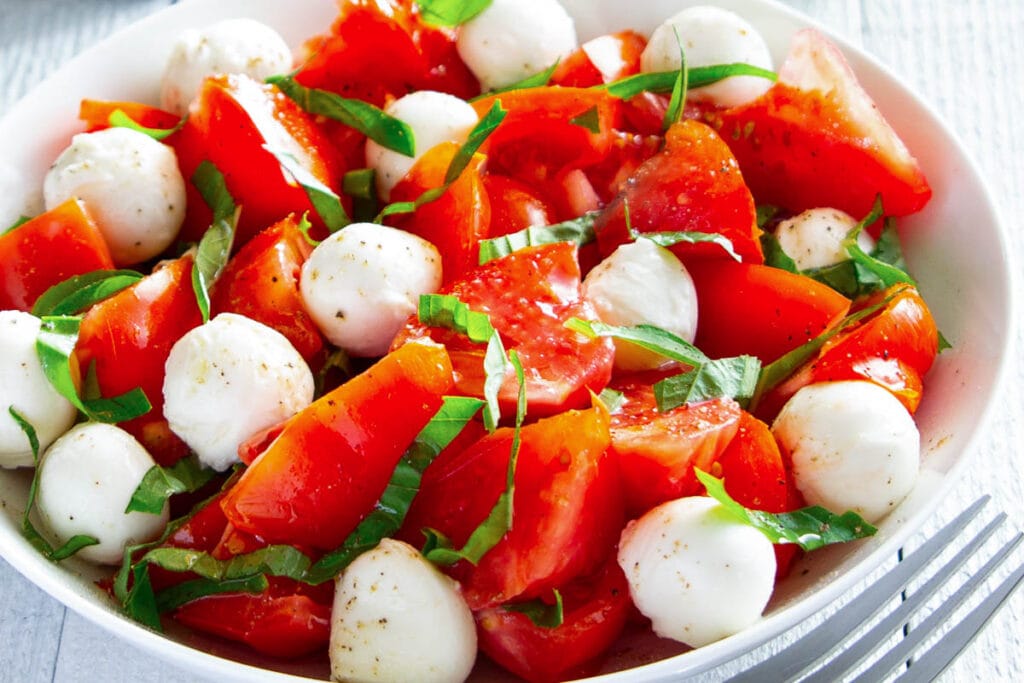 Serving Suggestions
This Caprese Salad is an appetizer that is the perfect starter for any meal. Here are a few ways you can serve it:
Make This Caprese Salad in Advance
Make ahead: This salad is better the fresher it is. However, you can prepare the ingredients and then put it together right before you are ready to serve.
Storing: You can store this Caprese Salad in the fridge for 2-3 days in an airtight container. Drain any juices before serving.
Freeze: Unfortunately, you cannot freeze this salad. It will noticeably affect the texture so I advise making it fresh. Besides, it's super quick!
More Scrumptious Salads!
This recipe was originally posted on May 25, 2016, we've tweaked it a bit since then. This post may contain affiliate links. Read my disclosure policy here.
Full Recipe Instructions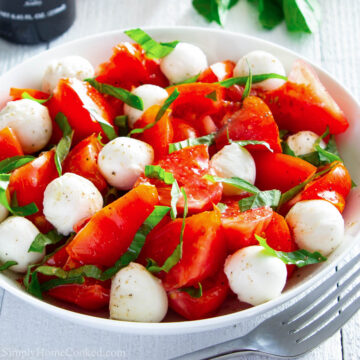 Caprese Salad
This chopped Caprese salad is one of the easiest summer salad recipe you'll come by. Literally, 3 steps and you're done. Simple and loaded with flavor
Print
Pin
Rate
Ingredients
5

heirloom tomatoes

8

large basil leaves

1

8 oz tub ciliegine mozzarella balls

1-2

tbsp

olive oil

4

tbsp

balsamic vinegar

salt & pepper to taste
Instructions
Slice the tomatoes into small wedges.

Then, chop the fresh basil into thin slices.

Add the mozzarella balls, tomatoes, and basil into a large plate or bowl. Season with salt and pepper and drizzle with olive oil and balsamic vinegar.
Notes
FAQs answered in the post above:
Add-ins and substitutes
Can this be made in advance?
How long will this salad keep?
Nutrition
Calories:
107
kcal
|
Carbohydrates:
4
g
|
Protein:
5
g
|
Fat:
7
g
|
Saturated Fat:
2
g
|
Cholesterol:
10
mg
|
Sodium:
25
mg
|
Potassium:
191
mg
|
Sugar:
3
g
|
Vitamin A:
660
IU
|
Vitamin C:
10.6
mg
|
Calcium:
111
mg
|
Iron:
0.3
mg