These Easy 10-minute Blackened Cajun Shrimp are super easy to make and so tasty. You can add them to your favorite pastas or salads, or just eat them as is.
These quick and easy shrimp go great with blackened chicken alfredo or with air fryer brussels sprouts.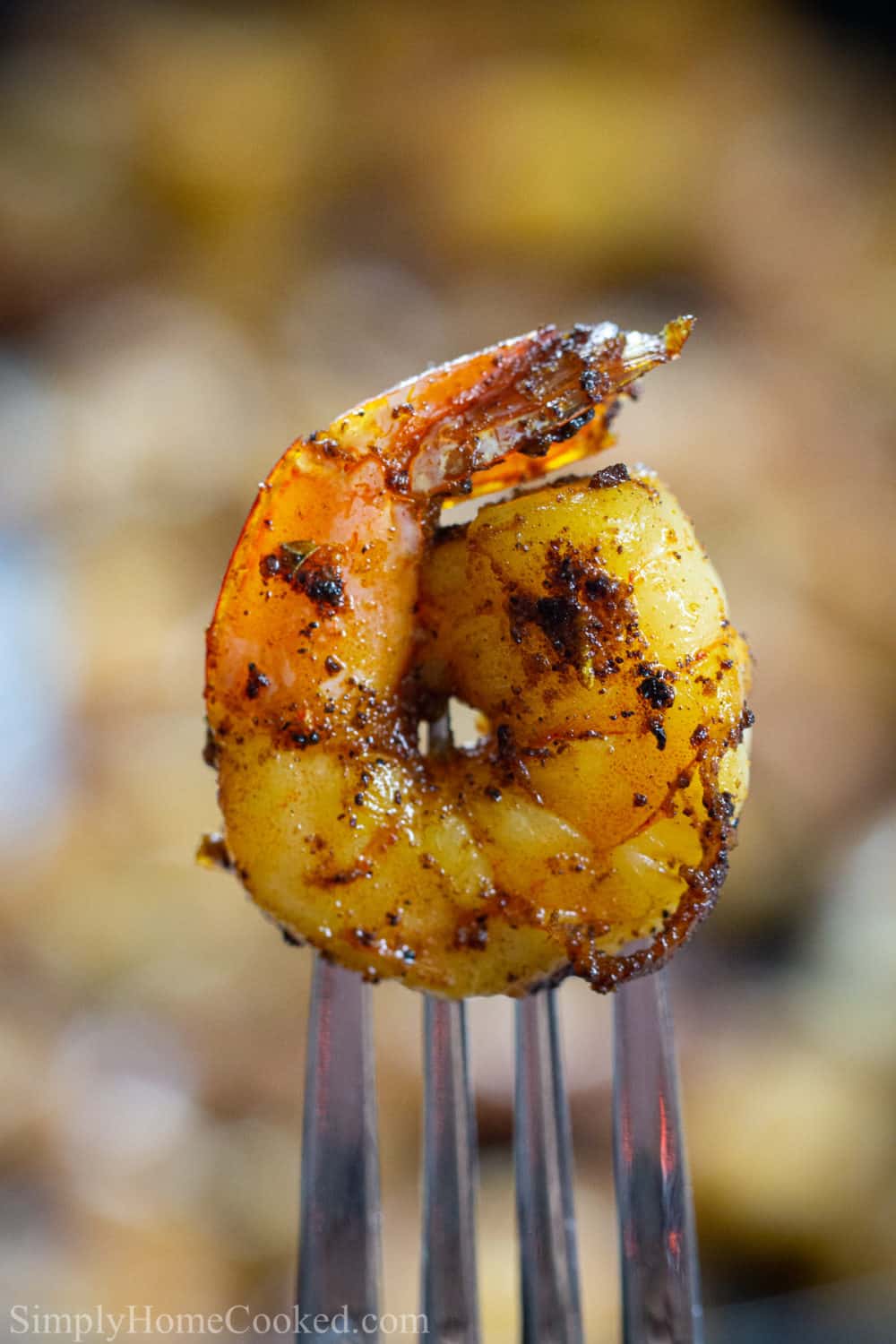 Easy Blackened Shrimp
Blackened Shrimp is a very tasty dish or add-on to pastas, salads, and vegetables. The blackened Cajun seasoning packs a lot of flavor, and is not as spicy as people often think. If you decide to forgo the cayenne powder, you'll get the mouthwatering Cajun flavors with very little heat. Blackened seasoning actually gets its name because you are basically burning the spice coating.
The blackened seasoning mixed with some garlic and oil make these juicy shrimp taste delicious. You can add them on top of a salad like this Broccoli Cranberry Salad, or with pasta like this Cajun Chicken Pasta . If you want, you can even enjoy them as a low-carb snack.
Ingredients you'll need
Shrimp- Thawed, shelled, and deveined.
Garlic- This pungent flavor tastes great with shrimp.
Olive oil- To help coat the shrimp with the blackened seasoning.
Paprika- This has a mild sweet pepper taste.
Salt- Acts as a flavor enhancer.
Ground black pepper- Adds some heat to the other flavors.
Onion powder- This adds a sharp, slightly sweet onion flavor to the shrimp.
Dried oregano– It has a pungent, earthy taste.
Cayenne powder- This is optional, but makes the shrimp spicier.
Is it spicy?
That depends. These Blackened Cajun Shrimp do not have to be spicy if you don't want them to be. If you prefer them to be less spicy, then just skip the cayenne pepper.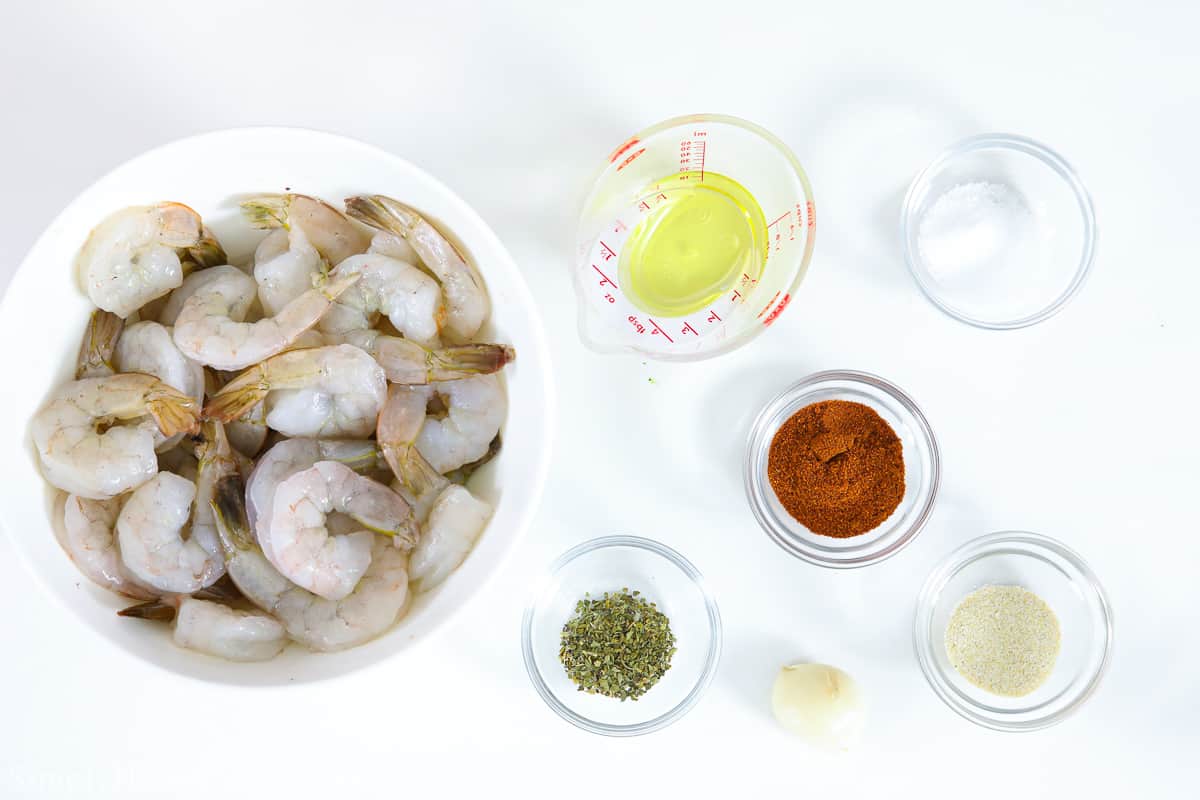 How to make blackened shrimp
Peel and season the shrimp. Thaw the shrimp and then peel off the shells. Put them in a large bowl and add the garlic, olive oil, salt, pepper, onion powder, paprika, oregano, and cayenne (optional). Mix thoroughly.
Cook the shrimp. Melt some butter in a skillet and cook the shrimp over medium heat for a few minutes on each side, until they are pink and opaque.
Serve. You can serve these blackened shrimp over rice, on top of pasta in a cream sauce, or atop a salad.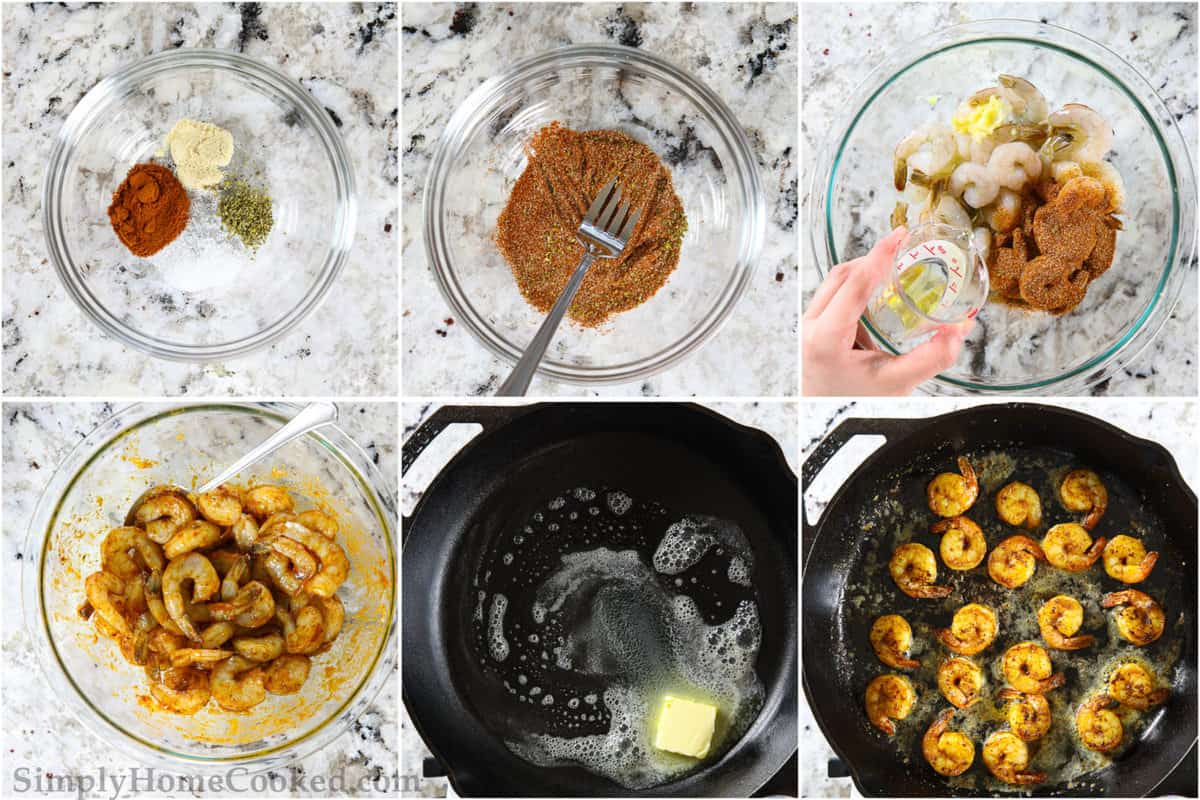 Can I make it ahead of time?
Yes, you can. A day or so ahead of time, you can make these shrimp and then store them in the refrigerator in an airtight container. Just be careful not to overcook them when you go to heat them at serving time. You can even marinate them raw, the night before and cook them the next day. Just make sure to keep them airtight sealed in the fridge while marinating.
How long does it keep?
These blackened cajun shrimp will stay fresh in an airtight container for 3-4 days in the refrigerator. This makes it a great protein option when meal prepping!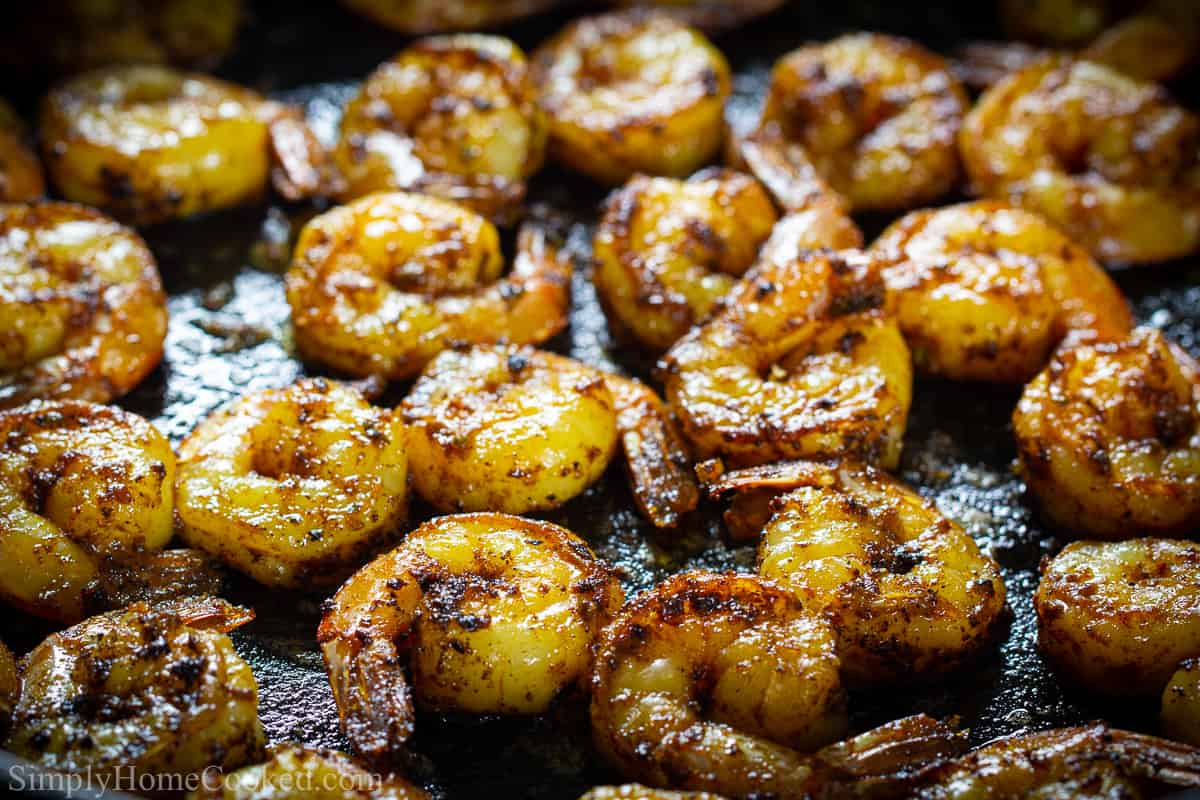 What goes well with cajun blackened shrimp?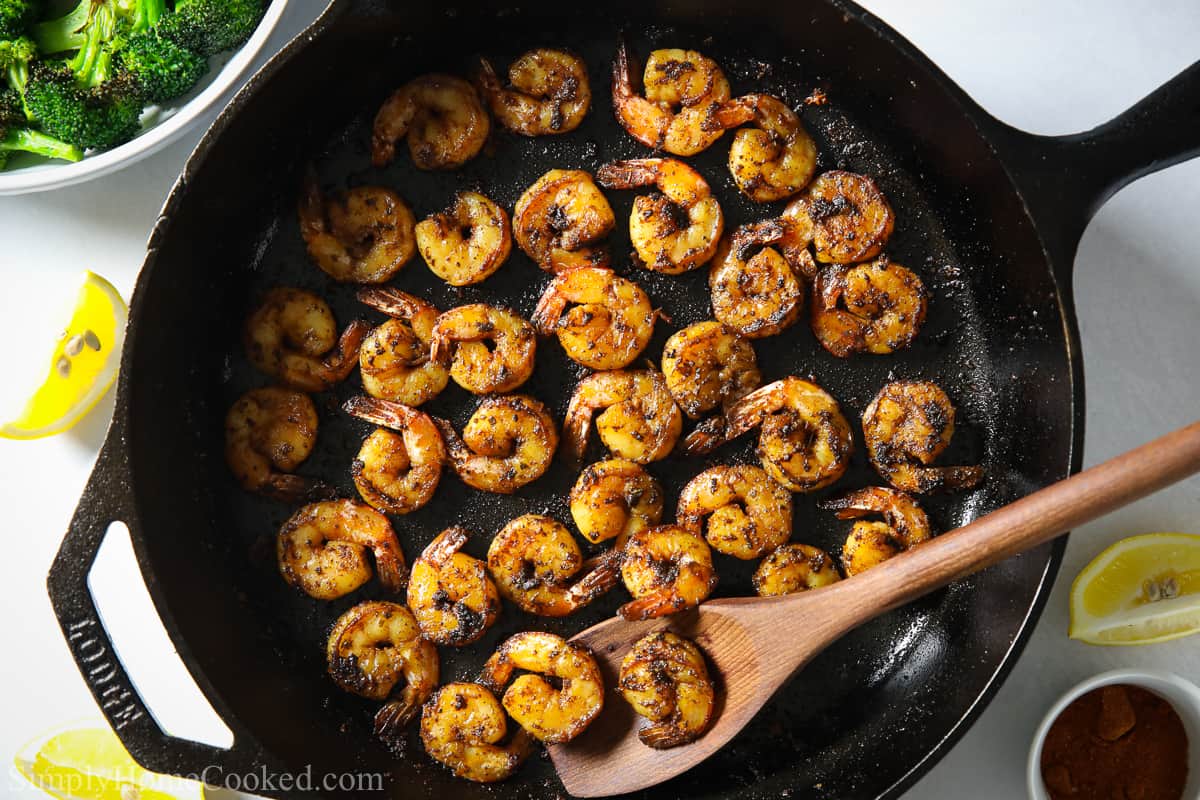 Meal prep!
If you love to meal prep to save you time with cooking throughout the week, these Cajun shrimp are perfect for that! I like to divide them up in between some plastic containers are fill them up with roasted asparagus or broccoli and some delicious brown rice.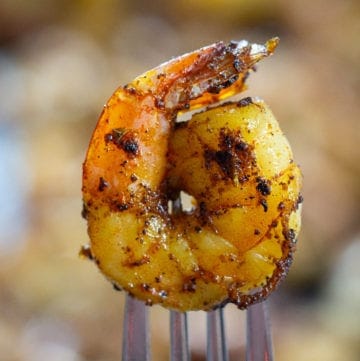 Blackened Cajun Shrimp
These Easy Blackened Cajun Shrimp are so flavorful & only take 10 minutes to make. You can eat them on their own or add them to your favorite salad or pasta.
Print
Pin
Rate
Instructions
Clean and season the shrimp
Start off by thawing out your shrimp and removing the shells. I like to leave the tail on but you can remove that as well if you want.
Cook shrimp in the skillet
Then melt butter in a skillet over medium heat and cook the shrimp a few minutes on both sides until they are pink and opaque. 

Serve warm with rice or make into it an Alfredo shrimp recipe with pasta and Alfredo sauce.
Nutrition
Calories:
180
kcal
|
Carbohydrates:
1
g
|
Protein:
23
g
|
Fat:
9
g
|
Saturated Fat:
1
g
|
Cholesterol:
286
mg
|
Sodium:
1173
mg
|
Potassium:
114
mg
|
Fiber:
1
g
|
Sugar:
1
g
|
Vitamin A:
493
IU
|
Vitamin C:
5
mg
|
Calcium:
164
mg
|
Iron:
3
mg