This Air Fryer Shrimp recipe is so easy and delicious. The shrimp are crispy, juicy, and flavorful, and they go great on seafood salads, and with so many other dishes.
If you love cooking healthy meals in your air fryer, you have to try our air fryer salmon and air fryer broccoli.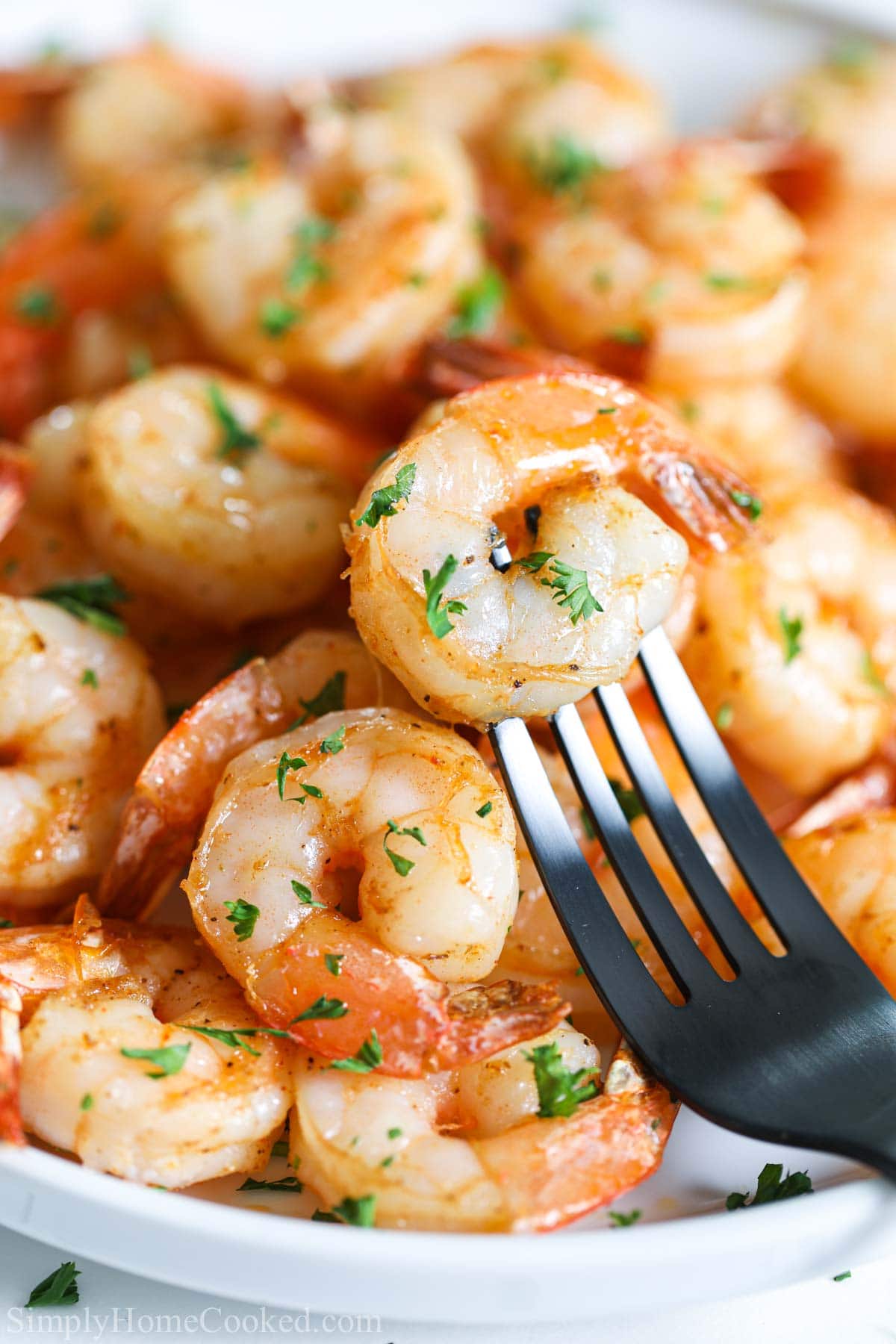 Table Of Contents
Air Fryer Shrimp Recipe Details
I love this simple yet flavorful Air Fryer Shrimp recipe. They are so easy to make and I can use them with almost any dish. They add great taste as well as an elegant touch to your meal.
Taste- These shrimp are marinated with garlic and Cajun seasoning for a pungent, slightly spicy flavor.
Texture- The air fryer cooks these until they are juicy and firm, with a slight crispness to the outside.
Ease- Marinate and pop them in the air fryer. These shrimp are so easy, you'll be adding them to everything!
Time- These Air Fryer Shrimp only take 10 minutes to make. You can marinate them for an hour if you want, or not, if you're in a hurry.
What You'll Need
Shrimp- Deveined, peeled and with the tail on
Garlic clove- pressed
Olive Oil– for the marinade
Seasoning- Cajun seasoning, Salt, and Black pepper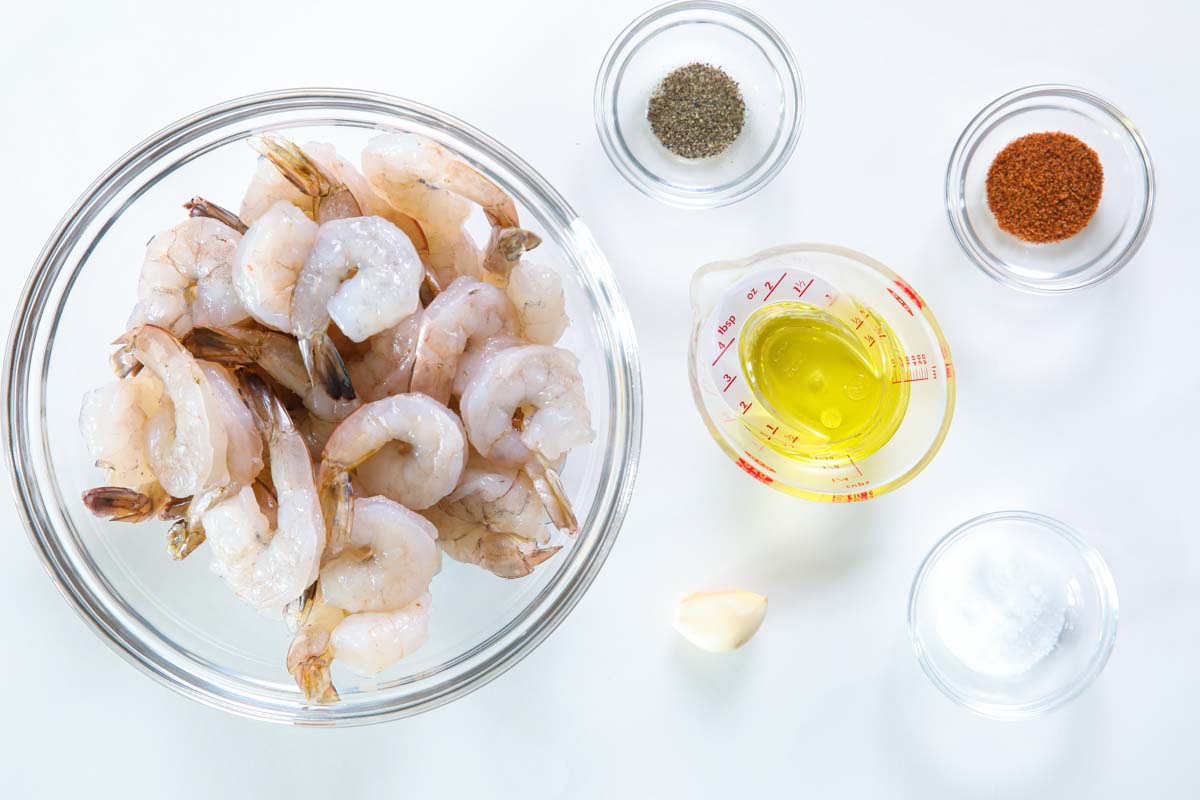 How to Make Air Fryer Shrimp
Dry the shrimp. Using a paper towel, pat the peeled and deveined shrimp until dry.
Add the seasonings. Place the shrimp in a large bowl and add the olive oil, salt, pepper, Cajun seasoning, and garlic. Toss together with tongs until well mixed.
Marinate. Cover the bowl with plastic wrap and let the shrimp marinate in the fridge for about an hour. Or, you can cook them right away if you like.
Cook the shrimp. Set the basket air fryer to the shrimp setting (or

350 degrees Fahrenheit) and cook them for 8-10 minutes, flipping them halfway through.

Serve.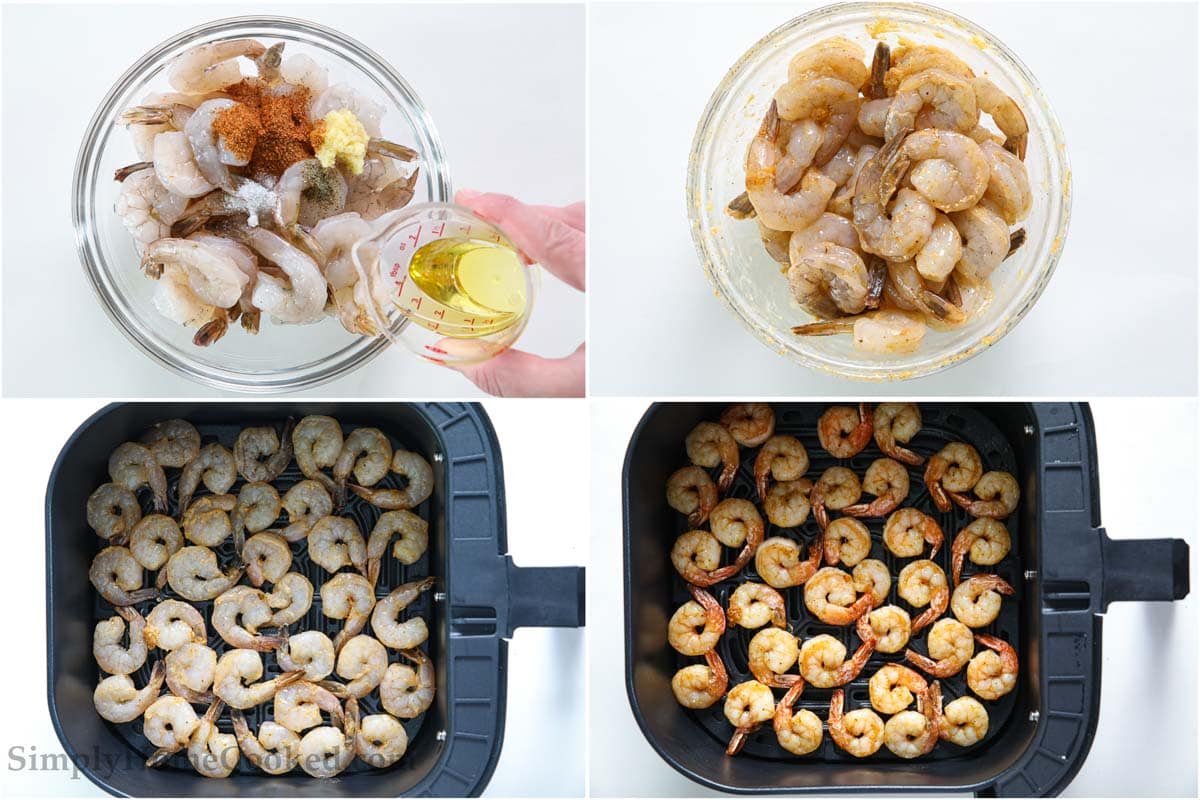 Dry the shrimp before marinating- Oil and water don't mix so pat the shrimp dry before marinating with oil and seasonings so they adhere to the shrimp better.
Marinate the shrimp for an hour– If you have the time, marinate the shrimp before cooking because this gives them time to absorb the seasoning and flavors beyond the outside layer.
Don't overcrowd the basket- Lay the shrimp down in the basket in one layer, trying not to overlap them. This is to allow proper air flow so the shrimp are evenly and thoroughly cooked.
Add-ins and Substitutions
Rather than garlic and Cajun seasoning, you could also experiment with other flavor combinations with these air fryer shrimp. A few options are:
Lemon basil- Light and fresh with a lemony zing, just add lemon juice and fresh basil.
Garlic saffron- A taste of sweet honey and pungent garlic, just sub saffron for the Cajun seasoning.
Coconut curry- Sweet and savory, substitute coconut milk for the oil and use curry powder.
Chili lime- Deliciously spicy with a bite of tart lime, adding chili powder and fresh lime is so tasty.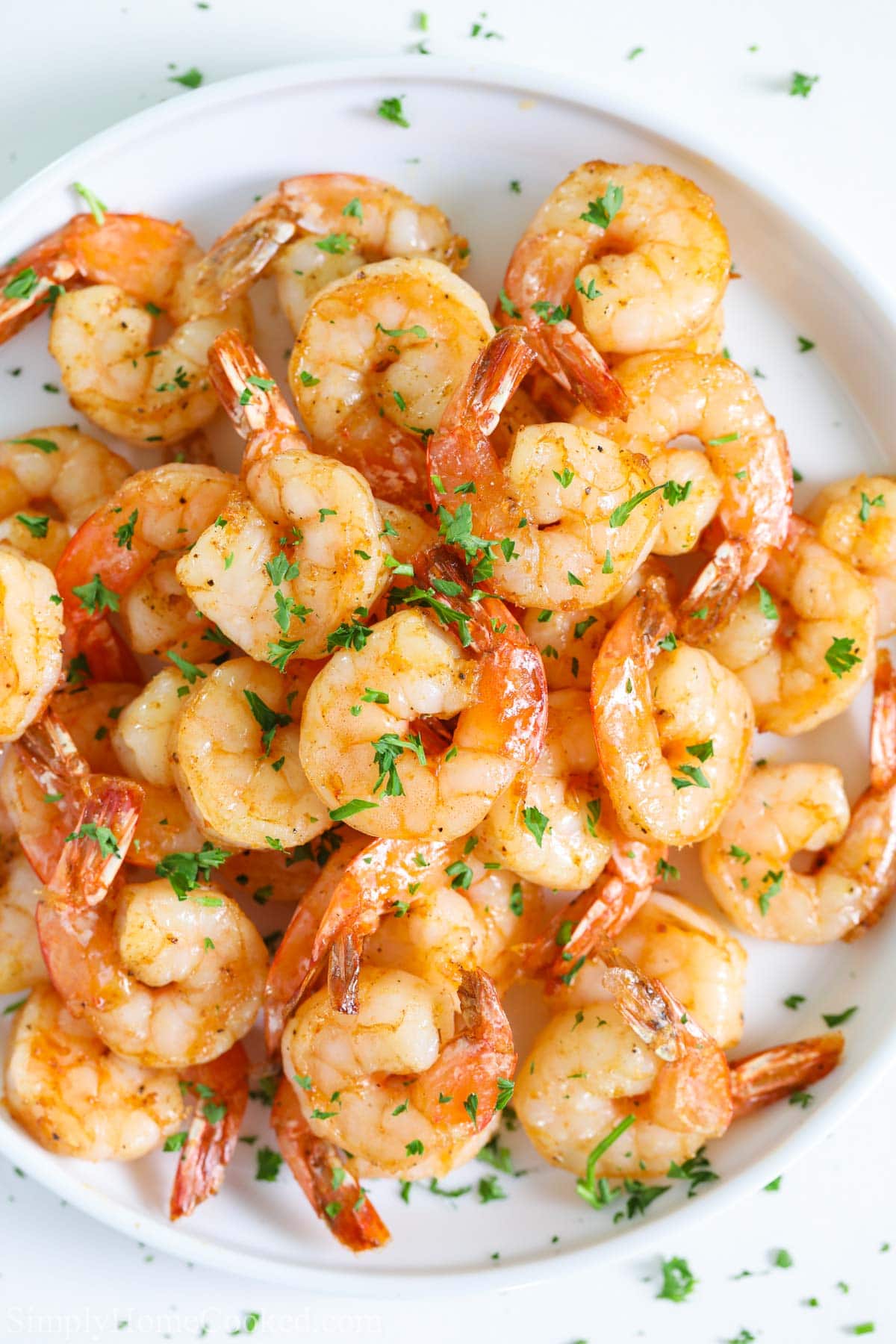 FAQs
Can you use frozen shrimp in an air fryer?
Yes, you can. With an air fryer, you can actually put the frozen shrimp right into the basket and cook for just a few extra minutes. The quickly circulating hot air in the fryer makes it possible to easily thaw and cook the frozen shrimp to perfection.
Can you reheat shrimp in the air fryer?
Yes, you can reheat your leftovers in the air fryer so they regain that outer crispness once again. Just place them in the basket and cook for 3-4 minutes at 400 degrees Fahrenheit.
Serving Suggestions
These Air Fryer Shrimp are so versatile, you can really add them to any dish you like.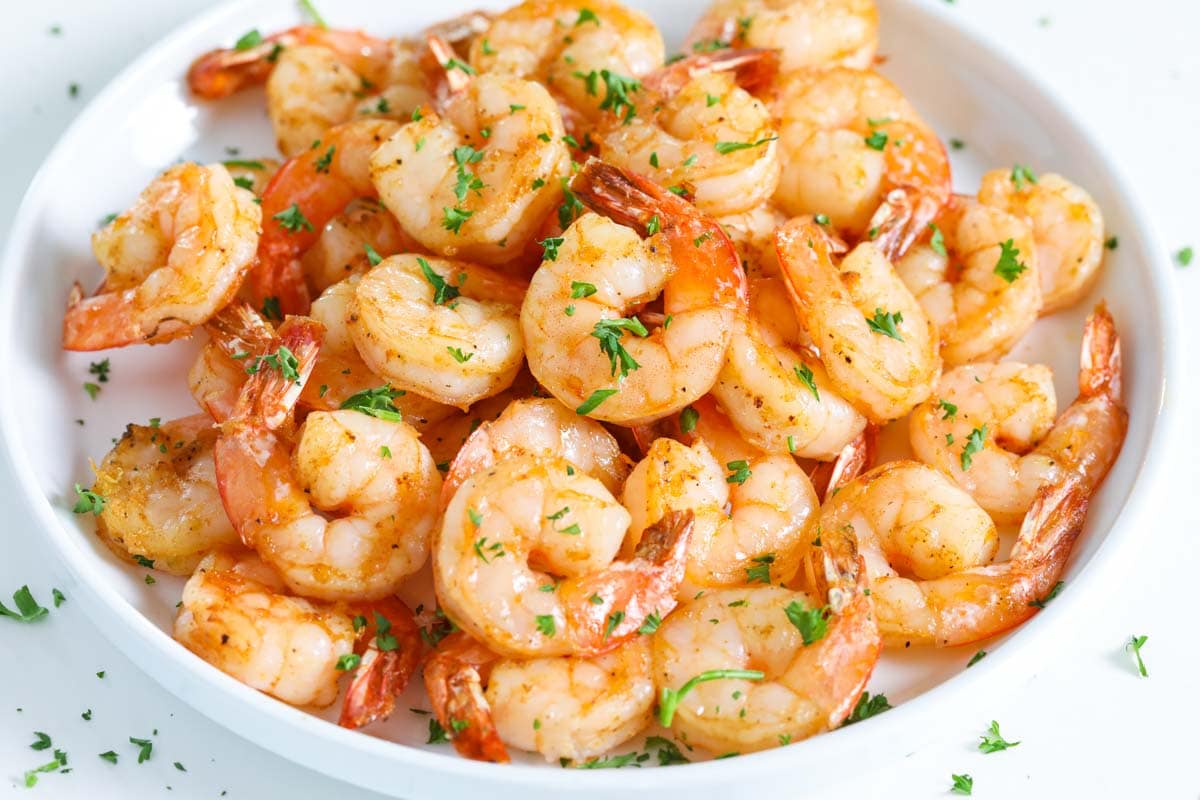 Make These Air Fryer Shrimp in Advance
Make ahead: If you want to save time, just set these shrimp up in the marinade and refrigerate. Then cook them in the air fryer when you're ready to serve.
Storing: Store these shrimp in an airtight container in the fridge for up to 3-4 days.
Freeze: You can freeze these Air Fryer Shrimp in a freezer-safe container once they have cooled. They will last for 3-6 months.
More Tasty Air Fryer Dishes!
Full Recipe Instructions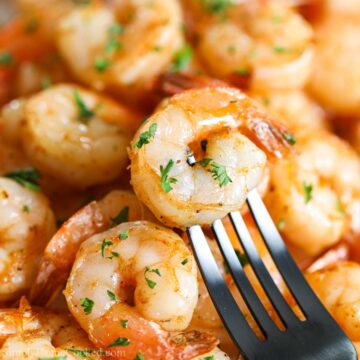 Air fryer shrimp
These Air Fryer Shrimp are full of flavor & so easy to make. Crisp and juicy, they go great with so many dishes that you'll make them again & again.
Print
Pin
Rate
Instructions
Take your peeled and deveined shrimp and pat them dry with a paper towel.

Toss everything together using tongs. From here you can cover it with plastic wrap and let the shrimp marinate in the refrigerator for about one hour or you can cook them right away.

To cook the shrimp in the air fryer, set your basket air fryer on the shrimp setting or set the temperature to 350 degrees Fahrenheit and cook for 8-10 minutes flipping them halfway through.
Notes
Can I use frozen shrimp? Yes, you can. With an air fryer, you can actually put the frozen shrimp right into the basket and cook for just a few extra minutes. The quickly circulating hot air in the fryer makes it possible to easily thaw and cook the frozen shrimp to perfection. More air fryer recipes to try
Nutrition
Calories:
146
kcal
|
Carbohydrates:
1
g
|
Protein:
23
g
|
Fat:
5
g
|
Saturated Fat:
1
g
|
Cholesterol:
286
mg
|
Sodium:
1027
mg
|
Potassium:
91
mg
|
Fiber:
1
g
|
Sugar:
1
g
|
Vitamin A:
123
IU
|
Vitamin C:
5
mg
|
Calcium:
164
mg
|
Iron:
2
mg