Simple, crispy, and delicious, you will love this Crispy Air Fryer Broccoli. The flavor and texture make the broccoli so yummy, and it goes with so many dishes.
This crispy broccoli tastes great with air fryer steak bites or with crispy air fryer chicken tenders.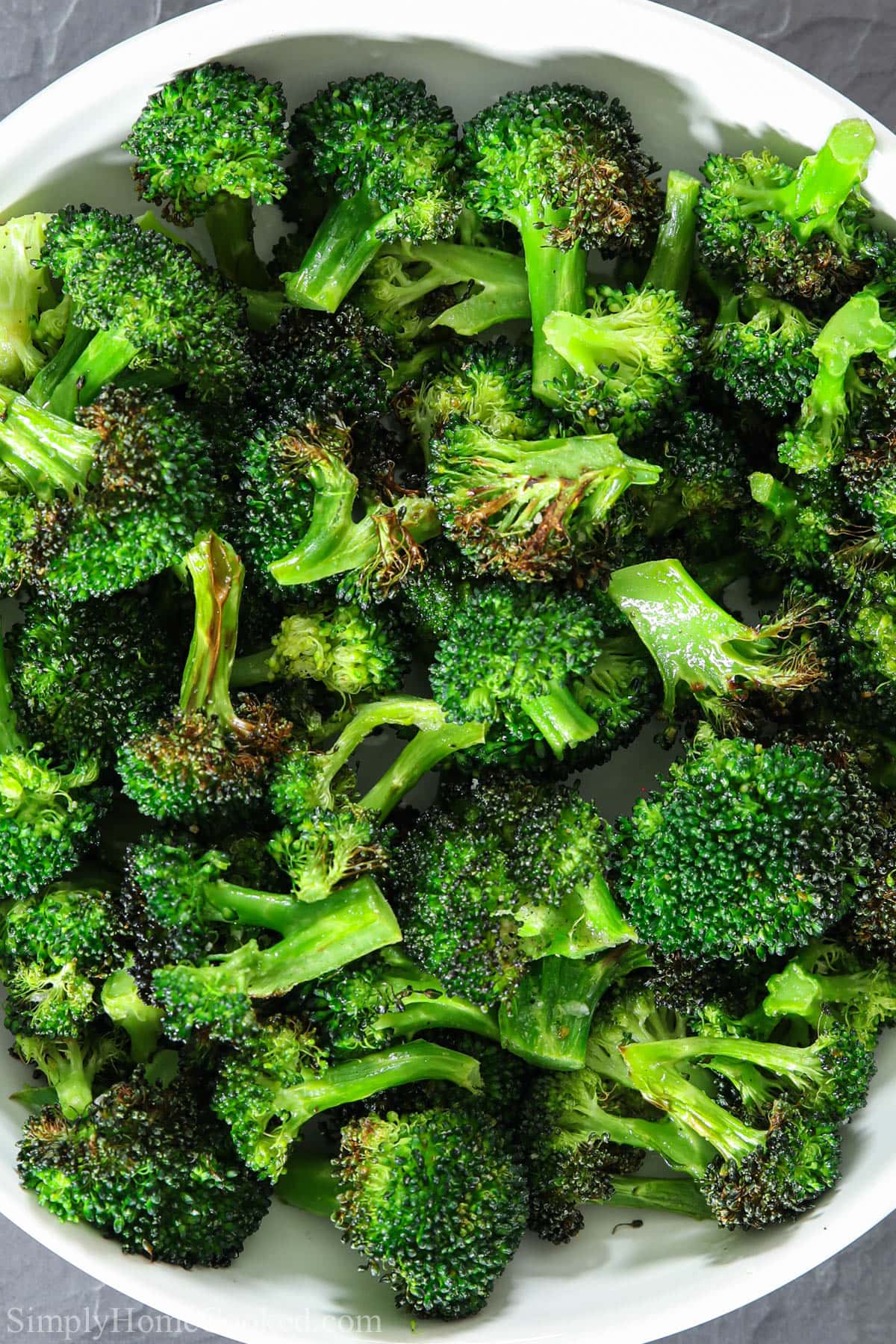 Table Of Contents
Crispy Air Fryer Broccoli Recipe Details
I love this recipe because cooking broccoli in an air fryer puts a new spin on an old vegetable. This recipe uses simple ingredients to liven up this classic side.
TASTE: The earthy flavor of the broccoli is complemented by the garlic, salt, and pepper seasonings.
TEXTURE: The air fryer gives this dish lots of crispy texture without being greasy at all.
TIME: Crispy Air Fryer Broccoli will only take you 12 minutes to make!
EASE: With just 5 ingredients and virtually no prep, this recipe is ridiculously easy.
What you'll need
Broccoli
Olive oil
Seasonings- Garlic powder, Salt, and Black pepper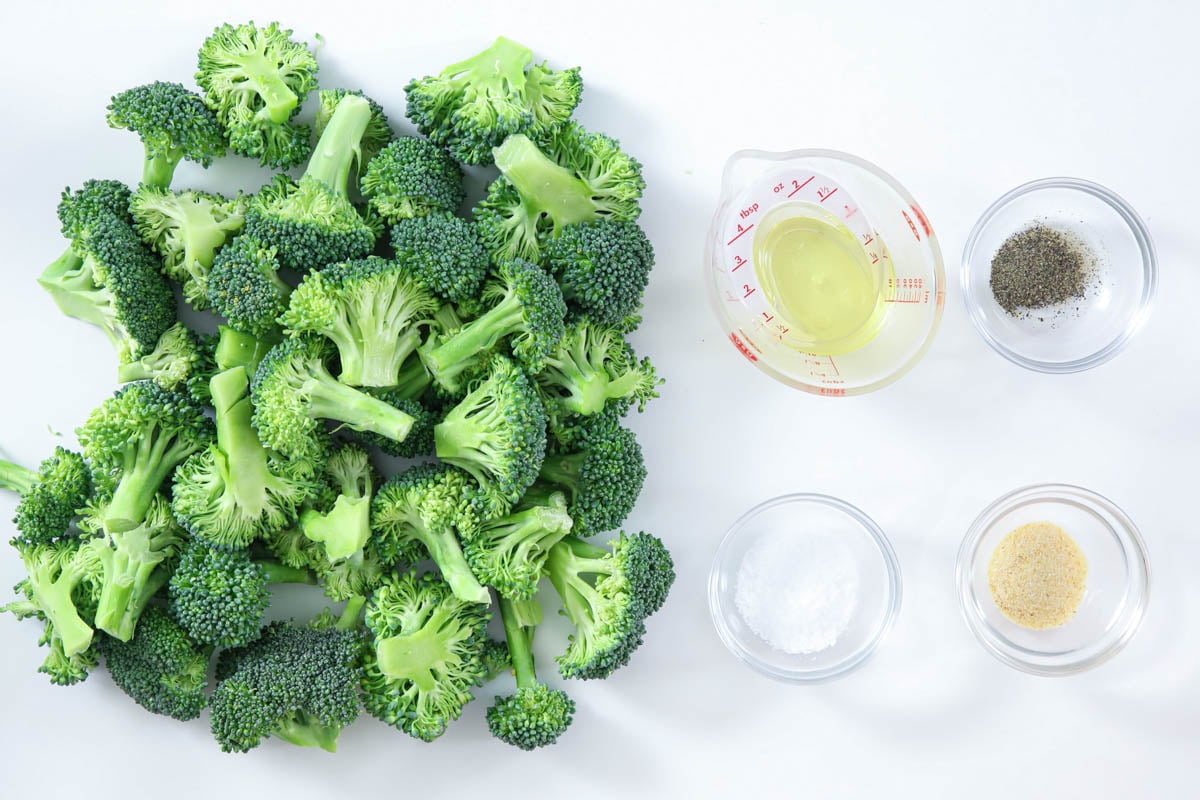 How to Make Crispy Air Fryer Broccoli
Prep the broccoli. Rinse the broccoli and then cut it into florets. Pat them dry thoroughly so that they will crisp up during frying.
Combine seasonings. In a small bowl, add the salt, garlic powder, and pepper. Mix to combine.
Add oil and seasoning to the broccoli. Place the broccoli florets in a large bowl and drizzle the oil on top. Then add the seasoning and toss to coat thoroughly.
Cook the broccoli. Evenly place the broccoli on the air fryer basket. Then cook it at 400 degrees F for 6-9 minutes or until desired crispiness. You can use an oven air fryer or a basket air fryer. Then serve.
Pro Tip: Make sure to spread the broccoli out evenly and in one layer in the basket to ensure the florets get crispy on all sides. Overfilling the basket will make it hard for them to cook.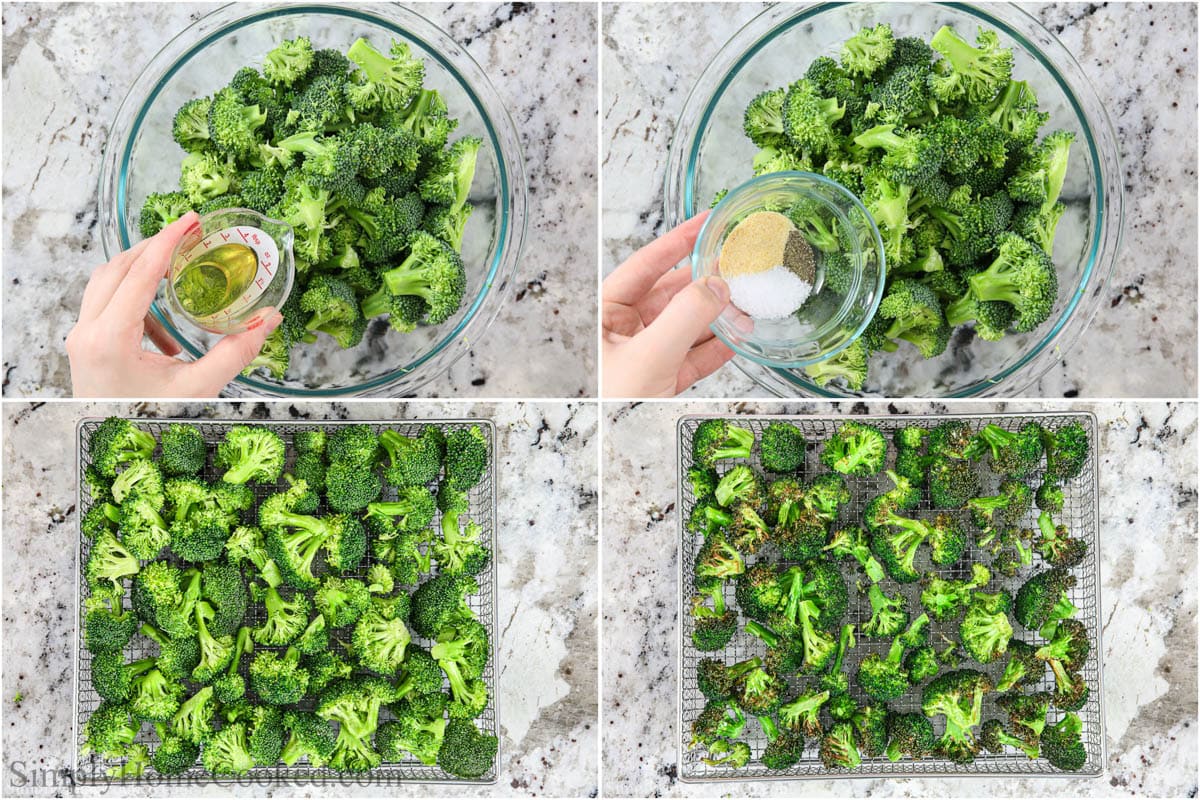 Recipe Tips
Pat the broccoli dry– Make sure you dry the broccoli after rinsing it so the oil and seasonings will adhere better. Otherwise, the oil will bead off the water.
Mix the seasonings in a separate bowl- To avoid getting too much of one seasoning and not enough of another, pre-mix them so each floret gets a little of everything.
Don't crowd the air fryer basket- Air fryers work by quickly circulating hot air throughout the basket. Keep some space between florets so the air can hit all sides for crispy broccoli.
Allow it to cool– Place the broccoli on a cooling rack when done for a few minutes so there is enough air flow that it can cool without getting soggy.
Add-ins and Substitutes
Add lemon- For a more citrusy and fresh taste, add lemon juice to the broccoli. Use freshly squeezed for the best flavor.
Substitute Asian flavors- Try this recipe with soy sauce, teriyaki, and fresh garlic. This will give your Crispy Air Fryer Broccoli lots of umami flavor.
Add some spice- If you like a little heat in your veggies, add red pepper flakes, Sriracha, chili powder, or curry to these broccoli florets.
Substitute another vegetable- If you are out of broccoli, you can enjoy crispy side dishes like asparagus, brussels sprouts, and assorted vegetables.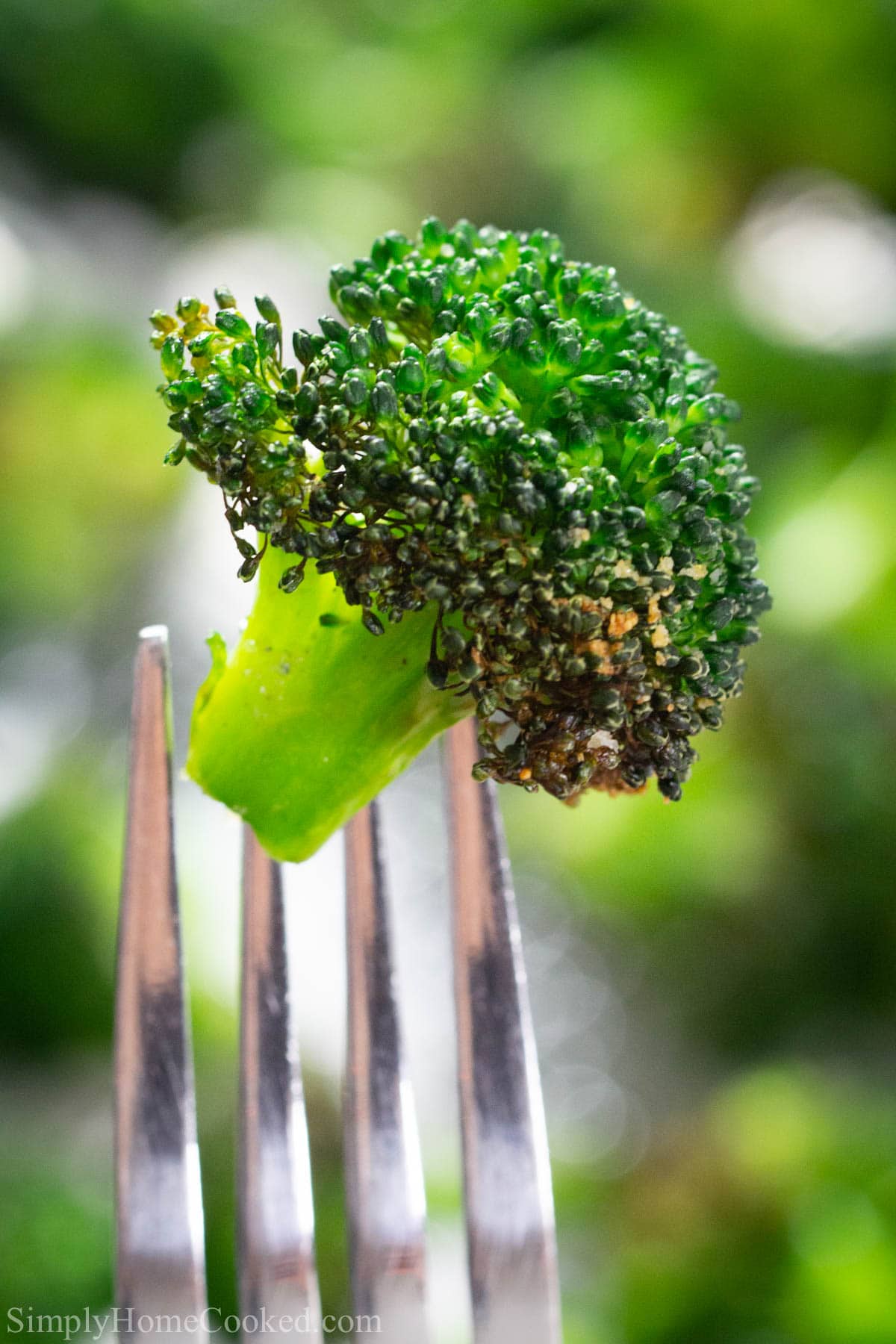 FAQs
How long does it take to cook in an air fryer?
Depending on what type of air fryer you have, the cook time will vary. Typically, the oven air fryer takes a little longer than the basket air fryer.
What is the best air fryer for broccoli?
Both air fryers get good results, but they are a little different. The oven air fryer takes longer because even though it uses a fan to circulate the hot air like a basket style air fryer does, the fan moves slower. The basket style is the best one to use for broccoli, not just because of the quicker cook time, but because the basket enables more even cooking as the air reaches the undersides of the broccoli as well as the tops and sides.
Serving Suggestions
This Crispy Air Fryer Broccoli is simple and classic and will pair with just about anything. Here are a few serving ideas to try.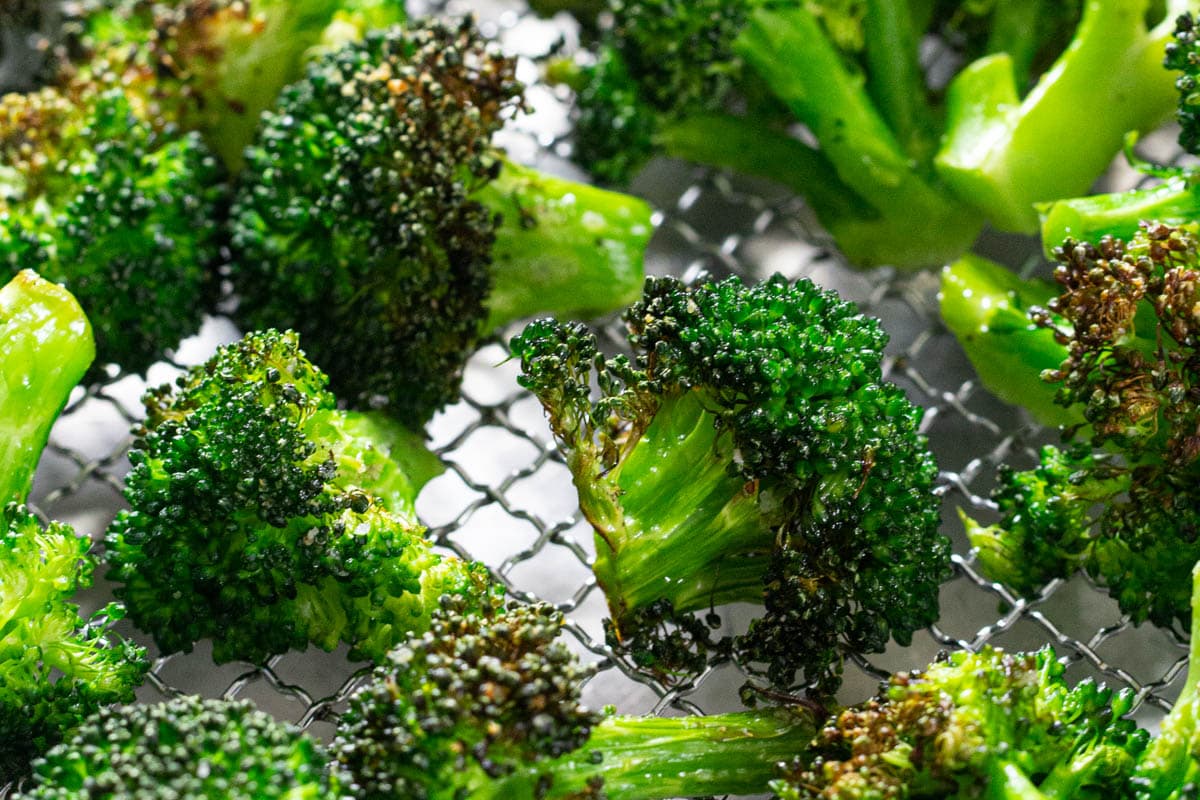 Make this Crispy Air Fryer Broccoli in Advance
Make Ahead: This recipe doesn't take long to make, but if you make it in advance, just reheat it by placing it back in the air fryer and cooking it for about 2-3 minutes before serving.
Storing: Store this Crispy Air Fryer Broccoli in the refrigerator in a shallow airtight container. It will last for 3-5 days.
Freeze: You can also freeze this dish once it has completely cooled. Freeze the broccoli florets on a sheet pan so they don't clump together, and then store them in a freezer ziplock bag for up to 6 months. Reheat in the air fryer.
More Tasty Air Fryer Dishes!
Full Recipe Instructions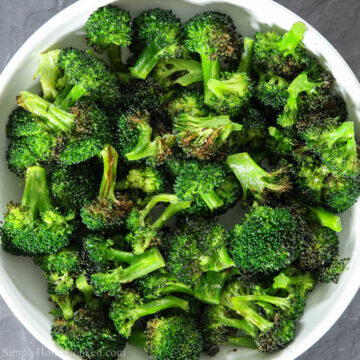 Air Fryer Broccoli
This Air Fryer Broccoli is crispy and tastes delicious. With simple ingredients and great texture, you'll love adding this to your favorite dishes.
Print
Pin
Rate
Instructions
Rinse and chop your broccoli into florets. Make sure to pat it dry really well or the extra moisture won't let them crisp in the air fryer

In a separate small bowl combine the garlic powder salt and black pepper.

No place the broccoli in a large bowl and drizzle olive oil over it along with the spices. Then toss to combine. 

Evenly spread the broccoli onto your air fryer basket. Then air fry at 400 degrees F for 6-9 minutes or until desired crispiness. You can use an oven air fryer or a basket type of air fryer.
Notes
What goes well with broccoli?
How to reheat it
In order to reheat this broccoli and keep it crispy, just use the air fryer again. Just as you did the first time, cook the broccoli in the air fryer for about 2-3 minutes and then serve.
Nutrition
Calories:
102
kcal
|
Carbohydrates:
8
g
|
Protein:
3
g
|
Fat:
7
g
|
Saturated Fat:
1
g
|
Sodium:
474
mg
|
Potassium:
358
mg
|
Fiber:
3
g
|
Sugar:
2
g
|
Vitamin A:
706
IU
|
Vitamin C:
101
mg
|
Calcium:
53
mg
|
Iron:
1
mg