This Scalloped Potatoes recipe is loaded with bubbling cheese, fragrant onion, and sauteed mushrooms. The mushrooms add an earthy flavor, making this side dish so scrumptious.
If you love vegetarian side dishes, you should try these sauteed asparagus or cheesy mushroom pinwheels.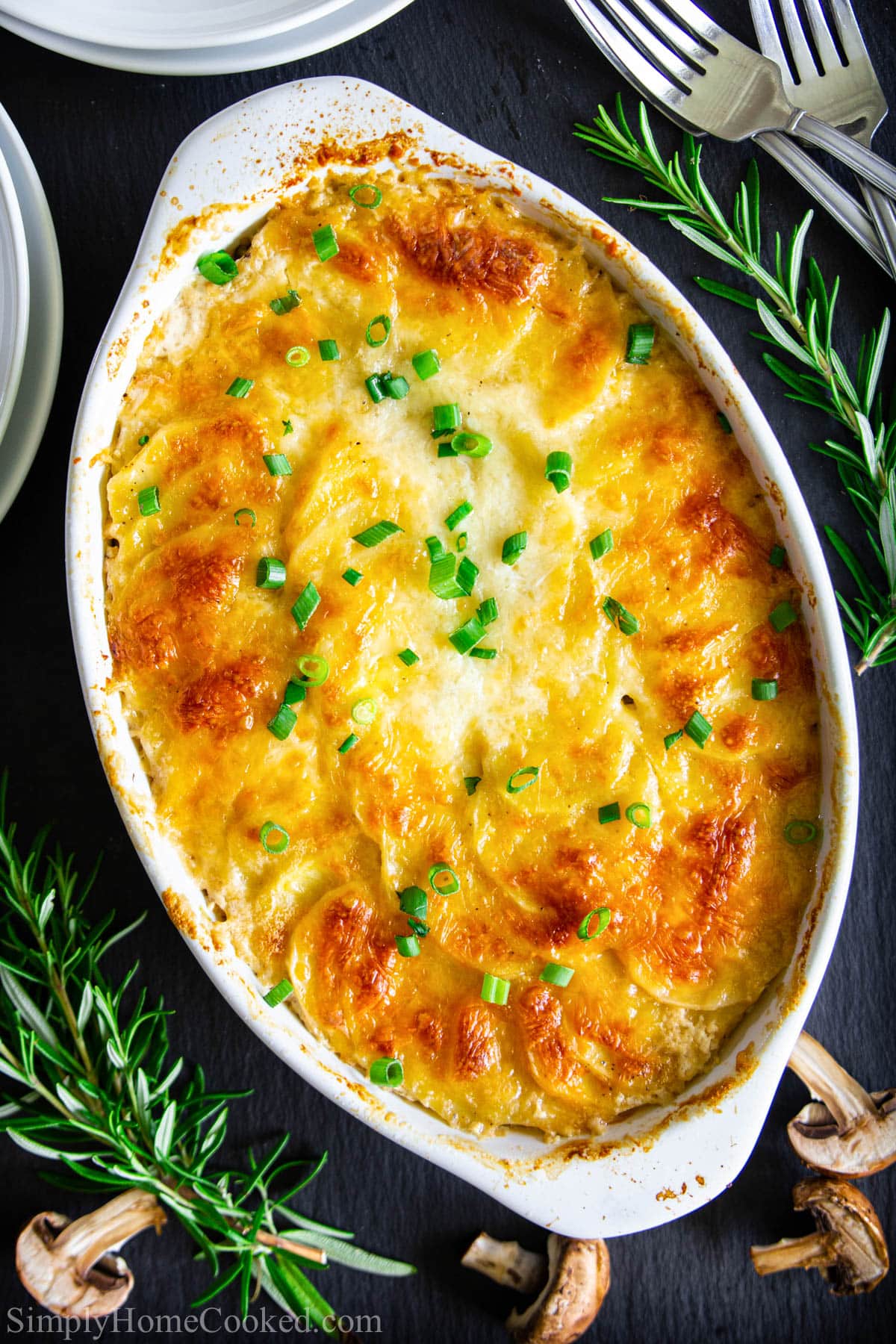 Table Of Contents
Scalloped Potatoes Recipe Details
I love how these scalloped potatoes, especially with mushrooms. They add a meatiness without there actually being any meat!
TASTE: These Scalloped Potatoes are cheesy and rich, with an earthy flavor from the mushrooms that pairs nicely with the slight sweetness of the tender onions.
TEXTURE: Bubbling melted cheese and cream are in between layers of tender mushrooms, potato, and onion for a delicious side that will have everyone asking for seconds.
TIME: This dish will take about 90 minutes from start to finish.
EASE: Simple and easy to follow, this recipe makes it a snap to put out perfect scalloped potatoes every time.
What You'll Need
Vegetables- Cremini mushrooms (sliced), Golden Yukon potatoes, Yellow onion, and Green onion
Seasonings- Salt, Black pepper, Garlic powder
Creamy base- Unsalted butter, Parnesan cheese (grated), Half & Half, and Mozzarella cheese (shredded)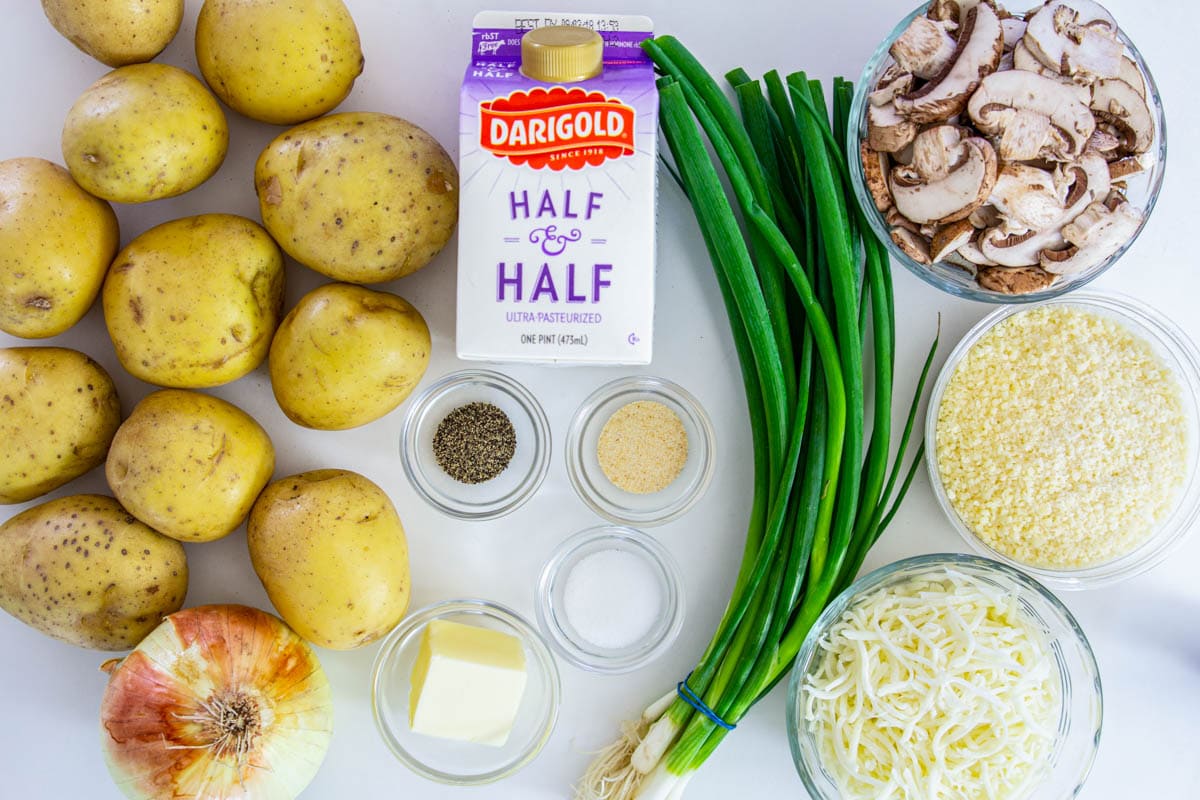 How to Make Scalloped Potatoes
Saute the mushrooms. In a large skillet, sauté the sliced mushrooms until they become tender.
Cut the potatoes. Using a sharp knife or mandolin, thinly slice the Yukon potatoes and place them into a bowl. Season with salt, black pepper, and garlic powder.
Pro Tip: If you have one, use a mandolin for slicing the potatoes. Once you get the hang of this gadget, it is much faster and more precise than using a knife.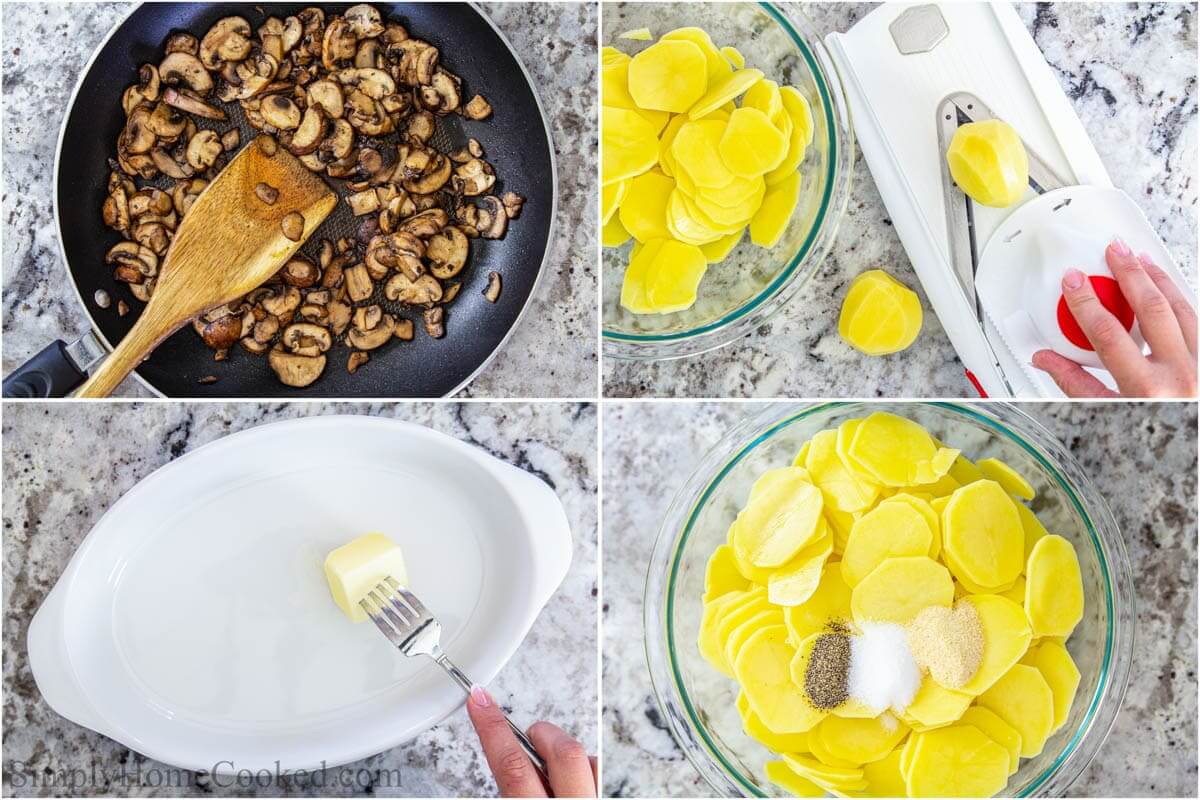 Add the onion and potatoes to the baking dishes. Generously grease 2 baking dishes or oval gratins with the unsalted butter. First layer the sliced yellow onion, then the potatoes in each dish.
Add the rest of the ingredients. Now top the potatoes with sliced green onion. Then add the Parmesan and shredded mozzarella cheeses. Layer the rest of the potatoes on top and add the remaining cheeses. Finally, pour the Half & Half right on top.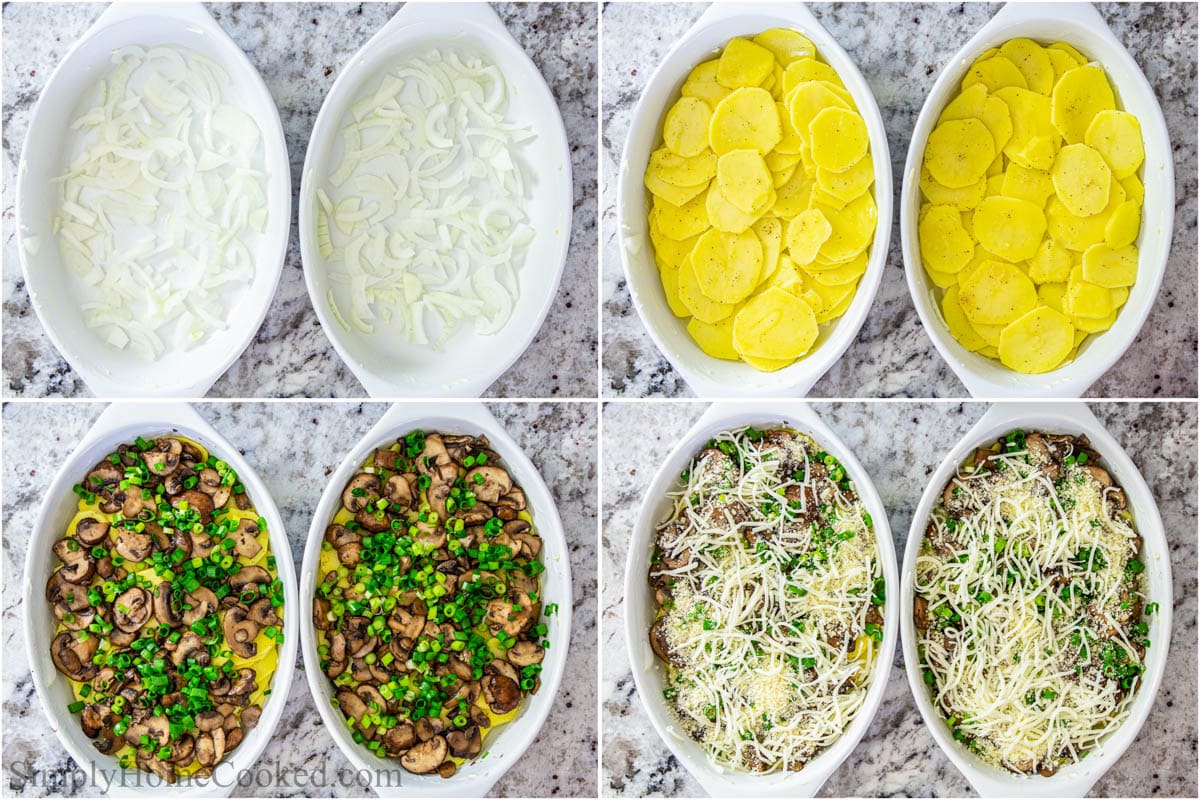 Bake. Cover the baking dishes with aluminum foil and bake at 400 degrees Fahrenheit for about 30 minutes. Then remove the foil and bake for an additional 30 minutes.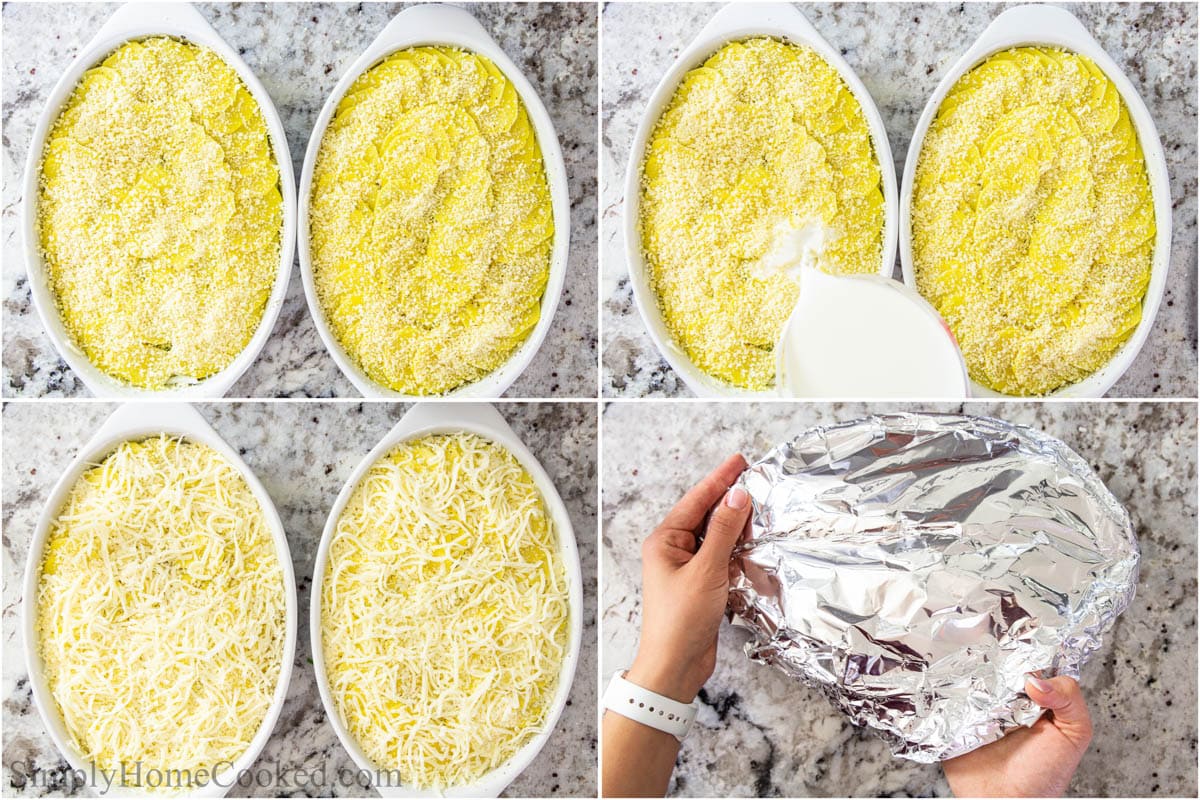 Recipe Tips
Thinly slice the potatoes- Scalloped potatoes need thin potatoes in order to layer with cheese and milk and other vegetables. Use a mandolin for even slicing to give your dish the perfect texture.
Saute the mushrooms for better flavor- Cooking the mushrooms brings out a natural sweetness and delicious earthy flavor. This step makes them taste even better and also tenderizes them.
Layer your dish- Layering the ingredients rather than just adding them all together gives this side dish it's traditional appearance, but also gives each bite a little bit of every flavor.
Bake without foil in the end– Taking off the foil allows the cheeses on top to get direct heat so they brown and crisp a little, adding a yummy layer of bubbling cheesiness.
Add-ins and Substitutions
Skip the mushrooms- If you're not a fan, you can skip this ingredient. I love the meatiness it adds to this vegetarian dish, but you can easily make this recipe without it. Or use a variety that you prefer.
Make it lighter- To make a lighter version of these Scalloped Potatoes, substitute a fat-free Half & Half and use part-skim mozzarella cheese when you make them.
Use other potatoes- I love the traditional Yukon potatoes, but you can use most potato varieties in this recipe, including Russet and red potatoes, or even sweet potatoes.
Make it vegan/dairy-free- If you want to serve these dairy-free, then substitute the Half & Half, cheeses, and butter for vegan/plant-based versions. They're easy to find in grocery and health stores.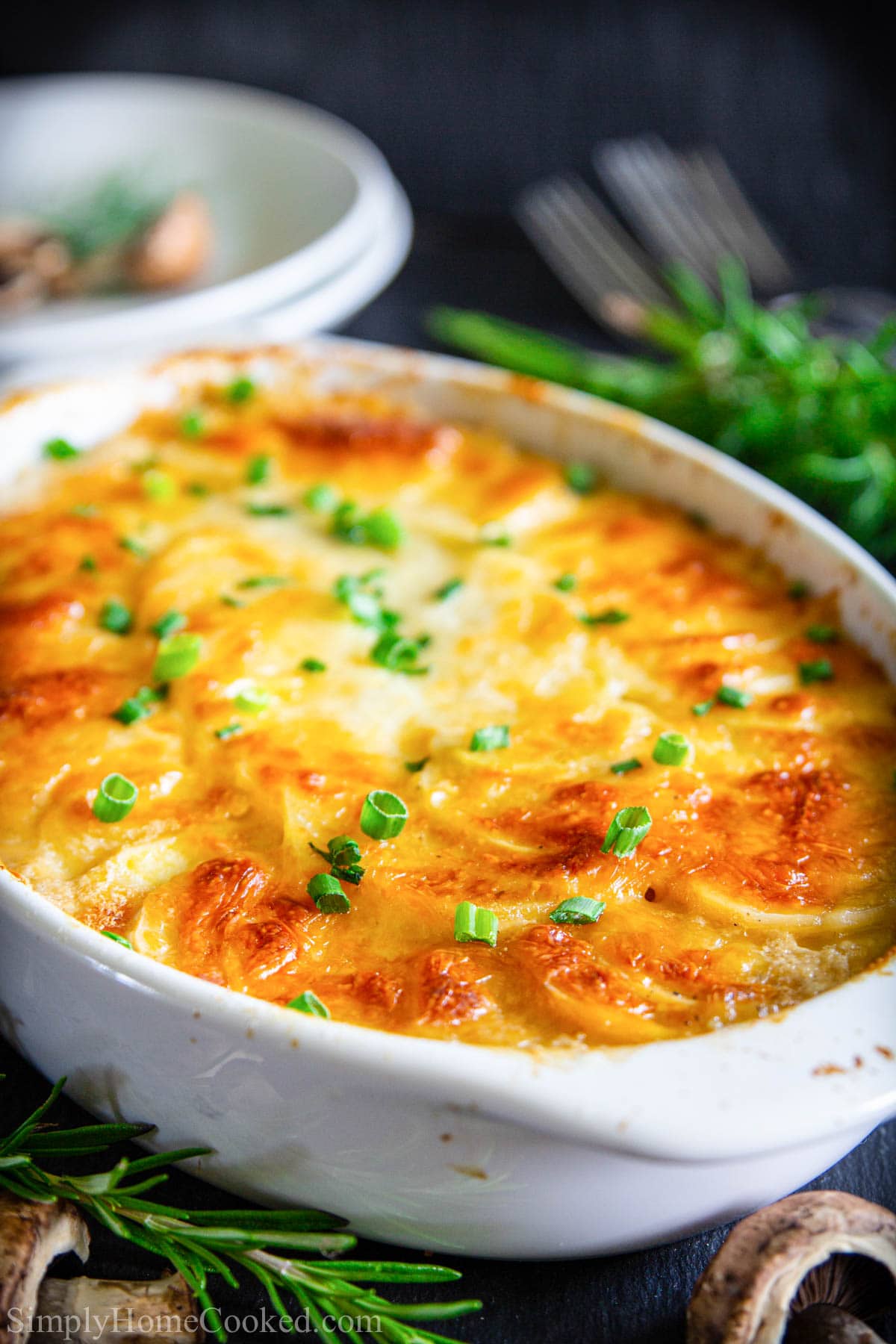 FAQs
What kind of potatoes are in scalloped potatoes?
The most commonly used potatoes are Yukon gold potatoes. You can use russet potatoes, red potatoes, or even sweet potatoes, but I prefer the traditional version.
How do you thinly slice potatoes?
The best and easiest way to thinly slice potatoes is by using a mandolin. If you do not have a mandolin, you can always use the blade attachment on your food processor. And if all else fails, a really sharp knife is your next resort. If your knife is dull and you don't know how to sharpen a knife, this knife sharpener is my best friend when it comes to that.
Serving Suggestions
This Scalloped Potatoes recipe can easily go with any dish you want to serve it with. Here are a few delicious ways to serve this side dish.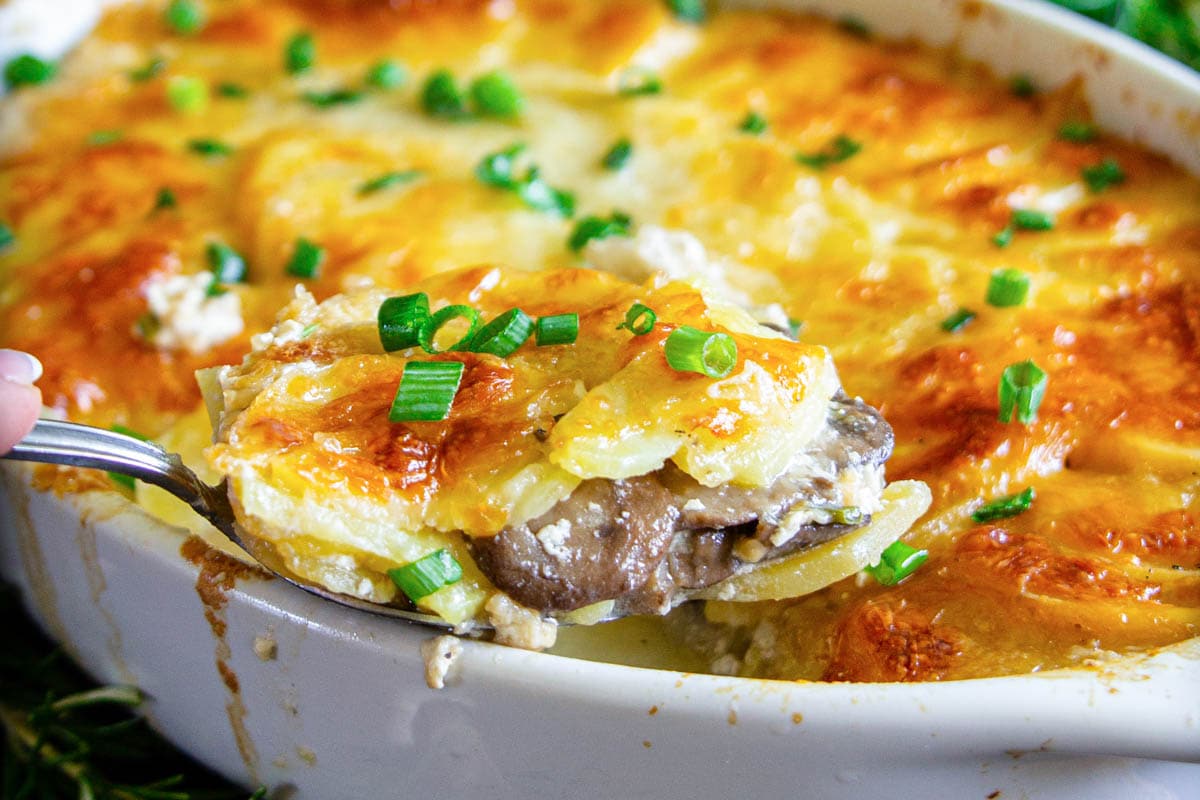 Make This Scalloped Potatoes Recipe in Advance
Make ahead: Just bake the Scalloped Potatoes as you normally would, and once they have cooled, tightly cover them with foil. Refrigerate for up to 3 days, then bake (covered) for about 30 minutes at 360 degrees Fahrenheit, or until fully warmed through.
Storing: These potatoes will last in the refrigerator in an airtight container for up to 3 days.
Freeze: Unfortunately, scalloped potatoes don't freeze too well. So I wouldn't recommend freezing them.
More Delicious Side Dishes!
Full Recipe Instructions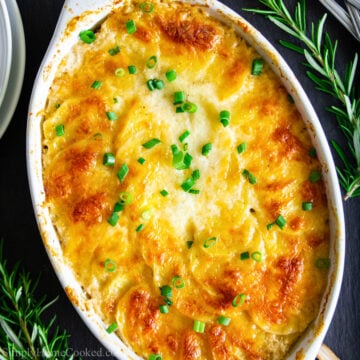 Scalloped Potatoes Recipe
Classic cheesy scalloped potatoes with a twist. Adding mushrooms gives it more meatiness without actually adding meat.
Print
Pin
Rate
Ingredients
16

oz

sliced cremini mushrooms

16

golden Yukon potatoes

1 1/2

tsp

salt

1/2

tsp

black pepper

1/2

tsp

garlic powder

2

tbsp

unsalted butter

1

cup

yellow onion

3-4

green onions

1

cup

grated Parmesan cheese

divided

2

cups

half and half

1 1/2

cup

shredded mozzarella cheese

divided
Instructions
In a large skillet, sauté 16 oz of sliced mushrooms until they become tender.

Using a sharp knife or mandolin, thinly slice 16 Yukon potatoes. Place the sliced potatoes into a bowl and season with 1 1/2 tsp salt, 1/2 tsp black pepper, and 1/2 tsp garlic powder.

Generously grease 2 baking dishes or oval gratins with 2 Tablespoons of unsalted butter.

Then distribute 1 cup of sliced yellow onion between both dishes. Now divided half of the seasoned potatoes amongst the dishes.

Slice 3-4 green onions and place them on top of the potatoes. Then add 1/2 cup Parmesan and 3/4 cup shredded mozzarella cheese. Now add the second half of the sliced potatoes. Lastly, sprinkle the remaining 1/2 parmesan and another 3/4 mozzarella, and pour 2 cups half and half right over the potatoes, so 1 cup per dish.

Cover with aluminum foil and bake at 400 degrees Fahrenheit for about 30 minutes. Then remove the foil and bake for an additional 30 minutes.
Nutrition
Calories:
352
kcal
|
Carbohydrates:
40
g
|
Protein:
17
g
|
Fat:
14
g
|
Saturated Fat:
8
g
|
Cholesterol:
46
mg
|
Sodium:
658
mg
|
Potassium:
1448
mg
|
Fiber:
7
g
|
Sugar:
1
g
|
Vitamin A:
480
IU
|
Vitamin C:
33.3
mg
|
Calcium:
343
mg
|
Iron:
9.3
mg