These Air Fryer Potato Wedges have the perfect combination of salty cheese & flavorful garlic. They're perfect to eat on their own or as a side dish.
These potato wedges taste amazing with this Juicy Air Fryer Steak or with Air Fryer Pork Chops (video).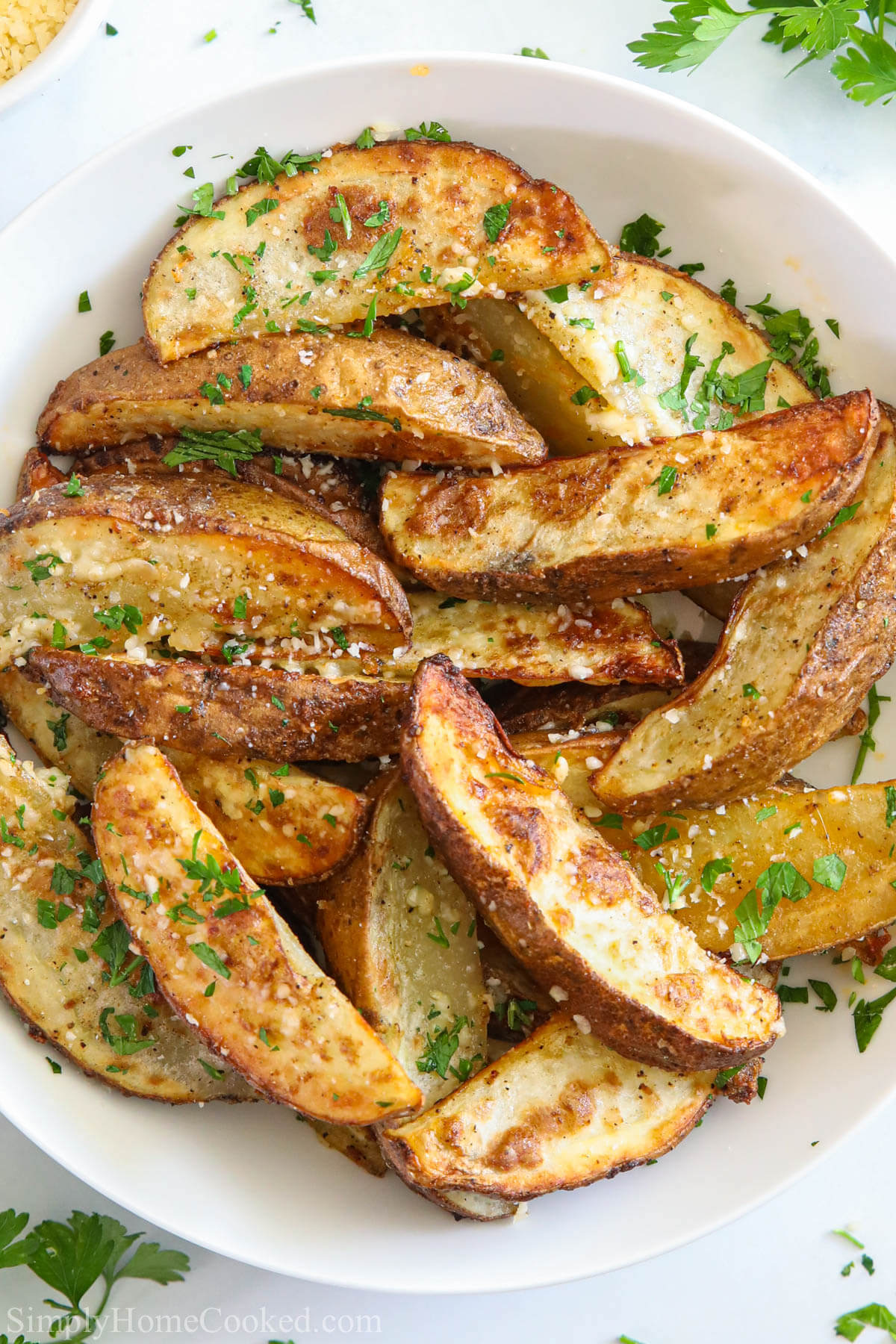 Table Of Contents
Recipe Details
This is one of my favorite recipes because unlike other fries, these are guilt-free, crispy, and a breeze to make.
TASTE: Flavored with garlic and parmesan, these potatoes are cheesy, savory, and seasoned to perfection.
TEXTURE: Crispy on the outside and filled with tender flaky potato, these Air Fryer Potato Wedges are absolutely delicious.
TIME: This dish takes less than half an hour from start to finish.
EASE: Making these potato wedges couldn't be easier! With simple ingredients and an air fryer that does all the work, this recipe is nice and easy.
What You'll Need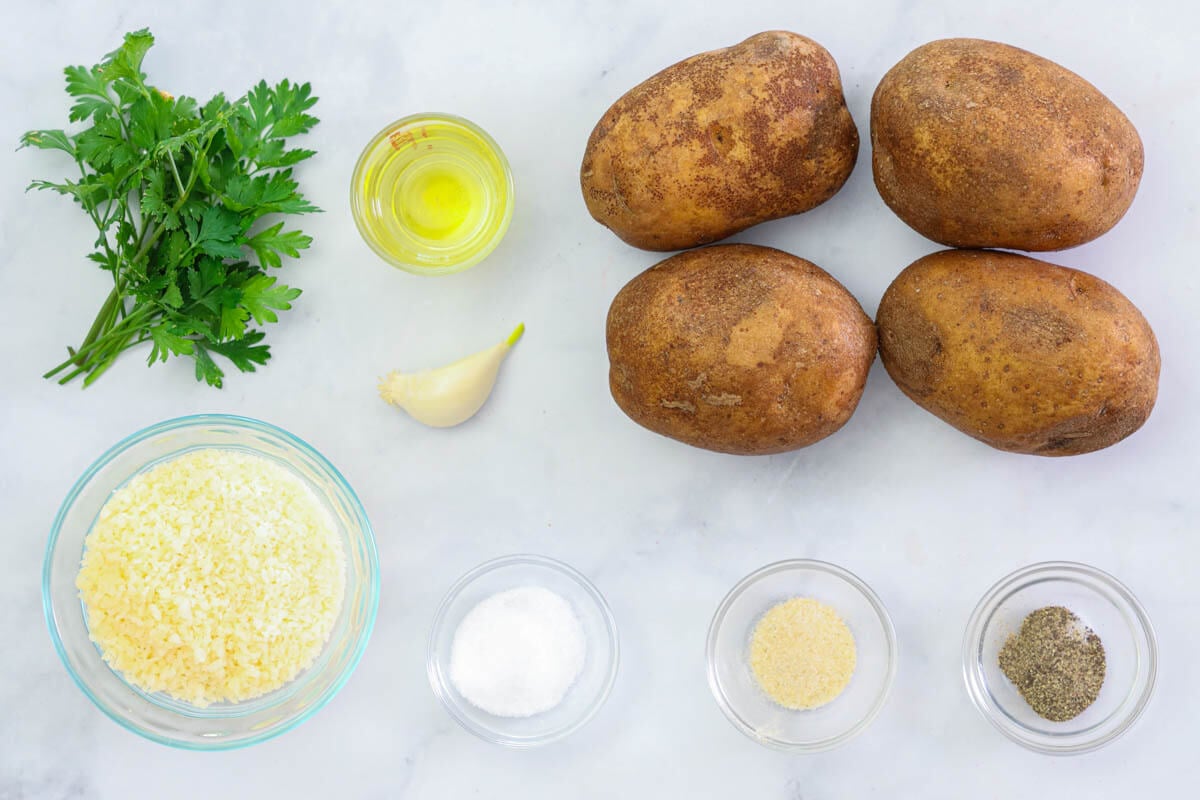 Ingredient Notes
Potatoes– Russet potatoes work best, but you can use yukon gold or baby red potatoes too.
oil– Any high smoke point oil like avocado, vegetable, or corn oil is optimal.
Parmesan cheese– make sure you get grated parmesan from the fridge and not the one that is on the shelves (thats not real cheese).
Add-ins and Substitutions
Add some spice- Sprinkle these Air Fryer Potato Wedges with cayenne pepper or chili powder for some kick.
Substitute Ranch seasoning- This will give your potato wedges a tangy, salty flavor.
Make them Greek- Instead of Parmesan, use feta cheese crumbles with some tzaziki dipping sauce.
Add toppings- These crispy fries can act as the base for anything from chili or gravy to curry or carne asada.
How to Make Air Fryer Potato Wedges
Prep the potatoes. Wash and dry the potatoes. Then slice them into similar-sized wedges for even cooking.
Season the wedges. Place the potato wedges into a large bowl and add the avocado oil, a pressed garlic clove, and the onion powder, salt, and pepper. Toss everything together with clean, dry hands.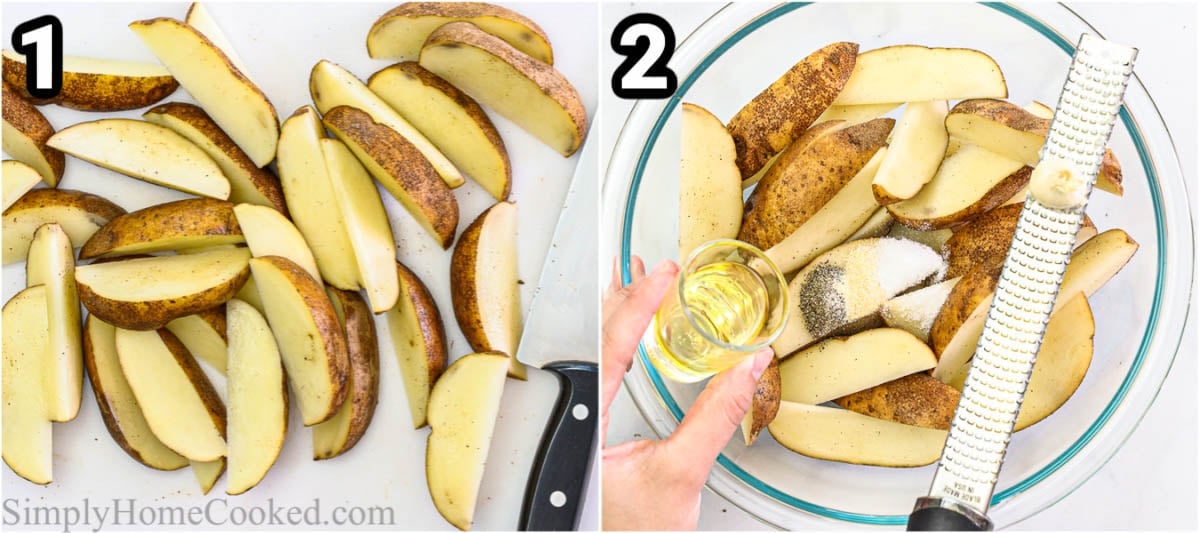 Fry them. Preheat the air fryer to 400 degrees Fahrenheit and place the potatoes in the basket in a single layer. Cook them for 15 minutes, or until golden brown and crispy.
Garnish the potato wedges. Add the grated Parmesan cheese to the wedges and cook them for another 2 minutes at 400 degrees Fahrenheit. Then sprinkle them with chopped fresh parsley and serve.
Pro Tip: Preheat the air fryer before adding the potato wedges. Putting them into a hot air fryer will make them more crispy.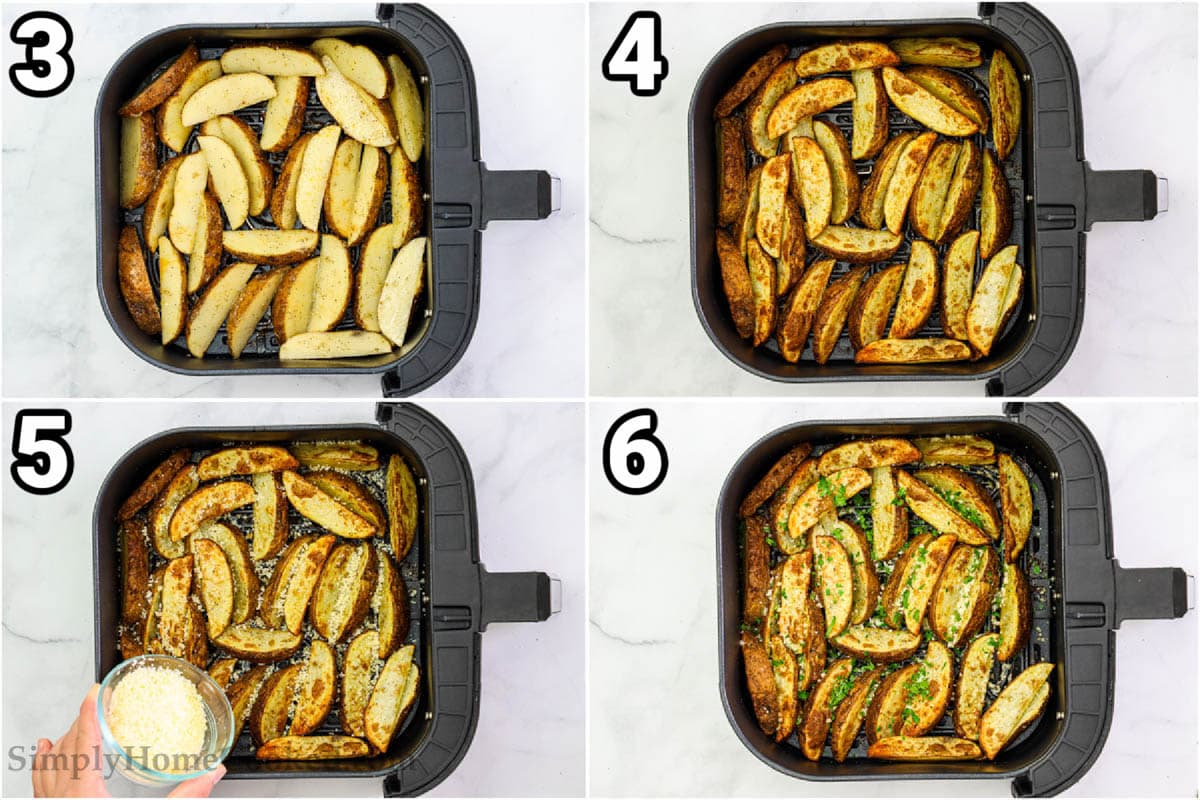 Recipe Tips
Cut the potatoes flat-side down- To safely cut your potato, always place the flat side down on the cutting board to keep it from rolling when you slice. Cut them the same size.
Pat the potatoes dry- The oil and seasonings will not stick if the potatoes are wet, so pat them dry with paper towels before adding anything to them.
Thoroughly coat with oil- To get crispy potato wedges, cover each piece with oil so the air fryer can crisp the outside. This is the key to getting the right texture in your fries.
Space the wedges out in the basket- Hot air has to be able to circulate in order for these potatoes to fry. Make sure the basket is not overcrowded and they are not touching.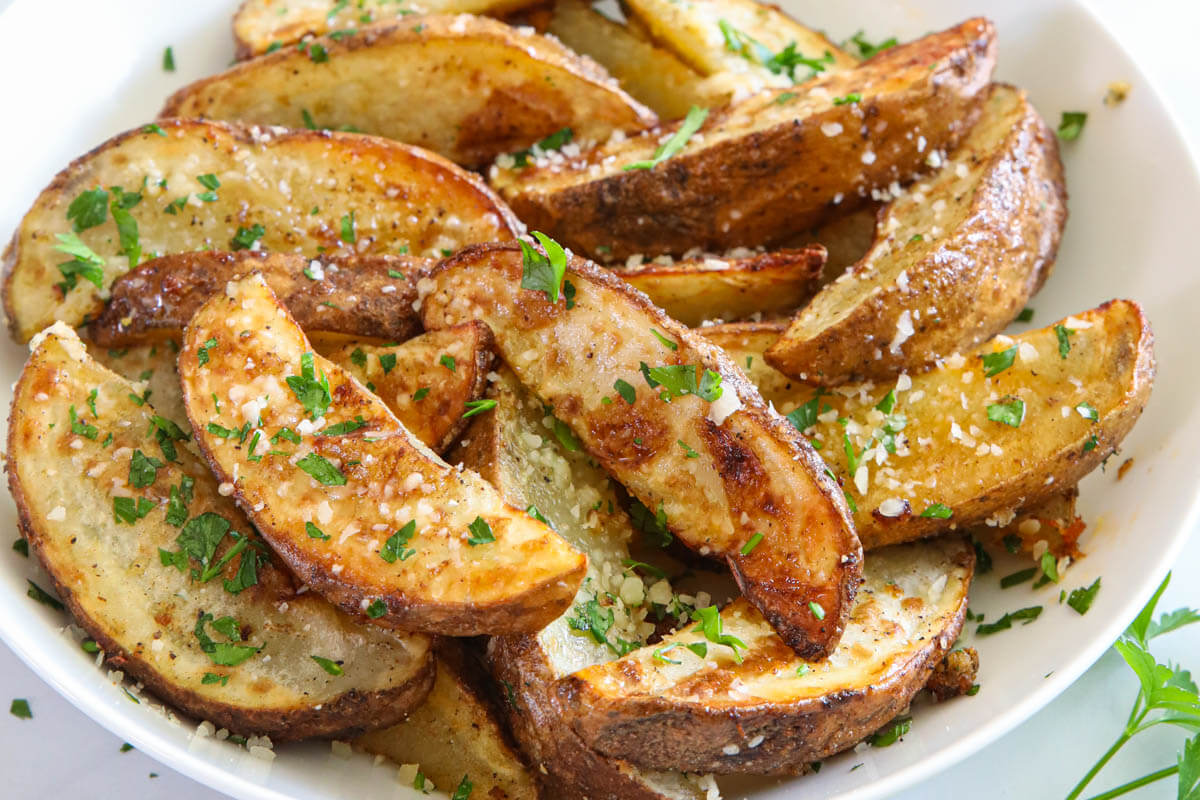 FAQs
Which potato is best for potato wedges?
Russet potatoes are the best choice because they crisp up the most. But you can also use Yukon gold, yellow, red, and white potatoes if that is all you have on hand. Consider buying organic, as potatoes are on the "Dirty Dozen" list.
Why are my air fryer potatoes not crispy?
After you wash your potatoes, you need to make sure you dry them thoroughly. Any extra moisture will create steam. With steam in the air fryer, you will get soggy potatoes and not crispy ones.
Serving Suggestions
These Air Fryer Potato Wedges are delicious enough to eat on their own or be served as a side dish. Here are some tasty ideas and pairings to try.
Meats: These potato wedges can pair with a Garlic Butter Steak Bites, Juicy Air Fryer Pork Chops (VIDEO), Breaded Air Fryer Chicken Tenders (VIDEO), and Healthy Chicken Nuggets with Quinoa.
Sides: Bacon Wrapped Asparagus, Bacon Green Bean Salad, Eggplant Roll-ups, and Crispy Air Fryer Broccoli all taste delicious with this dish.
Sauces: Serve them on their own with just a dipping sauce, such as ketchup, Homemade BBQ Sauce, Copycat Chick-Fil-A Sauce, or Buttermilk Ranch Dressing.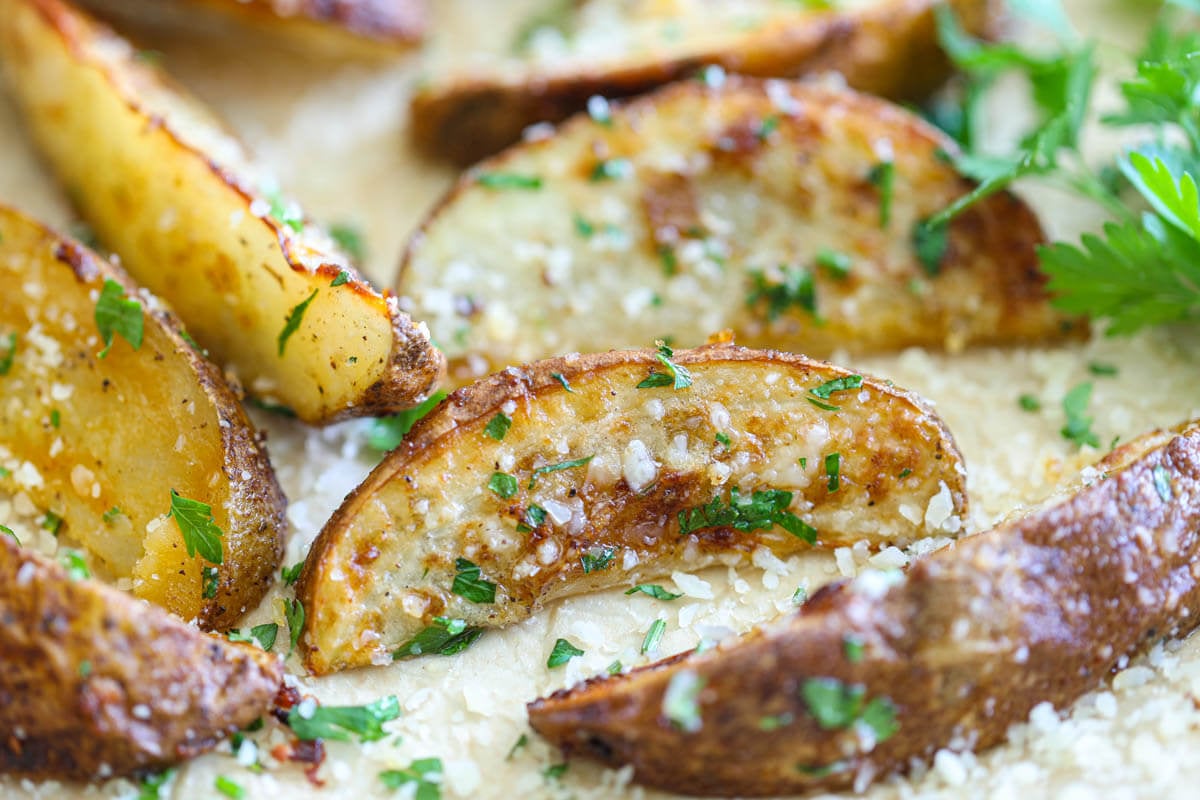 Make These Air Fryer Potato Wedges in Advance
Make ahead: Make these potato fries a day or so ahead of time and keep them in the fridge. When you are ready to reheat them, put them back in the air fryer for a few minutes at 370 degrees Fahrenheit. They'll be as crispy as when you first made them. You can also just pre-cut the potatoes earlier in the day so they are ready for seasoning and baking at night.
Storing: To store any leftover Air Fryer Potato Wedges, place them in an airtight container in the refrigerator for up to 5 days.
Freeze: You can freeze these potato wedges once they have fully cooled. Place them in an airtight container and freeze for up to 6 months. They can go directly from the freezer to the air fryer to reheat.
More Air Fryer Potato Recipe!
Full Recipe Instructions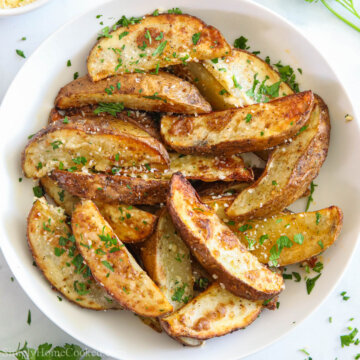 Air Fryer Potato Wedges
These Garlic Parmesan Air Fryer Potato Wedges are crispy, salty & cheesy. They have tons of flavor & taste great with plenty of dishes & dips.
Print
Pin
Rate
Instructions
Wash and dry 4 russet potatoes. Then slice them into wedges.

Now add the sliced potatoes into a large bowl along with 1 tbsp avocado oil, 1 pressed garlic clove, 1/4 tsp onion powder, 1 tsp salt, and 1/4 tsp black pepper.

Use your clean hands to toss all the ingredients together.

Preheat your air fryer to 400 degrees Fahrenheit, then place the potatoes in a single layer. Cook for 15 minutes or until golden and crispy.

Then add in 1/2 cup grated Parmesan and cook for another 2 minutes at 400 degrees Fahrenheit.

Garnish with 2 tablespoons freshly chopped parsley.
Notes
Make sure you dry the potatoes well before cutting them up. Any extra moisture in the air fryer will result in soggy potatoes.
To make them extra crispy, make sure not to overcrowd the potatoes in the air fryer. Leaving enough space between each potato wedge will allow proper circulation of air which creates super crispy potatoes.
Nutrition
Calories:
255
kcal
|
Carbohydrates:
39
g
|
Protein:
9
g
|
Fat:
7
g
|
Saturated Fat:
3
g
|
Cholesterol:
11
mg
|
Sodium:
783
mg
|
Potassium:
904
mg
|
Fiber:
3
g
|
Sugar:
1
g
|
Vitamin A:
108
IU
|
Vitamin C:
12
mg
|
Calcium:
166
mg
|
Iron:
2
mg