These Super Creamy Mashed Potatoes make the perfect side to any meal. Buttery and smooth with a hint of garlic, this potato dish is flavorful and delicious.
Try these amazing creamy potatoes with our savory beef stew or alongside a cast-iron ribeye steak.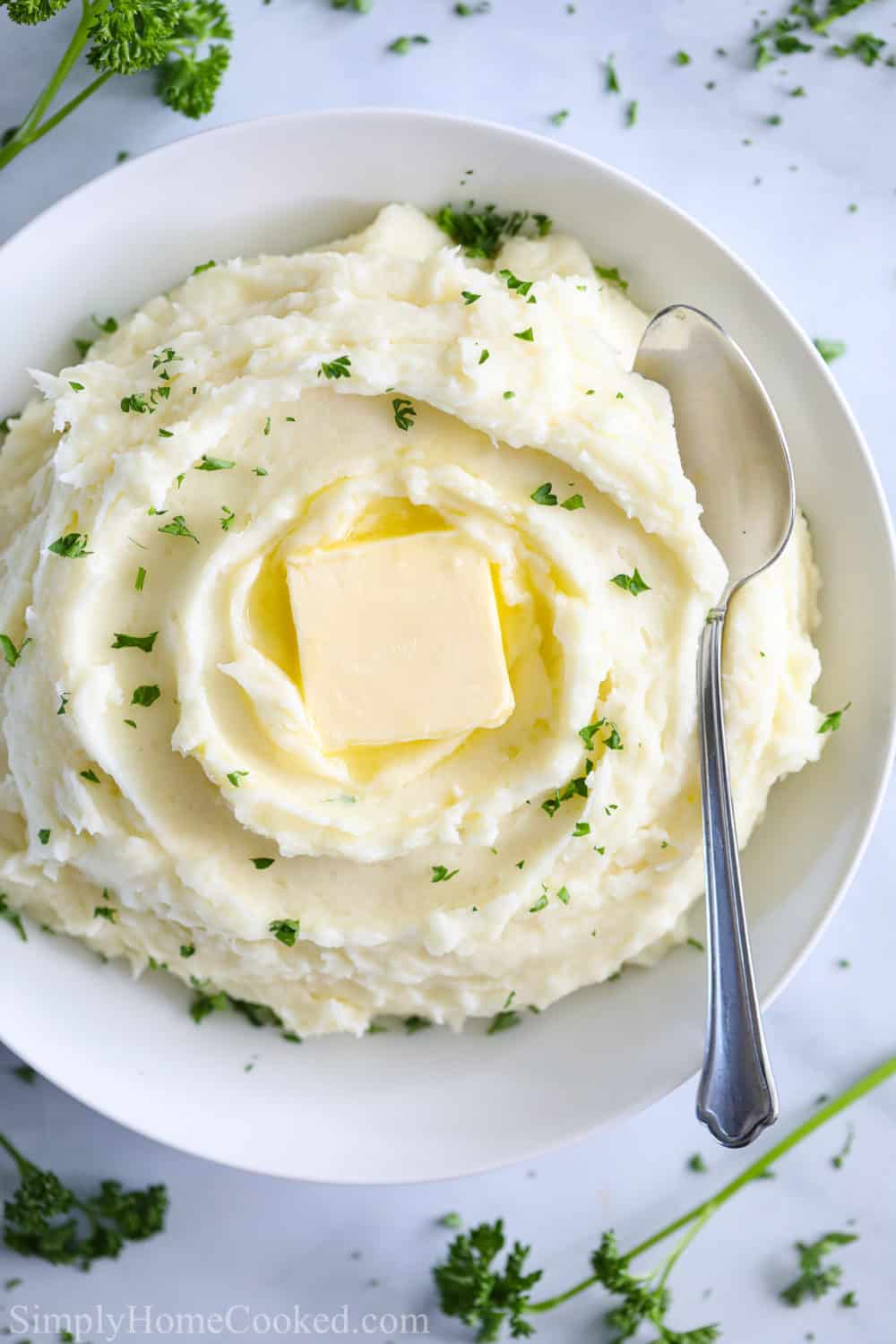 Super creamy mashed potatoes
Potatoes make some of the most delicious sides ever. And one of the best is mashed potatoes. This recipe makes creamy mashed potatoes that are full of flavor. These rich and smooth potatoes are so easy to make, too. If you're putting together dinner, it only takes a few simple ingredients and about half an hour to get them table-ready. You can pair these mashed potatoes with some cod and sauteed vegetables, prime rib roast, or add them to turkey shepherd's pie. They're so good, I wouldn't blame you if you just ate them straight from the bowl. 😉
The best type of potatoes to use
There are a lot of different potato varieties on the market, but the best for creamy mashed potatoes is Russet. Russet potatoes have some of the highest starch content of the different varieties, which makes them easy to mash, fluffy and smooth. They also absorb liquids, like butter and cream, wonderfully, so it's not difficult to incorporate all the best flavor components for the creamiest mashed potatoes possible,
What makes mashed potatoes creamy?
Creamy mashed potatoes start with the potato. Russet potatoes are the best here. Mixing in heavy cream and sour cream adds both a creamy texture as well as a rich and slightly tangy flavor. Butter is also great for flavoring the potatoes and making them smooth. Pressed garlic and sea salt add simple, but delicious, flavor to these mashed potatoes that you wouldn't want to skip.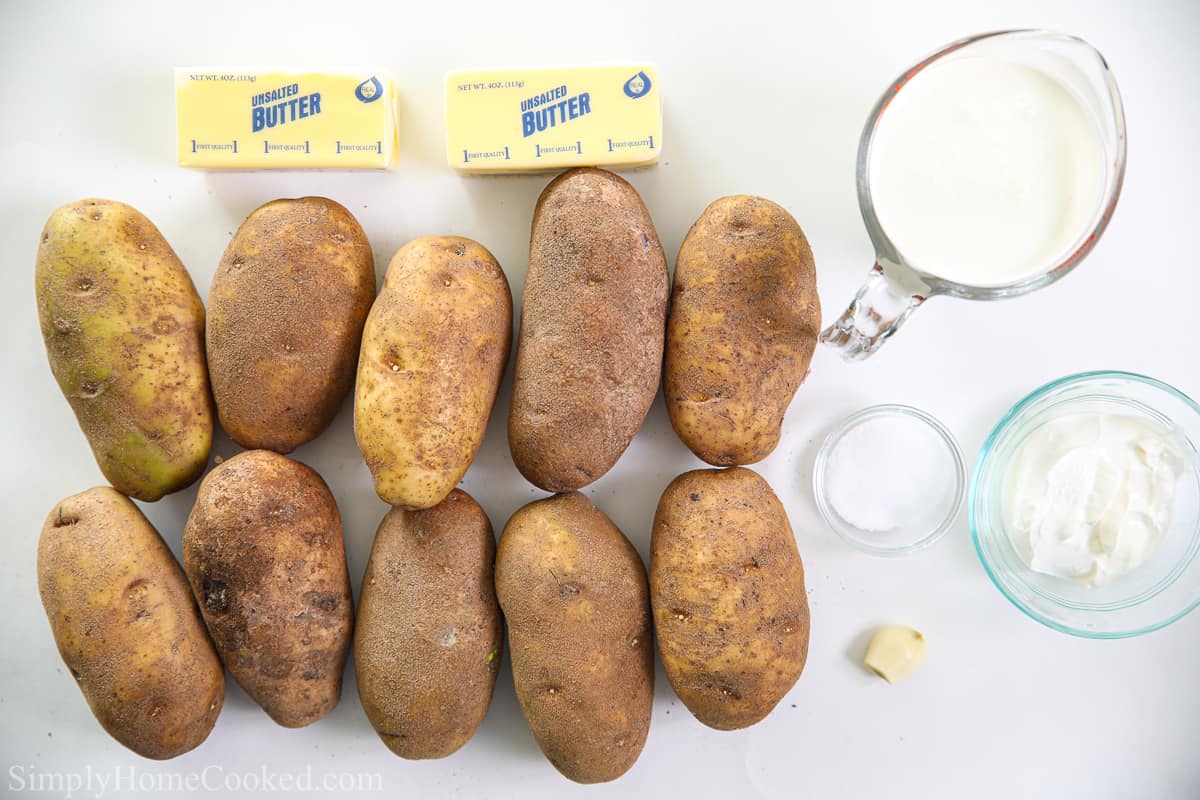 How to make the CREAMIEST mashed potatoes
Prep the potatoes. Peel your potatoes and rinse them. I love using this potato peeler. Then, cut them into 1-2 inch cubes, keeping their sizes similar for even cooking.
Boil the potatoes. Place the potatoes in a large pot and fill it with cold water until the potatoes are submerged. Add salt and bring it to a boil.
Cook the potatoes. Once the potatoes have boiled, lower the heat to medium-low and cook them for another 15 minutes, until fork-tender.
Drain and then add other ingredients. Strain the water out of the pot and then add the heavy cream, sour cream, butter, and garlic.
Mash and mix. Beat the potatoes and ingredients with an electric mixer until creamy and smooth. Add salt, if desired. Serve.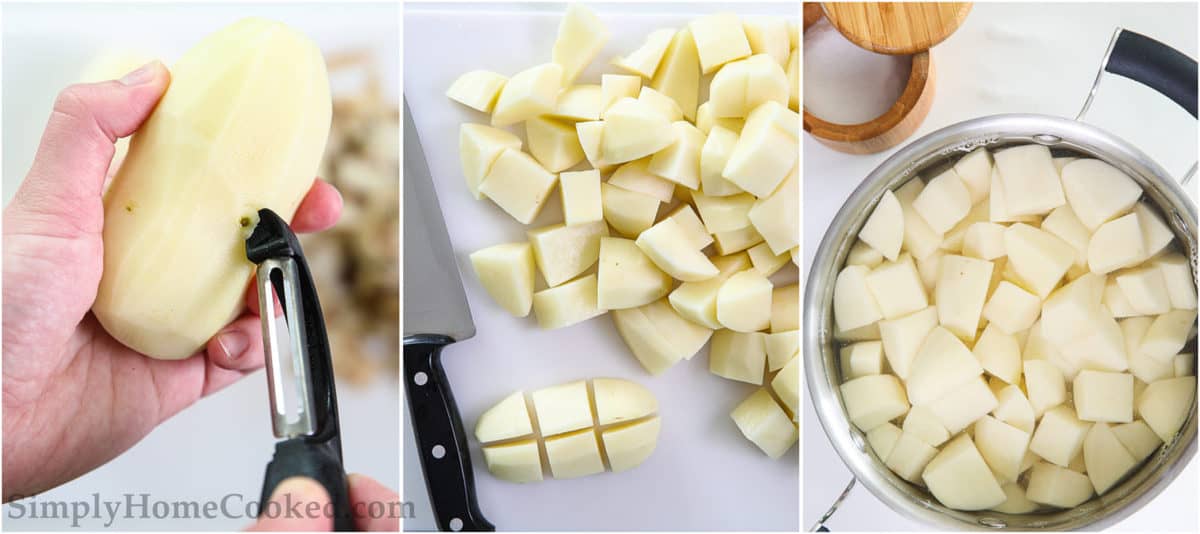 Fool-proof tips
Use cold water – By cooking the potatoes in cold water, the water heats around the potatoes, so they cook evenly, all at the same time.
Cut to similar sizes- Cooking the same-sized potato pieces is important to even cooking. If some are smaller, they will cook too fast, and larger ones too slow.
Use warm cream and softened butter – Softened butter and warm cream will help the potatoes mash smoothly and be creamy. To- cold ingredients can lead to chunkiness, as can pieces of cold butter.
Add garlic to enhance the flavor – Garlic goes really well with butter and potatoes, enhancing their natural flavors and adding a delicious, pungent note to the dish.
How long do you have to boil potatoes?
You want to boil potatoes until they are just tender enough. With a recipe like this, the cubed mashed potatoes only need to be boiled for about 15 minutes. Larger potatoes would need more time. Use a fork to test the tenderness of the potatoes.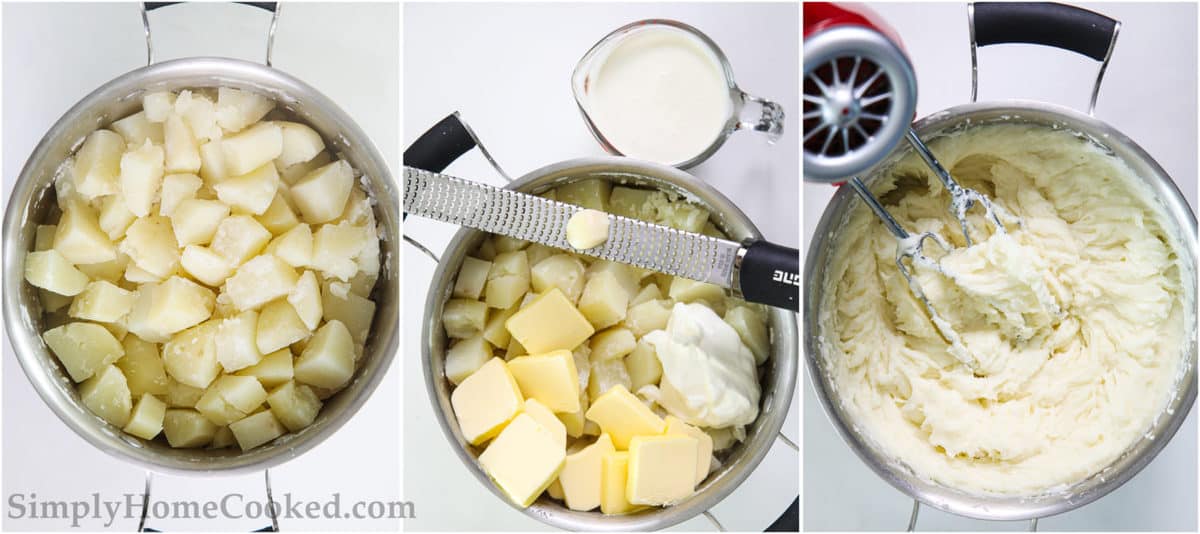 How to thicken it
If the water used to boil the potatoes wasn't drained well enough, your mashed potatoes will be runny. To thicken them up, add either cornstarch, flour, or powdered milk. Mixing any one of these in will save your mashed potatoes from being too watery.
What goes well with mashed potatoes?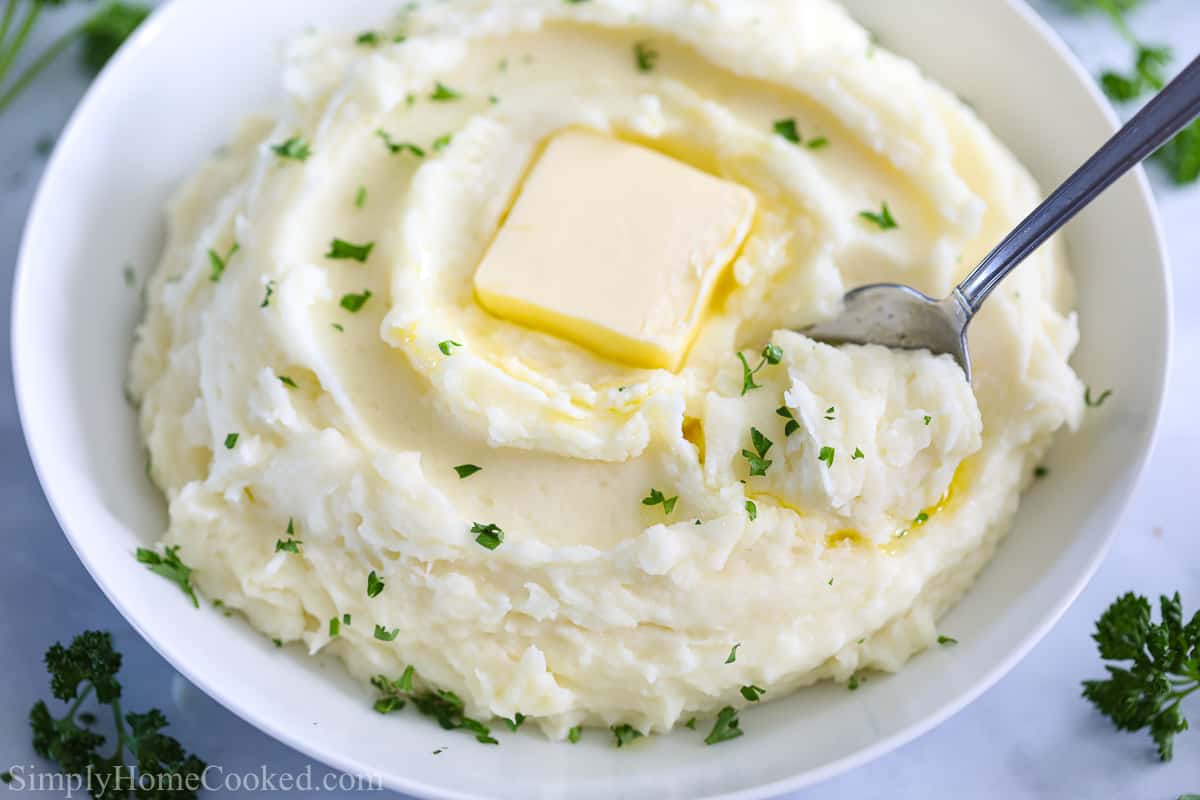 Storing and shelf life
The best way to store these creamy mashed potatoes is by placing them in an airtight container in the refrigerator. They will last for about 3-4 days.
What to do with leftovers?
Made more creamy mashed potatoes than you needed? Don't worry, you can use them to make another delicious dish. Try these tasty mashed potato pancakes, turkey shepherd's pie, or make homemade gnocchi.
Full Recipe Instructions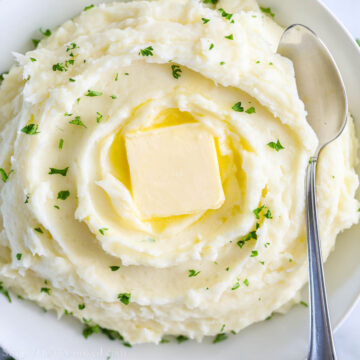 Creamy Mashed Potatoes
These Creamy Mashed Potatoes are so rich and smooth. Buttery and garlicky, they make a delicious addition to your favorite meal.
Print
Pin
Rate
Ingredients
10

medium potatoes

1 1/2

tbsp

salt

for boiling

3/4

cup

unsalted butter

(about 1 1/2 sticks )

1/2

cup

sour cream

1/2

cup

heavy cream

1

garlic clove

pressed

1/2

tsp

additional salt

or to taste
Instructions
Start off by peeling your potatoes using a knife or a potato peeler. Then give them a good rinse.

Then cut the potatoes into 1-2 inch cubes. Make sure the potato pieces are similar in size for even cooking.

Place the cut potatoes in a large stockpot and fill it with enough water to submerge all the potatoes. Roughly about 5 cups of water. Make sure the water is cold. That way the potatoes cook as the water heats up. 

Now add 1 1/2 tablespoons of sea salt to the potatoes and bring the water to a boil.

After the potatoes have boiled let them cook over medium-low heat for about 15 minutes. Or until the potatoes are fork-tender.

Carefully strain the water out of the pot while the lid is cracked open to keep the potatoes from falling out.

Now add the softened butter, sour cream, heavy cream, and pressed garlic.

 Using an electric hand mixer, beat the mashed potatoes until smooth and creamy. Season as needed with salt. 
Notes
What goes well with mashed potatoes?
What to do with leftover mashed potatoes
Made more creamy mashed potatoes than you needed? Don't worry, you can use them to make another delicious dish. Try these tasty mashed potato pancakes, turkey shepherd's pie, or make homemade gnocchi.
Nutrition
Calories:
335
kcal
|
Carbohydrates:
34
g
|
Protein:
7
g
|
Fat:
20
g
|
Saturated Fat:
13
g
|
Cholesterol:
53
mg
|
Sodium:
1349
mg
|
Potassium:
1125
mg
|
Fiber:
7
g
|
Sugar:
1
g
|
Vitamin A:
621
IU
|
Vitamin C:
31
mg
|
Calcium:
101
mg
|
Iron:
9
mg