These crispy parmesan roasted potatoes are loaded with smoky bacon bits, fresh parsley, and pressed garlic. Every bite is perfectly golden crisp on the edges and tender-soft in the center.
We love to serve these potatoes with some crispy breaded chicken or baked lemon chicken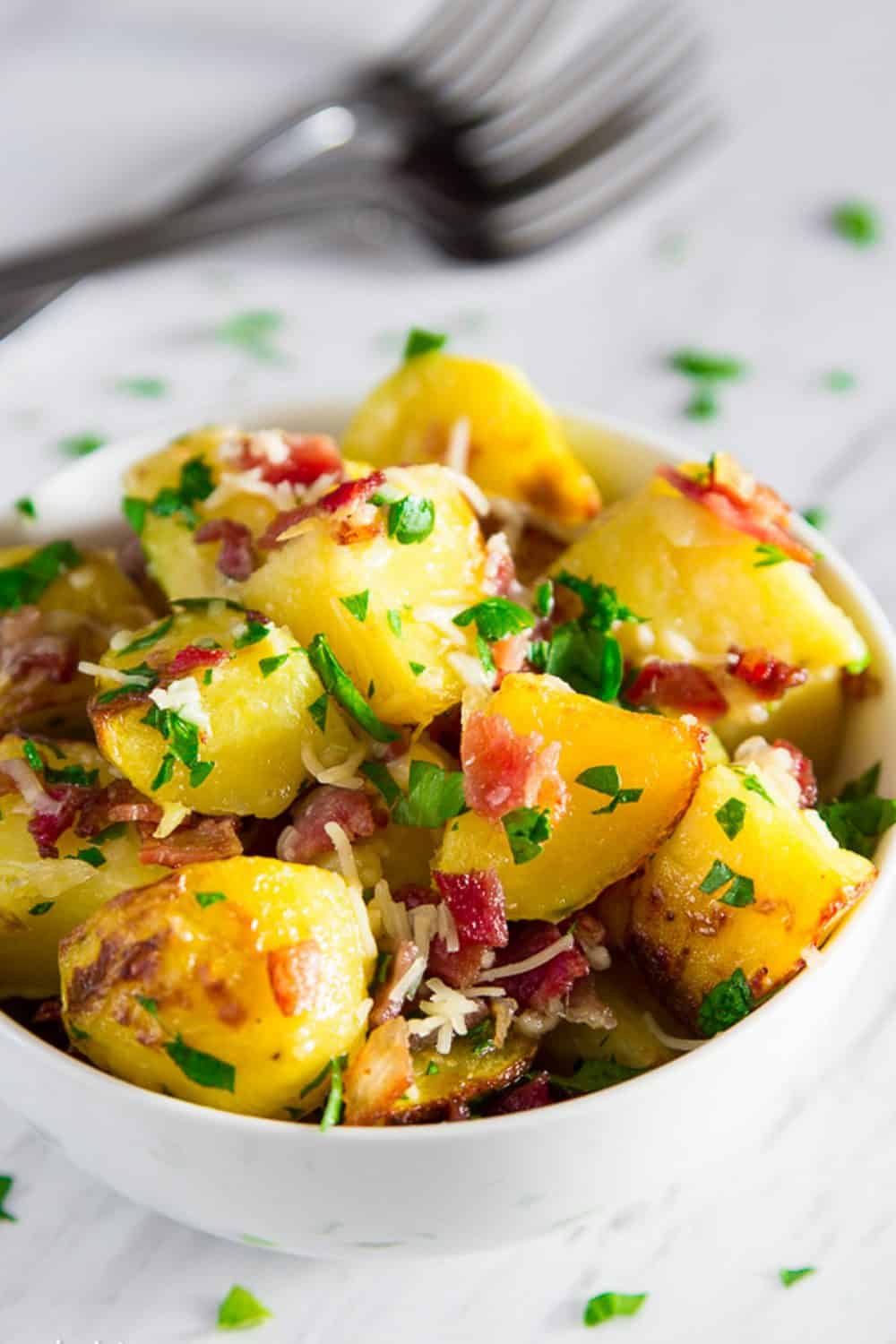 Parmesan roasted potatoes
These bacon and parsley oven-roasted potatoes are perfect for any occasion. They're not too heavy but have tons of flavor. They're ao crispy on the outside and have a fluffy soft texture on the inside.
What kind of potatoes can you use for roasted potatoes?
Well, technically you can use any potatoes, it is just a personal preference. I used Yukon gold in my oven roasted potatoes, however, you can also use russets, red, new, or baby potatoes.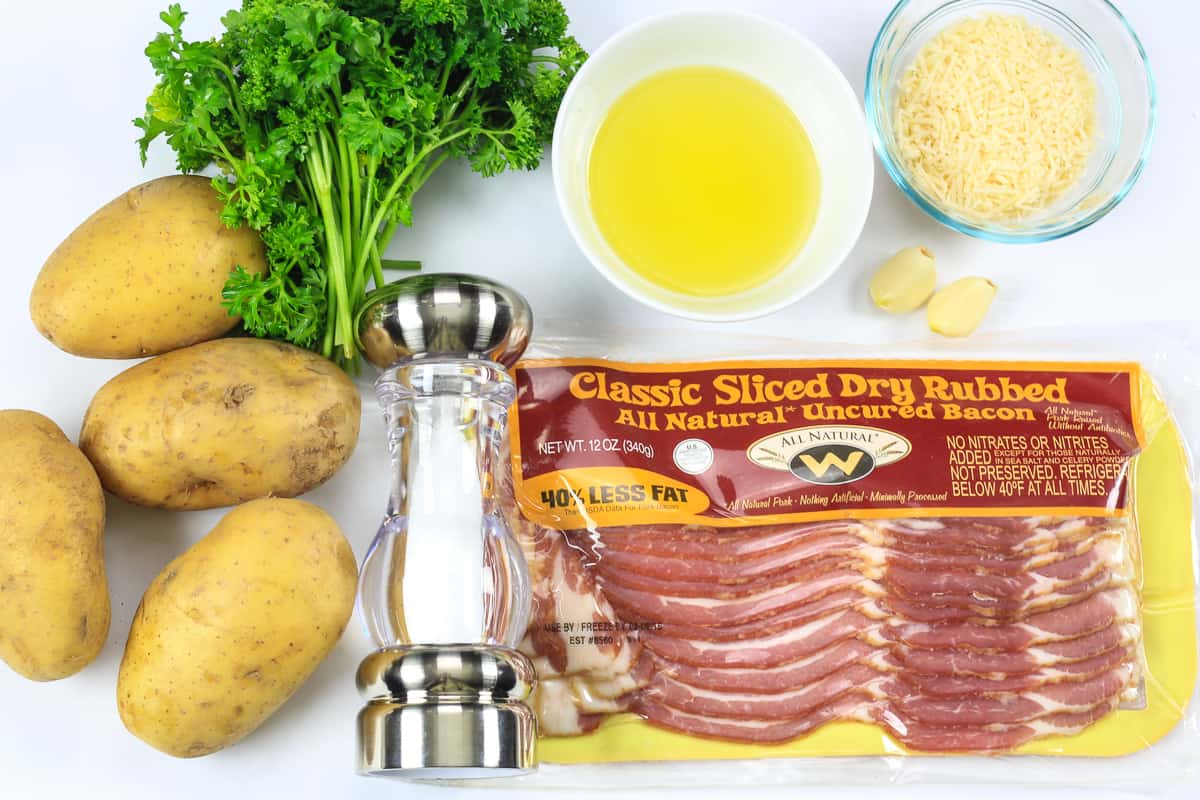 How to make parmesan oven roasted potatoes
Boil the potatoes in a medium-sized pot. This will speed up the entire cooking process. That way they will be almost fully cooked and roasting will be quick!
Drain the potatoes really well. You want to make sure there isn't much moisture when placing the potatoes in the oven. The less moisture the crispier the potatoes will be.
Roast the potatoes in a large baking sheet along with the bacon, parmesan, garlic, and seasoning. Once they're done, sprinkle on the fresh parsley. See the recipe card below for exact measurements.
How to season your parmesan potatoes
Potatoes can be seasoned in so many different ways! Here are a few different variations.
Italian– All you'll need is some parmesan, Italian seasoning, salt, paprika, and parsley
Ranch– A key ingredients here would be a packet of ranch seasoning mix, along with unsalted butter, minced garlic, and a garnish of parsley.
Herb– Here is where you can throw in your favorite herbs. Some of the most popular ones would be rosemary, oregano, and thyme. Then, season with salt to taste.
How to roast potatoes in the oven
Roasting potatoes is easier than you think. You can actually bake them at any temperature, however, your baking time will change with the temperature.
If you want to get a nice crispy outside then you want to bake them at high heat. I bake mine at 410 degrees Fahrenheit for 25-30 minutes.
You can bake at 350 (about 45 minutes) or even 450 degrees (20-25 minutes).
You can also briefly broil your parmesan roasted potatoes at the very end.
Can you freeze roasted potatoes?
Yes! After they are cooled down, you can place them in a freezer bag. To reheat them you can use an oven or fry them on a stovetop.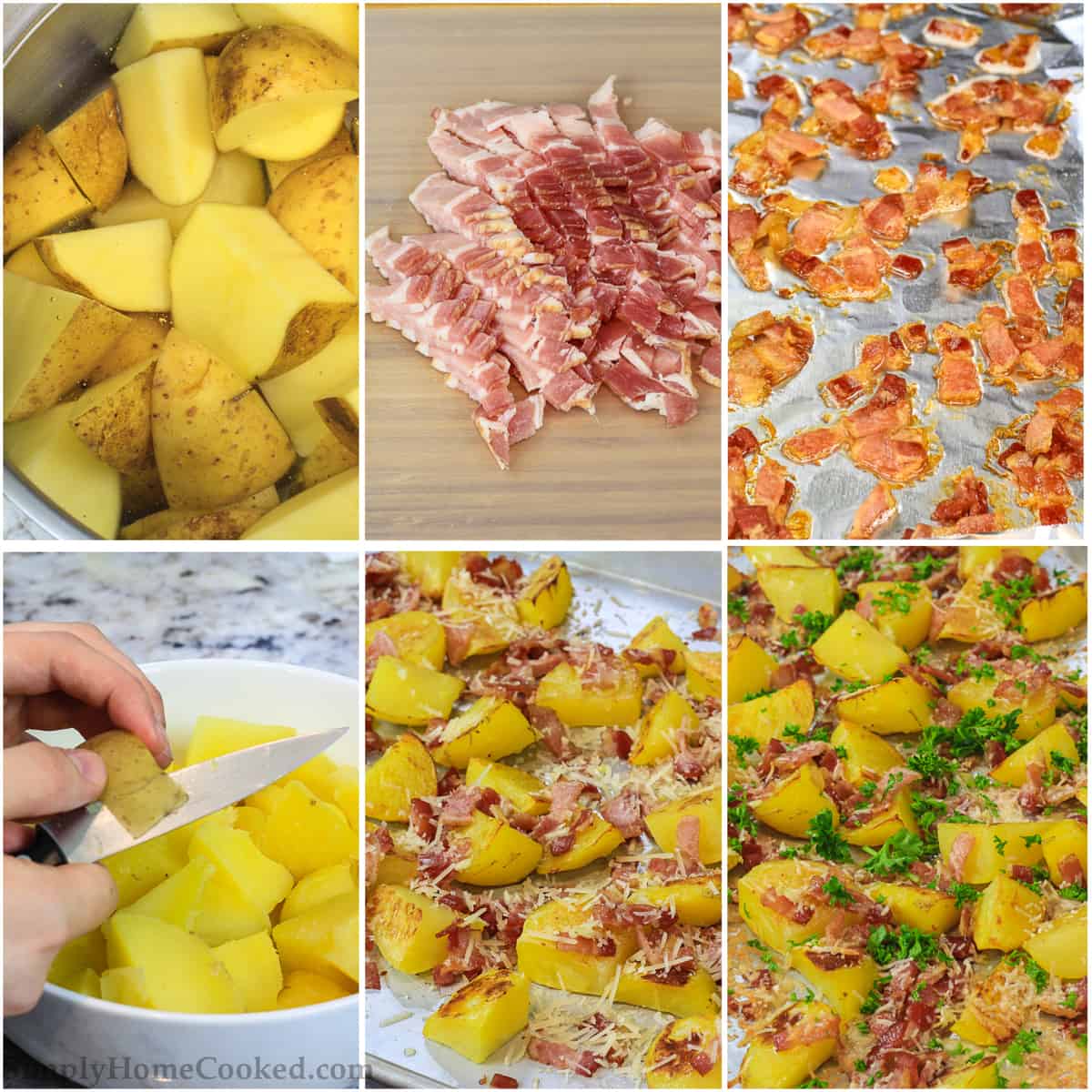 What to serve with roasted potatoes
These potatoes pair well with just about any fish, meat, or salad. We love serving them with panko parmesan salmon, grilled chicken kabobs, oven-roasted chicken, braised beef, and, garlic herb-roasted pork.
Tips on how to make your oven roasted potatoes crispy
The best size– I found that cutting the potatoes into about 1-inch cubes you get a good crispy potato. This will prevent them from under or overcooking
Rinse them– Letting the potatoes sit in some cold water helps remove excess starch off them. With less starch, they get a better crisp in the oven.
Single-layer– Make sure that you don't overcrowd the baking sheet. If you don't place them into a single layer then the potatoes could get mushy.
High heat– With higher heat, you get a nicer crisp. You can also broil them at the end for a little.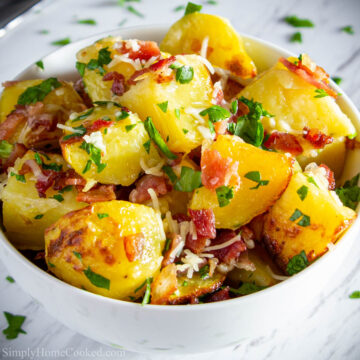 Parmesan Roasted Potatoes
These crispy parmesan roasted potatoes are loaded with smoky bacon bits, fresh parsley, and pressed garlic. Every bite is perfectly golden crisp on the edges and tender-soft in the center.
Print
Pin
Rate
Ingredients
Instructions
Preheat oven to 380 degrees Fahrenheit.

Chop the bacon into small pieces and place on a baking sheet lined with foil. Cook the bacon in the oven for about 10 minutes and set aside. If you don't have time to cook your own bacon, you can always use store bought bacon crumbles.

While the bacon is cooking, wash the potatoes and cut them into pieces. (About 8 pieces per potato, depending on the size). Place the potatoes in a pot and fill with enough water to fully submerge the potatoes. Add 1/2 tbsp salt and cook until the potatoes are just starting to soften or easily pierced with a knife. You don't want to fully cook them just yet.

Strain out the water and set the potatoes aside to cool. Once they've cooled, peel the skins off. (Peeling the skin is optional)

Spread 2 tablespoons of olive oil onto a baking sheet and place the potatoes on top. Preheat the oven to 410 degrees Fahrenheit and bake the potatoes for 25-30 minutes. Halfway through baking, flip the potatoes to ensure even browning. In the last three minutes of baking, spread bacon, garlic, and parmesan cheese on top of the potatoes.

Once the potatoes are out of the oven, mix in the chopped parsley.
Nutrition
Calories:
316
kcal
|
Carbohydrates:
20
g
|
Protein:
12
g
|
Fat:
22
g
|
Saturated Fat:
7
g
|
Cholesterol:
30
mg
|
Sodium:
974
mg
|
Potassium:
719
mg
|
Fiber:
4
g
|
Sugar:
1
g
|
Vitamin A:
289
IU
|
Vitamin C:
21
mg
|
Calcium:
149
mg
|
Iron:
5
mg
This recipe was originally posted on Mar 24, 2015, we've tweaked it a bit since then.