The cedar wood gives this cedar plank salmon grill recipe an undeniably smoky flavor that any salmon fan will fall head over heels for. It's as moist, flaky, and flavorful as you imagine.
If you love seafood, you should try these delicious air fryer salmon and air fryer shrimp recipes.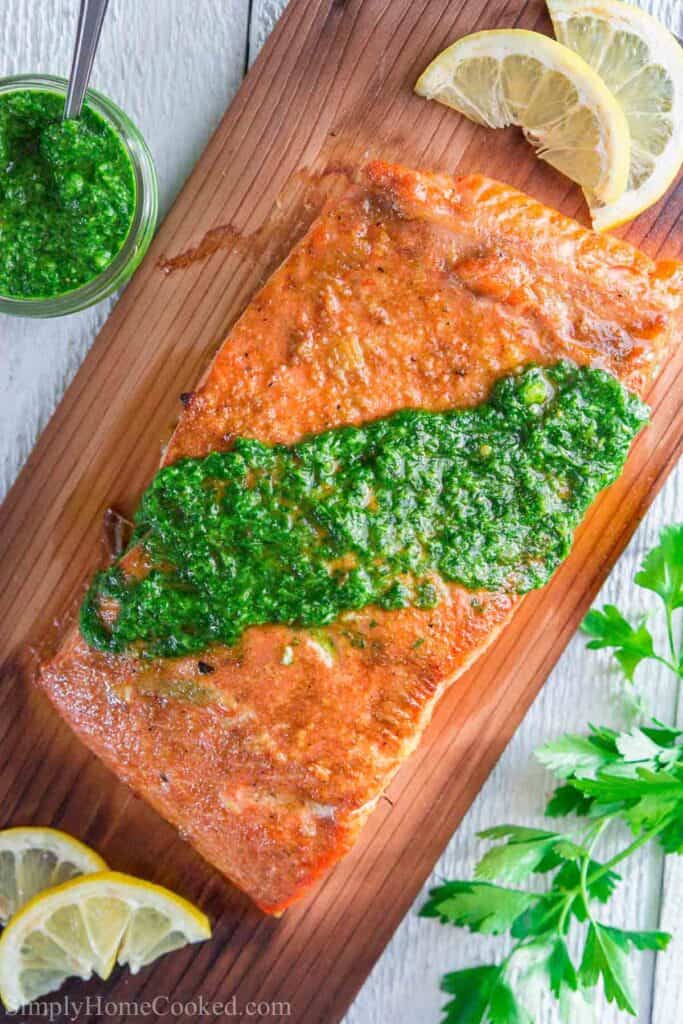 Table Of Contents
Cedar Plank Salmon details
Like most of my grilled recipes, this cedar plank salmon recipe is very simple. As I always say, the grill adds a delicious flavor that ovens can't seem to beat.
Taste- The smoky flavor from the grill and the earthy, woodsy notes that are absorbed from the cedar plank make this salmon recipe irresistible.
Texture- The fillets are moist and flaky, having absorbed moisture from the soaked planks along with flavor.
Ease- This recipe is nice and simple, with only a few ingredients and an easy clean-up since the cooking is done on the plank.
Time- Cedar plank salmon takes less than 30 minutes to make!
If you just love salmon, try these…
What you'll need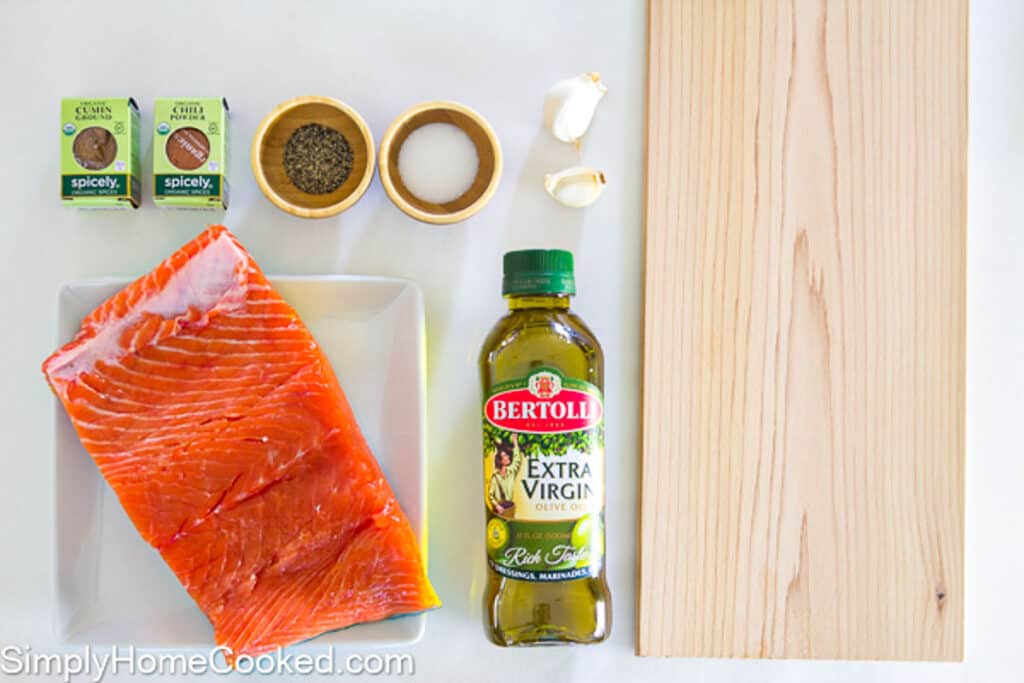 How to Make Grilled Cedar Plank Salmon
Prep the cedar planks. First, submerge the cedar planks in room temperature water for about 2-4 hours.
Season the salmon fillets. Drizzle olive oil over each fillet, then spread a little bit of pressed garlic on top. Combine the cumin, chili powder, and salt in a small prep bowl and sprinkle it over the salmon fillets.
Grill. Now place the seasoned salmon fillets on each soaked cedar plank, skin side down. Then grill them for 15-20 minutes at 500 degrees Fahrenheit. Serve with chimichurri sauce.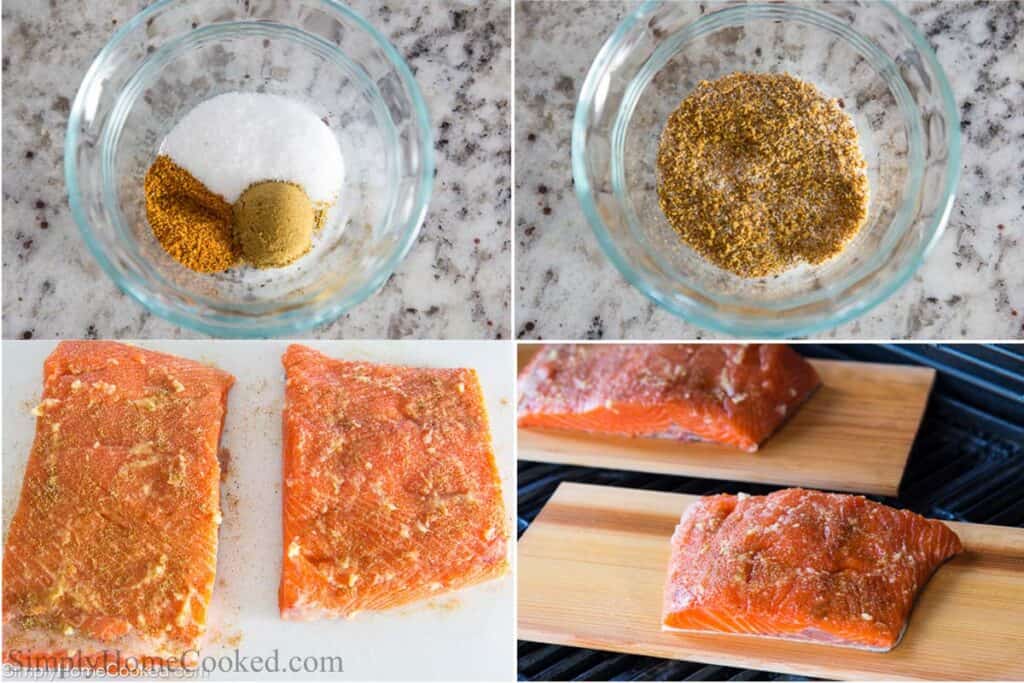 Tips for the best Cedar Plank Salmon
Soak the planks in advance- Save time and soak the planks weeks in advance and then store them in the freezer until you need them.
Try different soaking liquids- Water is what I used, but you can get creative. Soak the cedar planks in wine or cider for more flavor.
Make your own glaze- Try different combinations, like brown sugar, Dijon mustard, and bourbon for a sweet sauce. Or go spicy with lemon, ginger, cayenne pepper, and a touch of maple syrup. You may want to even try my honey soy cedar plank salmon.
Don't overcook the salmon- You want to cook your salmon fillets until they are pink and easily flake when scraped with a fork. They can get really dry if they're overcooked, so try not to exceed an internal temperature of 145 degrees.
How long should you grill cedar plank salmon?
Grilling time may vary depending on the thickness of each fillet. As a general rule of thumb, for every 1 inch of salmon fillet, grill for about 7-8 minutes total. Therefore you'll want to flip the fish after about 4 minutes. The temperate of the grill also plays a huge part in grilled cedar plank salmon. Medium-high heat is the best for grilled salmon. Check the temperature with a meat thermometer to make sure it has reached 145 degrees Fahrenheit.
Can this be cooked in the oven?
Yes, you can also bake this salmon in the oven. Place the seasoned salmon fillets on the cedar planks, then in an oven preheated to 350 degrees Fahrenheit. Cook for 10-14 minutes, until the fish is pink and flaky.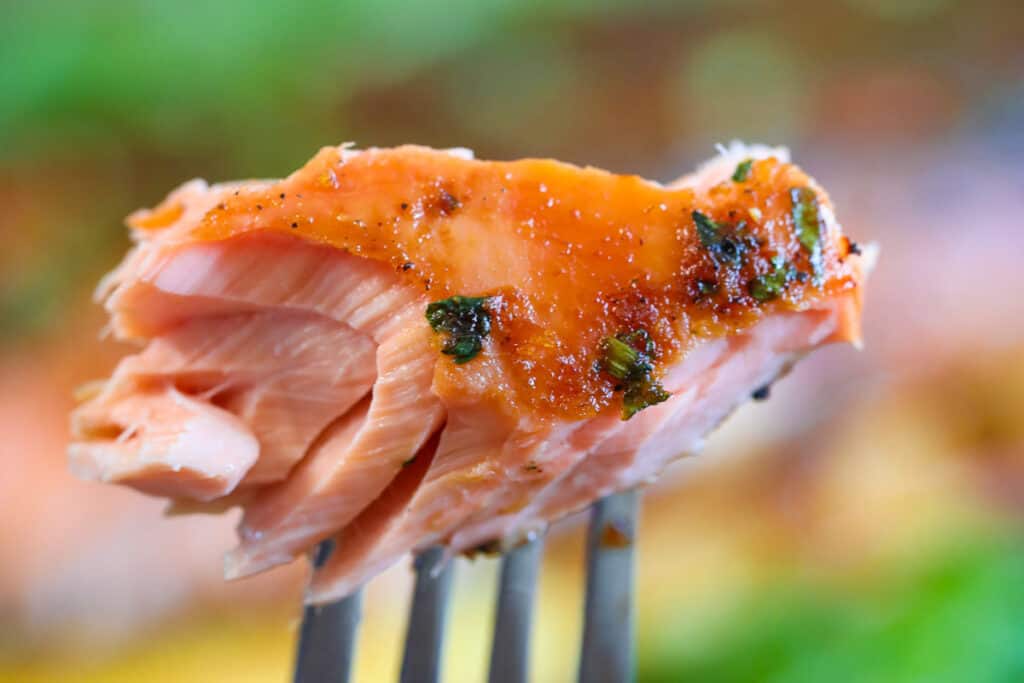 How to Store and Reheat
Store any leftover cedar plank salmon in an airtight container in the fridge for up to two days. The best way to reheat them is low and slow to avoid drying them out. Warm them for about 15 minutes at 275 degrees Fahrenheit, then serve.
What Side Dishes to Serve with Salmon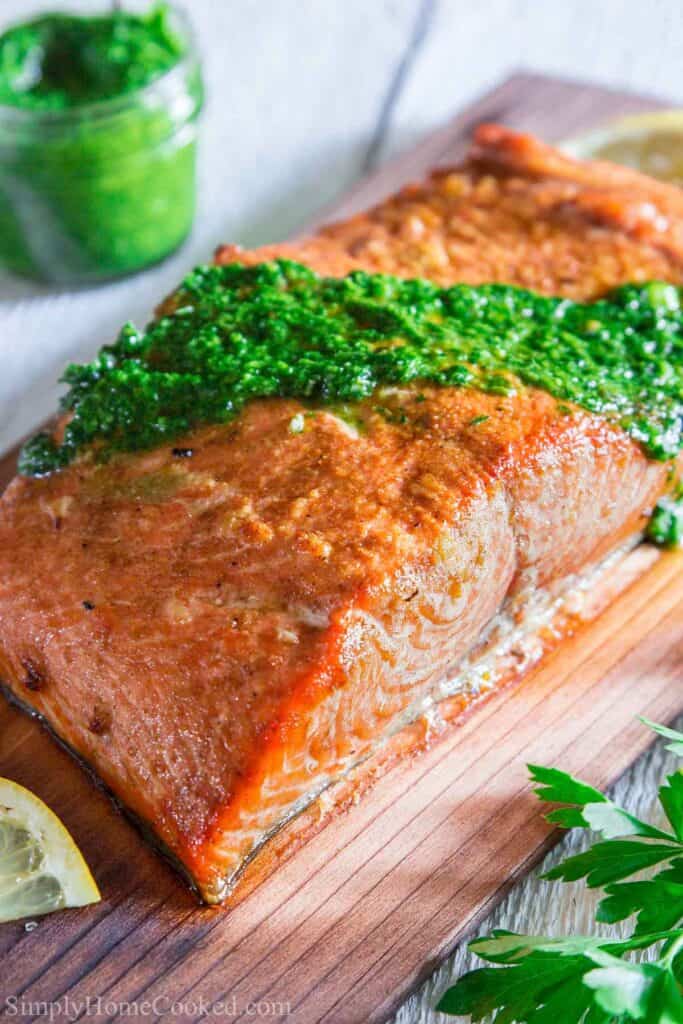 More delicious seafood dishes to try!
Full Recipe Instructions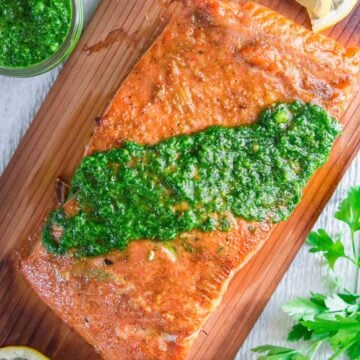 Grilled Cedar Plank Salmon
The most delicious way to grill salmon. All the smokey flavors from the grilled cedar plank are truly to die for.
Print
Pin
Rate
Instructions
Submerge the cedar planks in water for at least 4 hours. This will prevent the wood from catching on fire and burning.

In a small bowl, combine the 1 tsp salt, 1/2 tsp cumin, and 1/2 tsp chili powder.

Drizzle 3 tablespoons olive oil over the fillet. The grate the 3-4 garlic cloves using a zester or garlic press and spread the grated garlic over the oiled salmon.

Season the salmon with the seasoning mix and place on each cedar plank, skin side down.

Grill at 500 degrees Fahrenheit for 15-20 minutes. Grilling time may vary depending on the thickness of each fillet. You want to make sure the thickest part of the salmon reaches at least 145 degrees Fahrenheit. Use an instant-read thermometer to check the fish temperature.
Notes
FAQs Answered in Above Post
How to Make In The Oven
How to Store
Serving Suggestions
Nutrition
Calories:
229
kcal
|
Protein:
31
g
|
Fat:
10
g
|
Saturated Fat:
1
g
|
Cholesterol:
85
mg
|
Sodium:
362
mg
|
Potassium:
768
mg
|
Vitamin A:
110
IU
|
Vitamin C:
0.3
mg
|
Calcium:
21
mg
|
Iron:
1.4
mg
This recipe was originally published on Jun 16, 2016, it has been updated since.