A juicy Prime Rib recipe that only takes 6 steps is perfect for the holidays! Seasoned with garlic and herbs, it has the most flavorful outer crust you have ever sunk your teeth into!
Serve this dish with some creamy scalloped potatoes. and a side of pomegranate spinach salad for the ultimate holiday meal.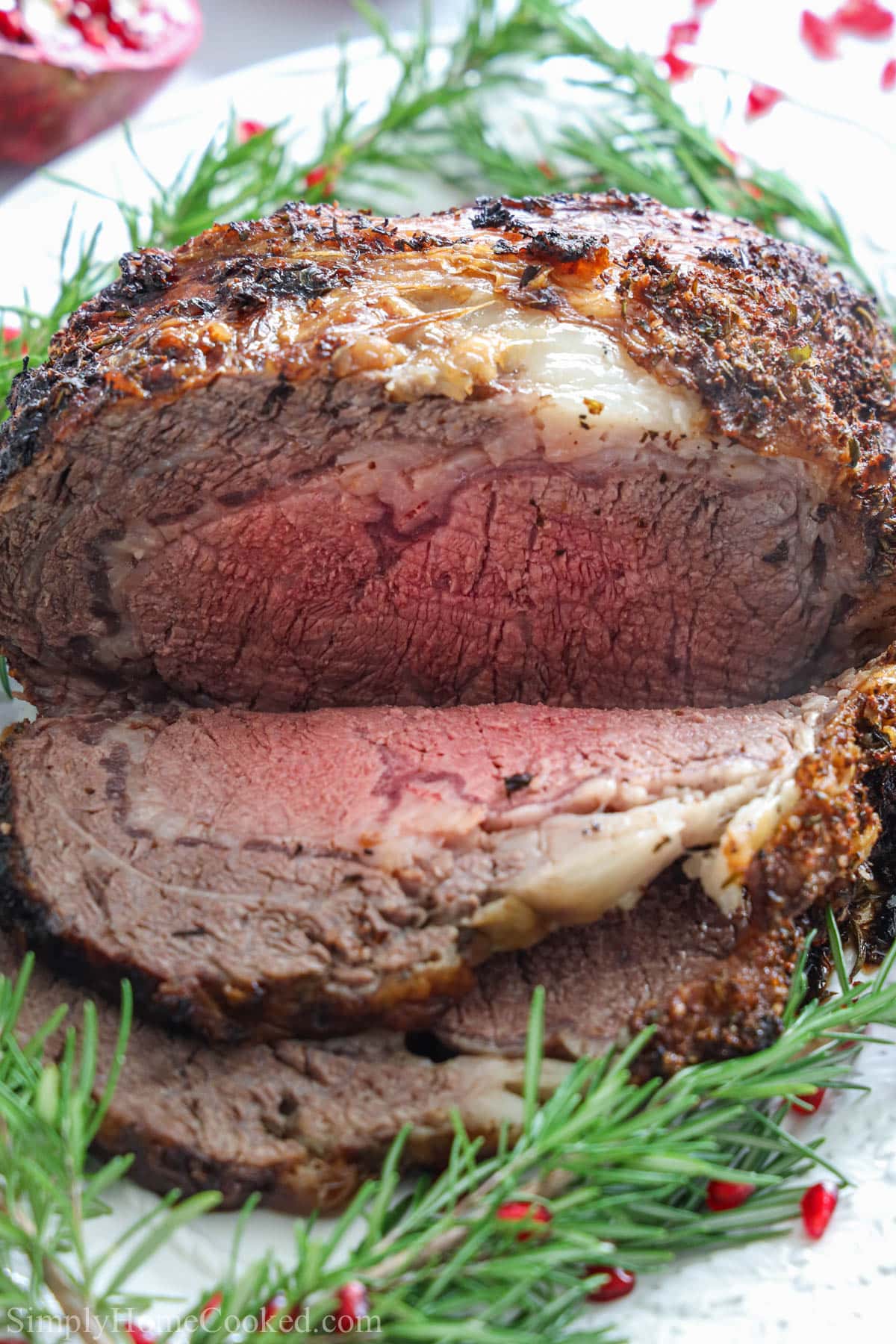 Table Of Contents
Recipe Details
This fuss-free, 6-step Prime Rib recipe is all you need to impress your dinner guests! I love the flavors in this roast as well as how simple it is to make.
TASTE: Garlicky with an herbaceous flavor, this roasted beef is super savory.
TEXTURE: Juicy and tender, this Prime Rib is delicious. It has a salted herb crust that adds just a little crunch to each bite.
TIME: This recipe takes about 1 hour and 45 minutes, but it can vary depending on how done you like your prime rib.
EASE: With just 6 easy steps and only a handful of ingredients, this dish is so simple.
What You'll Need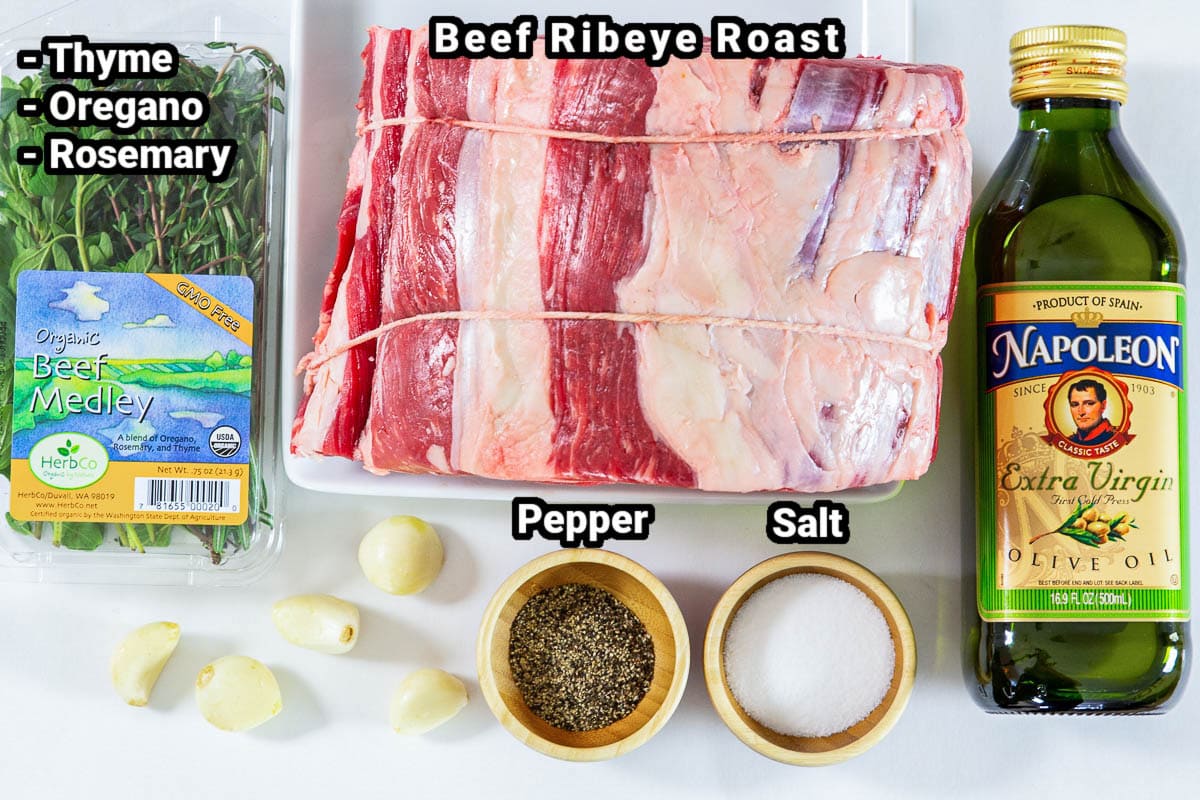 Ingredient Notes
Beef Roast. Prime rib-eye with the bone-in gives the best flavor.
Oregano, Rosemary, and Thyme. These herbs combine really well and complement the earthy flavors of the beef.
Add-ins and Substitutions
Add other seasonings- You can make this recipe with any herbs or spices you like, including basil, sage, garlic powder, and marjoram.
Make a jus- Using the meat juices from the pan, you can add red wine and beef broth to create a jus to serve with the prime rib.
Salt the meat days ahead- For a really tender roast, salt the meat and then store it in the refrigerator for a couple of days, letting the salt absorb in. This really tenderizes it.
Substitute another cut of beef- If you can't get your hands on a standing rib cut of beef, then you could substitute top loin, tri-tip, or eye of round. Cook times will vary though.
How to Make Prime Rib Recipe
Chop up the herbs. Finely chop the fresh oregano, rosemary, and thyme. Then, grate the garlic.
Mix ingredients. In a bowl, mix the herbs and garlic with the olive oil using a fork.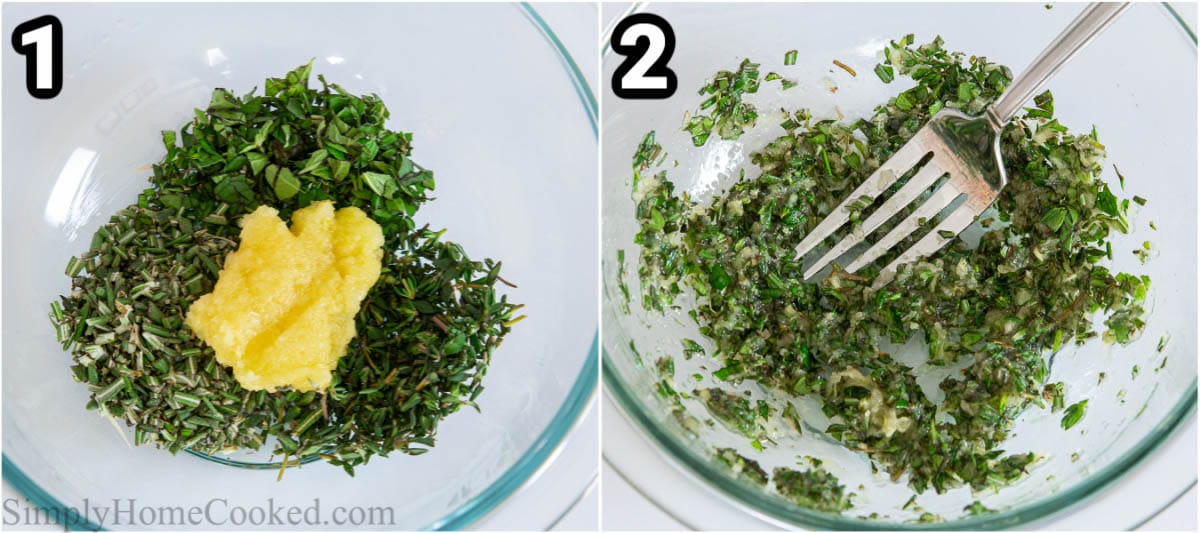 Season the beef. Generously season the beef with salt and pepper and then rub the herb mixture on top.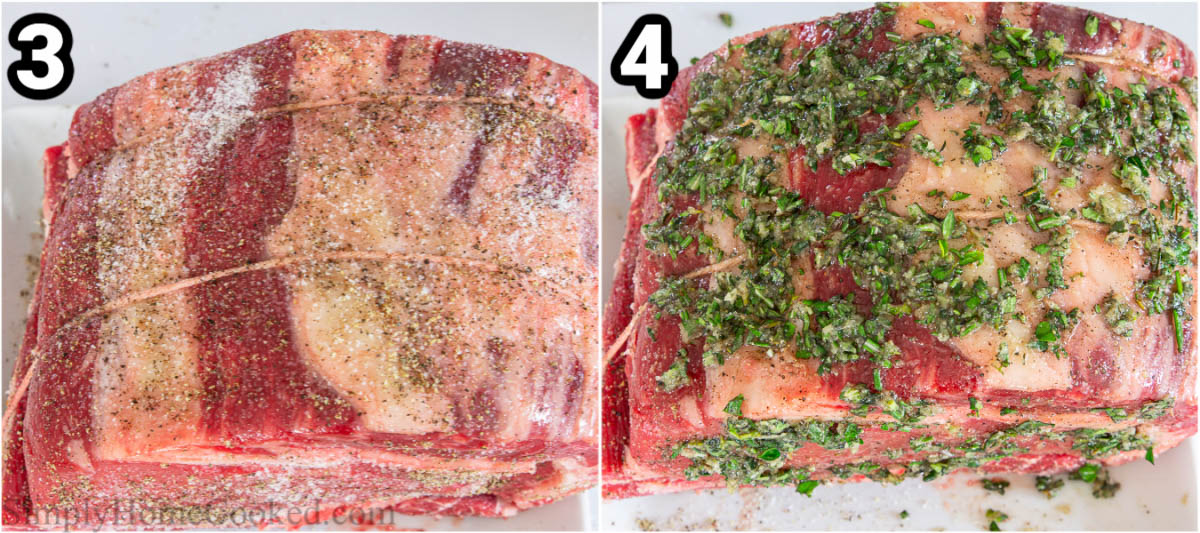 Cook the roast. Place the meat in a roasting pan and bake at 500ºF for 15 minutes, then lower the temperature to 325ºF and cook for another hour and 30 minutes. For medium, where there is only a hint of pink in the center, cook to about 135-140ºF.
Rest. Remove the prime rib roast from the oven and allow it to rest for 15-20 minutes so that the juices remain in the meat when you begin slicing it.
Pro Tip: Use a meat thermometer to check the temperature of the roast to make sure it is as done as you like. Check below for temperature ranges.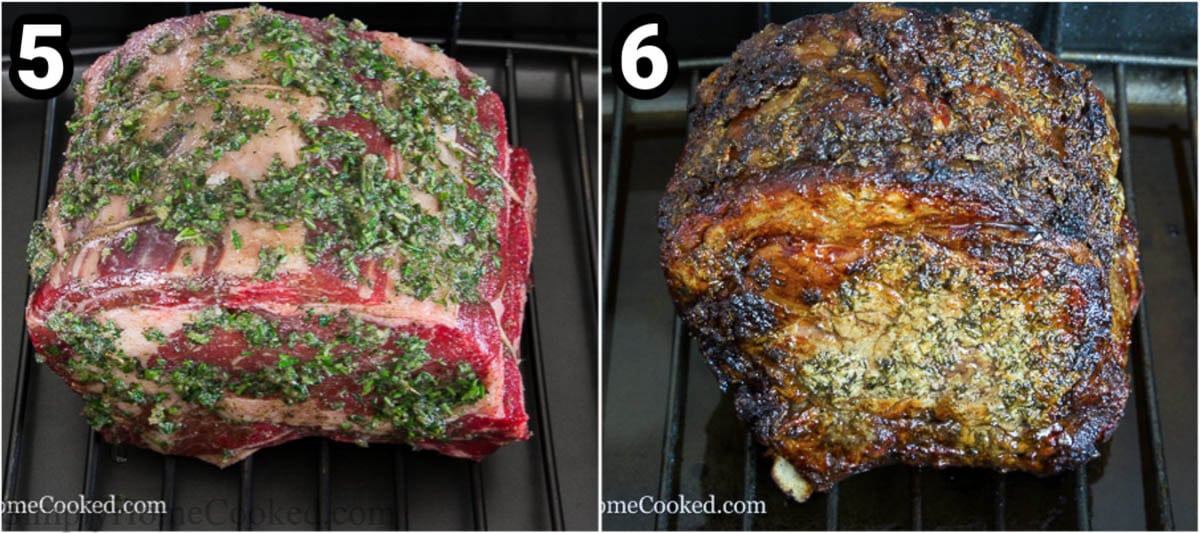 Recipe Tips
Use fresh herbs- While dried works here as well, the flavor in fresh herbs can't be beat. If you can, go with those.
Press the garlic yourself- Pressing the garlic cloves rather than buying them pressed or minced from the store will give this dish extra flavor. Garlic is most pungent when fresh.
Don't be stingy with the salt- Salt acts as a tenderizer as well as a flavor enhancer here. Rubbing it into the meat will make the prime rib more tender and create a crust.
Let it rest- The juices need to resettle into the meat after cooking, so let it rest for up to 20 minutes before slicing. Otherwise, the juices will run, drying your roast out.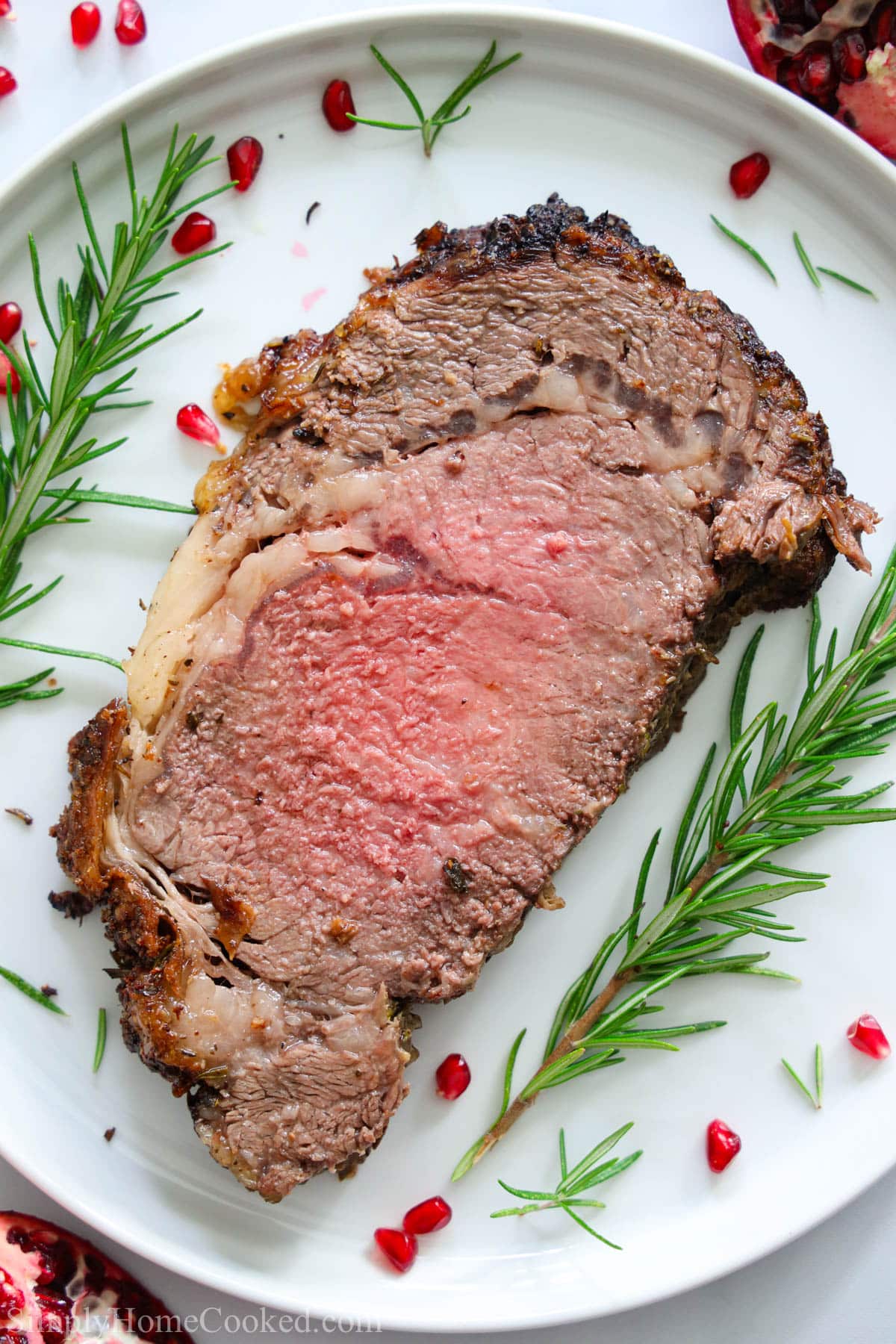 FAQs
How many hours does it take to cook a prime rib?
The rule of thumb when cooking a prime rib roast is to cook it for 13-15 minutes per pound.If you are cooking it at a higher temperature, however, it will take a few minutes less than that. Here is a quick guide to cooking prime rib per pound.
-10-12 min per pound for rare
-13-14 min per pound for medium rare
-14-15 min per pound for medium
-16-17 min per pound for medium well
What temperature do you cook prime rib to?
When cooking prime rib, it depends on how well done you want the meat to be. Using a meat thermometer, check for these temps: 115-120˚F for rare, 125-130˚F for medium rare, 135-140˚F for medium, and 145-150˚F for medium well.
Do you cook prime rib covered or uncovered?
You cook it uncovered. First, you cook the prime rib at a high temperature to sear it and create an outer crust to lock in moisture, then at a lower temperature to cook it through. Leaving it uncovered allows that crust to form.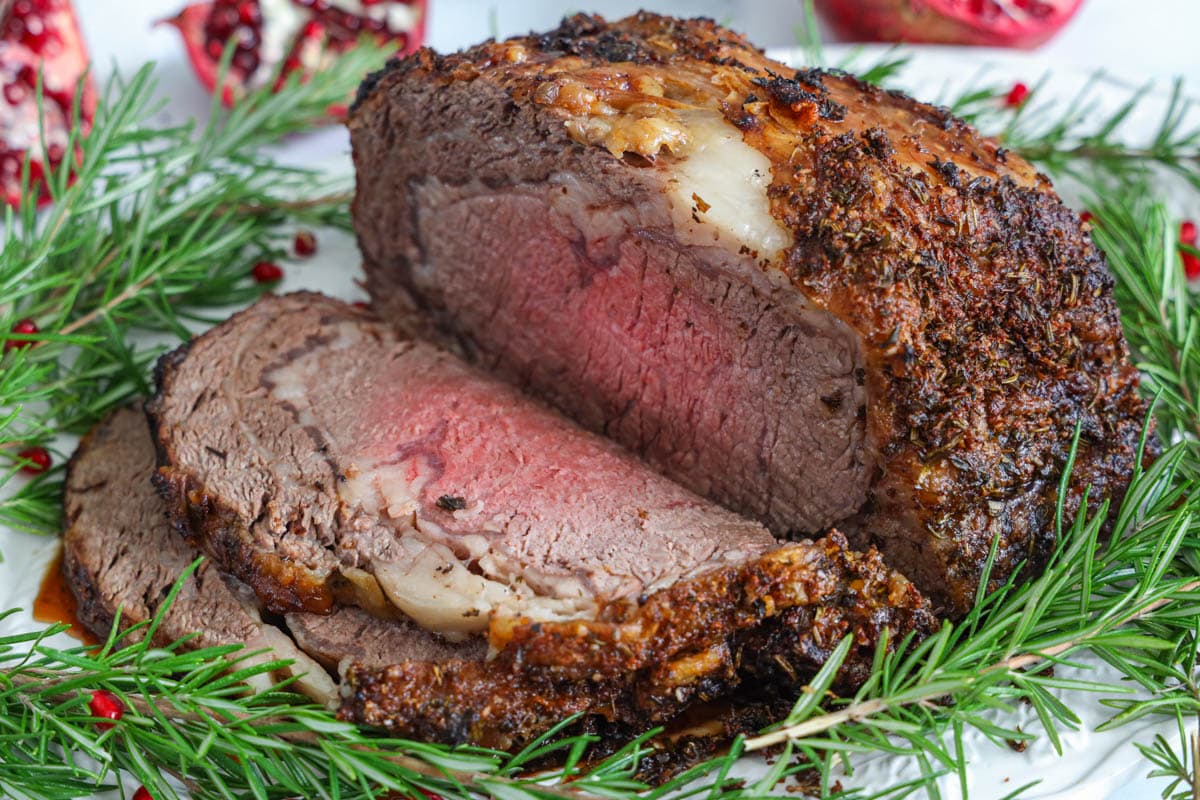 Serving Suggestions
This Prime Rib recipe is a versatile main course that tastes delicious with sides, salads, and soups. Here are some tasty ways to serve it.
Make This Recipe in Advance
Make ahead: You can season this Prime Rib a day or two ahead of time and store it in the fridge until you are ready to cook it.
Storing: Store it in an airtight container or wrapped with foil and plastic wrap in the fridge for up to 5 days. You can warm it in the oven or heat slices of the prime rib in the microwave.
Freeze: Wrapped tightly, you can freeze this prime rib for up to 6 months. Thaw overnight and then heat it in the oven until warmed through.
More Tasty Meat Dishes!
Video Recipe
Full Recipe Instructions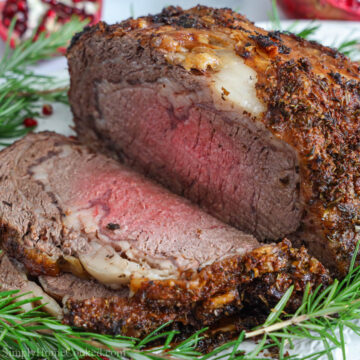 Prime Rib Recipe
Juicy and flavorful prime rib roast with a deep charred garlic herb crust. This irresistible roast will impress just about anyone at your dinner table.
Print
Pin
Rate
Ingredients
4 1/2- 5

lb.

beef rib eye roast

bone-in

1

Tbsp

chopped oregano

1

Tbsp

chopped rosemary

1

Tbsp

chopped thyme

5

garlic cloves

(grated or pressed)

2

Tbsp

olive oil

Salt and pepper to taste
Instructions
Finely chop 1 Tbsp fresh oregano, 1 Tbsp rosemary, and 1 Tbsp thyme. Then press 5-6 garlic cloves.

Place the herbs and garlic in a bowl and add in 2 Tbsps olive oil. Mix all the ingredients together using a fork.

Generously season the beef with coarse kosher salt and freshy cracked pepper and rub the herb mixture on top.

Cook the roast. Place the meat in a roasting pan and bake at 500ºF for 15 minutes, then lower the temperature to 325ºF and cook for another hour and 30 minutes or until the prime rib reaches your desired internal temperature. For medium, where there is only a hint of pink in the center, cook to about 135-140ºF. For medium-rare, your roast will be done when it reaches 125-130ºF. Always check by using a meat thermometer. Once the roast is done, transfer it to a cutting board and cover it with foil. Let it rest for 15-20 minutes before carving. Keep in mind, that the internal temperature of the meat will continue to rise as it rests.
Notes
You cannot perfect this recipe without a meat thermometer. This tool is an absolute must!
Don't forget that the

internal temperature of the meat will continue to rise as it rests. So be very careful to not over-cook it.

Save the fat renderings at the bottom of the roasting pan and make some gravy following my turkey gravy recipe, but you will be using beef drippings in this case.
Nutrition
Calories:
378
kcal
|
Carbohydrates:
1
g
|
Protein:
34
g
|
Fat:
26
g
|
Saturated Fat:
11
g
|
Cholesterol:
104
mg
|
Sodium:
89
mg
|
Potassium:
470
mg
|
Fiber:
1
g
|
Sugar:
1
g
|
Vitamin A:
60
IU
|
Vitamin C:
1.3
mg
|
Calcium:
23
mg
|
Iron:
3.2
mg
This recipe was originally posted on December 21, 2015, we've tweaked it a bit since then.