All you need is 4 ingredients for this delicious Turkey Gravy. You won't believe how easy it is to make, which is perfect after all the hard work you put into the turkey!
We love to serve this gravy alongside green bean salad and cranberry jello salad. They're a must for a Thanksgiving meal.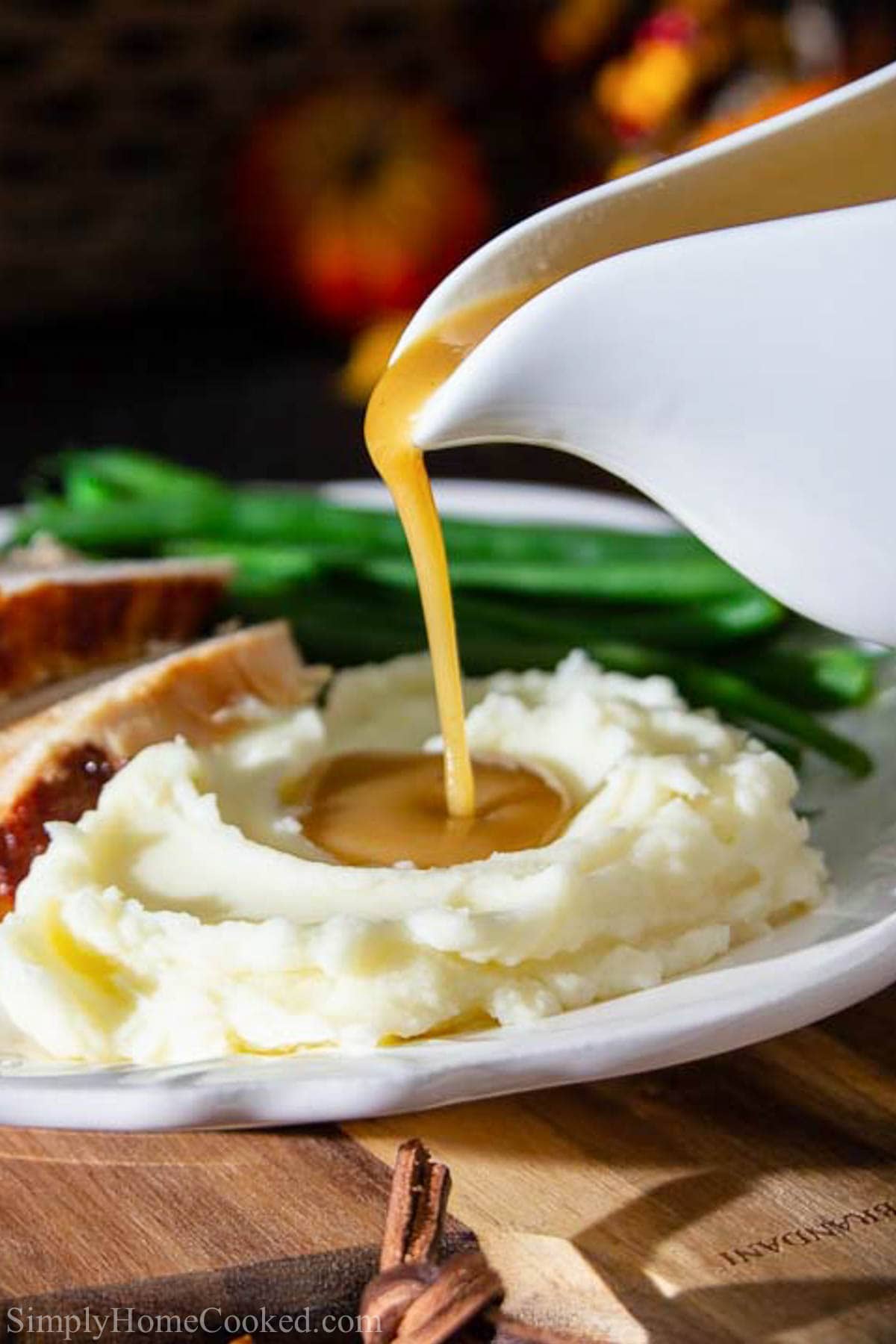 Table Of Contents
Turkey Gravy Recipe Details
After making a gorgeous Thanksgiving turkey, the last thing you want to think about is making a complicated Turkey Gravy. That's why this flavorful and simple recipe is my go-to.
TASTE: Seasoned with salt and pepper, this Turkey Gravy gets most of its rich flavor from the pan drippings of your roasted turkey.
TEXTURE: This gravy is smooth and thick, perfectly for coating slices of turkey and Super Creamy Mashed Potatoes.
TIME: This recipe will only take 12 minutes to make.
EASE: Since most of the work is done with the turkey drippings, this simple gravy needs just 4 ingredients and is so easy.
What You'll Need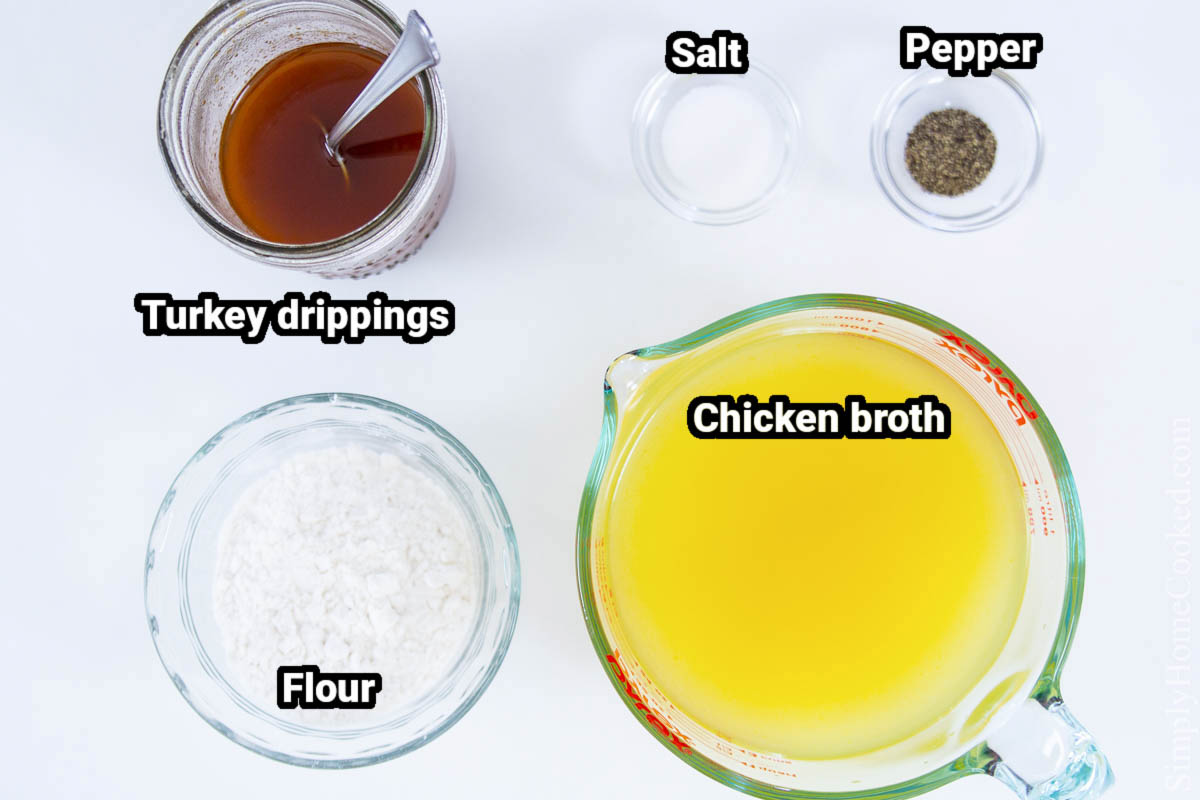 Ingredient Notes
Turkey drippings– This is what gives this easy Turkey Gravy it's amazing flavor and rich color. Just drain this from the roasting pan when your turkey has finished cooking.
All-purpose flour– This is used to make the roux and as a thickener.
Chicken broth-If you don't have chicken broth you can use turkey broth or vegetable broth instead.
Add-ins and Substitutions
Make it without drippings- You can easily make this with chicken broth instead! Just replace the turkey dripping with chicken broth and add about 4 tbsp. of butter.
Add herbs- You can give this Turkey Gravy extra flavor by adding herbs and spices, such as thyme, rosemary, sage, and bay leaves.
Use the giblets- Another common add-in is the giblets from the actual turkey. Discard the liver and chop the others finely before cooking into the gravy.
Add vegetables- Leeks, garlic, carrots, and celery can be cooked in it. Strain them out before serving for a smooth Turkey Gravy.
How to Make Turkey Gravy
Gather the pan drippings. After you've transferred your roasted turkey out of the roasting pan, pour all of those flavorful turkey drippings into a measuring cup.
Make the roux. In a saucepan, begin making the roux by combining the drippings with flour while whisking for about 1-2 minutes.
Add the broth. Then slowly add the chicken broth and allow it to simmer until thickened.
Season it. Remove it from the heat and season the turkey gravy with salt and pepper to taste.
Pro Tip: Continually whisk the roux because it can stick to the bottom of the pan or burn if left. This also breaks up any flour clumps.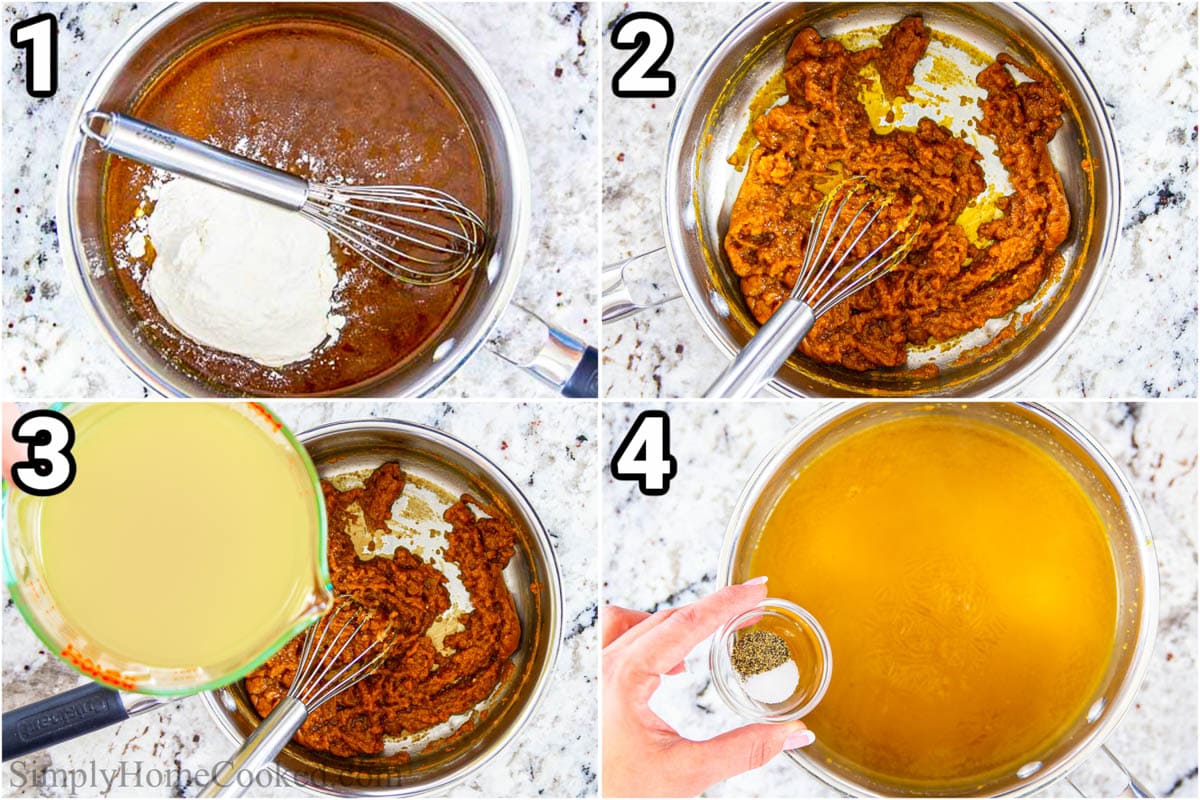 Recipe Tips
Strain the pan drippings- For a smoother gravy, strain out any vegetable bits, meat, or herbs that were used while roasting your turkey until the drippings are just liquid.
Whisk the roux continuously- Doing this will keep the roux from burning and sticking to the bottom of the pan, as well as work out any clumps from the flour.
Add the broth slowly- Whisk the chicken broth into the roux a little at a time, slowly, so the two can incorporate fully without clumps forming.
Simmer to thicken- Allow the Turkey Gravy to thicken as it simmers. This will avoid too much flour being added as a thickener, changing the flavor.
FAQs
What is a roux?
A roux is a common cooking method used to thicken sauces. So basically you combine some sort of fat (butter, turkey drippings, etc.) along with the flour. Whisk it until it's cooked and smooth. Then you can go ahead and add the remaining ingredients of your sauce.
What do I do if my gravy is watery?
If the gravy is watery, add some flour a little at a time to the gravy, mixing it in thoroughly. Alternatively, you can use a slurry of cornstarch and water to thicken the gravy as well.
Serving Suggestions
This simple and versatile Turkey Gravy can be served with any number of dishes. Here are some tasty pairings to try.
Make This Turkey Gravy in Advance
Make ahead: You can make this gravy ahead of time if you have the turkey drippings already. Just store it in the fridge and reheat on the stove, stirring often.
Storing: Store this Turkey Gravy in an airtight container in the refrigerator for up to 5 days.
Freeze: You can freeze this gravy once it has cooled in a freezer ziplock bag or in an ice cube tray (transfer to a ziplock bag once frozen). Thaw overnight in the fridge and warm on the stove.
More Tasty Thanksgiving Dishes!
Full Recipe Instructions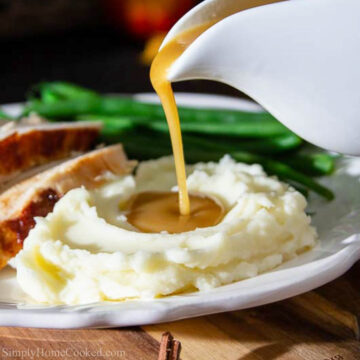 Turkey Gravy
A quick, easy, and downright delicious turkey gravy recipe made with only 4 ingredients!
Print
Pin
Rate
Instructions
Pour 1 cup of the turkey drippings into a saucepan. Bring it to medium-low heat.

Whisk in the flour and let it cook for about a minute while whisking.

Slowly pour the chicken broth into the saucepan. Allow it to simmer over medium heat until it thickens.

Take it off the heat and season with salt and pepper to taste.
Notes
If you don't have chicken broth, you can use vegetable broth as well.
You can add 1-2 tablespoons of unsalted butter to make the sauce even richer.
Nutrition
Calories:
152
kcal
|
Carbohydrates:
3
g
|
Fat:
15
g
|
Saturated Fat:
9
g
|
Cholesterol:
40
mg
|
Sodium:
350
mg
|
Potassium:
55
mg
|
Vitamin A:
475
IU
|
Vitamin C:
4.1
mg
|
Calcium:
8
mg
|
Iron:
0.3
mg