This Moist Buttermilk Cornbread Recipe is fluffy and sweet, perfect for your holiday dinner table. Pair it with your favorite dishes and top it with butter for the best flavor.
This moist cornbread recipe tastes amazing with juicy Thanksgiving turkey, turkey gravy, and super creamy mashed potatoes. You have to try it!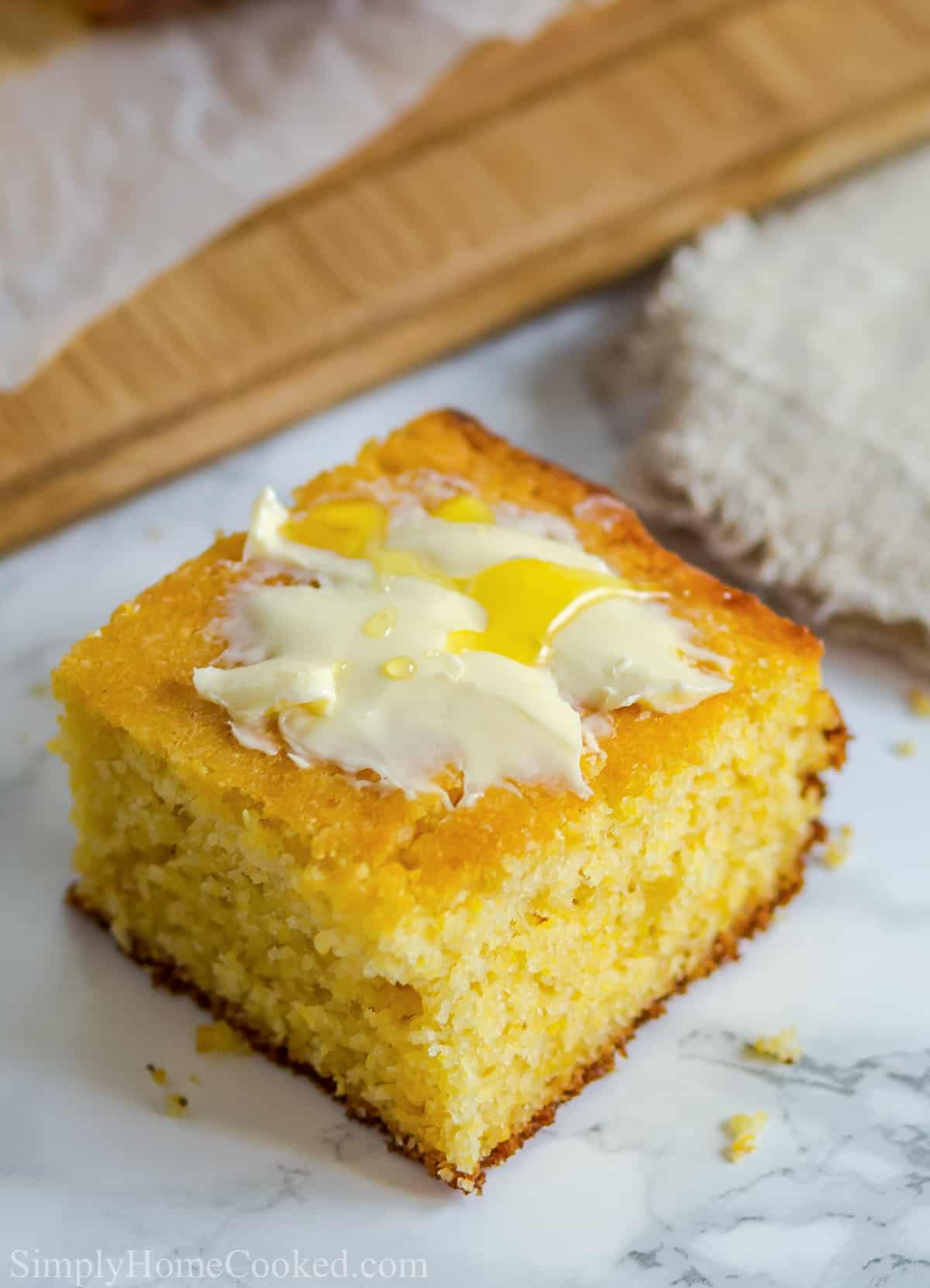 Moist Buttermilk Cornbread
Buttermilk cornbread is the best because you get all that amazing texture from the cornmeal, but it's still super moist and flavorful. The buttermilk gives it a tang that's softened by the honey and sugar in the recipe. This cornbread is also a little fluffy, though not cakey, because of the baking powder. It's the perfect accompaniment to a special meal, especially during the holidays. Top a slice with butter and honey and you'll see why this buttermilk cornbread is just a little addictive.
What you'll need to make it
Dry ingredients- All-purpose flour, Cornmeal, Baking powder, Baking soda, Salt, and Granulated sugar.
Wet ingredients- Eggs, Honey, Unsalted butter (melted), and Buttermilk.
How to Make Buttermilk Cornbread
1. Whisk the dry ingredients. Place the flour, cornmeal, salt, baking powder, baking soda, and sugar in a large bowl and whisk them together well. Then set them aside.
2. Mix the wet ingredients together. In another bowl, mix the eggs, honey, melted butter, and buttermilk with a whisk.
3. Combine. Now pour the wet mixture into the dry and whisk everything together until just combined. Don't overmix the batter.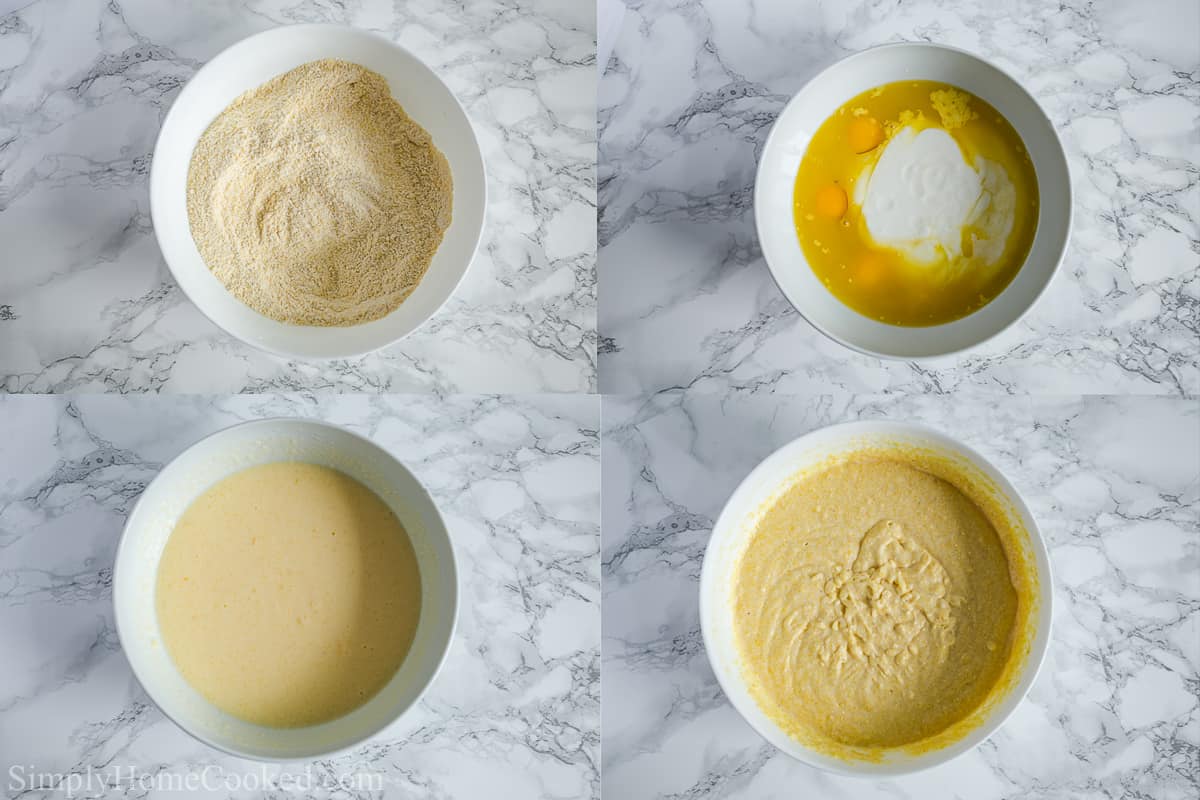 4. Bake. Pour the cornbread batter into an 8×8-inch or 7×11 inch pan lined with parchment paper and sprayed with nonstick cooking spray. Bake it at 390 degrees Fahrenheit for 30 minutes, or until a toothpick inserted into the middle of the cornbread comes out clean.
5. Serve. Cut the buttermilk cornbread into squares and serve as is, or with a pat of butter and drizzle of honey on top. Enjoy!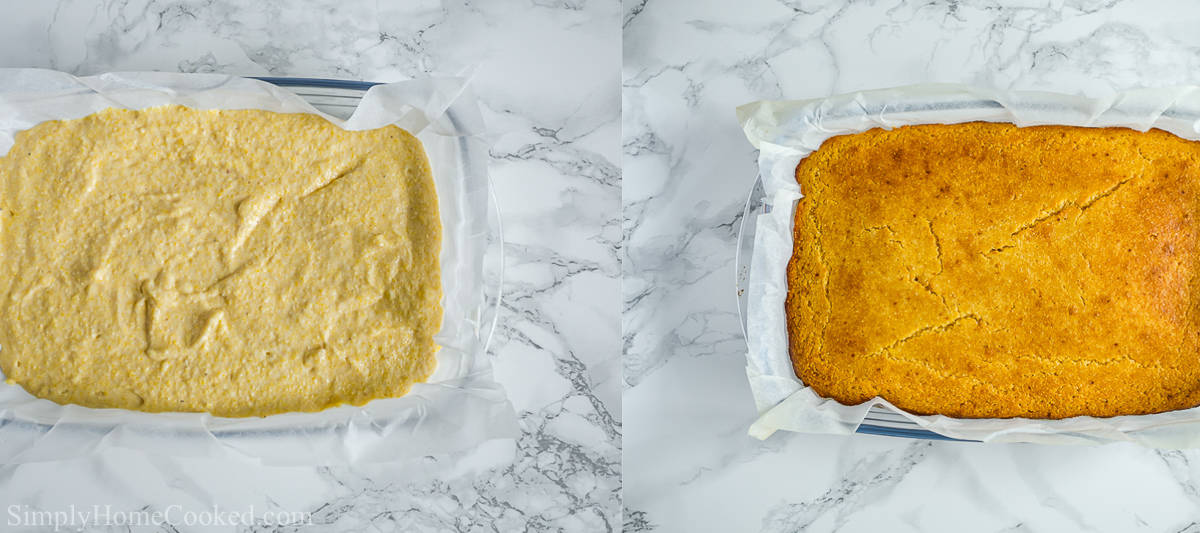 How to make this Cornbread Moist & Fluffy
Don't overmix the batter- To avoid your cornbread becoming tough, make sure to only whisk the wet and dry ingredients enough to combine them.
Get out the clumps in the dry ingredients- Whisk until all the dry ingredients are mixed and there are no clumps that will affect how moist and fluffy it is later.
Don't forget the baking powder– This ingredient is the one that is giving your buttermilk cornbread its height. It makes it nice and fluffy, rather than heavy and dense.
Buttermilk is what makes it moist- Regular milk just won't have the same effect as buttermilk in making your cornbread amazingly moist, so try not to substitute it.
Add-ins and Substitutes
Add some corn- You might want to try sweetening this moist cornbread recipe up and adding some more texture with corn. You can use creamed, frozen, or canned in the batter.
Make it spicy- If you like cornbread with some kick, add some green chiles to it.
Substitute yogurt or maple syrup- If you don't have any buttermilk or honey, you can also use plain yogurt and maple syrup in place of them. You can also sub brown sugar for the granulated sugar if you want more sweetness.
Make it dairy-free- Using almond milk and plant-based butter in this recipe will give you a tasty cornbread that's good for any guests who can't have dairy.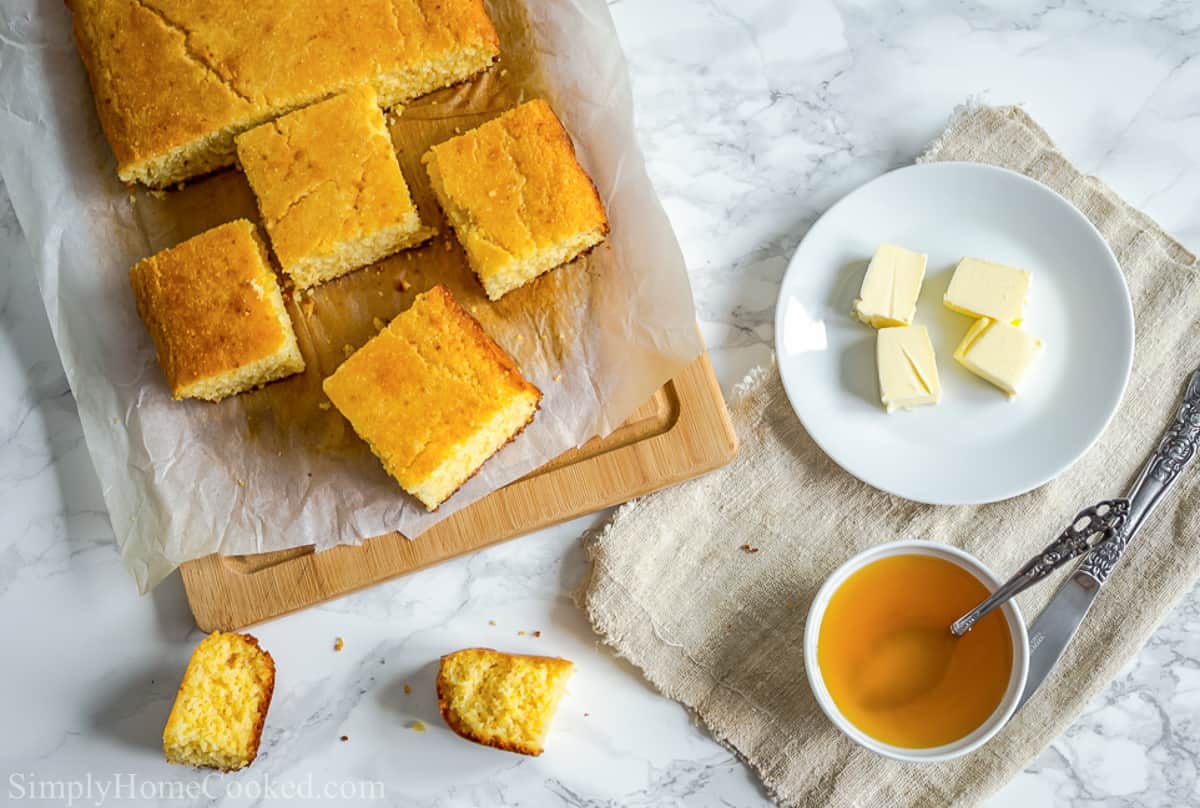 How to Store It
The best way to store cornbread made with buttermilk is to cover it with foil and plastic wrap and leave it in the refrigerator. It will stay fresh for about a week.
You can also freeze it by placing it in a ziplock freezer bag. Frozen, it will last for about 2-3 months. Just defrost it in the fridge when you're ready and warm it in the microwave, or in the oven for about 10-15 minutes at 350 degrees Fahrenheit.
Can you make this recipe ahead of time?
Yes, you can make this moist cornbread recipe ahead of time. If you don't have time to make this buttermilk cornbread the day you plan to serve it, you can make it a couple of days in advance and let it cool before wrapping it in foil and plastic wrap. Keep it in the fridge until you are ready to warm it up.
What to Serve this Cornbread with
This moist cornbread is so flavorful, you can eat it just as is if you want. But for serving, you can offer butter and honey, or even pre-mix the two for a sweet and salty spread. You can also offer something savory, like Air Fryer Bacon crumbles, or sprinkle some cheese, such as Parmesan or cheddar. Even some gravy would be delicious here. There are tons of options.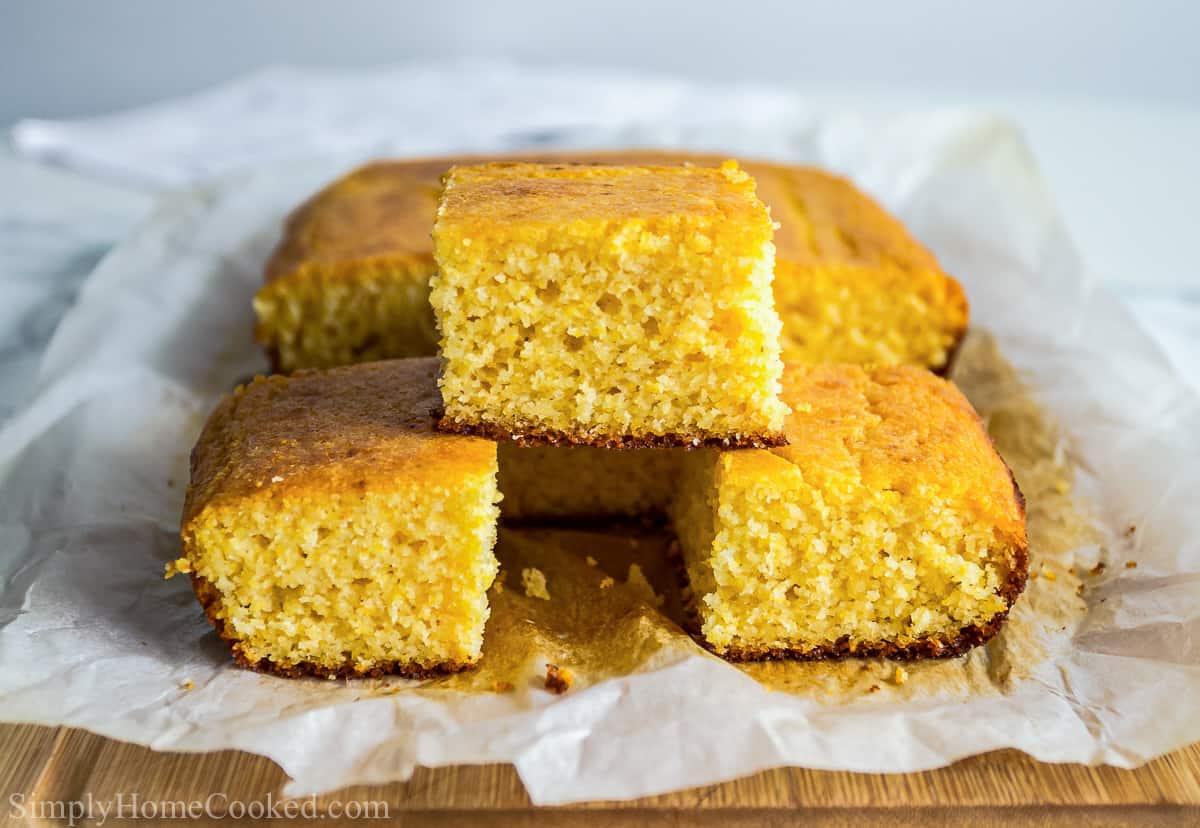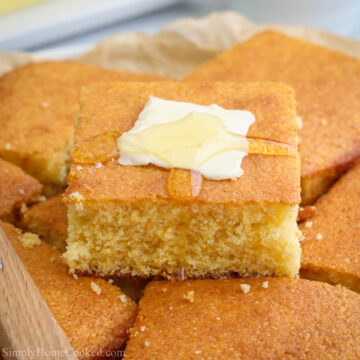 Buttermilk Cornbread Recipe
This Moist Buttermilk Cornbread is so delicious and fluffy, you are going to want it with every meal. This is the perfect side dish for the holidays.
Print
Pin
Rate
Instructions
In a large bowl, add 1 1/3 cup all-purpose flour, 1 1/3 cup cornmeal, 1/2 teaspoon salt, 1/2 teaspoon baking soda, 1 1/2 teaspoon baking powder, and 1/4 cup granulated sugar. Mix all the dry ingredients using a whisk, then set it aside.

In a separate bowl, add 3 large eggs, 1/4 cup honey, 1/2 cup unsalted melted butter, and 1 3/4 cup buttermilk. Use a whisk to combine the wet ingredients.

Now pour the wet ingredients into the dry ingredients and mix with a whisk just until combined. Be careful not to over-mix.

Pour the cornbread batter into the pan and bake at 390 degrees Fahrenheit for 30 minutes or until a toothpick comes out clean after inserting it into the middle of the baked cornbread.

To serve homemade cornbread, cut it into blocks. You can add a slice of salted butter and a drizzle of honey on top if you want.
Nutrition
Calories:
349
kcal
|
Carbohydrates:
47
g
|
Protein:
8
g
|
Fat:
15
g
|
Saturated Fat:
8
g
|
Cholesterol:
87
mg
|
Sodium:
264
mg
|
Potassium:
251
mg
|
Fiber:
3
g
|
Sugar:
16
g
|
Vitamin A:
471
IU
|
Calcium:
98
mg
|
Iron:
2
mg