This Southern Hot Water Cornbread is such a treat with its denser, more savory flavor. Unlike other cornbread recipes, this one highlights the corn and is deliciously fried.
For more scrumptious sides to serve with it, try our savory bacon green beans and garlic mashed potatoes.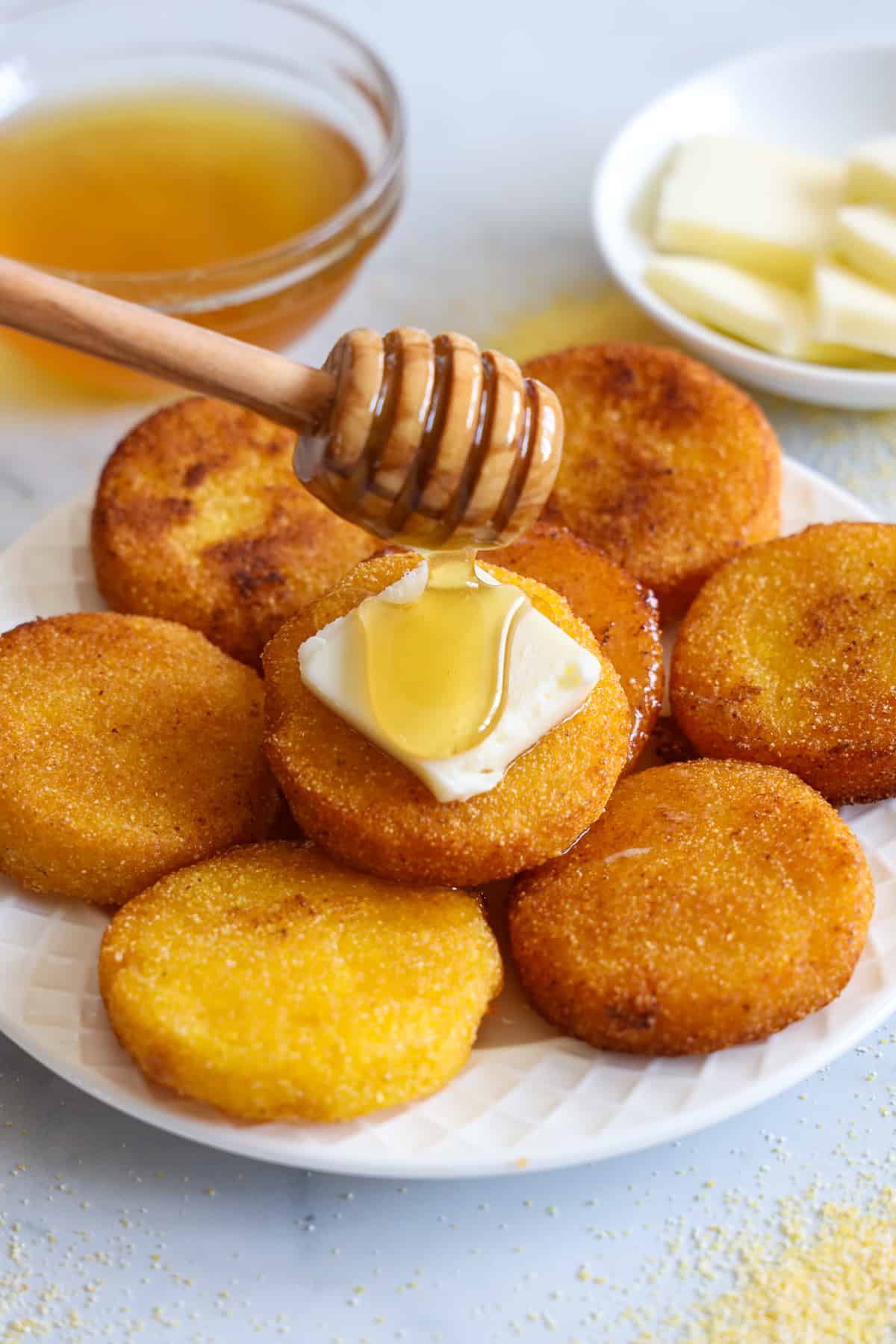 Tasty Southern Hot Water Cornbread
This Hot Water Cornbread is very different from the other cornbread recipes that are out there, which are known as "northern" cornbread. Those recipes are sweeter and lighter, using egg and milk to give it a cakey texture. This cornbread is more traditionally "southern" in that it uses little sugar, so you can really taste the delicious cornmeal, and it's fried. These dense cornbread cakes are moist and flavorful, making the perfect side to any meal.
What you'll need for it
This recipe uses only a few simple ingredients. You'll need Fine cornmeal, Salt, Granulated Sugar, Boiling water, and Corn oil for frying. Notice that this cornbread is perfect for anyone who has allergies because it's both gluten-free and dairy-free.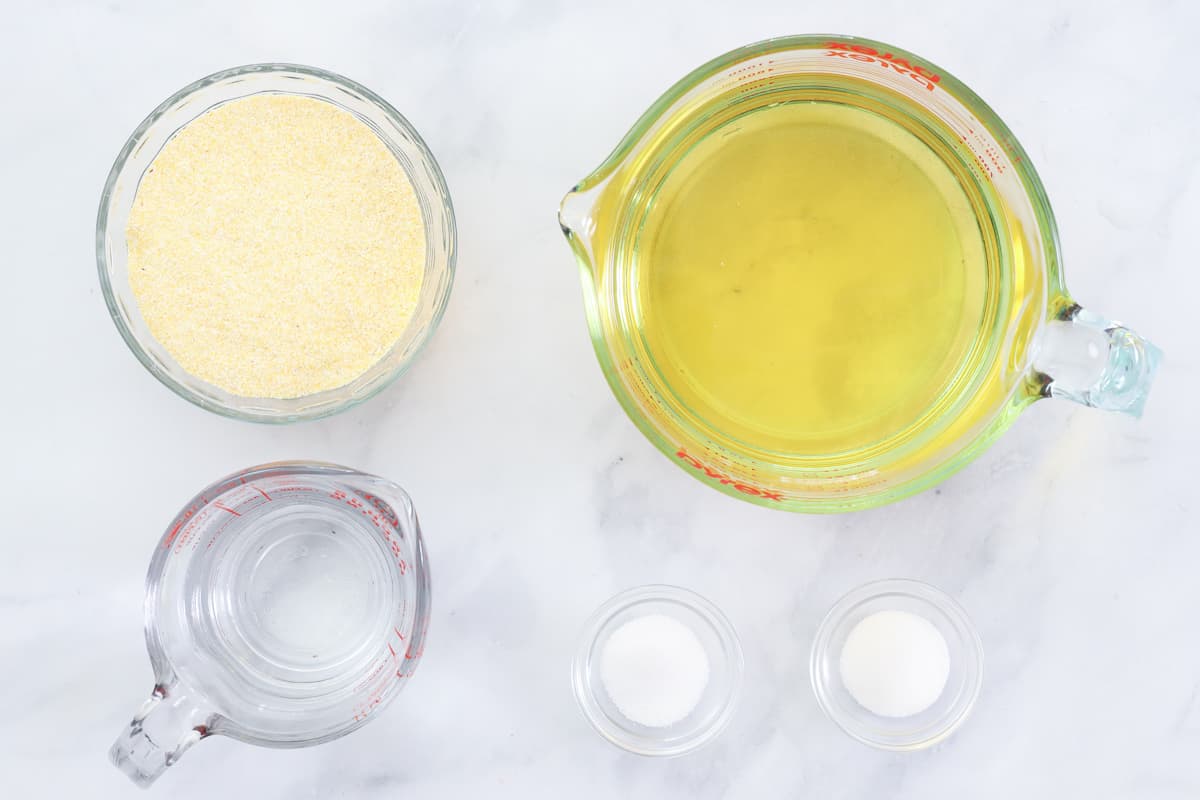 How to Make Southern Hot Water Cornbread
(Full instructions with quantities may be found lower in the recipe card)
1. Mix the dry ingredients. In a medium-sized bowl, add the cornmeal, salt, and sugar and mix together.
2. Add in the hot water. Pour the boiling water into the bowl and mix until the batter is combined.
3. Heat the oil. In a heavy-bottomed pot or pan, pour in about 2 inches of corn oil for frying and heat it to 375 degrees Fahrenheit.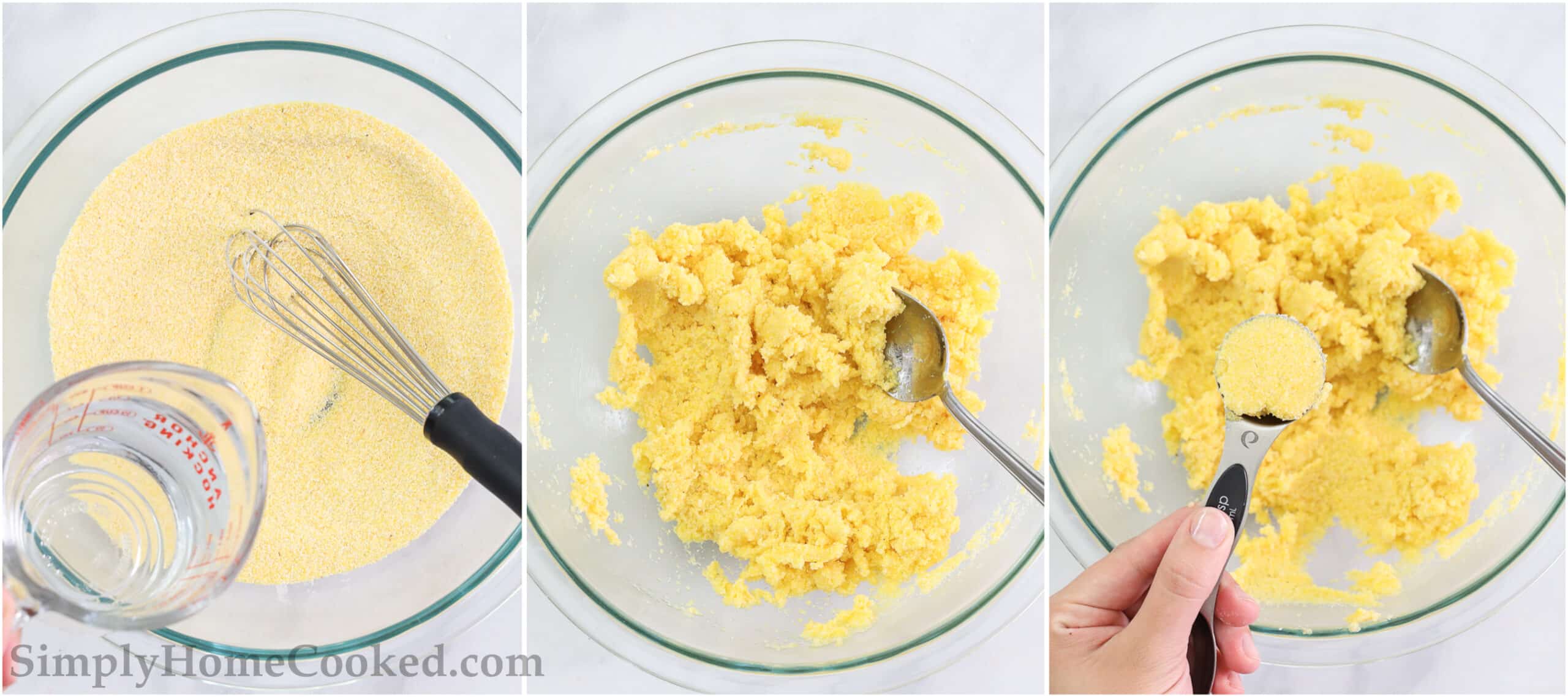 4. Shape the cornbread patties. Take about 2 tablespoons' worth of batter and form it into flat patties. Do this with all the batter.
5. Fry the cornbread. Fry each patty for 5 minutes, turning once about halfway through. They should have a golden-brown crust when they are done. Serve this hot water cornbread warm.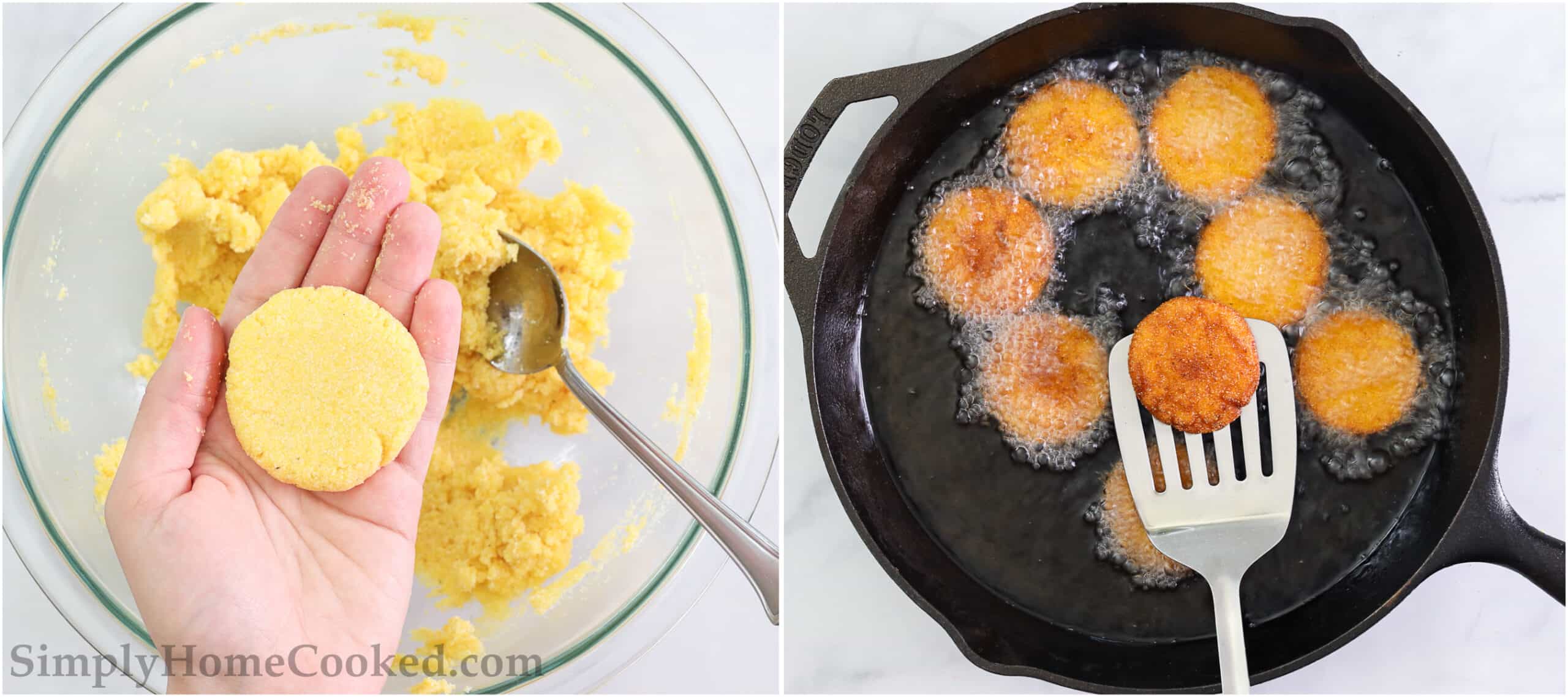 How to Store it
This delicious Southern Cornbread can be kept at room temperature in an airtight container or wrapped in plastic wrap for about 2 days. You can keep it longer if you place it in the refrigerator (about a week) or in the freezer (2-3 months).
What Can you Serve this Cornbread with?
This cornbread is so tasty! I love it simply with some butter, maple syrup, or honey. Also try it smothered in this Sausage Gravy. But if you want to serve it as a side dish at a meal, there are lots of delicious dishes to pair it with. If you have an air fryer, these Juicy Pork Chops (VIDEO) and Chipotle Chicken Thighs are amazing with this recipe. It also goes great with bowls of Brown Rice Jambalaya with Chicken and Shrimp, Easy Beef Chili, and Braised Beef Stew. All so good with Hot Water Cornbread!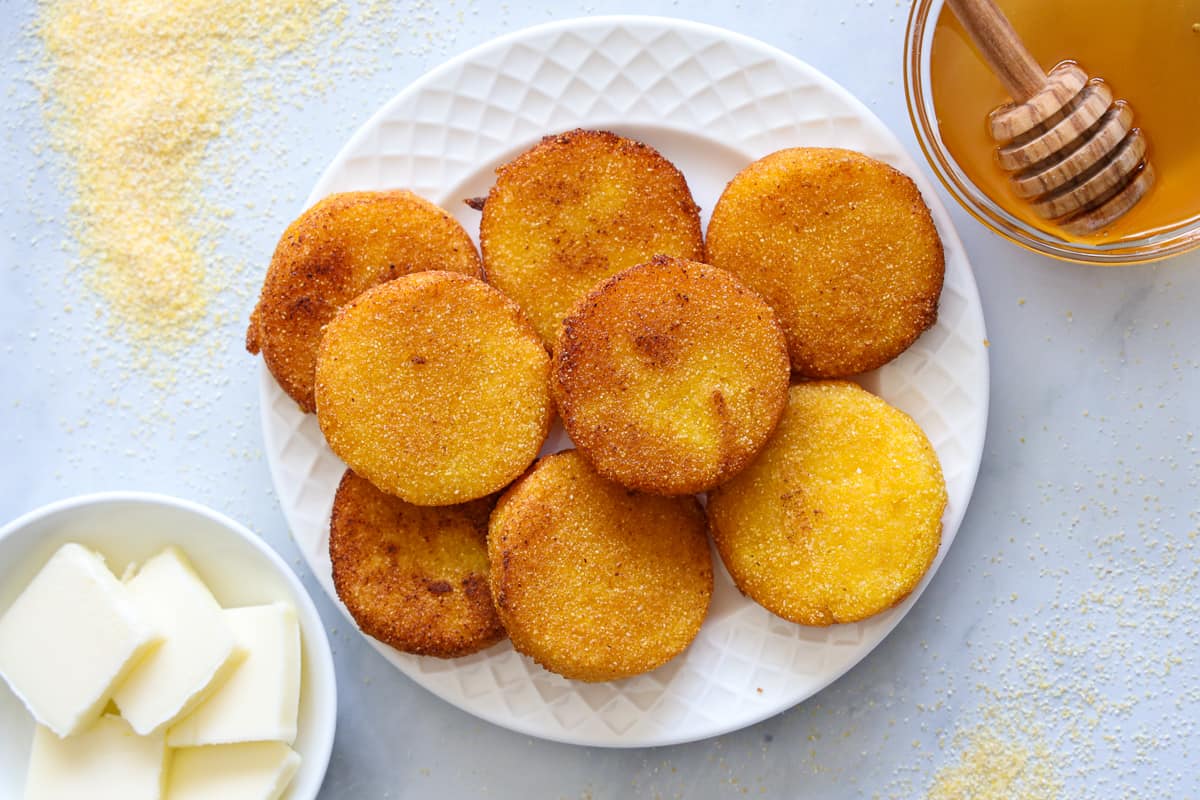 More tasty Side Dishes!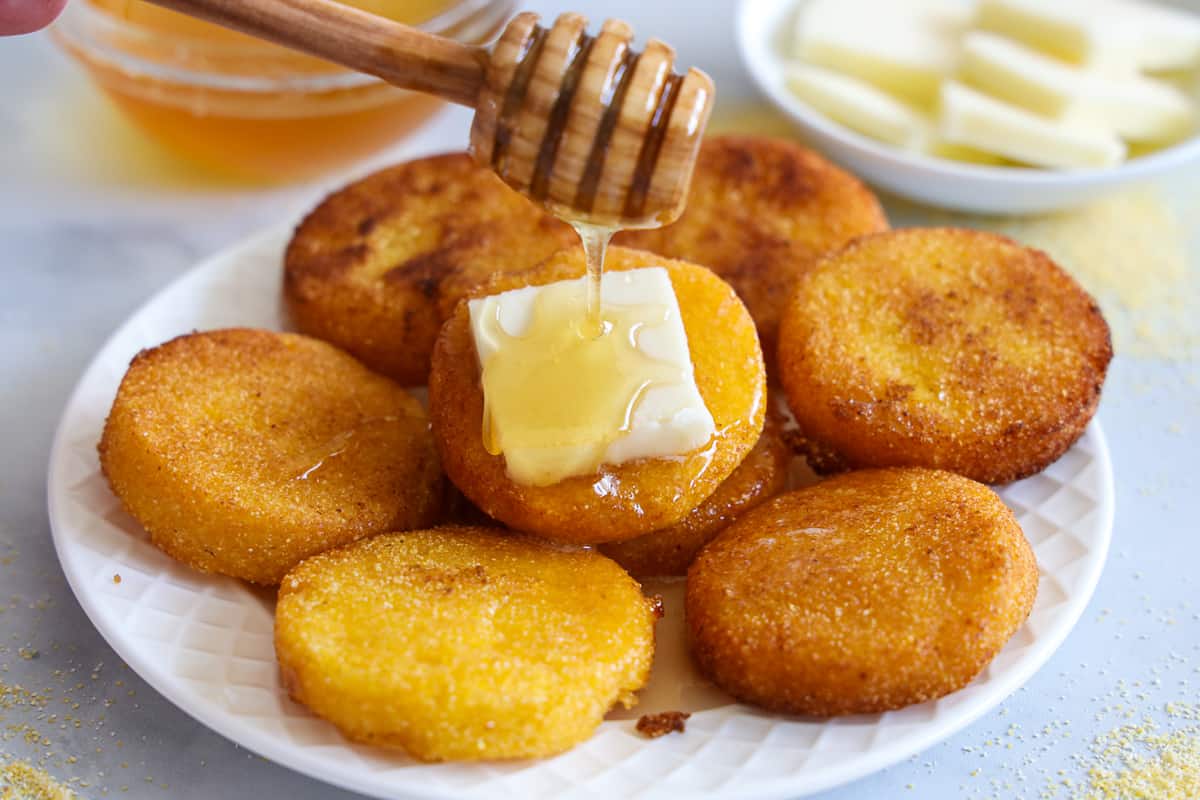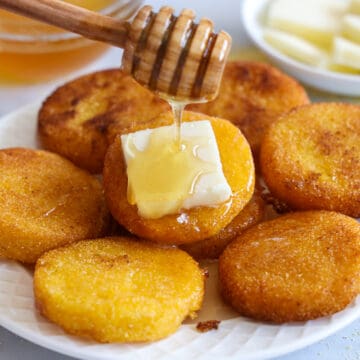 Southern Hot Water Cornbread
This Southern Hot Water Cornbread is dense, moist, & delicious. Fried to a golden brown, it is allergy-friendly, flavorful, & beyond tasty!
Print
Pin
Rate
Ingredients
Instructions
Pour about 2 inches of corn oil into a heavy-bottomed pot or pan and bring the heat to about 375 degrees Fahrenheit. You want to measure the temperature of the oil using an instant-read thermometer.

Now begin shaping the cornmeal mixture into flat patties. You'll need about 2 tablespoons of the cornmeal mixture for each patty. 

Fry each cornbread patty for about 5 minutes, making sure to turn once. This will give them an even golden crust.  Serve warm with a little bit of butter, honey, or syrup. 
Notes
Recipe adapted from AllRecipes.com More tasty Side Dishes!
Nutrition
Calories:
78
kcal
|
Carbohydrates:
15
g
|
Protein:
2
g
|
Fat:
1
g
|
Saturated Fat:
1
g
|
Sodium:
146
mg
|
Potassium:
64
mg
|
Fiber:
2
g
|
Sugar:
1
g
|
Iron:
1
mg