This easy chicken pot pie recipe is made with creamy chicken cubes, sauteed vegetables, and topped with an easy baked puff pastry crust. And the best part, their mini!
Be sure to serve this with my cream of mushroom soup for a complete comforting meal!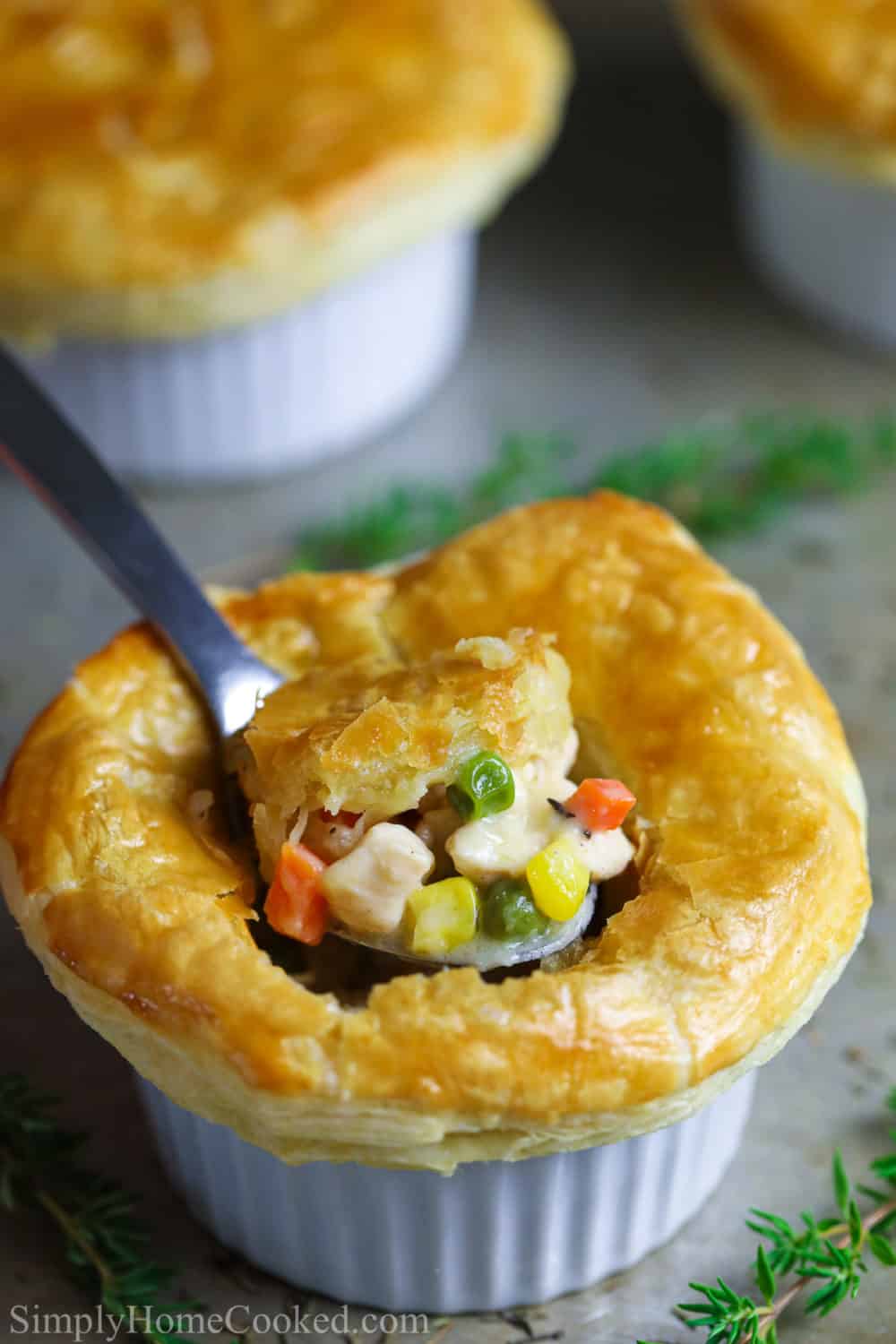 Homemade Chicken Pot Pie
You can't beat a homemade pie, especially a savory one that has cooked vegetables, minced chicken, and a creamy sauce in it! This classic comfort food is wildly popular in America, and for a good reason! It's warm, creamy, and savory, what's not to love?
The crust- you don't have to make it yourself
Making homemade pie crust can be time-consuming and exhausting, however, you can never compare homemade to store-bought. So this chicken pot pie recipe using puff pastry as the top crust. This way you save time and it still tastes great. You can also substitute biscuits or Bisquick for your crust.
How to make homemade chicken pot pie
Sautee the vegetables– You'll want to use a large skillet here. That way its easier to stir everything together.
Add in the chicken– Make sure your chicken is chopped pretty small. It's more enjoyable to eat when they're tiny.
Brown the flour– the flour is what will get your sauce to thicken, so don't skip it! And make sure to stir it until you don't see any more patches of dry flour appear. Cooking out the raw flour taste will help improve flavor.
Now pour in the chicken broth, cream, and spices– Once you've got the creamy texture going in the sauce, that's when you can add in the peas and corn.
Fill the ramekins– If you were to be making this as a full pie, you can just add it all into the pie pan. I love using ramekins so everyone has their own individual chicken pot pie.
Now top with puff pastry and bake– Before placing the dish in the oven, be sure to brush it with egg wash so they obtain a beautiful golden color.
Tips on making an easy chicken pot pie recipe
Can you freeze chicken pot pie
Yes, you can freeze this homemade chicken pot pie for up to 2-3 months if properly sealed. Now when you want to impress your guests you can take your frozen chicken pot pie and let it thaw out. Then you can cook it in the oven per instructions for a fresh chicken pie.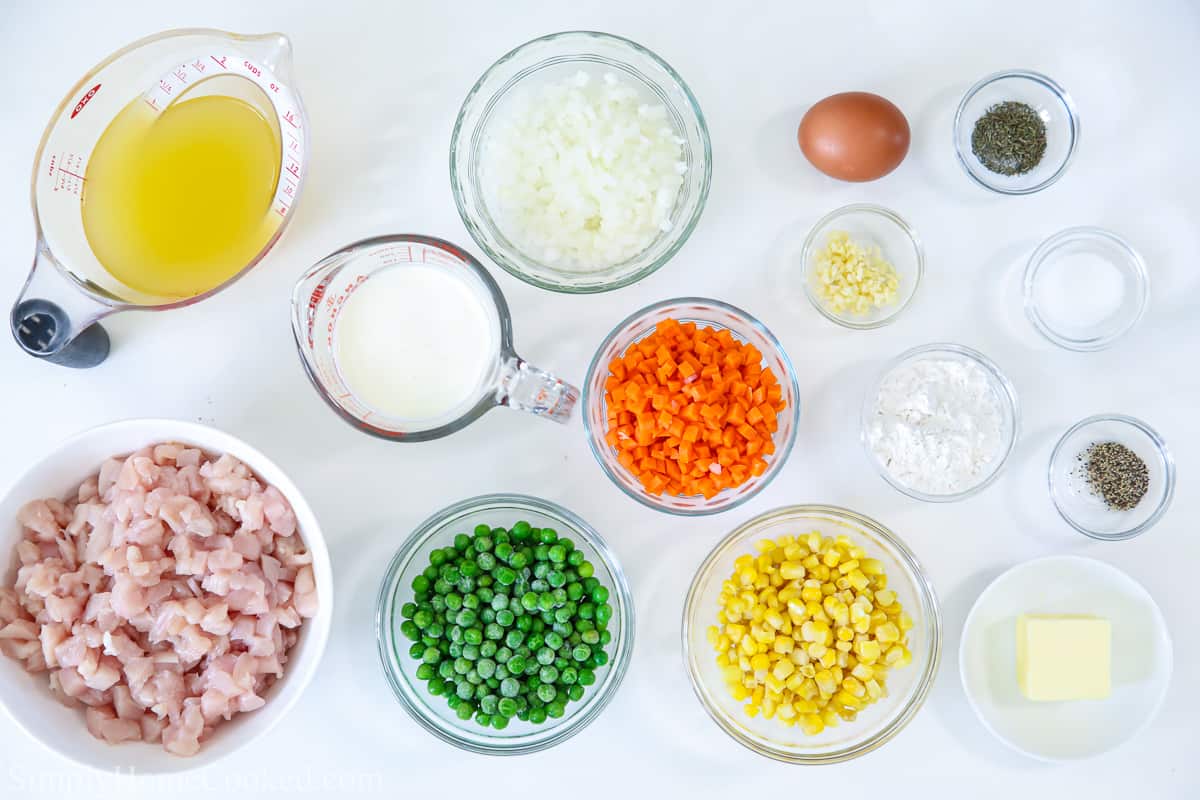 How long to cook chicken pot pie
Fresh pies– depending on if your using a pie crust or puff pastry crust will determine how long they bake. For pie dough, bake for 30 minutes. For the puff pastry dough, bake for 22 minutes.
Frozen pies– let the pies thaw for 30 minutes, then bake (covered) for about 30-40 minutes.
How do I thicken my chicken pie filling
One of the best and tastiest ways to thicken the pie filling is to add flour and cream. You want to prevent the flour from clumping up together so make sure to cook the flour with the vegetables prior to adding in the liquid.
Can I use rotisserie chicken
Absolutely. This will make this chicken recipe even easier and quicker to make. Rotisserie chicken is a great substitute for many recipes, such as these chicken quesadillas or chicken phyllo cup appetizers.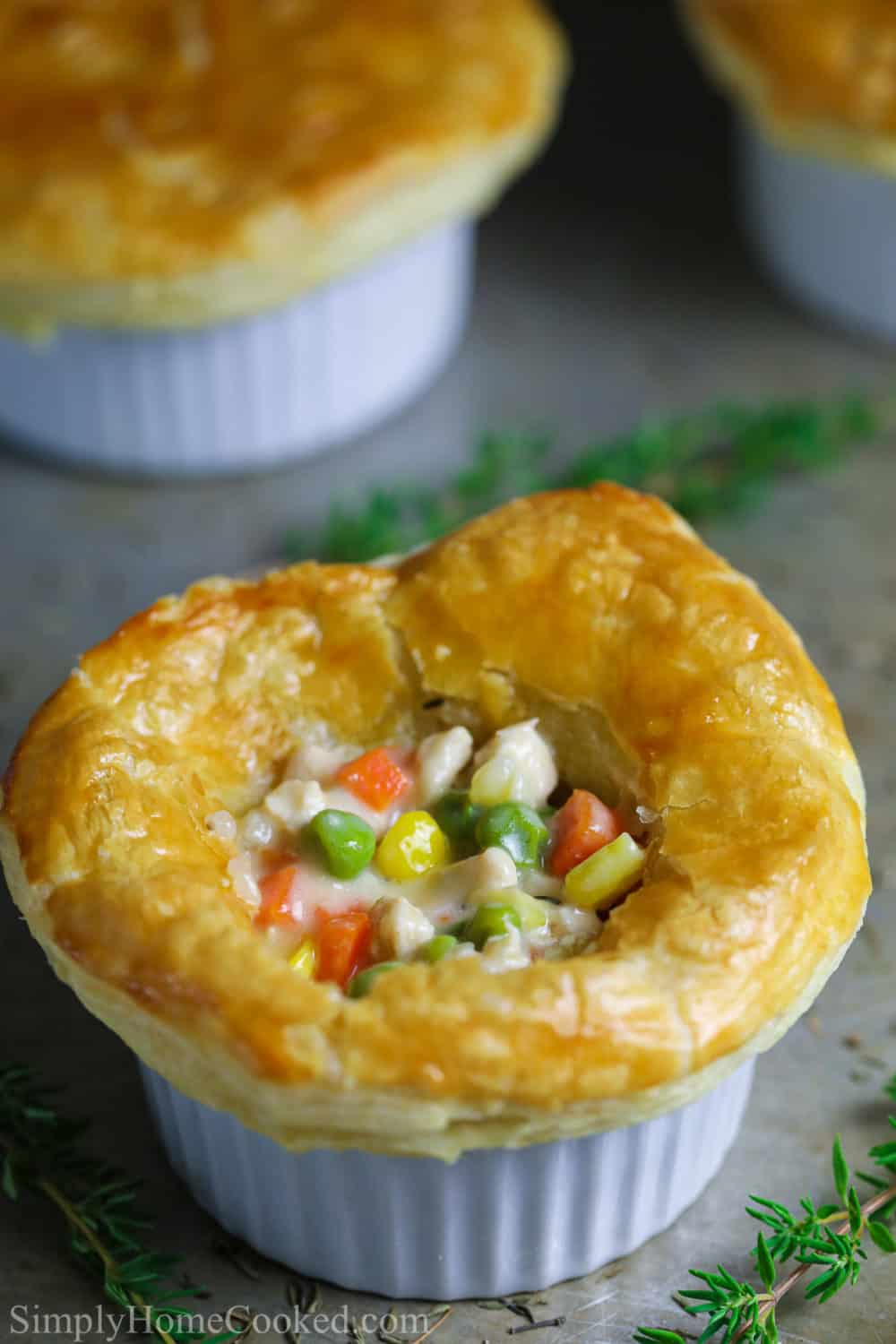 How long will this chicken pie recipe last in the fridge
Your cooked chicken pies can last in your fridge for up to 5 days. You will just want to cover them with foil or use a resealable container.
Can you make chicken pot pie recipe ahead of time
Yes, you can make the pie filling a day before you make your chicken pot pies. Then prior to serving just add your puff pastry top and bake in the oven. This step will save you time on the day of baking and now it will taste fresh.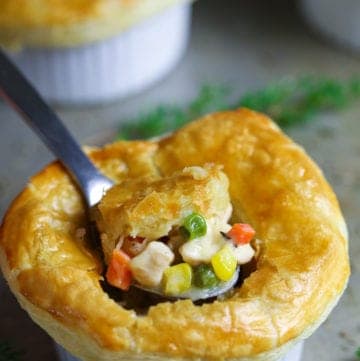 Chicken Pot Pie
This easy chicken pot pie recipe is made with creamy chicken cubes, sauteed vegetables, and topped with an easy baked puff pastry crust. And the best part, their mini!
Print
Pin
Rate
Servings:
8
mini pot pies
Ingredients
3

tbsp

butter

1

garlic clove

1/2

cup

Onion

1/2

cups

chopped carrots

1

lb

chicken breast

3

tbsp

all-purpose flour

1

cup

chicken broth

low sodium

1/2

cup

heavy cream

1/4

tsp

thyme

1/4

tsp

Pepper

1

tsp

Salt

1/2

cup

frozen peas

1/2

cup

frozen corn

1

package puff pastry
Instructions
Sautee the vegetables in butter
Start off by melting 3 tablespoons of unsalted butter in a skillet over medium heat.

Then add 1/2 cup of chopped onion and 1 minced garlic clove. Sauté for a few minutes or until the onion m becomes translucent.

Then add in 1/2 cup of chopped carrots into the skillet and stir them for about 3-4 minutes.
Add the chopped chicken
Now bring the heat up to high and toss in 1 pound of chopped chicken breast. Keep mixing the meat until it's fully cooked through.
Brown the flour
Now add 3 tablespoons of all-purpose flour and stir it for a few minutes until no more patches of dry flour appear.
Stir in the broth, cream, and spices
Now you can pour in 1 cup of low sodium chicken broth and 1/2 cup heavy cream. Stir that all together and let the sauce come to a simmer.

Then add 1/4 tsp Thyme, 1/4 tsp black pepper, and 1 tsp Salt.

Then continue stirring the spices in for another few minutes and to let the ingredients infuse together.
Add peas and corn and fill up the ramekins
Now add 1/2 cup of frozen peas and 1/2 cup of frozen corn. And let that come to a simmer once more.
Top with puff pastry, egg wash, and bake!
Now place your thawed puff pastry sheet onto a lightly floured surface and cut out 8 circles.

I like to use one of the ramekins as a guide so I just press it into the dough and cut around it leaving about 1/2 inch border.

Now you can take your cut out circles of puff pastry and place them directly over each filled ramekin.

Now you can make the egg wash by combining one large egg with a teaspoon of water. Then brush it over each pot pie. And bake the mini chicken pot pies in the oven at 400 degrees Fahrenheit for about 20-22 minutes.
Notes
What sides to serve with chicken pot pie
Nutrition
Calories:
503.22
kcal
|
Carbohydrates:
33.88
g
|
Protein:
17.99
g
|
Fat:
33.07
g
|
Saturated Fat:
11.95
g
|
Cholesterol:
67.95
mg
|
Sodium:
655.32
mg
|
Potassium:
371.66
mg
|
Fiber:
2.07
g
|
Sugar:
1.77
g
|
Vitamin A:
1772.68
IU
|
Vitamin C:
8.43
mg
|
Calcium:
28.4
mg
|
Iron:
2.08
mg

Latest posts by simplyhomecooked
(see all)