This easy all-butter homemade pie crust recipe will become your FAVORITE pie dough ever! With a simple step by step tutorial to make a lattice pie too!
You can use this lattice pie decorating method on just about any pie. We love the way it looks on blueberry pie especially.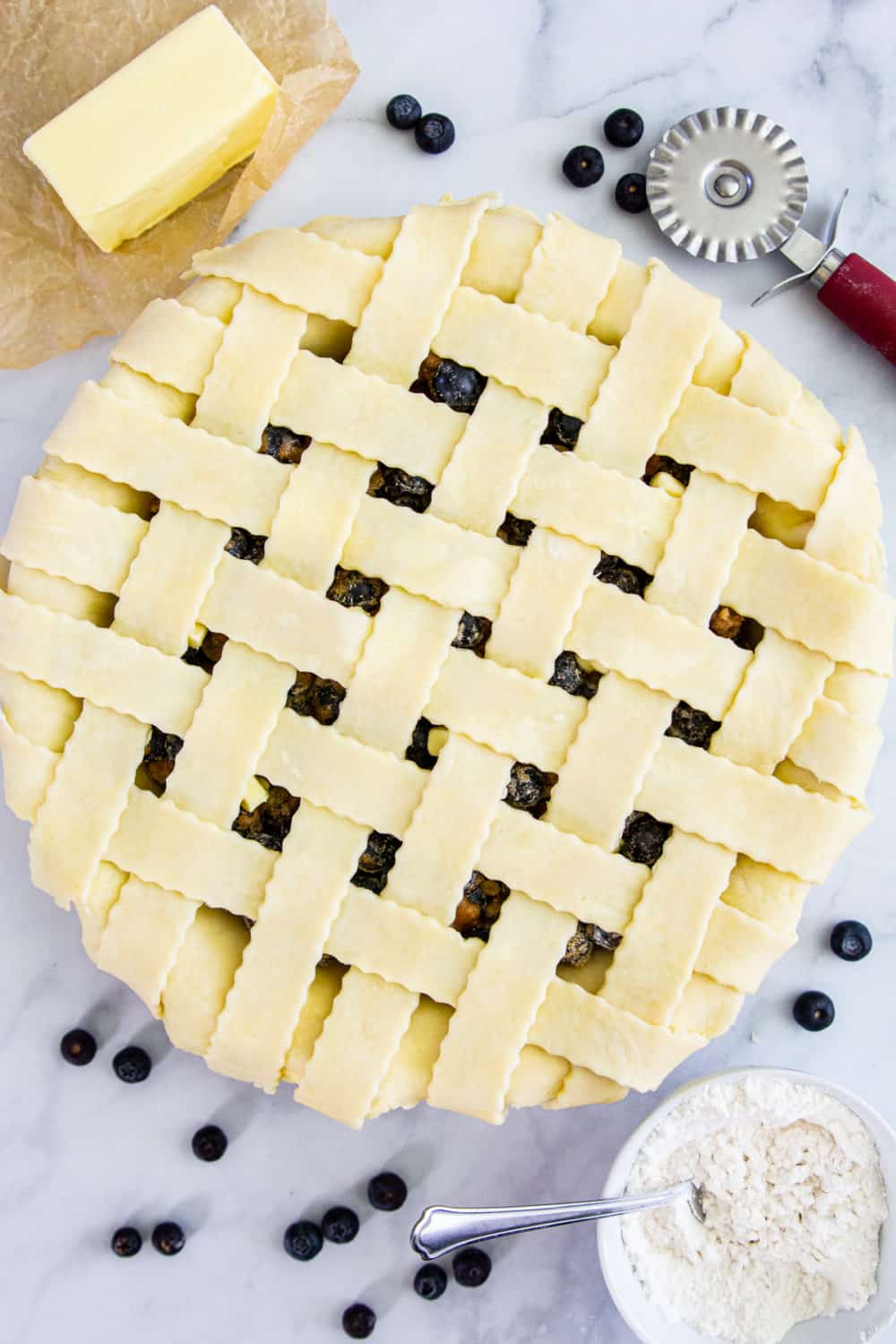 Ingredients for Pie Crust
Granulated sugar
Unsalted butter- it is important to get good quality butter (must be cold)
Buttermilk- for a more rich flavor than water
Salt- to enhance the flavor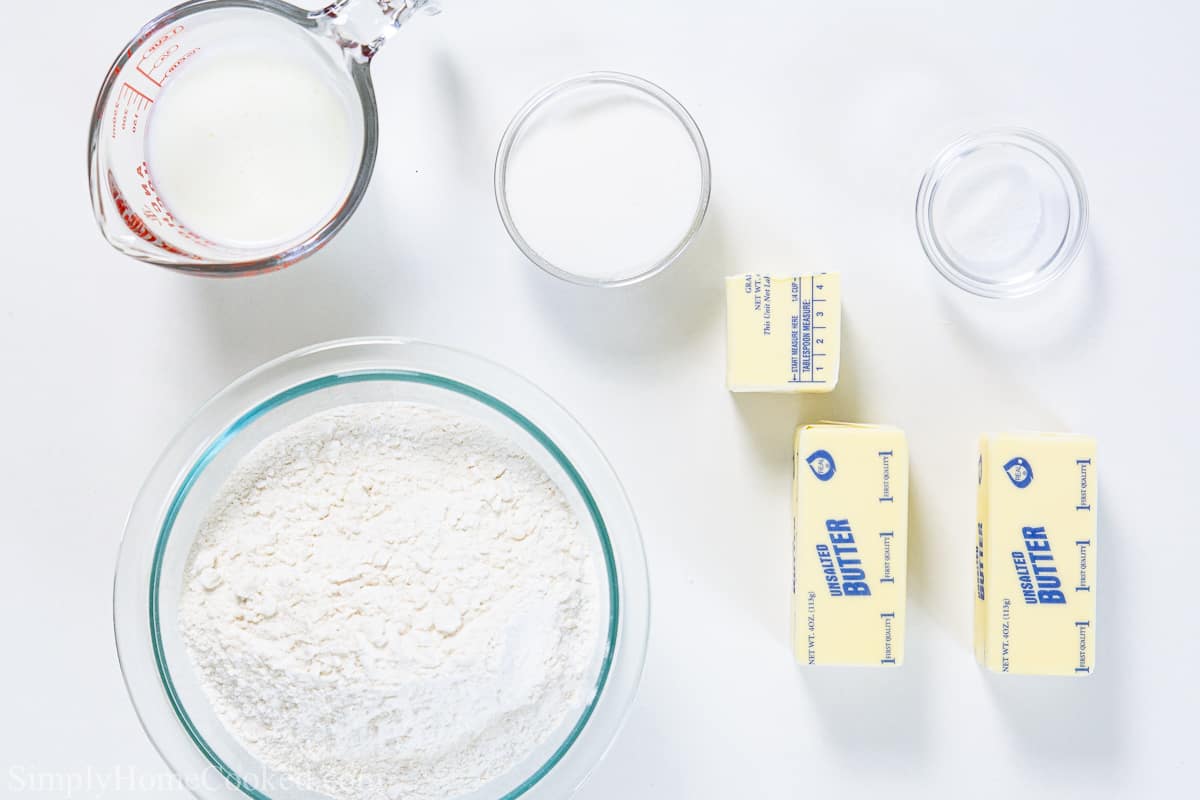 How to make pie crust
Although many people shy away from making pie crust from scratch, these steps and tips will help you perfect the art of pie crust making.
Make the pie dough
First, you want to combine ingredients in the food processor. If you don't have a food processor you can always use a pastry cutter. Worst case scenario you can use a fork or your hands, however, I don't recommend this. Your warm hands will start softening the butter, and you want the butter to stay as cold as possible.
You want to pulse the ingredients in your food processor until the butter is down to the size of a pea.
It is important not to over or under mix the butter with the ingredients. If you under mix the pie crust won't hold together as well and can crumble. Over mixing will cause the pie crust to not have the same flaky texture.
Chill the pie dough
After you completed your dough. You want to divide the dough into 2 equal parts. This will make up the bottom and top of the pie crust. Tightly wrap both pieces with plastic wrap and refrigerate for 30 minutes to 1 hour.
This step is very important. It allows the gluten strands to settle down. It also makes it a lot easier to roll out when the dough is more firm.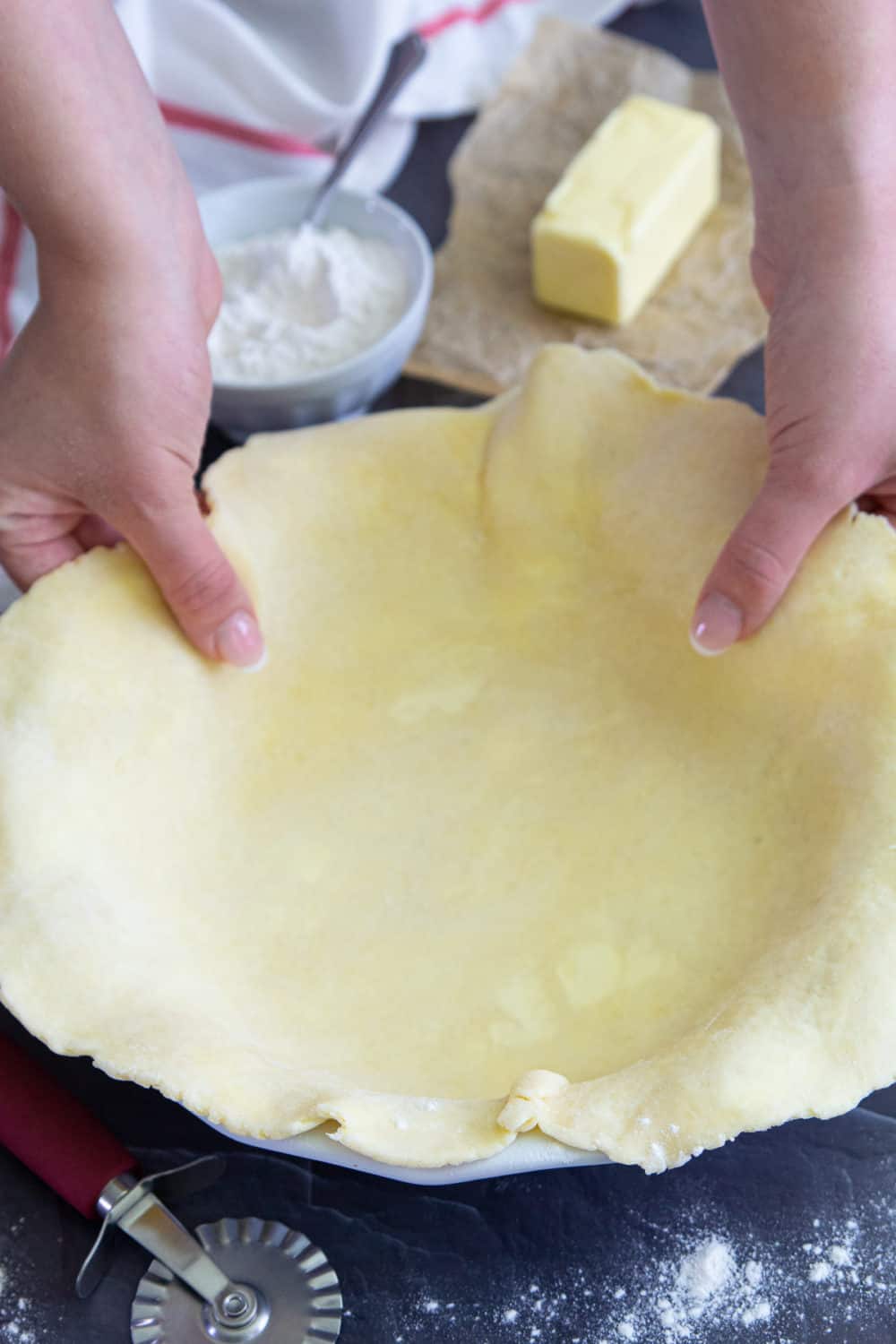 How to roll out and transfer the pie dough
After your pie dough has chilled in the refrigerator you will begin rolling it out onto a floured surface. Using a rolling pin, roll out the first piece of dough to about 13-14 inches. This will be for the bottom of your pie crust. A standard pie pan is about 9 inches in diameter. The second piece of dough will be rolled out to about 13 inches and will make up the top of your pie crust. (See further down for directions on making a lattice pie crust design)
You want to be careful when transferring the pie dough. The best way to transfer the dough is by placing a rolling pin at the beginning and gently wrapping the dough around the rolling pin. Then carefully unwrap the dough into your pie pan.
Fill and bake!
Pie crust is very versatile! You can add whatever fillings your heart desires. Whether you have a sweet or a savory filling, this pie crust recipe will taste just as delicious. The crust is tender and flaky
How to blind bake a pie crust
Blind baking refers to baking the pie dough in an oven without any fillings. This is in case your pie filling does not need to be baked. For example, if you are using a custard or pudding, this is where blind baking would be necessary.
Lattice Pie Crust
Lattice pie refers to the design that goes on top of your pie prior to baking it. This step looks a lot more intimidating than it really is.
How to make a lattice pie crust
Cut out 12 even strips of the pie dough. If your dough is about 13 inches in diameter, cut each piece about 3/4 of an inch.
Place 6 strips of dough parallel to each other vertically from you.
Now peel back the odd numbers. So strip number 1,3, and 5.
Then place 1 strip of the dough horizontally closer towards you and place the odd strips back.
Now peel back the even numbers. So numbers 2, 4, and 6. and place another strip of dough horizontally again. Repeat this with the remaining strips of dough going back from odd to even numbers.
Once you get down this simple method of pie decorating, you will have the most gorgeous lattice pie top! And if at any point you get confused, watch the video below on how to make this pattern.
Here are some more pies, cobblers, and crisps you might enjoy 🙂
Watch my blueberry pie video to see how to make the LATTICE pattern on top

Full Recipe Instructions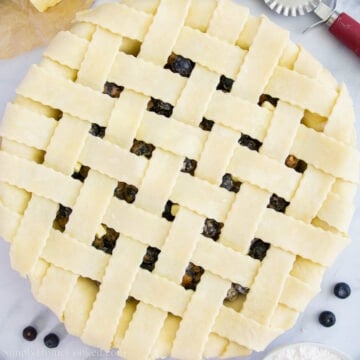 Homemade Pie Crust Recipe
This easy all-butter homemade pie crust recipe will become your FAVORITE pie dough ever! With a simple step by step tutorial to make a lattice pie too!
Print
Pin
Rate
Instructions
In a food processor add 2 1/2 cups of all-purpose flour, 2 tablespoons granulated sugar, 1/2 tsp of salt, and 1 1/4 cup of cold unsalted butter. Pulse on high speed until butter becomes the size of a pea.

Place the dough ingredients into a large bowl and pour 1/2 cup of buttermilk in. Then mix it all together.

Form the don't into a bowl and divide it into two separate pieces. Then shape each piece of pie dough into a disk and tightly cover with plastic wrap. Refrigerate for about 30 minutes to 1 hour before rolling it out.

For the bottom of the pie, you'll want to roll out the first piece of dough onto a floured surface using a rolling pin. Roll it out to about 13-14 inches. Then place it into your pie pan.

To make the lattice pie top, roll the second piece of dough out to 13 inches in diameter and slice out 12 (3/4 inch) strips using a pastry wheel.

Place 6 strips evenly spaced on top of the filled pie dish. Then pull back the odd numbers (1,3,5) now lay 1 strip of Dough across. Place the odd strips back. Now peel back the even numbers (2,4,6) and Place another strip of dough across. Continue doing this with the odd and even numbers until all remaining strips of dough are put on.

Now brush the pie with egg wash and bake at 370°F for about 50 minutes.
Nutrition
Calories:
417
kcal
|
Carbohydrates:
34
g
|
Protein:
5
g
|
Fat:
30
g
|
Saturated Fat:
19
g
|
Cholesterol:
78
mg
|
Sodium:
166
mg
|
Potassium:
71
mg
|
Fiber:
1
g
|
Sugar:
4
g
|
Vitamin A:
911
IU
|
Calcium:
32
mg
|
Iron:
2
mg