This EASY fruit pizza is made with a soft sugar cookie crust, cream cheese frosting and loaded with fresh vibrant fruit. It's the perfect summer dessert.
If you prefer making a fruit dessert similar to this but in a mini version, try our mini fruit tarts with homemade custard!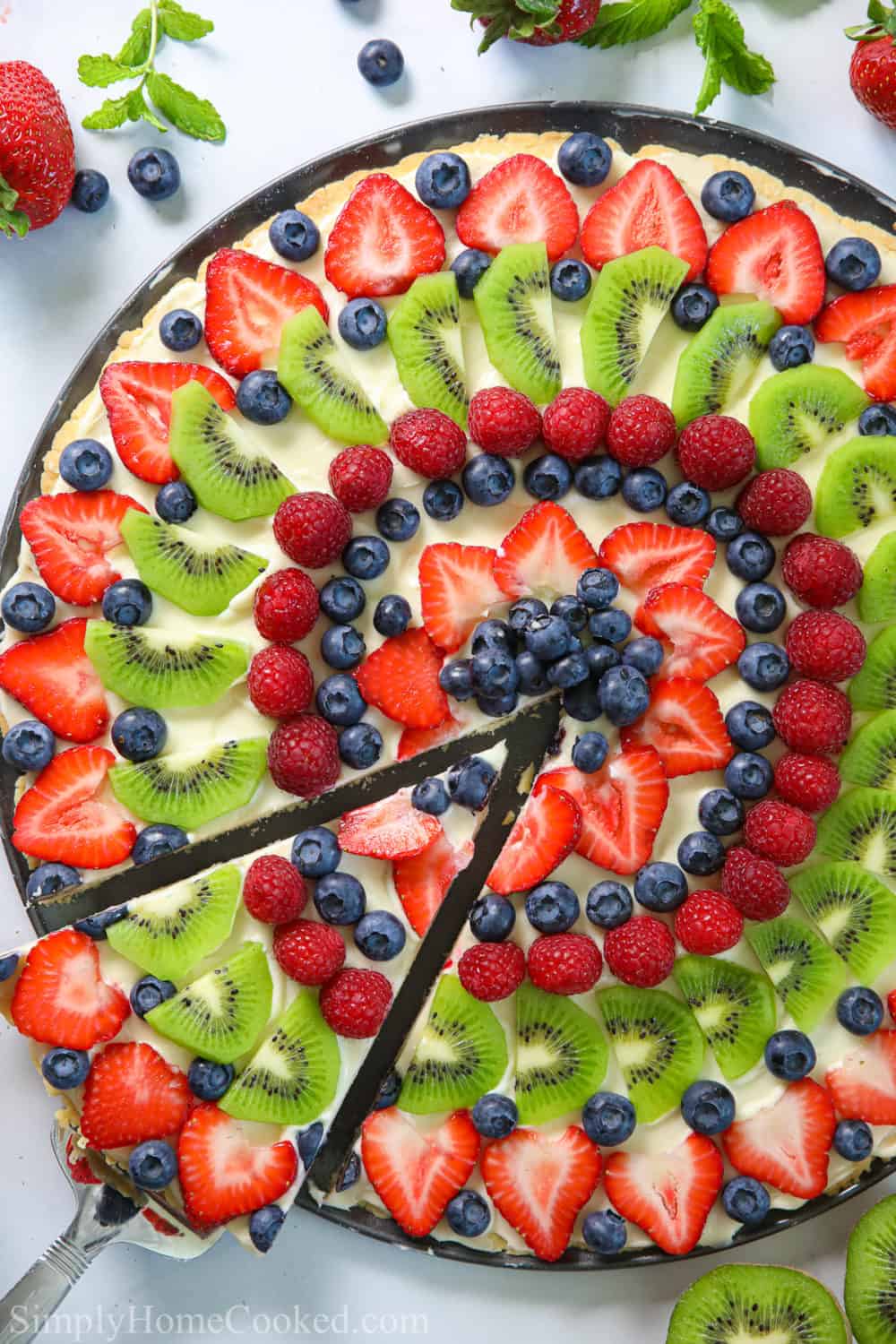 Fruit pizza ingredients
The fruit pizza crust
Sugar cookie dough- you can purchase pre-made sugar cookie dough from the grocery store if you don't have time to make your won.
Homemade crust- this sugar cookie crust is made with flour, butter, cream cheese, vanilla, baking powder, and sugar.
Cream cheese frosting
All you'll need for the fruit pizza frosting is cream cheese, butter, powdered sugar, and vanilla.
Fruit toppings
This part is all up to personal preference. In this recipe I used, strawberries, kiwis, blueberries, and raspberries.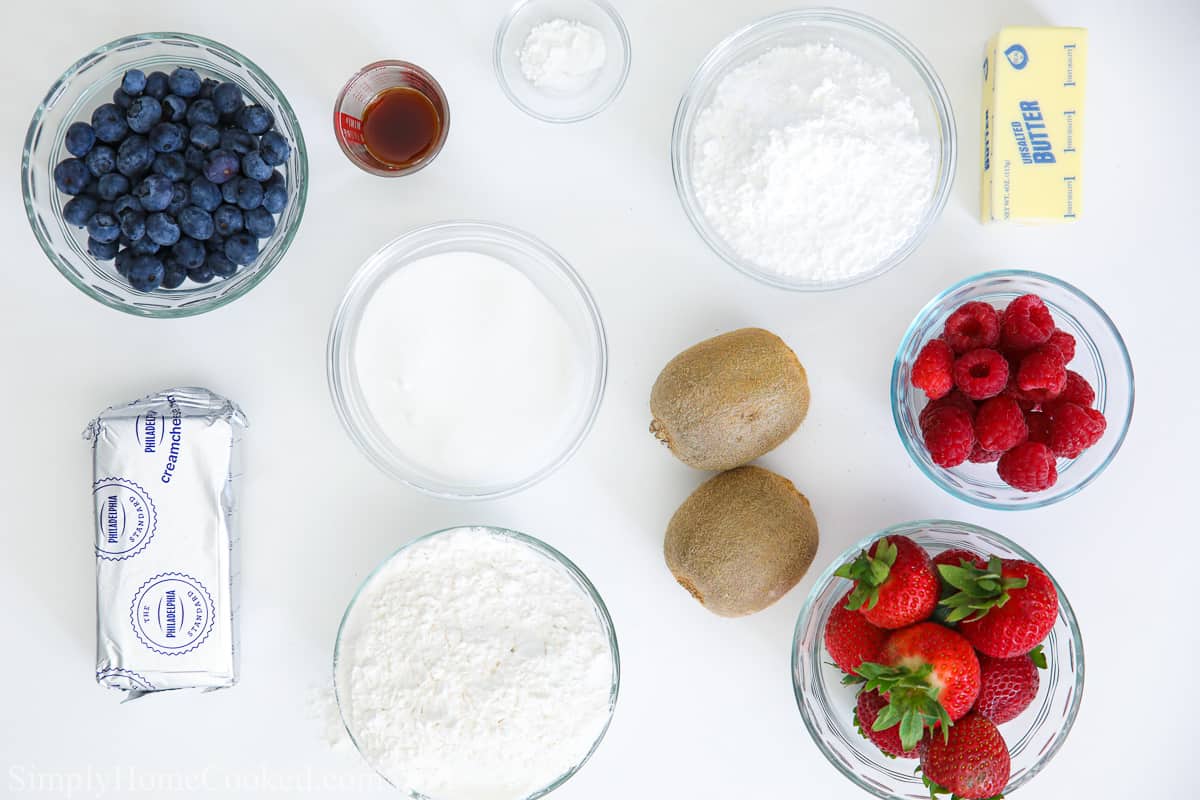 How to make fruit pizza
Make the sugar cookie crust by combining all the ingredients in a food processor, then refrigerate it for about half an hour. Then roll it out onto your pizza pan and bake it in the oven.
Next, make the cream cheese frosting, by blending all the frosting ingredients in a bowl using an electric mixer.
Now, decorate your fruit pizza with the homemade cream cheese frosting and top it with your favorite fruit and berries.
Fruit pizza glaze
Now, if you're wondering what a fruit glaze is, its common technique that is used to cover pastries, fruit tarts, and cheesecakes. It gives the fruit a shiny look to them, as well as adding a little bit of extra flavor. Fruit glaze also protects and preserves the life of the fruit on your dessert.
Fruit glaze is very easy to make. Because of its mild flavor and light color, it is almost always made with a jam or jelly (apricot is a common one). If jam is used it will need to be strained. Now heat the jam/jelly in a saucepan with a little bit of water to thin it out. Now you can brush on the fruit glaze using a pastry brush over your fruit pizza, fruit tart, or any other fruit dessert.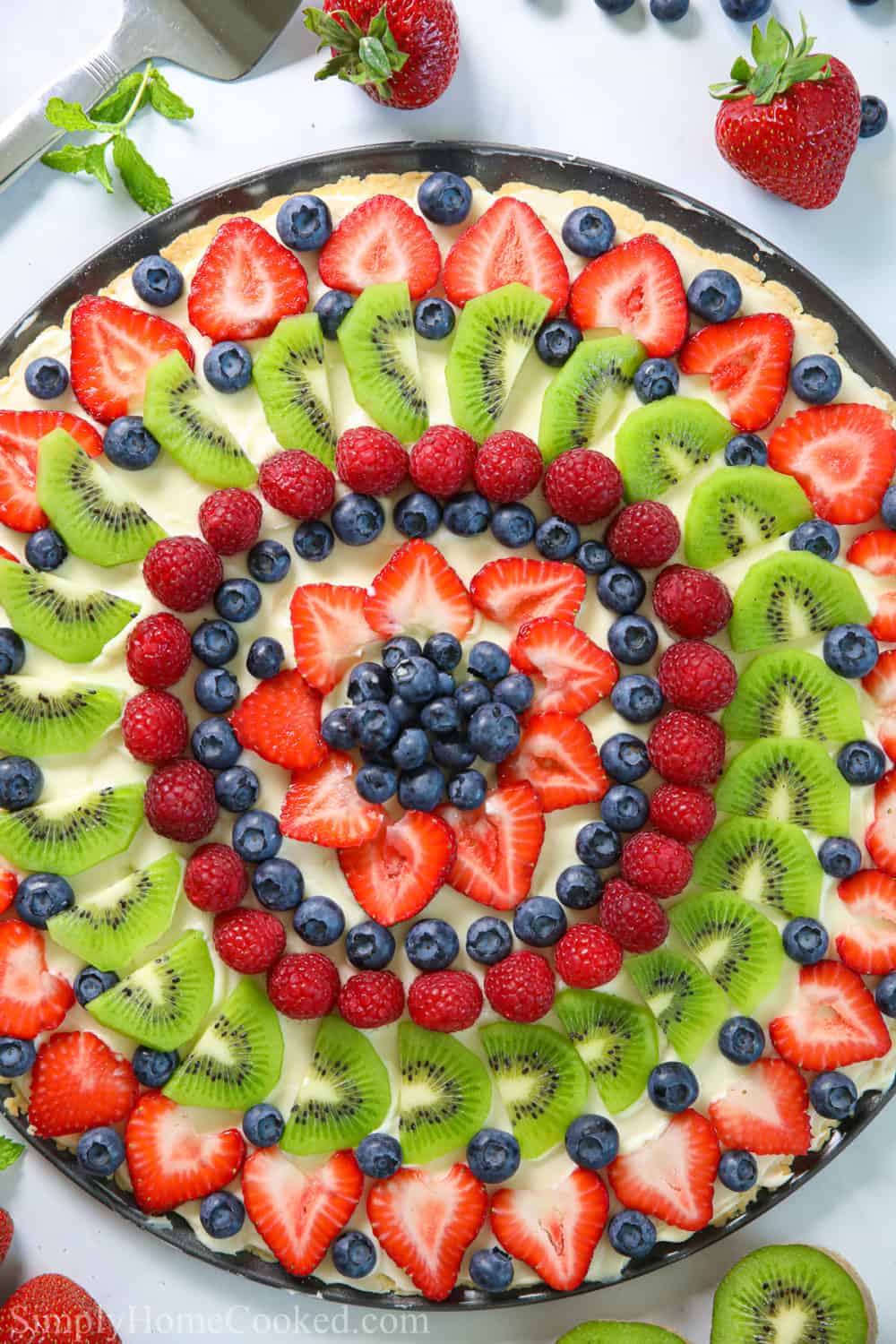 Different fruit pizza variations
Fruit pizza cookies- If you don't care for a large fruit pizza idea, then you can just make smaller individual fruit cookies (from sugar cookie dough or this homemade dough). Then cover each cookie with the cream cheese frosting and top them with your choice of fruit.
Valentines- You can make this more romantic by having a heart-shaped cookie (or pizza) with pink cream cheese frosting (just add food coloring).
4th of July- Make a patriotic version by incorporating red, white, and blue using different fruits.
More fruit dessert recipes
Watch a video on how to make this recipe here: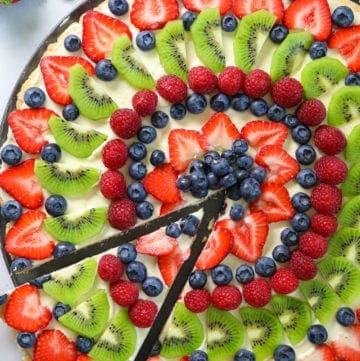 Fruit Pizza Recipe
This EASY fruit pizza is made with a soft sugar cookie crust, cream cheese frosting and loaded with fresh vibrant fruit. It's the perfect summer dessert.
Print
Pin
Rate
Ingredients
Fruit
Kiwi

Strawberries

Blueberry

Raspberry
Instructions
In a food processor, add 1 3/4 cup flour, 1/2 cup granulated sugar, 1/4 tsp baking powder, 1/2 cup of cold cubed unsalted butter, 4 oz cream cheese (also cut in cubes) and then a 1 teaspoon of vanilla extract.

Now snap the lid on and begin pulsing the blades. You'll want to do about 5ish pulses or until the butter gets down to the size of a pea.

Now add the dough into a large bowl and begin working it into a ball using your hands. It might not come together at first but have patience. Keep working it in and it will take shape as the butter slowly warms up.

Now place your dough onto a sheet of plastic wrap and shape it into a disk. cover the plastic wrap around it and place it in the refrigerator for about 30 minutes.

Meanwhile, begin working on the cream cheese frosting. In a large bowl, add 8 oz softened cream cheese, 2 tbsp of softened unsalted butter, 1 cup of powdered sugar, and 1 tsp of vanilla extract

Using an electric mixer beat all the ingredients together until it's all well combined. Then set it aside.

Now take your dough out of the refrigerator, remove the plastic wrap and place it on a well floured surface.

Then add another generous sprinkle of flour on top and begin rolling it out using a rolling pin. Roll it out to about 14 inches in diameter. The. transfer your dough into a 14-inch pizza pan.

Generously poke the dough with a fork. Then bake at 350 degrees Fahrenheit for 20 minutes.

1Once the sugar cookie crust has cooled Evelyn spread the cream cheese frosting on top.

1Now add the sliced strawberries, kiwi, raspberries, and blueberries on top. Eat within a few hours.
Nutrition
Serving:
1
g
|
Calories:
482
kcal
|
Carbohydrates:
50
g
|
Protein:
5
g
|
Fat:
29
g
|
Saturated Fat:
17
g
|
Cholesterol:
85
mg
|
Sodium:
264
mg
|
Potassium:
104
mg
|
Fiber:
1
g
|
Sugar:
29
g
|
Vitamin A:
1014
IU
|
Calcium:
56
mg
|
Iron:
1
mg