This Moist Lemon Pound Cake is a delicious combination of sweet and tart. Made with fresh lemons, you're going to love this dense and flavorful dessert.
For other amazing desserts, try this Berry Chantilly cake and cream cheese danish (VIDEO), too.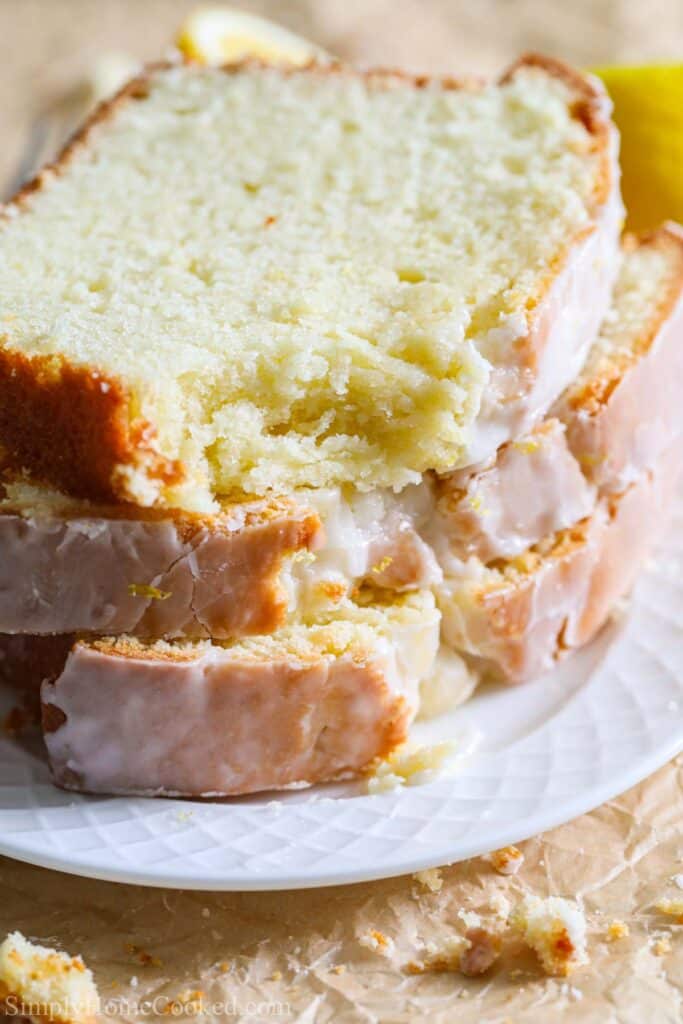 Table Of Contents
Lemon Pound Cake Details
This recipe makes the moistest lemon pound cake! You'll be coming back for seconds before you know it!
Taste: Every bite of this lemon loaf is bursting with zesty lemon flavor and topped with sweet and tangy icing.
Texture: Its super MOIST! It's honestly the best part about this recipe. The crumb is so soft, it just melts in your mouth. If this is your type of dessert, you'll love the moistness of cranberry orange bundt cake and strawberry bundt cake as well.
Time: The process of making the pound cake is pretty quick, but it takes about 1 hour and 20 minutes to bake. You also need to wait for it to cool before you add the lemon icing on top.
Ease: Since this entire recipe is made it one bowl, it makes it easy enough for newbie bakers to nail it from the first try!
Ingredients
Dry ingredients: all-purpose flour, baking soda, and salt- for the dry ingredients
Granulated sugar– for sweetness
Wet ingredients: butter, eggs, buttermilk, lemon juice, and zest
For the lemon icing: lemon juice and powdered sugar
Note: for thicker glaze, add heavy cream and extra powder sugar.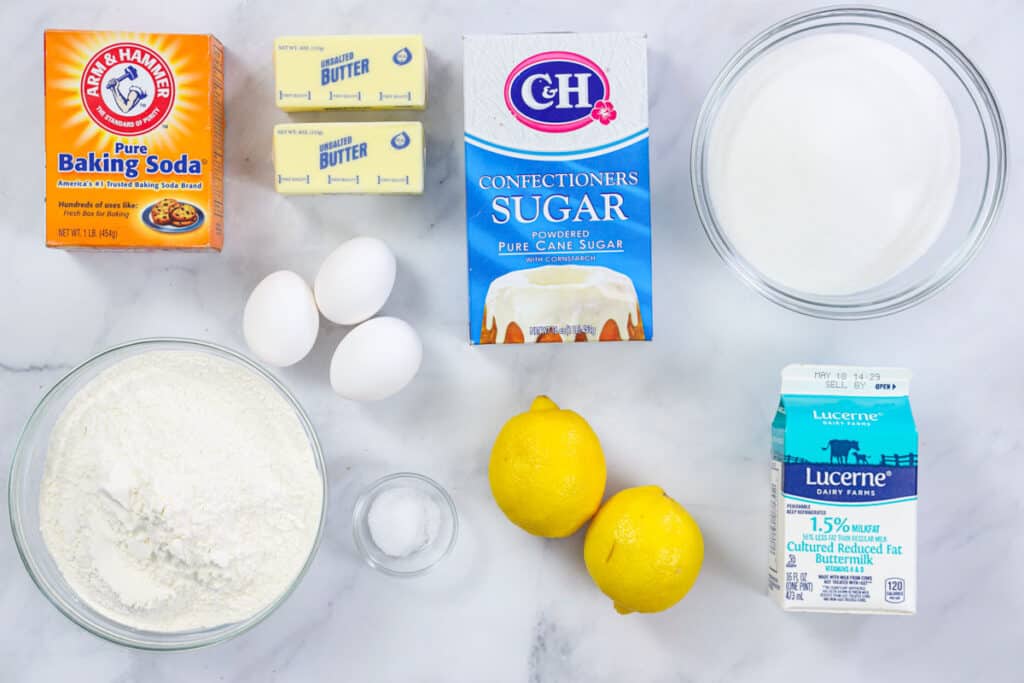 How to make lemon pound cake
Sift the dry ingredients. Sift together into a bowl the flour, salt, and baking soda using a sifter.
Mix the butter with sugar. In a large bowl, add the sugar and butter, and mix them with an electric hand mixer.
Add the lemon zest, juice, and eggs. Add these ingredients to the butter and sugar mixture.
Slowly add the flour mixture and buttermilk. Splitting it into thirds, add the flour mixture and the buttermilk to the wet ingredients. In between each third, mix the batter again to make sure it is smooth and lump-free.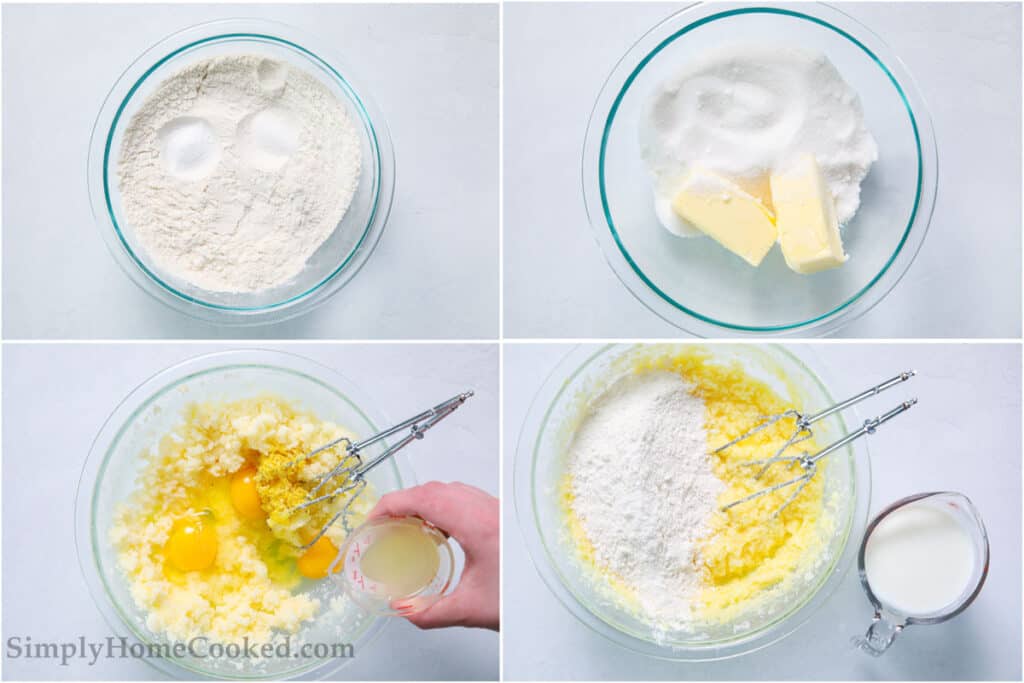 Prep the loaf pan. Line a loaf pan with parchment paper and spray with cooking spray. Pour the batter into the pan.
Bake. For 1 hour, bake the lemon pound cake at 325 degrees Fahrenheit. Then, drop the temperature to 300 degrees and bake for another 20 minutes.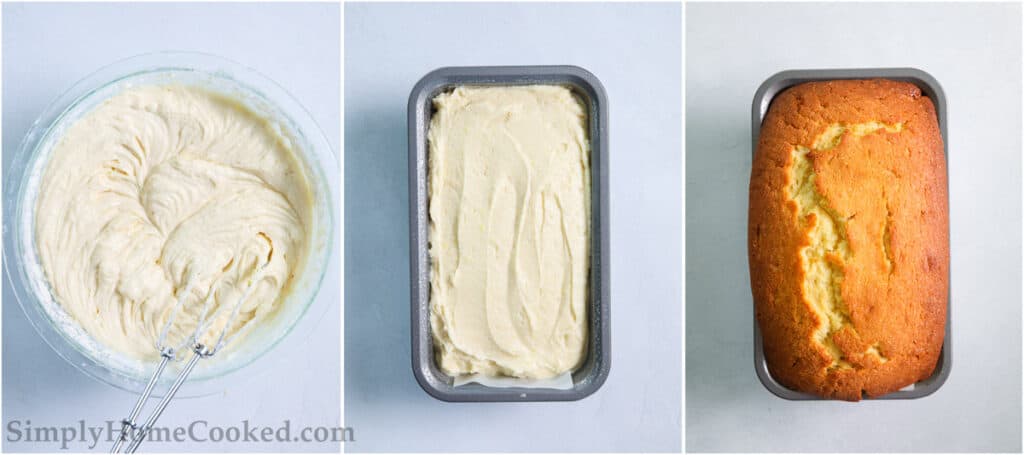 Make the icing. Combine the lemon juice and powdered sugar in a small bowl, mixing until smooth.
Ice the pound cake. When the cake is done, allow it to rest in the pan for about 10 minutes and then transfer it to a cooling rack. Once cool, drizzle the lemon icing over the top.
Serve. Slice the cake and serve as is or alongside a scoop of cool Honeydew Melon Fruit Sorbet or some Fruit Pizza.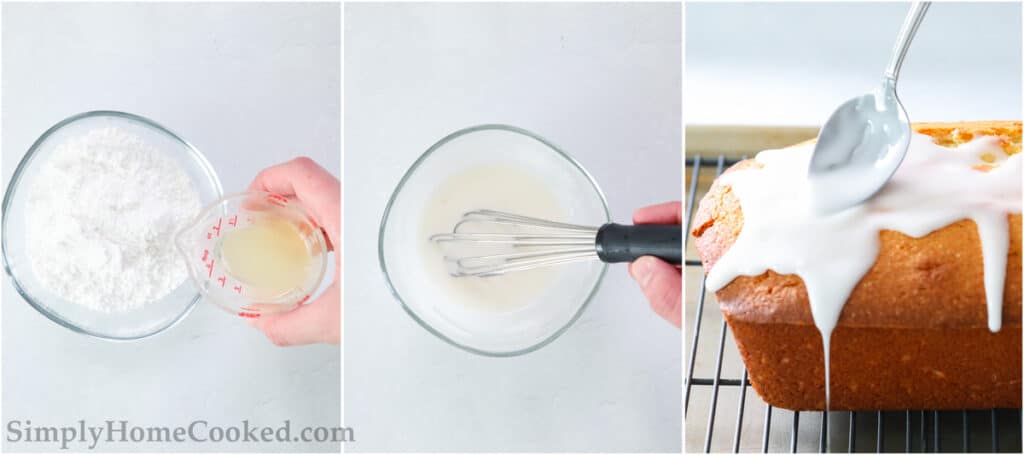 Recipe Tips
Use room temperature butter for optimal texture. If you forgot to soften your butter, just warm in the microwave on the "melt chocolate" setting. Yes, it works better than the "soften butter" setting. Just do it in 10-second increments.
Only use fresh lemon juice. The artificial stuff does not taste the same!
Avoid over-baking by inserting a toothpick in the center of the pound cake towards the end of bake time. If it comes out clean, you're done baking!
Add-ins and Substitutions
No lemons? use lemon extract to mimic lemon flavor.
Add berries like strawberry or blueberries to add more texture and berry flavor.
Thicken the icing by mixing in heavy cream and extra powdered sugar.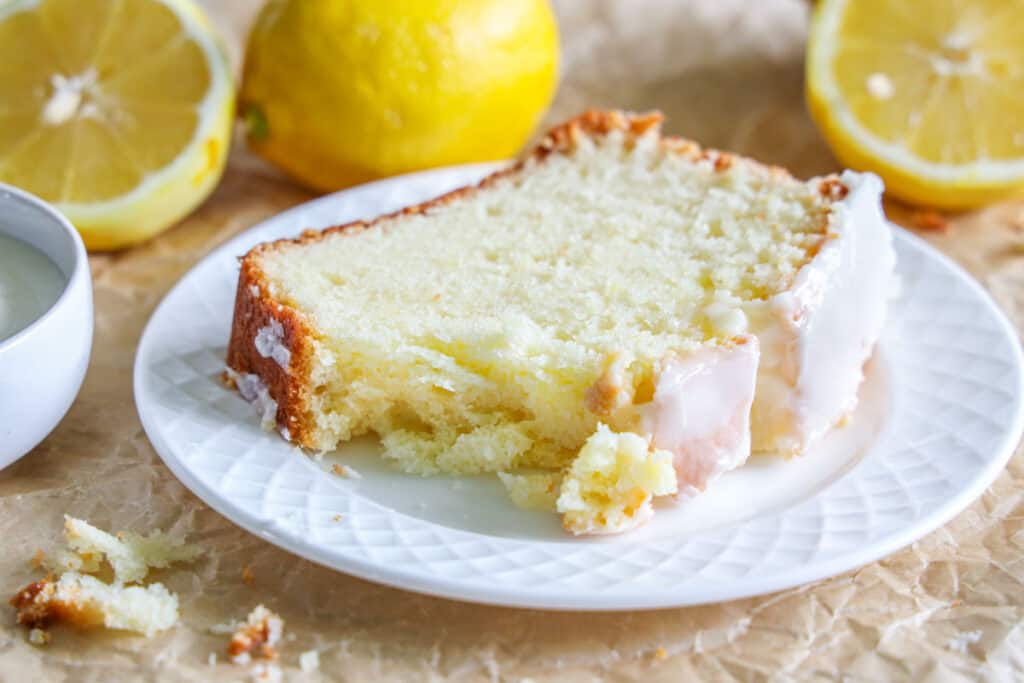 FAQs
Why do pound cakes crack on top?
Pound cakes are extremely dense, which is what causes them to crack on top. The outside of the cake will cook first, resulting in the batter rising up and cracking the top of the loaf. So if your pound cake cracks, it's okay!
Why is it called a pound cake?
This type of cake got the name "pound cake" in the 18th century because, traditionally, it calls for a pound of flour, a pound of sugar, a pound of eggs, and a pound of butter. You don't necessarily have to make it with that much of each ingredient, but the proportion of each is what makes a pound cake a pound cake.
What type of lemons are best?
Eureka lemons are best for baking since they have the perfect amount of acid to balance the sugar. Meyer lemons on the other hand, are a lot sweeter and less acidic making them perfect for lemonade.
What is the secret to a moist pound cake?
Use room temperature ingredients, don't over-mix the eggs, use buttermilk, and don't over-bake. Also, adding syrup or icing on top will moisten the cake as well.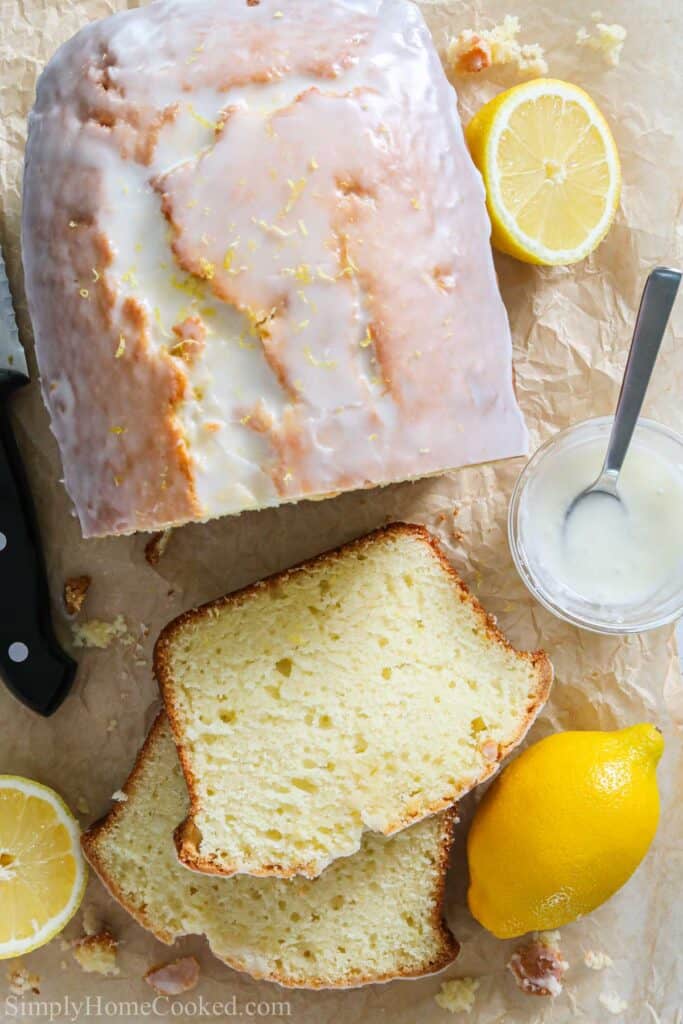 Serving Suggestions
Milk– Enjoy it with a glass of cold milk as a midnight treat.
Coffee– this pairs surprisingly well with coffee. Must be all the rich butter!
Tea– any fruit dessert pairs well with tea, especially black tea.
Make This Lemon Pound Cake in Advance
Make ahead: The lemon glaze icing can be made days in advance and wrapped with plastic wrap to preserve freshness. The lemon pound cake can be made the day before and baked the following morning.
Storing: This Lemon Pound Cake can last for about 4 days at room temperature or a week in the refrigerator. Wrap it in plastic wrap or place it in an airtight container to keep it fresh.

Freezing: Yes, you can definitely freeze this pound cake. Just place it in an airtight container to avoid any freezer burn and this cake will last for about a month in the freezer. If possible, ice it after thawing so that the icing is thick and smooth as it's drizzled on top. Frozen icing will crack, melt, and absorb when it is thawed.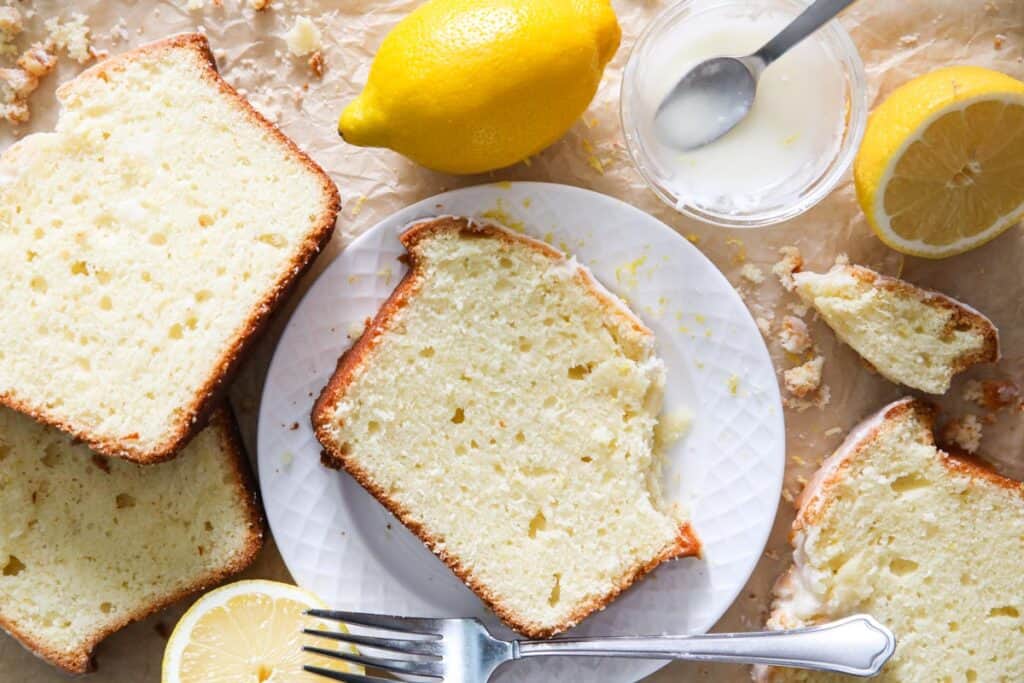 More Tasty Fruit Desserts to Try!
Watch the VIDEO Here
Full Recipe Instructions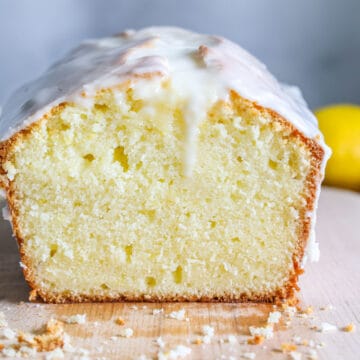 Lemon Pound Cake
This Moist Lemon Pound Cake is so dense and delicious. Sweet and tart and drizzled with icing, you won't be able to say no to seconds.
Print
Pin
Rate
Instructions
Sift the 3 cups all-purpose flour, 1/2 teaspoon baking soda, and 1/2 teaspoon salt in a bowl. Then set it aside for later.

In a separate bowl combine 1 cup unsalted softened butter with 2 cups granulated sugar. It works best to do this using an electric hand mixer. It may seem like a lot of sugar but trust me, this loaf is big. So the extra sweetness is necessary.

Once the sugar and butter are combined mix in 2 tablespoons lemon zest, 3 tablespoons lemon juice, and 3 eggs.

Now mix in 1/3 of the buttermilk. You will need a total of 1 cup, but only add 1/3 cup at first. Once it's mixed, add in a third of the flour mixture. Continue interchanging a third of the buttermilk and a third flour of the mixture with mixing in between. This will ensure the batter is smooth and not lumpy.

Line a 9×5 inch loaf pan with parchment paper and coat it with nonstick spray. Then pour the lemon pound cake batter into the loaf pan.

Bake at 325 degrees Fahrenheit for 1 hour, then drop the temperature to 300 degrees Fahrenheit and bake for an additional 20 minutes. A good way to tell if the pound cake is baked through is by inserting a toothpick in the center of the loaf. If it comes out clean, your pound cake is done baking.

Now make the icing by combing 1 cup powdered sugar with 2 tablespoons lemon juice in a small bowl. Tip: if you want to make the icing thicker, and some heavy cream or milk and a little more powdered sugar. Add a little at a time until you get your desired consistency.

Once the lemon pound cake is baked, let it rest for 10 minutes in the pan, then transfer it to a cooling rack. Once it's cooled, drizzle on the lemon icing.
Nutrition
Calories:
536
kcal
|
Carbohydrates:
82
g
|
Protein:
7
g
|
Fat:
21
g
|
Saturated Fat:
13
g
|
Cholesterol:
101
mg
|
Sodium:
227
mg
|
Potassium:
101
mg
|
Fiber:
1
g
|
Sugar:
53
g
|
Vitamin A:
678
IU
|
Vitamin C:
3
mg
|
Calcium:
46
mg
|
Iron:
2
mg