These Chewy Peanut Butter Oatmeal Cookies are so amazing, you're going to want to make a double batch! Soft and sweet with gooey chocolate chips, they are simply scrumptious.
If you want to try some other delicious chewy cookie recipes, check out our banana oatmeal cookies and oatmeal chocolate chips cookies.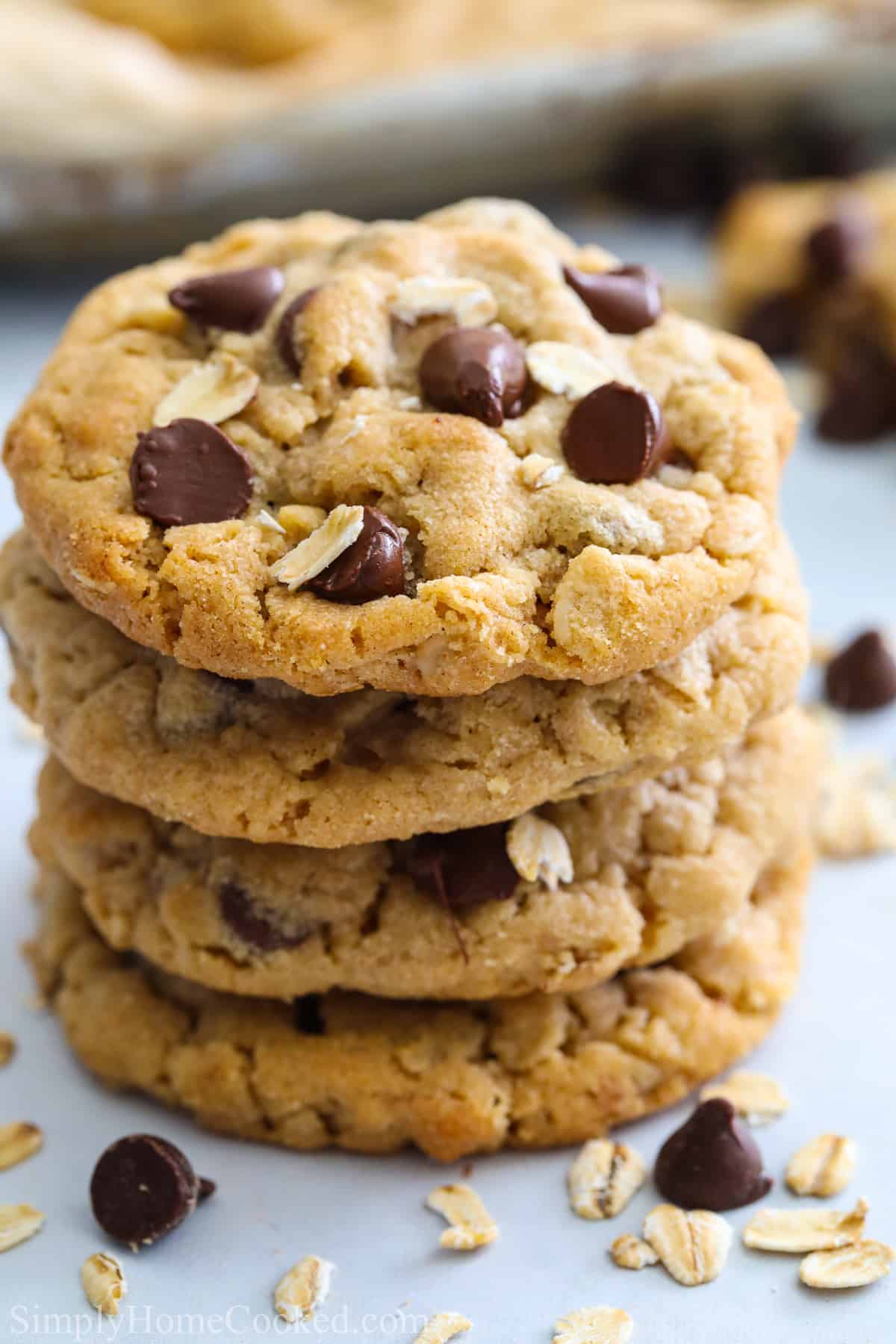 Peanut Butter Oatmeal Cookies
If you love deliciously chewy cookies, then these peanut butter oatmeal cookies are for you. The texture is so yummy because of the chewiness of the oats and peanut butter. Add in the rich sweetness of brown sugar and butter with gooey chocolate chips, and these cookies are a knock out. These go great with dessert or alongside your tea or coffee. They also make a nice addition at get-togethers or in holiday boxes. They not only look great, but taste delicious, too. You're going to love these yummy oatmeal cookies.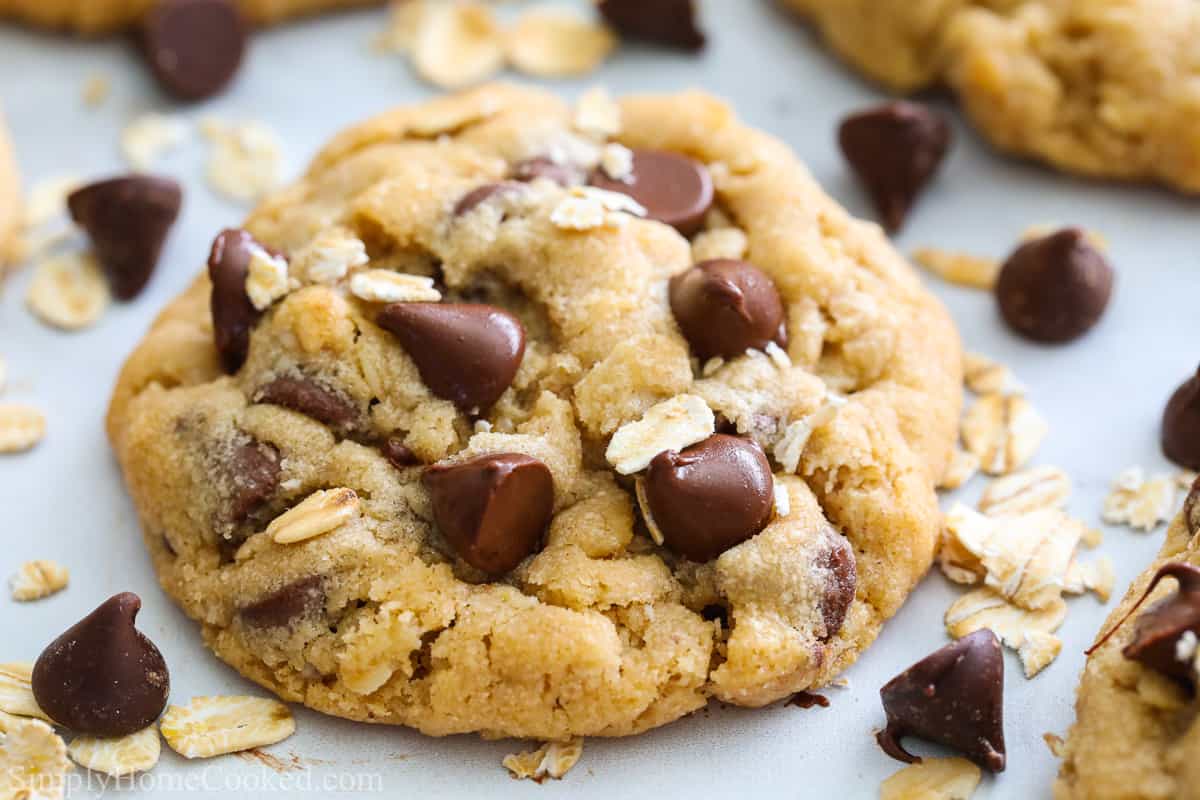 Here's What You'll Need
Wet ingredients- Butter, Granulated sugar, Brown sugar, Vanilla Extract, and Eggs.
Dry ingredients- All-purpose flour, Baking powder, Baking soda, and Salt.
Flavor enhancers- Old-fashioned rolled oats, Semi-sweet chocolate chips, and Creamy peanut butter
Can I Use Instant Oats instead?
You can, but it won't have the same texture. Because instant oats are broken down more so they will cook faster into oatmeal, they don't hold onto their shape and texture as well as old-fashioned oats, so you lose some of that great chew. But taste-wise, they're pretty much the same, so you can substitute instant oats in this recipe.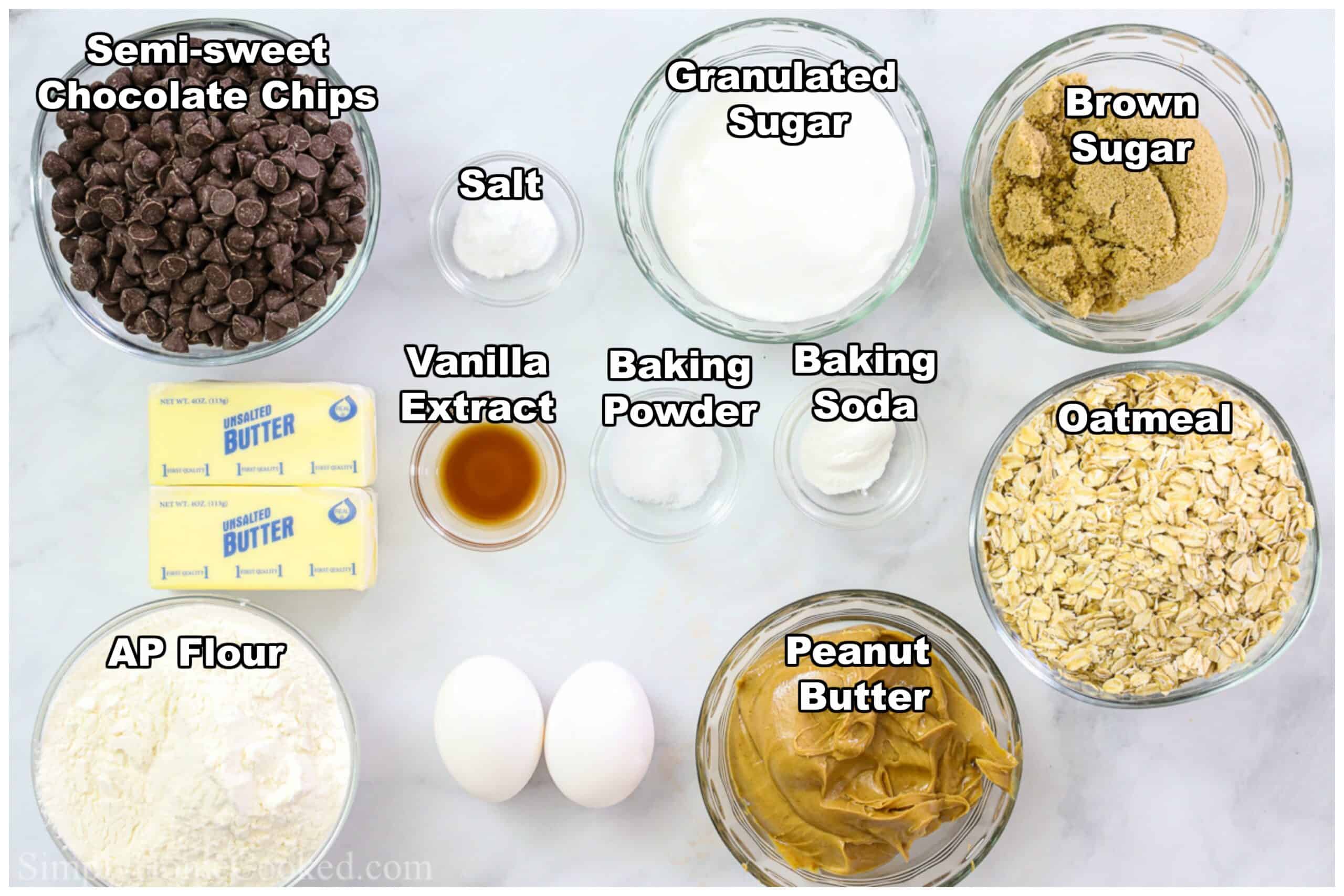 How To Make Peanut Butter Oatmeal Cookies
Sift the dry ingredients. Sift the flour, baking soda, baking powder, and salt into a large bowl.
Cream the sugar and butter. In another bowl, mix the two sugars with the softened butter using an electric hand mixer. Beat for about a minute on medium-high speed, or until the ingredients are well-creamed together.
Add the eggs and vanilla. Add in the egg, egg yolk, and vanilla extract, and beat again until combined.
Mix in the peanut butter. Now add the peanut butter to the mixture and beat at high speed.

Combine with the flour mixture. Using a spatula, mix in the dry ingredients until no more flour is visible.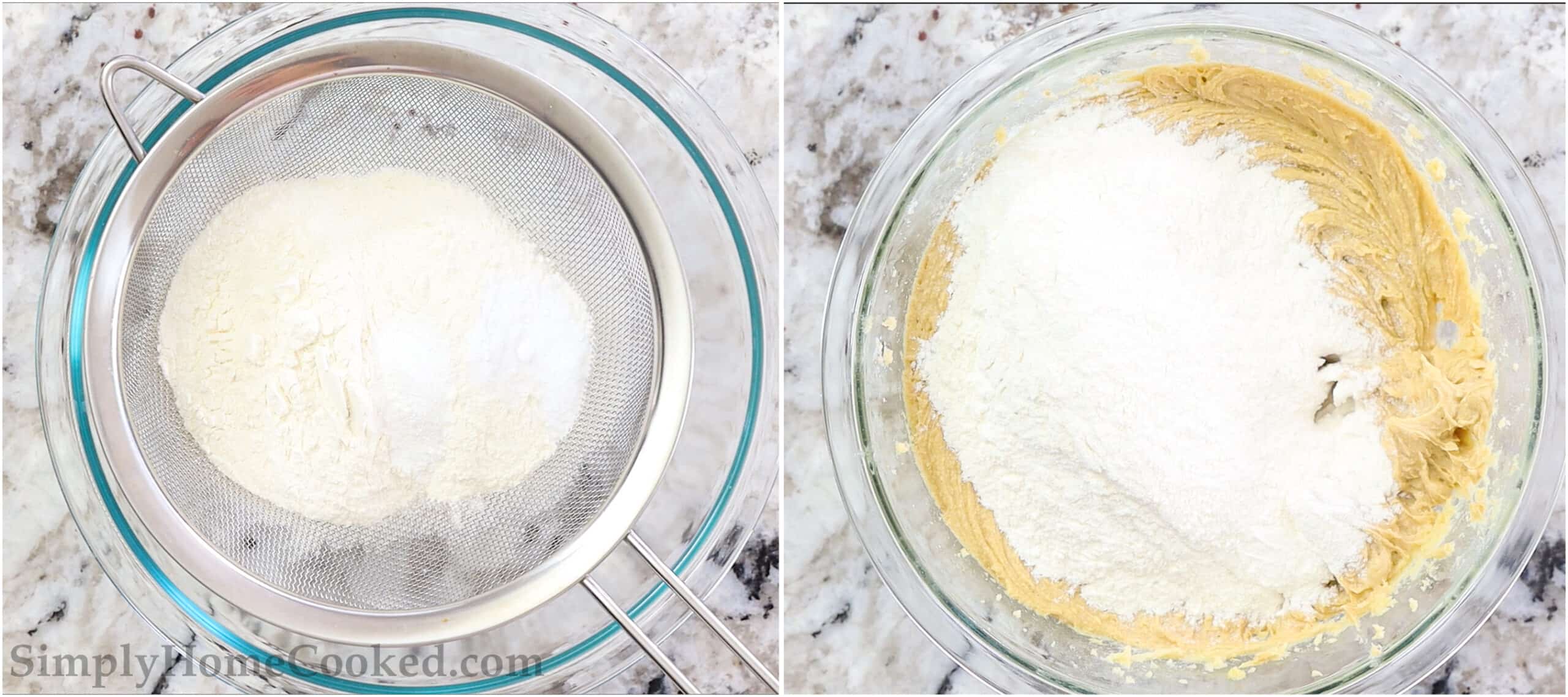 6. Add in the oats and chocolate chips. Pour in the chocolate chips and oats, and mix well.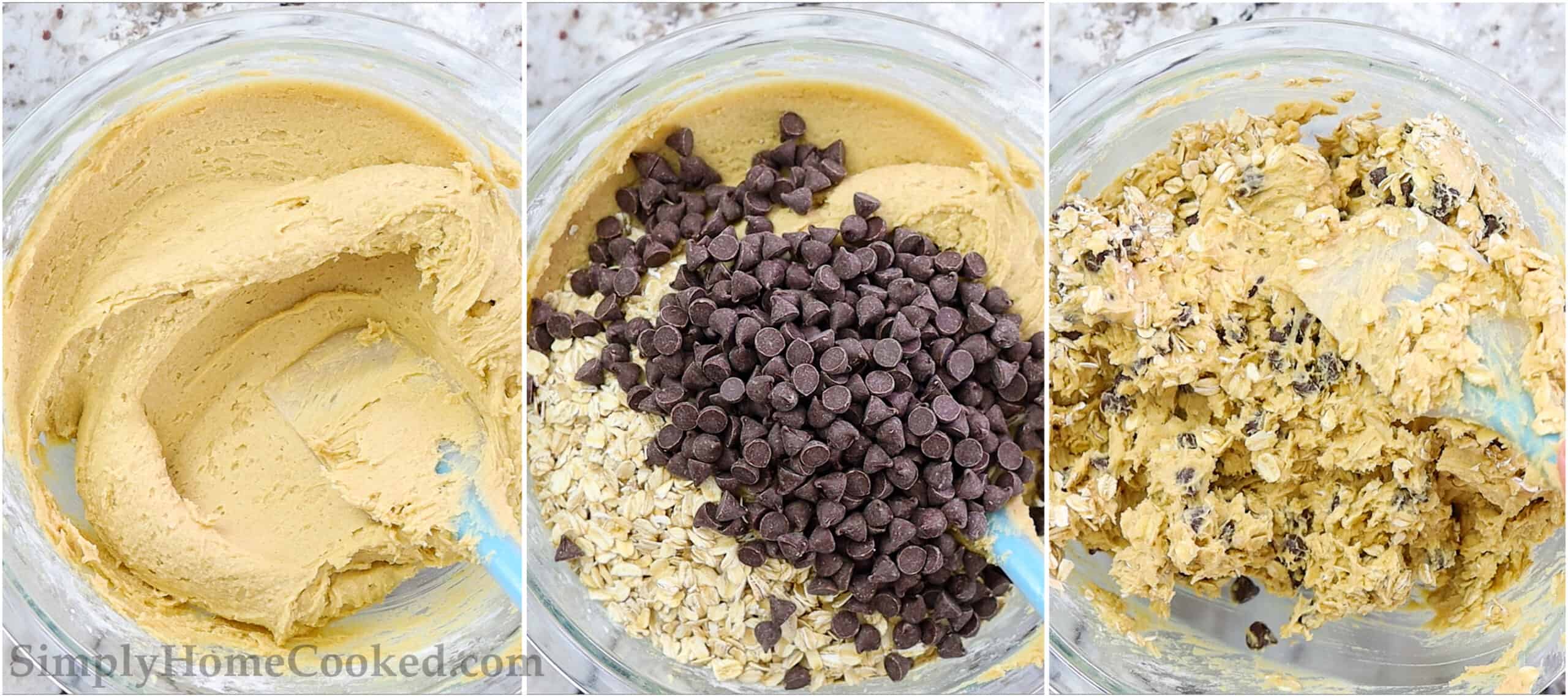 7. Scoop out the dough. Scoop out the cookie dough with a cookie scoop, placing the mounds on a baking sheet lined with parchment paper. If you prefer, you can roll each one into a ball so they bake into rounder cookies.
8. Add more chocolate chips on top. On top of each cookie, add some extra chocolate chips, about 1/2 cup total will do.
9. Bake. Bake the peanut butter oatmeal cookies for 10 minutes on the center rack at 350 degrees Fahrenheit. Enjoy!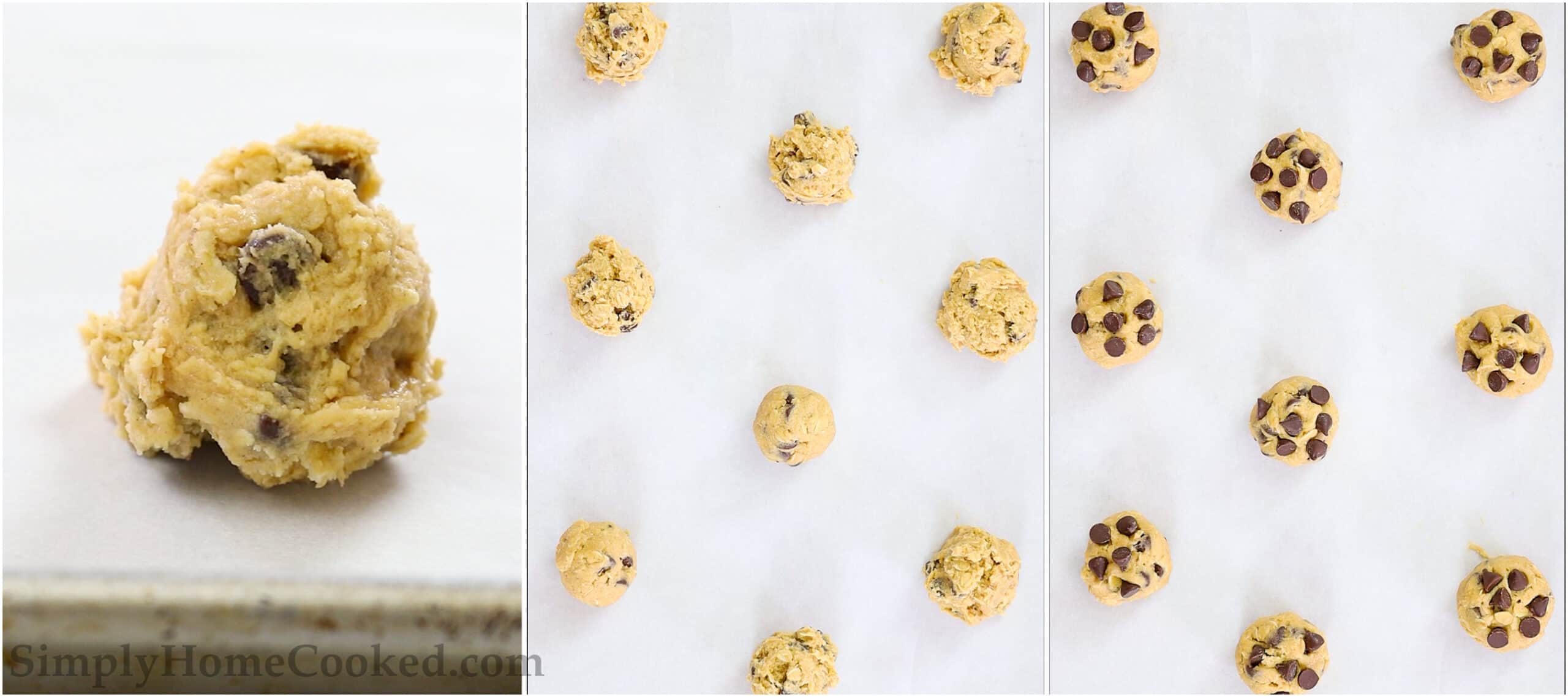 Baking Tips:
Use room temperature eggs- The eggs will blend better with the other ingredients if they are not cold, giving the cookies better texture.
Roll the dough balls in your hand- If you like your cookies nice and round, then roll them with your hand after scooping them so they bake into circles. But this step is optional.
The chocolate chips are optional- If you don't have or want to add the chocolate chips, you can skip them. But these cookies are so much tastier with some chocolate in them, so I recommend not leaving this ingredient out.
Bake on the center rack- The center rack gets the evenest heat distribution, baking your cookies from all sides and ensuring they are cooked just enough, but not too much, which would affect their chewiness.
More Cookies Recipes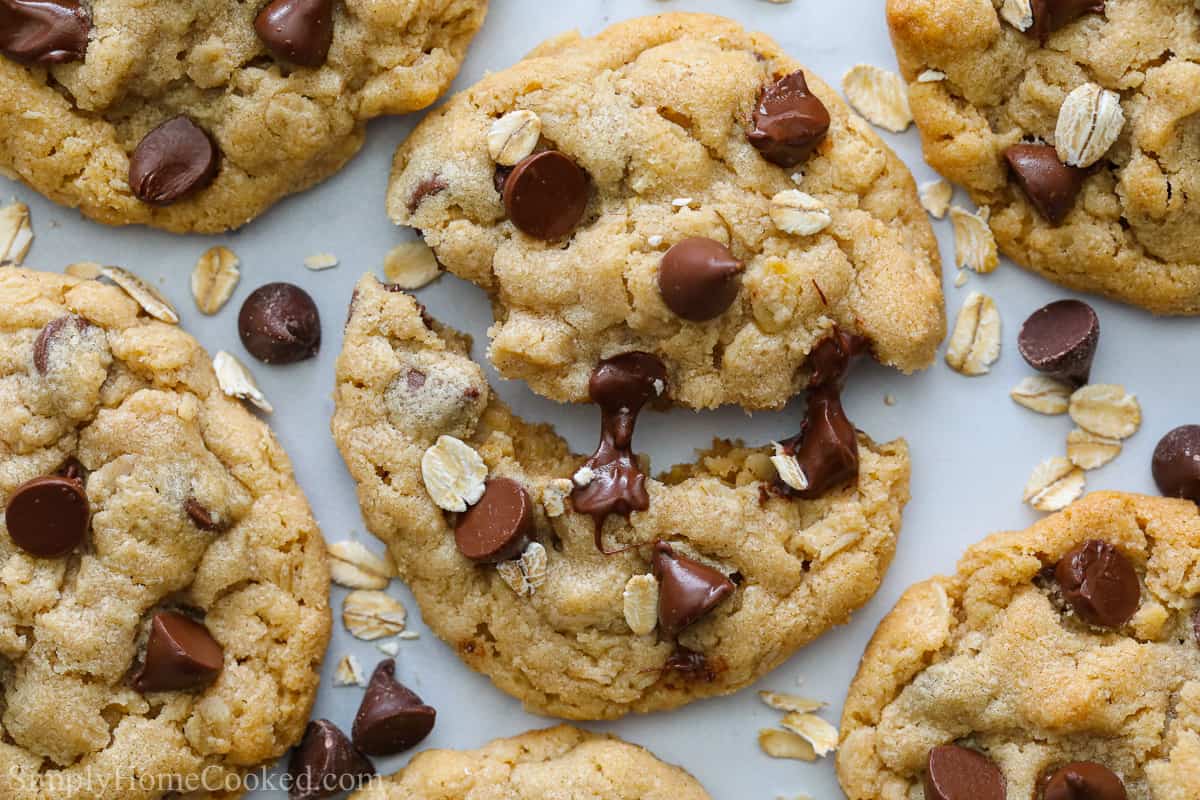 Watch a video on how to make these delicious cookies!
Full Recipe Instructions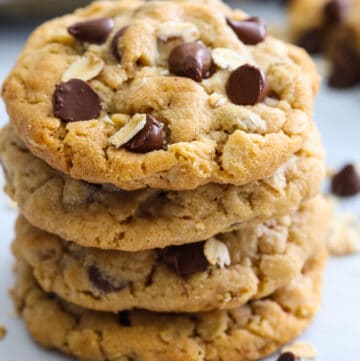 Peanut Butter Oatmeal Cookies
These Chewy Peanut Butter Oatmeal Cookies are soft & delicious. Chewy oats, nutty peanut butter & gooey chocolate chips make them so addictive.
Print
Pin
Rate
Instructions
Sift the dry ingredients
Start off by sifting 1 1/2 cups of all-purpose flour, 1 teaspoon baking powder, 1 teaspoon baking soda, and 1 teaspoon salt into a large bowl. Then set it aside.
Cream butter and sugar
Now, in a separate bowl add 1 cup of softened unsalted butter, 3/4 cup granulated sugar, and 3/4 cups of golden brown sugar. Using an electric hand mixer, beat that on medium-high speed for about 1 minute or until the butter and sugar are well-creamed together. 
Mix in eggs, vanilla, and peanut butter
Next, add 1 large egg and 1 egg yolk, along with 1 teaspoon of vanilla extract. Beat again until well combined.

Now add 1 cup of creamy peanut butter to the butter and sugar mixture. And combine once more at high speed.
Add flour mixture
Then, add the sifted flour mixture to the cookie dough and gently mix it in using a spatula. Mix until no more dry patches of flour are visible.
Mix in the oatmeal and chocolate chips
Scoop, roll, and bake
Scoop out mounds of the cookie dough using a medium trigger release cookie scoop. Then place them onto your prepared baking sheet. You can leave them as they are or roll each cookie dough ball into your hand for a prettier baked cookie.

Bake at 350 degrees Fahrenheit for about 10 minutes on the center rack
Notes
Nutrition
Calories:
182
kcal
|
Carbohydrates:
19
g
|
Protein:
3
g
|
Fat:
11
g
|
Saturated Fat:
5
g
|
Cholesterol:
16
mg
|
Sodium:
111
mg
|
Potassium:
122
mg
|
Fiber:
2
g
|
Sugar:
11
g
|
Vitamin A:
142
IU
|
Calcium:
19
mg
|
Iron:
1
mg