Tiramisu cake is a classic Italian cake that's made with coffee soaked sponge cake and layered between a sweet mascarpone cream. Its also commonly dusted with cocoa powder.
Do you love Italian desserts? Be sure to give our chewy amaretti cookies and mini almond biscotti a try!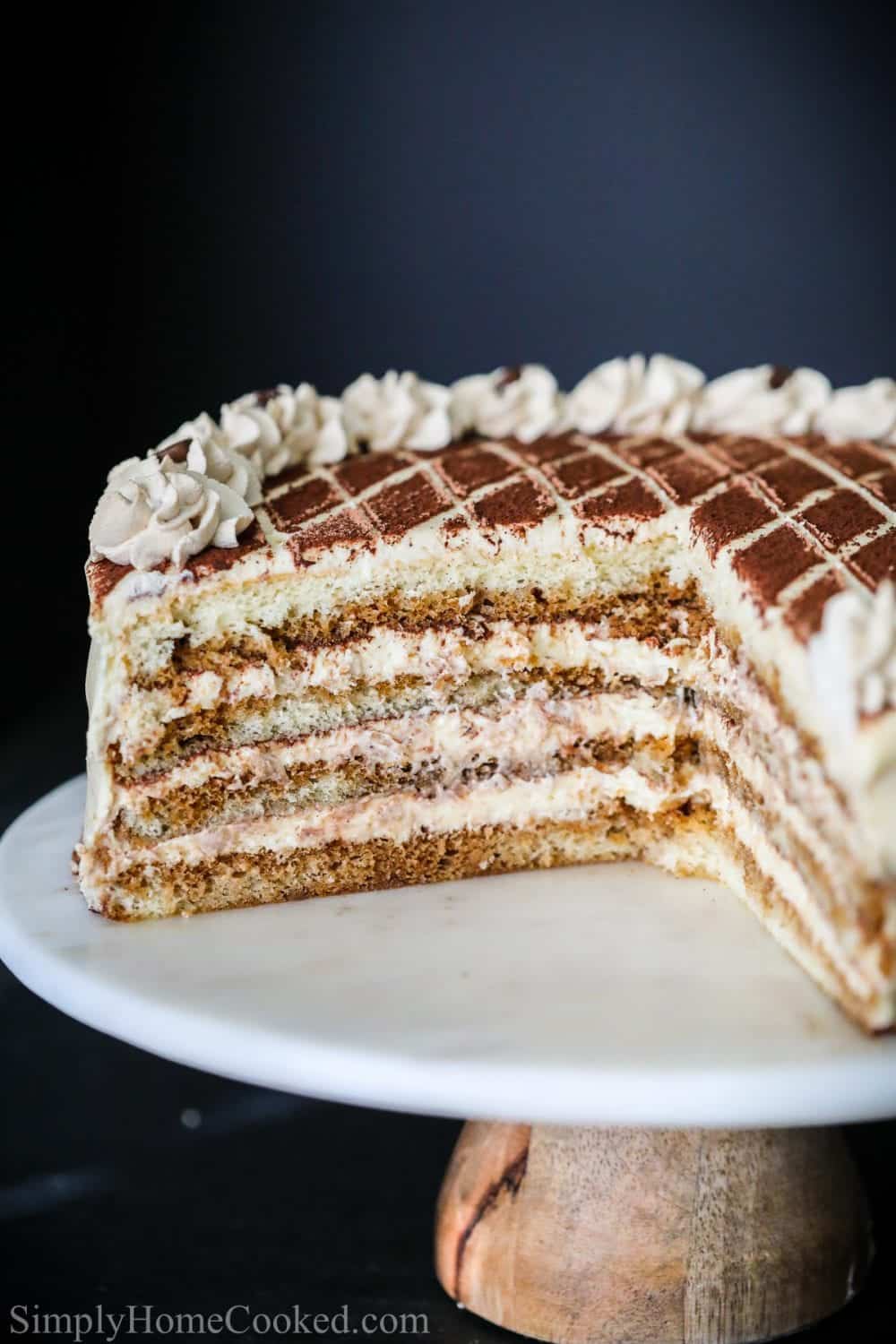 This tiramisu cake recipe was originally published on July 20, 2015, it has been updated since.
Tiramisu Cake
Tiramisu Ingredients
Cake- Tiramisu is typically made with ladyfingers, but this recipe is made with a sponge cake instead. The sponge cake consists of eggs, sugar, vanilla, flour, cornstarch, and baking powder.
Tiramisu Cream- The cream is made of cream cheese, mascarpone, powdered sugar, Kahlua, and egg product.
Tiramisu Coffee Soak- Each layer of cake is soaked in a combination of espresso, Kahlua, and sugar.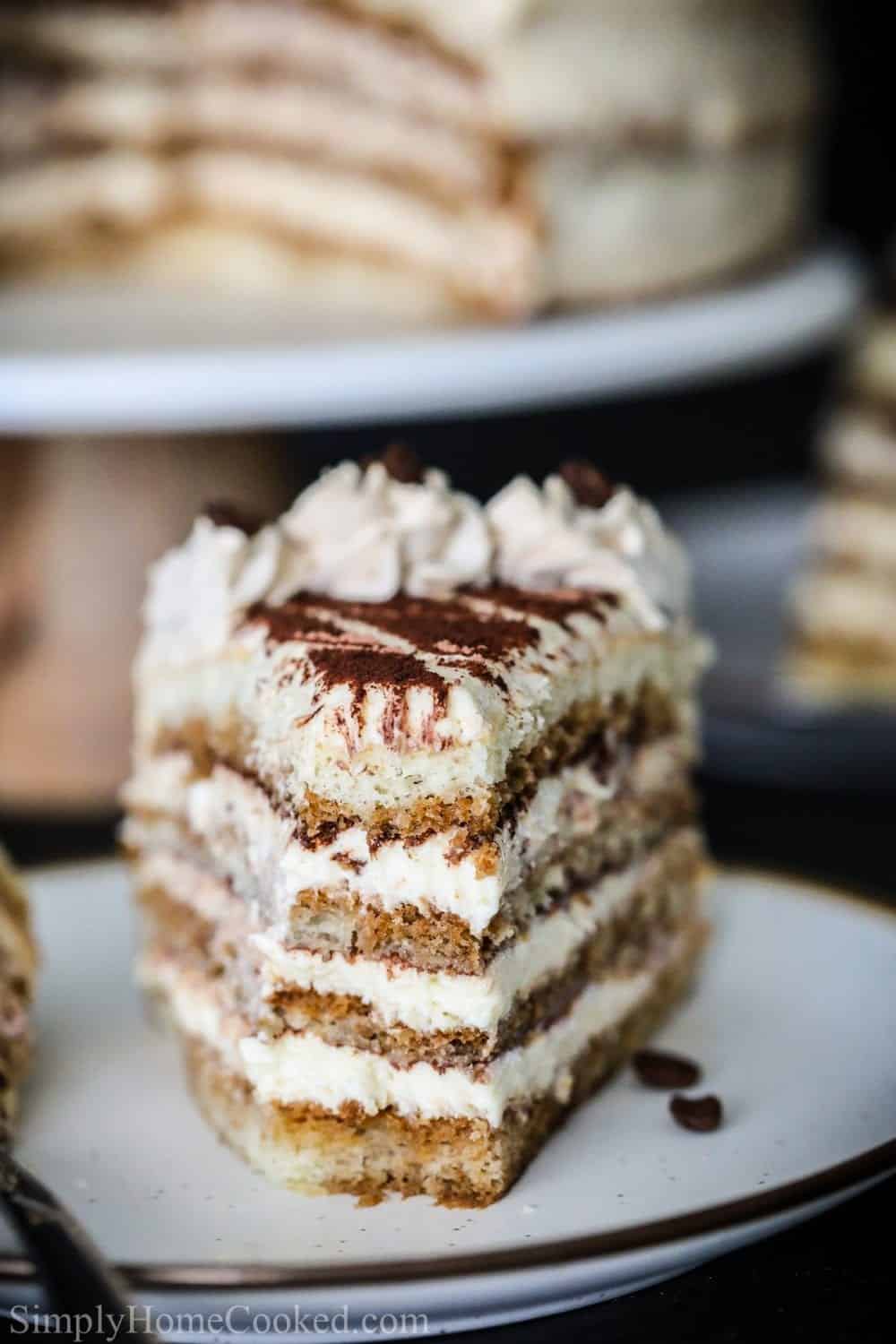 How to make Tiramisu cake
Beat the eggs in a stand mixer on high speed for 4 minutes, then add the sugar and vanilla. Continue beating until the eggs are fluffy and pale.
Sift the flour, baking powder and cornstarch into the eggs and fold it in with a whisk. Pour the batter into the parchment-lined baking pans and bake at 350 degrees Fahrenheit for 28-30 minutes. Then let the cake cool on a cooling rack.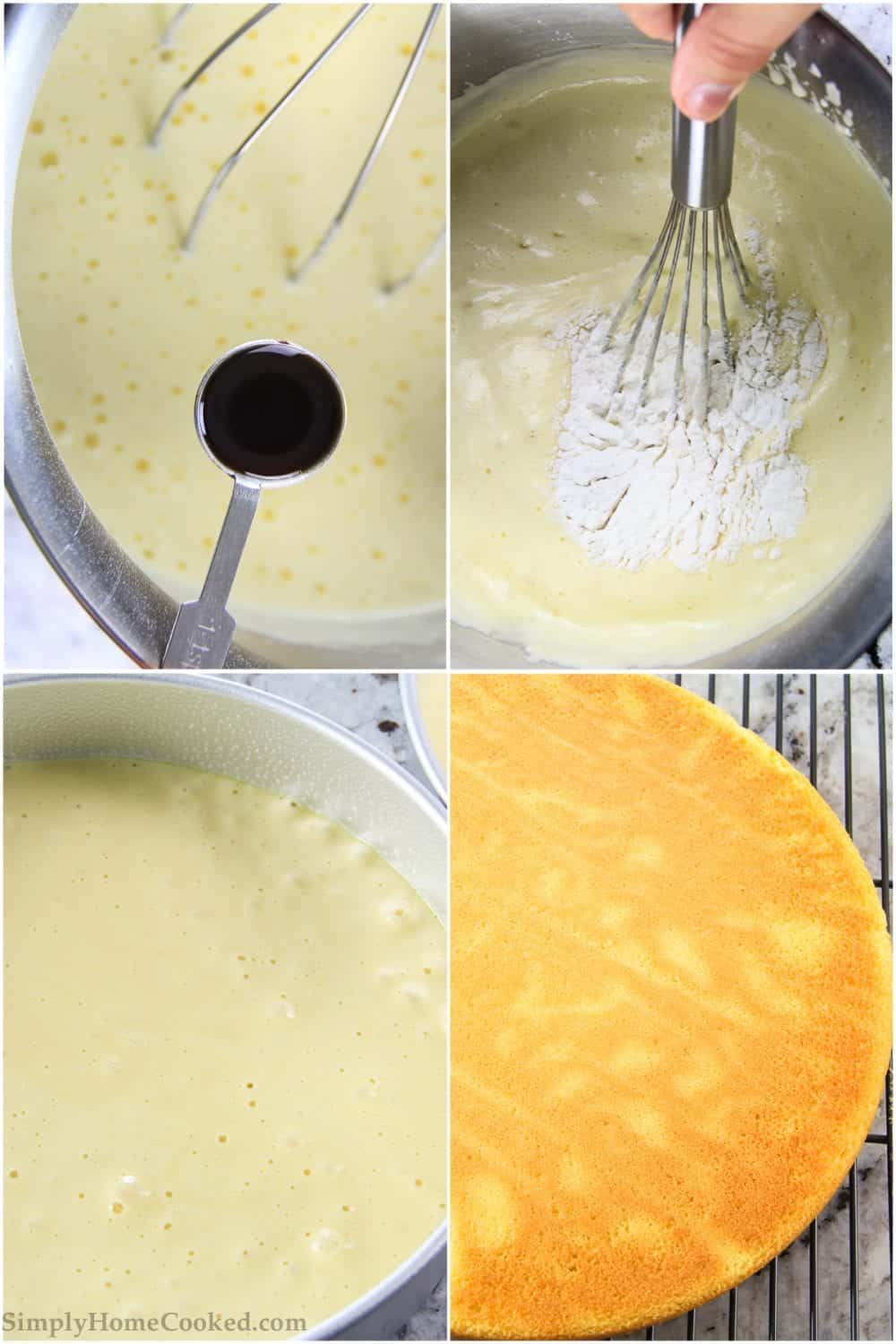 How to make Tiramisu cream
Meanwhile beat the cream cheese, mascarpone, Kahlua, and powdered sugar. Whip the egg product until it thickens then add it to the cream cheese mixture.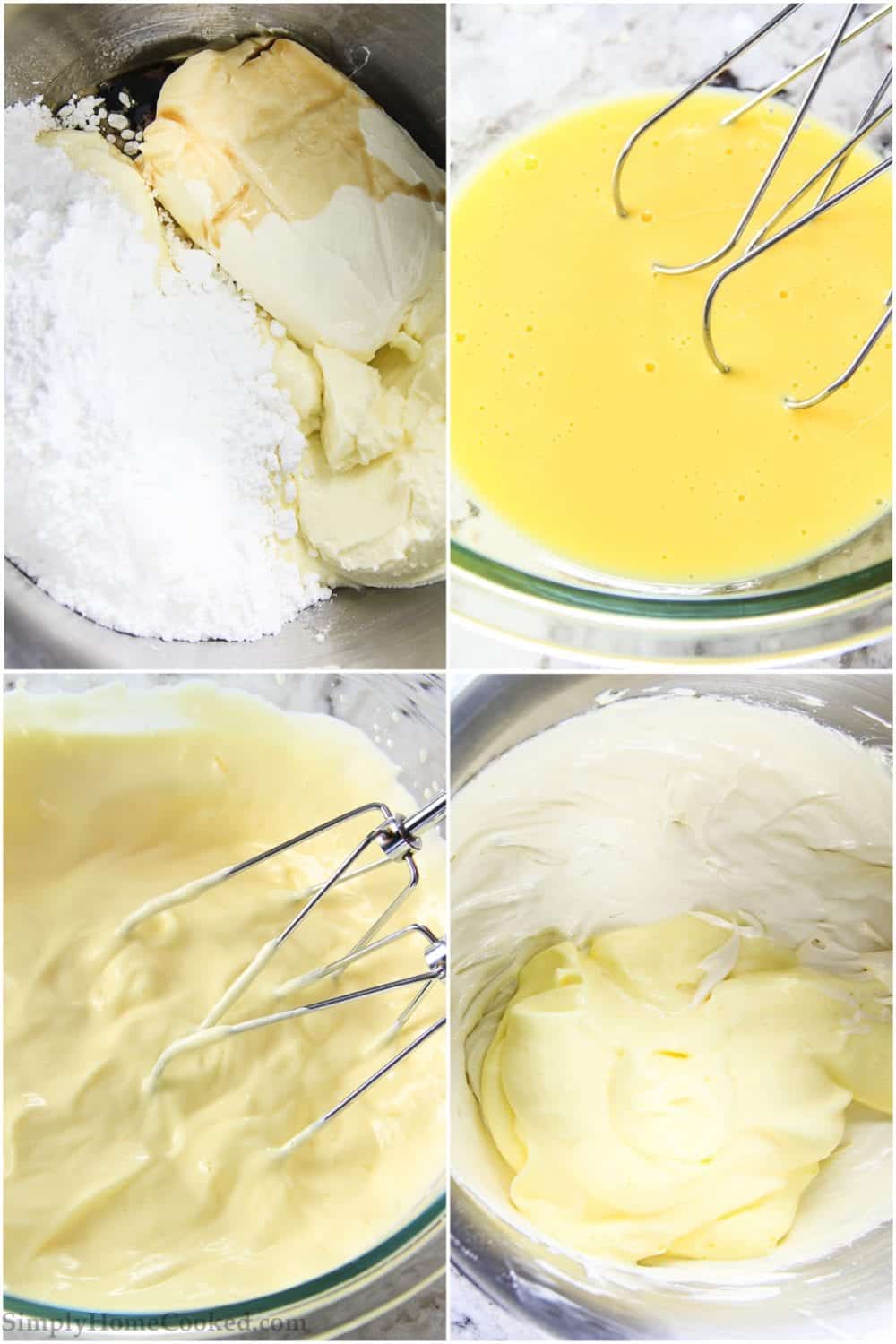 This post has Amazon affiliate links for tools we used to make this recipe.
How to assemble a cake
Slice the cooled cake layers in half, and soak them in a combination of coffee and sugar. Then assemble the cake in this order; coffee soaked cake, cream, cocoa powder with all the cake layers. Be sure to reserve some cream to coat the outside of the cake. I find that using a Martellato soaker bottle is the best method for soaking cakes. It doesn't drench it as other methods do.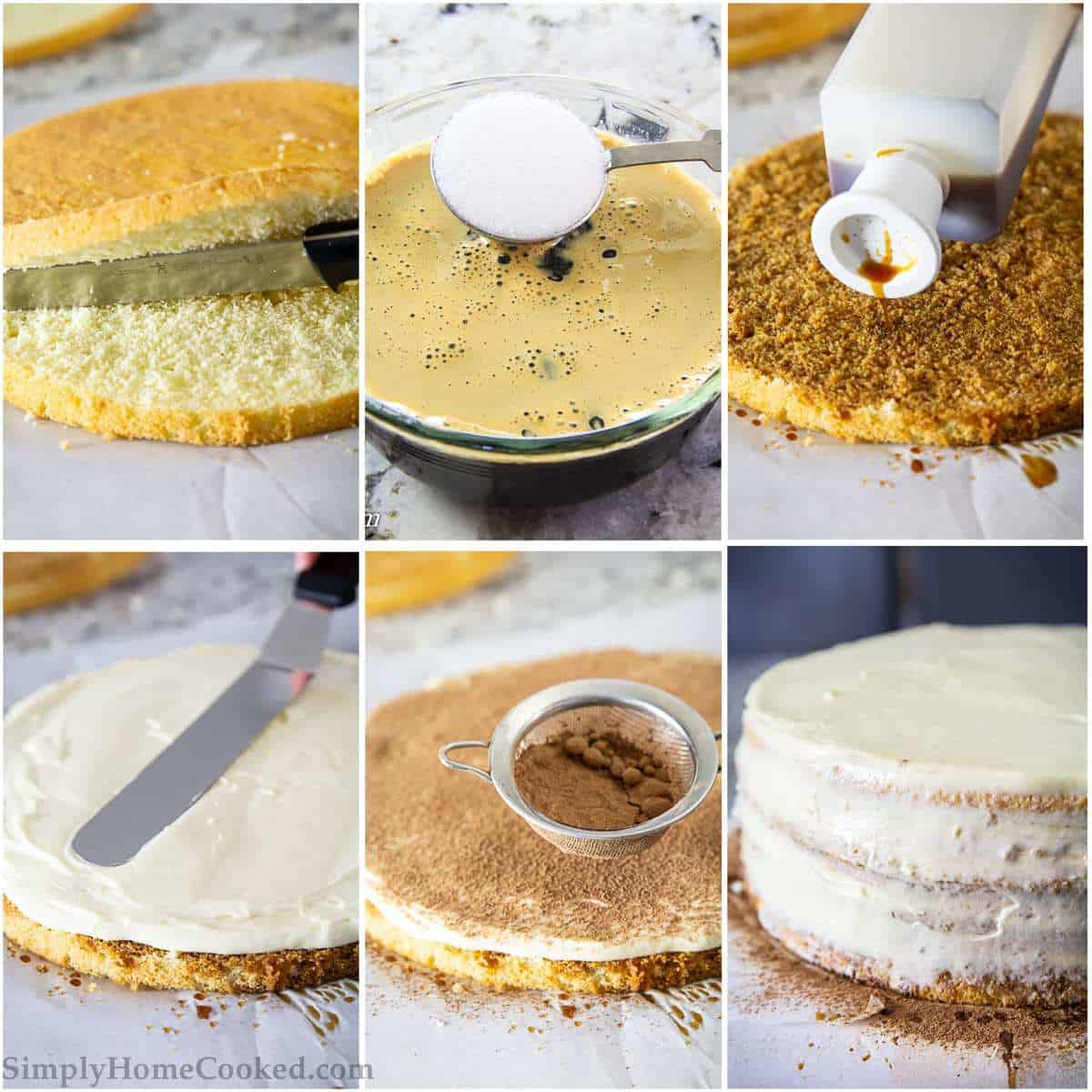 What is Mascarpone Cheese
Mascarpone cheese is one of the main ingredients in a tiramisu cake recipe cream. Different brands of mascarpone cheese can have different consistencies. Therefore if you end up buying a brand that has a runnier consistency, make sure to refrigerate the cream for at least 40 minutes before combining it with the egg product.
Egg Substitute
Cakes like tiramisu are made with raw eggs. If you prefer not to use raw eggs, you can use egg substitute also known as (egg product). Egg product is pretty much eggs that have been pasteurized. I have tested this recipe multiple times and came to realize that certain brands of egg product don't thicken as much as others do. So far, the best brand for this recipe is Lucerne.
Love Italian Dessert?! Take a look at these AMAZING Italian dessert recipes.
Almond Biscotti– Crunchy and full of toasted almonds.
Amaretti Cookies– A chewy gluten-free cookie with almonds, egg whites, and powdered sugar.
Chocolate Salami– A quick no-bake dessert with minimal ingredients.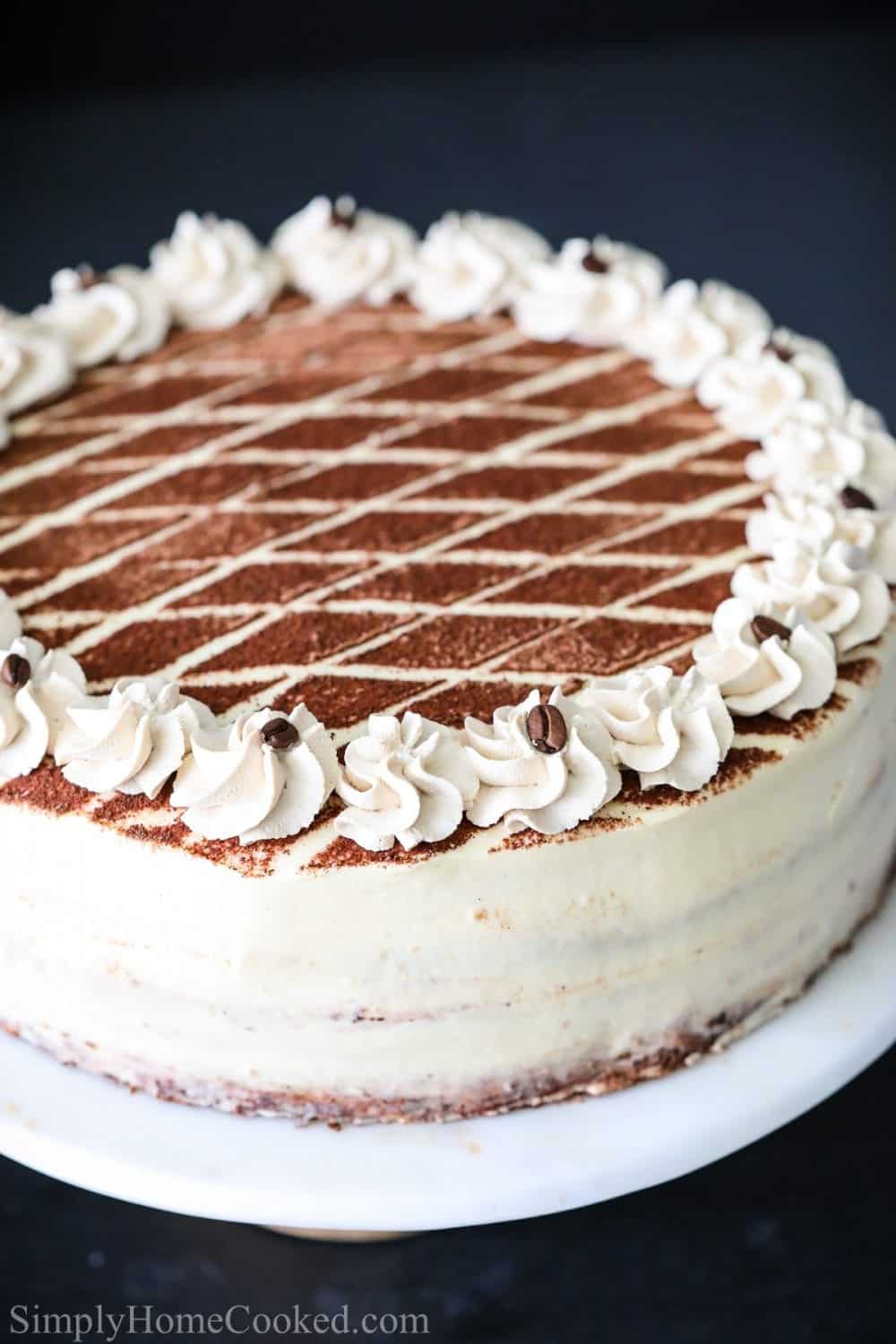 Note: If you prefer to use real eggs over egg product, add 1/4 cup granulated sugar to 3 eggs instead of the egg product.
Bring a pot of water (about 2 cups) to a simmer. Place the sugar and eggs into a bowl and place the bowl over the simmering pot. Using an electric mixer beat the eggs and sugar until they double in size and remove from heat. Once the eggs are cooled completely continue to step 7.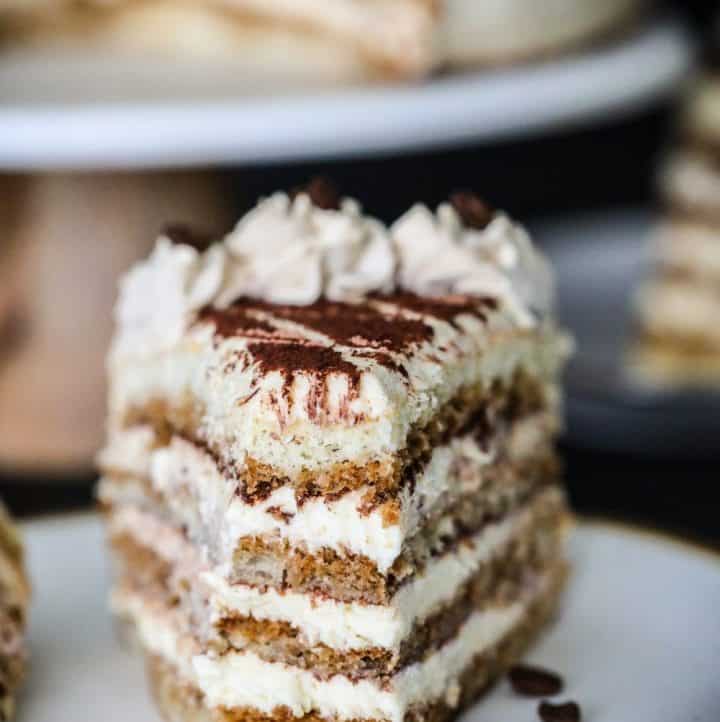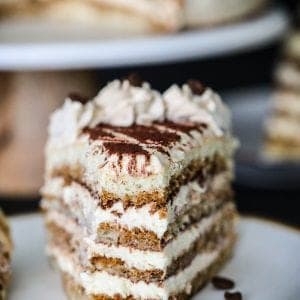 Tiramisu Cake
A classic Italian dessert made with coffee soaked sponge cake and layers of mascarpone cream.
Print
Pin
Rate
Instructions
In a stand mixer, beat 8 eggs until foamy. Then slowly add the sugar and vanilla while the mixer is still beating.

Sift the flour, baking powder, and cornstarch. Then fold it into the beaten eggs using a whisk.

Line 2 round baking pans (10 inches in diameter) with parchment paper and spray with nonstick spray. Then distribute the batter evenly between the two pans.

Bake in a preheat the oven to 350 degrees Fahrenheit and bake for 28-30 minutes. Then transfer to a cooling rack.

Meanwhile combine the cream cheese, mascarpone cheese, powdered sugar, and Kahlua in the bowl of your stand mixer. If your mascarpone cheese has a runny consistency, refrigerate this mixture for 40 minutes before adding in the egg product.

In a separate bowl beat the egg product with an electric mixer until it becomes thick and creamy. This should take about 5-7 minutes.

Add the egg product to the cream cheese mixture and mix just to incorporate.

In a small bowl mix together the espresso,

with 3 tbsp Kahlua and 1 tbsp sugar.

Slice each cake in half so you are left with 4 thin slices.

Soak each layer of cake with the espresso and Kahlua mixture.

Then begin layering the cake in this order: 1 layer of soaked cake, 1 1/4 cup cream cheese mixture, and cocoa powder. Repeat this until you stack the last layer of cream. At this point you can decorate the sides and top of the cake with extra cocoa or cream.
Nutrition
Calories:
617
kcal
|
Carbohydrates:
51
g
|
Protein:
12
g
|
Fat:
38
g
|
Saturated Fat:
22
g
|
Cholesterol:
182
mg
|
Sodium:
282
mg
|
Potassium:
164
mg
|
Sugar:
39
g
|
Vitamin A:
1615
IU
|
Calcium:
141
mg
|
Iron:
1.6
mg
Ps: We've updated some of the photos in this recipe. Here are some of the previous photos.

Hi, I'm Dina, so glad you stopped by! I believe life is too short for bad coffee and boring meals. With my easy to follow step-by-step recipes, you'll be surprised at how quickly a wholesome and delicious meal can come together. I hope you find something you enjoy!

Latest posts by simplyhomecooked (see all)