This Chocolate Dipped Almond Biscotti recipe is so sweet and nutty. Deliciously textured, you can dunk it in coffee or eat it as is, but either way, it's a little slice of heaven.
Looking for more yummy dessert bites? You should try our Mini Almond Biscotti and Amaretti Cookies (VIDEO).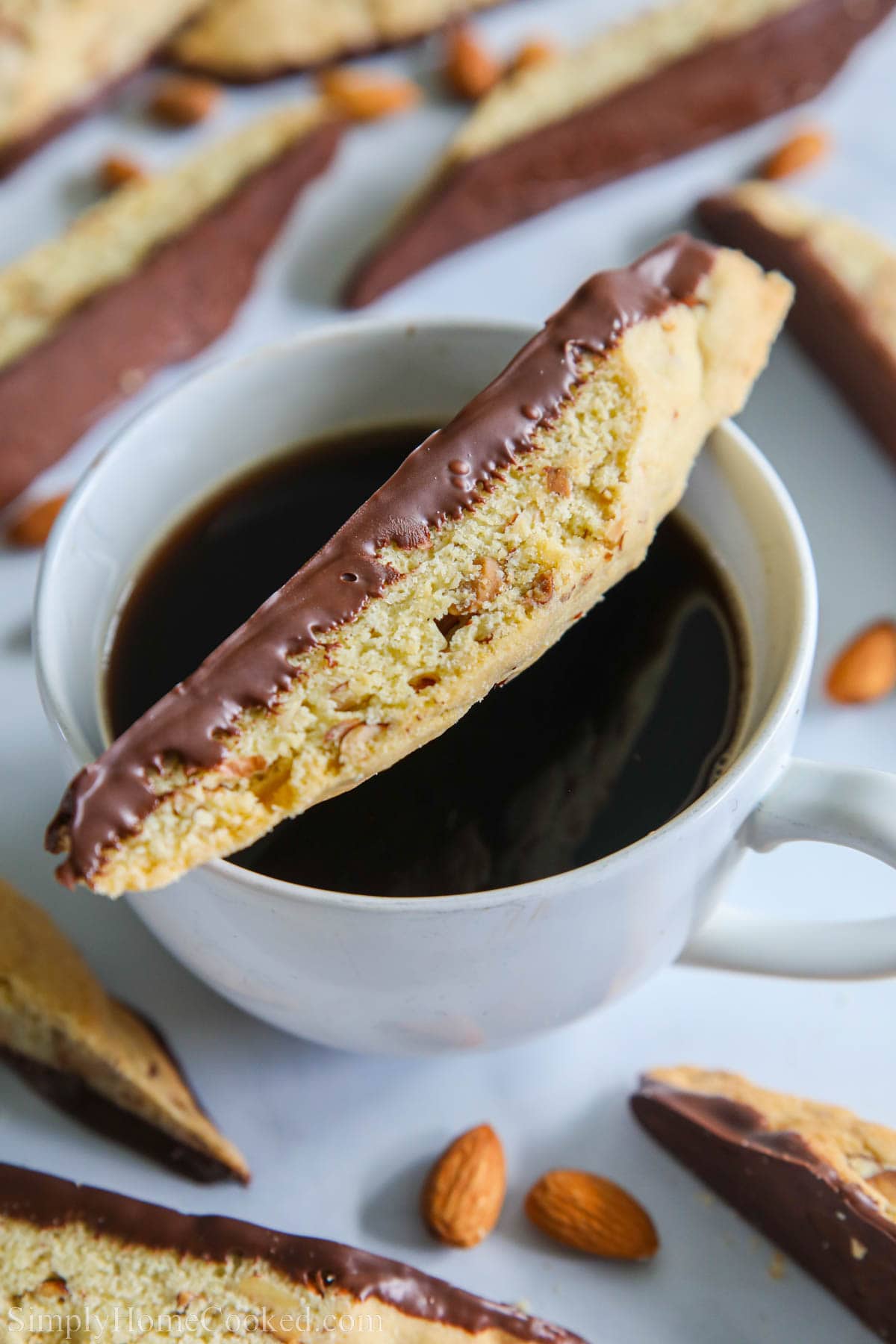 Table Of Contents
Recipe Details
This Chocolate Dipped Almond Biscotti is the perfect treat to enjoy with a good cup of coffee. I love serving it to guests or just enjoying it myself in the afternoon.
TASTE: The blend of sweet and nutty is so delicious. And the chocolate on top is the perfect complement to the almonds.
TEXTURE: Crumbly biscotti that's filled with bits of crunchy toasted almond then dipped in melted chocolate, this biscotti is scrumptious.
TIME: This dessert takes just over an hour.
EASE: This Chocolate Dipped Almond Biscotti is not hard at all and you can easily make it by following the tips in this step-by-step recipe.
What You'll Need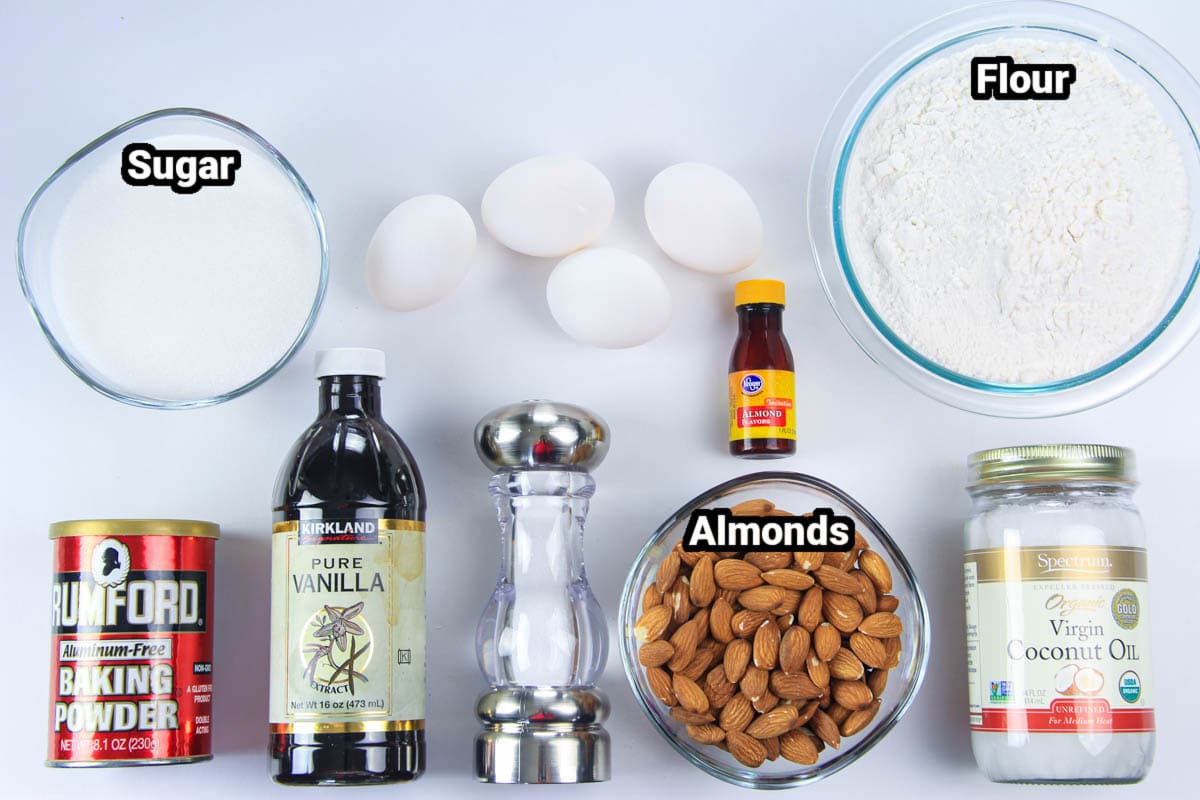 Ingredient Notes
Flour- All-purpose flour is what you'll need.
Baking powder- This ingredient will leaven the dough a little so it's not too dense.
Eggs- These incorporate lots of air for a perfectly crumbly biscotti.
Granulated sugar- To sweeten.
Coconut oil– This adds moisture and softens the biscotti, while still making it crumbly.
Vanilla extract- Adds a hint of vanilla.
Almond extract– For extra almond flavor.
Toasted almonds- These will be added to the biscotti for flavor and crunch.
Semi-sweet chocolate chips- Regular or mini size is fine. We'll be melting these for the chocolate dip.
Add-ins and Substitutions
Replace the coconut oil with butter– You can do this if you prefer a more buttery-tasting biscotti.
Substitute different nuts.-Try this recipe with other nuts, such as pistachios or walnuts.
Add in some dried fruit– Add some sweetness and tartness with dried cherries, apricots, or cranberries.
Substitute another chocolate for dipping– You can try others such as white or dark chocolate when you dip these almond biscotti.
How to Make Chocolate Dipped Almond Biscotti
Toast the almonds. Place the almonds on a baking sheet and toast in the oven for about 6 minutes at 350 degrees Fahrenheit.
Sift dry ingredients. Using a fine-mesh sieve, sift together the flour, salt, and baking powder. Set aside 1/2 cup of the mixture.
Chop almonds. Coarsely chop the almonds and combine with the reserved mixture.
Foam the eggs. Using a handheld mixer, blend the eggs at high speed in a separate bowl until foamy. Then add in the sugar.
Add the rest of the wet ingredients. Mix in the coconut oil, almond extract, and vanilla extract at medium speed until combined.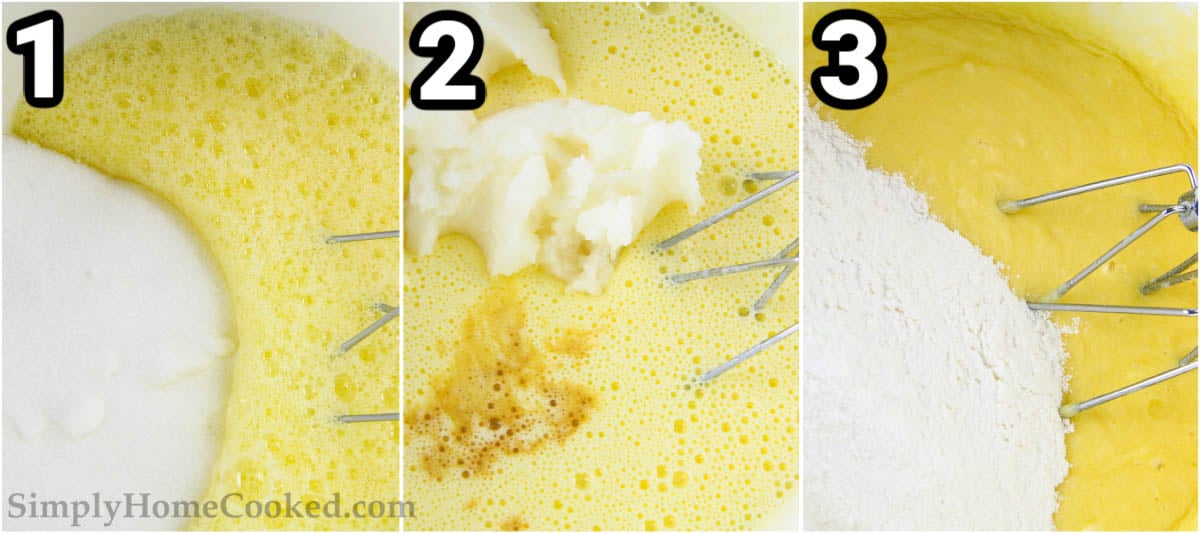 Add the flour mixture. Use a spatula to add the flour mixture to the eggs. Then fold in the reserved flour-almond mix to the dough.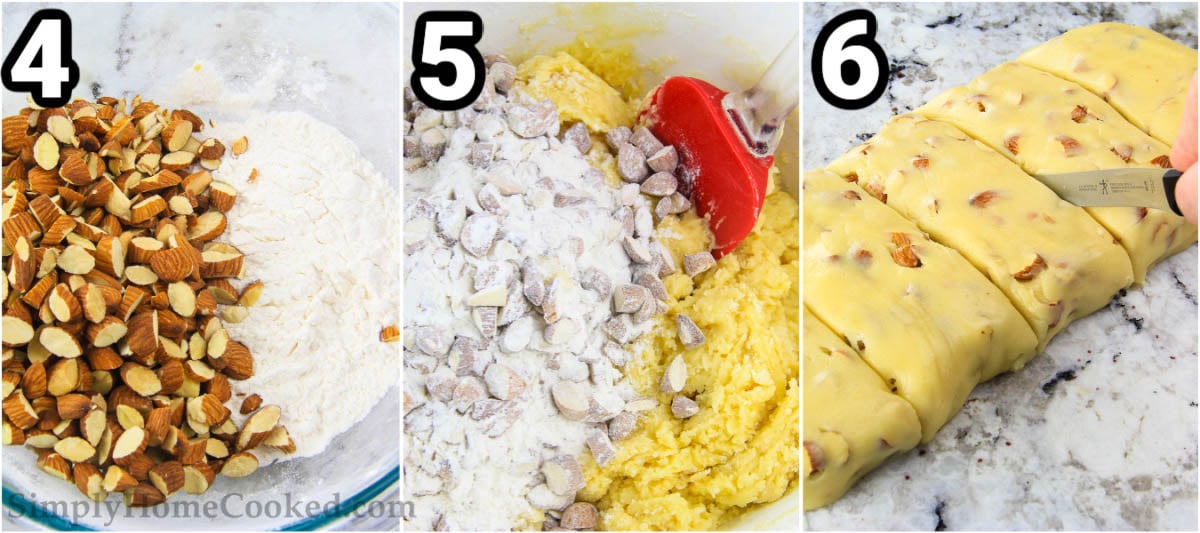 Shape the biscotti dough. Place the dough on a flat surface and divide it into 5 equal parts. Then mold them into tall logs.
Bake. Place the logs on a parchment-lined baking sheet and bake for 30 minutes at 340 degrees Fahrenheit.
Cut and bake again. Now, cut the logs at a sharp angle into long strips that are about 2 inches thick. Place them back on the baking sheet (without parchment paper) and bake for another 15-20 minutes at 330 degrees.
Pro Tip: Shape the dough into tall log shapes with high sides because they will spread a lot while baking.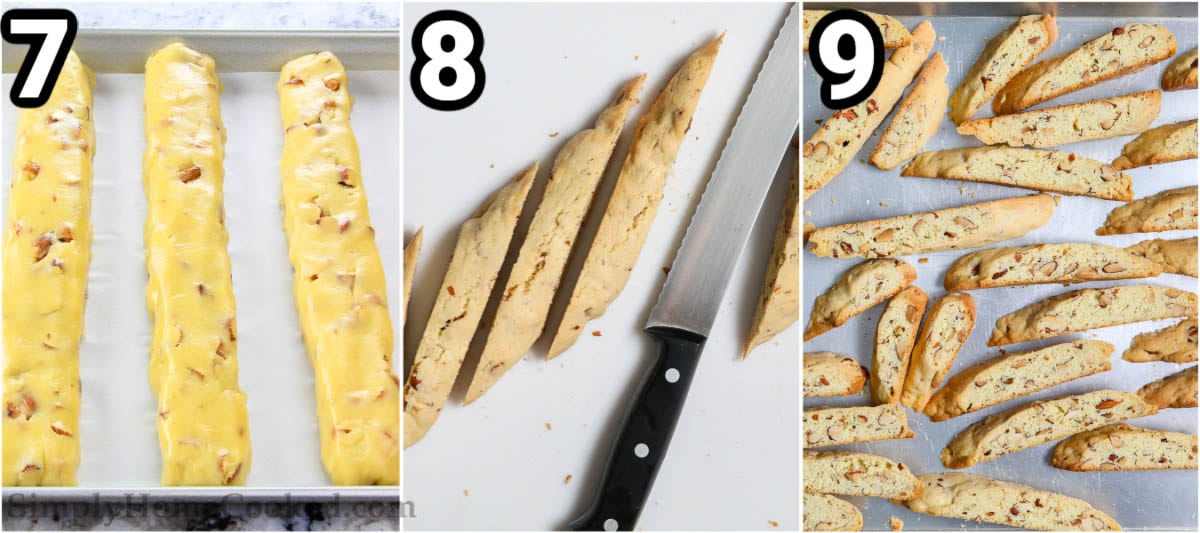 Melt the chocolate. Using a microwave-safe bowl, melt the chocolate chips and then pour them into a loaf pan, which is long enough for the biscotti pieces.
Dip the almond biscotti. When the biscotti has cooled, dip them in the chocolate and then place them on a sheet of wax paper to set. This will take a few hours. Then serve.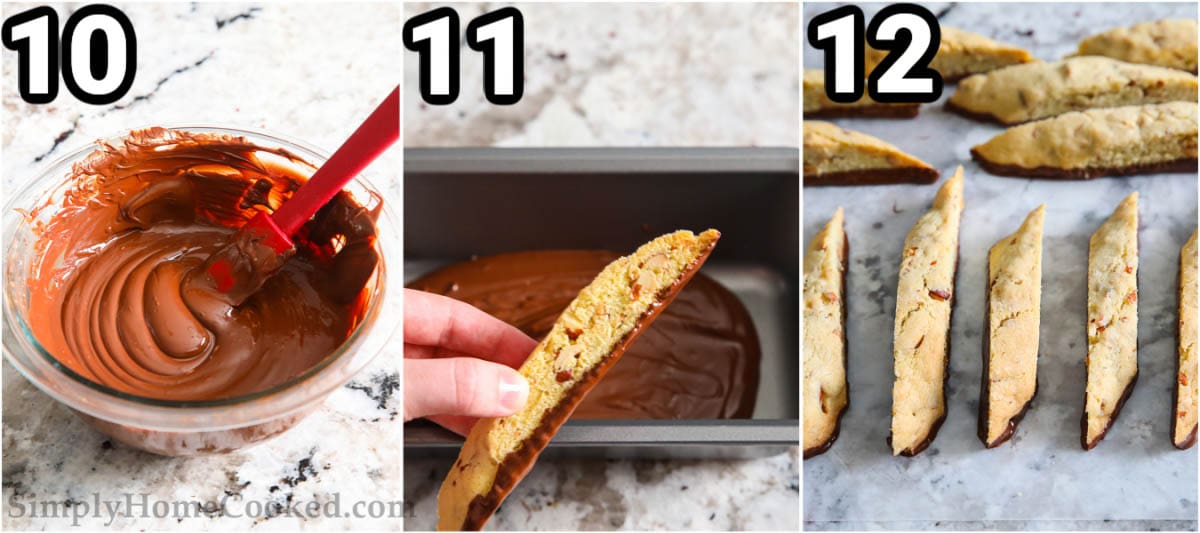 Recipe Tips
Sift the dry ingredients- Getting rid of any clumps will avoid a hard middle in your biscotti. Use a fine-mesh sieve.
Foam the eggs- You want to incorporate air into the biscotti so they are not so dense. This also adds crispness and texture to them.
Don't overmix the dough- Overmixing will cause the biscotti to be crumby and crumble. Only mix as much as you need to to incorporate the ingredients and aerate the eggs.
Don't overcook them- The way to tell if your biscotti is done is when it is firm, but not hard. The color should be light brown.
FAQs
Is biscotti better made with oil or butter?
Traditionally, biscotti is made with eggs only, but butter and oil are both popular choices for biscotti recipes. I used coconut oil in this Chocolate Dipped Almond Biscotti, but butter can work, too. This creates a texture that is slightly softer.
What do you dip biscotti in?
Biscotti is dry by nature, so it is best enjoyed with a beverage. Dunk it in a cup of coffee, hot chocolate, or tea. Traditionally, they were dipped into rich red wine. These hand-held desserts taste delicious when dunked.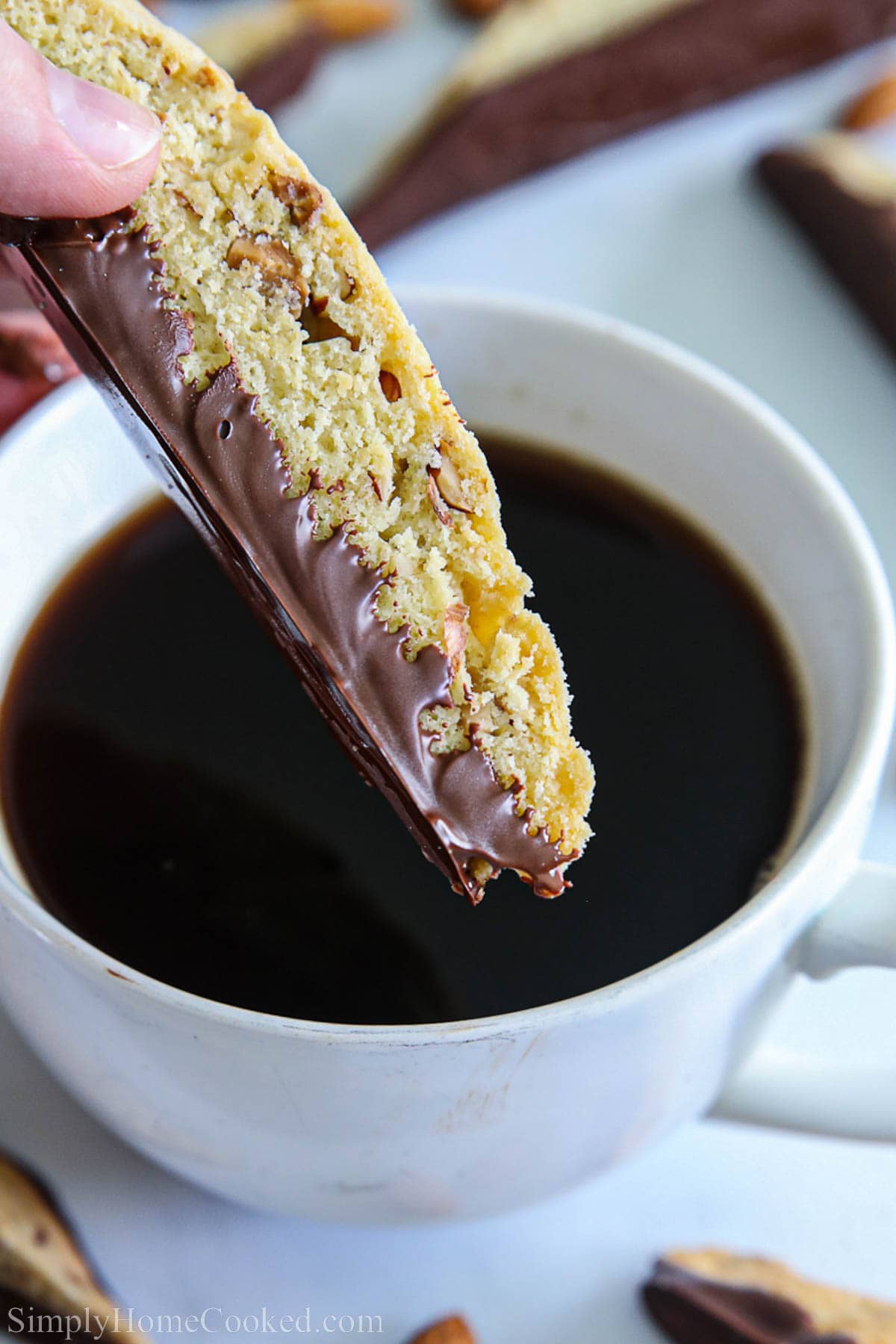 Serving Suggestions
This Chocolate Dipped Almond Biscotti is the perfect sweet treat to serve with other desserts. Enjoy it with cookies and ice cream or your favorite specialty coffee.
Make This Recipe in Advance
Make ahead: If properly stored, these chocolate-dipped almond biscotti will last for up to 2 weeks. We love to store them in airtight containers for optimal shelf life so we can serve them anytime.
Storing: The best way to store this homemade biscotti and keep it fresh is in an airtight container or tin. Place some wax paper between the layers to keep the chocolate from sticking together. They can be stored at room temperature.
Freeze: Once the biscotti has cooled, you can transfer them to a freezer-safe airtight container. They can be frozen for up to 3 months.
More Yummy Italian Desserts!
Full Recipe Instructions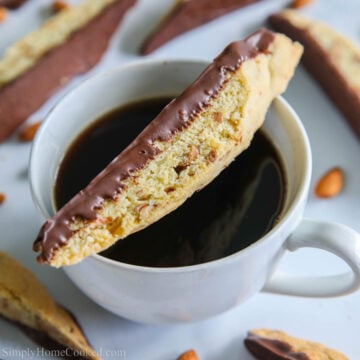 Almond Biscotti Recipe
This Chocolate Dipped Almond Biscotti is deliciously nutty and crisp. Dunk it in coffee or eat it on its own for a chocolaty sweet treat.
Print
Pin
Rate
Instructions
Toast the almonds on a baking sheet in the oven at 350 degrees Fahrenheit for about 6 minutes.

Meanwhile, sift the flour, baking powder, and salt into a bowl using a fine-mesh sieve. Then reserve 1/2 cup of the dry mixture and set it aside.

In a separate bowl, blend the eggs with a handheld mixer on high speed just until foamy. Then mix in the granulated sugar.

Add the flour mixture to the eggs and mix to combine.

Coarsely chop the toasted almonds and combine them with the reserved 1/2 cup of flour.

Now fold in the flour-coated almonds with the rest of the biscotti dough.

Transfer the dough to a flat surface and divide it into 5 equal pieces.

Now shape each piece of dough into a tall log shape. You want the sides to be raised high because they will spread quite a bit in the oven.

Transfer all 5 shaped logs onto the baking sheet lined with parchment paper and bake in a 340-degree oven for 30 minutes.

Once the biscotti logs are baked, cut them into long strips that are about 2 inches thick. You want to cut a sharp angle.

Place the sliced biscotti back into the cookie sheet and bake at 330 degrees for 15-20minutes. (You don't need parchment paper for the second round of baking).

Melt the chocolate chips in a microwave-safe bowl and transfer to a loaf pan. Since the biscotti are long you will need a long dish to dip them in.

Once the biscotti are fully cool down, dip them in the chocolate and place them on a sheet of wax paper to set. It will take a few hours for the chocolate to fully set. 
Nutrition
Calories:
288
kcal
|
Carbohydrates:
38
g
|
Protein:
6
g
|
Fat:
13
g
|
Saturated Fat:
5
g
|
Cholesterol:
27
mg
|
Sodium:
59
mg
|
Potassium:
234
mg
|
Fiber:
3
g
|
Sugar:
18
g
|
Vitamin A:
45
IU
|
Calcium:
63
mg
|
Iron:
2
mg