This Chocolate Dipped Almond Biscotti is so sweet and nutty. Deliciously textured, you can dunk it in coffee or eat it as is, but either way, it's a little slice of heaven.
Looking for more yummy dessert bites? You should try our mini almond biscotti and amaretti cookies (VIDEO).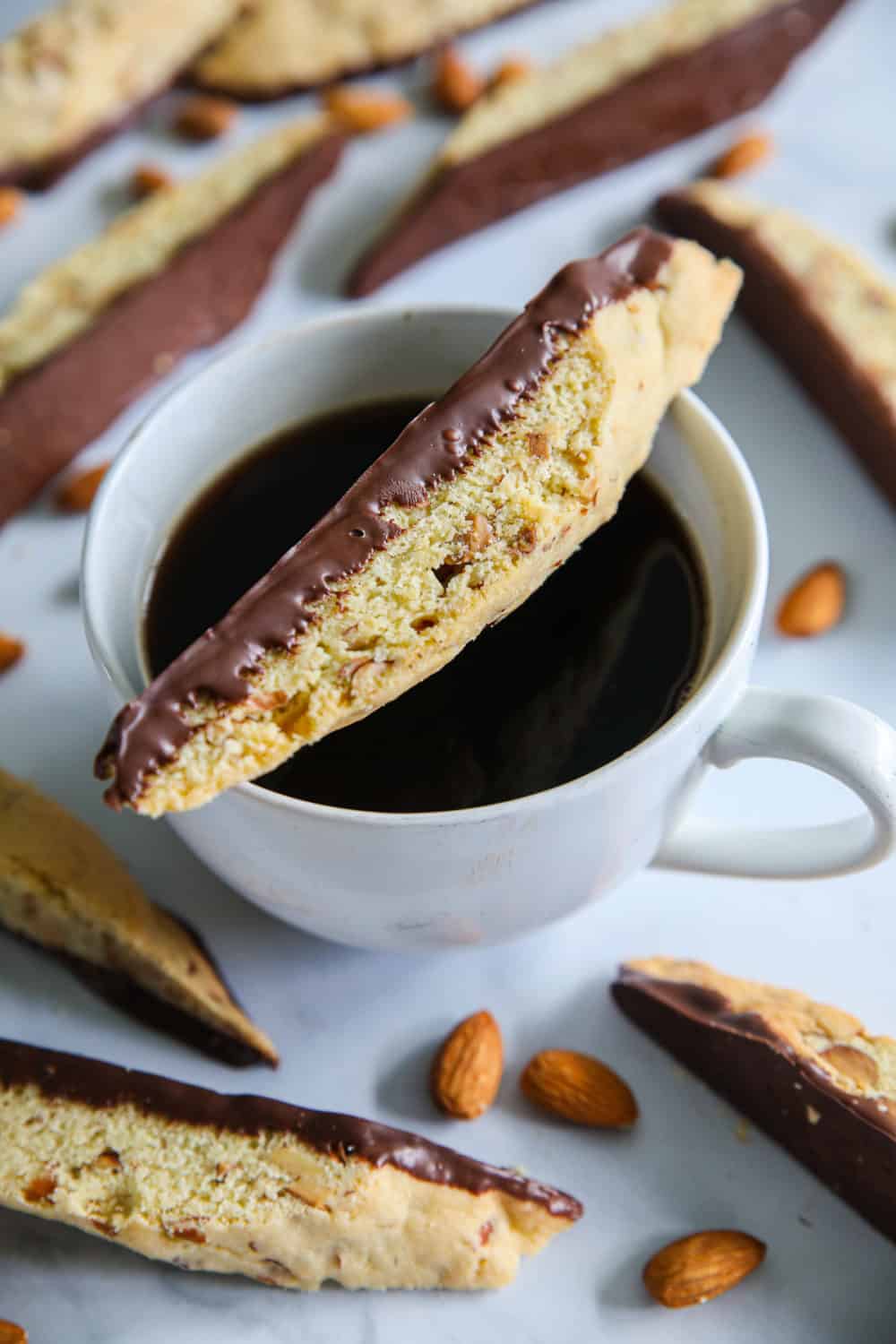 Chocolate dipped biscotti
This chocolate dipped biscotti is the perfect treat to enjoy with a good cup of coffee. Crumbly biscotti that's filled with bits of toasted almond then dipped in melted chocolate (we highly recommend Guittard brand chocolate). The blend of sweet and nutty is so scrumptious. It makes a great afternoon snack or dessert. Pair it with ice cream, hot chocolate, or other nutty desserts, like our Nutella Cookies. The best part is that you can make this biscotti ahead of time and it will stay fresh for weeks. Bring it out whenever you need a sweet treat or have company. There's nothing better than almond biscotti and hot coffee!
Here is what you will need:
Dry ingredients- All-purpose flour, Baking powder, Salt, and Toasted almonds
Wet ingredients- Eggs, Sugar, Coconut oil, Vanilla extract, and Almond extract
For the dip- Semi-sweet chocolate chips
Add-ins and substitutions
Replace the coconut oil with butter if you prefer a more buttery-tasting biscotti
Substitute different nuts, such as pistachios or walnuts
Add in some dried fruit, like dried cherries, apricots, or cranberries
Substitute another chocolate for dipping, such as white or dark chocolate
How to make almond biscotti
Toast the almonds. Place the almonds on a baking sheet and toast in the oven for about 6 minutes at 350 degrees Fahrenheit.
Sift dry ingredients. Using a fine-mesh sieve, sift together the flour, salt, and baking powder. Set aside 1/2 cup of the mixture.
Chop almonds. Coarsely chop the almonds and combine with the reserved mixture.
Foam the eggs. Using a handheld mixer, blend the eggs at high speed in a separate bowl until foamy. Then add in the sugar.
Add the rest of the wet ingredients. Mix in the coconut oil, almond extract, and vanilla extract at medium speed until combined.
Add the flour mixture. Use a spatula to add the flour mixture to the eggs. Then fold in the reserved flour-almond mix to the dough.
Shape the biscotti dough. Place the dough on a flat surface and divide it into 5 equal parts. Shape them into tall log shapes with high sides (they will spread a lot while baking).
Bake. Place the logs on a parchment-lined baking sheet and bake for 30 minutes at 340 degrees Fahrenheit.
Cut and bake again. Now, cut the logs at a sharp angle into long strips that are about 2 inches thick. Place them back on the baking sheet (without parchment paper) and bake for another 15-20 minutes at 330 degrees.
Melt the chocolate. Using a microwave-safe bowl, melt the chocolate chips and then pour them into a loaf pan, which is long enough for the biscotti pieces.
Dip the almond biscotti. When the biscotti has cooled, dip them in the chocolate and then place them on a sheet of wax paper to set. This will take a few hours. Then serve.
How to tell if your biscotti is done?
The way to tell if your biscotti is done is when it is firm, but not hard. The color should be light brown. Once it reaches this point, you can remove the almond biscotti and cut it into strips.
How to eat them?
Biscotti is dry by nature, so it is best enjoyed with a beverage. Eat it with a cup of coffee, hot chocolate, or tea. These hand-held desserts also taste delicious if you dunk them.
More classic Italian desserts to try
Can the dough be made in advance?
It's actually not necessary to make this biscotti dough in advance because once baked, the shelf life is quite long. If properly stored, these chocolate-dipped almond biscotti will last for up to 2 weeks. We love to store them in airtight containers for optimal shelf life.
How to store homemade biscotti
The best way to store this homemade biscotti and keep it fresh is in an airtight container or tin. Place some wax paper between the layers to keep the chocolate from sticking together. They can be stored at room temperature.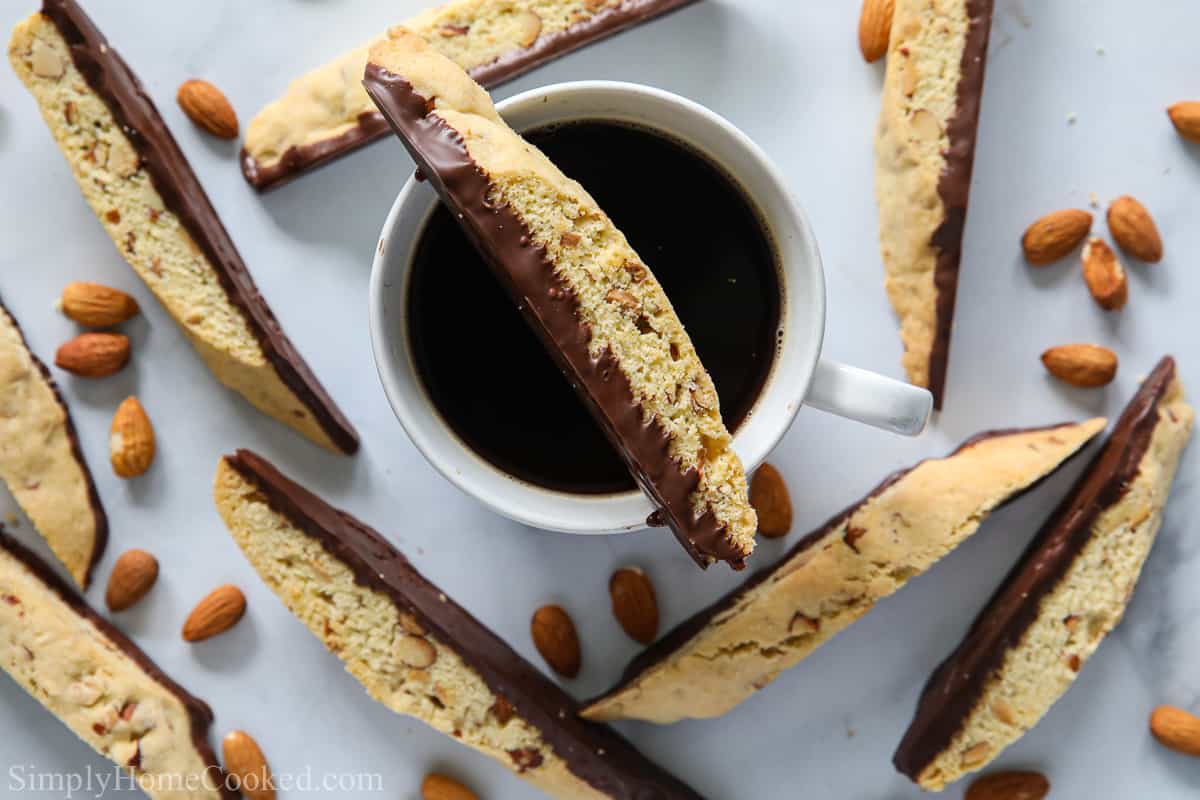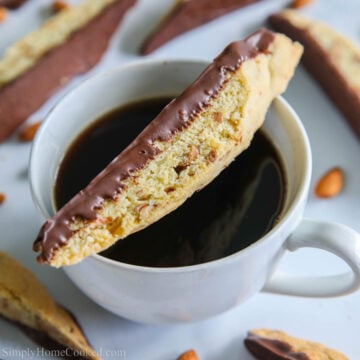 Biscotti Recipe
This Chocolate Dipped Almond Biscotti is deliciously nutty and crisp. Dunk it in coffee or eat it on its own for a chocolaty sweet treat.
Print
Pin
Rate
Instructions
Toast the almonds on a baking sheet in the oven at 350 degrees Fahrenheit for about 6 minutes.

Meanwhile, sift the flour, baking powder, and salt into a bowl using a fine-mesh sieve. Then reserve 1/2 cup of the dry mixture and set it aside.

Coarsely chop the toasted almonds and combine them with the reserved 1/2 cup of flour.

In a separate bowl, blend the eggs with a handheld mixer on high speed just until foamy. Then mix in the granulated sugar.

Add the flour mixture to the eggs and mix using a spatula.

Now fold in the flour-coated almonds with the rest of the biscotti dough.

Transfer the dough to a flat surface and divide it into 5 equal pieces.

Now shape each piece of dough into a tall log shape. You want the sides to be raised high because they will spread quite a bit in the oven.

Transfer all 5 shaped logs onto the baking sheet lined with parchment paper and bake in a 340-degree oven for 30 minutes.

Once the biscotti logs are baked, cut them into long strips that are about 2 inches thick. You want to cut a sharp angle.

Place the sliced biscotti back into the cookie sheet and bake at 330 degrees for 15-20minutes. (You don't need parchment paper for the second round of baking).

Melt the chocolate chips in a microwave-safe bowl and transfer to a loaf pan. Since the biscotti are long you will need a long dish to dip them in.

Once the biscotti are fully cool down, dip them in the chocolate and place them on a sheet of wax paper to set. It will take a few hours for the chocolate to fully set. 
Nutrition
Calories:
288
kcal
|
Carbohydrates:
38
g
|
Protein:
6
g
|
Fat:
13
g
|
Saturated Fat:
5
g
|
Cholesterol:
27
mg
|
Sodium:
59
mg
|
Potassium:
234
mg
|
Fiber:
3
g
|
Sugar:
18
g
|
Vitamin A:
45
IU
|
Calcium:
63
mg
|
Iron:
2
mg