This buttery panettone bread recipe is loaded with fragrant citrus zest, dried cranberries, and golden raisins. The warm fluffy texture will blow your mind!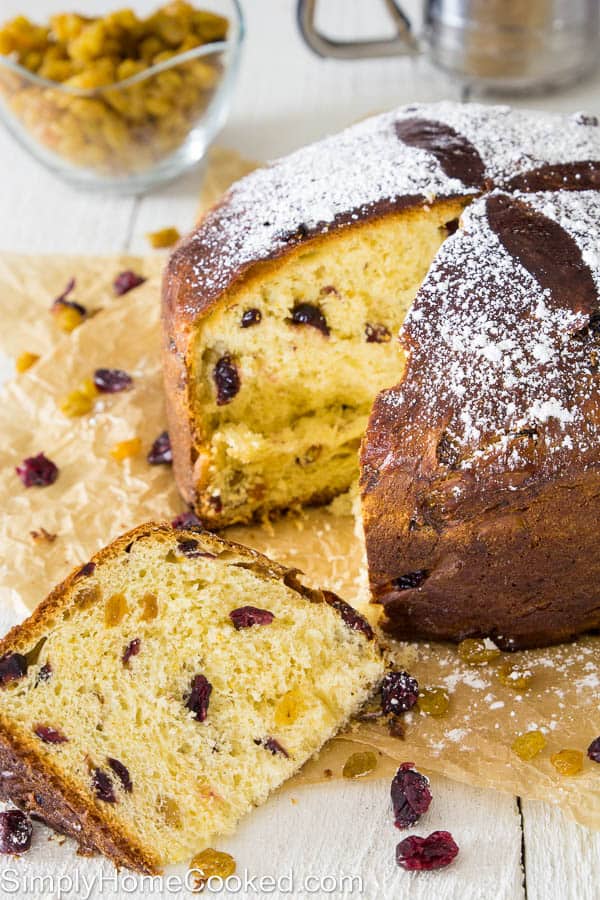 This post may contain affiliate links. Read my disclosure policy here. This recipe was originally posted on Mar 27, 2015, we've tweaked it a bit since then.
Panettone
This panettone bread recipe is also known as Italian Christmas bread. It's a sweet fluffy bread similar in texture to brioche bread but made with eggs, dried fruit, and butter. It's a very easy bread to make, just requires a little bit of patience. But don't all good things? 🙂
Panettone ingredients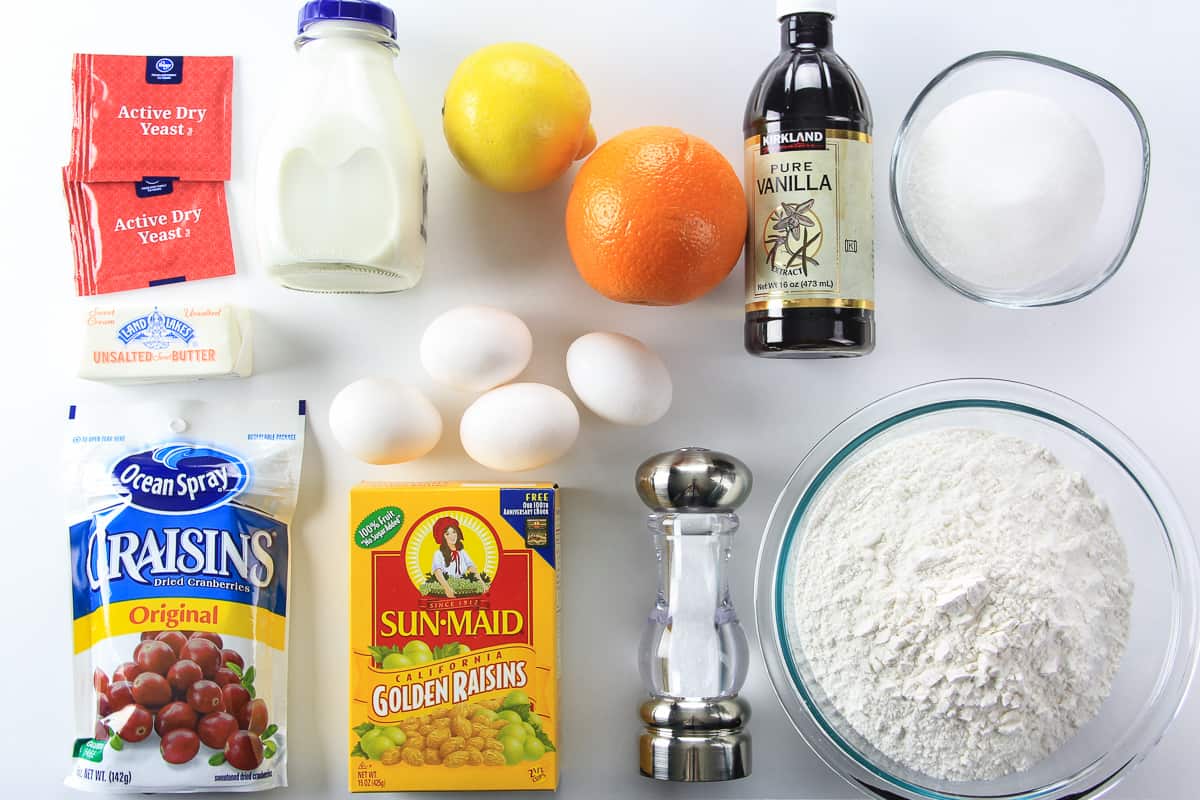 How to make panettone
Start off by combining the yeast with warm milk. Let it sit in a warm place until it becomes frothy. Then add a little bit of sugar and flour. Now mix it and let it sit in a warm place for 30 minutes. This will be the yeast starter.
In the bowl of your stand mixer combine the eggs, sugar, vanilla, salt, and orange zest. Now add in the yeast starter, craisins, and golden raisins. At this point lightly mix it with a spatula.
Now toss in the rest of the flour and melted butter and combine all the panettone bread ingredients using the hook attachment.
Next, grease a large bowl with oil and place the sticky panettone bread dough inside. Cover with plastic wrap and let it rise for about one hour.
Now line a springform pan with parchment paper and place the panettone dough inside. You could also use a panettone liner for this to help the Italian Christmas bread hold its shape.
Let it rise for another hour. Then brush it with melted butter and bake the Italian Christmas bread at 340 degrees Fahrenheit for 40 minutes.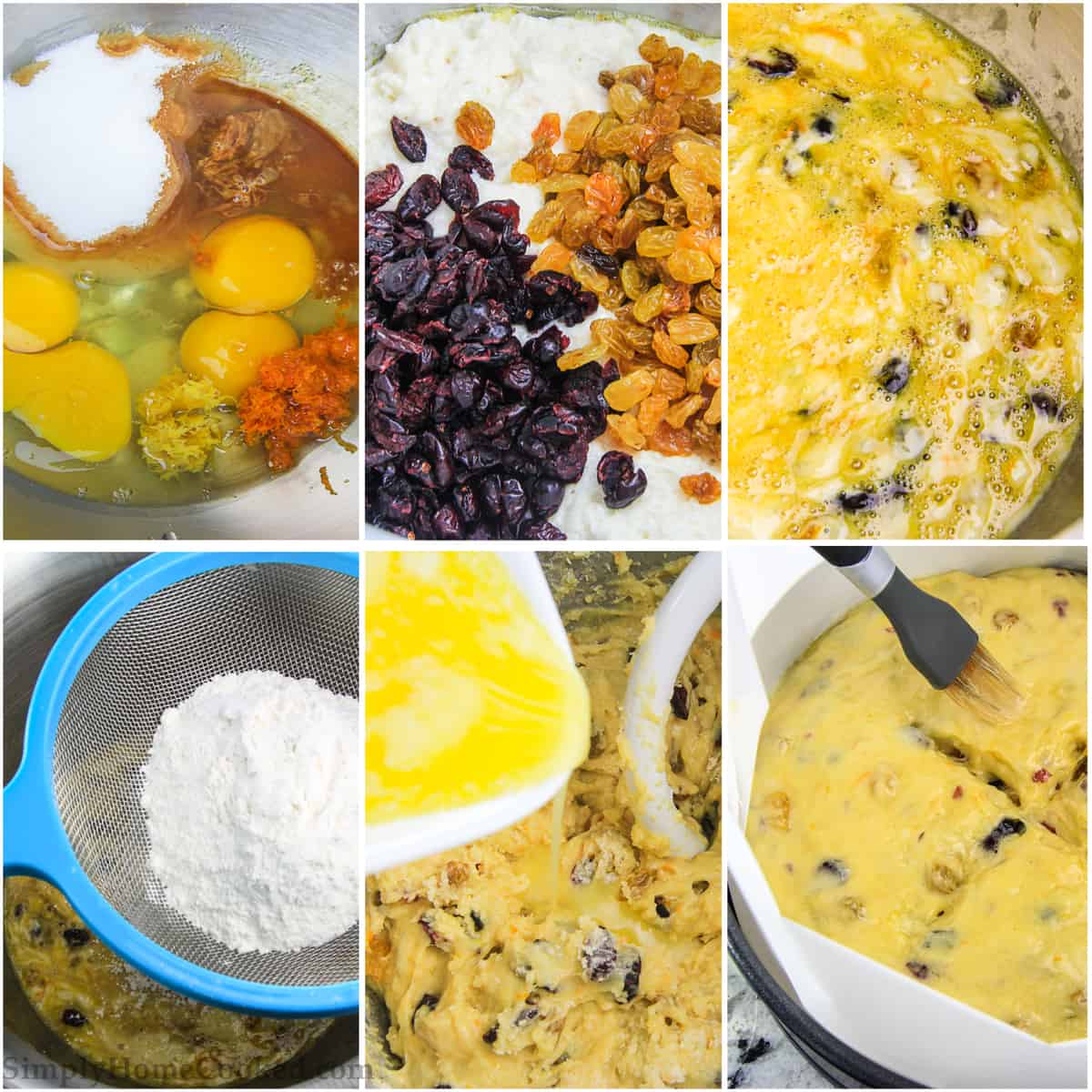 What is Panettone?
Panettone is a sweet Italian bread that is made with lots of butter and dried fruit. It is often served around Christmas time. Therefore its also called Italian Christmas bread.
How to serve Panettone bread
Panettone is often served for breakfast or as a sweet treat with tea or coffee. You can eat it by itself or slather on some softened butter and add a drizzle of honey on top.
How long does panettone keep
Like many other homemade breads, panettone can stay fresh for up to 2-3 days in a plastic bag.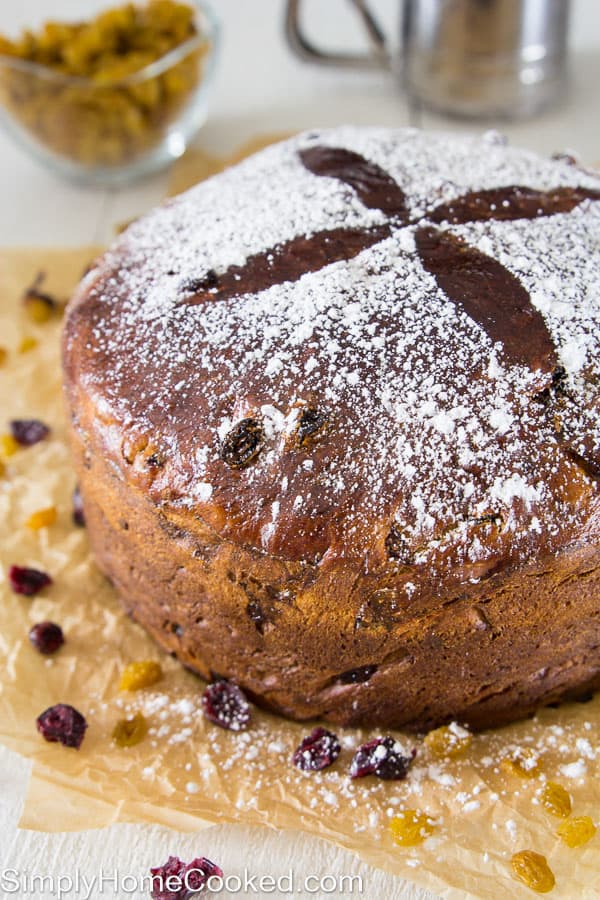 Do you love Italian desserts? You might enjoy these Italian sweets.
Full Recipe Instructions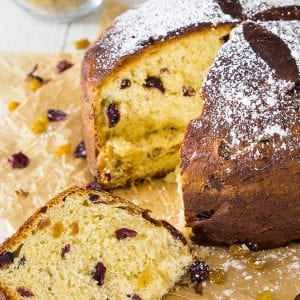 Panettone
This sweet panettone is the best Italian Christmas bread you have ever tried!
Print
Pin
Rate
Instructions
Pour the milk into a bowl and warm it in the microwave so it reaches 110 degrees Fahrenheit. Add 3 tsp of yeast to the warm milk and let it sit for a few minutes or until most of the yeast is soaked.

Lightly stir the milk with a whisk and add 1/4 cup of sugar. Then add 3/4 cup sifted flour.

Stir the mixture until well combined and let it sit in a warm place for about 20-30 minutes to let it rise. I put it in 110 degree oven.

In the bowl of an electric mixer, add the eggs and egg yolk, 1/2 cup sugar, vanilla, salt, and the zested orange and lemon. Lightly mix with a spatula and add the risen yeast starter.

Add the craisins and golden raisins and stir just to combine.

Then add in 3 1/4 cup sifted flour and melted butter and mix it using the hook attachment.

Scrape the dough out onto a lightly floured surface and make it into a ball. (The dough will be very sticky). You don't need to kneed it for a long time, just enough to form it into a ball.

Grease a large bowl with olive oil and place the dough into it. Drizzle a little more olive oil over the top of the dough, cover it with plastic wrap and let it rise in a warm place for 1 hour.

Line the bottom of a spring form pan with parchment paper. Then line the sides with a folded piece of parchment paper to support the bread while it rises in the oven. The parchment paper should go about 4 inches above the top rim of the spring form pan.

Place the dough into the spring form pan, make a cross slit at the top and brush it with a little bit of melted butter. Let it rise for 1 more hour in a warm place. Then put it into a 340 degree oven for 40 minutes.
Nutrition
Calories:
389
kcal
|
Carbohydrates:
76
g
|
Protein:
6
g
|
Fat:
7
g
|
Saturated Fat:
4
g
|
Cholesterol:
17
mg
|
Sodium:
178
mg
|
Potassium:
202
mg
|
Fiber:
2
g
|
Sugar:
32
g
|
Vitamin A:
205
IU
|
Vitamin C:
1
mg
|
Calcium:
39
mg
|
Iron:
2.7
mg