This brioche bread recipe is so fluffy it practically melts in your mouth. Serve it warm or toasted with salted butter and you will never want to try any other bread recipe after this one!
We love brioche so much that we made sure to incorporate it in our amazing bread pudding and brioche french toast.

What is Brioche
Brioche is a French origin bread made with flour, yeast, and a high egg and butter content. The high butter content is what gives brioche that fluffy and tender crumb. The taste results in a richer buttery flavor that just can't compare to standard white bread. You can get creative with this bread by making it into a sweet breaded Nutella bread, or brioche douts, or even as hot cross buns! And then you can always go the savory route by making it into burger buns and serving it over a juicy homemade patty.
Ingredients for this recipe
Dry ingredients – you will need basic bread essentials like AP flour, salt, yeast, and a tiny amount of white sugar.
Wet ingredients – use warm milk to activate the yeast, vanilla for flavor, and butter and eggs to give the bead the irresistible buttery texture.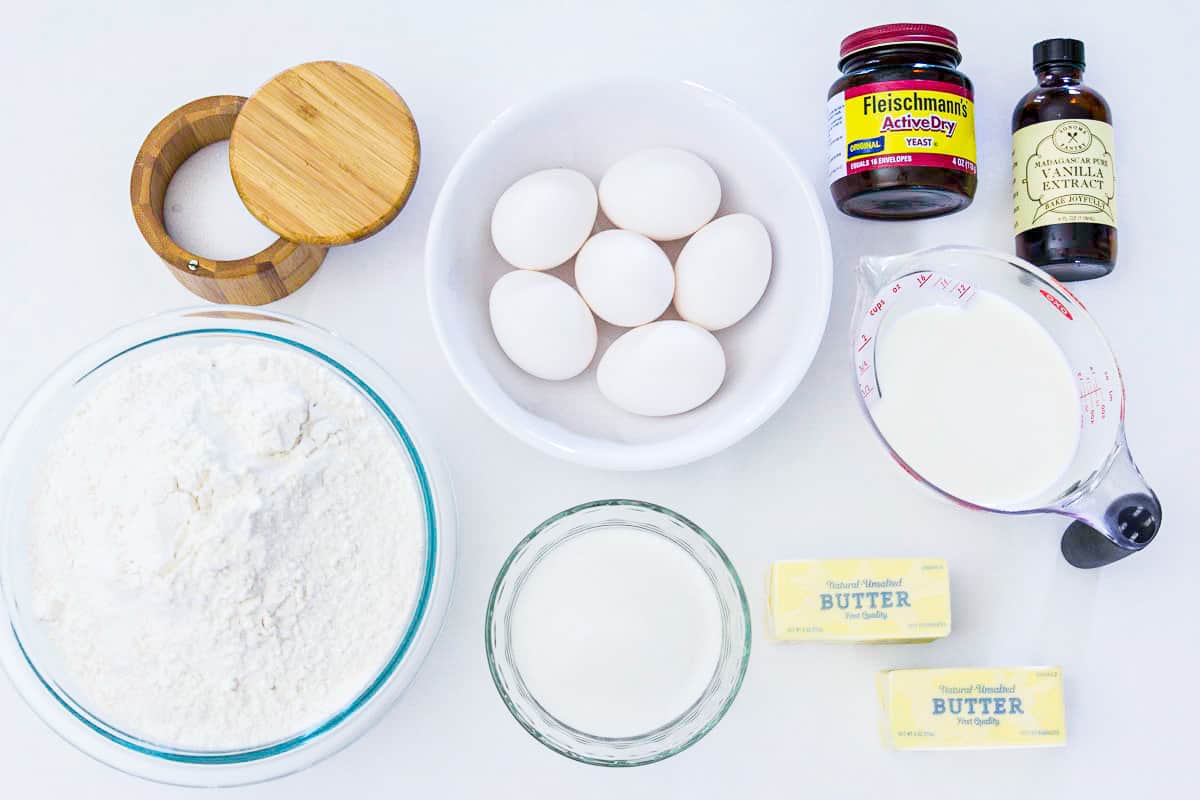 How to Make Brioche Bread
Make the yeast mixture– Add milk, sugar, and yeast into a bowl or large measuring cup. Then let the mixture sit in a warm place for about 20 minutes. In the bowl of a mixer, combine flour, salt, and yeast mixture.
Add everything into a stand mixer– Whisk eggs and vanilla, then add them to the bowl. Also, add softened butter and combine using the hook attachment until the dough forms into a ball.
Knead and rise the dough– Transfer the dough onto a floured surface and knead it. Place the brioche bread dough into a greased bowl and let it rise covered until it doubles in size, about 1 hour.
Make the braid and bake it– After the brioche dough is done rising, divide it into 6 equal pieces. Using three of those pieces create a braid and place it into a greased loaf pan. Then let it rise covered for 1 hour. Brush with egg wash and bake for 40 minutes at 350 degrees F.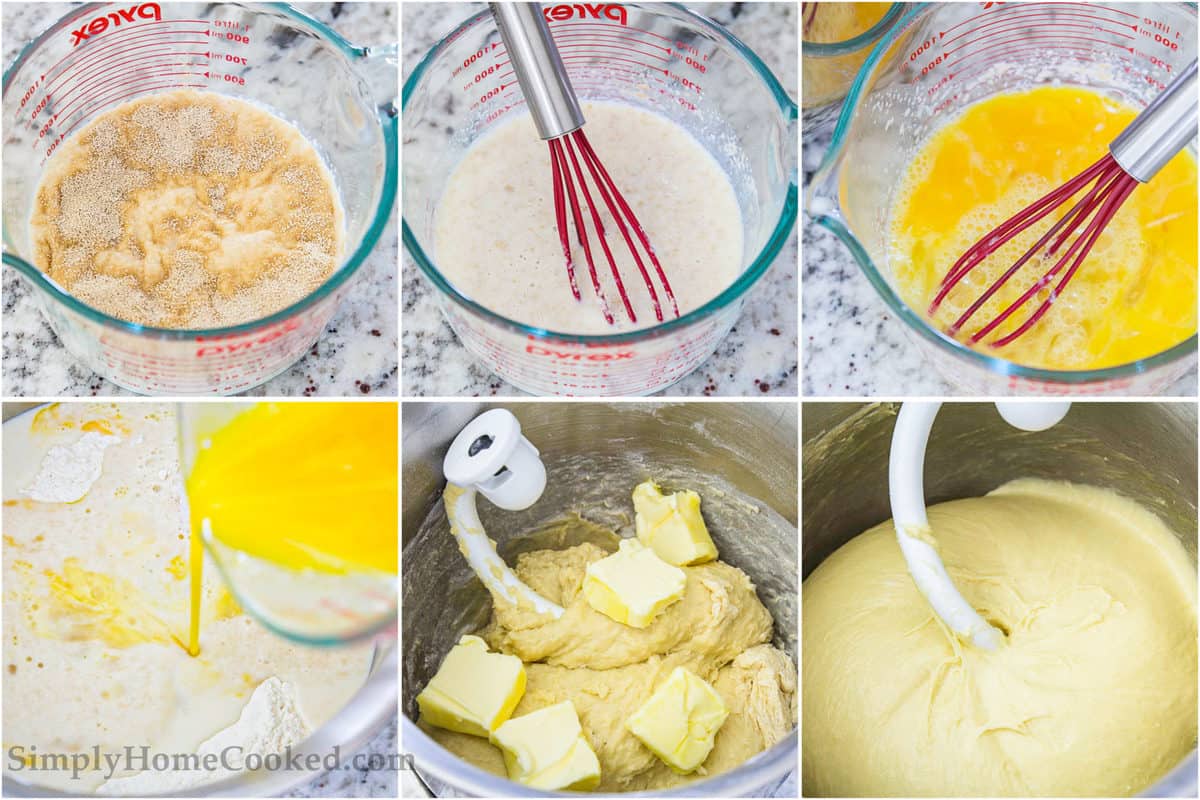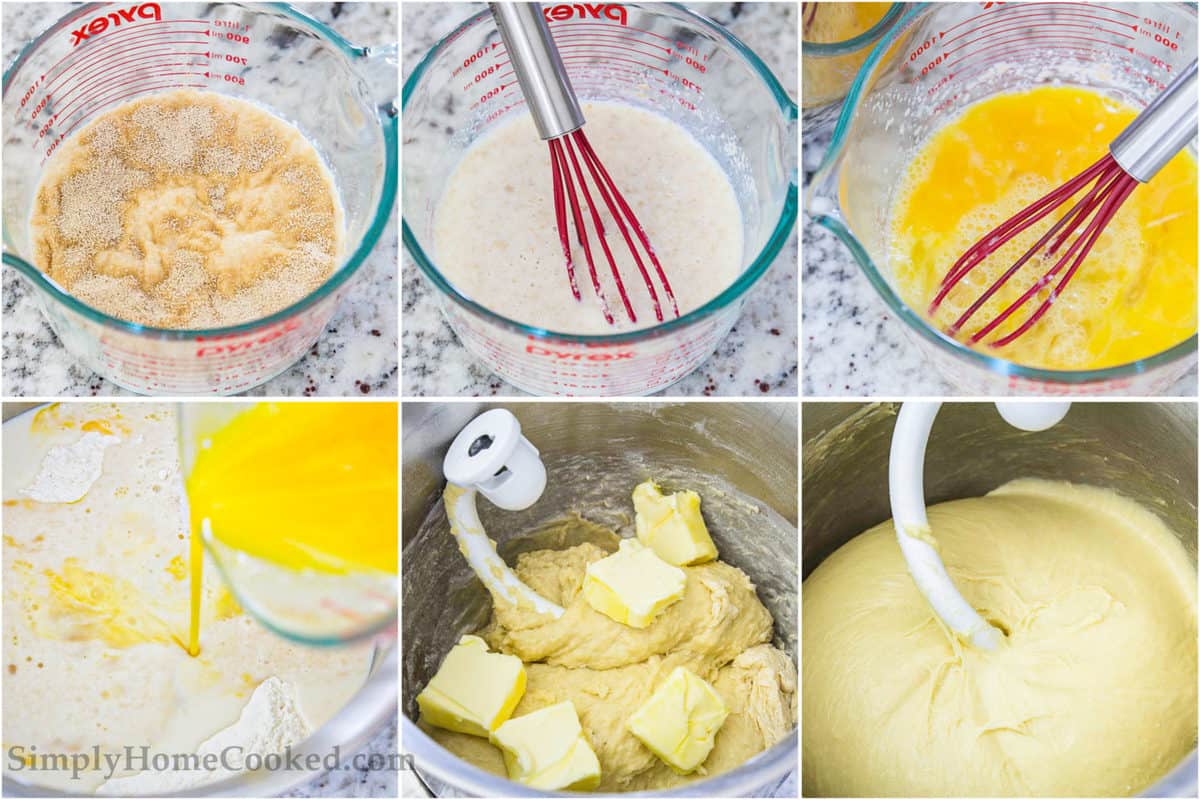 What makes it different from other breads?
Typically, most bread recipes like my multigrain harvest and rustic bread have yeast, flour, and water as the base. Brioche, on the other hand, has a lot of butter and eggs to aid in that soft and fluffy crumb.
Brioche Bun
If you prefer not to do the braiding method as pictured below, you can just roll three brioche buns and place them side by side into the loaf pan.
What is it used for?
The best way to enjoy a warm loaf of homemade brioche is by toasting it and slathering on a thick layer of salted butter and a drizzle of honey on top, YUM!! But you can always use the stale leftovers in french toast or bread pudding with vanilla rum sauce!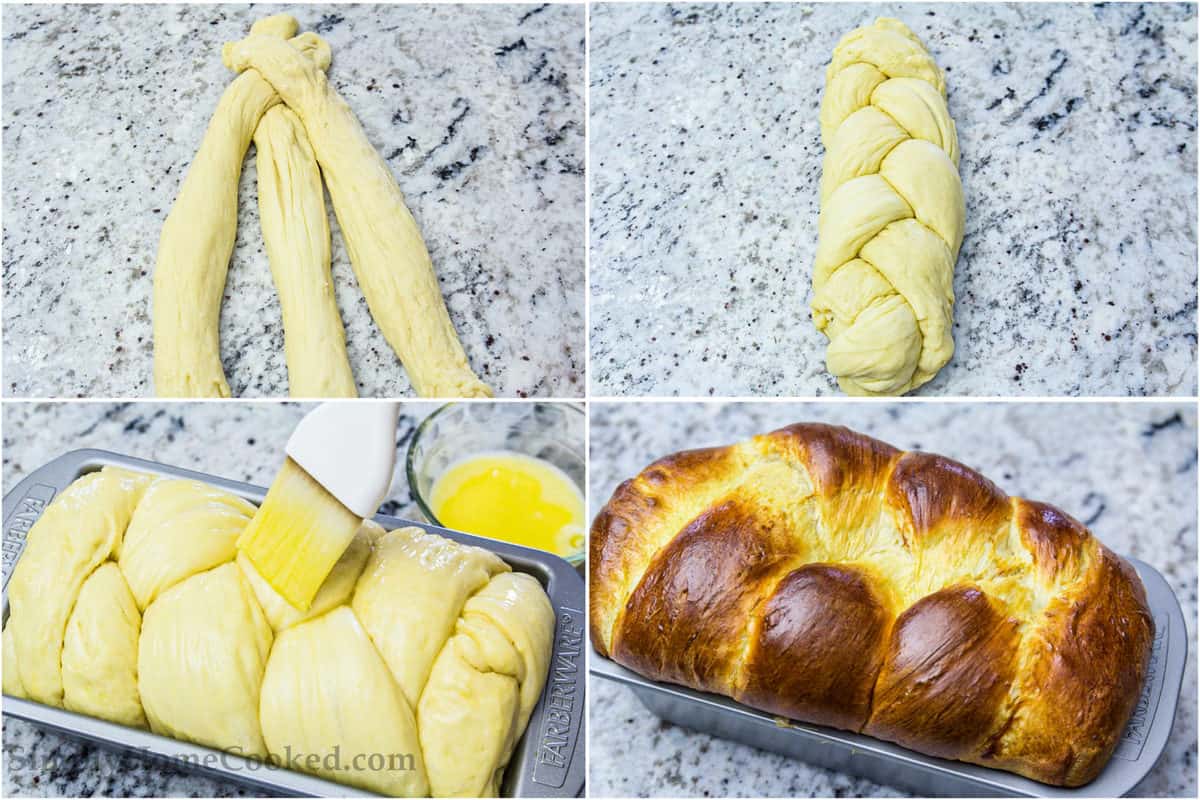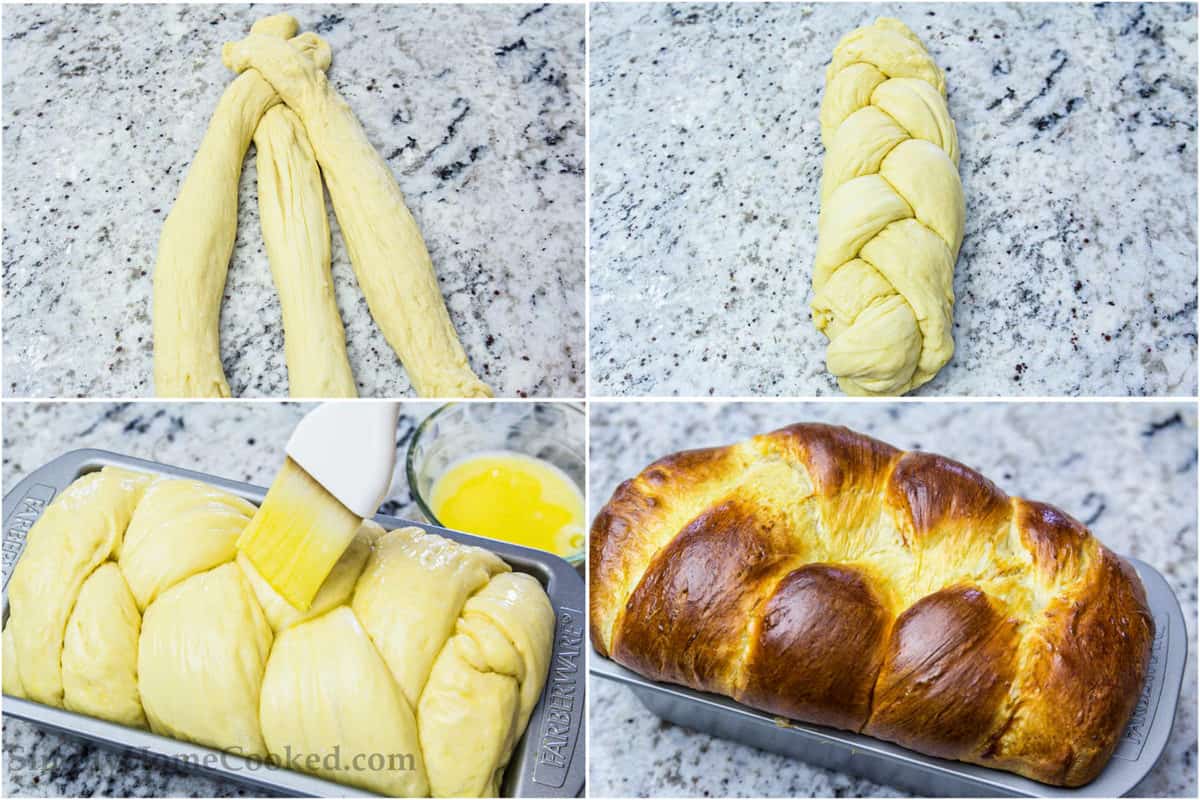 How long does it keep?
Keep the brioche in a plastic bag at room temperature for up to 4-5 days. The more airtight the bag, the fresher the bread will taste. And if it goes stale, pop it in the oven for a few mins at 300 degrees Fahrenheit or make bread pudding and french toast out of it.
Try these other delicious bread recipes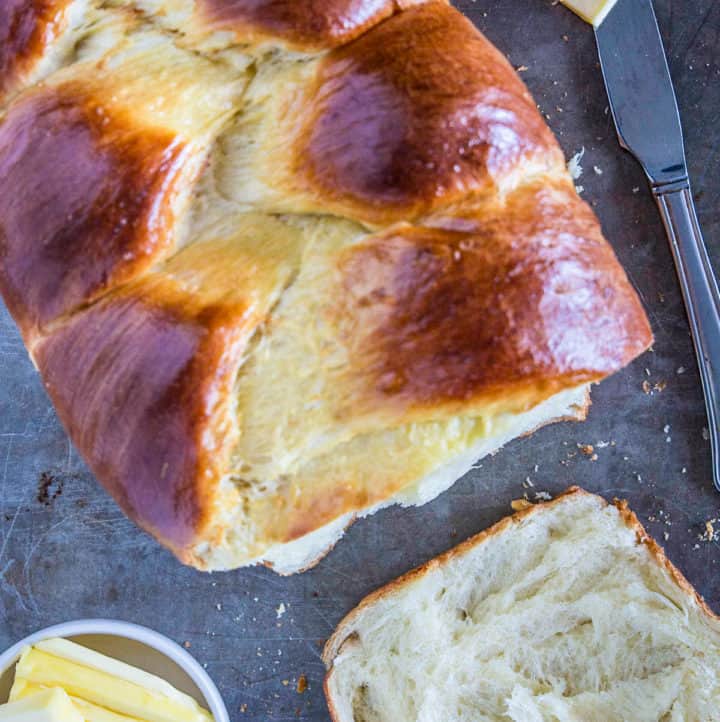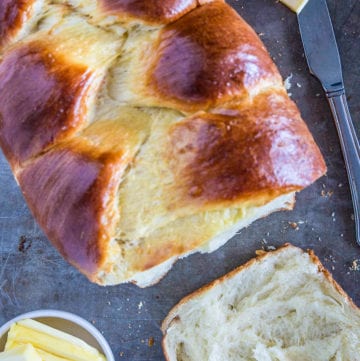 Brioche Bread
This fluffy, buttery, yeast bread goes perfectly with salted butter.
Print
Pin
Rate
Servings:
32
slices (2 loaves)
Instructions
Make the yeast mixture
In a glass bowl or large measuring cup, combine milk, 1/4 cup sugar, and yeast. Leave this mixture in a warm place for about 20 minutes. Once it becomes frothy, give it a quick stir.
Mix all ingredients (but butter) in a stand mixer
Place the flour (start with 7 cups) and salt, and 3/4 cup sugar in the bowl of a stand mixer. Then pour the warm yeast mixture into the bowl.

Crack the eggs into a bowl and give them a quick whisk just to loosen them. Add the beaten eggs and vanilla extract to the rest of the ingredients in the mixer bowl.

Using the hook attachment, beat the dough until it begins to come together.
Knead in the softened butter
Cut the butter into slices and add 1/2 cup. Continue kneading the dough until the butter is well incorporated.

Add the remaining 1/2 cup sliced butter and knead the dough on high speed for about 10 minutes or until the dough is smooth and elastic. If the dough isn't coming together well enough, add the remaining 1/4 cup flour.
Rise the dough in a greased bowl
Place the dough onto a lightly floured surface and round it into a ball. Place it into a bowl greased with oil (lightly grease the top of the dough as well). Then cover with a cheesecloth and leave in a warm place for 1 hour or until it doubles in size.
Braid the dough and rise again
Once the dough has proofed, divide it into two equal pieces. These two halves will make two loaves of bread.

Starting with one of the two dough halves, divide that half into three equal balls. Roll those three balls into long strands.

Begin crossing over the three strands in a braid-like fashion. Once you get the end, pinch the dough to seal the braid. Repeat steps 8-9 with the other dough halve. (If you don't want to do a braid, just place the 3 dough balls on the loaf pan.)
Brush with egg wash and bake
Spray a loaf pan with nonstick spray and place the braided dough into the pan. Cover with a cheesecloth and let it proof in a warm place for 1 hour or until it doubles in size.

Once the dough has proofed, brush with egg wash (1 beaten egg + 1 tsp water). Bake at 350 degrees Fahrenheit for 40 minutes until golden brown.
Notes
TIPS:The dough should be sticky (because of all the butter and eggs). This will give it that fluffy texture. if the dough is too runny, add 1/4 cup flour at a time, and mix well. 
How to store it: 
Keep the brioche in a plastic bag at room temperature for up to 4-5 days. The more airtight the bag, the fresher the bread will taste. 
Nutrition
Serving:
1
slice
|
Calories:
97
kcal
|
Carbohydrates:
7
g
|
Protein:
1
g
|
Fat:
6
g
|
Saturated Fat:
4
g
|
Cholesterol:
46
mg
|
Sodium:
53
mg
|
Potassium:
28
mg
|
Sugar:
6
g
|
Vitamin A:
235
IU
|
Calcium:
17
mg
|
Iron:
0.2
mg
This recipe was originally posted on April 5, 2017, but we have tweaked it a bit since then to improve it.
PS: This brioche bread recipe has been adjusted, here are our old images.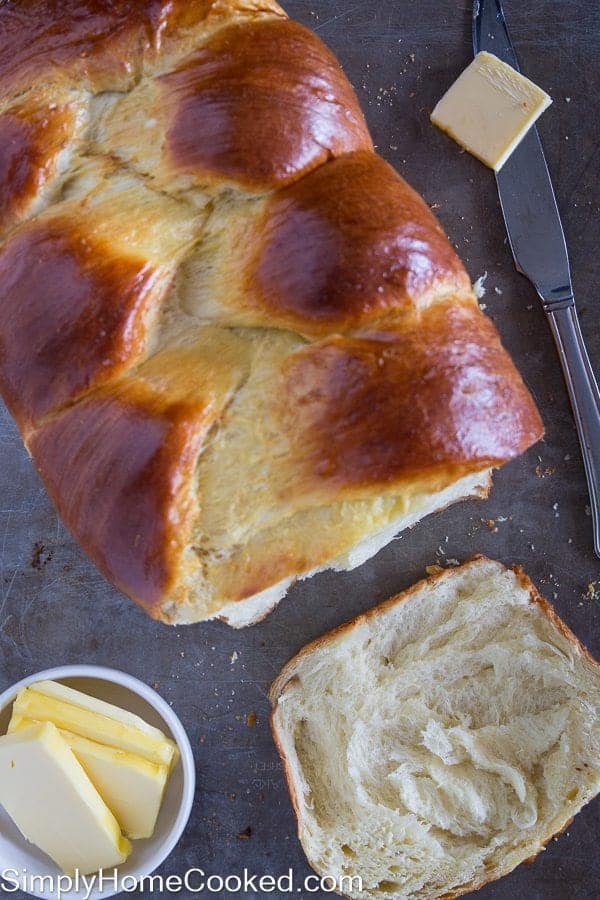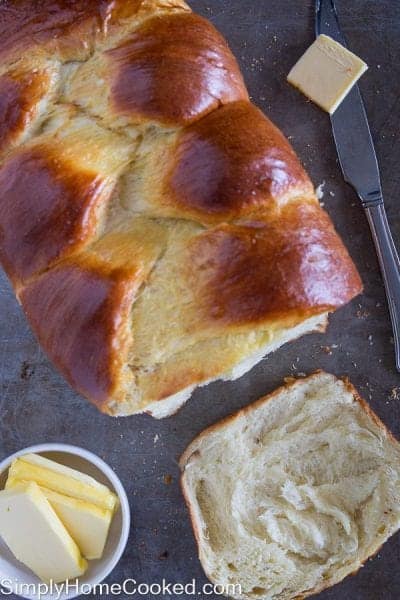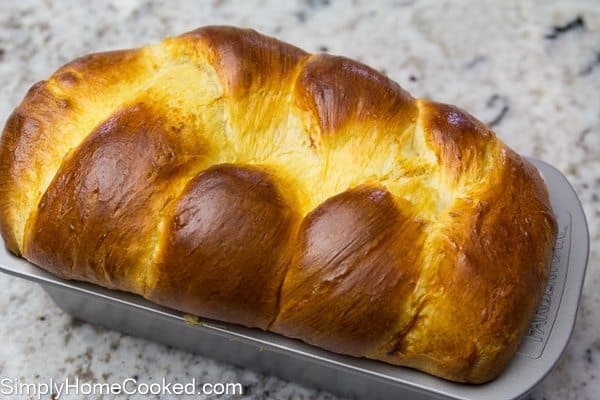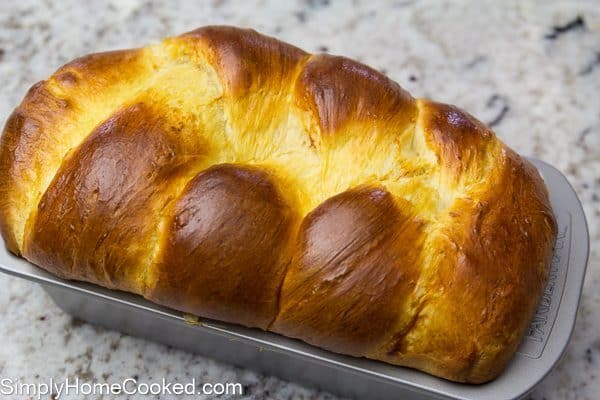 Latest posts by simplyhomecooked
(see all)