This Bread Pudding is the ultimate comfort dessert. It's made with baked brioche bread and rich custard along with golden raisins and pecans, and drizzled with a warm vanilla rum sauce.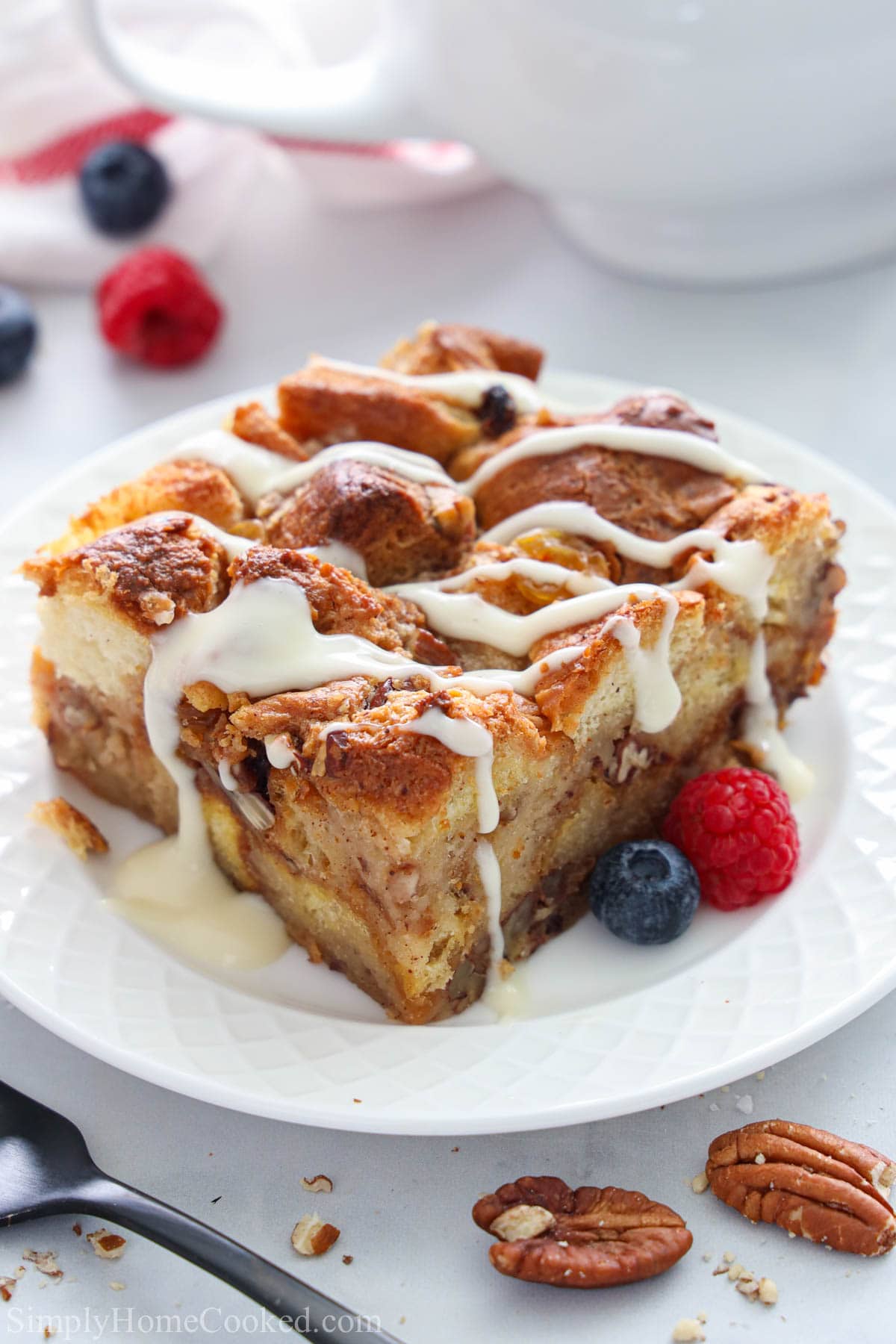 Table Of Contents
Recipe Details
I love this Bread Pudding recipe because it's comforting and sweet and delicious. It's the perfect dessert on a cold night.
TASTE: Buttery and sweet, this Bread Pudding is filled with pecans and raisins for additional fruity, nutty flavor. The vanilla rum sauce is a yummy finish for the dish.
TEXTURE: Moist, spongy, and covered in a smooth buttery sauce, this dessert also has some crunchy nuts to balance out the pudding.
TIME: This recipe only takes an hour to make.
EASE: This dish uses quite a few ingredients, but with step-by-step photos, it's really simple. You can also make it ahead to save yourself time.
What You'll Need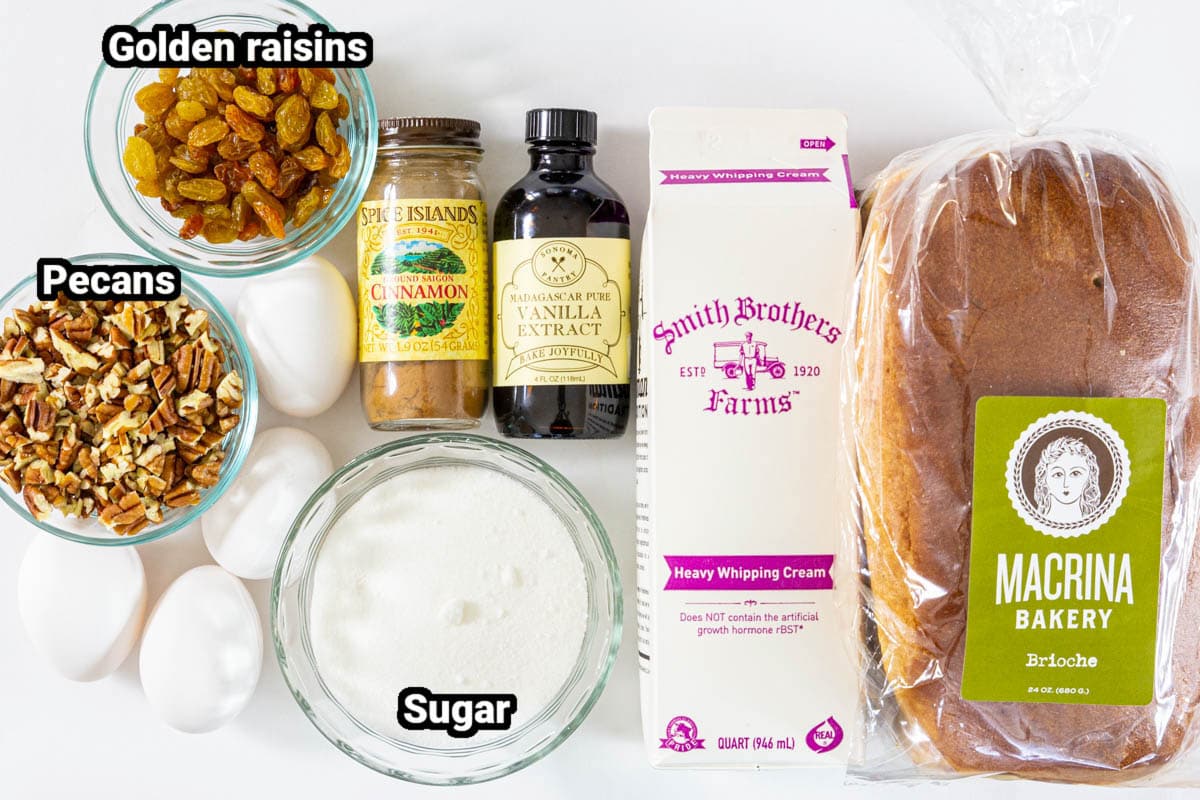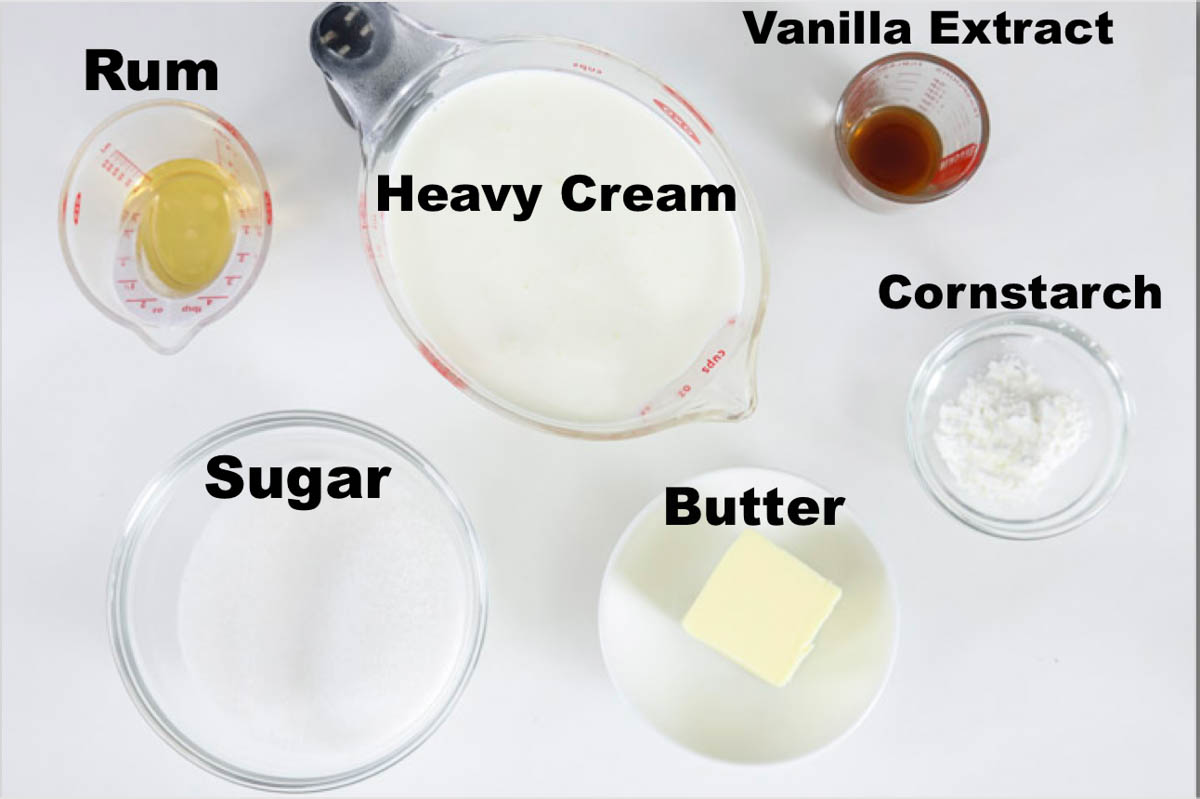 Ingredient Notes
For the bread pudding:
Brioche bread- This super buttery bread adds lots of rich flavor to this dessert. You can buy it or make your own. But you can alwasy use classic french bread as well.
Raisins & pecans- These add extra sweetness and a nutty notes. But if you prefer not to use them, thay can be omitted.
For the vanilla run sauce:
Rum- For a lighter flavor and color, go with a light rum over a dark. If you prefer not to use alcohol in this recipe, the rum can be omitted especally if seving this to children.
Add-ins and Substitutions
Use fresh bread- Although bread pudding it typically made with stale bread, you can use fresh bread by cutting it into cubes and toasting it for a few minutes at 350 degrees Fahrenheit.
Substitute different breads- Bread pudding is often made with French bread, but using toasted brioche tastes delicious. You can substitute other loafs, too, including gluten-free.
Add chocolate chips- This recipe tastes delicious with the addition of chocolate chips. You can use dark, milk, or even white chocolate.
Substitute another frosting- For a richer topping, try this bread pudding with cream cheese frosting instead, or a lighter Chantilly Cream.
How to Make Bread Pudding
Toast the bread. Slice brioche bread into cubes then lay the bread on a baking sheet and toast it in the oven for a few minutes.
Add the wet ingredients. Whisk the eggs and sugar in a bowl and slowly pour hot heavy cream into the bowl while constantly mixing. Then stir in the cinnamon and vanilla.
Pro Tip: Whisk the egg and hot heavy cream mixture constantly to keep the eggs from scrambling and clumping up. You want the custard nice and smooth.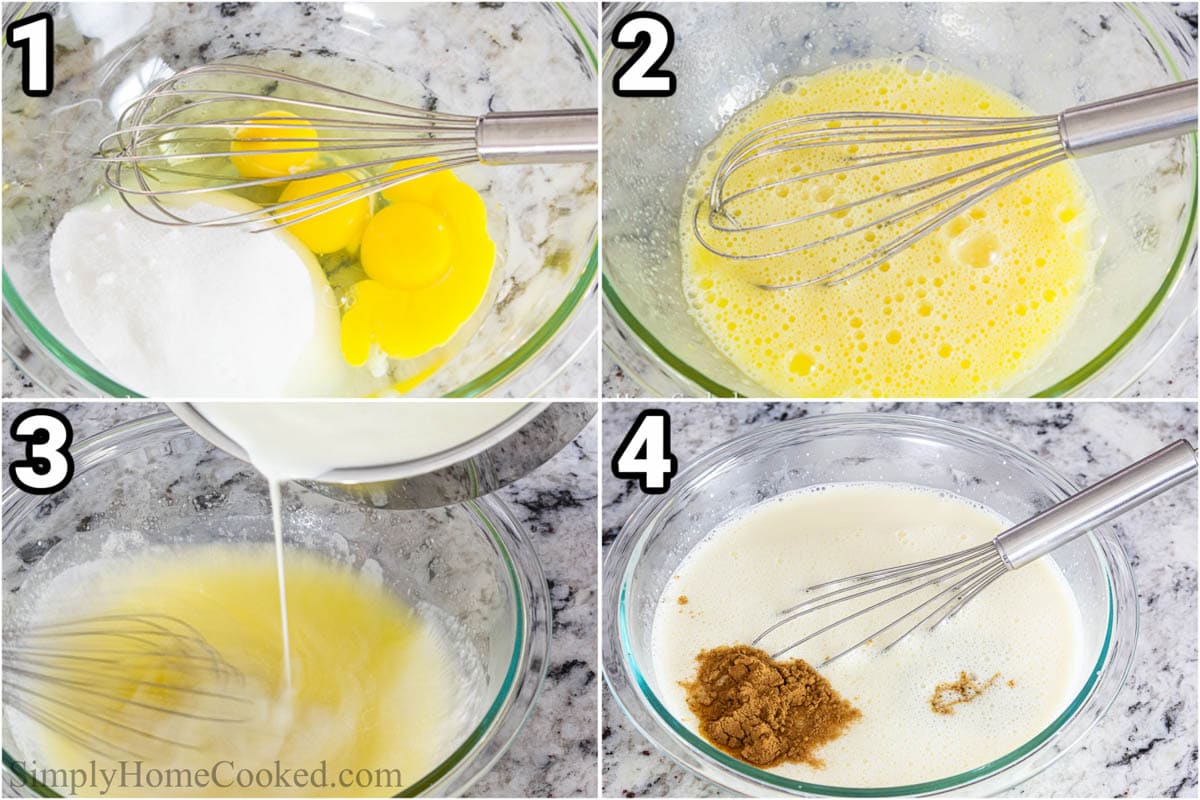 Add the bread. Place the toasted bread in a large bowl and pour the egg and heavy cream mixture over it. Then add the chopped pecans and raisins.
Bake. Pour the bread pudding into a 9 x 13-inch baking pan and bake it for 40 minutes at 360 degrees Fahrenheit.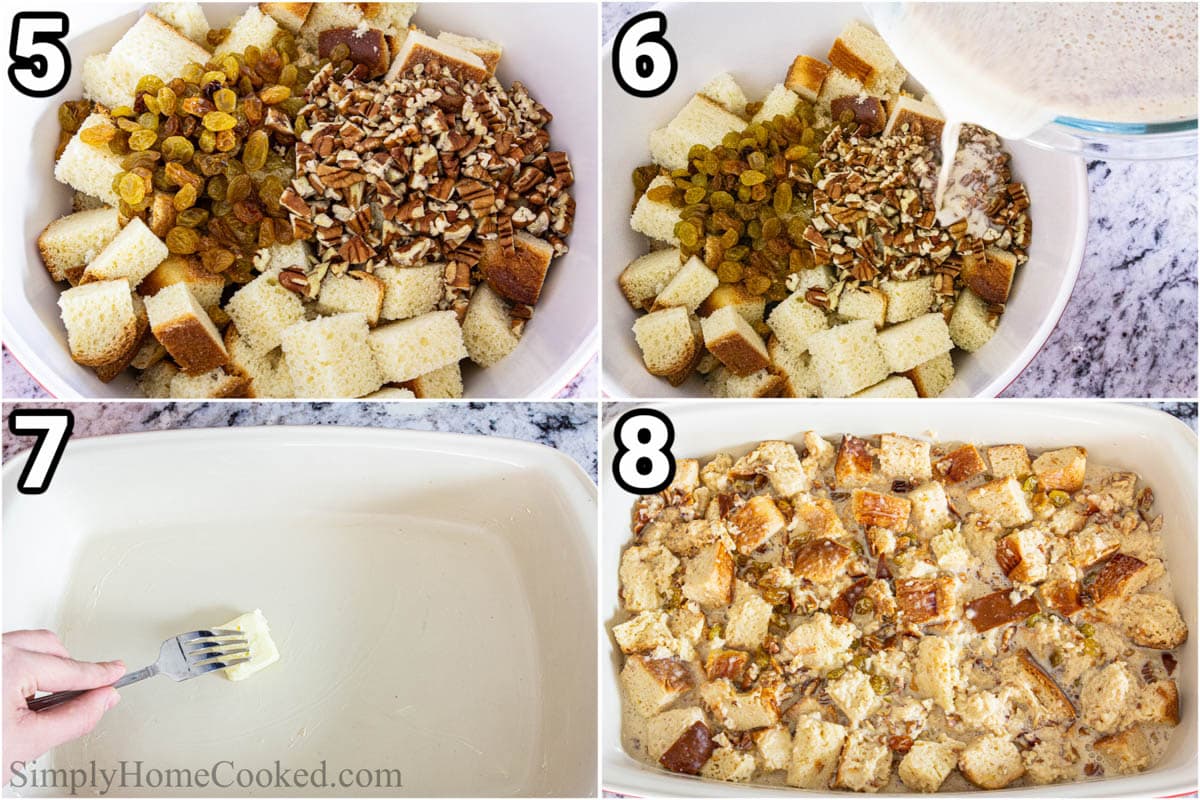 Make the vanilla rum sauce. First, melt the butter in a saucepan.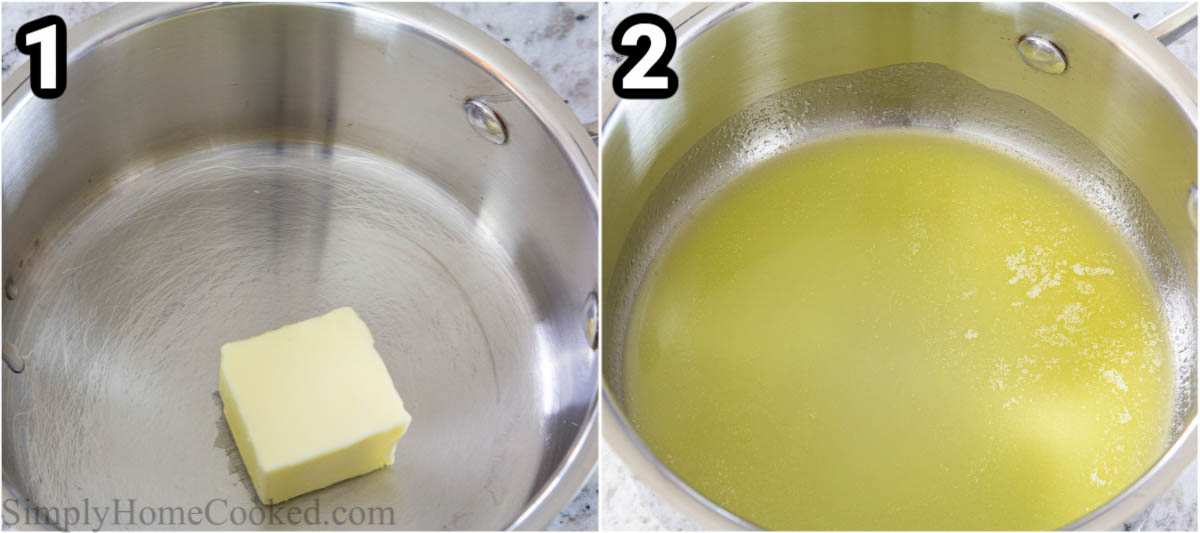 Add the heavy cream. Then add the heavy cream to the butter. Mix the sugar and cornstarch together, and add it, too.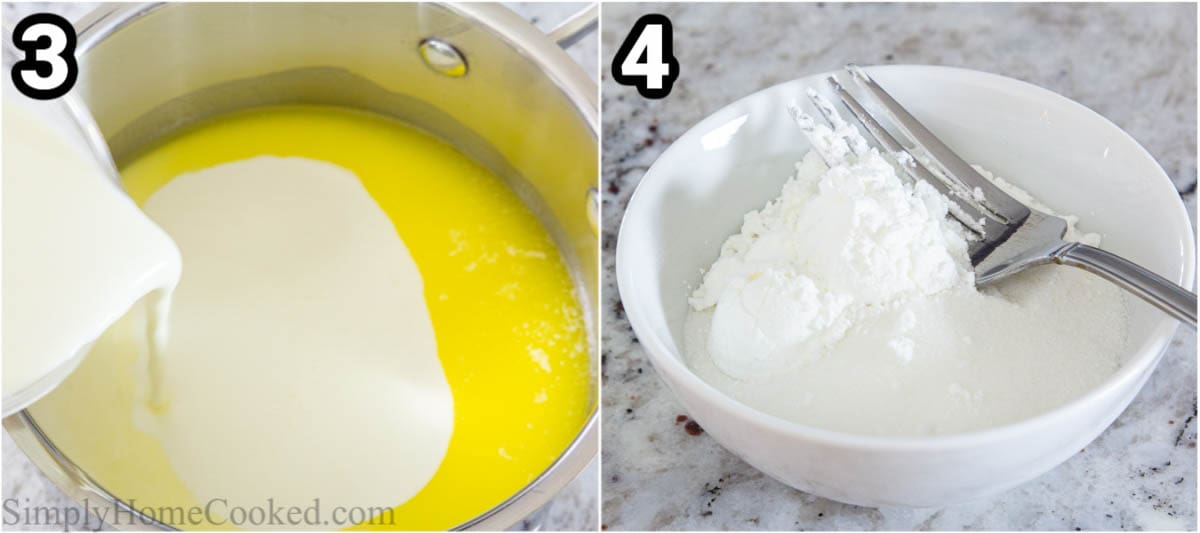 Simmer. Let the sauce simmer until it thickens. Turn the heat off and add the rum and vanilla extract.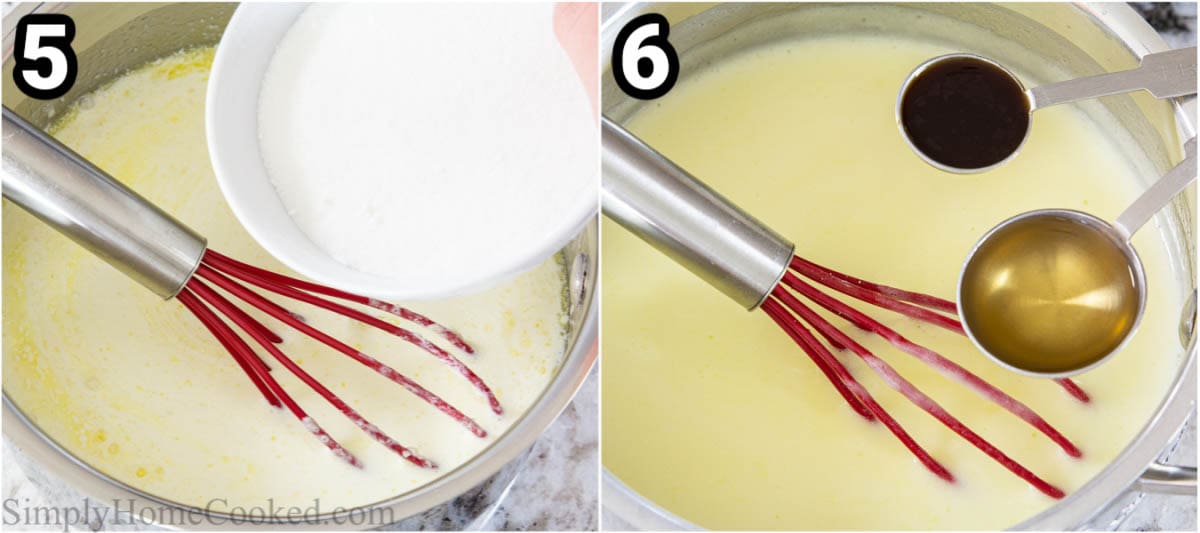 Recipe Tips
Toast the bread- Unless you're using stale bread, you will need to toast it to make it crunchier and a little dry. This gives the dish texture it can't get from soft bread.
Whisk the custard well- When adding the cream and eggs, you need to whisk continuously to keep the custard smooth and not let the eggs scramble.
Chop the pecans small- They should be about the same size as the raisins. Keep them on the smaller side so they add a little crunch to each bite.
Add the rum after the sauce is simmered. To avoid burning off too much rum flavor, add it to the sauce after the heat is off. But if you want to burn off the alcohol, you can do that separately beforehand.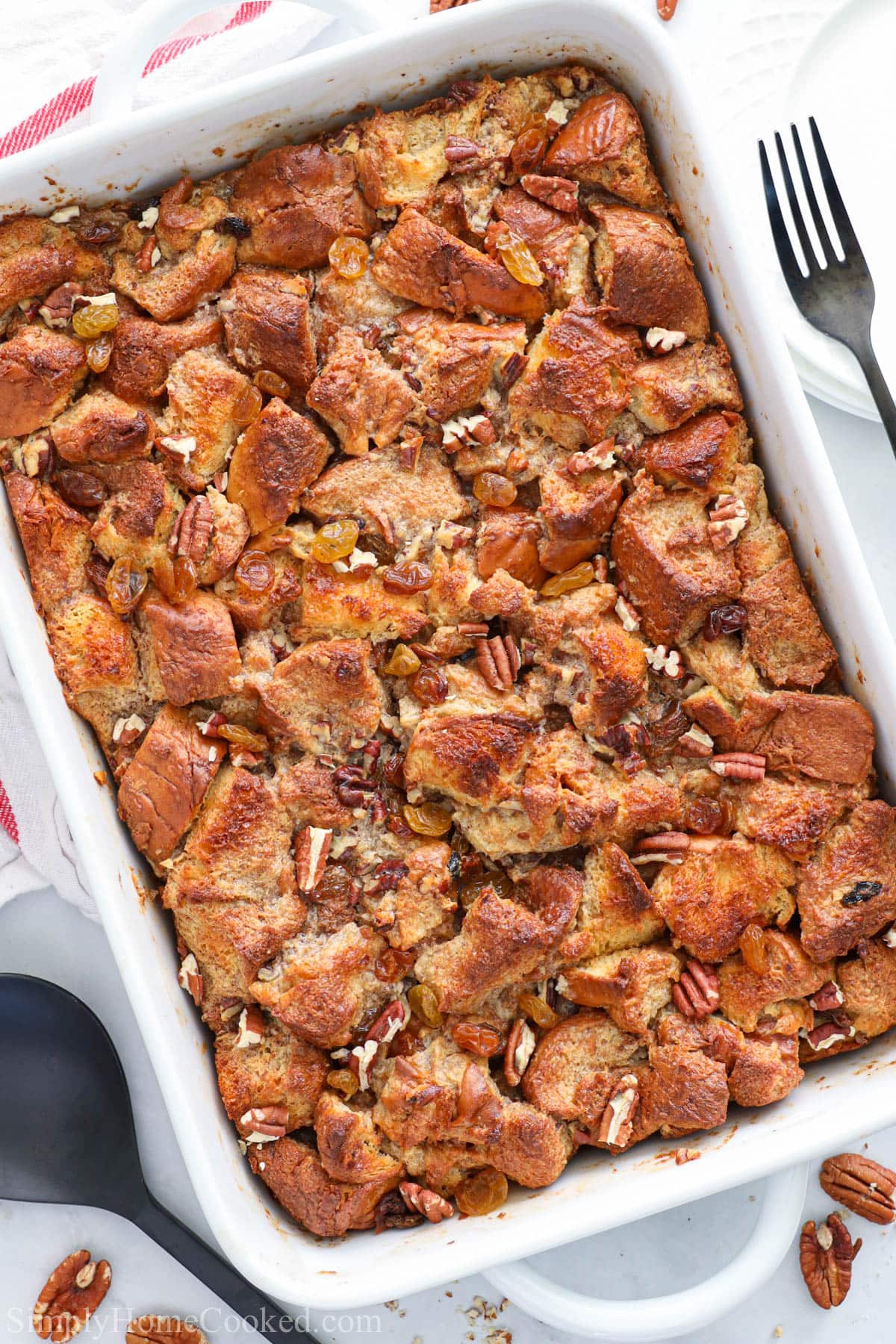 FAQs
Why do they call it bread pudding?
Bread pudding originated in the early 11th and 12th centuries, when frugal cooks were looking for ways to use up stale, leftover bread. Today, it is a combination of day old bread, sugar and egg custard, raisins, and sometimes nuts and chocolate chips. It is baked in the oven and often served with a rum or bourbon sauce.
Is bread pudding supposed to be soggy?
The consistency of your bread pudding should be a little mushy and semi-solid. All of the ingredients are fully cooked, but the ratio of liquid to solid is what gives it this soft, moist texture.
Serving Suggestions
This delicious Bread Pudding is so good, you'll want to serve it with everything. But here are a few great serving ideas to try.
Ice cream: Enjoy this dessert with a scoop of vanilla ice cream, or your favorite flavor.
Toppings: Top your Bread Pudding with Chantilly Cream, or Chocolate Ganache.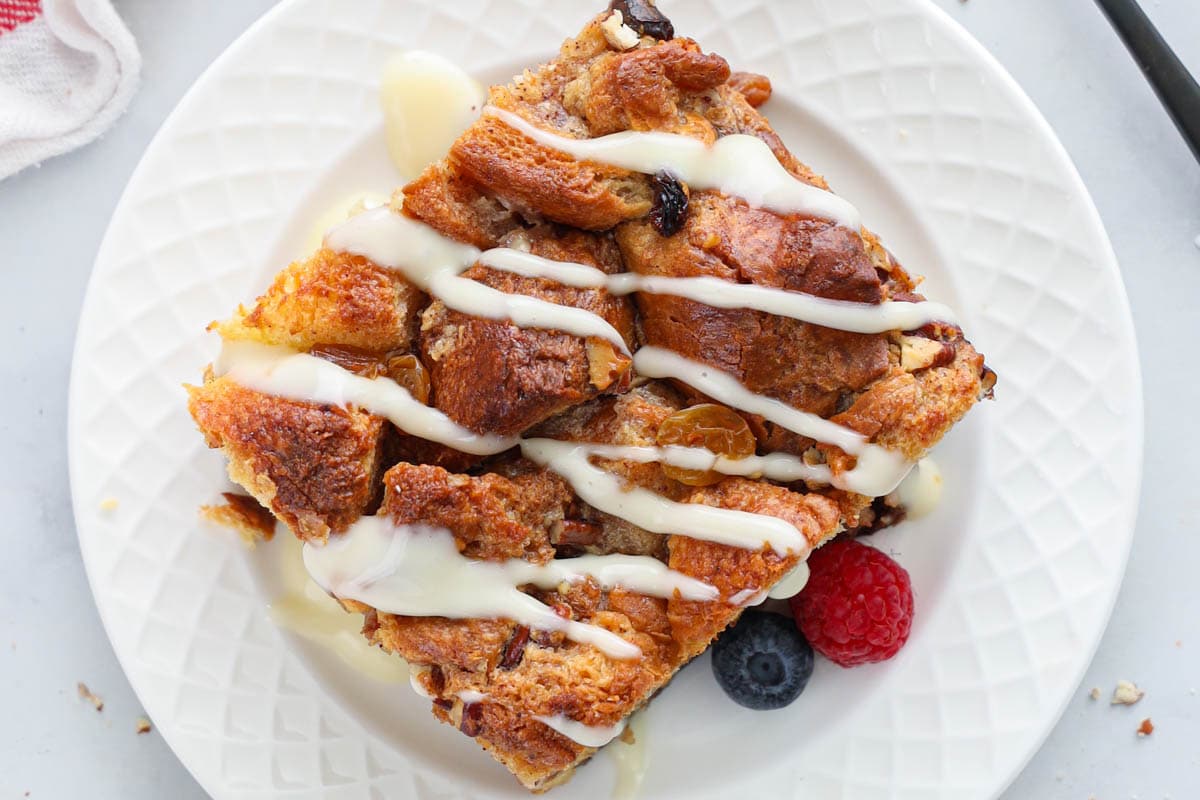 Make This in Advance
Make ahead: Make the vanilla rum sauce the night before, and cover and refrigerate. Slice and toast the brioche, place it into a large bowl, and add the pecans and raisins. Cover and leave at room temperature. Then measure all the ingredients needed for the custard the night before. All that's needed the day of is to make the custard, pour it over the bread, and bake it.
Storing: Store this Bread Pudding in an airtight container in the refrigerator for up to 5 days.
Freeze: You can freeze this dessert once it is cool by placing it in an airtight, freezer-safe container. It can be frozen for up to 3 months. Thaw in the fridge before reheating it in the oven.
More Delicious Desserts!
Watch Recipe VIDEO Here
Full Recipe Instructions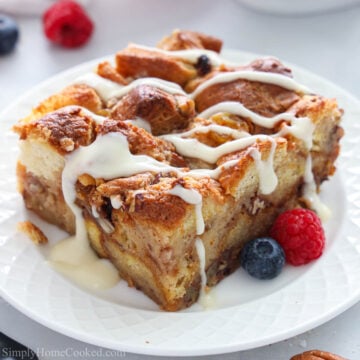 Bread Pudding
This is simply the best bread pudding you've ever had! Loaded with chopped pecans and golden raisins and topped with a vanilla rum sauce.
Print
Pin
Rate
Ingredients
For the vanilla rum sauce
Instructions
Cut the brioche bread into cubes and set aside.

In a bowl, combine 4 eggs and 3/4 cup sugar.

Heat 4 cups of heavy cream in a saucepan just until it comes to a slight simmer (not a boil). The slowly put the hot cream into the egg and sugar mixture making sure to stir constantly.

Add the cinnamon and vanilla and stir lightly just to incorporate.

In a large bowl add the cubed bread, golden raisins, and chopped pecans. Then pour the warm cream and sugar mixture into the bowl. Gently stir with a spatula.

Butter a 9×13 inch baking pan and pour the bread pudding into it. Bake at 360 degrees Fahrenheit for 35-40 minutes.

Meanwhile combine the cornstarch and 1/2 cup sugar and set aside.

Melt 3 tbsp of butter in a small saucepan, then add 2 cups of heavy cream, and the sugar and cornstarch mixture. Stir or low heat until it begins to thicken.

Remove from heat and add the 1 tsp vanilla and 1 tbsp rum.

Once the bread pudding is baked, pour the sauce over the top.
Notes
If your bread is not stale, you will need to bake it (sliced and cubed) at 350 degrees F for at least 5-10 minutes. If it's too soft, it will get too mushy.
When adding the hot cream to the eggs, pour slowly and whisk fast to avoid scrambling and cooking the eggs.
When making the vanilla rum sauce, keep the sauce stirring constantly to avoid burning the cream. Remove from heat, the moment it begins to simmer.
Nutrition
Calories:
537
kcal
|
Carbohydrates:
26
g
|
Protein:
4
g
|
Fat:
47
g
|
Saturated Fat:
25
g
|
Cholesterol:
193
mg
|
Sodium:
79
mg
|
Potassium:
164
mg
|
Fiber:
1
g
|
Sugar:
21
g
|
Vitamin A:
1650
IU
|
Vitamin C:
0.8
mg
|
Calcium:
86
mg
|
Iron:
0.6
mg