Christmas is tomorrow morning, any of you have a special Christmas breakfast planned? This bread pudding is the perfect thing to serve. It has a nice crisp top with a rich creamy center along with golden raisins and chopped pecans. And it gets even better with the warm vanilla rum sauce drizzled over the top. This festive bread pudding makes for the ideal Christmas breakfast. My family loves this recipe so much, we make it every time we get together for brunch too.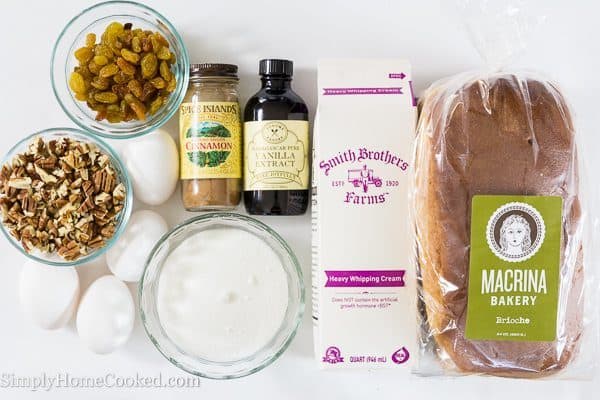 Ingredients For the Bread Pudding:
1 loaf brioche bread (24 oz)
4 eggs
3/4 cup white sugar
4 cups heavy cream
2 tsp cinnamon
1 tsp vanilla
1/2 cup golden raisins
1 cup chopped pecans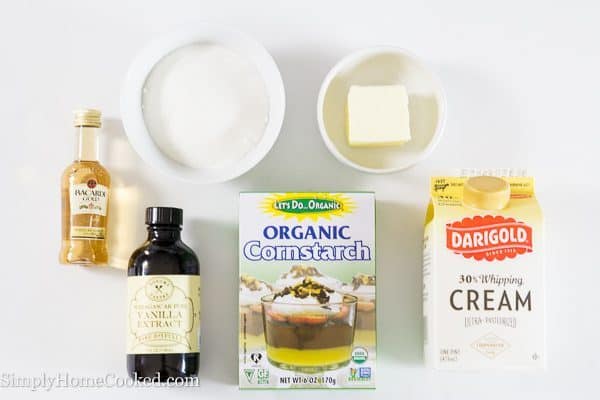 Ingredients For the Vanilla Rum Sauce:
3 tsp corn starch
1/2  cup sugar
2 cups heavy cream
3 tbsp butter
1 tsp vanilla
1 tbsp rum
Instructions:
1. Cut the brioche bread into cubes and set aside.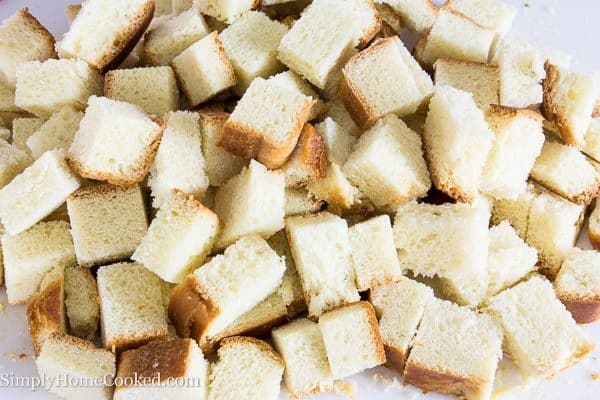 2. In a bowl, combine 4 eggs and 3/4 cup sugar.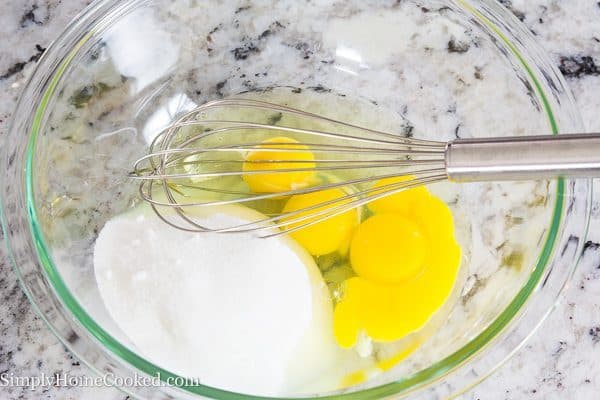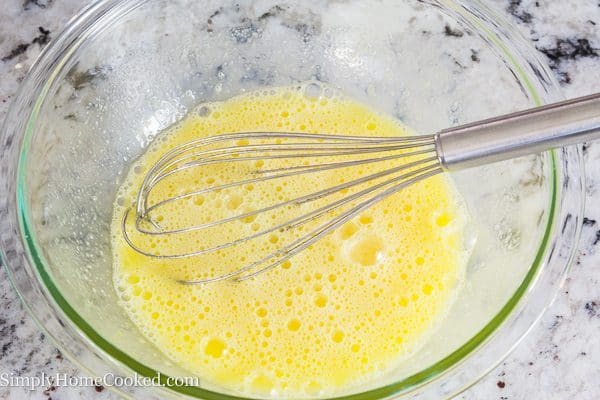 3. Heat 4 cups of heavy cream in a saucepan just until it comes to a slight simmer (not a boil). The slowly put the hot cream into the egg and sugar mixture making sure to stir constantly.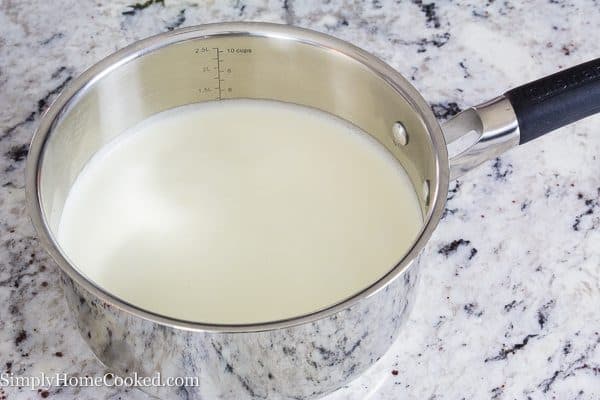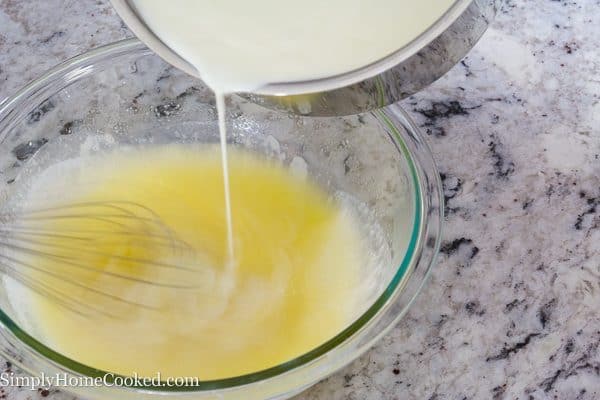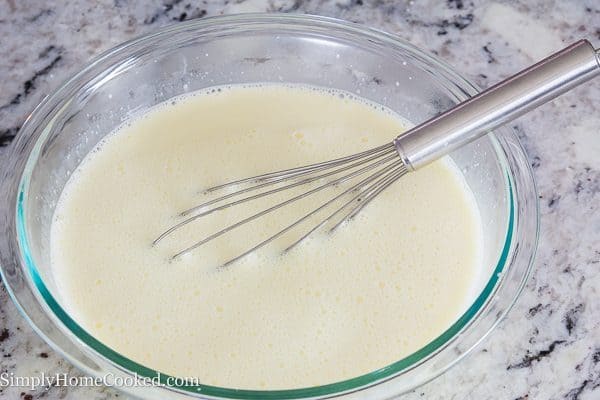 4. Add the cinnamon and vanilla and stir lightly just to incorporate.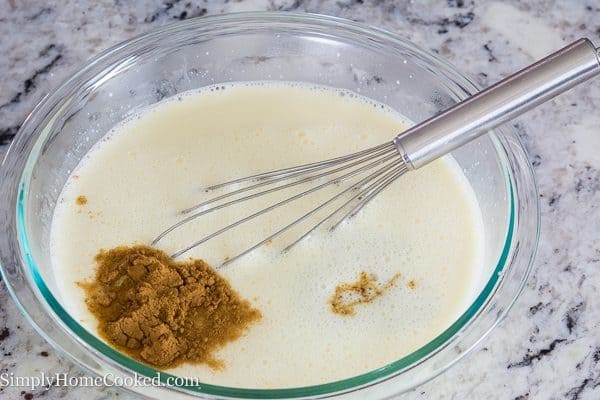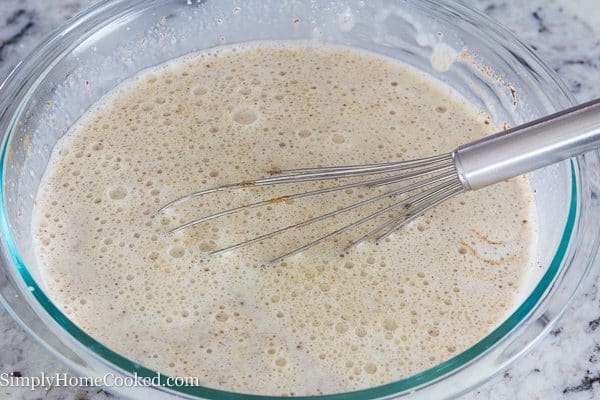 5. In a large bowl add the cubed bread, golden raisins, and chopped pecans. Then pour the warm cream and sugar mixture into the bowl. Gently stir with a spatula.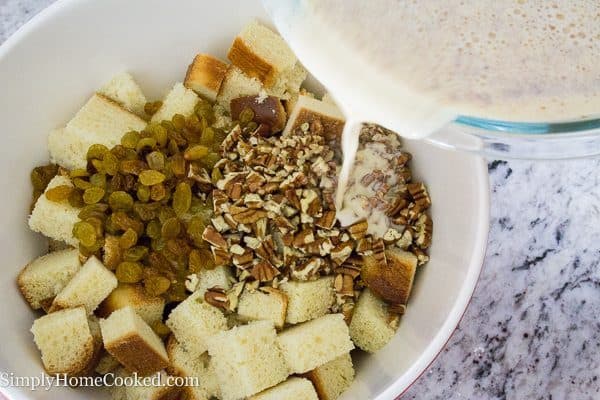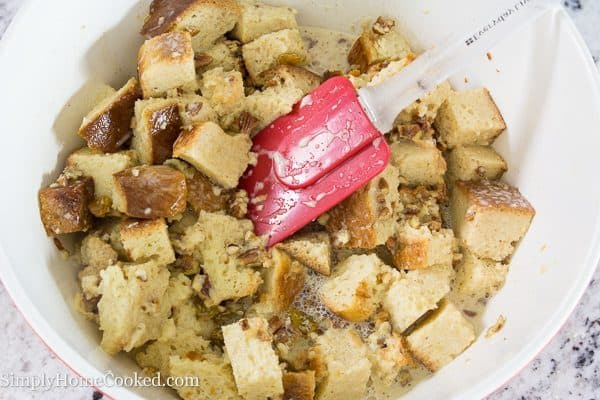 6. Butter a 9×13 inch baking pan and pour the bread pudding into it. Bake at 360 degrees Fahrenheit for 30 minutes.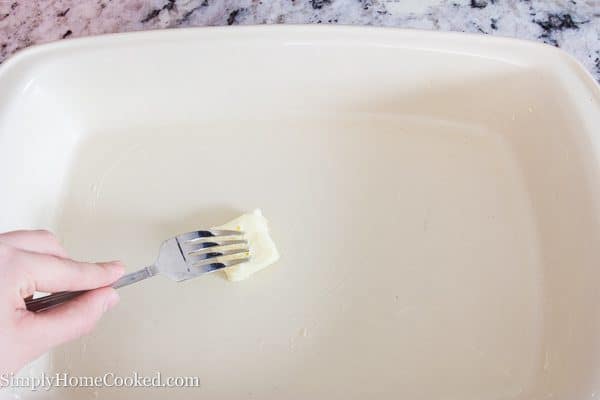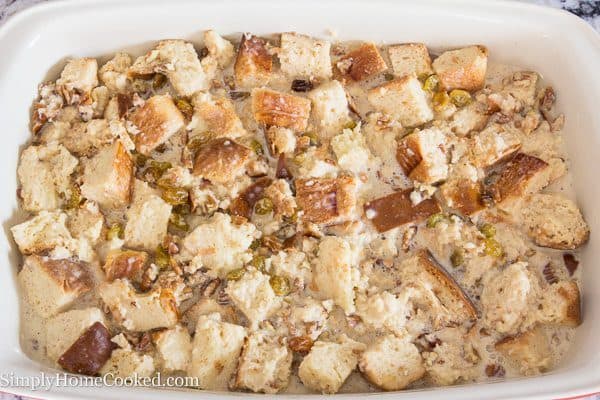 7. Meanwhile combine the cornstarch and 1/2 cup sugar and set aside.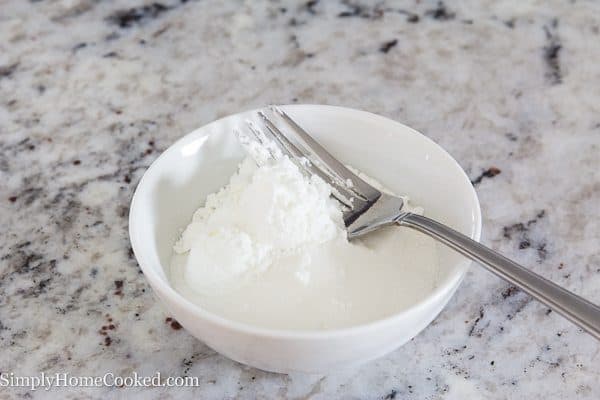 8. Melt 3 tbsp of butter in a small saucepan, then add 2 cups of heavy cream, and the sugar and cornstarch mixture. Stir or low heat until it begins to thicken.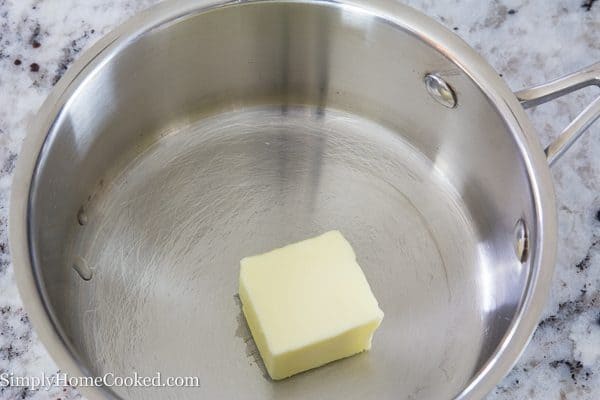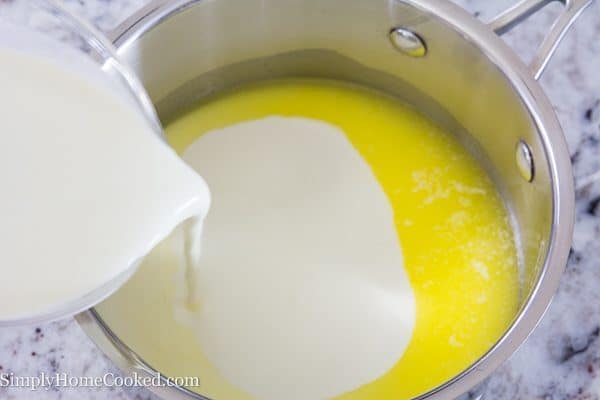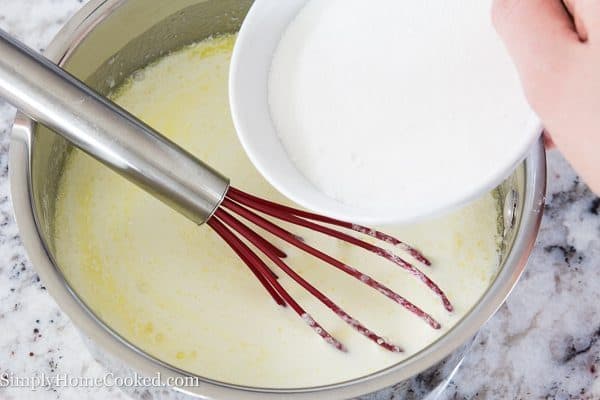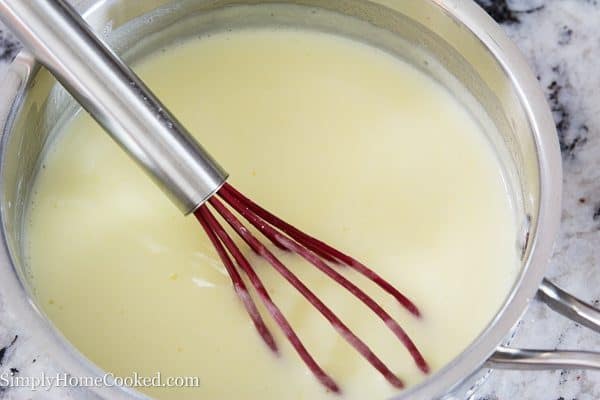 9. Remove from heat and add the 1 tsp vanilla and 1 tbsp rum.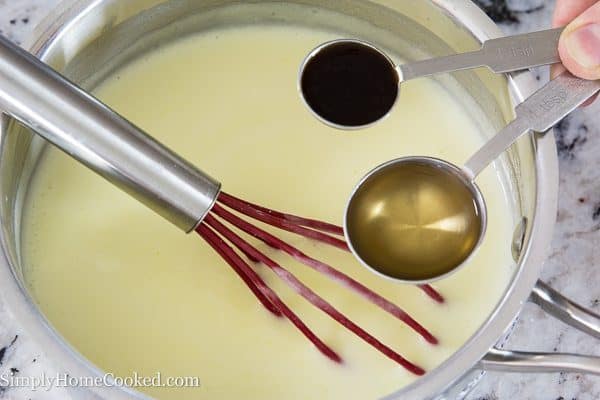 10. Once the bread pudding is baked, pour the sauce over the top.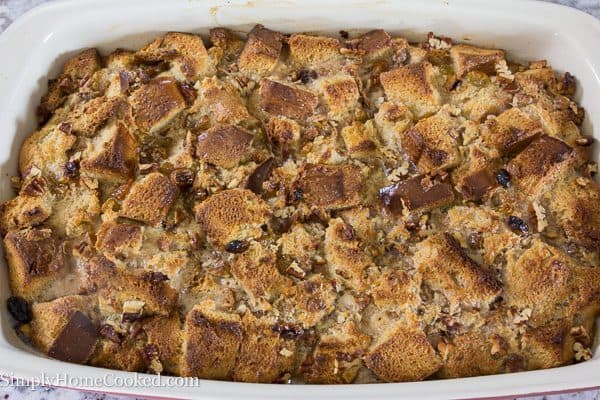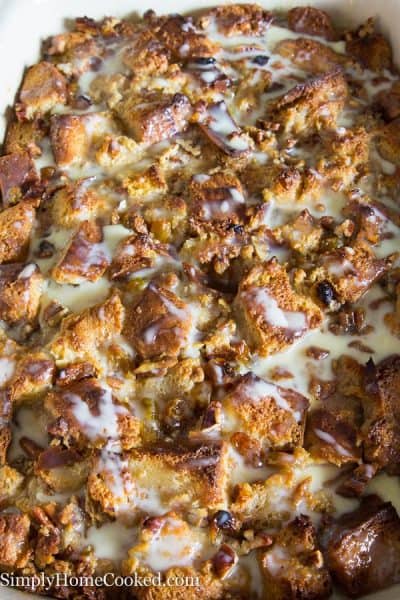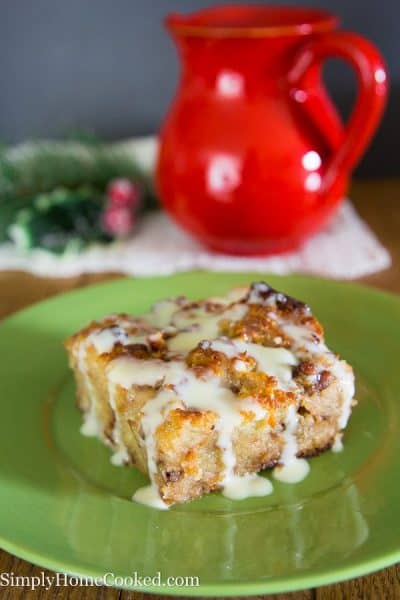 Author:
Dina from SimpyHomeCooked.com