This Easy Peach Cobbler recipe will become your favorite summer dessert. Juicy peaches topped with a buttermilk biscuit topping and baked to perfection!
While succulent summer peaches are in season, make sure to take advantage and make this delicious peach crisp or elegant peach galette recipe.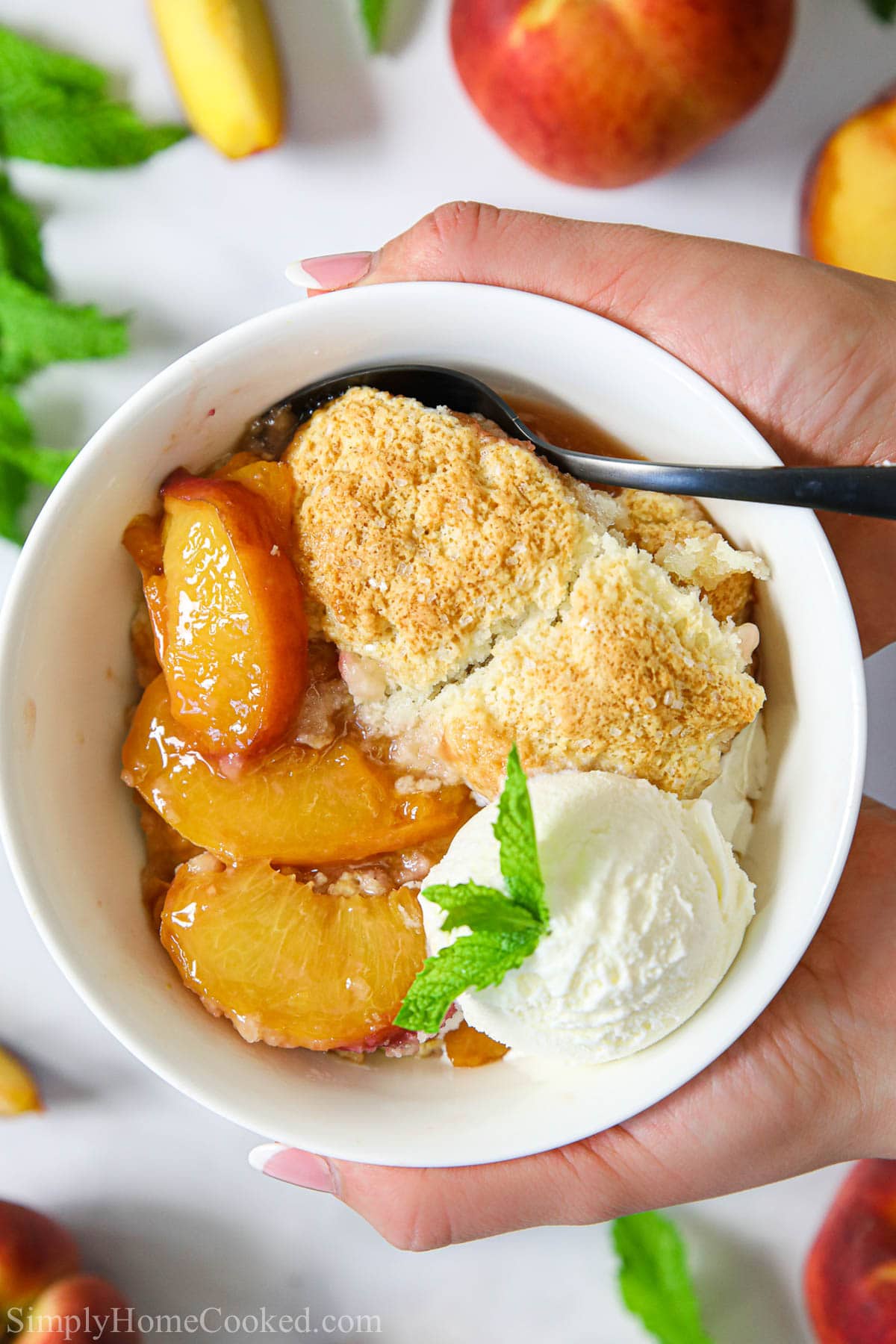 Table Of Contents
Easy Peach Cobbler Recipe Details
This Easy Peach Cobbler recipe is the perfect summer treat. Simple, delicious, and easy to prepare, it's perfect for family dinners, picnics, and barbecues.
TASTE: The sweet syrupy peaches are bursting with the flavor of summer!
TEXTURE: The soft baked peaches go perfectly with crumbly biscuit topping.
TIME: This is one of the quickest baked desserts you will ever make.
EASE: This easy summer dessert is so simple even kids can help make it.
What You'll Need
For the peach filling- Peaches, Brown sugar, Salt, Cornstarch, Vanilla extract, and Almond extract
For the biscuit topping- All-purpose flour, Baking powder, Salt, Granulated sugar, Unsalted butter, Buttermilk, and Coarse sugar (for topping)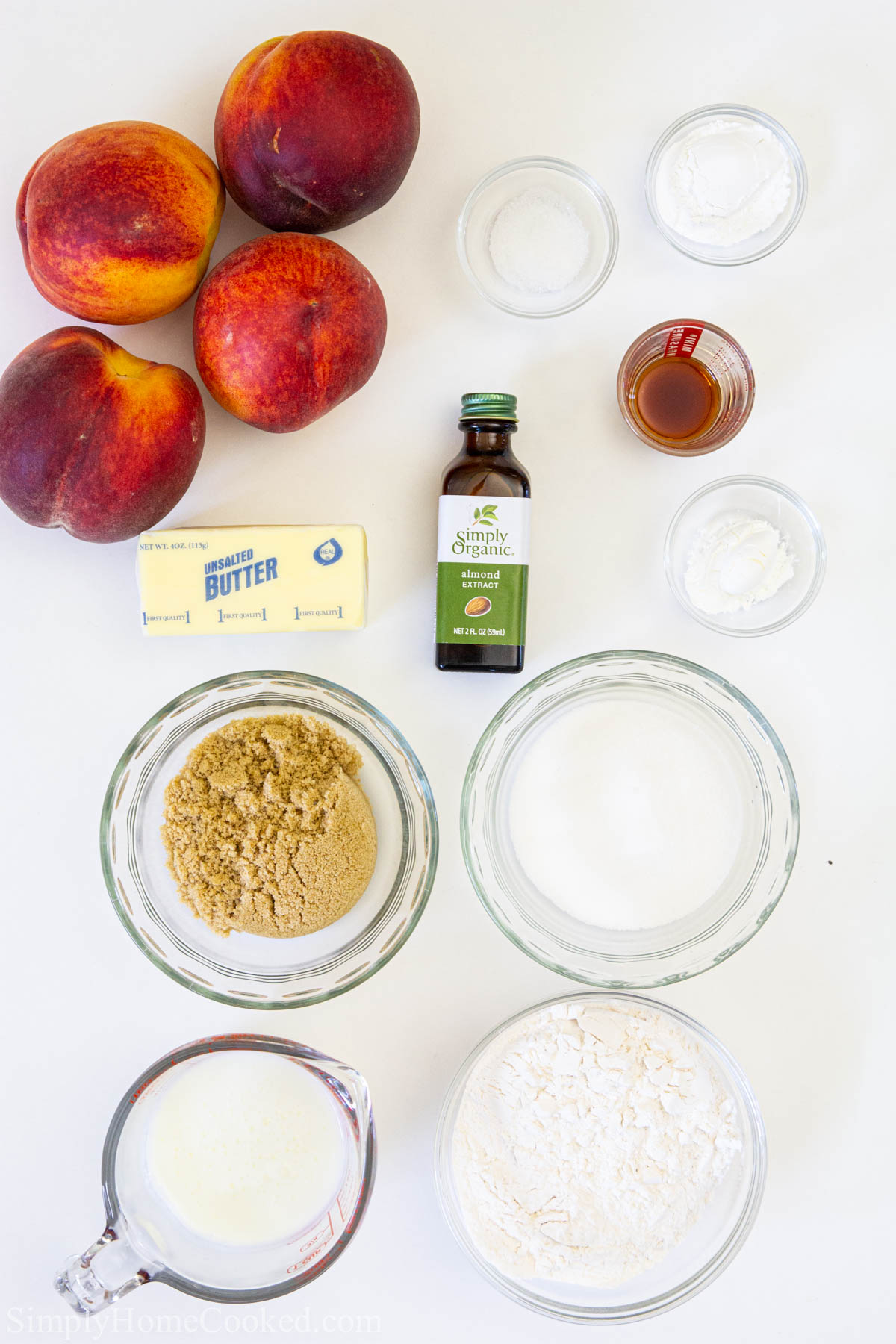 How to Make Easy Peach Cobbler
Prep the peaches. Peel and slice the peaches, then place them in a large bowl.
Add the rest of the filling ingredients. Now add the golden brown sugar, salt, cornstarch, vanilla extract, and almond extract, and mix it all together. Pour it into a 9-inch pie dish and bake at 370 degrees Fahrenheit for 20 minutes.
Mix the topping ingredients. In a separate bowl, combine the all-purpose flour, baking powder, salt, and granulated sugar. Then add the cubed unsalted butter and break it up with your hands or a pastry cutter.
Add the buttermilk. Now pour in the buttermilk and mix it with a wooden spoon.
Pro Tip: Use cold butter so that as it is mixed with the other ingredients, little chunks remain. This gives this Peach Cobbler recipe its rich buttery topping.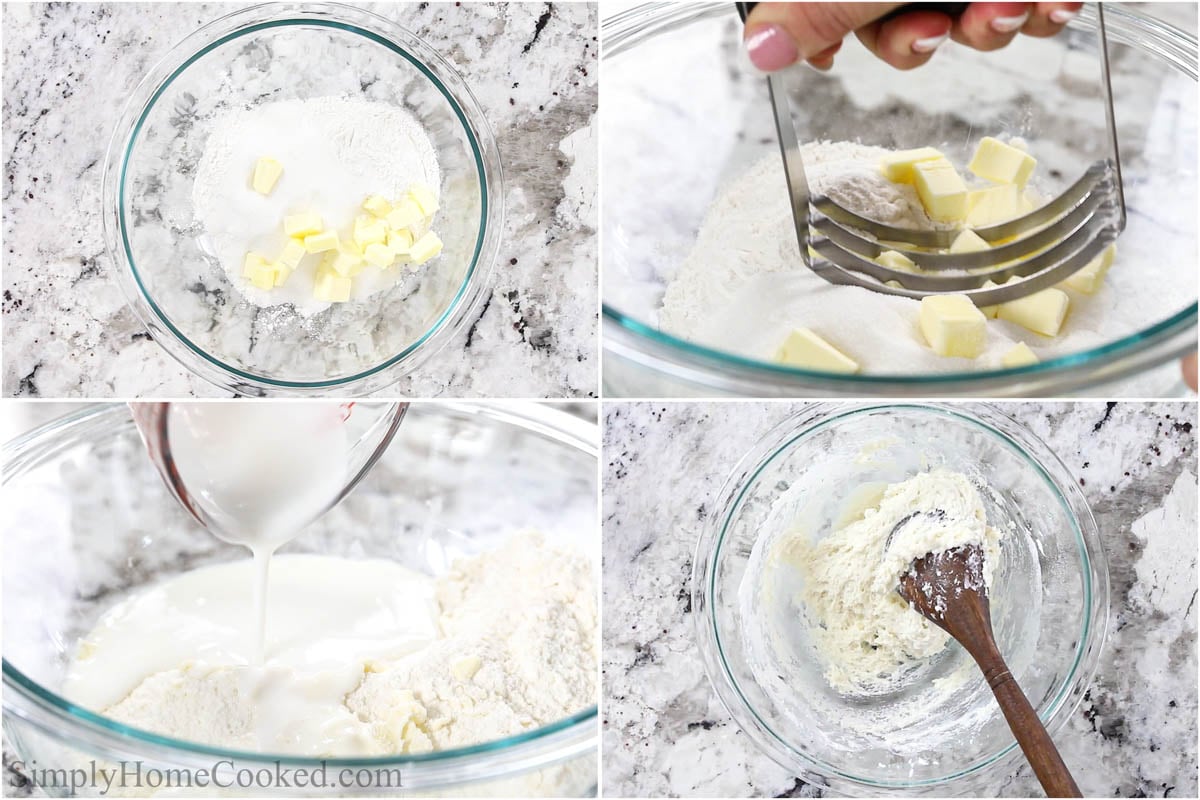 Scoop the topping on. Using a cookie scoop, dollop scoops of the dough on top of the baked peaches.
Bake. Brush the cobbler dough with melted butter and sprinkle it with coarse sugar. Bake at 370 degrees Fahrenheit for 35 to 40 minutes. Serve warm.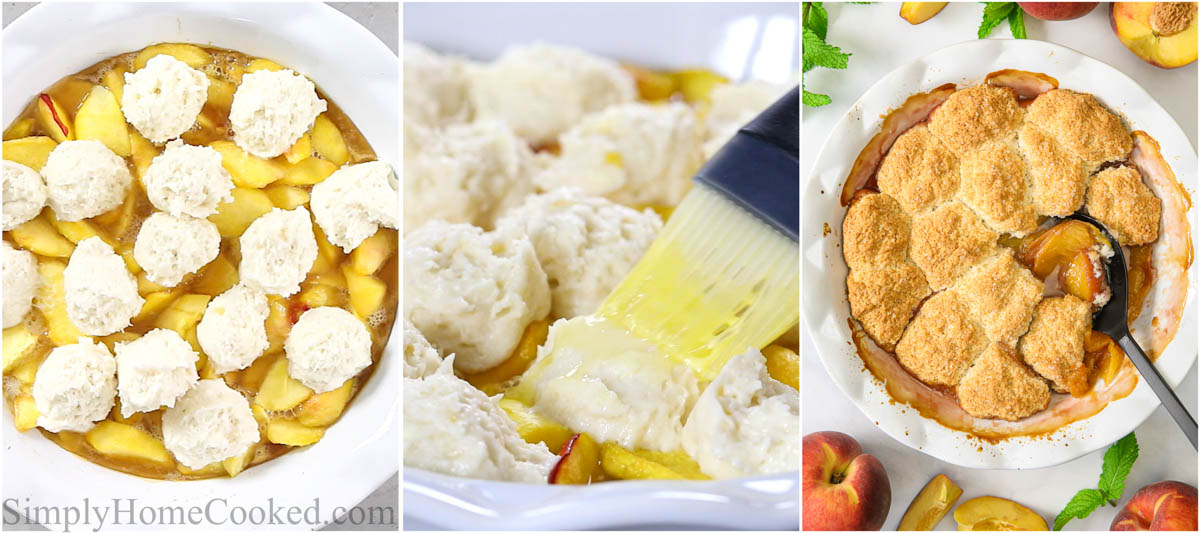 Recipe Tips
Use fresh peaches if possible- Fresh has the best flavor and texture, and they are in season and plentiful in summer. But if you have none, then you can also use frozen or canned (drained).
Peel the peaches for smoother texture- If you prefer not to chew on the peach skin, then make sure to peel them before slicing and baking. But this is a personal preference and either way works.
Don't skip the cornstarch- This ingredient is what thickens the peach filling to give it that syrupy consistency. Without it, your peach cobbler will be runny and get soggy.
Leave chunks of butter in the dough- Mixing in the cubed butter should leave pieces so it doesn't completely melt in during baking. This gives the biscuit topping its fluffy texture and buttery taste.
Add-ins and Substitutions
Use frozen peaches- If you don't have fresh, then you can use frozen as well. Just let them thaw and then drain them prior to using them for a cobbler.
Substitute different fruits in your cobbler- Apples, cherries, blueberries, plums, pears, or any combination of your favorite fruits will work.
Add caramel sauce- This sweet sauce will be a delicious topping that pairs well with peach cobbler.
Substitute gluten-free flour- Make this easy Peach Cobbler recipe gluten-free by substituting wheat-free flour in a 1:1 ratio.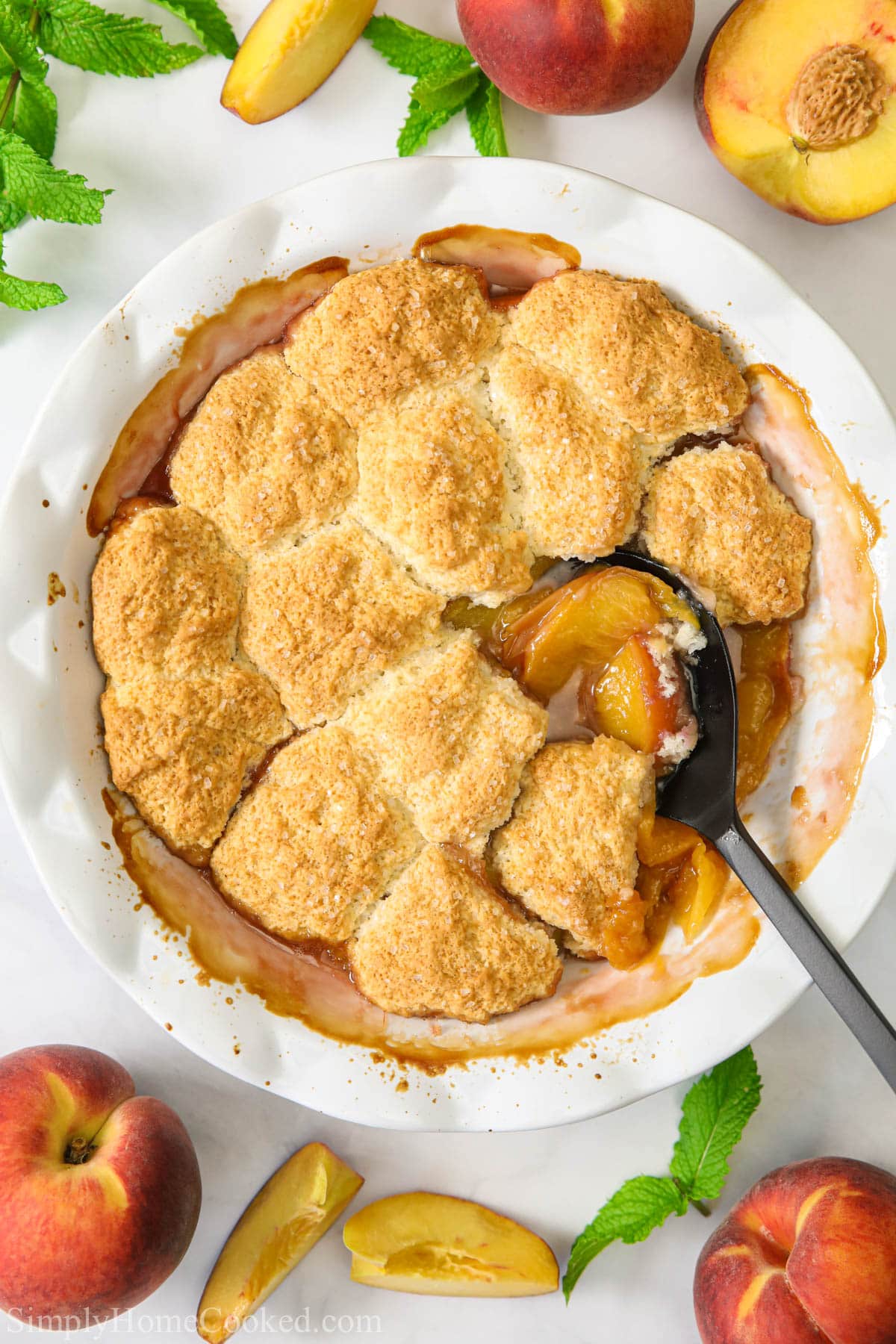 FAQs
What kind of peaches work best in peach cobbler?
Any variety will work well in a peach cobbler, so choose your favorite. Just make sure to use semi-soft, ripe peaches for the right texture and sweetness.
What is the difference between cobbler and pie?
Cobblers and pies are similar, but the main difference is that pies have a crust on the top and bottom while cobblers are just topped with a pastry dough or bisquick mix.
Serving Suggestions
This sweet and easy Peach Cobbler recipe is a great dessert to serve at get-togethers because it's so versatile. Here are few serving ideas: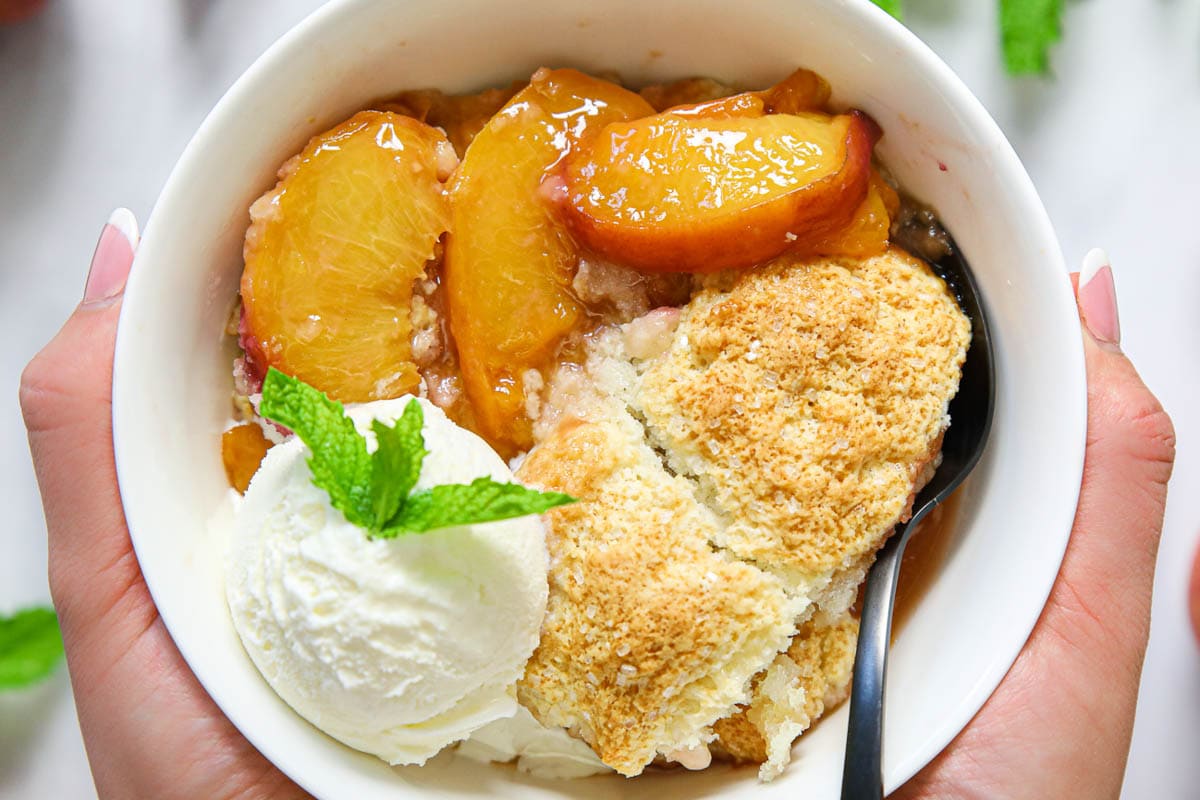 Make This Easy Peach Cobbler in Advance
Make ahead: Unfortunately, this Easy Peach Cobbler recipe should be baked right after it is made. Otherwise, the sugar can pull out the juices from the peaches and the topping will become denser. But to save time, you can use a bisquick mix to make the topping.
Storing: A peach cobbler is best eaten immediately after baking to avoid sogginess. But you can store it in an airtight container in the fridge for about 3-5 days.
Freeze: For this Peach cobbler, you can do one of two things. You can freeze the fruit filling or the entire cobbler. To freeze the cobbler, undercook it slightly, let cool, and wrap in foil and plastic wrap. Heat in the oven until warmed through when ready. I prefer to just freeze the filling though, as this gets it as close to fresh as possible with a perfectly fluffy biscuit topping. It will last in the freezer for up to 6 months.
More Tasty Fruit Desserts!
Watch a video on how to make this easy Peach Cobbler!
Full Recipe Instructions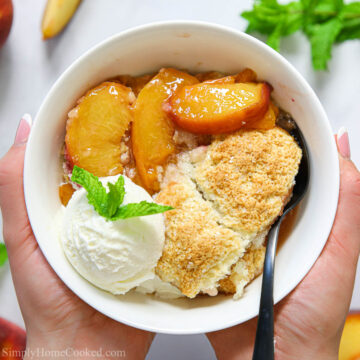 Easy Peach Cobbler Recipe
This easy homemade peach cobbler recipe will become your favorite summer dessert. Juicy peaches topped with a buttermilk biscuit topping and baked to perfection!
Print
Pin
Rate
Instructions
Peel and slice 4 peaches then place them into a large bowl.

In a separate bowl combine 1 cup off all-purpose flour, 2 tsp baking powder, 1/4 tsp salt, and 1/4 cup granulated sugar, then add 1/4 cup of cubed unsalted butter.

Beak up the butter using your hands.

Now pour in 1/2 cup of buttermilk and mix it with a wooden spoon.

Now using a cookie scoop, dollop scoops of the dough on top of the baked peaches.

Brush the cobbler dough with 1 tbsp melted butter and sprinkle with coarse sugar. Bake at 370°F for about 35 to 40 minutes.
Nutrition
Calories:
287
kcal
|
Carbohydrates:
46
g
|
Protein:
4
g
|
Fat:
11
g
|
Saturated Fat:
7
g
|
Cholesterol:
28
mg
|
Sodium:
222
mg
|
Potassium:
376
mg
|
Fiber:
2
g
|
Sugar:
28
g
|
Vitamin A:
573
IU
|
Vitamin C:
5
mg
|
Calcium:
115
mg
|
Iron:
1
mg