These Chocolate Chip Cookie Bars are chewy and richly sweet. Swimming in chocolate chips, you are going to love this absolutely delicious chocolaty treat.
For more amazing cookie recipes, you should try these oatmeal chocolate chip cookies (video) and chewy M&M cookies.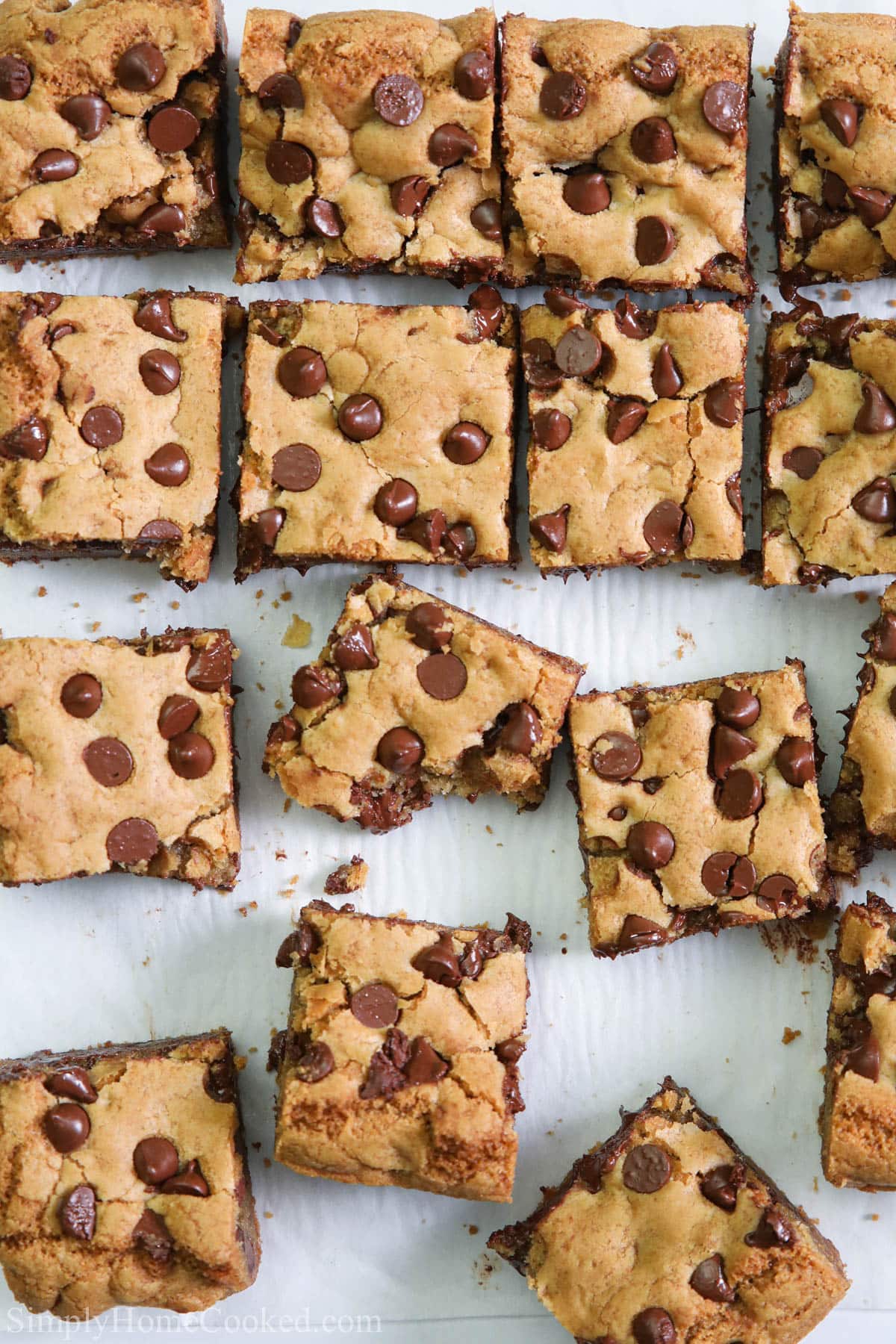 Table Of Contents
Chocolate Chip Cookie Bars Recipe Details
These Chocolate Chip Cookie Bars are everything you could want in a dessert. I just love how decadent these chocolate treats are.
TASTE: This dessert has tons of buttery sweet flavor, from the chocolate chips to the brown sugar to the melted butter.
TEXTURE: Filled with gooey, melted chocolate chips, these cookie bars have deliciously soft, chewy edges.
TIME: These Chocolate Chip Cookie Bars will take just about 40 minutes to make.
EASE: This recipe is probably even easier than cookies (no shaping!) and can be made ahead of time and even frozen.
What You'll Need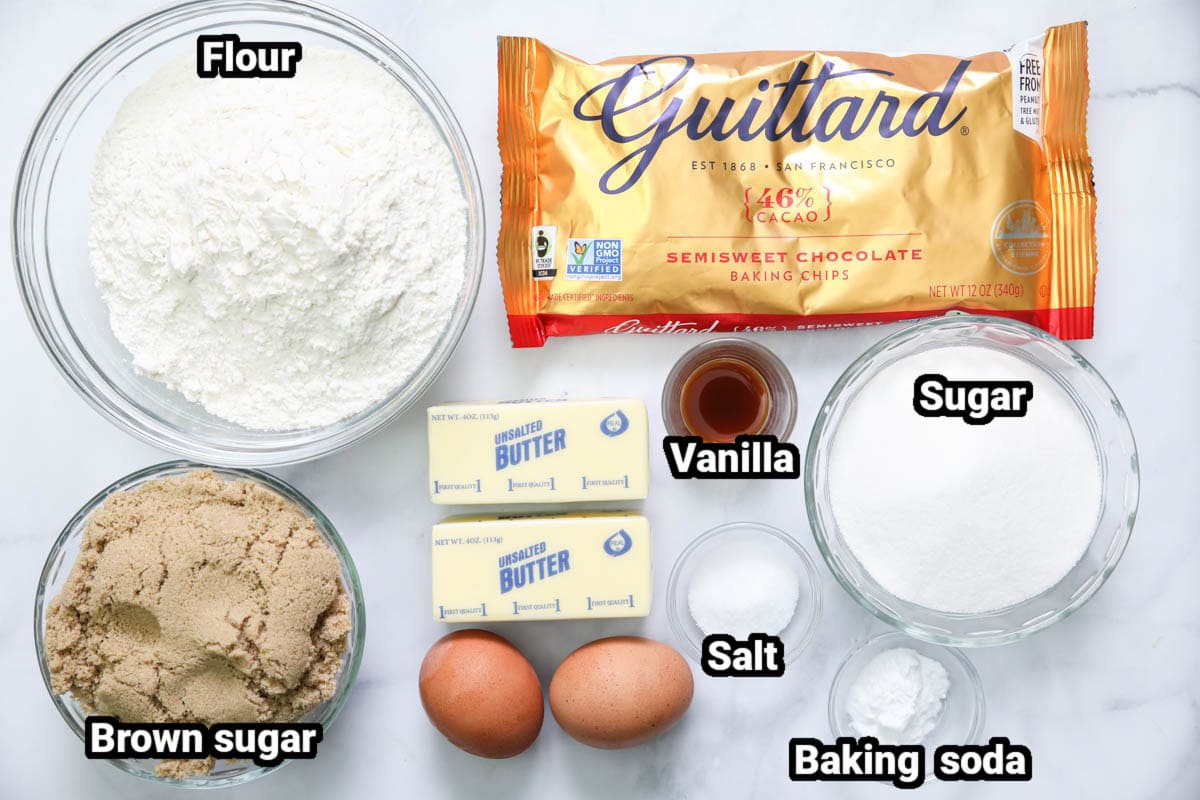 Ingredient Notes
Brown sugar- Golden brown sugar is a must for chewy cookies. If you don't have any, you can make your own by combining 1 1/4 cup granulated sugar with 1 1/2 tablespoons of molasses. So easy!
Chocolate chip- I always say to use good quality chocolate chips like Guittard.
How to Make Chocolate Chip Cookie Bars
Sift the dry ingredients. In a large bowl, sift the flour, salt, and baking soda together. Set aside.
Mix the sugar and butter. In another bowl, whisk the melted butter, brown sugar, and granulated sugar together for about 1 minute. Make sure the sugar and butter are well incorporated.
Add the rest of the wet ingredients. Now add the eggs and vanilla extract to the sugar mixture. Whisk again thoroughly.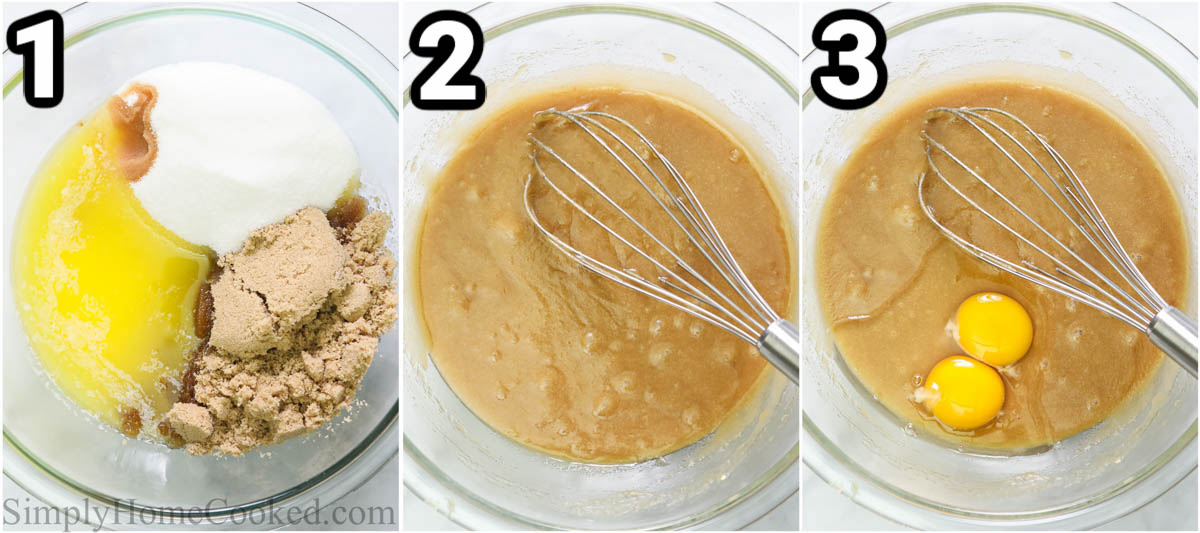 Add the flour mixture to the wet ingredients. Using a spatula, add the flour mixture into the cookie dough, folding and mixing until everything is incorporated evenly.
Add the chocolate chips. Now add the chocolate chips (except 1/3 cup to be set aside) to the dough and mix them in.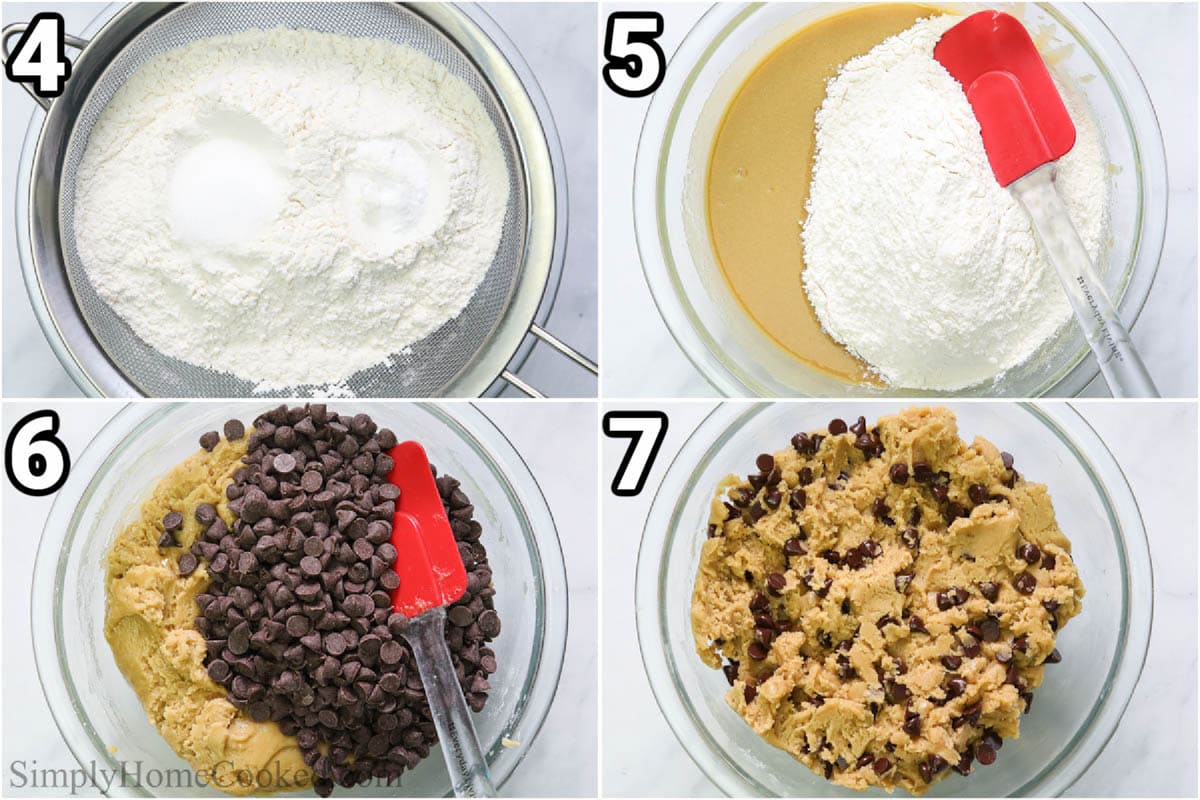 Bake. In a parchment paper-lined, 9×9 inch deep baking dish, press the dough down flat until it reaches the sides. Then, top it with the remaining chocolate chips and bake for 40-50 minutes at 350 degrees Fahrenheit on the center rack. Allow it to cool some before removing from the pan and cutting into cookie bars.
Pro Tip: Every oven is different, so the bake time may vary. Just make sure that the center is baked by inserting a toothpick and seeing that it comes out cleanly (don't worry if there is some melted chocolate on it).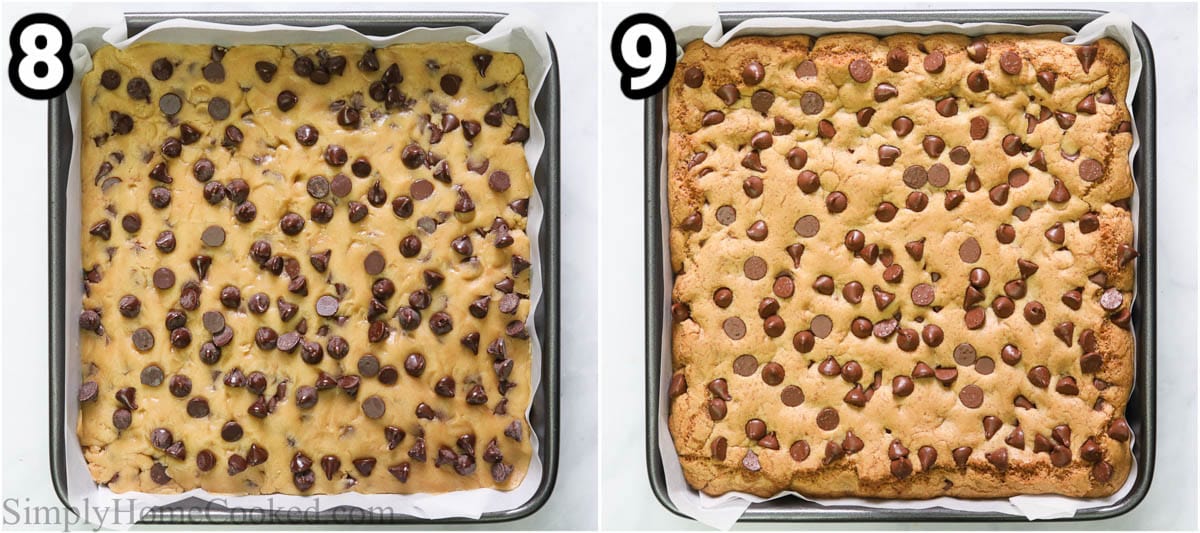 Recipe Tips
Measure the flour properly- The proportion of flour has to be just right to get the texture that you want for these cookie bars, so spoon and level off each measuring cup full of flour with a knife for accuracy.
Sift the flour- Sifting your flour removes any clumps and makes sure the flour is light and airy when it's mixed into the other ingredients. This will give your cookie bars the best texture.
Use good-quality chocolate chips- Since your chocolate chips are going to be the star of the show, it's best to choose good-quality chocolate. Believe me, you'll taste the difference.
Allow them to cool before cutting- These bars are very moist. and soft, so let them cool and set a little before cutting them into pieces to avoid them breaking apart.
Add-ins and Substitutions
Add nuts- Add in some walnuts, pecans, or almonds to add a crunchy element to these cookie bars.
Substitute different chocolates- These don't have to be milk chocolate chips. You can use white chocolate, dark chocolate, or for a holiday theme, chunks of peppermint bark, too.
Add your favorite flavors- If you want a more buttery taste, try some butter extract. You can also experiment with mint extracts, orange zest, or peanut butter to alter the flavor profile of these chocolate chip cookie bars.
Make them allergen-friendly- Substituting gluten-free flour 1:1 with the all-purpose flour makes these bars gluten-free. Using plant-based butter and dairy-free chocolate chips makes them safe for those avoiding dairy.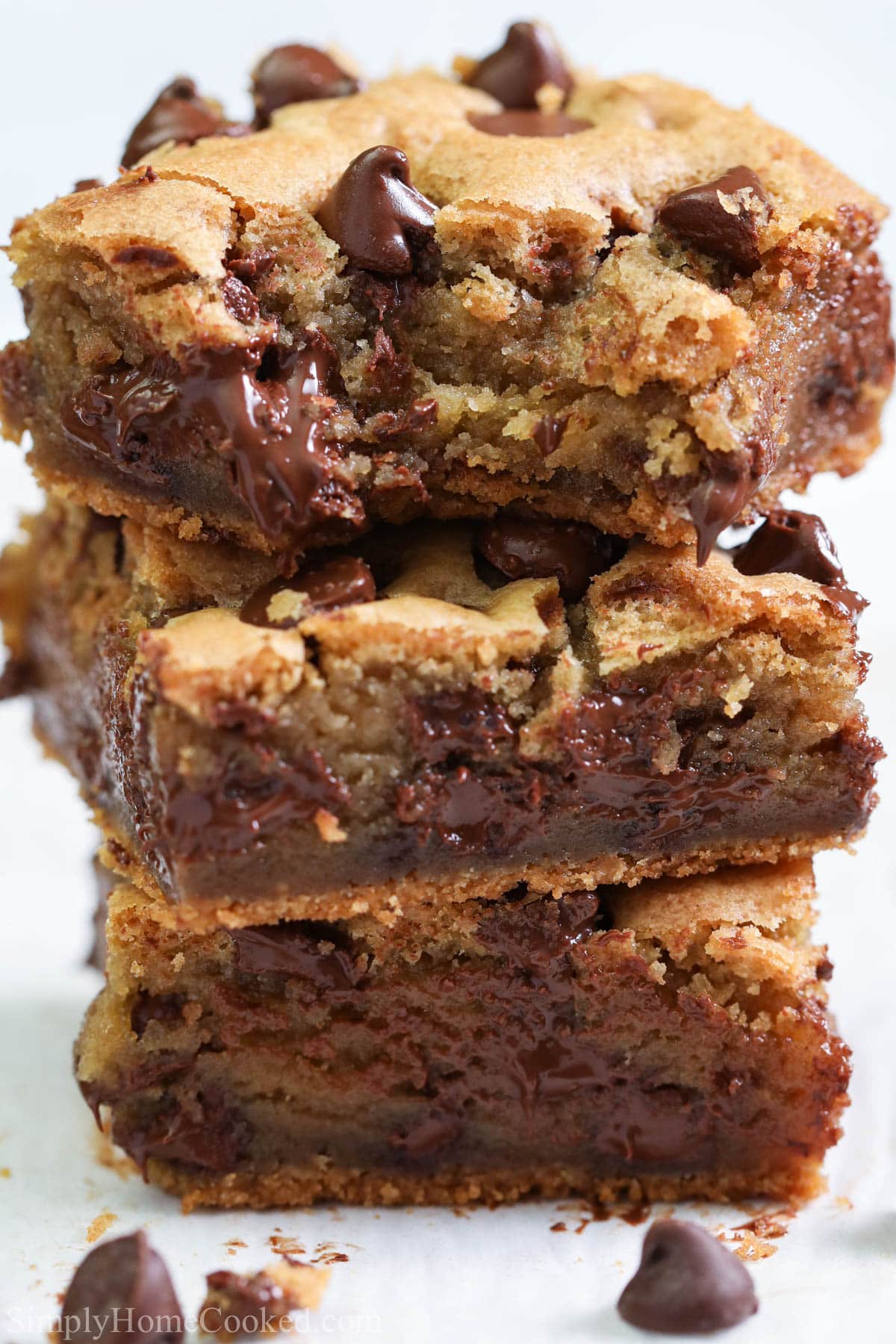 FAQs
How long do Chocolate Chip Cookie Bars take to bake?
These Chocolate Chip Cookie Bars bake for 30 minutes. This gives the dough enough time to cook but still remains moist and chewy in the middle. There may be some variation in bake time depending on your oven and altitude, so check them as you get close to the end of the 30 minutes.
How do I keep my cookie bars soft?
Keep them soft by not letting them lose all their moisture after baking. As soon as they cool. put them into an airtight container and store them at room temperature. This will lock in the moisture and lockout the air that dries cookie bars out.
Serving Suggestions
These Chocolate Chip Cookie Bars are everyone's favorite dessert, so they can be served with just about anything. Here are some tasty pairings that you can serve.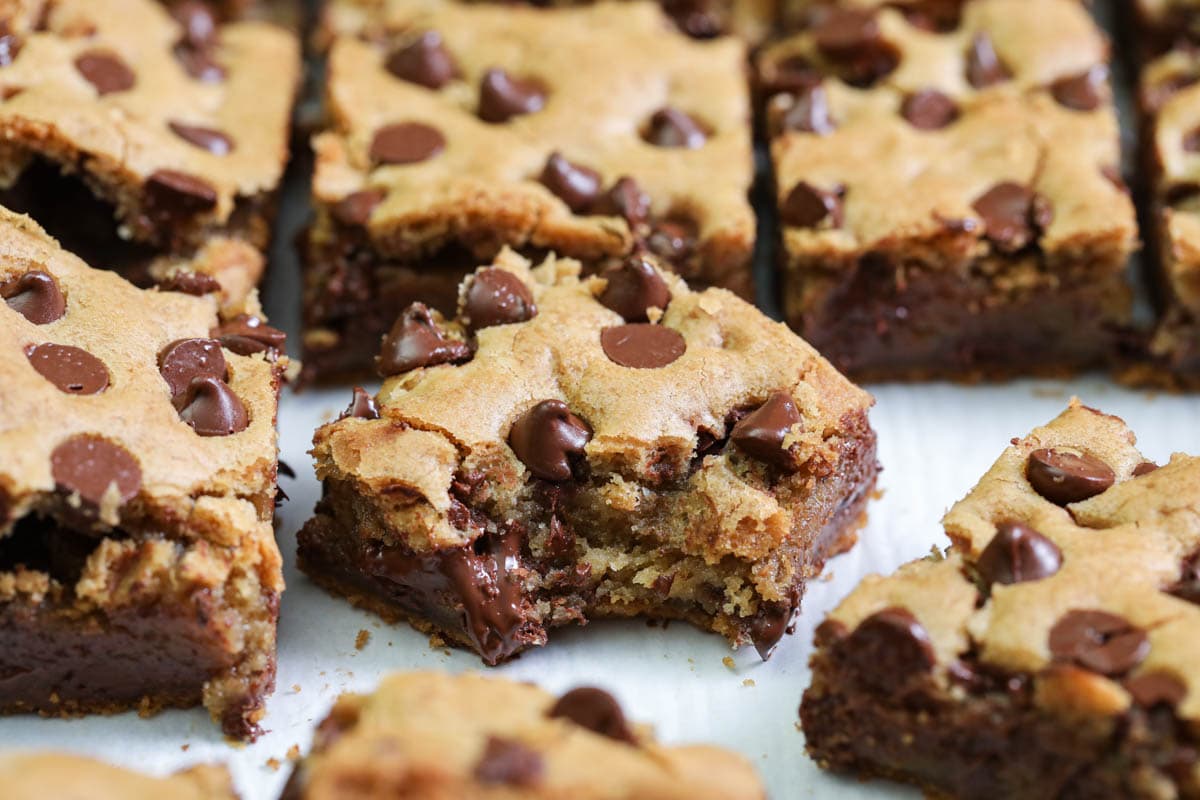 Make These Chocolate Chip Cookie Bars in Advance
Make ahead: You can absolutely make the dough in advance. Prepare the dough as directed and then keep it in an airtight container in the refrigerator or freezer until you are ready to bake it.
Storing: These Best Chocolate Chip Cookie Bars will remain fresh for up to 3 days in an airtight container at room temperature or in the refrigerator.
Freeze: Once these cookie bars are fully cooled and cut, wrap each in plastic wrap and freeze in an airtight container or in a freezer ziplock bag so you can defrost only what you want to eat.
More Delicious Cookies!
Full Recipe Instructions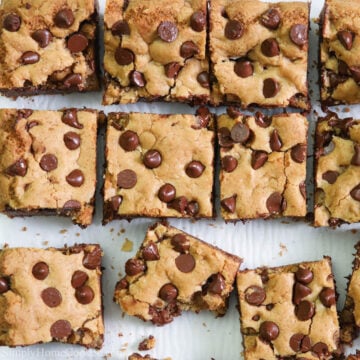 Chocolate Chip Cookie Bars
These Best Chocolate Chip Cookie Bars are scrumptious! Sweet, rich, and chewy, there is chocolaty deliciousness in every bite.
Print
Pin
Rate
Instructions
In a large bowl sift together 2 1/2 cups flour, 1 teaspoon baking soda, and 1 1/2 tsp salt.

In a separate bowl add 1 cup of melted unsalted butter, 1 cup of granulated sugar, and 1 1/4 cup of golden brown sugar. Using a whisk, mix it all together for about 1 minute. You want to make sure the sugar and butter are well incorporated together.

Now add 1 egg, 1 egg yolk, and 1 1/2 teaspoons of vanilla extract to the butter and sugar mixture. Whisk again thoroughly.

Now add the flour mixture to the cookie batter and mix together using a spatula.

Now line a 9×9 inch deep baking dish with parchment paper and press in the cookie dough. Now top it with the remaining 1/3 cup of semi-sweet chocolate chips and bake at 350°F for 40-50 minutes on the center rack or until the center is baked through. Every oven is different so the bake time may vary.
Nutrition
Calories:
425
kcal
|
Carbohydrates:
56
g
|
Protein:
4
g
|
Fat:
21
g
|
Saturated Fat:
12
g
|
Cholesterol:
54
mg
|
Sodium:
310
mg
|
Potassium:
179
mg
|
Fiber:
2
g
|
Sugar:
38
g
|
Vitamin A:
397
IU
|
Calcium:
38
mg
|
Iron:
3
mg