These Double Chocolate Cookies are all gooey and chewy deliciousness! Rich fudge cookies with lots of chocolate chips, you're going to love this recipe!
Looking for more awesome cookie recipes? You should definitely try these Walnut Chocolate Chip Cookies and Chewy Nutella Cookies.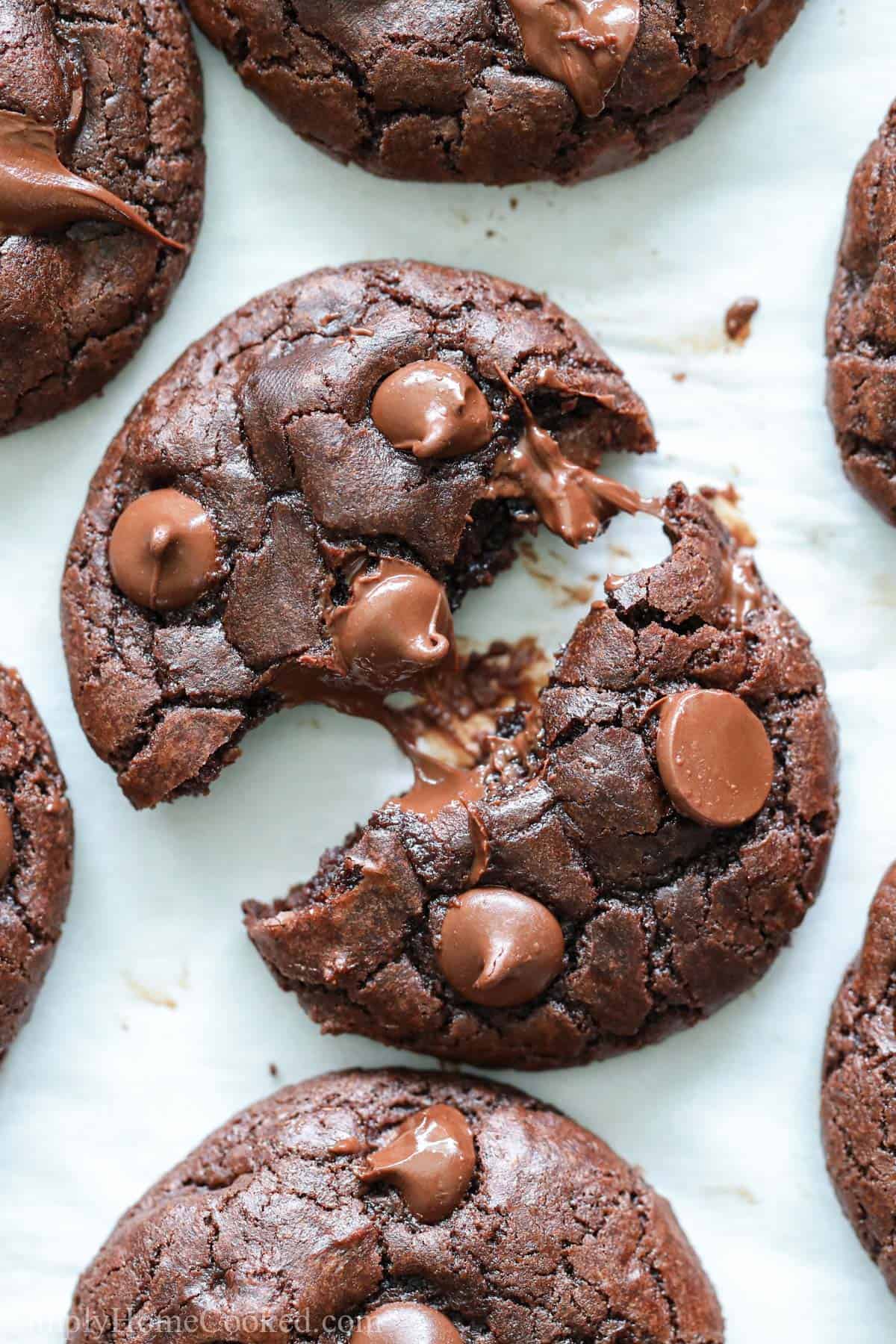 Double Chocolate Cookies Recipe Details
I love soft, chewy cookies, and these Double Chocolate Cookies are the best. They pull apart to reveal sweet melted chocolate on the inside. And even better, they're incredibly easy to make!
Taste- Rich, sweet, and chocolaty, these cookies are the perfect treat.
Texture- These Double Chocolate Cookies are so soft and chewy, with melted chocolate practically oozing from each one.
Ease- This recipe is so easy to follow. You can also make extra and freeze them so you always have some on hand.
Time- It takes less than half an hour to make a batch of these Double Chocolate Cookies. No chill time for the dough makes this super simple.
What You'll Need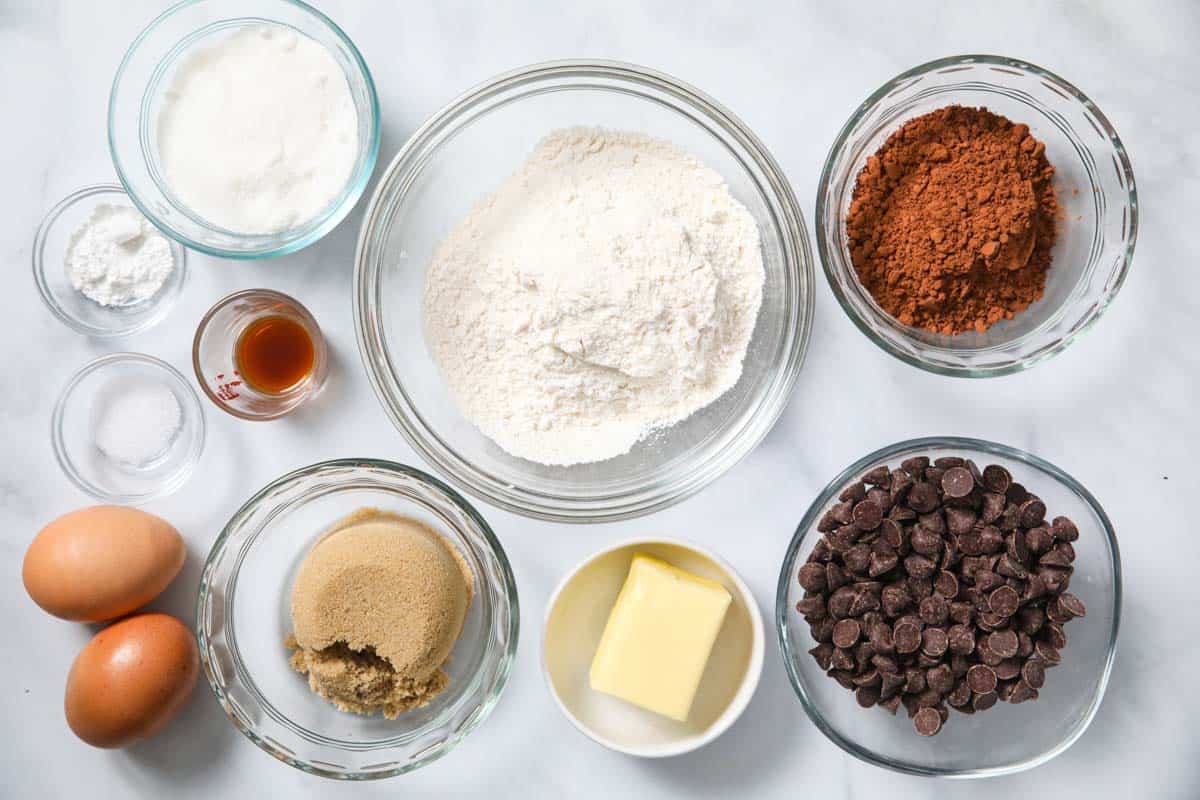 How to Make Double Chocolate Cookies
Combine the dry ingredients. Using a mesh sieve over a mixing bowl, sift in the flour (precisely measured), cocoa powder, salt, and baking powder. Set aside.
Mix the wet ingredients together. In another bowl, add the sugars and melted butter. Whisk them all together thoroughly. Then, add the egg and egg yolk, as well as the vanilla. Whisk again until smooth.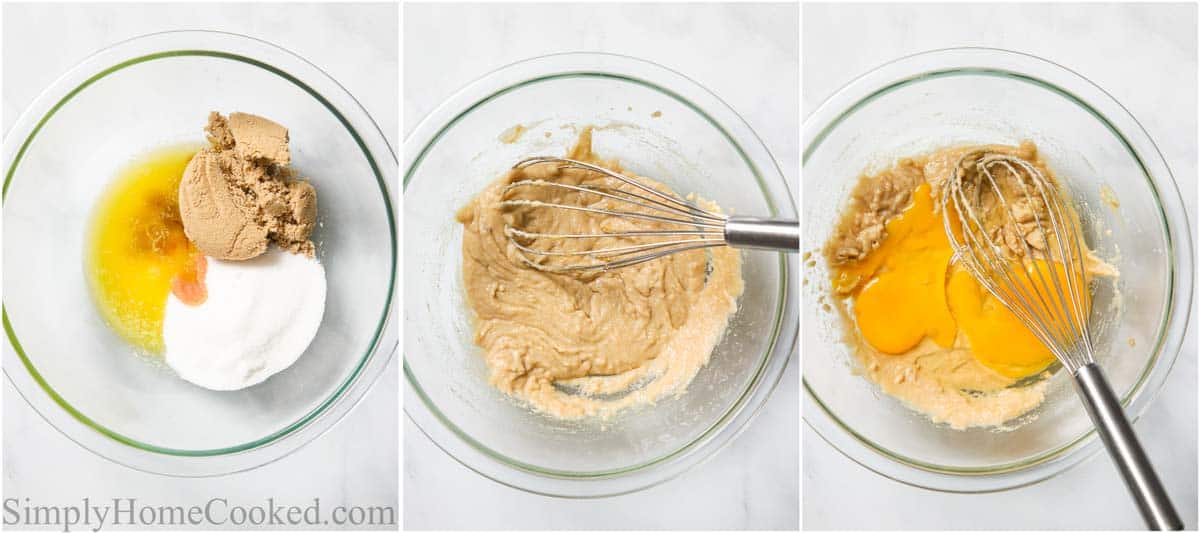 Combine the wet and dry ingredients. Mixing gently with a spatula, add the dry ingredients to the wet.
Add in the chocolate chips. Reserving 1/4 cup of the chocolate chips, add the rest into the chocolate cookie dough. Mix them in as evenly as possible.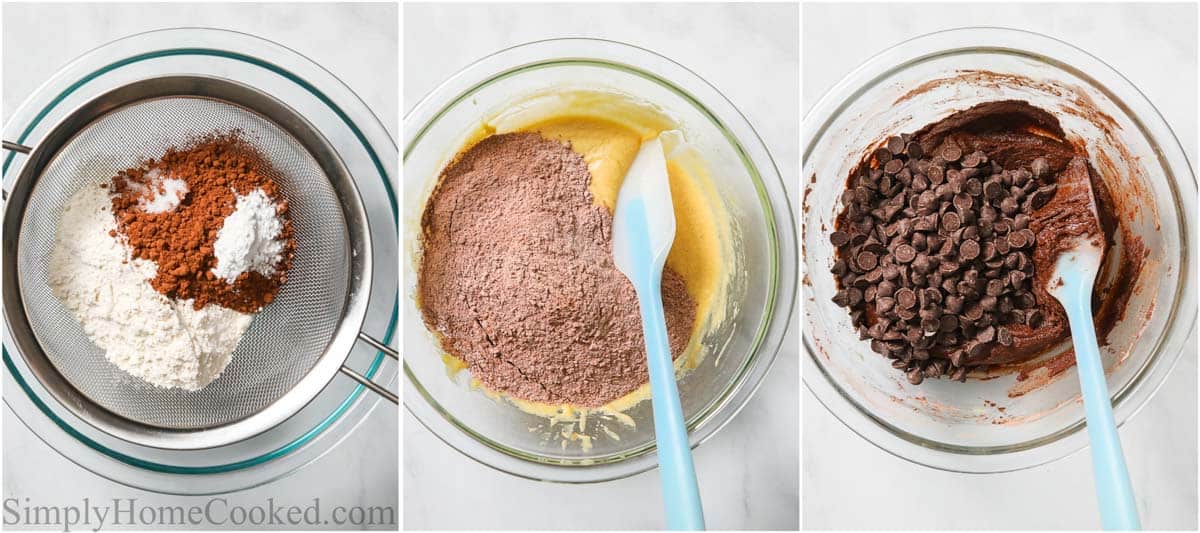 Scoop out the dough. Using a medium-sized cookie scoop, scoop out heaping mounds of cookie dough and place them about 2 inches apart on a parchment paper-lined baking sheet. If you want, you can roll them into balls in your hands or leave them as is, it's up to you.
Add the reserved chocolate chips. Top each cookie dough ball with a few chocolate chips.
Bake. Bake the cookies for 9 minutes at 350 degrees Fahrenheit. Then, let them cool slightly before serving.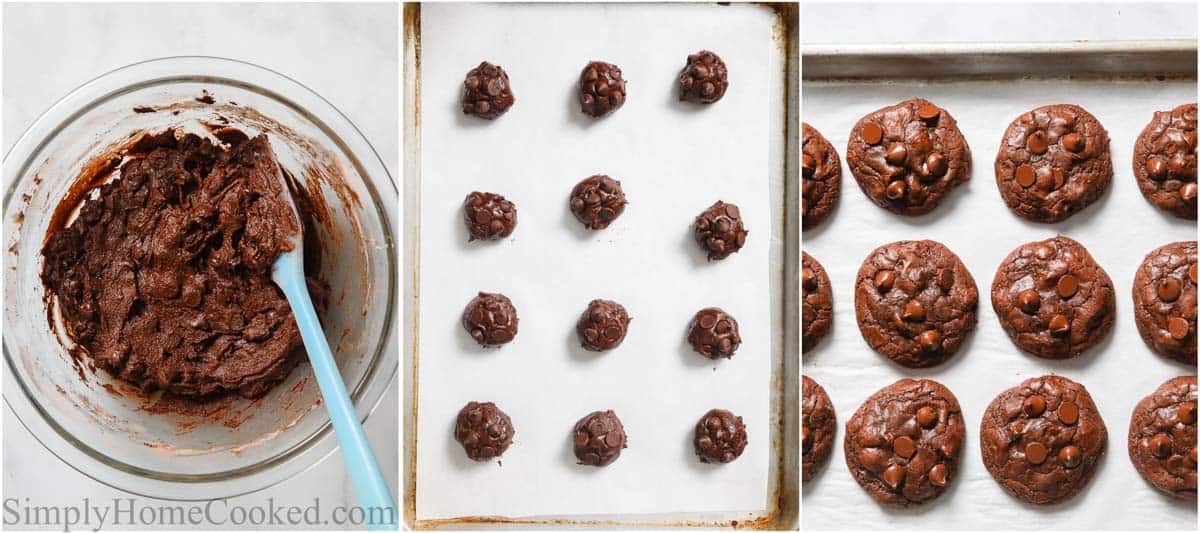 Recipe Tips
Spoon and level the flour when measuring- Scooping flour into a measuring cup can pack it in, inadvertently adding too much and drying out your dough. Instead, spoon the flour into the cup and level it off with a knife to get the precise amount.
Use a spatula to mix the cookie dough- This is a great tool for mixing dough because it is too thick for a whisk or spoon. It also forces you to fold the dry and wet ingredients together, keeping the dough from becoming overworked and tough.
Place the cookies 2 inches apart- This cookie dough spreads quite a bit, so place the dough balls 2 inches apart on the baking sheet so they don't meld into each other.
Add extra chocolate chips on top- To get that picture-perfect cookie, round out the balls in your hands and add some extra chocolate chips on top before baking. Press slightly to make sure they don't fall off while in the oven.
Add-ins and Substitutions
Add nuts- Try these Double Chocolate Cookies with walnuts, almonds, pecans, or macadamia nuts for a little extra crunch.
Make them gluten-free- Using gluten-free flour in place of the regular all-purpose flour is all you need to do to make these gluten-free.
Substitute different types of chocolate– You can also make these cookies with white chocolate chips, dark chocolate, or even peanut butter flavored chips.
Add mint- If you love mint chocolate treats, then add a little mint extract to the wet ingredients to make these into mint chocolate cookies. Perfect for the holidays!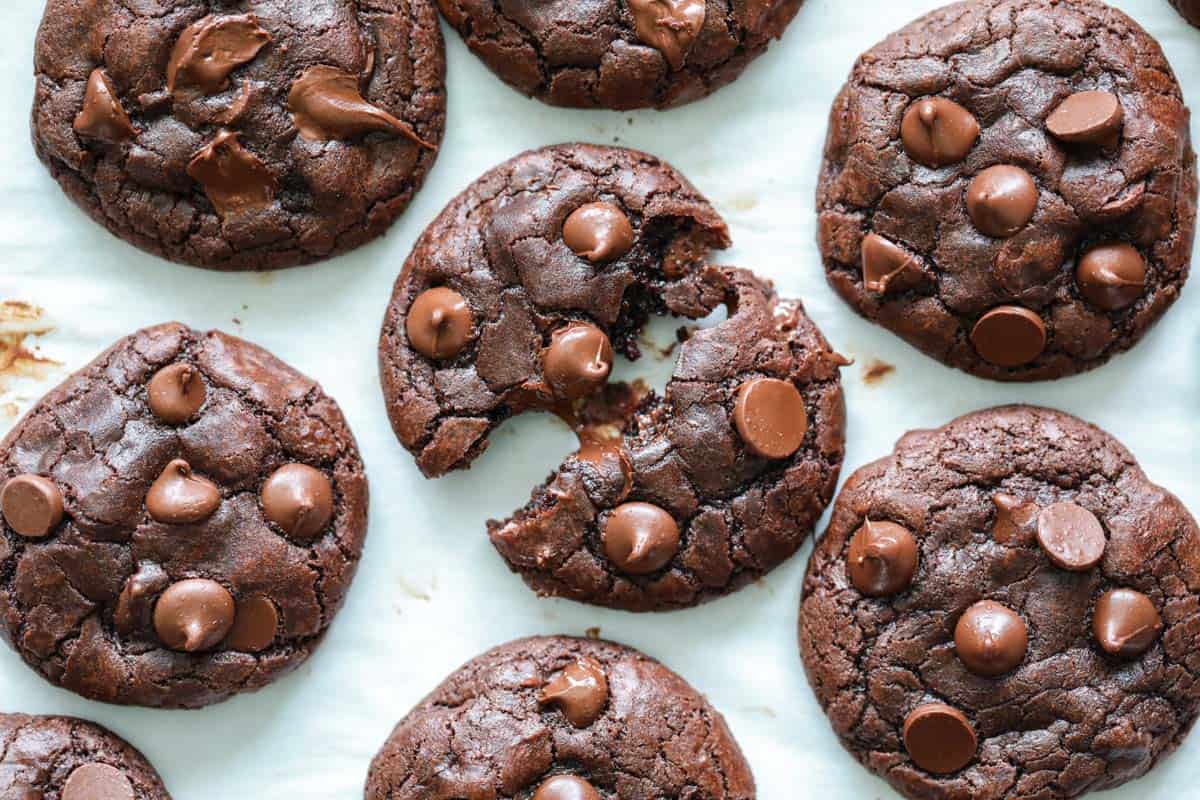 FAQs
Do I have to use Dutch-processed cocoa?
No, you don't have to, but it is highly recommended. Dutch cocoa is darker in color and has a smoother flavor because some of the acidity has been neutralized. If you decide to substitute regular cocoa powder, you will need to substitute the baking powder with baking soda, and use half the amount.
Do I need to chill the dough?
No, you don't. For these Double Chocolate Cookies, you aren't required to chill the dough because they are expected to spread as they bake (which is why they are placed 2 inches apart). Chilling the dough will result in rounder, fluffier cookies, which we don't really want this time.
Serving Suggestions
As far as I'm concerned, everything works with chocolate. But here are a few dessert suggestions to serve with these Double Chocolate Cookies: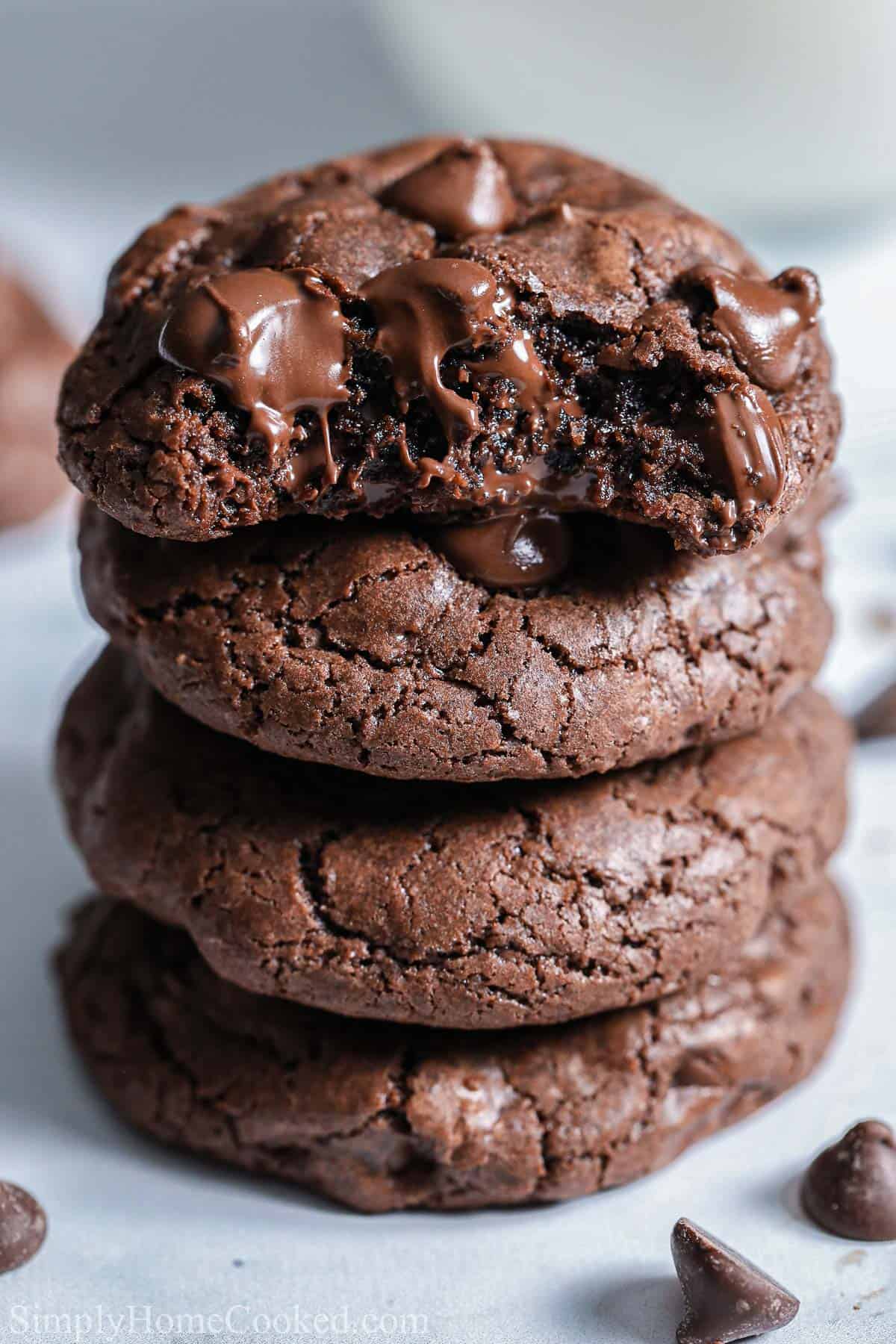 Make These Double Chocolate Cookies in Advance
Make ahead: These Double Chocolate Cookies can be frozen as dough balls or once they've been baked and cooled. Just place them in an airtight container to avoid them becoming stale or getting freezer burn.
Storing: You can store these Double Chocolate Cookies in an airtight container for up to 5 days at room temperature.
Freeze: To freeze the dough, place the scooped cookie dough balls on a baking sheet and freeze for about an hour. Once they've hardened, you can then place them in a ziplock freezer bag. Baked and cooled cookies can be put in a container with wax paper between each layer to avoid sticking. The cookies and dough will last for 8-12 months in the freezer.
More Yummy Cookies!
Video Recipe Here
Full Recipe Instructions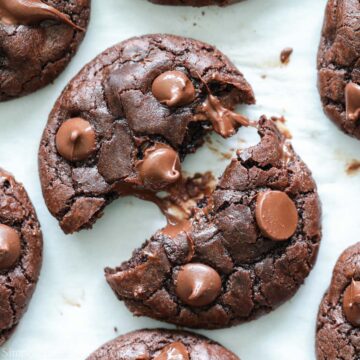 Double Chocolate Cookies
These Double Chocolate Cookies are so rich and gooey. If you love moist chocolate chip cookies, you're going to love this recipe.
Print
Pin
Rate
Instructions
The first thing you want to do is measure out 1 cup of all-purpose flour. And make sure to spoon it in and level it off with a knife. Measuring flour properly is super important in baking.

Now place a mesh sieve on top of your mixing bowl and add the flour in along with 1/3 cup dutch cocoa powder, 1/4 tsp salt, and 1 tsp baking powder.

Now gently sift the dry ingredients into your bowl. If you see any larger clumps, just press them in with the back of a spoon. Now set the dry ingredients aside for later.

In a separate bowl add 1/3 cup unsalted melted butter along with 1/2 cup granulated sugar and 1/2 cup of golden brown sugar. 

Using a whisk thoroughly mix the sugar in the melted butter together.

Now add one large egg plus 1 large egg yolk. Then pour in 1 tsp of vanilla extract.

Now grab your whisk again and mix it very well. You want the consistency to be very smooth so this might require a little bit of elbow grease.

Now grab your sifted dry ingredients and add them to the butter and sugar mixture. Mix them gently with a spatula.

Now before adding in 1 cup of semisweet chocolate chips, reserve about 1/4 cup. They will be used to top the cookies before baking. 

Now mix in the chocolate chips into the dough and evenly as possible.

Line your baking sheet with parchment paper and grab your cookie scoop. ( I used a medium size)

Scoop out heaping mounds of the chocolate cookie dough onto your baking sheet. Making sure to space them about at least 2 inches apart. 

Now you can leave them as they are or you can roll each ball into your hand for a prettier looking cookie. But that's optional though.

Now top each cookie with a few of those chocolate chips we reserved earlier and bake the cookies at 350 degrees Fahrenheit for about 9 minutes. Once they're baked, let the cookies slightly cool before enjoying them.
Notes
FAQs answered in the post above
Do I have to use Dutch cocoa?
Should I chill the dough?
How to make them ahead of time
Nutrition
Calories:
166
kcal
|
Carbohydrates:
23
g
|
Protein:
2
g
|
Fat:
8
g
|
Saturated Fat:
5
g
|
Cholesterol:
19
mg
|
Sodium:
40
mg
|
Potassium:
122
mg
|
Fiber:
2
g
|
Sugar:
15
g
|
Vitamin A:
123
IU
|
Calcium:
26
mg
|
Iron:
1
mg