These Chocolate Cheesecake Bars make such a delectable dessert. Easy to make and very convenient, you'll love the rich creaminess of these yummy chocolate bars.
Love cheesecake? You have got to try this New York-style cheesecake and this delicious pumpkin cheesecake.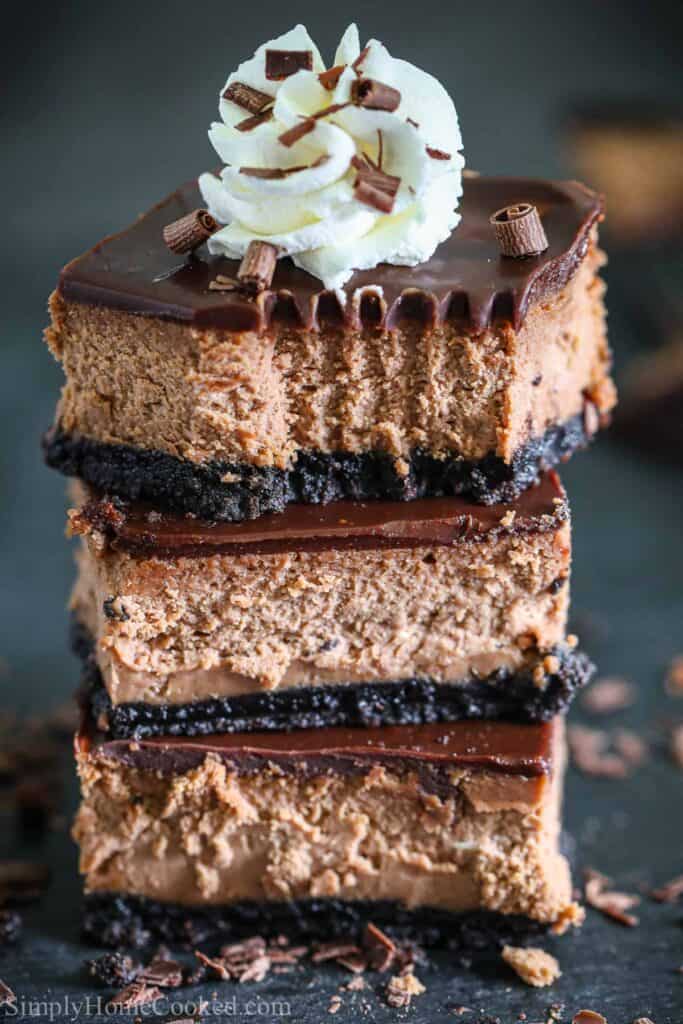 Table Of Contents
Chocolate Cheesecake Bars Recipe Details
These Chocolate Cheesecake Bars are a truly decadent dessert. I adore how creamy and rich they are, with a crunchy Oreo cookie crust and smooth chocolate ganache on top. I love using Oreos in my desserts because of their crunch and flavor, like in these oreo cake pops and these no-bake oreo cake balls. You're going to love how easy and tasty these bars are!
Taste: Rich, sweet, and chocolaty, these Chocolate Cheesecake Bars are yummy.
Texture: Creamy and crunchy, the mix of Oreo crust and cheesecake filling is so decadent. A smooth chocolate ganache finishes it off.
Time: This recipe will take a little over 2 hours, but the active prep time is only 25 minutes, so you're not stuck in the kitchen all day.
Ease: These chocolate cheesecake bars look fancy, but they're very easy to make, store, and prep ahead of time.
What you'll need
For the crust
For the cheesecake filling
For the ganache topping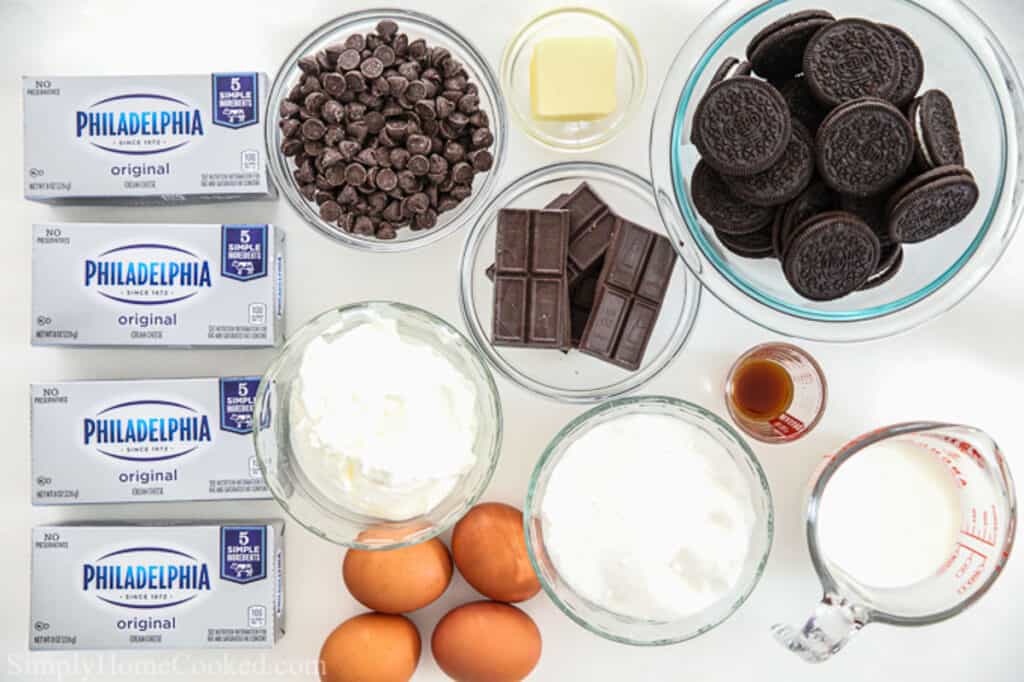 How to Make Chocolate Cheesecake bars
First, make the crust:
Make the chocolate crust. Combine the Oreo cookies and the melted butter in a food processor. Pulse at high speed until the cookies become fine crumbs.
Bake the crust. Pour the crumb mixture into a 9×13 pan that is covered in foil and coated with cooking spray. Use your fingers or a measuring cup to press them down smoothly to the bottom of the pan. Bake at 350 degrees Fahrenheit for 10 minutes. Then remove and let cool.
Then, make the chocolate cheesecake bar filling: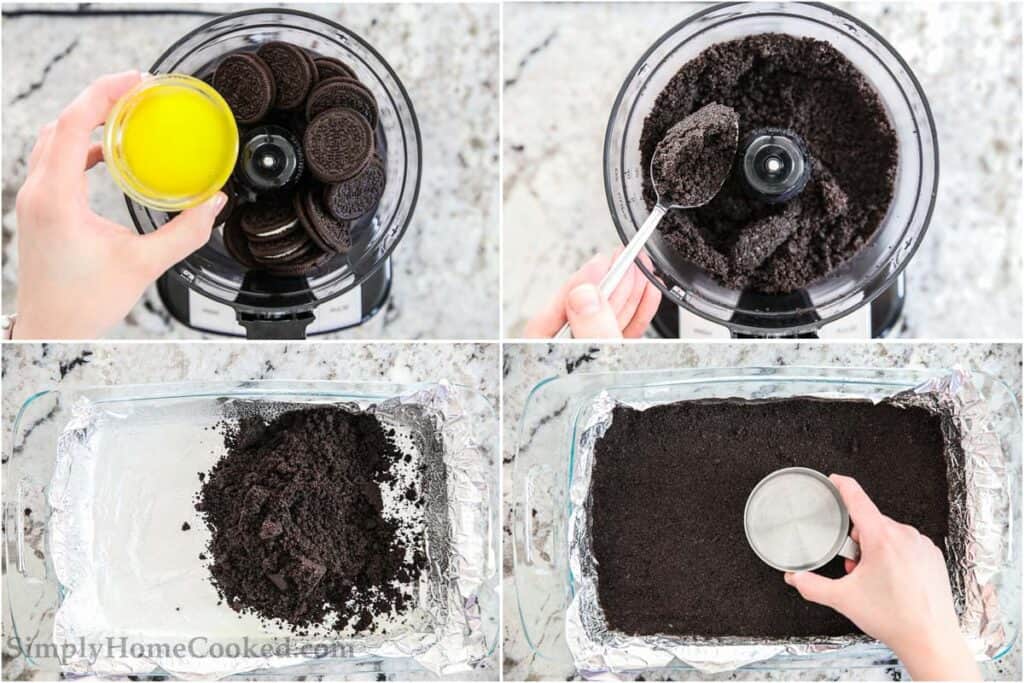 Mix cream cheese, vanilla, and sugar. Add the softened cream cheese to a stand mixer with the vanilla and sugar. Then beat them on high speed until they are smooth and creamy, making sure to scrape the sides of the bowl as you go.
Add sour cream. Add in the sour cream and beat again at high speed until well incorporated.
Melt and add the chocolate. In the microwave, melt the semi-sweet chocolate and add it to the mixture. Mix on medium speed, scrape the sides of the bowl, and then mix again.
Carefully add 1 egg at a time. Take one of the room temperature eggs and whisk it in a small bowl. Then add it to the batter at low speed. Once it is incorporated, do the same with the other eggs, one at a time.
Bake the chocolate cheesecake. Pour the batter into the Oreo cookie crust, scraping the bowl's sides to get everything. Bake the cheesecake at 350 degrees Fahrenheit for 15 minutes, then drop the heat to 250 degrees and bake for 1 1/2 hours.
Allow to cool. When it's done cooking, shut off the oven and leave the cheesecake inside until it has cooled to room temperature. Do not open the oven at all because the sudden change in temperature could cause the cheesecake to crack or collapse.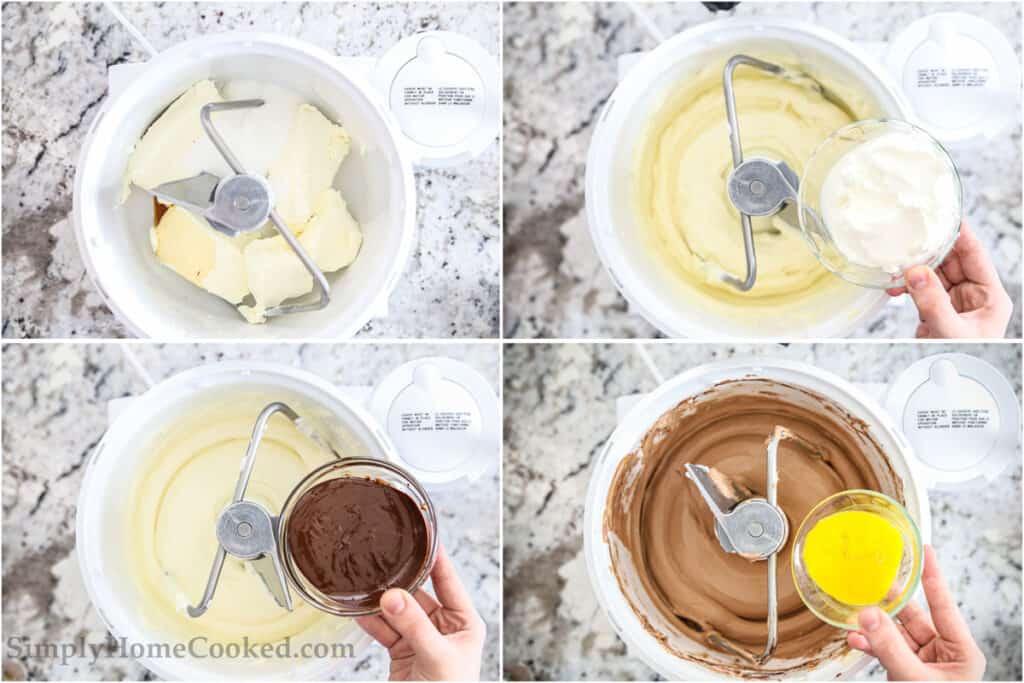 Last, make the chocolate ganache:
Make the ganache. When the cheesecake has cooled, place the chocolate chips in a glass bowl and add boiling-hot heavy cream. Let it sit for a minute before whisking it very quickly. It should turn into a smooth ganache. Pour it on top of the chocolate cheesecake and smooth it with a spatula.
Cool, cut, and serve. Place it in the refrigerator for about 4 hours before cutting it into cheesecake bars and serving.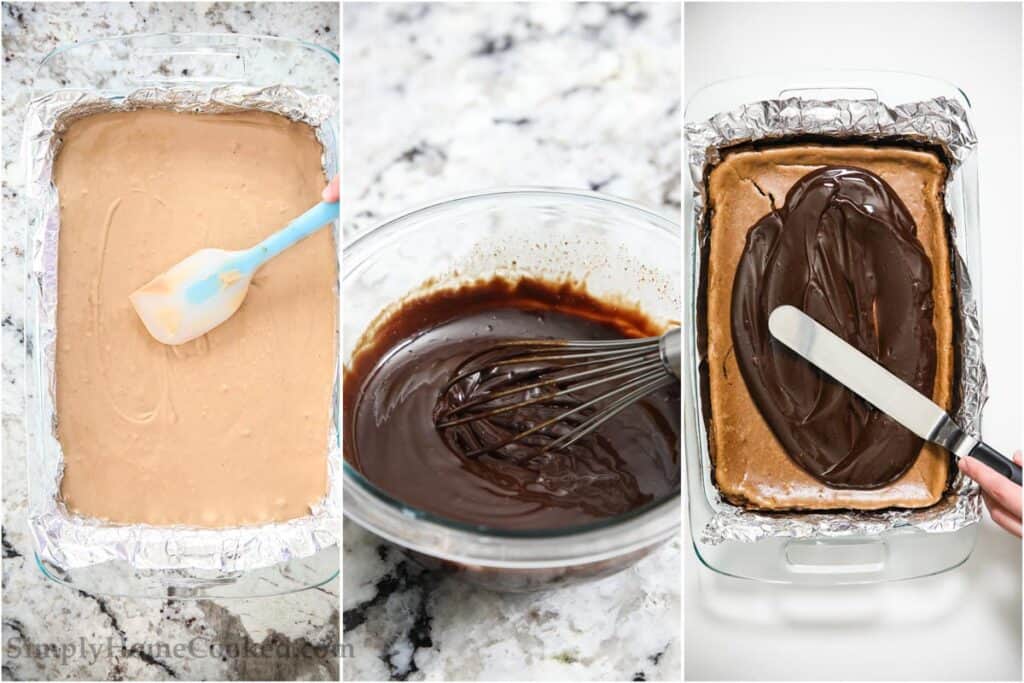 Chocolate Cheesecake Bars Recipe Tips
Use room temperature ingredients- If the ingredients are too cold, they will not mix well, causing them to be clumpy and uneven. Using room temperature ingredients will give you a smooth and even consistency for your cheesecake bars.
Always scrape down the sides of the bowl- This is important because it ensures that no clumps remain and the batter is mixed well. If certain ingredients cling to the sides, this will lead to an uneven consistency when you pour the batter into the baking dish.
Cut the bars with a hot knife- To get clean lines when you are cutting out the bars, use a clean, hot knife so it slices right through for even, smooth edges.
Add-ins and Substitutes
Use different flavored chocolate- Try white chocolate or dark chocolate instead for another type of tasty Chocolate Cheesecake Bars.
Make it gluten-free- Substitute gluten-free Oreos and you have a treat even your gluten-sensitive friends can enjoy.
Add nuts- The taste and texture of chopped walnuts, almonds, or macadamia nuts would taste amazing in these bars.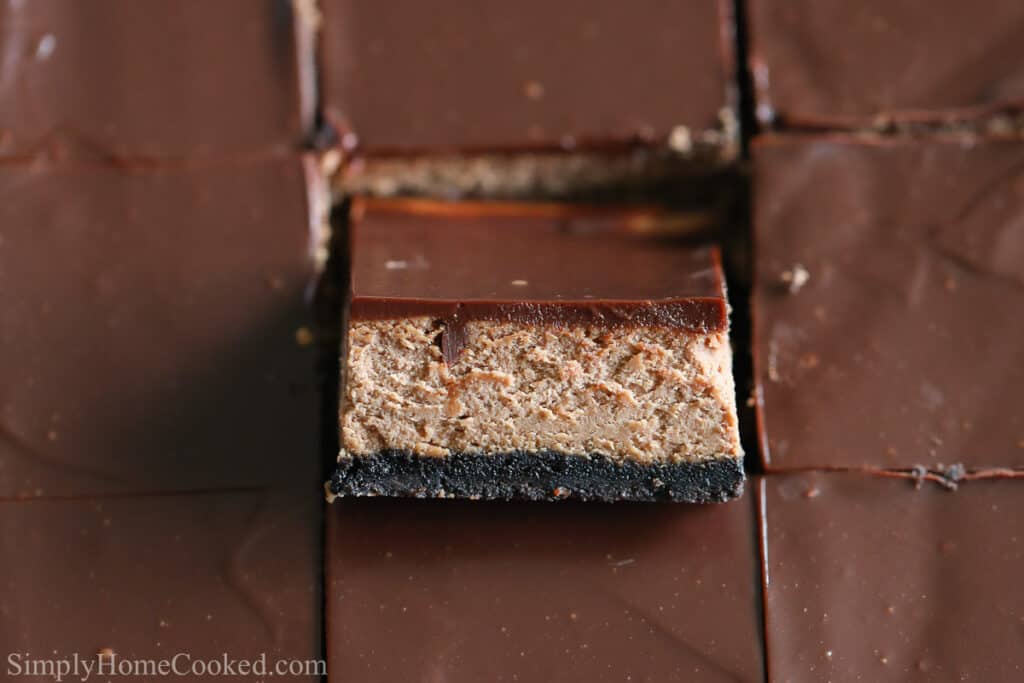 FAQs
Why does my cheesecake crack?
One of the biggest reasons why cheesecakes crack is because the eggs are overbeaten. This incorporates air pockets that crack during baking. When you add the eggs to this cheesecake batter, you want to add only one egg at a time, beating at low speed.
Can this recipe be doubled?
Yes, you can easily double it by using 2 9×13-inch baking pans and doubling the ingredients. This is perfect for freezing one half and then serving the rest!
Serving Suggestions
There are lots of great ways to serve these gorgeous cheesecake bars. but here are few yummy ideas: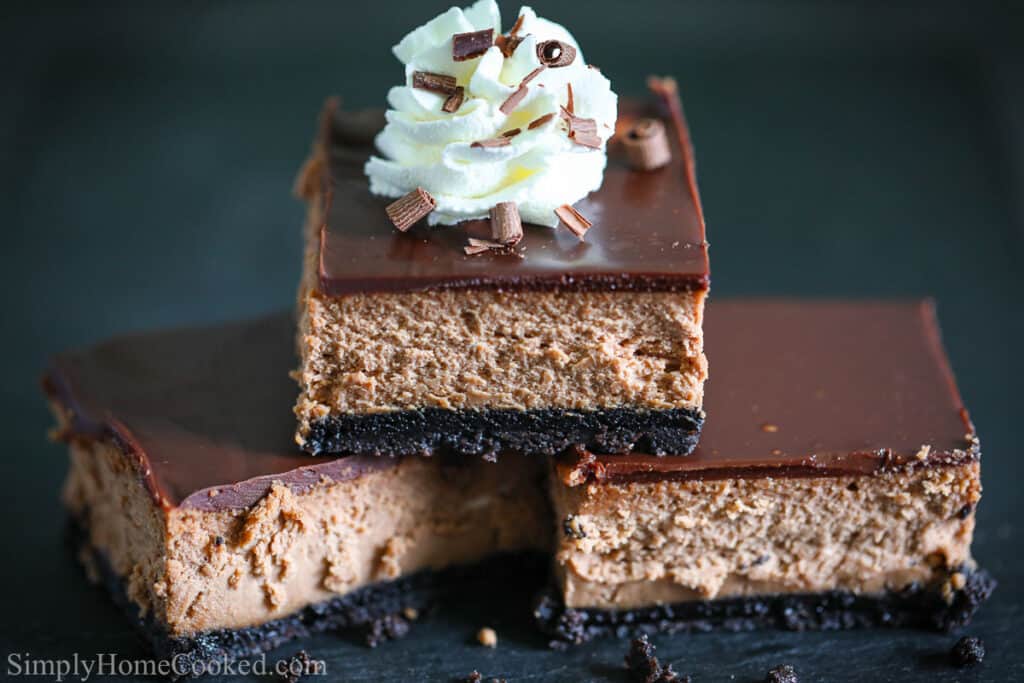 Make Chocolate Cheesecake Bars In Advance
Make ahead: You can make these Chocolate Cheesecake Bars ahead by following the recipe and then allowing them to cool. Then just wrap them or put them in an airtight container in the refrigerator or in the freezer, depending on how soon you will need them.
Storing: Wrapped in plastic wrap or in an airtight container, these will keep in the fridge for up to 5 days.
Freezing: If you want to store them for longer, leave the cooled chocolate cheesecake bars uncovered for about 2 hours, then wrap each one with a layer of plastic wrap and a layer of aluminum foil. They can keep frozen for up to 1 month. Thaw as many as you want to use in the refrigerator overnight.
More Tasty Cheesecake Recipes!
Full Recipe Instructions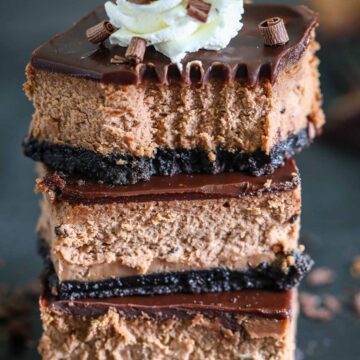 Chocolate Cheesecake Bars
These Chocolate Cheesecake Bars are to die for. Decadent and rich and oh so chocolaty, they are easy to make and taste delicious!
Print
Pin
Rate
Instructions
Make the chocolate crust
First, begin making the chocolate crust by combining 24 whole Oreo cookies and 3 tablespoons of melted butter in a food processor.

Pulse it at high speed until the cookies are crushed to fine crumbs.

Now line a 9 x 13 inch baking dish with foil and coat it in nonstick spray. Then press the cookie crust mixture onto the bottom of the baking dish and smooth it out with your hands or the back of a measuring cup.

Place the crust in the oven and bake at 350 degrees Fahrenheit for 10 minutes. Then remove and let it cool.
Make the cheesecake
Meanwhile, add 4 (8 oz blocks) of softened cream cheese to a stand mixer along with the sugar and vanilla extract. Beat that on high speed until it becomes smooth and creamy. During this process, scrape down the beater bowl a few times. This will ensure that no clumps are left behind.

Now add the sour cream and give it another thorough mix at high speed.

Melt 6 oz of semisweet baking chocolate in the microwave and add it to the cheesecake batter while mixing on medium speed. Then scrape down the sides and mix again.

Now take each room temperature egg (room temp is super important) and whisk 1 egg at a time in a small bowl. Then add it to the batter at low speed. Once the egg is incorporated into the batter whisk the next one and added one at a time. Make sure to mix at low speed or else the eggs will over-mix and cause your cheesecake to crack. 

Once the eggs are all mixed in, scrape the sides and bottom of the bowl and pour the batter on top of the Oreo crust. Bake the cheesecake at 350 degrees Fahrenheit for 15 minutes, then drop the temperature to 250 degrees Fahrenheit and bake for 1 hour and 30 minutes. Then turn the oven off and leave the cheesecake inside until it has cooled to room temperature. You don't want to open the oven at all or the sudden change in temperature will cause the cheesecake to crack or collapse.

Once the cheesecake is cooled, make the ganache by placing 1 cup of semisweet chocolate chips into a glass bowl and pouring 1/2 cup of boiling heavy cream on top. Let it sit for a minute and then whisk is really quick using a whisk. It should turn into a smooth creamy ganache. Now pour it over the chocolate cheesecake and smooth it out with a spatula.

Now place the cheesecake in the fridge for about four hours before serving. 
Notes
FAQs answered in the above post
Why did my cheesecake crack?
How to make it ahead of time?
Add-in and substitutes
Nutrition
Calories:
550
kcal
|
Carbohydrates:
42
g
|
Protein:
8
g
|
Fat:
40
g
|
Saturated Fat:
22
g
|
Cholesterol:
126
mg
|
Sodium:
335
mg
|
Potassium:
294
mg
|
Fiber:
2
g
|
Sugar:
32
g
|
Vitamin A:
1054
IU
|
Vitamin C:
1
mg
|
Calcium:
102
mg
|
Iron:
4
mg