This pumpkin cheesecake recipe is so rich, creamy and bursting with fall flavors! It's the perfect cross between a pumpkin pie and New York cheesecake.
Make sure to try some of our other fall favorites like pumpkin creme brulee and mini pecan pies!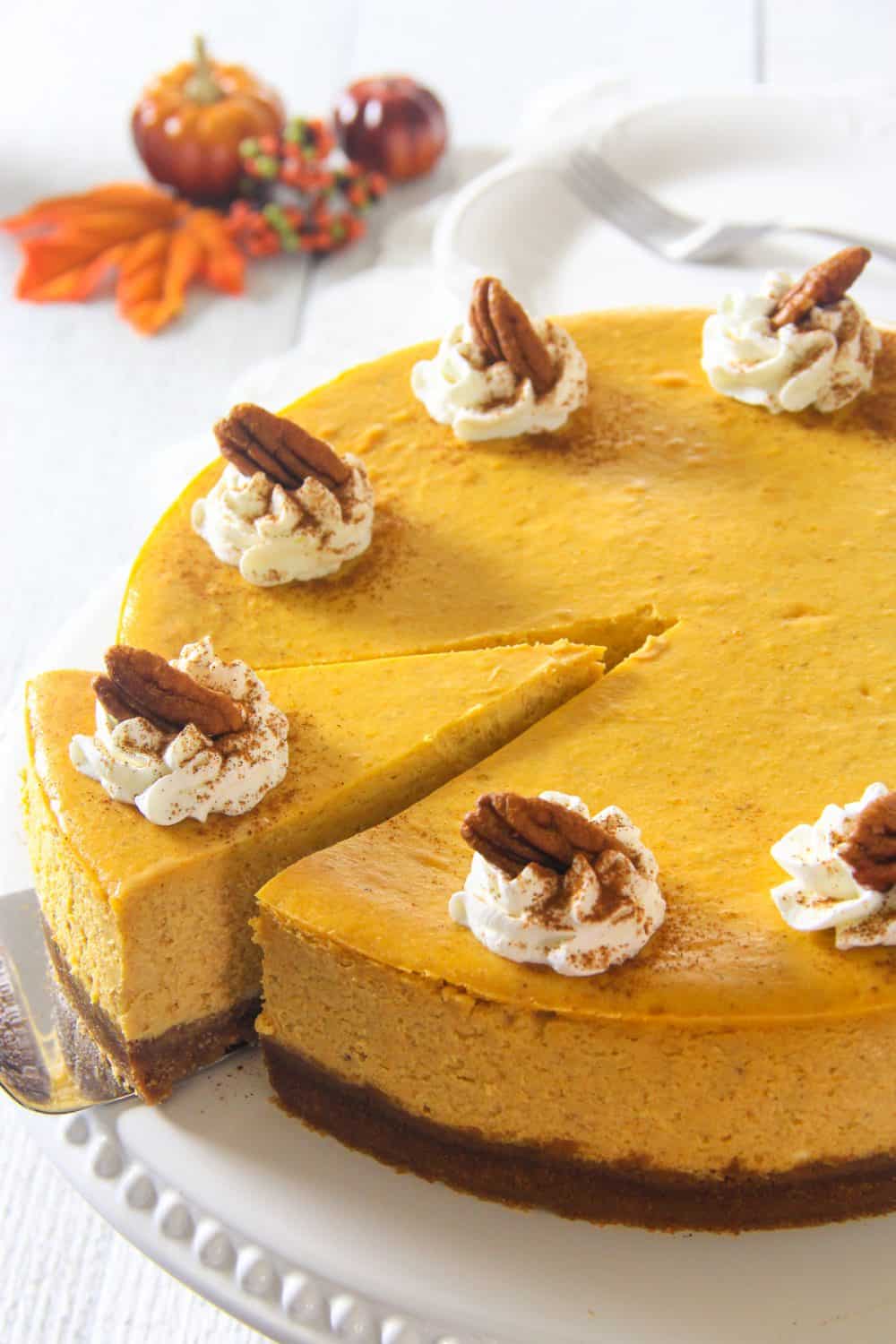 Pumpkin Cheesecake Recipe
Whoever invented pumpkin cheesecake is a genius! This recipe is a perfect cross between a classic creamy white cheesecake and a homemade pumpkin pie. It's a fall favorite that has been our go-to Thanksgiving dessert for so many years! We also highly recommend trying this Cheesecake Pecan Pie from the thefoodcharlatan.com The flakey pie crust, cheesecake layer, and pecan pie topping is a show-stopping dessert that will blow your guests away!
Ingredients for pumpkin cheesecake
For the crust: All you need is 3 simple ingredients to make the most delicious crust, So use some fine graham cracker crumbs, brown sugar, and unsalted butter (melted).
For the filling: All you need is pumpkin purée and pumpkin pie spice (for flavoring) and then cream cheese of course. Then some sugar, salt, sour cream, and eggs (make sure they are at room temperature).
TIP: if you can't find already crushed graham cracker crumbs, you can crush them yourself by placing them in a plastic bag and breaking them up with a rolling pin or just pulsing them in a food processor.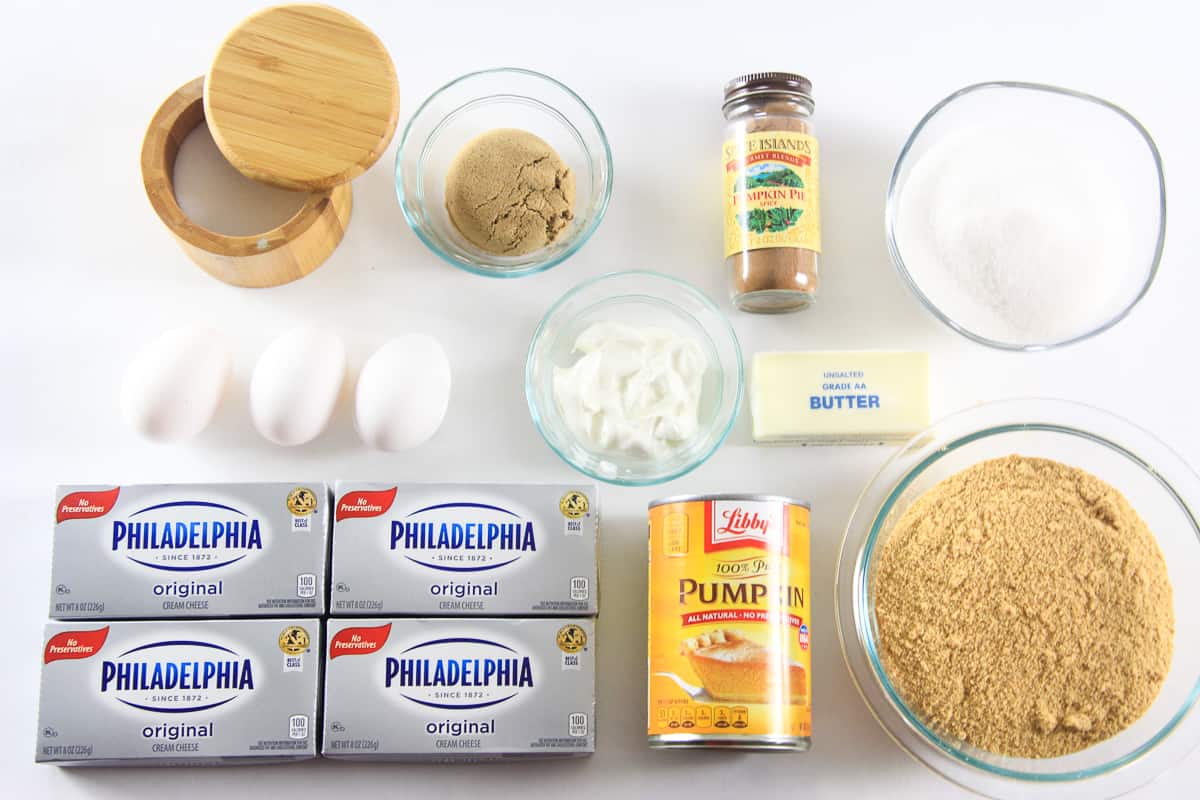 How to make pumpkin cheesecake
Cheesecakes sound so intimidating but they are actually very simple to make. All you really need to do it prebake a simple crust, fill it with your cheesecake filling and let the oven do the rest of the work.
The Cheesecake crust
For the crust, combine the crushed graham crackers along with the melted butter and brown sugar. If you cant find already made crumbs at the store you can grind them up yourself with a food processor.
Fill your baking dish with the crust ingredients and bake it in the oven just to set it as instructed below.
How to make the pumpkin cheesecake filling
Always start with room temperature cream cheese (like its been sitting for hours). You want it to be very soft. And no, microwaving won't work here. Belove me I've tried it. You end up with a very uneven clumpy cheesecake.
Once the cream cheese and sugar has been mixed on high speed, add the room temperature eggs 1 at a time on LOW speed. I even lightly break the yolk before adding them in to avoid overmixing into the pumpkin cheesecake batter.
After the eggs have incorporated well, add the sour cream and spiced pumpkin puree mixture. And mix just until combines, also at low speed.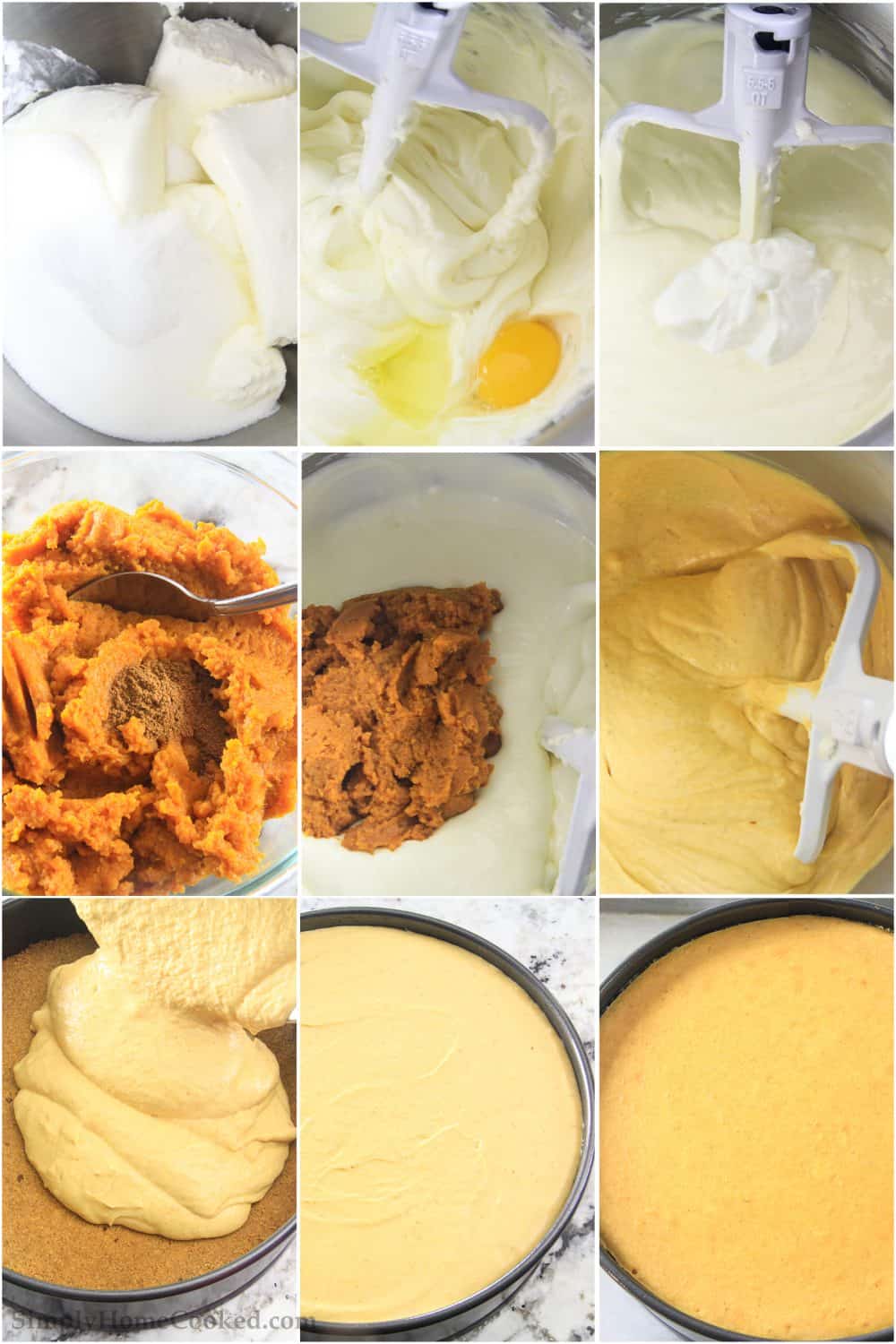 Tips to perfect a no-crack cheesecake
I've been following this super easy trick that works literally every single time. And no you don't need to use a water bath.
Use room temperature ingredients– this is especially crucial for the cream cheese and eggs
Do not over mix– overmixing will cause incorporated air to crack your cheesecake
Bake it slow and low– Bake the pumpkin cheesecake slowly at a lower temperature to ensure smooth even baking and avoid browning the cake too much.
Leave then oven door closed– opening it up will cause a change in temperate and can crack or cave the dessert.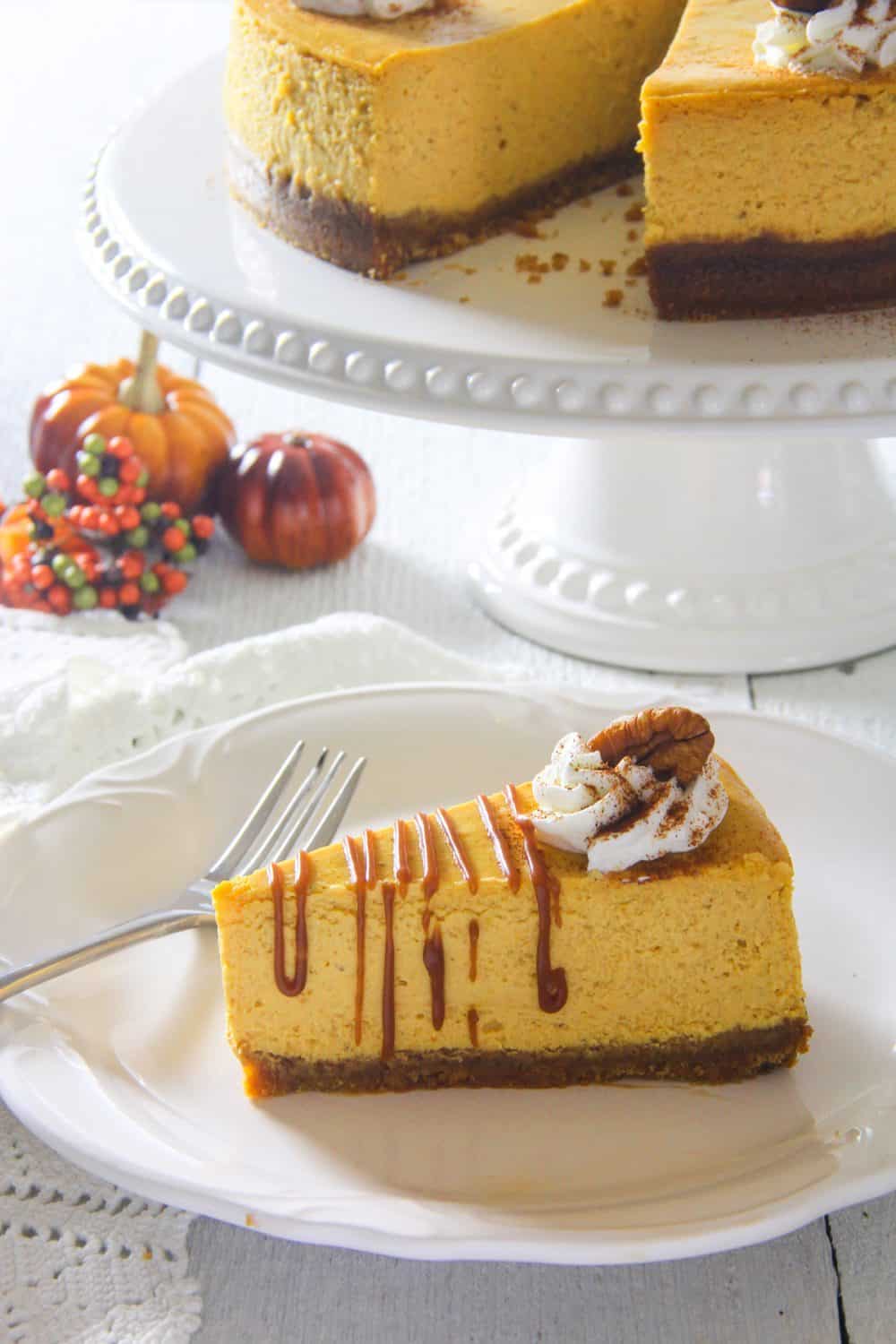 How long does cheesecake keep?
Cheesecake can stay fresh in the fridge for up to 1 week. I would not recommend storing a cheesecake at room temperature.
Can I make a cheesecake in advance?
Yes, you can! You can make just about any cheesecake recipe up to 3 days before serving.
More Fall recipe to try!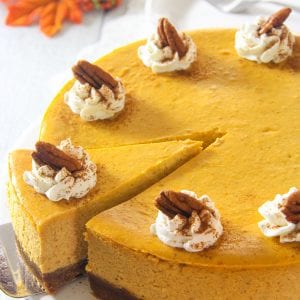 Pumpkin Cheesecake Recipe
This pumpkin cheesecake is so rich, creamy and bursting with fall flavors! It's the perfect cross between a pumpkin pie and New York cheesecake.
Print
Pin
Rate
Instructions
Make the graham cracker crust
In a bowl, combine graham cracker crumbs, brown sugar, and melted butter. Mix until the butter is fully incorporated.

Then place nonstick foil on the bottom of a 9-inch springform pan and coat the bottom and sides with nonstick spray and fill with the graham cracker crumbs. Press and compact the bottom of the pan with graham cracker crumbs using your hands. You can either press it into one thick layer or you can press some of the crumbs up the sides of the springform.

To set the crust, bake at 350 degrees Fahrenheit for 10 minutes. Remove from the oven and let the crust cool.
combine the pumpkin flavor
Begin beating the softened cream cheese
In the bowl of a stand mixer, blend the softened cream cheese, sugar, and salt on high speed until no clumps appear. You will need to use the paddle attachment for this part. Be sure not to over mix and scrape down the beater bowl occasionally. This will ensure no lumps appear in the cheesecake.

Add the eggs 1 at a time, making sure each egg is lightly whisked before adding the next. Make sure the mixer is on LOW speed here. you do NOT want to overmix or the cheesecake will crack.
Add cream cheese and pumpkin puree
Lastly, add the pumpkin purée and the sour cream into the whipped cream cheese and blend just to combine on LOW speed.

Pour the cream cheese filling into the springform pan. Grip the sides of the springform and shake it a little to smooth out the top.
Bake the cheesecake
Bake the cheesecake for 15 minutes at 350 degrees Fahrenheit. Then, drop the oven temperature to 250 degrees Fahrenheit and bake the cheesecake for an additional hour and 30 minutes. Let the cheesecake slowly cool in the oven until it has cooled to room temperature. Do NOT open the oven until the cheesecake it completely colled down. Then refrigerate for 4 hours before eating.
Notes
How to avoid a cracked cheesecake
Don't overbeat the eggs. Make sure to mix at low speed once your eggs come into the cheesecake batter. Overbeat will cause air bubbles to form and crack your cheesecake.
Don't open the oven door. Keep the oven shut until the cheesecake is completely cooled. (this can take a few hours). The sudden temperature differences can cause the cracking to happen.
How long does it take for a cheesecake to cool in the oven?
Once your cheesecake is done baking, you want to turn the oven off and let the cake rest in there until its just slightly warm. This can take up to 6 hours, so be patient.
Nutrition
Calories:
509
kcal
|
Carbohydrates:
39
g
|
Protein:
7
g
|
Fat:
37
g
|
Saturated Fat:
21
g
|
Cholesterol:
147
mg
|
Sodium:
405
mg
|
Potassium:
157
mg
|
Fiber:
1
g
|
Sugar:
31
g
|
Vitamin A:
1354
IU
|
Calcium:
104
mg
|
Iron:
1
mg
This recipe was originally posted on Oct 14, 2015, we've tweaked it a bit since then.

Latest posts by simplyhomecooked
(see all)