This pumpkin creme brulee recipe has the creamiest and smoothest custard with mild hints of pumpkin pie spices and real pumpkin puree.
All the elements of a traditional creme brulee recipe (smooth cold creamy custard, and caramelized sugar crust) are here but I added a pumpkin spice kick!
If you enjoy this recipe, you'll love my white chocolate creme brulee recipe too!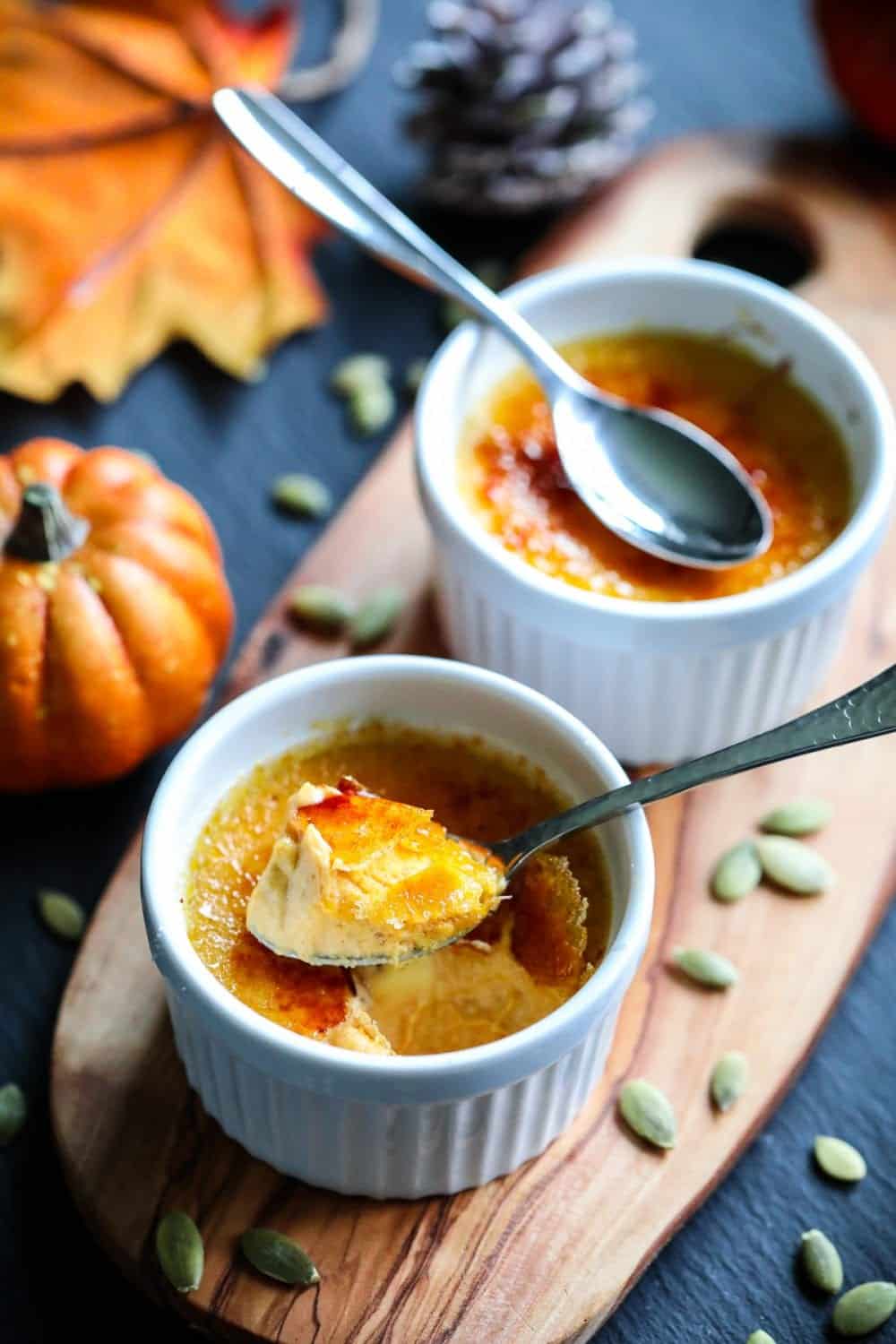 How to make creme brulee
Combine egg yolks, sugar, pumpkin purée, and vanilla.
Bring heavy cream to a simmer and then slowly pour it into the egg mixture while stirring constantly.
Fill a baking dish with boiling water. Place the 4 oz creme brulee ramekins inside. Strain the custard and pour it into the ramekins. Bake at 325 degrees Fahrenheit for and bake 15-20 minutes.
What is creme brulee
Creme brulee is a French custard dessert made with a hard layer of caramelized sugar on top.
Also, try these pumpkin DESSERT recipes:
Pumpkin cheesecake– the perfect cross between a white cheesecake and pumpkin pie.
Spiced Pumpkin cupcakes– soft and fluffy with cream cheese frosting.
Pumpkin cake– easiest pumpkin cake you'll ever come by.
Ingredients for creme brulee
egg yolks
granulated sugar
pumpkin purée
vanilla extract
pumpkin pie spice
heavy whipping cream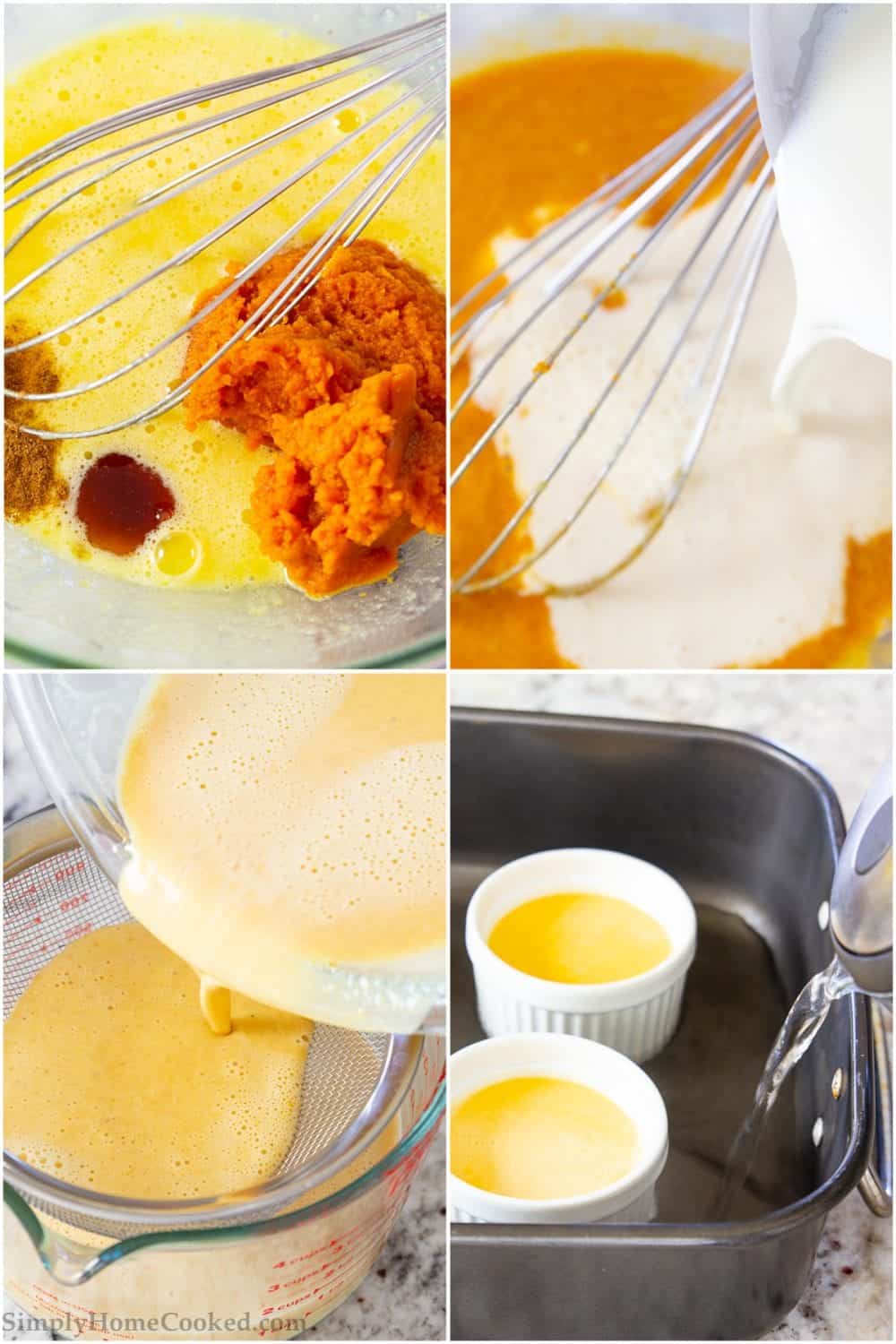 How to Caramelize Sugar
Add a spoonful of sugar evenly on top of each creme brulee.
Using a creme brulee torch, caramelize the sugar in a circular motion.
To avoid burning the sugar keep the torch constantly moving.
How to make creme brulee without torch
if you don't have a chef torch, place the cold creme Brule in a baking dish, then add sugar on top of the creme brulee, and broil it in the oven for 3-5 minutes.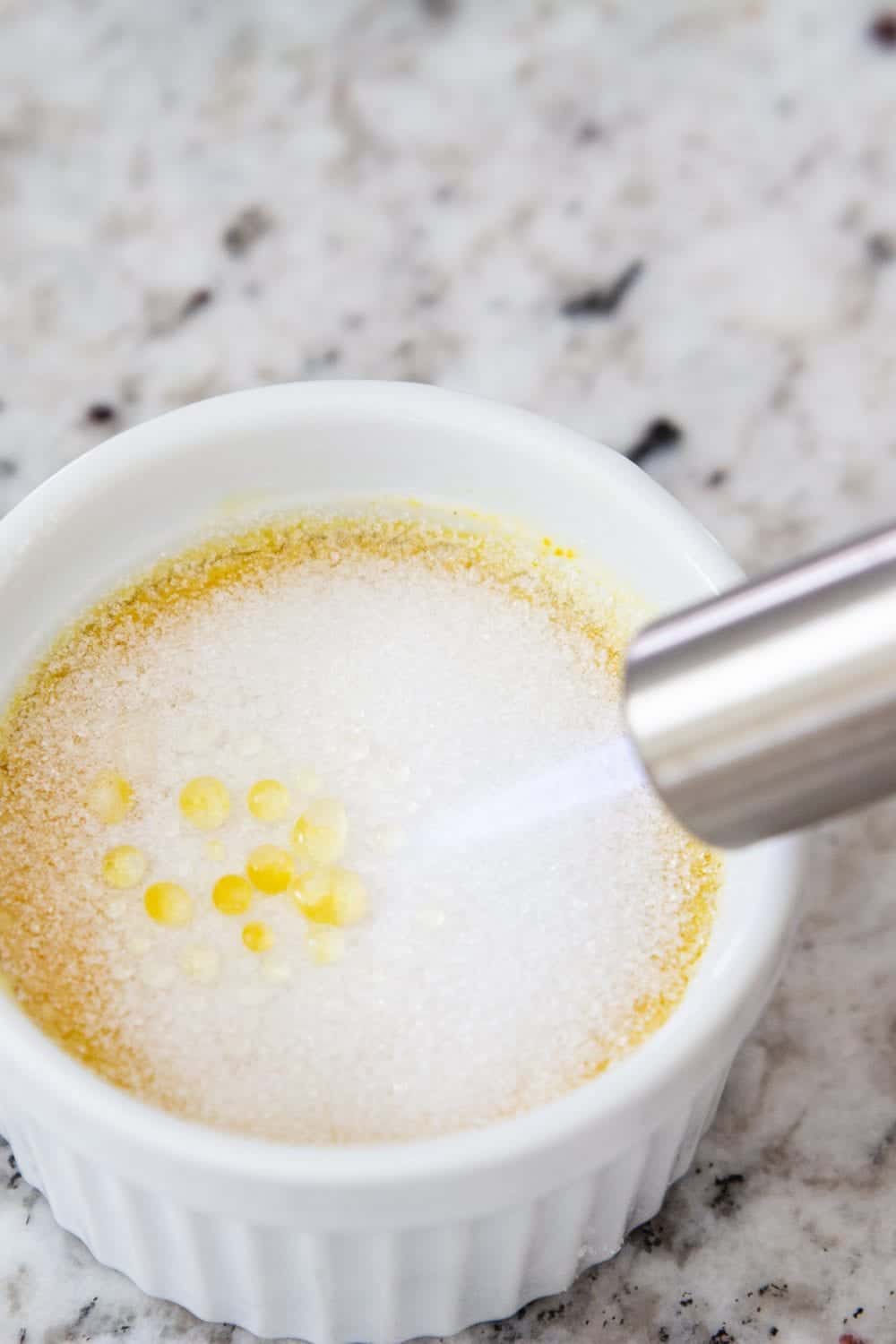 How to Serve Creme Brulee?
Creme brulees are supposed to be kept in the refrigerator up until you need to serve them. When you are ready to serve them, sprinkle the sugar on top and caramelize it with a chefs torch. Serve immediately.
What to do with leftover egg whites?
Don't throw them out! Use them up for something as simple as chocolate meringue cookies, or even these incredibly chewy amaretti cookies. Or crank it up a notch and make coffee macarons!
Note:
Whenever I bake with aromatic spices, I always say, everyone has a personal preference. I personally love the taste, but not when it's too overpowering. So if you like a strong spiced flavor, you are more than welcome to add more spices. That's the wonderful part about cooking and baking. Therefore, you can adjust anything to your taste buds.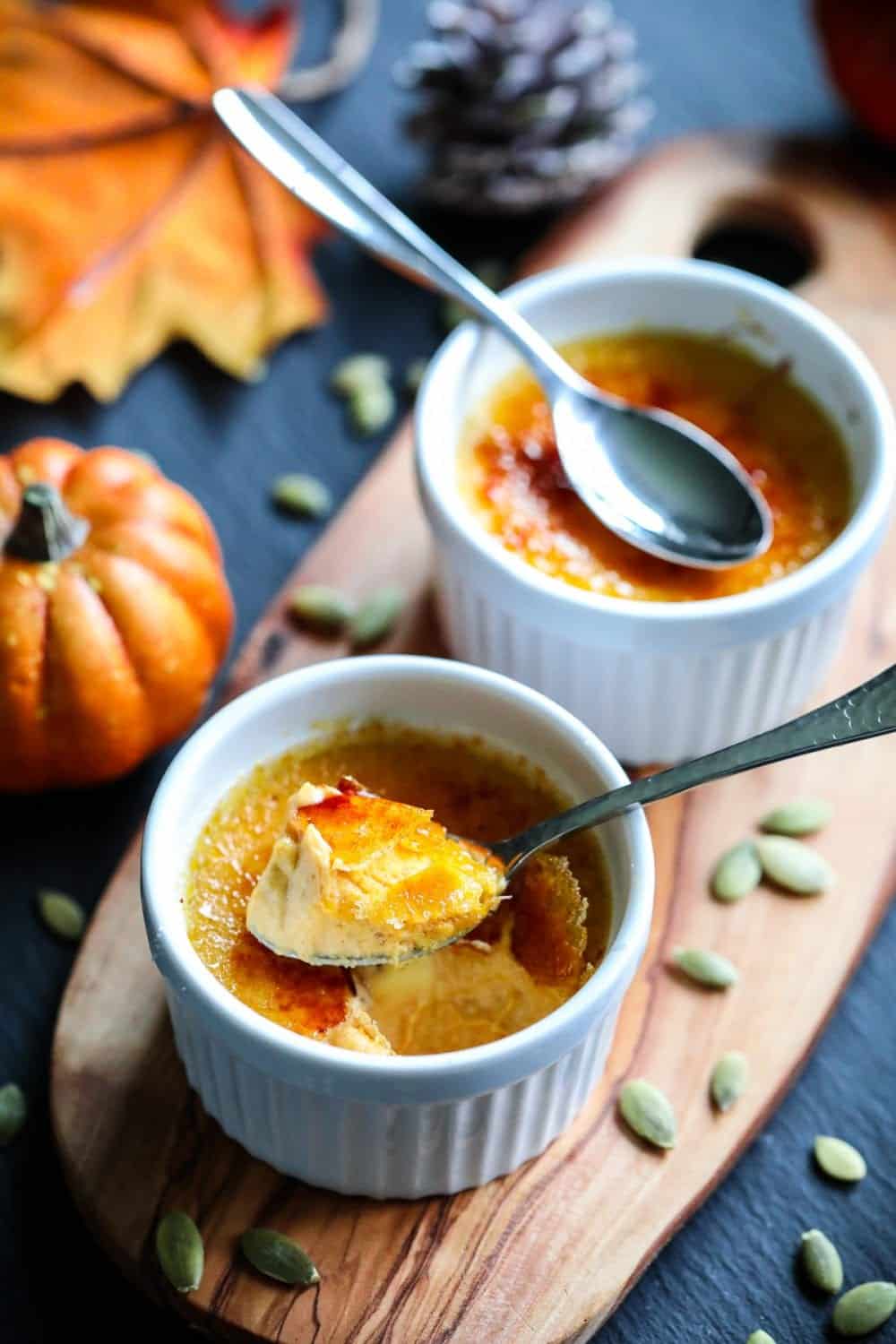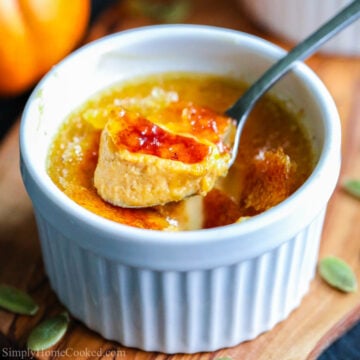 Pumpkin Crème Brûlée
This pumpkin crème brûlée recipe has the creamiest and smoothest custard with mild hints of pumpkin pie spices and real pumpkin puree.
Print
Pin
Rate
Instructions
In a large bowl, whisk 6 egg yolks and 1/3 cup sugar just until combined.

Heat 1 1/2 cups heavy cream in a saucepan over medium heat and turn off the burner the moment it comes to a simmer.

Slowly pour the heavy cream into the egg mixture while whisking constantly so that the hot cream doesn't cook the eggs.

Strain the hot custard through a fine mesh sieve to catch any clumps that may have accumulated.

Place the ramekins into a deep baking dish, then pour the custard into 6 (4oz) ramekins.

Fill the baking dish with enough boiling water so it reaches half way up the sides of the ramekins.

Preheat oven to 325 degrees F. Then carefully transfer that baking dish to the oven on the middle rack and bake for 15-30 mins. Let the creme brulees cool down to room temperature and refrigerate for about 2 hours.

Sprinkle a small spoonful of sugar on top of each creme brulee and distribute it evenly then caramelize the sugar with a blowtorch or chefs-torch. The best way to get an even caramelization is to constantly move the torch. Keeping the torch in one place can easily burn the sugar, so make sure it's constantly moving.

Serve immediately after caramelizing the sugar crust.
Nutrition
Calories:
315
kcal
|
Carbohydrates:
15
g
|
Protein:
4
g
|
Fat:
27
g
|
Saturated Fat:
15
g
|
Cholesterol:
277
mg
|
Sodium:
32
mg
|
Potassium:
106
mg
|
Fiber:
1
g
|
Sugar:
12
g
|
Vitamin A:
4312
IU
|
Vitamin C:
1
mg
|
Calcium:
67
mg
|
Iron:
1
mg