This Pumpkin Creme Brulee recipe has the creamiest and smoothest custard with mild hints of pumpkin pie spices and real pumpkin puree. It's the perfect seasonal dessert!
If you love this dish, then you have to try this White Chocolate Creme Brulee and Chocolate Creme Brulee.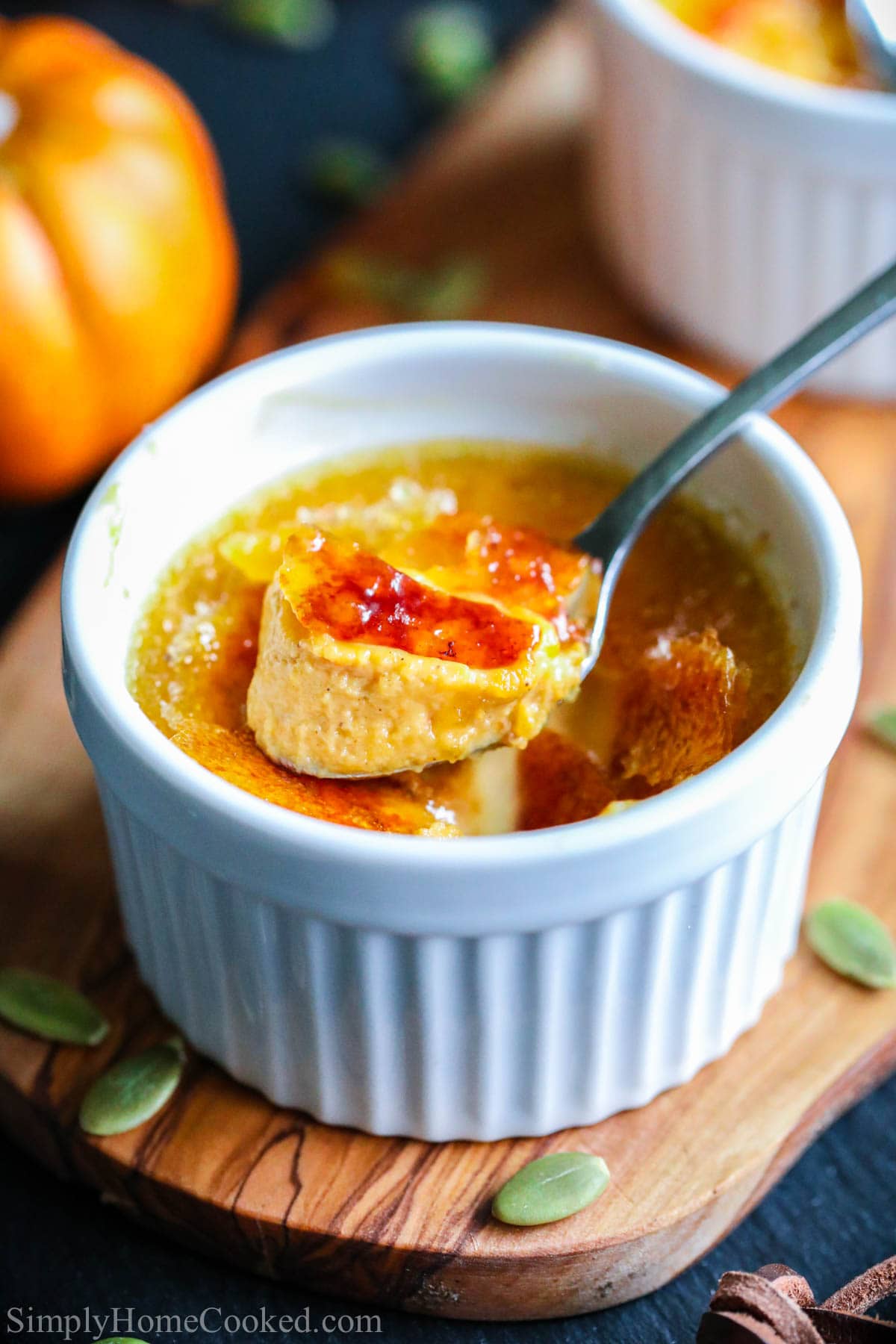 Table Of Contents
Recipe Details
I just love the fall flavors in this decadent Pumpkin Creme Brulee. It's such an elegant dessert and just right for serving to guests.
TASTE: Sweet and creamy, this dessert has plenty of pumpkin spice flavor. The sweet sugar topping adds a delicious note to every bite.
TEXTURE: All the elements of a traditional creme brulee recipe – smooth, creamy custard with a caramelized sugar crust – are here.
TIME: This recipe will take 45 minutes.
EASE: Making this Pumpkin Creme Brulee is not as hard as you think. These photos and step-by-step directions will make it a breeze.
What You'll Need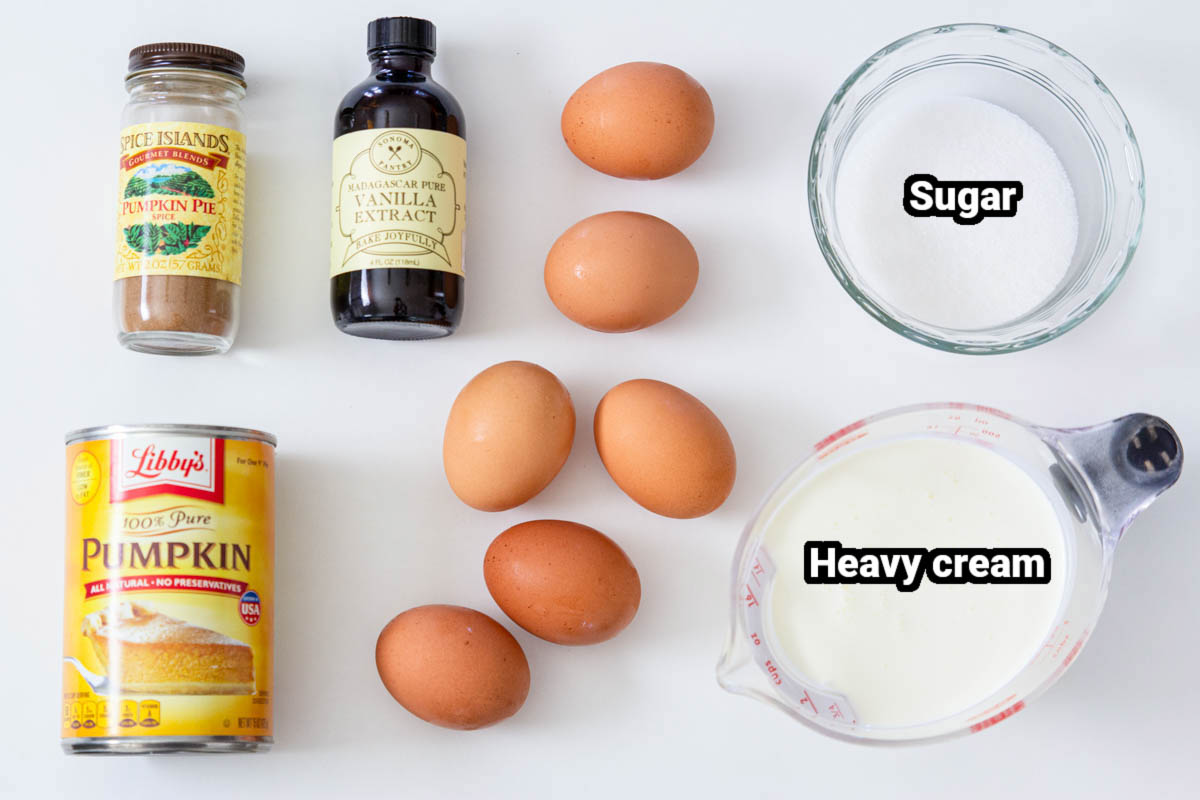 Ingredient Notes
Egg yolks- These are the base for the custard in this creamy dessert. Make sure the yolks and whites are well separated.
Granulated sugar- This is what gives this dessert its sweetness and amazing sugar crust.
Pumpkin purée– Use canned pumpkin puree for a smooth, flavorful custard. Homemade sometimes has a grainier texture.
Vanilla extract– This adds just a hint of vanilla to offset the pumpkin flavor.
Pumpkin pie spice- Pumpkin on its own is rather mild, so these spices will give the creme brulee extra flavor. Use as much or as little as you like.
Heavy whipping cream- Use full-fat heavy cream to get the creamiest, smoothest creme brulee custard.
Add-ins and Substitutions
Substitute other flavors- Besides pumpkin, you can make this into a white chocolate creme brulee, chocolate creme brulee, or add lemon extract for a fresh spin on this recipe.
Add extra spice- If you like a strong spiced flavor, you are more than welcome to add more ginger, cinnamon, cloves, or nutmeg to this Pumpkin Creme Brulee.
Substitute Half & Half for the cream- To make this a lighter dessert, use Half & Half. The custard will still be creamy, but with less fat.
Bake it- If you don't have a chef torch, place the cold creme brulee in a baking dish, then add sugar on top and broil it in the oven for 3-5 minutes.
How to Make Pumpkin Creme Brulee
Combine the wet ingredients. Mix together the egg yolks and sugar. Then add the pumpkin purée, pumpkin spice, and vanilla. Whisk to combine.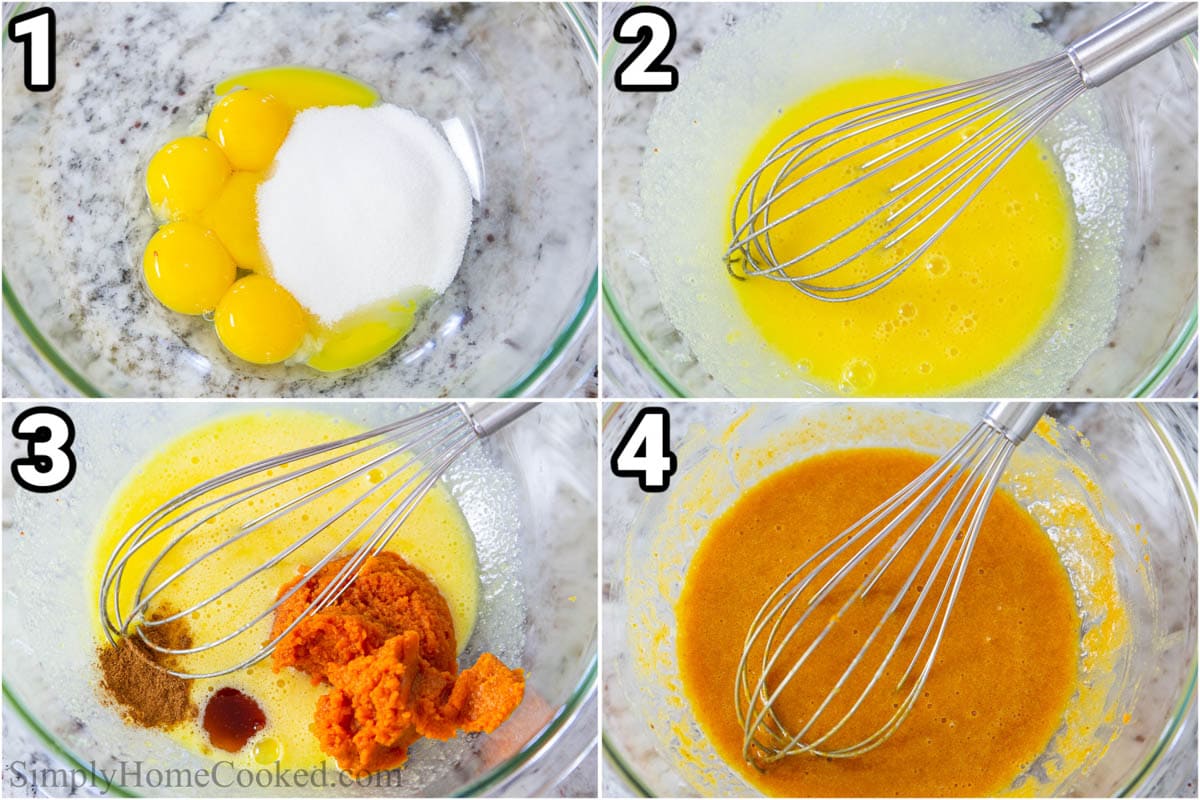 Add the heavy cream. Bring the heavy cream to a simmer and then slowly pour it into the egg mixture while stirring constantly. Strain out any bits of cooked egg for the best texture in your custard. Then pour it into your ramekins.
Pro Tip: Keep stirring as you add the cream slowly because you don't want to raise the temperature of the eggs too fast and risk scrambling them.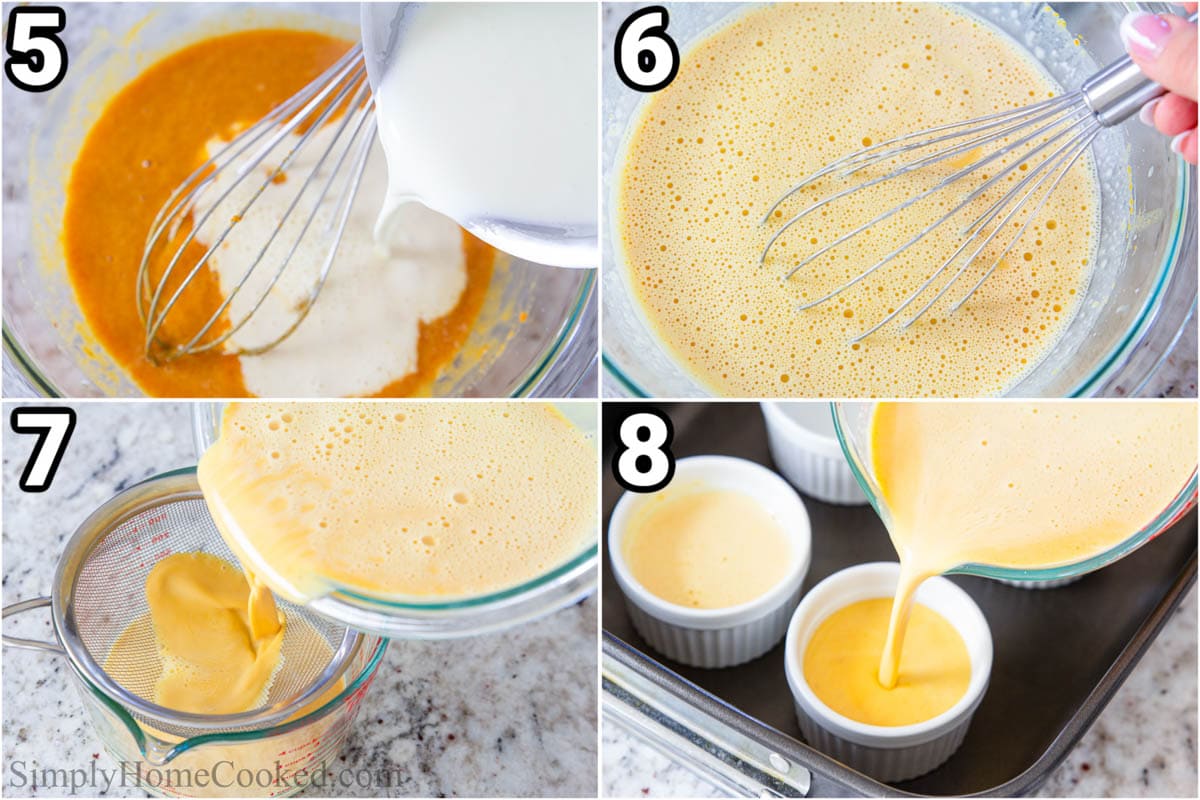 Bake the pumpkin creme brulee. Now add boiling water to the baking pan that the ramekins are sitting in. Bake them for 15-20 minutes at 325 degrees Fahrenheit.
Caramelize the sugar tops. Add a spoonful of sugar evenly on top of each creme brulee, then torch each one in a circular motion, constantly moving.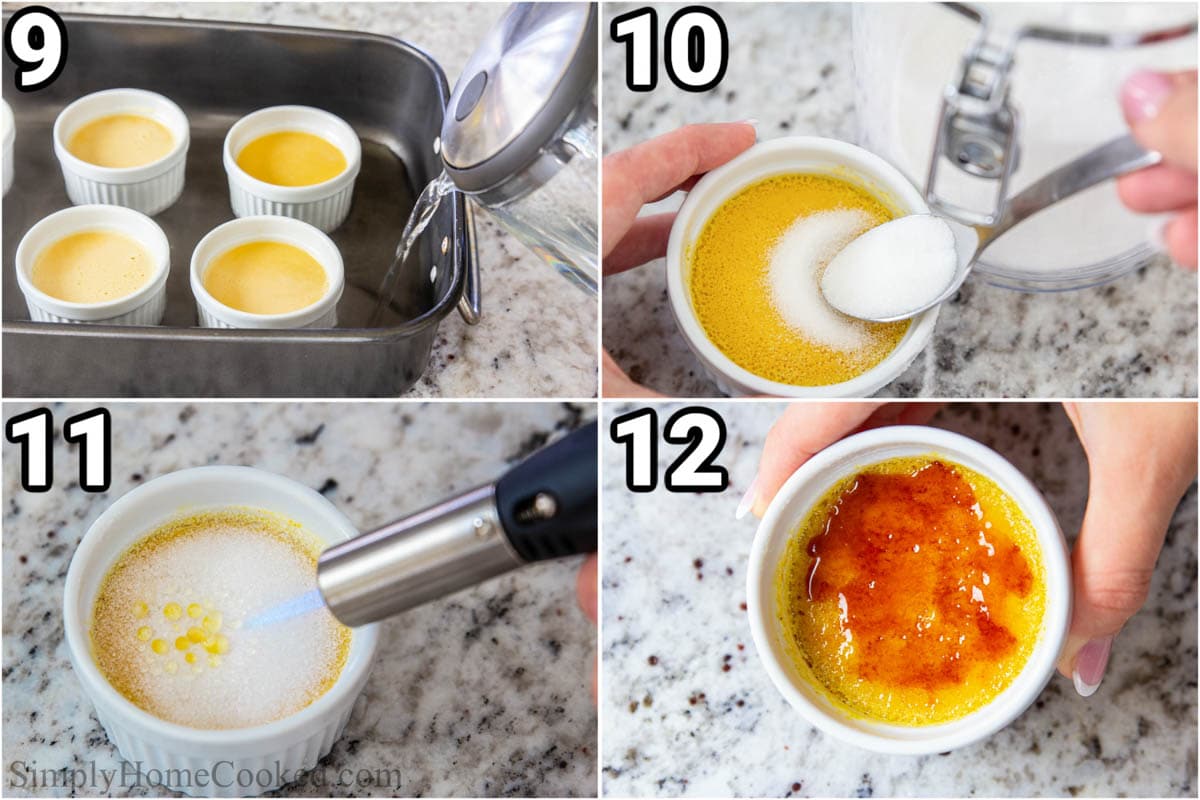 Recipe Tips
Add the hot cream slowly- You want to raise the temperature on the eggs very slowly, so add it at a drizzle and stir constantly to disperse the heat before it scrambles them.
Strain the custard- Because little bits of egg will cook as you add the hot cream, strain the liquid with a fine-mesh strainer to keep the custard nice and smooth.
Use a water bath for baking- This step keeps the oven hot and humid, causing the creme brulee to cook without becoming rubbery and keeps it from cracking.
Keep moving the torch- To avoid burning the sugar on your Pumpkin Creme Brulee, keep the torch moving in a steady circular motion.
FAQs
What is creme brulee?
Creme brulee is a French custard dessert made with a hard layer of caramelized sugar on top.
How long do you wait after torching creme brulee?
It's best to serve them immediately after torching the sugar crust, and no more than 30 minutes later. That's because the sugar will slowly absorb moisture from the custard and begin to soften if left waiting longer.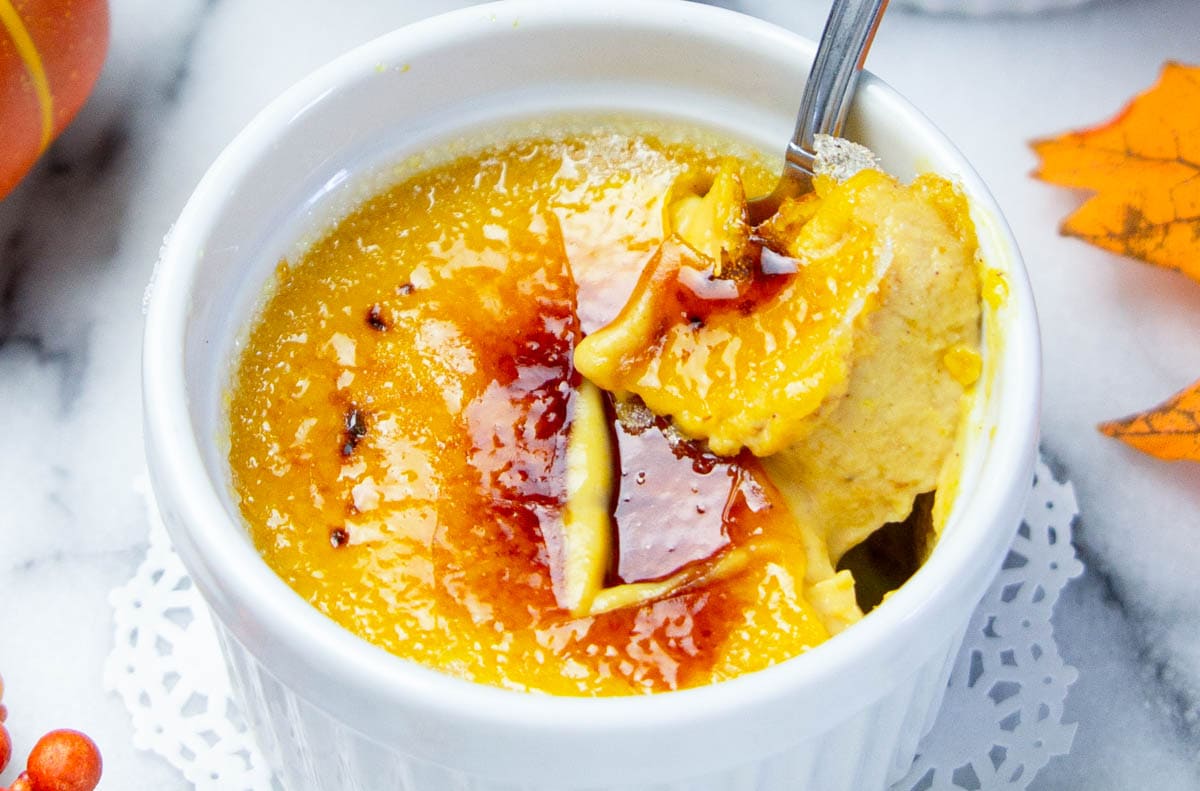 Serving Suggestions
This delicious Pumpkin Creme Brulee is versatile enough to pair with lots of other desserts and drinks. Here are some great pairings to try.
Make This Recipe in Advance
Make ahead: Creme brulee can be kept in the refrigerator up until you need to serve it. When you are ready, sprinkle the sugar on top and caramelize it with a chef's torch. Then serve immediately.
Storing: You can store these Pumpkin Creme Brulee for up to 3 days, covered, in the refrigerator before adding the sugar topping and caramelizing. Once they are caramelized, it's best to eat them within half an hour.
Freeze: You can wrap each one tightly in foil and keep frozen for up to 2 months. When ready to eat, thaw them for about 20 minutes, then add the sugar and caramelize it with a creme brulee torch.
More Scrumptious Desserts!
Full Recipe Instructions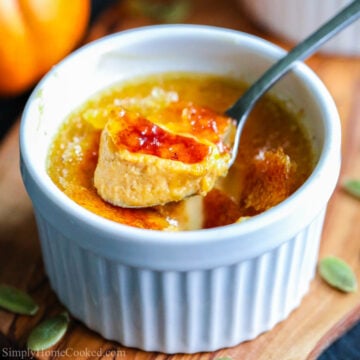 Pumpkin Crème Brûlée
This pumpkin crème brûlée recipe has the creamiest and smoothest custard with mild hints of pumpkin pie spices and real pumpkin puree.
Print
Pin
Rate
Instructions
In a large bowl, whisk 6 egg yolks and 1/3 cup sugar just until combined.

Heat 1 1/2 cups heavy cream in a saucepan over medium heat and turn off the burner the moment it comes to a simmer.

Slowly pour the heavy cream into the egg mixture while whisking constantly so that the hot cream doesn't cook the eggs.

Strain the hot custard through a fine mesh sieve to catch any clumps that may have accumulated.

Place the ramekins into a deep baking dish, then pour the custard into 6 (4oz) ramekins.

Fill the baking dish with enough boiling water so it reaches half way up the sides of the ramekins.

Preheat oven to 325 degrees F. Then carefully transfer that baking dish to the oven on the middle rack and bake for 15-30 mins. Let the creme brulees cool down to room temperature and refrigerate for about 2 hours.

Sprinkle a small spoonful of sugar on top of each creme brulee and distribute it evenly then caramelize the sugar with a blowtorch or chefs-torch. The best way to get an even caramelization is to constantly move the torch. Keeping the torch in one place can easily burn the sugar, so make sure it's constantly moving.

Serve immediately after caramelizing the sugar crust.
Nutrition
Calories:
315
kcal
|
Carbohydrates:
15
g
|
Protein:
4
g
|
Fat:
27
g
|
Saturated Fat:
15
g
|
Cholesterol:
277
mg
|
Sodium:
32
mg
|
Potassium:
106
mg
|
Fiber:
1
g
|
Sugar:
12
g
|
Vitamin A:
4312
IU
|
Vitamin C:
1
mg
|
Calcium:
67
mg
|
Iron:
1
mg