These chewy Scotcheroos are made with Rice Krispies and peanut butter, and then topped with a sweet chocolate-butterscotch layer. This is one treat you won't want to pass up.
If you love sweet and delicious bars, try these Special K Bars and no-bake Chocolate Cheesecake Bars.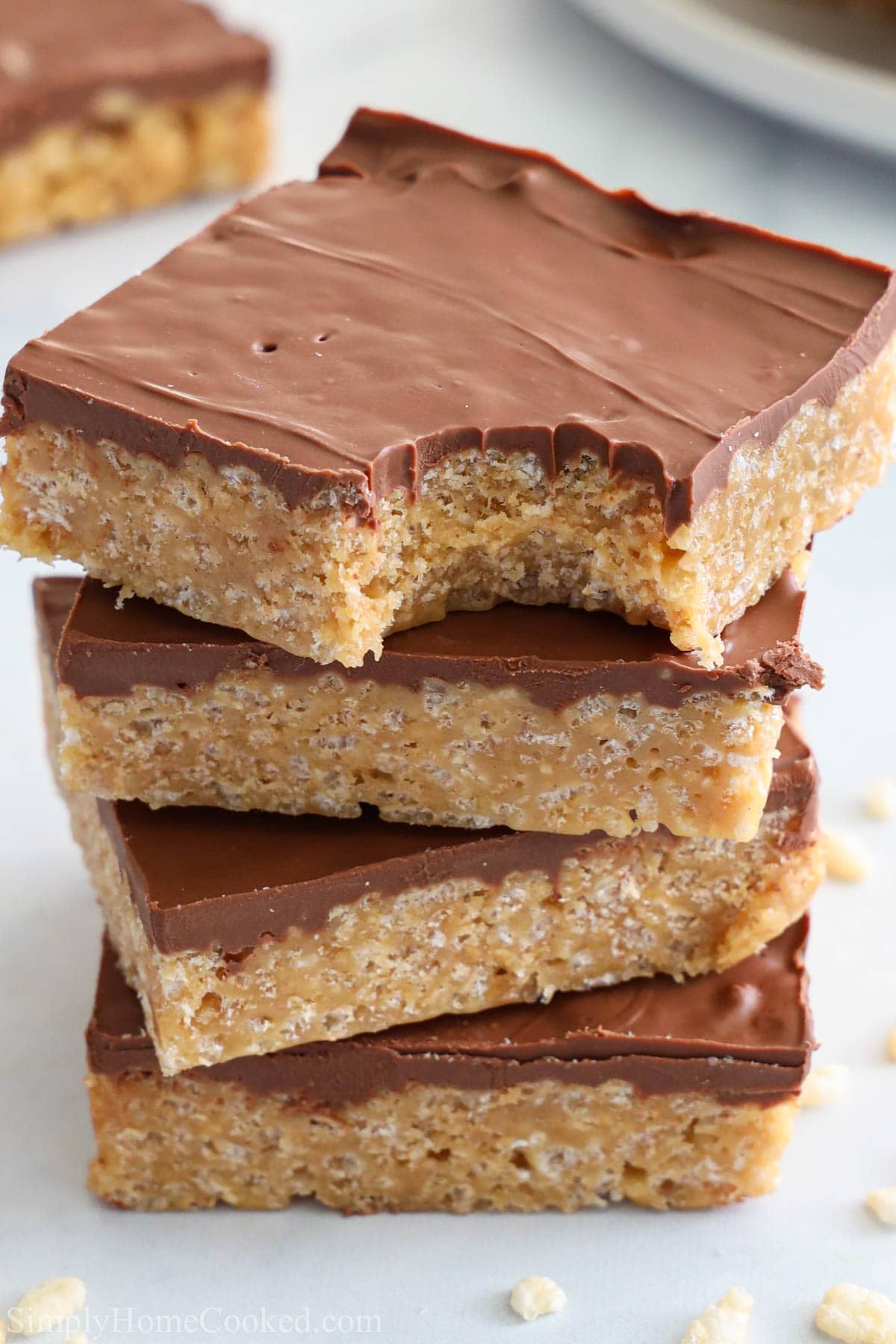 Table Of Contents
Recipe Details
I love these tasty Scotcheroos because they're easy to whip up when I have a craving and they are the perfect blend of flavors and textures. There's so many reasons to love this recipe.
TASTE: The blend of sweet chocolate and butterscotch with salty peanut butter makes this dessert addictively flavorful.
TEXTURE: The chewy crunch of the Rice Krispies pairs perfectly with the gooey layer of melted chocolate and butterscotch on top.
TIME: This recipe only takes 20 minutes to make.
EASE: With just 7 ingredients that are pantry staples, this simple and easy recipe can be made anytime.
What You'll Need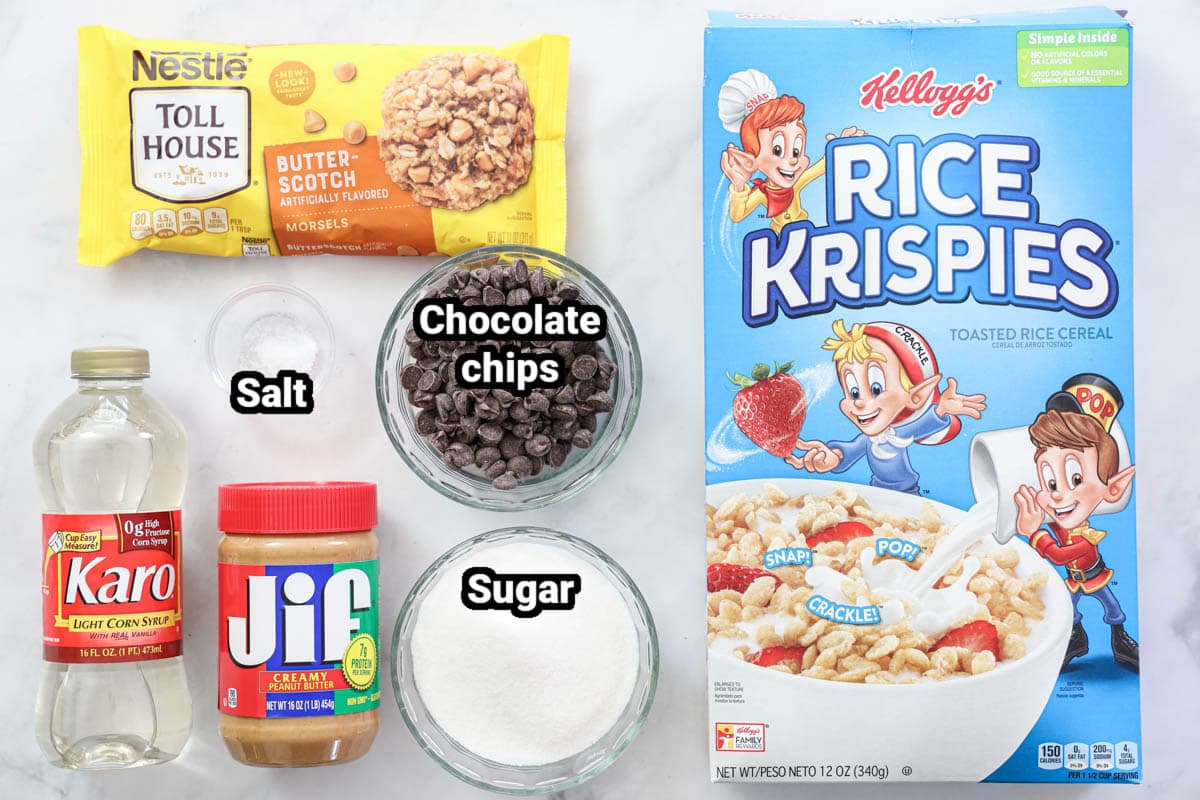 Ingredient Notes
Corn syrup- This will add lots of sweetness, as well as act as a glue to hold the Rice Krispies together.
Creamy peanut butter- This also binds the treat together and adds delicious nutty flavor. Chunky versions would not work as well here.
Butterscotch morsels- This is a key ingredient for Scotcheroos, but in a pinch, you could also use peanut butter chips if there's no butterscotch around.
Add-ins and Substitutions
Substitute natural peanut butter- If you have organic, natural peanut butter, it can be used instead. Just mix it very well to reincorporate the oil before adding it to the mixture.
Add vanilla- For a little extra flavor, you can add a splash of vanilla extract. This will enhance the chocolate and butterscotch flavors.
Substitute a different cereal- These Scotcheroos can also be made with Corn Flakes, Special K, Cheerios, or Chex.
Use a natural sweetener- Instead of corn syrup, you can use honey or maple syrup. They will still be able to hold the treat together and add great sweetness.
How to Make Scotcheroos
Prep the baking dish. Line your baking dish with parchment paper and set it aside.
Simmer the corn syrup and sugar. Add the light corn syrup and sugar to a medium-sized saucepan and whisk together. Bring it to a slight simmer and then remove it from the heat immediately.
Add the peanut butter. Then whisk in the peanut butter and salt.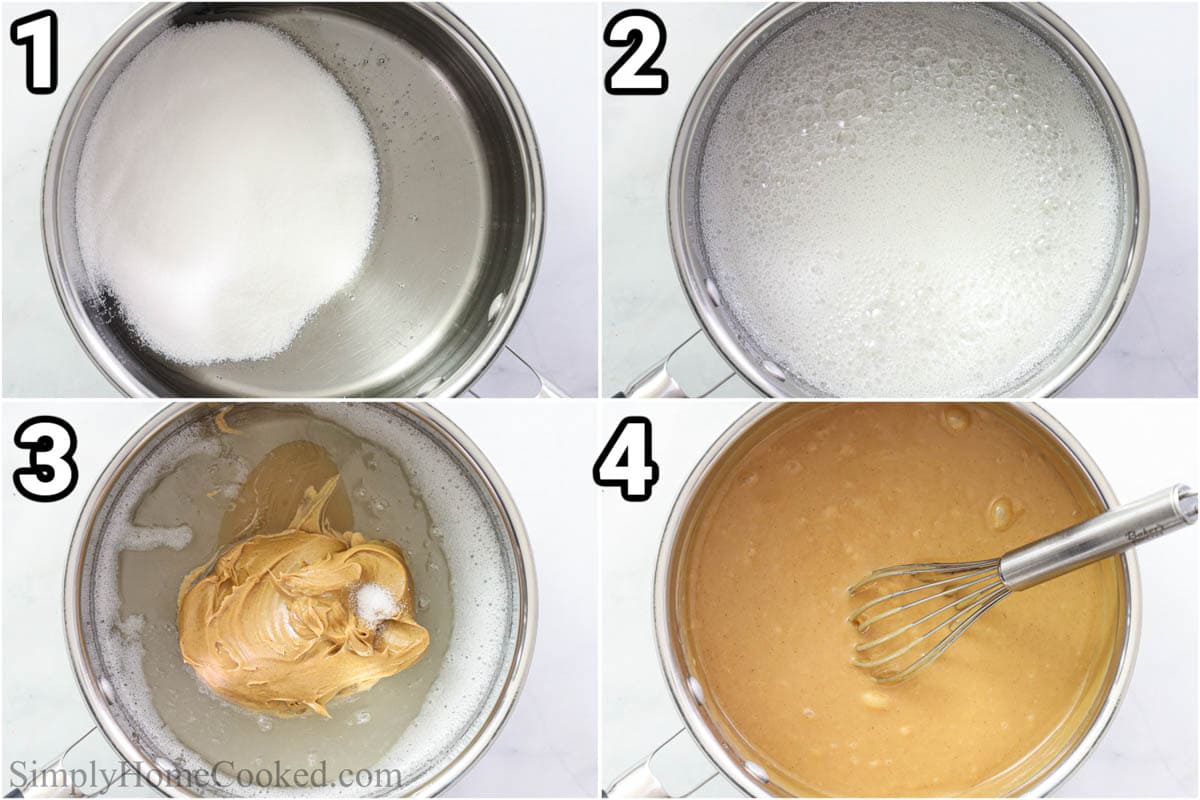 Combine with cereal. In a large bowl, add the Rice Krispies cereal and then pour in the peanut butter mixture. Mix thoroughly with a spatula.
Press the mixture into the baking dish. Once combined, press it into the prepared baking dish, spreading and compressing until it molds to the pan.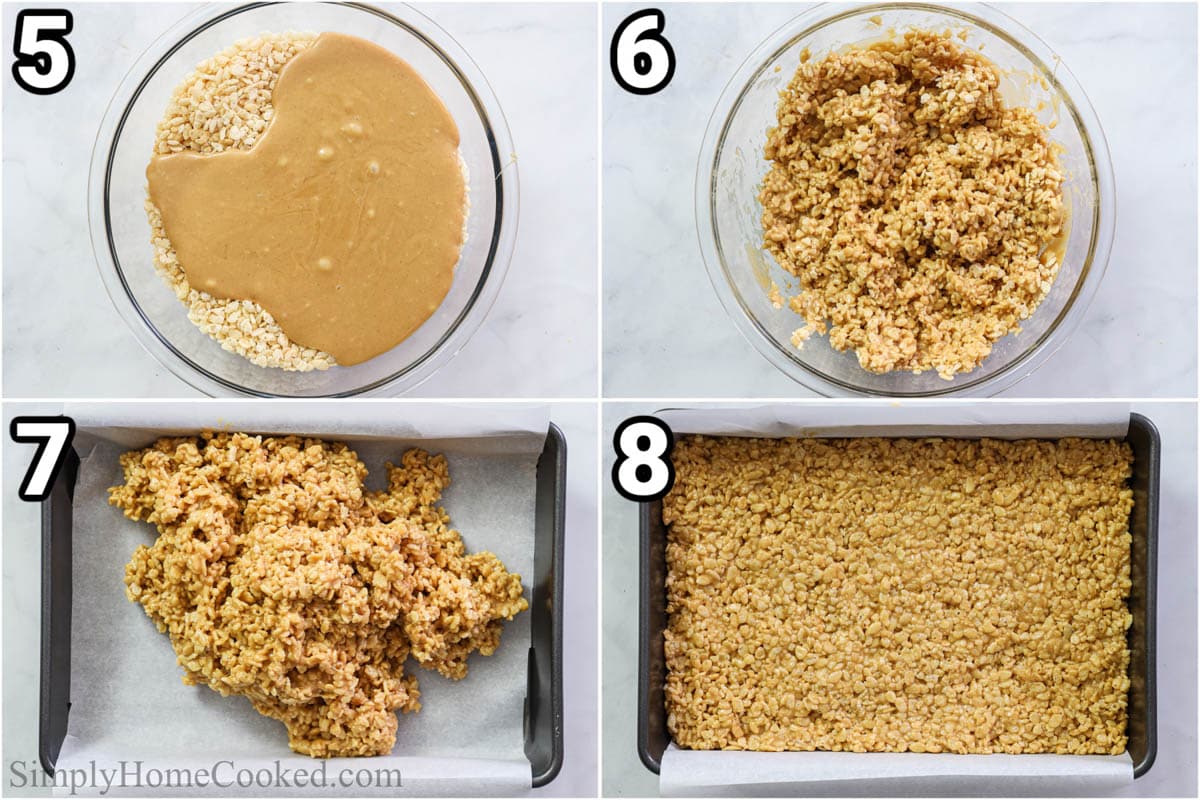 Make the topping. In a microwave-safe bowl, melt the chocolate chips and butterscotch chips. Then pour it over the cereal mixture and smooth it out with a spatula. Let the Scotcheroos sit and cool for about 1-2 hours before cutting them.
Pro Tip: Avoid burning the chocolate mixture by heating it in 10-second increments until it is mostly melted. Then mix it to redistribute the hottest parts, melting it fully.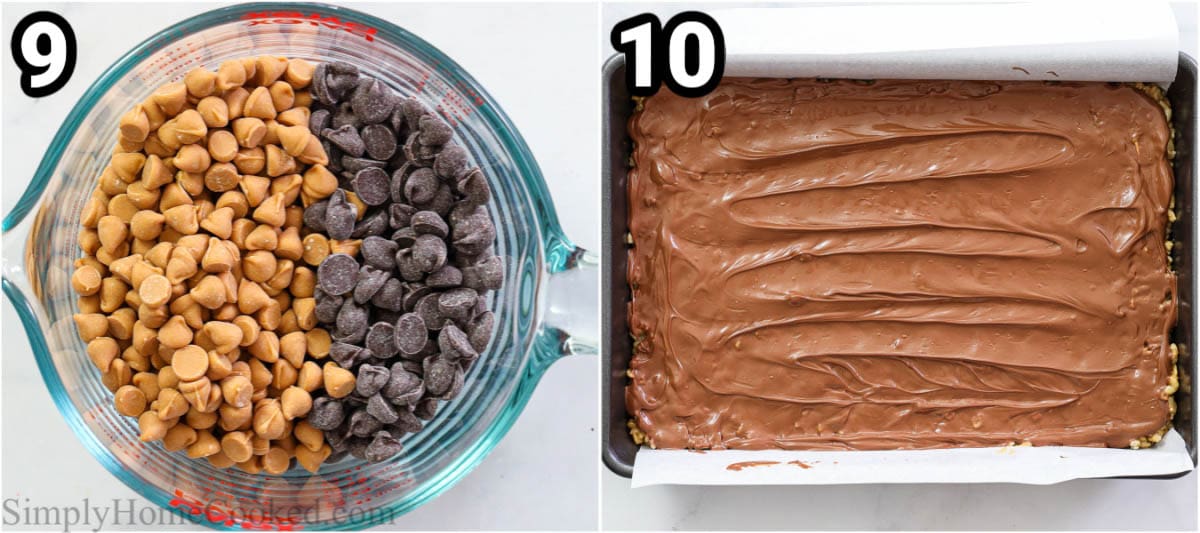 Recipe Tips
Watch the sugar mixture- Be careful to take the sugar and corn syrup mixture off the heat as soon as it starts simmering. Overheating it will cause the bars to be dry and crunchy.
Mix quickly- The cereal and peanut butter will start to set as soon as they begin cooling, so mix them thoroughly as quickly as you can before they harden.
Make a pretty topping- Melt the chocolate and butterscotch separately, then layer the chocolate over the cereal. Drizzle the butterscotch next, using a toothpick to swirl it around for a lovely look.
Serve them at room temperature- You can speed up the set time by putting them in the fridge, but take them out to come to room temp before serving or they will be more crunchy than chewy.
FAQs
What are Scotcheroos made from?
The key ingredients for Scotcheroos are Rice Krispies, butterscotch, chocolate, and peanut butter. The butterscotch is where they get their name from.
Why are my Scotcheroos so hard?
Usually this is caused by boiling the sugar mixture. Don't let it overheat, only simmering it long enough to melt the sugar and then taking it off the heat. Also, don't over-measure the cereal or these treats will be harder and drier.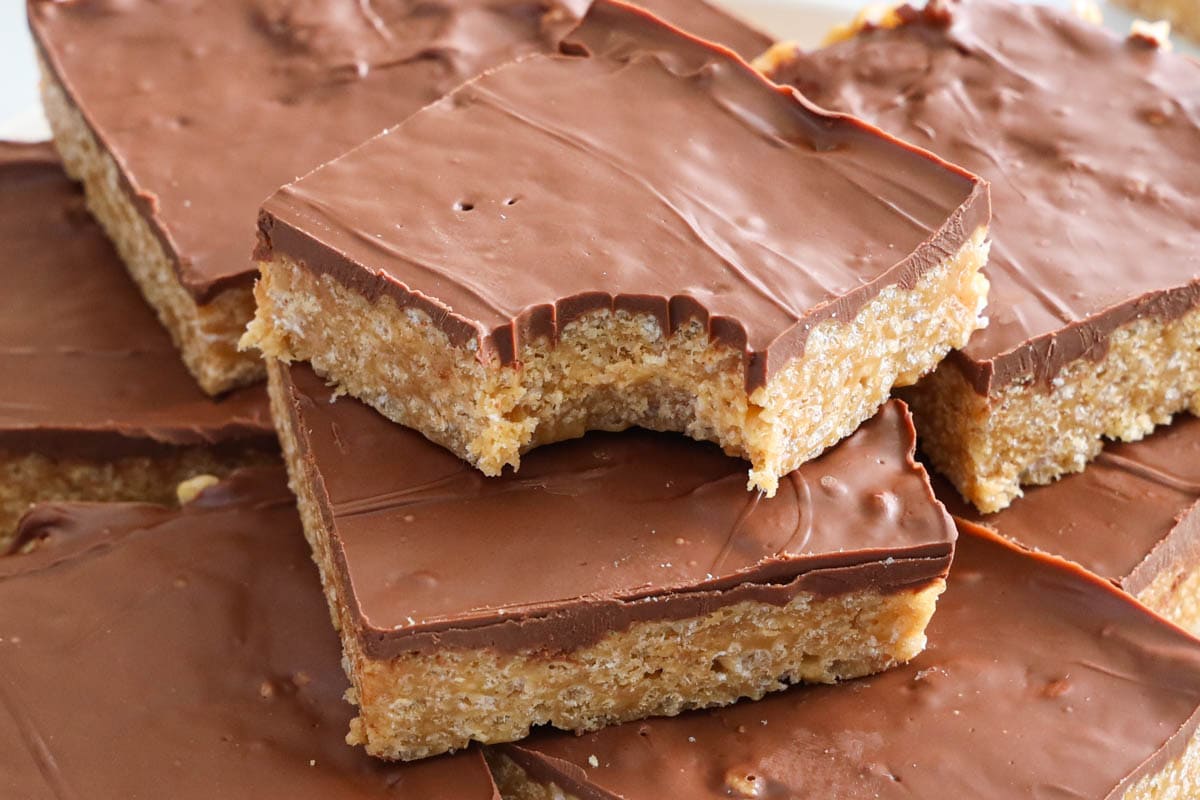 Serving Suggestions
These delicious Scotcheroos make a great dessert or snack. Here are some yummy pairings to try.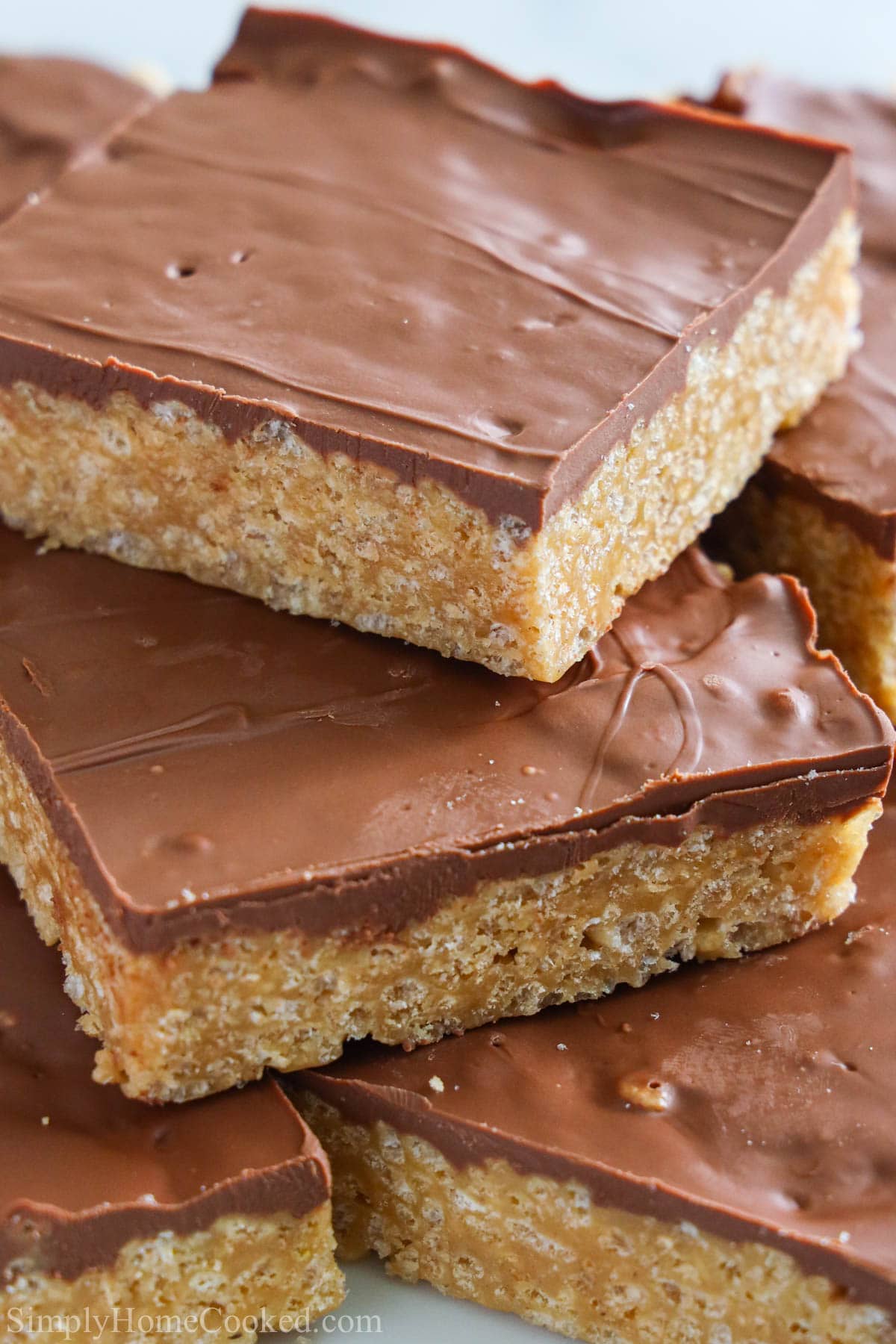 Make This Recipe in Advance
Make ahead: You can make these treats up to 3 days ahead and store them at room temperature. Cut them into squares when you are ready to serve them.
Storing: Store these Scotcheroos for up to 3 days at room temp or one week in the fridge, covered with plastic wrap.
Freeze: Freeze the squares for up to 3 months with layers of parchment paper in between to avoid sticking. Thaw to room temperature before serving.
More Tasty Desserts!
Full Recipe Instructions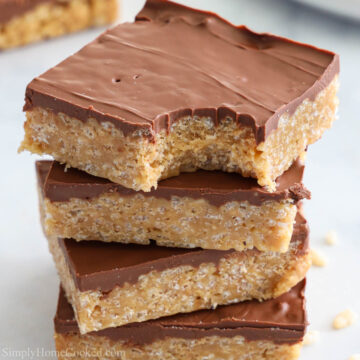 Scotcheroos
These Scotcheroos are chewy, sweet, and full of chocolate, butterscotch, and peanut butter. They're a no-bake treat that's deliciously addictive.
Print
Pin
Rate
Instructions
Prepare a 9 x 13 inch baking dish by lining it with parchment paper. Then set it aside.

In a medium-sized saucepan, combine 1 cup of light corn syrup along with 3/4 cups of granulated sugar using a whisk. Bring the mixture to a slight simmer and then remove from heat immediately.

Then whisk in one cup of creamy peanut butter and a pinch of salt

In a large bowl, add 5 1/2 cups of rice crispies cereal, then pour in the peanut butter mixture. Use a spatula to quickly mix everything together thoroughly.

Once everything is combined press it into your prepared baking dish. Use a spatula to spread out the mixture and compress it into the baking pan.

Now, in a microwave-safe bowl melt 1 cup of semisweet chocolate chips and 1 cup of butterscotch chips. Once the chocolate chips are completely melted, poured them over the rice treat. Use a spatula to smooth out the melted chocolate. Let the treats sit and cool for about 1-2 hours before cutting them into 24 squares.
Nutrition
Calories:
223
kcal
|
Carbohydrates:
35
g
|
Protein:
4
g
|
Fat:
9
g
|
Saturated Fat:
3
g
|
Polyunsaturated Fat:
2
g
|
Monounsaturated Fat:
4
g
|
Trans Fat:
1
g
|
Cholesterol:
1
mg
|
Sodium:
120
mg
|
Potassium:
121
mg
|
Fiber:
1
g
|
Sugar:
27
g
|
Vitamin A:
438
IU
|
Vitamin C:
4
mg
|
Calcium:
12
mg
|
Iron:
3
mg