This Nutella cake recipe is every Nutella lover's dream cake! Layers of moist chocolate cake smothered between a rich chocolate Nutella buttercream frosting.
You just can't go wrong with Nutella and dessert! Give our Nutella baklava and Nutella brioche a try!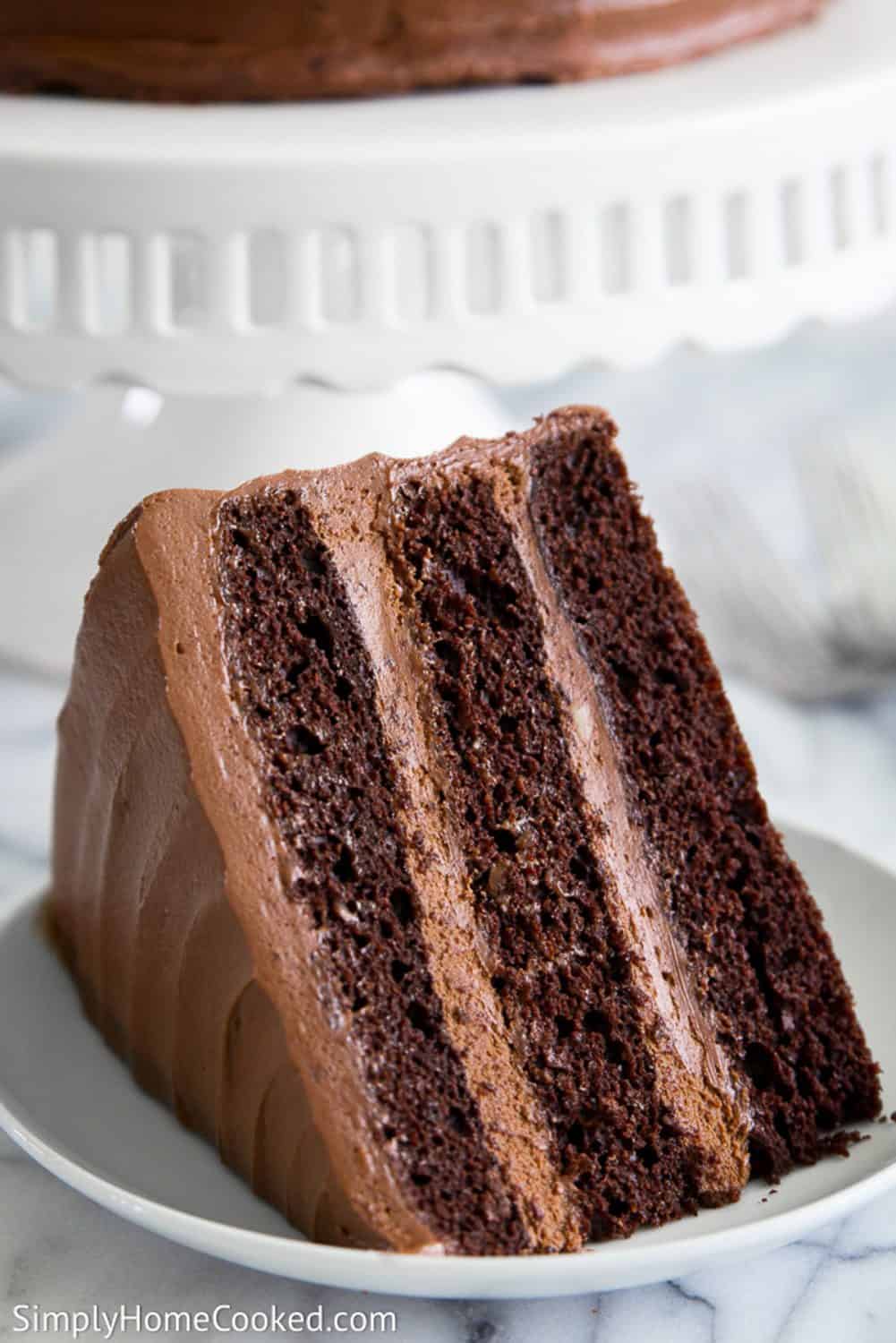 This post may contain affiliate links. Read my disclosure policy here. This recipe was originally posted on  Dec 27, 2017, we've tweaked it a bit since then.
If you are a chocolate lover, then this cake might just become your new favorite dessert. We enjoy Nutella desserts so much that we've included a few of our favorite Nutella desserts here.
How to make Nutella cake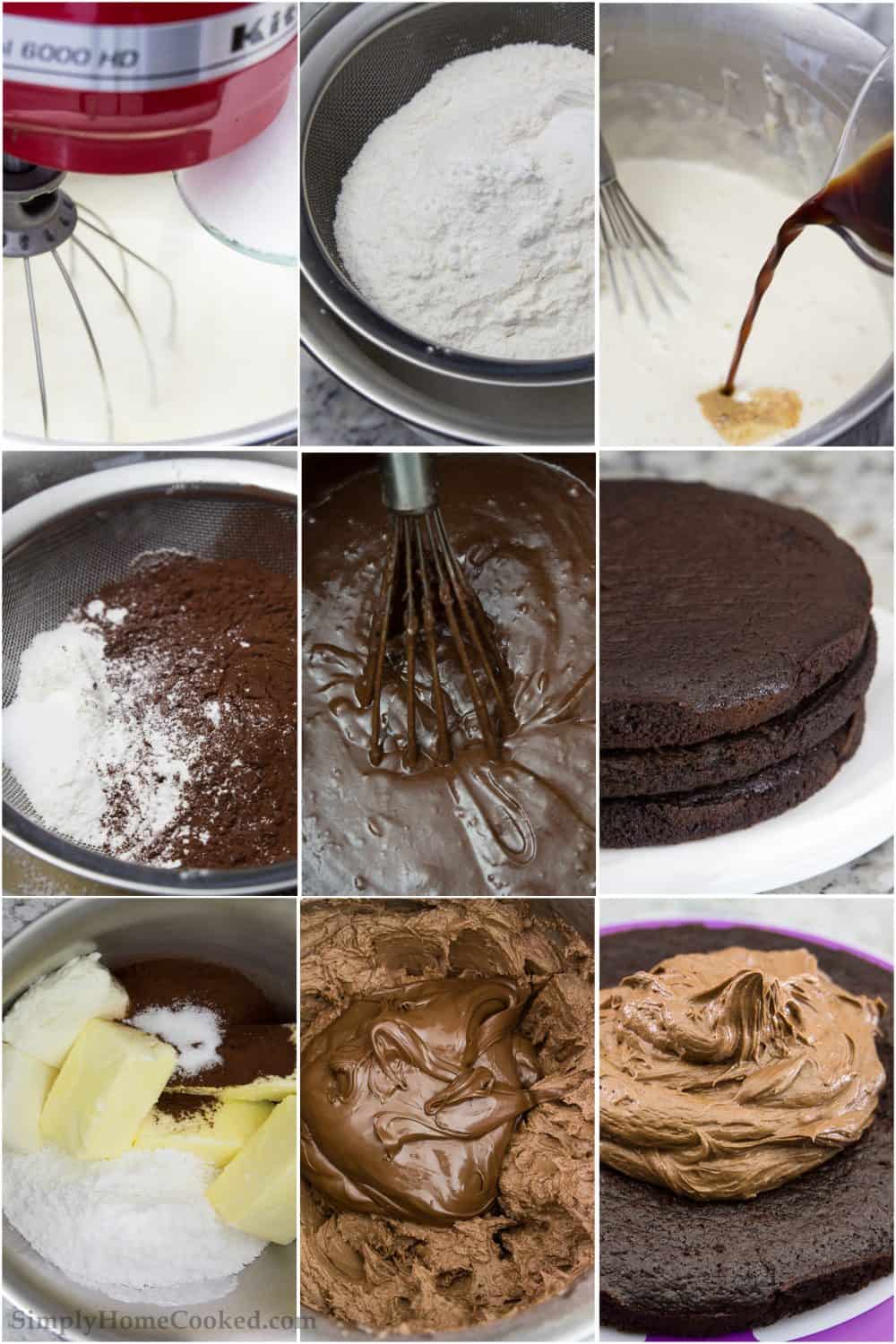 Nutella Buttercream
Start off by placing the softened cream cheese, unsalted butter, cocoa powder, powdered sugar, Nutella, and salt into the bowl of your stand mixer. Now combine it using the whisk attachment. If you want to thicken the Nutella buttercream, just pop it in the refrigerator for about 30 minutes.
How to assemble a Nutella cake
Once the chocolate cake has cooled completely, slice the top of each cake using a serrated knife, to ensure a smooth even chocolate cake.
Now assemble the Nutella cake by stacking the chocolate cake layers between the rich Nutella buttercream.
Always make sure to reserve some of the Nutella buttercream to frost the outside of the chocolate cake.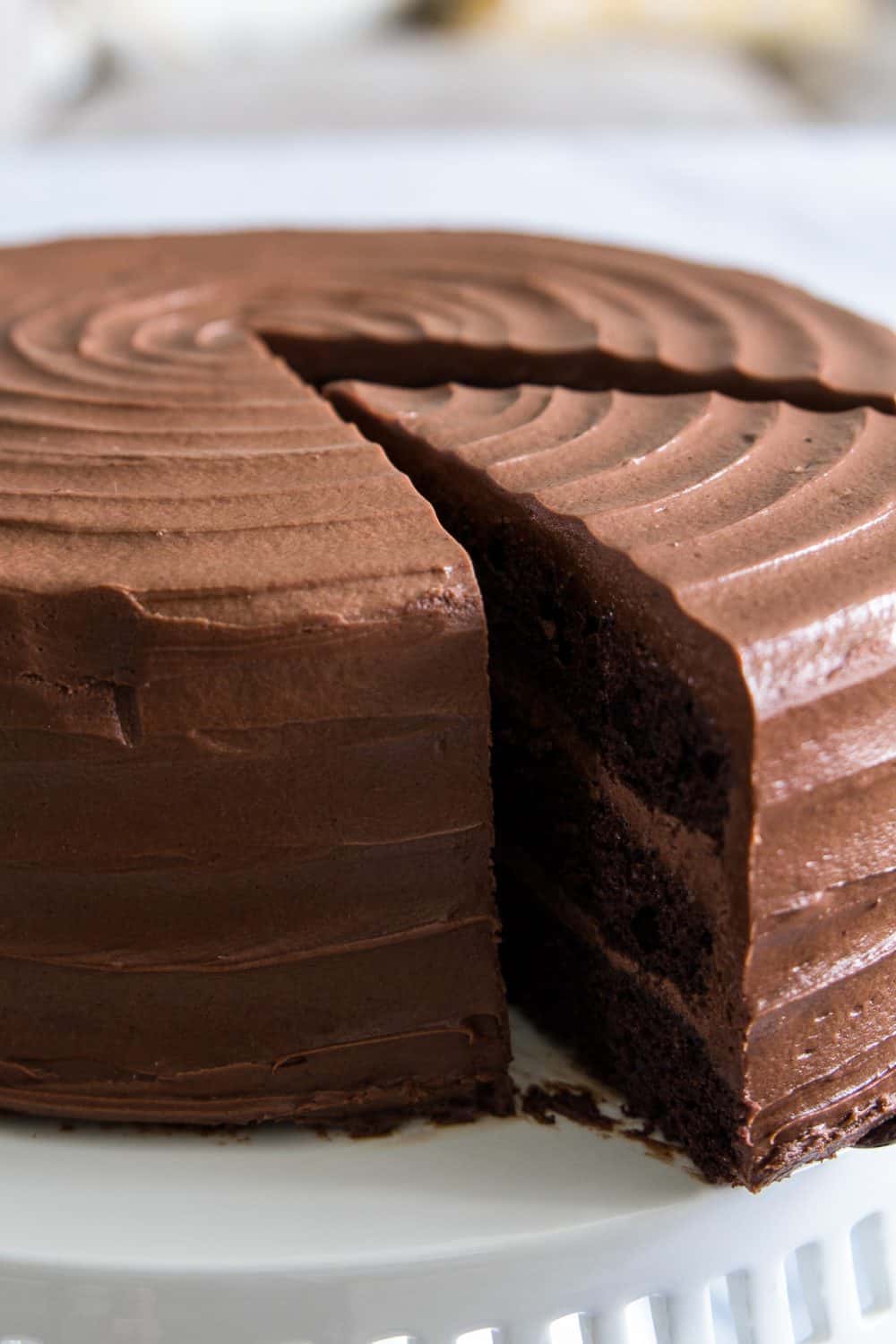 What is dutch process cocoa?
Dutch-processed cocoa powder is cocoa that has been processed with an alkalizing agent that gives it a lower acidity. Therefore it results in more rich and dense desserts, with less bitterness and a darker color.
Why do you put coffee in chocolate cake?
Many chocolate cake recipes call for coffee or espresso in the recipe. This isn't because coffee tastes great with chocolate (which obviously it does). Its because coffee enhances the richness of the chocolate.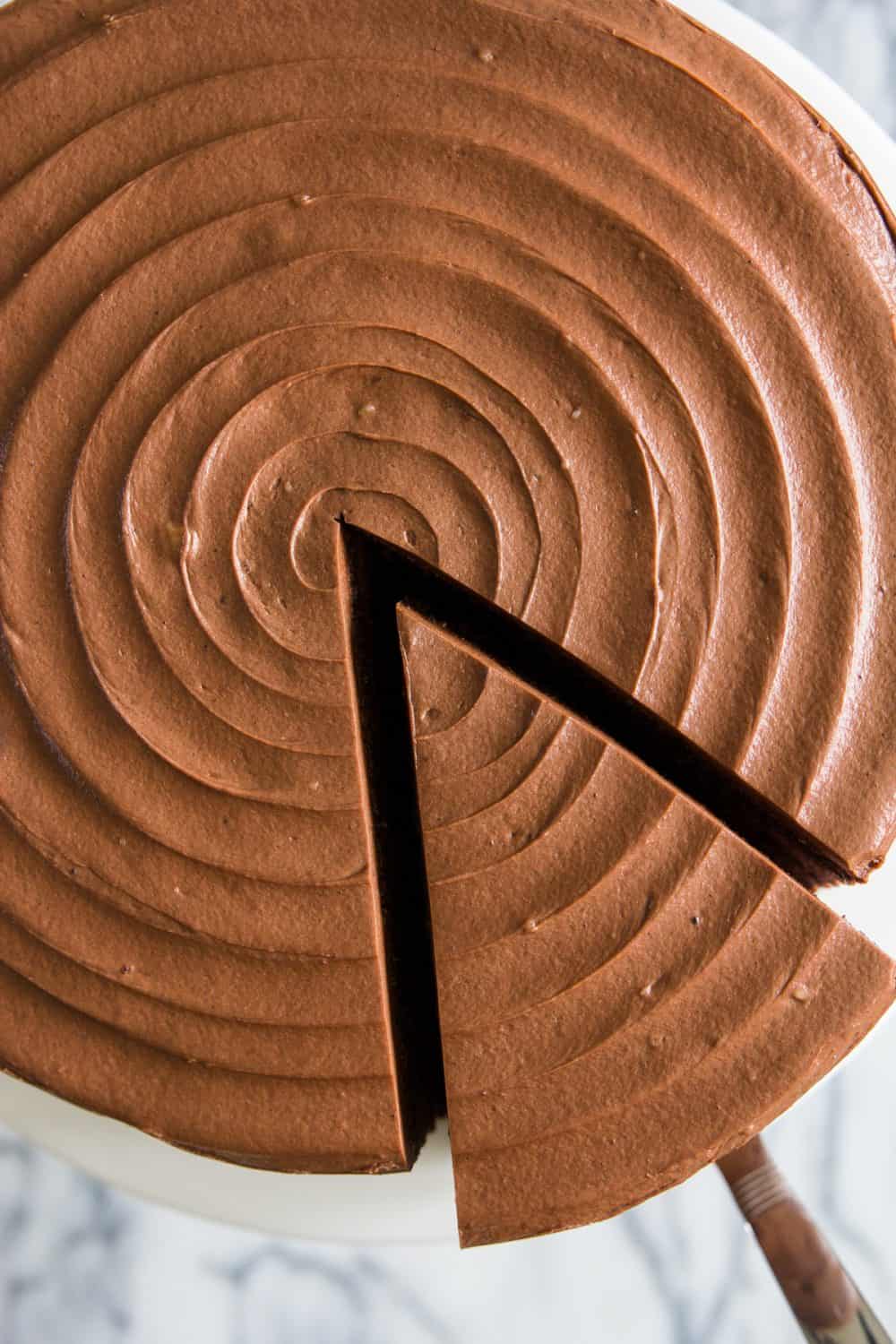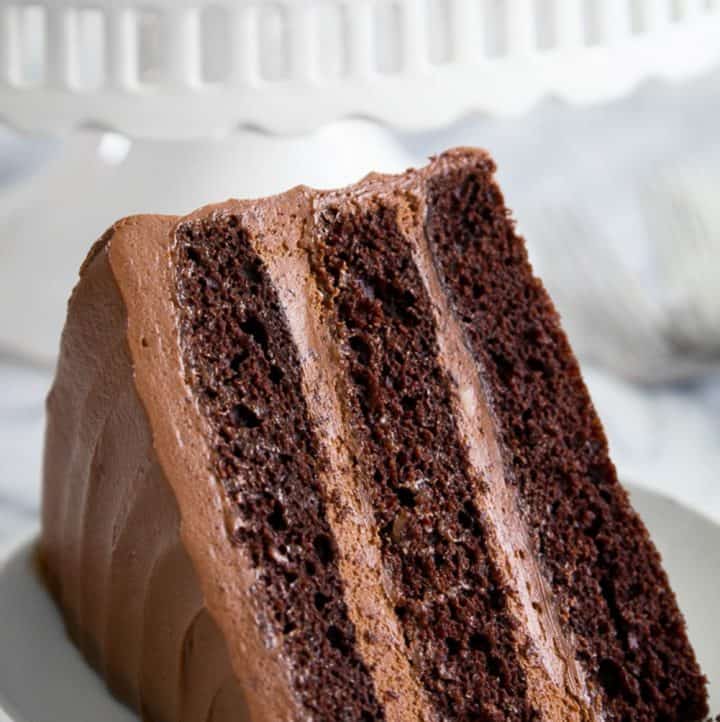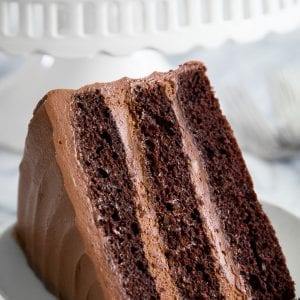 Nutella Fudge Cake
This Nutella cake recipe is every Nutella lover's dream cake! Layers of moist chocolate cake smothered between a rich chocolate Nutella buttercream frosting.
Print
Pin
Rate
Instructions
Place 5 eggs into the bowl of a stand mixer. Beat the eggs on high speed with the whisk attachment for about 4 minutes.

Add 2 cups sugar to the eggs and continue beating on high speed for an additional 4 minutes.

Add the 1 tsp vanilla and 1 cup buttermilk to the eggs. Beat again just until incorporated.

Dissolve 2 tbsp instant espresso powder with 1 cup room temperature water. Then add it to the cake batter. Then add in the melted butter.

Sift, 2 1/2 cups flour, 1 tsp salt, 1 1/2 tsp baking soda, 1 tsp baking powder, and 1 cup dutched cocoa powder into the egg mixture. Then gently fold the dry ingredients into egg mixture using a whisk.

Split the cake batter amongst 3 (9 inch) cake pans. Bake at 350 degrees for 15-20 minutes or until a toothpick comes out clean when inserted into the center of the cake.

Meanwhile beat 16 oz softened cream cheese, 2 cups softened butter, 1/2 cup cocoa powder, 2 1/2 cup powdered sugar, 1/2 tsp salt, and 2 cups Nutella.

Once the cakes are baked flip them onto cooling racks and let them cool completely. If you want your cake to have a flat top, use a serrated knife to slice the top of each cake.

Assemble the cake by frosting the top of each cake layer. Once the last cake layer is placed, Frost the top and sides of the cake.
Nutrition
Calories:
748
kcal
|
Carbohydrates:
88
g
|
Protein:
8
g
|
Fat:
43
g
|
Saturated Fat:
30
g
|
Cholesterol:
129
mg
|
Sodium:
643
mg
|
Potassium:
396
mg
|
Fiber:
5
g
|
Sugar:
64
g
|
Vitamin A:
985
IU
|
Calcium:
102
mg
|
Iron:
4
mg

Hi, I'm Dina, so glad you stopped by! I believe life is too short for bad coffee and boring meals. With my easy to follow step-by-step recipes, you'll be surprised at how quickly a wholesome and delicious meal can come together. I hope you find something you enjoy!

Latest posts by simplyhomecooked (see all)