These easy Keto Peanut Butter Cookies are all sweet and nutty goodness. You'll love how soft and chewy these delicious cookies are, and how easy to make!
If you're in the mood for cookies, you have to try our chewy amaretti cookies (video) and these flourless chocolate walnut cookies.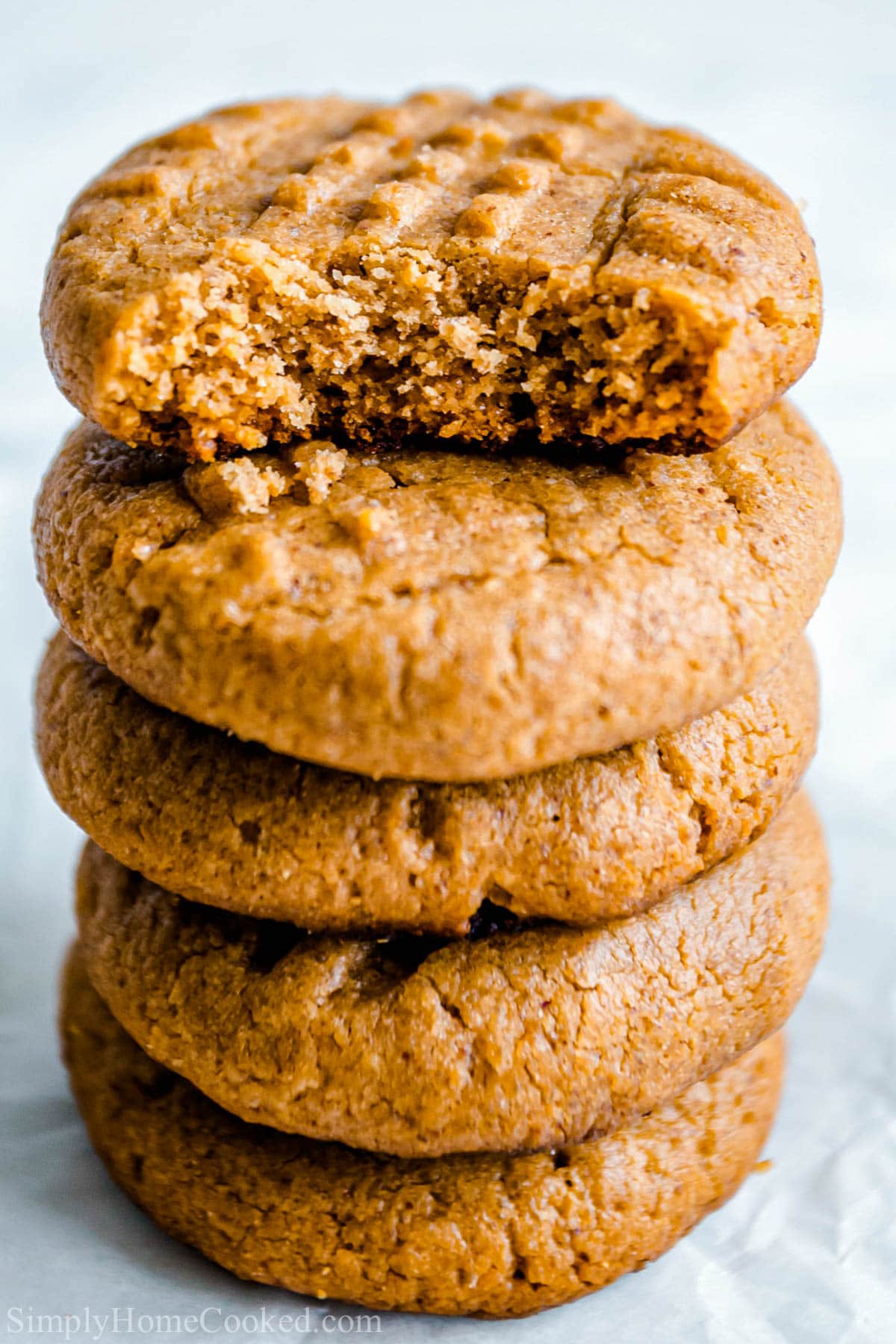 Recipe Details
I love these Keto Peanut Butter Cookies because they have just the right taste and texture with none of the guilt. You're going to want to make this recipe year-round.
TASTE: These Keto Peanut Butter Cookies are nutty and sweet. You'd never know that there's no sugar in them!
TEXTURE: The creamy peanut butter and almond flour give these cookies a dense chewiness that's amazing.
TIME: It only takes 17 minutes to make them.
EASE: This recipe is super easy and only uses 5 ingredients.
What You'll Need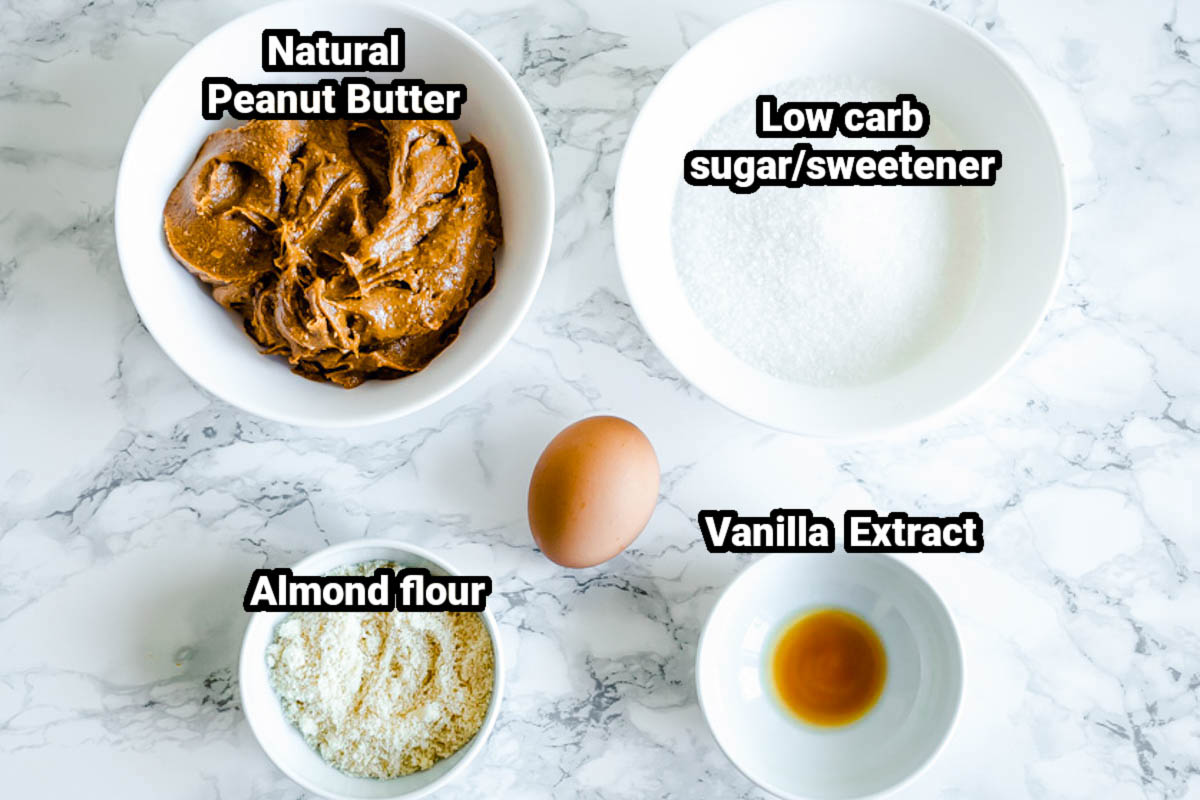 Ingredient Notes
Flour- We use blanched almond flour in this recipe because all-purpose flour is high in carbs. This is a great option, especially for nutty cookies!
Sweetener- You'll need to use a low-carb sweetener for your Keto Peanut Butter Cookies, like Swerve, or Besti sweetener from Wholesome Yum Foods. This ingredient gives you the sweetness you love in cookies, but with zero sugars.
Peanut butter- Natural peanut butter is a good choice because it has no additives that can add carbs. I also suggest creamy for a soft and chewy cookie.
Add-ins and Substitutions
Add chocolate chips- Try this recipe with chocolate chips that are sugar-free and keto-friendly. Chocolate and peanut butter make a perfect pairing.
Substitute chunky peanut butter- I prefer creamy, but if you like a little crunch in your cookies, then use a chunky version.
Use other flours- Besides almond flour, you can also use coconut flour, chia flour, or flax meal for a low-carb alternative.
Make them vegan- These Keto Peanut Butter Cookies are already keto-friendly and gluten-free. Make them vegan by using a "flaxseed egg" = 1 Tbsp flaxseed+ 3 Tbsp water.
How to Make Keto Peanut Butter Cookies
Mix together the wet and dry ingredients. Place the egg, vanilla, low-carb sweetener, almond flour, and salt in a large bowl and beat them together with an electric hand mixer.
Add in the peanut butter. Spoon the peanut butter into the bowl and mix it in with the other ingredients.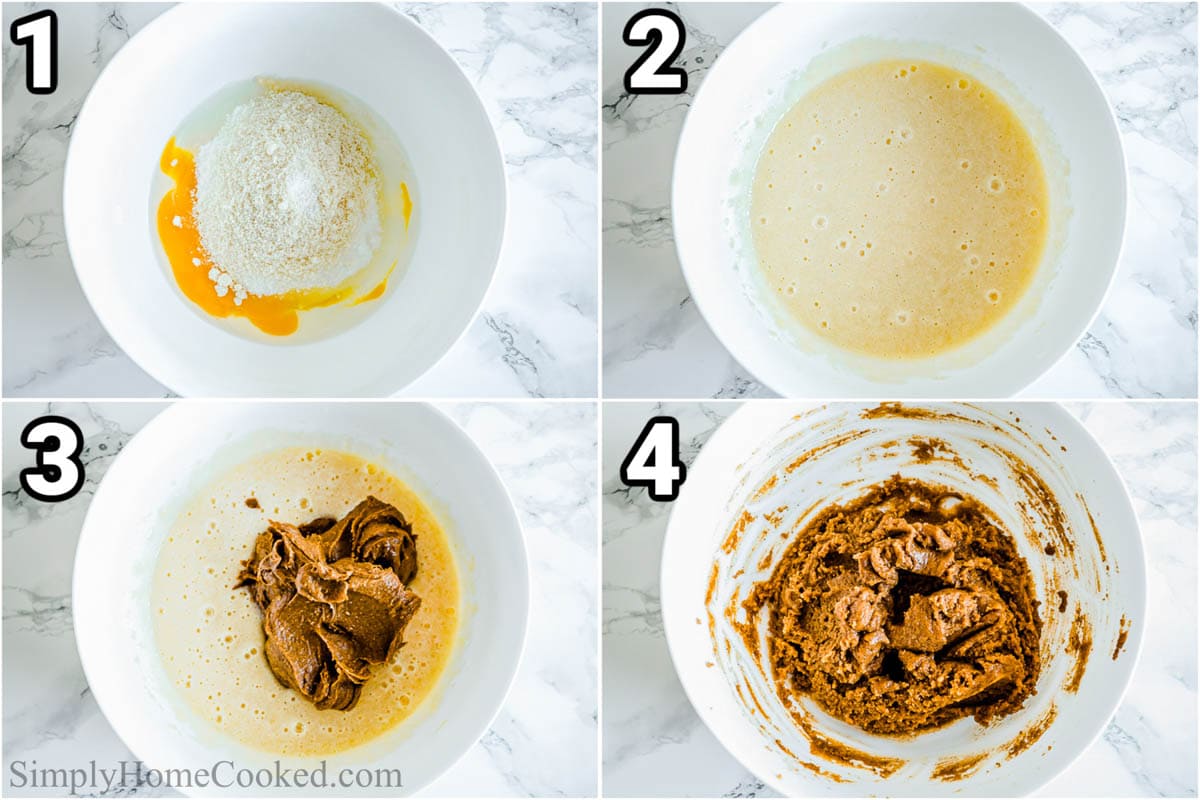 Preheat the oven. Preheat the oven to 350 degrees Fahrenheit and line a baking sheet with parchment paper.
Scoop out the dough. Using a medium-sized cookie scoop (about 1 tablespoon), scoop out the cookie dough and roll it into balls. Place them on the baking sheet about 2 inches apart.
Make the fork marks. Using the back of a fork, press lightly on the top of each cookie. Then press again at a 90-degree angle, creating a hashtag sign on top of each one.
Pro Tip: These cookies will spread when you make your fork indentations, so make sure to leave room in between so they don't merge together while baking.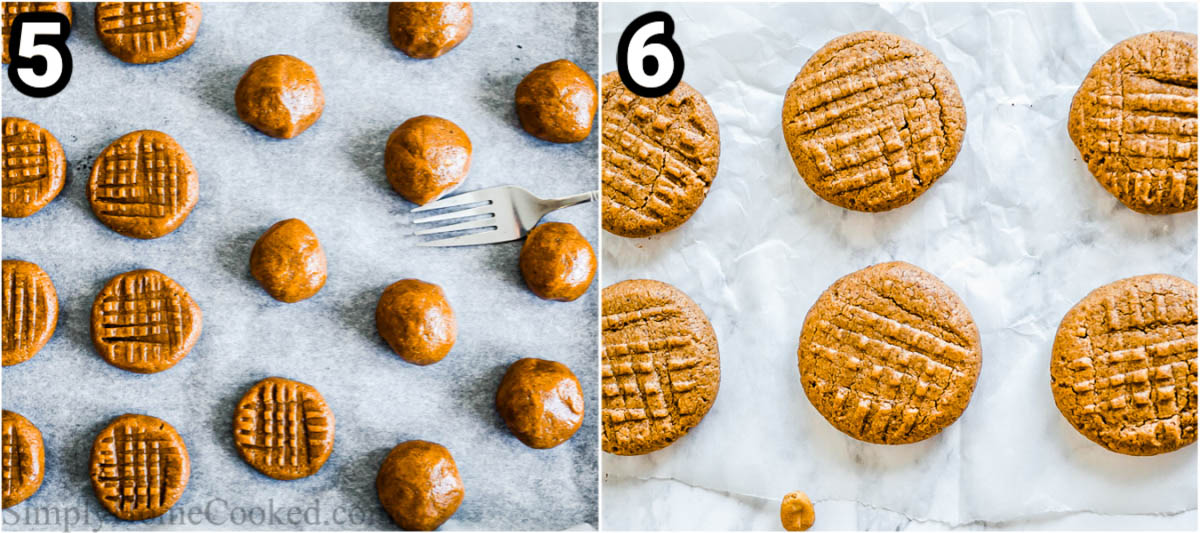 Bake. Bake them for 10-12 minutes. Let them cool a little before serving as they will be very soft.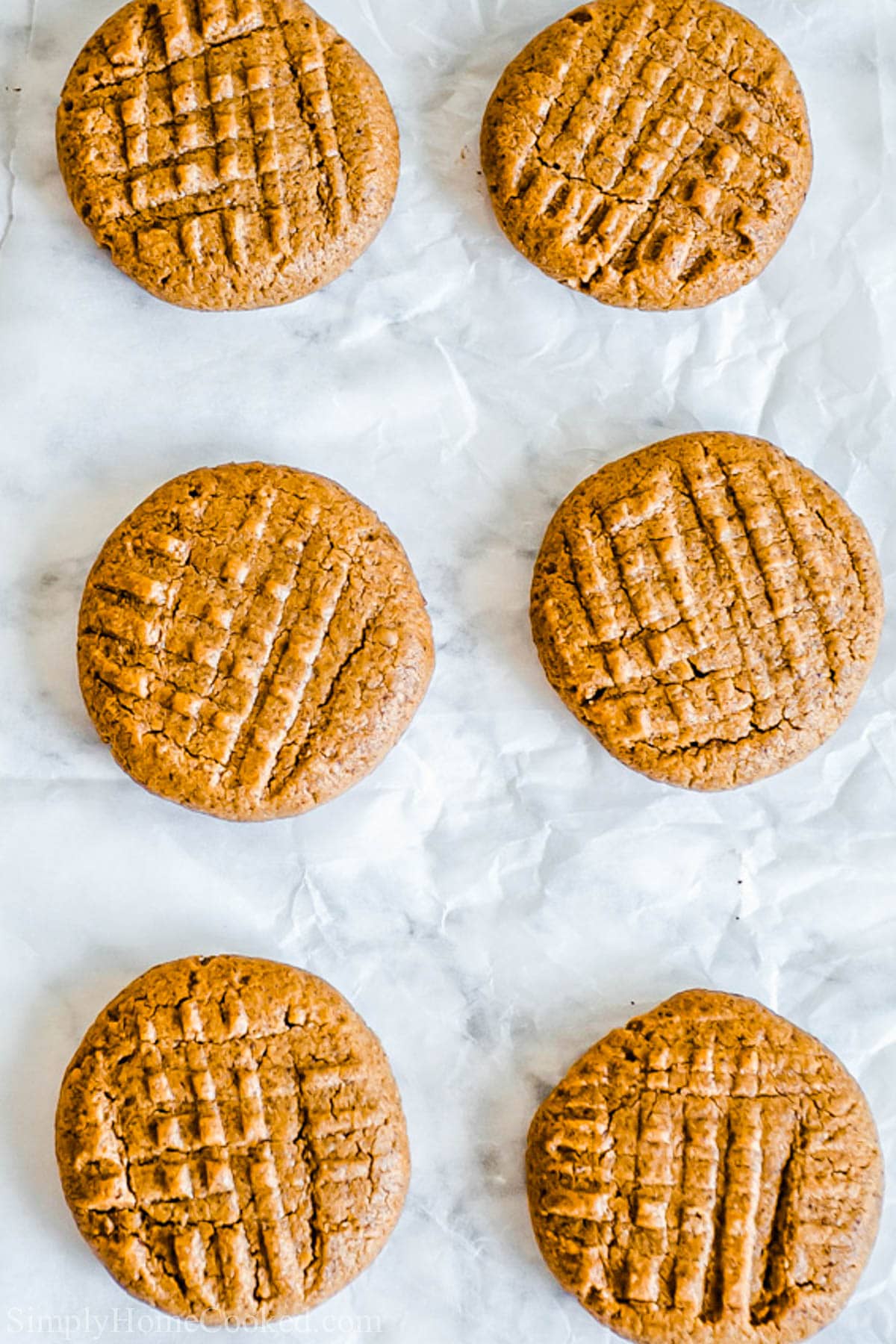 Recipe Tips
Check nutrition labels- Not all ingredients are created equal, so check labels to make sure you are getting a truly keto-friendly ingredient before using it in your cookies.
Add the peanut butter last- This ingredient is sticky and hard work to mix in, so combine everything else before you work this into the cookie dough.
Use a cookie scoop- For even baking, it's best to have a uniform size for all the cookies. A cookie scoop will help each ball be the same size so you get perfect cookies every time.
Let them cool- These cookies are really soft and delicate when they are piping hot from the oven, so let them cool a few minutes on the pan before placing them on a cooling rack.
FAQs
What is keto friendly?
Keto-friendly refers to foods that are high in fat and low in carbohydrates (including sugars), so your body will be in a state of ketosis where it burns fat.
Is peanut butter OK for keto diet?
When eaten in moderation, peanut butter can work with a keto diet. It is moderately low in carbs with 7 grams total, and 5 grams of net carbs per 2 tablespoons.
Serving Suggestions
These Keto Peanut Butter Cookies make a great snack or dessert after a delicious meal. Enjoy them with other keto favorites or serve them on a dessert platter.
Meats: Enjoy these cookies after a keto-friendly Baked Lemon Chicken, Ribeye Steak Recipe or Chicken Lettuce Wraps.
Vegetables: Serve Broccoli Salad with Bacon (VIDEO), Garlic Asparagus, Crispy Air Fryer Broccoli, and Bacon Green Bean Salad before your cookie dessert.
Cookies: Add these to a cookie platter with other delicious offerings, like Amaretti Cookies (VIDEO), Chewy Nutella Cookies, Almond Joy Cookies, and Coconut Flour Cookies.
Beverage: Pair these cookies with a cold glass of almond milk, coffee, or tea for a great afternoon snack.
Make This Recipe in Advance
Make ahead: You can make these ahead of time and store them at room temp, in the fridge, or freeze them. But if you are only making them a few days early, leave them at room temperature so they stay soft and moist, as the fridge can dry them out.
Storing: These scrumptious cookies can be stored in an airtight container at room temperature for 4-6 days.
Freeze: You can also freeze them once they have cooled. Place them in a freezer ziplock bag or container with parchment paper in between the cookies to avoid sticking. Freeze for up to 3 months.
More Yummy Cookies!
Full Recipe Instructions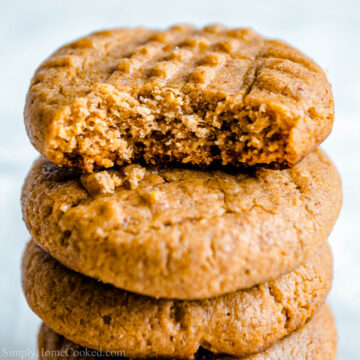 Keto Peanut Butter Cookies
These Easy Keto Peanut Butter Cookies are chewy and delicious. Made with just a few simple ingredients, they are too tasty to pass up.
Print
Pin
Rate
Instructions
In a large bowl add 1 egg, 1/2 teaspoon vanilla extract, 1/2 cup low carb sweetener (like swerve or erythritol), 3 tablespoons blanched almond flour, and a pinch of salt. Use an electric hand mixer to combine everything together.

Now add 1 cup of creamy peanut butter and mix it in with the electric mixer. (use non-sweet peanut butter for keto or sweetened if you're not following the keto diet).

Line a baking sheet with parchment paper and preheat the oven to 350 degrees Fahrenheit.

Now scoop out the peanut butter cookie dough using a medium-sized cookie scoop (about 1 tablespoon in size) and roll the dough into your hand.

Then place the dough balls onto the prepared baking sheet about 2 inches apart.

Then use the back of a fork to lightly press over the top of each cookie. Then press again in the opposite direction to create a hashtag shape over the top of each peanut butter cookie. Bake for about 10-12 minutes. Serve with milk, coffee, or tea. Makes 18 (tablespoon-sized cookies)
Notes
How to make these keto cookies ahead of time If you want to make these cookies more than a week in advance, then you can freeze them. Just make and cool them as per the recipe, then place them in an airtight container or ziplock freezer bag, with parchment paper in between the cookies to avoid sticking. They can stay frozen for up to 3 months.
Nutrition
Calories:
95
kcal
|
Carbohydrates:
3
g
|
Protein:
4
g
|
Fat:
8
g
|
Saturated Fat:
2
g
|
Cholesterol:
9
mg
|
Sodium:
69
mg
|
Potassium:
96
mg
|
Fiber:
1
g
|
Sugar:
1
g
|
Vitamin A:
13
IU
|
Calcium:
10
mg
|
Iron:
1
mg