Super EASY and crazy delicious butter and garlic infused ribeye steak that's seared in a cast iron pan and finished off in the oven in less than 20 minutes!
If you prefer to serve a similar dish to a larger crowd, give our garlic herb prime rib roast a try!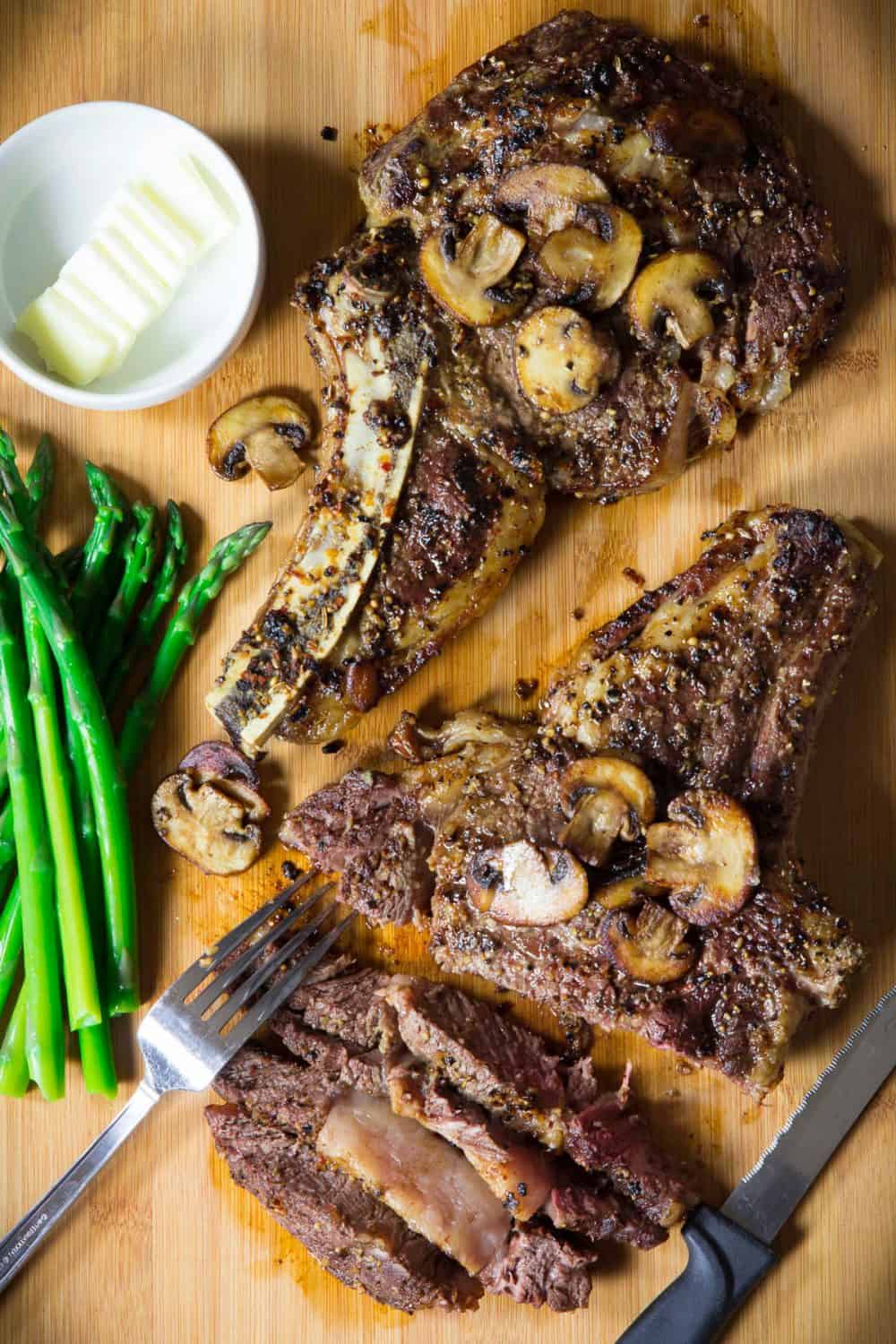 This recipe was originally posted on Jan 28, 2016, we've tweaked it a bit since then. This post may contain affiliate links. Read my disclosure policy here.
Ribeye steak
You don't need any skills or a huge list of ingredients for this ribeye steak recipe. It's as simple as steak, oil, garlic, seasoning, and a tiny bit of butter (for flavor). The cooking time may vary depending on each oven and the size of the steak. My steaks were a little over 1 inch thick. 8 minutes in the oven got me a perfect medium well steak. If you prefer your steak a little more rare, cook it for less than 8 minutes.
How to cook ribeye steak in frying pan
As with any raw meat, I always rinse and pat my ribeye steaks dry with a paper towel.
Now drizzle a generous amount of olive oil over the rib eye steak and massage the pressed garlic over the entire steaks. Now season them with your favorite steak seasoning. I love using Weber's Chicago steak seasoning for this rib eye steak recipe.
Sear each side of the rib eye steak in the cast iron pan then finish them off in the oven with a slice of butter on top.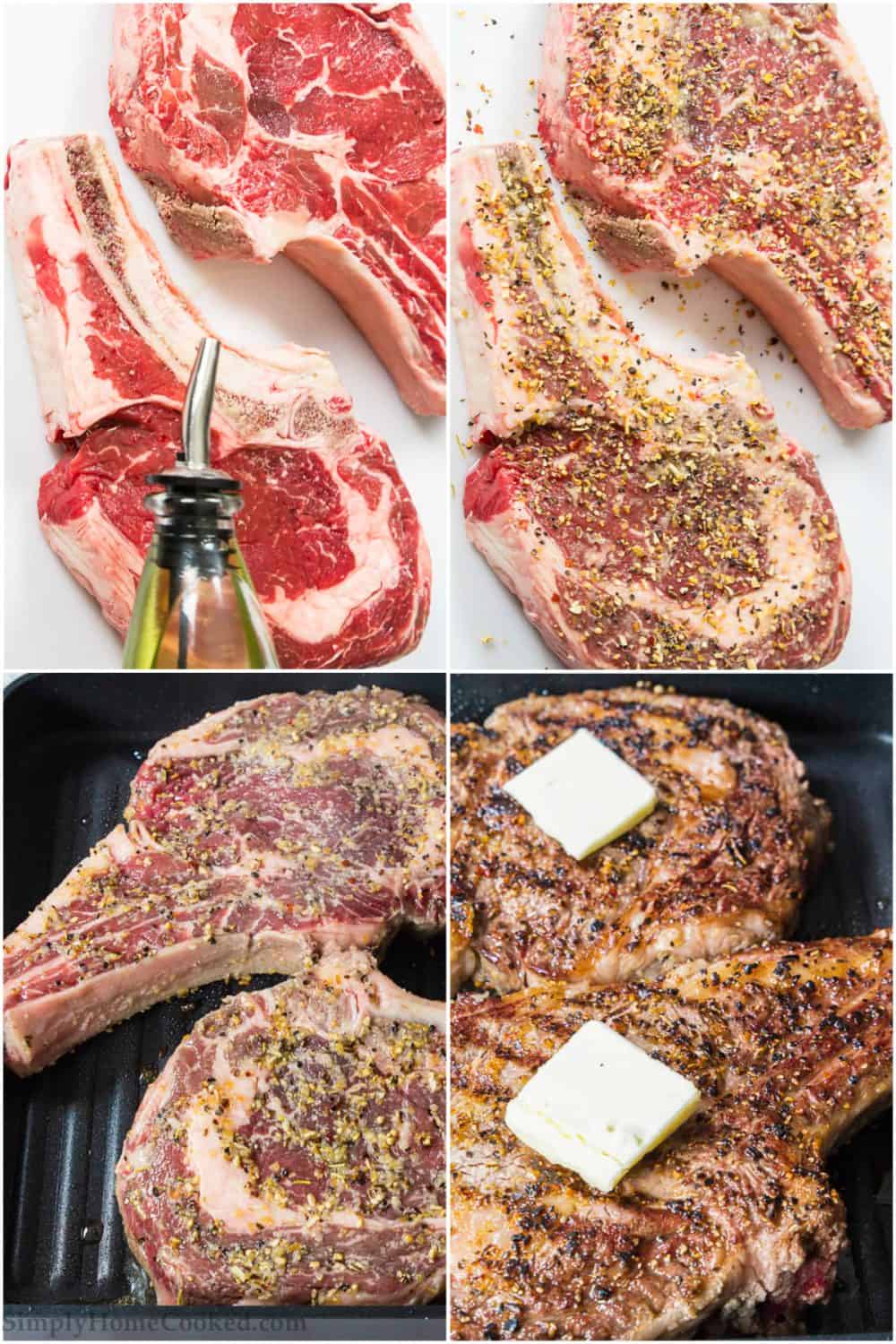 Ribeye steak temperature
When cooking steaks, no matter if the steak recipe calls for grilling, baking, or panfrying, the steaks have to reach a certain temperature to be considered safe to eat. The USDA recommends that steaks at least reach an internal temperature of 145 degrees Fahrenheit for a medium cooked steak.
But, if you prefer your steak medium-rare, let the steaks reach 130 to 135 degrees Fahrenheit. This is the preferred method of enjoying the best ribeye steak since its more flavorful and juicy.
How long to cook ribeye steak
If you're making your steak in a frying pan, sear both sides until well browned then finish the ribeye steak in the oven for about 8 minutes at 400 degrees Fahrenheit for a 1-inch steak.
For a medium-well steak on the grill, cook the steak for 5 to 7 minutes.
Ribeye steak price
The price for ribeye steak can vary from $9.99 to $14.99. I've seen ribeye go on sale for as low as $5.99 per pounds before a holiday. That's a sweet deal so take advantage and save money by stocking up and freezing the steaks. We love to buy the ribeye when it's on sale and vacuum seal them in our food saver vacuum sealing system.
 Ribeye steak sides
Now that you're planning on eating the best ribeye steak recipe, why not add in some steak sides? Give these steak sides a try!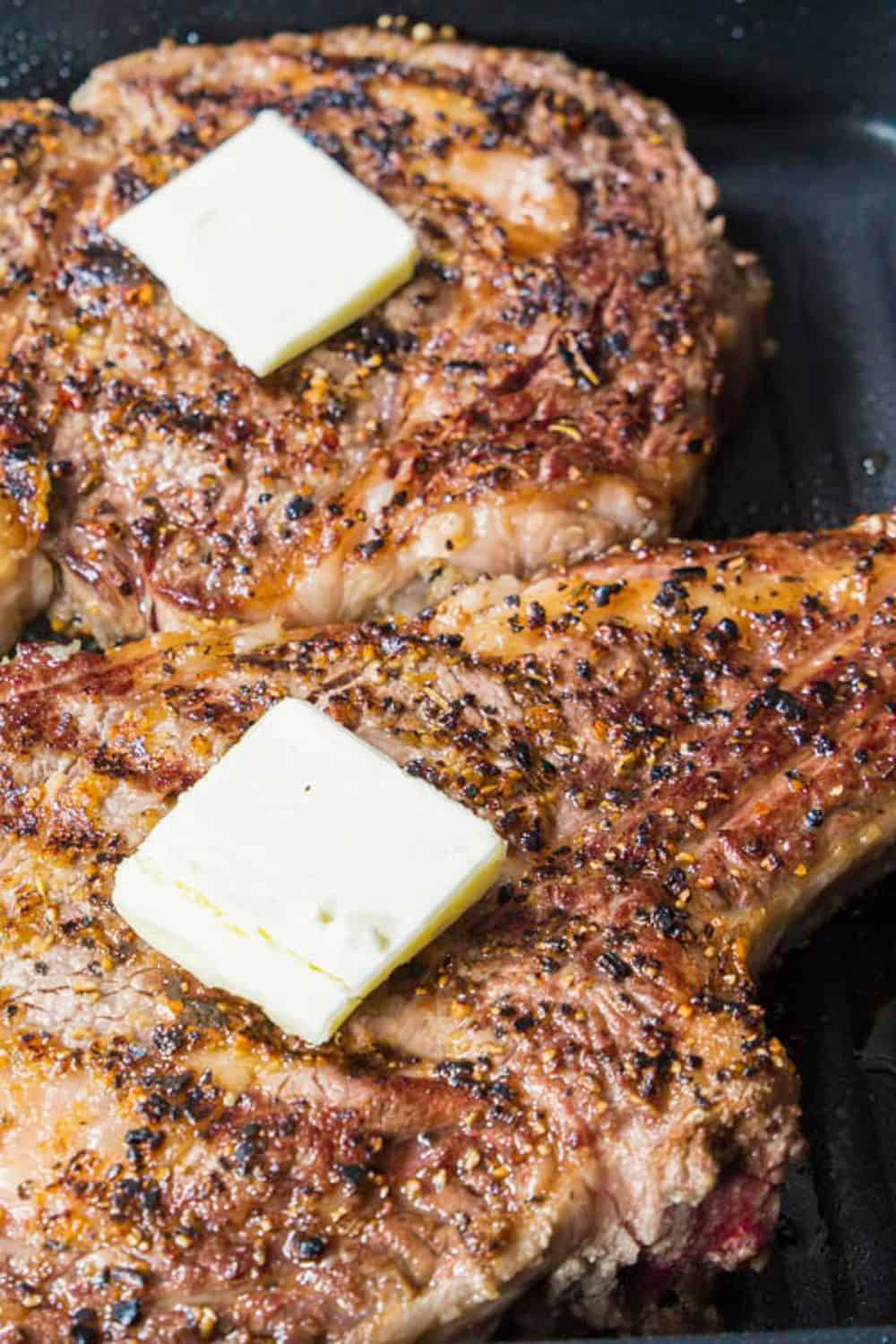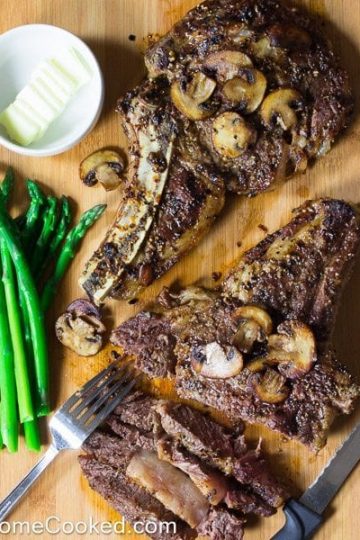 Ribeye Steak Recipe
Super EASY and crazy delicious butter and garlic infused ribeye steak that's seared in a cast iron pan and finished off in the oven in less than 20 minutes
Ingredients
2

bone-in ribeye steaks

2

garlic cloves

pressed

Weber Chicago steak seasoning to taste

1

tbsp

butter
Instructions
Pat away any extra blood from the meat using a paper towel. Drizzle olive oil over each side of the steaks.

Evenly spread the 2 pressed garlic cloves on both sides of the steaks and generously season with the Chicago steak seasoning.

Heat 2 tbsp of olive oil in a cast iron pan over high heat. Cook both sides of the steak in the cast iron pan until well browned.

Place 1/2 tbsp of butter on each steak and cook uncovered in the oven at 400 degrees Fahrenheit for 8 minutes.
Nutrition Facts
Ribeye Steak Recipe
Amount Per Serving
Calories 525
Calories from Fat 333
% Daily Value*
Total Fat 37g 57%
Cholesterol 153mg 51%
Sodium 168mg 7%
Potassium 605mg 17%
Protein 45g 90%
* Percent Daily Values are based on a 2000 calorie diet.