These extra soft and thick monster cookies are loaded with creamy peanut butter, chewy oatmeal, chocolate chips, and M&M candy.
If you enjoy a classic cookie treat like this, you will most definitely love our oatmeal chocolate chip cookies and walnut chocolate chip cookies.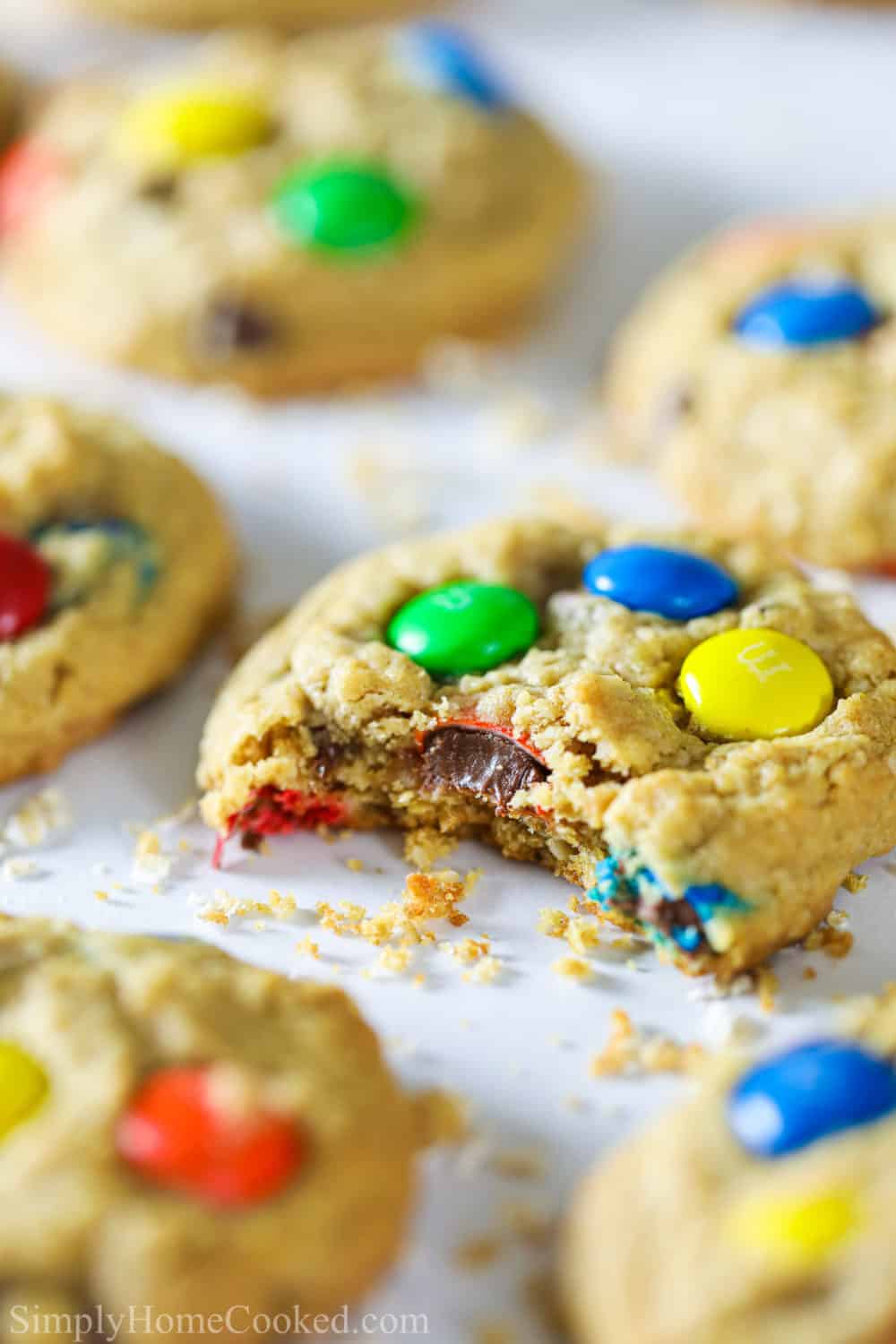 Monster cookies
Monster cookies are a classic M&M cookie that is loaded with quick-cooking oatmeal, creamy peanut butter, and melty morsels of semi-sweet chocolate chips. Seriously, what's not to love?!
Monster cookie ingredients
Wet ingredients – You'll need the basics to make these cookies tasty and moist: Butter (unsalted and softened), Brown sugar, Granulated sugar, Eggs, Peanut butter, and Vanilla.
Dry ingredients – These will give your monster cookies thickness and texture: Flour, Baking soda, Cornstarch, Salt, and Oatmeal (the quick oats kind).
The yum factor – Semi-sweet chocolate chips and M&Ms.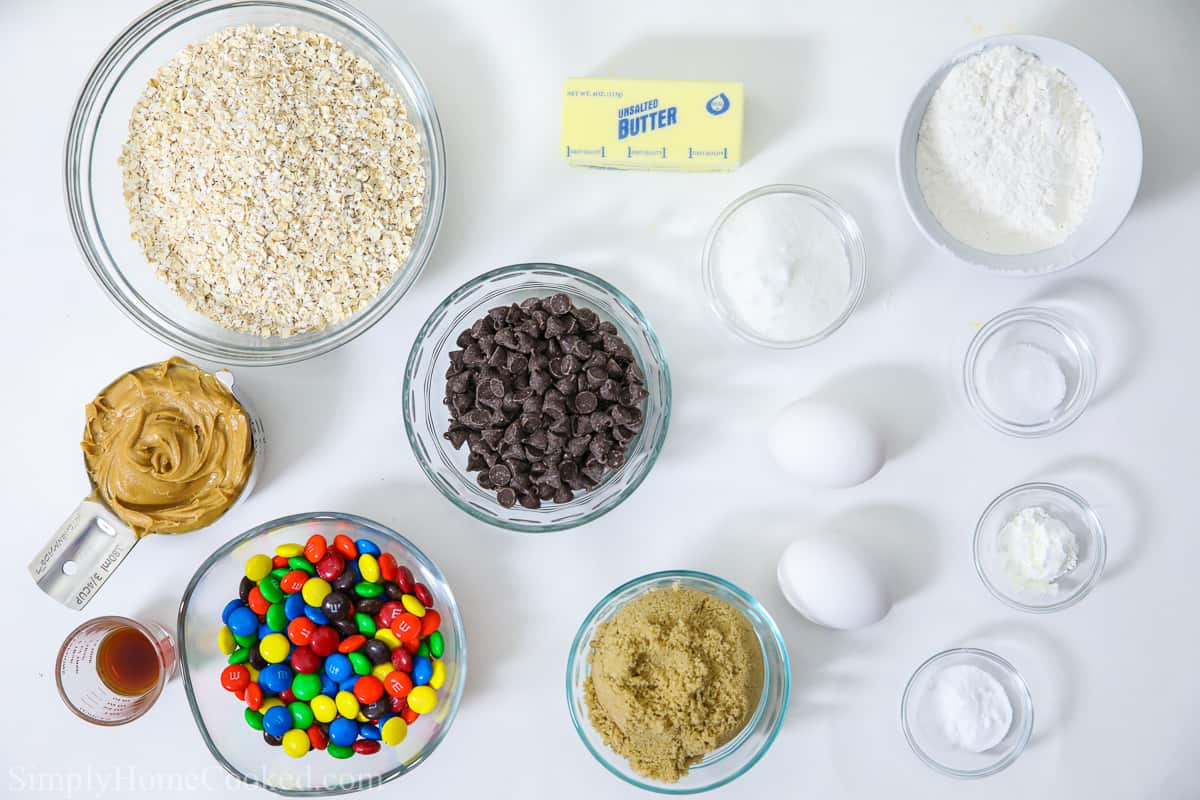 How to make this monster cookie recipe
Combine the wet ingredients. Using a hand mixer, combine the butter, eggs, sugars, vanilla, and peanut butter in a large bowl.
Combine the dry ingredients. Add the oatmeal, flour, cornstarch, baking soda, and salt to the same bowl. Mix thoroughly.
Add the chocolate and candy. Add in the semi-sweet chocolate chips and the M&Ms.
Scoop and roll the dough. Using a cookie scoop, scoop out heaping balls of cookie dough and roll them between your hands for an even shape. Then, place them on a parchment-lined baking sheet.
Bake. These monster cookies will bake for 10-12 minutes in a 350-degree oven.
TIPS:
Use no-stir peanut butter. Natural peanut butter tends to separate and make cookies greasy, so stick to the basic, no-stir variety for these cookies.
Keep your butter at room temperature. Soft butter will make these delicious monster cookies spread out while they're baking, not to mention nice and moist.
Don't overbake. These yummy cookies will lose their chewiness if they remain in the oven for too long. So, make sure to check them as the end of their baking time nears.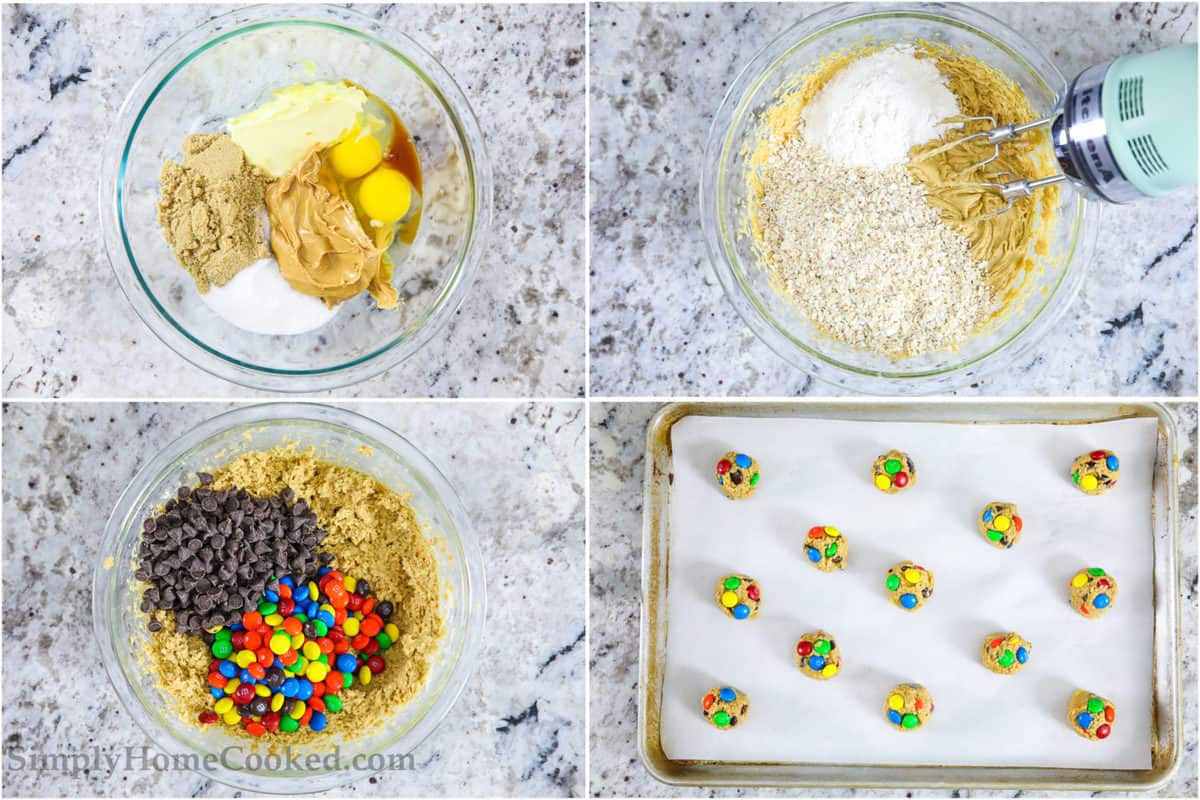 Best oatmeal for monster cookies
If you're not sure which oatmeal to use for your monster cookies, quick oats are the way to go. Quick oats give a more uniform consistency and less chew because they are smaller, while still offering the same delicious flavor as the old-fashioned kind.
Do I need to chill the dough for monster cookies?
No, you do not need to chill this monster cookie dough. When you chill cookie dough, it solidifies the fat. When you bake the dough, the fat will take longer to melt, causing less spreading and cookies that look more like balls than discs. The sugar in your cookie dough will also absorb the liquid, which causes less spreading out as the dough cooks.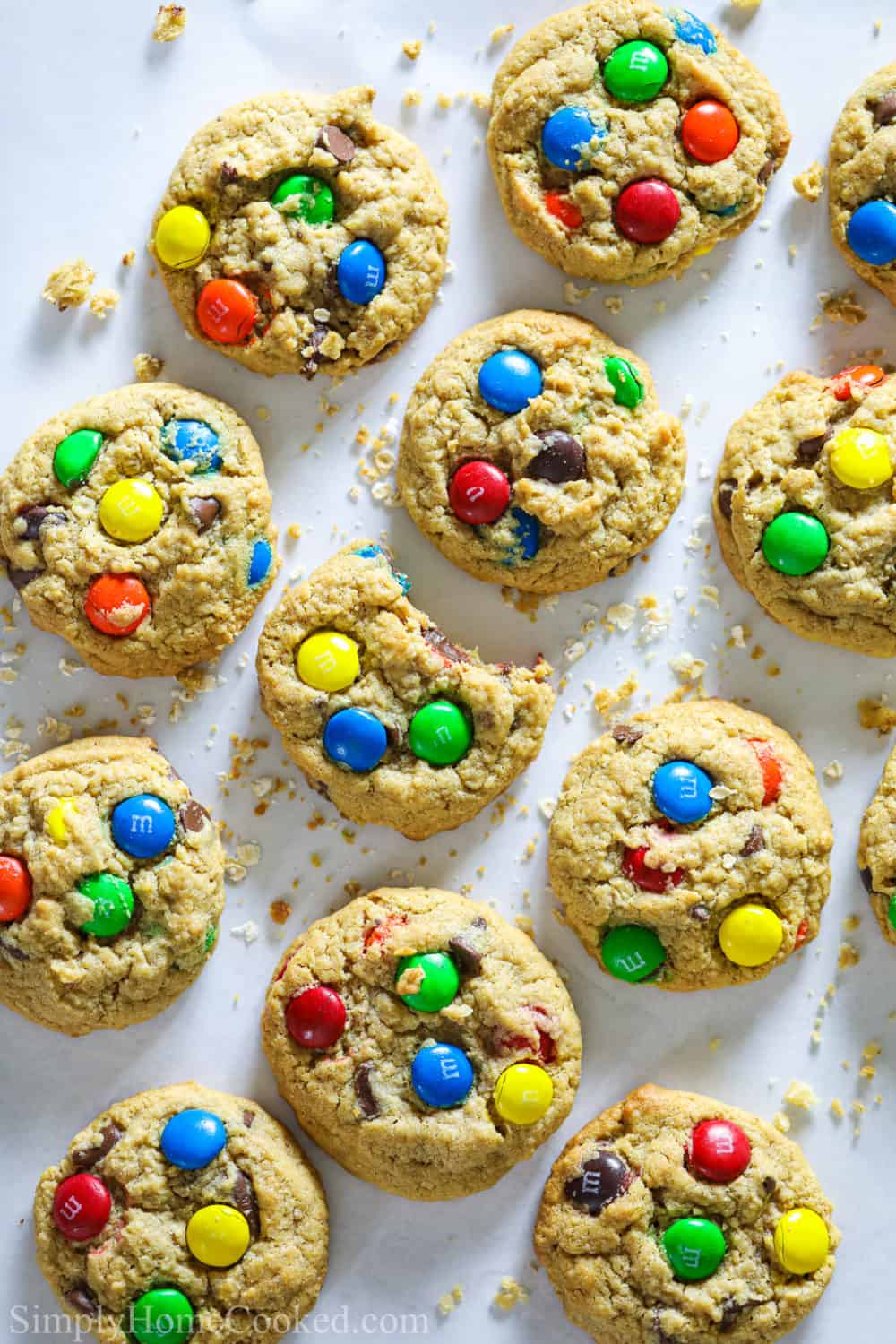 Can I make the dough ahead of time?
Yes, you can pre-make this cookie dough. These monster cookies can be prepped a few days ahead of time and refrigerated for 3-5 days, so long as they are well-wrapped or in a tightly-lidded container.
You can also freeze it! Just place the rounded balls on a baking sheet as if you were going to cook them, but instead place them in the freezer for about an hour. Once they are no longer sticky, you can place the dough balls in a ziplock freezer bag or a lidded container (they will last for 9-12 months). When you're ready to bake your monster cookies, you can put them straight into the oven, still frozen (though bringing them to room temp will enable more spreading as they bake).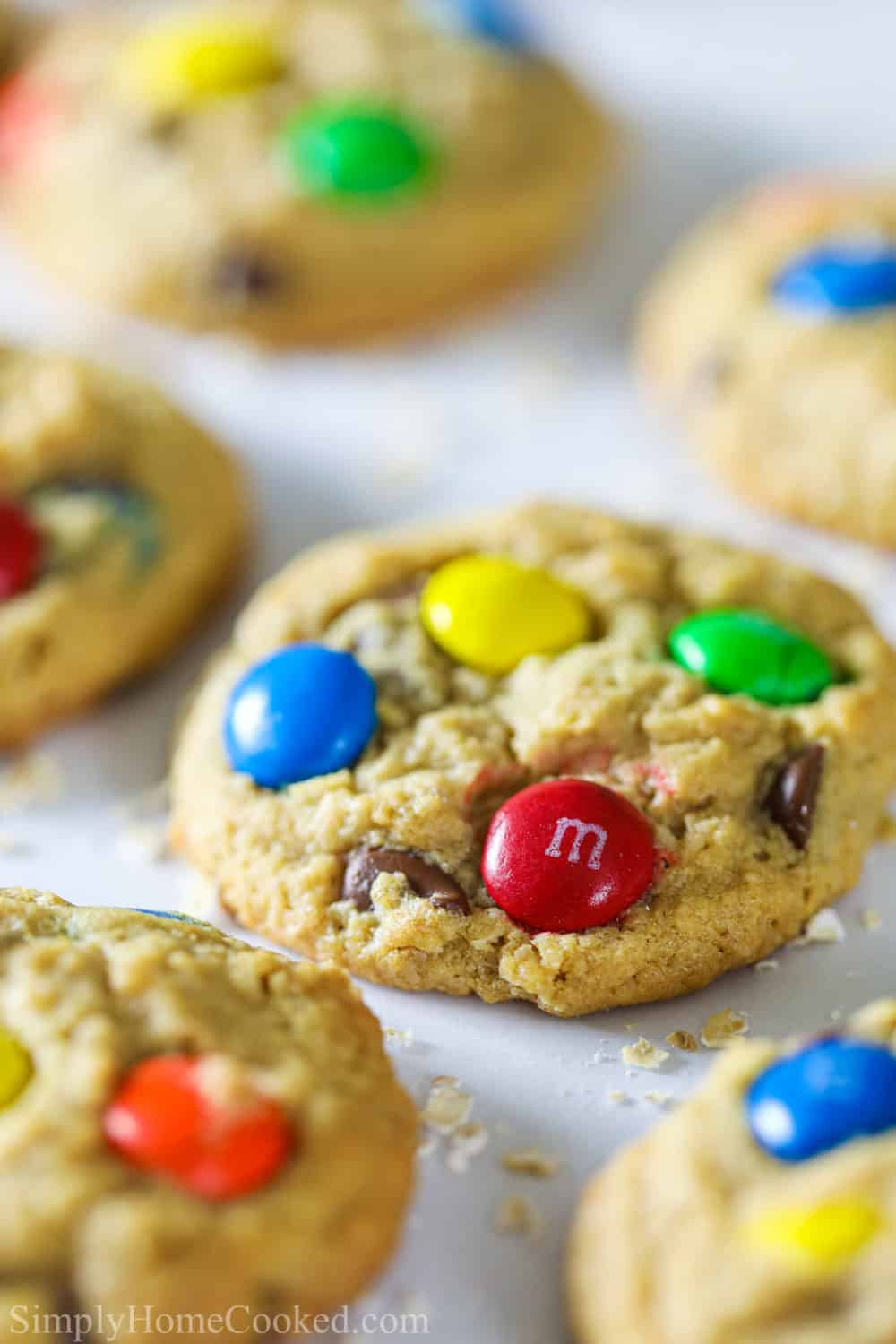 More cookie recipes to try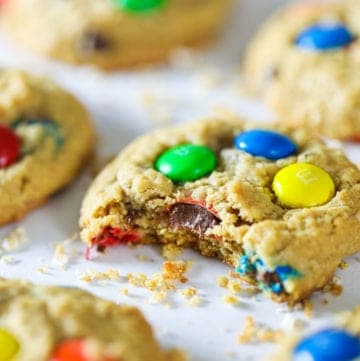 Monster Cookies
Creamy peanut butter, semisweet chocolate chips, oatmeal, and m&ms make the ultimate monster cookies!
Print
Pin
Rate
Instructions
Combine wet ingredients
In a large bowl combine the softened butter, brown sugar, granulated sugar, eggs, peanut butter, and vanilla extract. I like to do this with a hand mixer.
Add dry ingredients
Now add the flour, baking soda, cornstarch, and quick-cooking oatmeal. Then mix again thoroughly
Mix in chocolate and candy
Once that's all combined add the semisweet chocolate chips and m&ms.
Scoop, roll, and bake the cookies
Now take your cookie scoop and scoop out heaping balls of the cookie dough onto a baking sheet lined with parchment paper. You can place them on top right away or roll them in your hands for a more even shape.

Now bake at 350 degrees Fahrenheit for about 10-12 minutes.
Notes
How long can you keep the dough in the fridge?
If you want to make the dough in advance and bake the cookies later, keep the dough (covered) in the refrigerator for up to 5 days.
Nutrition
Calories:
151
kcal
|
Carbohydrates:
16
g
|
Protein:
3
g
|
Fat:
9
g
|
Saturated Fat:
4
g
|
Cholesterol:
18
mg
|
Sodium:
80
mg
|
Potassium:
92
mg
|
Fiber:
1
g
|
Sugar:
11
g
|
Vitamin A:
93
IU
|
Vitamin C:
1
mg
|
Calcium:
19
mg
|
Iron:
1
mg