These amaretti cookies are an Italian cookie perfect for the holidays. The outside of this almond cookie is slightly crisp and the inside is soft and chewy.
Love Italian cookies? Try our scrumptious mini almond biscotti as well.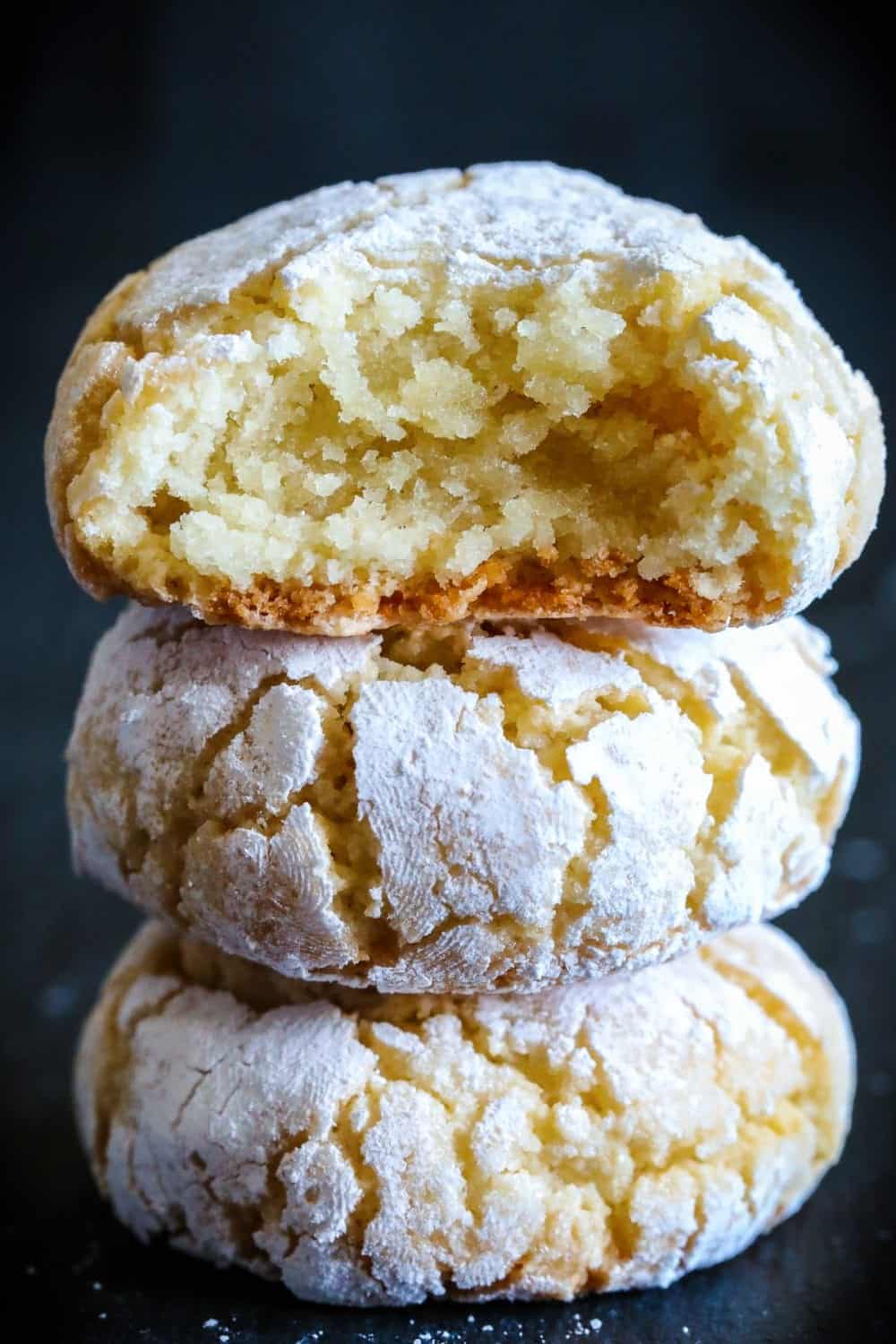 Amaretti cookies have an undoubtedly unique texture. This chewy almond cookie not only tastes amazing but is gluten-free as well.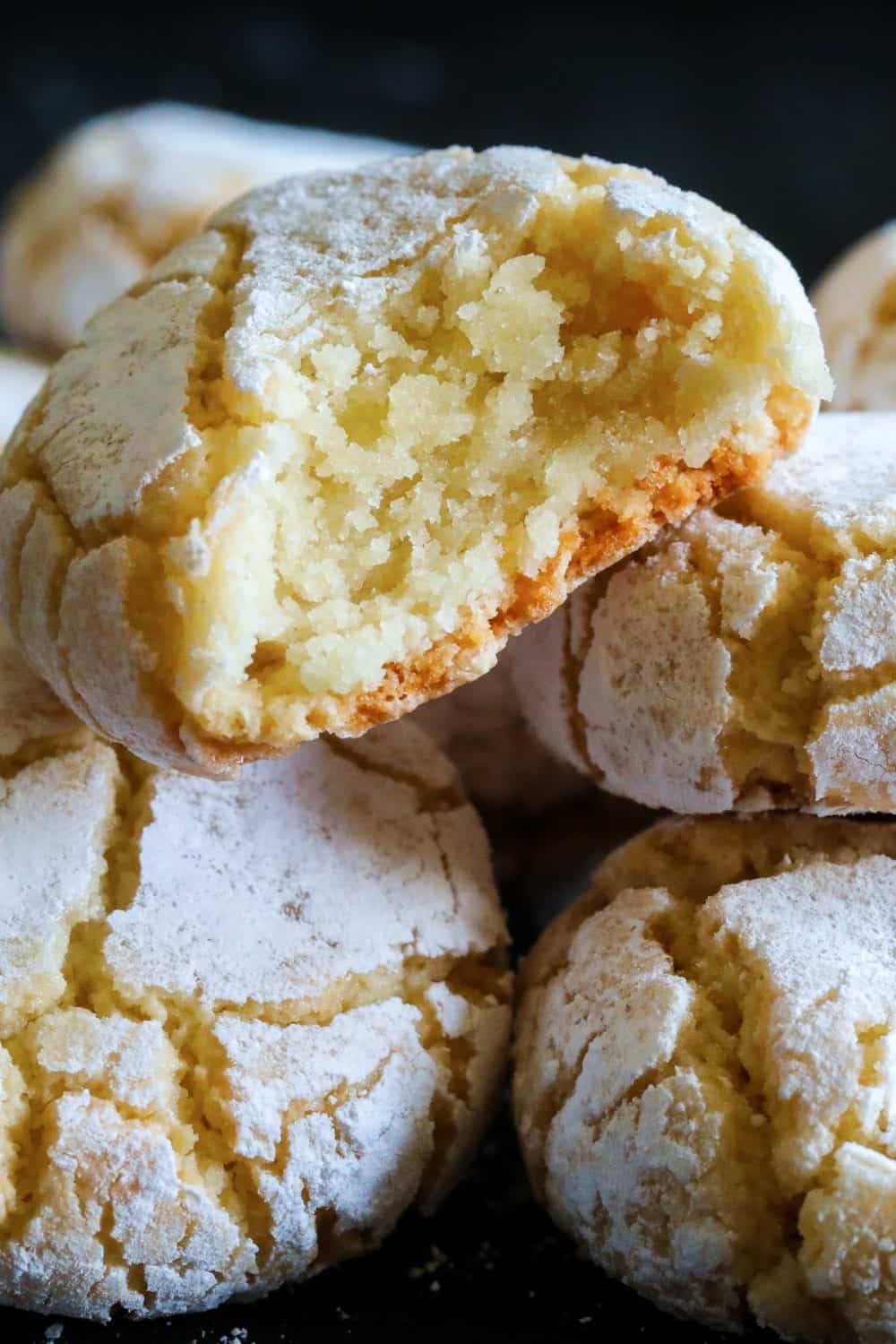 Amaretti cookies
Amaretti cookies are often made with amaretto (almond liqueur). I've tried to make them with and without amaretto. I personally prefer them with almond extract. Its also a lot easier to find almond extract over amaretto liqueur.
What are Amaretti cookies?
Amaretti cookies are an Italian gluten-free cookie made of egg whites, sugar, almond flour, and almond extract.
There are two types of Amaretti cookies; the soft kinds and the hard kinds.
The soft version is also known as amaretti morbidi. They are very chewy.
The crispy type is made the same way but held in the oven longer to obtain a crunchier texture.
Ingredients you'll need to make them
egg whites
granulated sugar
vanilla extract
almond extract
powdered sugar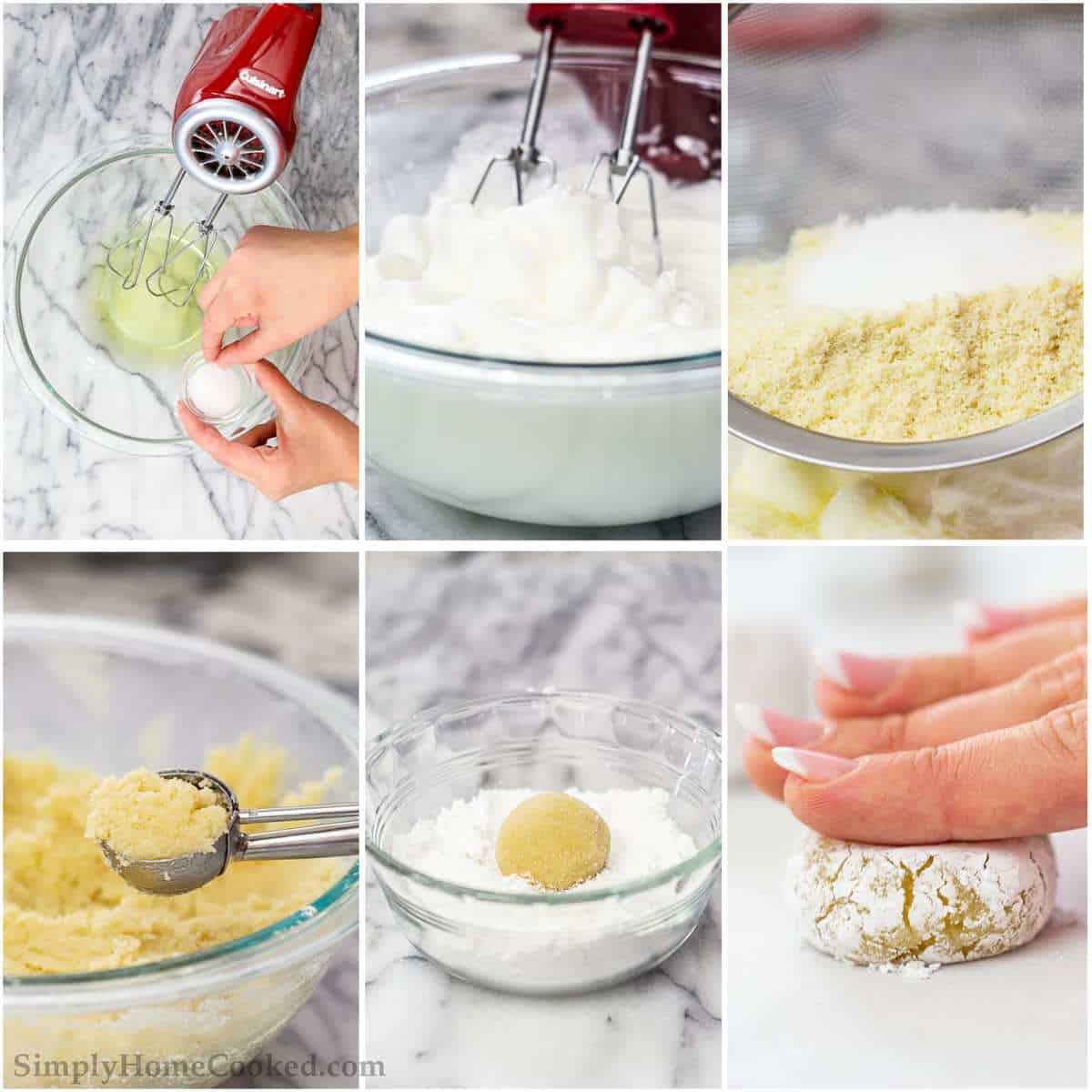 How to make amaretti cookies
This is a quick rundown. For the full recipe, scroll down to the printable recipe card.
Separate the egg whites into a large bowl. Add a pinch of salt and beat them with an electric mixer until stiff peaks form.
Sift almond flour and sugar together.
Add a third of the almond-sugar mixture and fold it in with a spatula. Then pour in the vanilla extract and almond extract.
Continue adding the second third of the almond mixture. Then and fold it in again. Sift in the last third and fold it in once more.
Scoop the dough and roll it into granulated sugar. Then roll the dough ball into powdered sugar. Place them on a baking sheet lined with parchment paper and lightly press each cookie with your hand. Bake for 25 minutes at 325°F.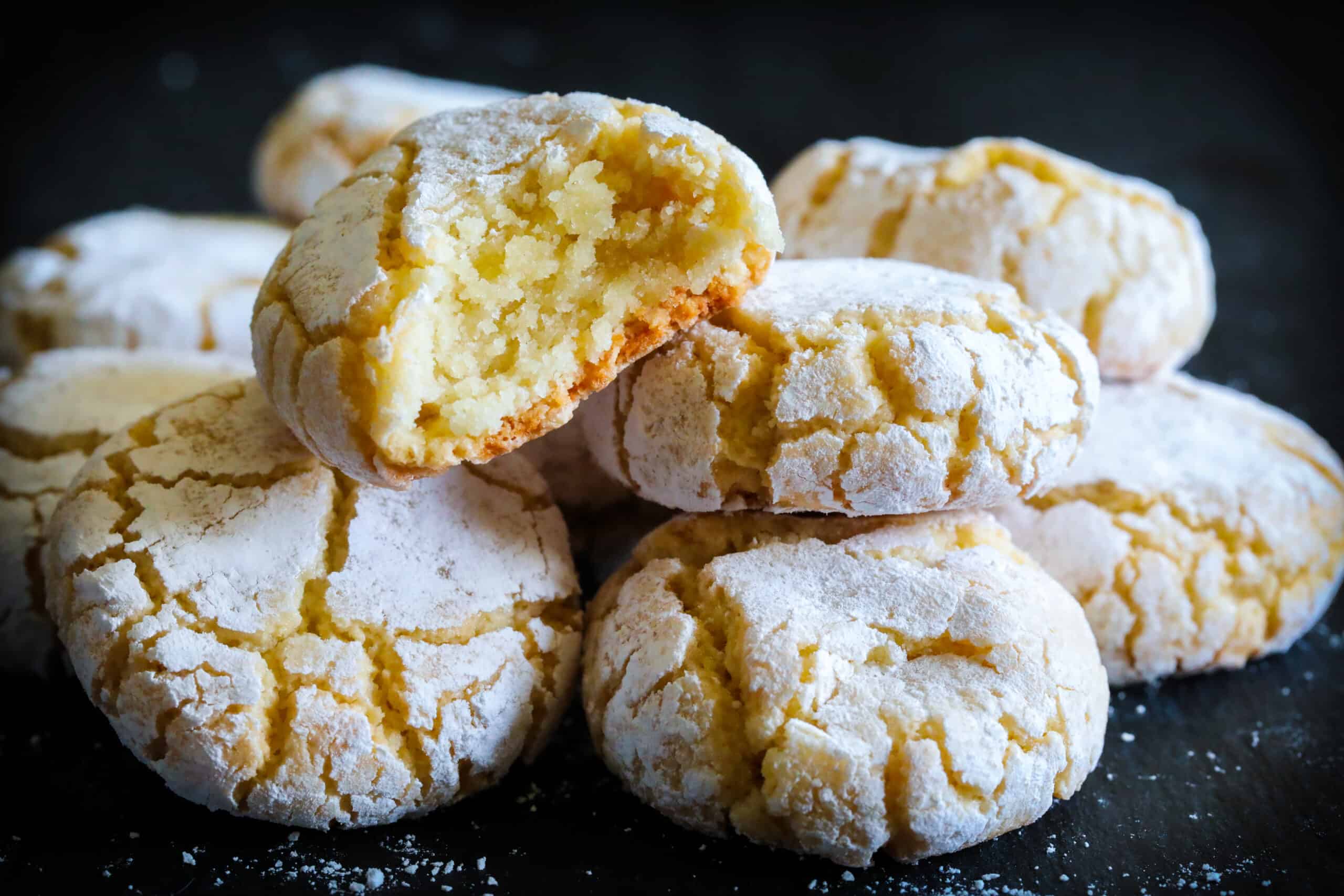 How to make them Low carb
Amaretti cookies are already gluten-free so why not make them keto too right?? There is a simple way to transform these bite-sized treats into a low carb cookie! Just switch the sugar for a sugar-free sweetener like monk fruit, erythritol, or my favorite is a blend of monk fruit and allulose.
Can I use all-purpose flour instead of almond flour?
Unfortunately, you cannot use all-purpose flour in place of almond flour. You can make almond flour yourself by very finely ground blanched and dried almonds, then sifting it so you have a fine flour.
Can I make them ahead of time?
Yes you can! Amaretti cookies can be frozen before they are baked. So make the cookies up until they are ready to go into the oven, then place them on a baking sheet, and freeze them for 1 hour. Then transfer to a ziplock bag. And keep frozen until ready to bake. To bake them after freezing, let them thaw for 30-60 minutes then dust with fresh powdered sugar before baking. Bake at the same temperature and time as the original recipe.
Watch a VIDEO on how to make them here!
Full Recipe Instructions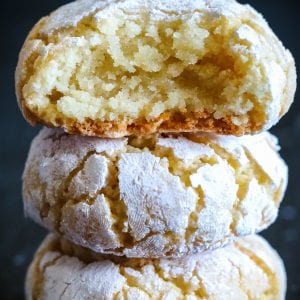 Amaretti Cookies
A chewy Italian cookie made with simple ingredients that you probably already have at home.
Print
Pin
Rate
Instructions
separate 5 egg whites into a bowl then add a pinch of salt.

using an electric mixer beat the egg whites until stiff peaks form.

Set that aside and sift 5 cups of almond flour with 1 1/2 cups of granulated sugar into a bowl.

Add about 1/3 of the almond flour mixture into the egg whites and fold it in gently with a spatula.

Now go ahead and add 1/2 tsp vanilla extract and 2 tsps of almond extract. Then quickly fold it in.

Add the second third of the almond flour mixture to the egg whites and gently fold it in again.

Sift in the remaining third of the almond flour mixture and fold it in one last time. at this point, the cookie dough should have a thick paste like texture.

Scoop out mounds of the cookie dough and place them into a plate of granulated sugar. Roll the scoop of cookie dough into the sugar, then take it into your hands and round it out to a ball.

Drop the ball into a bowl of powdered sugar and evenly coat it.

10. Place the cookies onto a baking sheet lined with parchment paper and lightly press each cookie with your hand. Bake at 325 degrees Fahrenheit for 20-25 minutes.
Notes
Looking for more GLUTEN-FREE cookies? Give these a try!
Nutrition
Calories:
134
kcal
|
Carbohydrates:
14
g
|
Protein:
3
g
|
Fat:
7
g
|
Sodium:
7
mg
|
Potassium:
7
mg
|
Fiber:
1
g
|
Sugar:
11
g
|
Calcium:
33
mg
|
Iron:
0.6
mg