These meringue cookies are topped with rich chocolate cream, chopped hazelnuts, and fresh berries. It's a delicate dessert that everyone loves!
Don't forget to check out our other meringue cookies like chocolate walnut meringue cookies and mini berry pavlovas.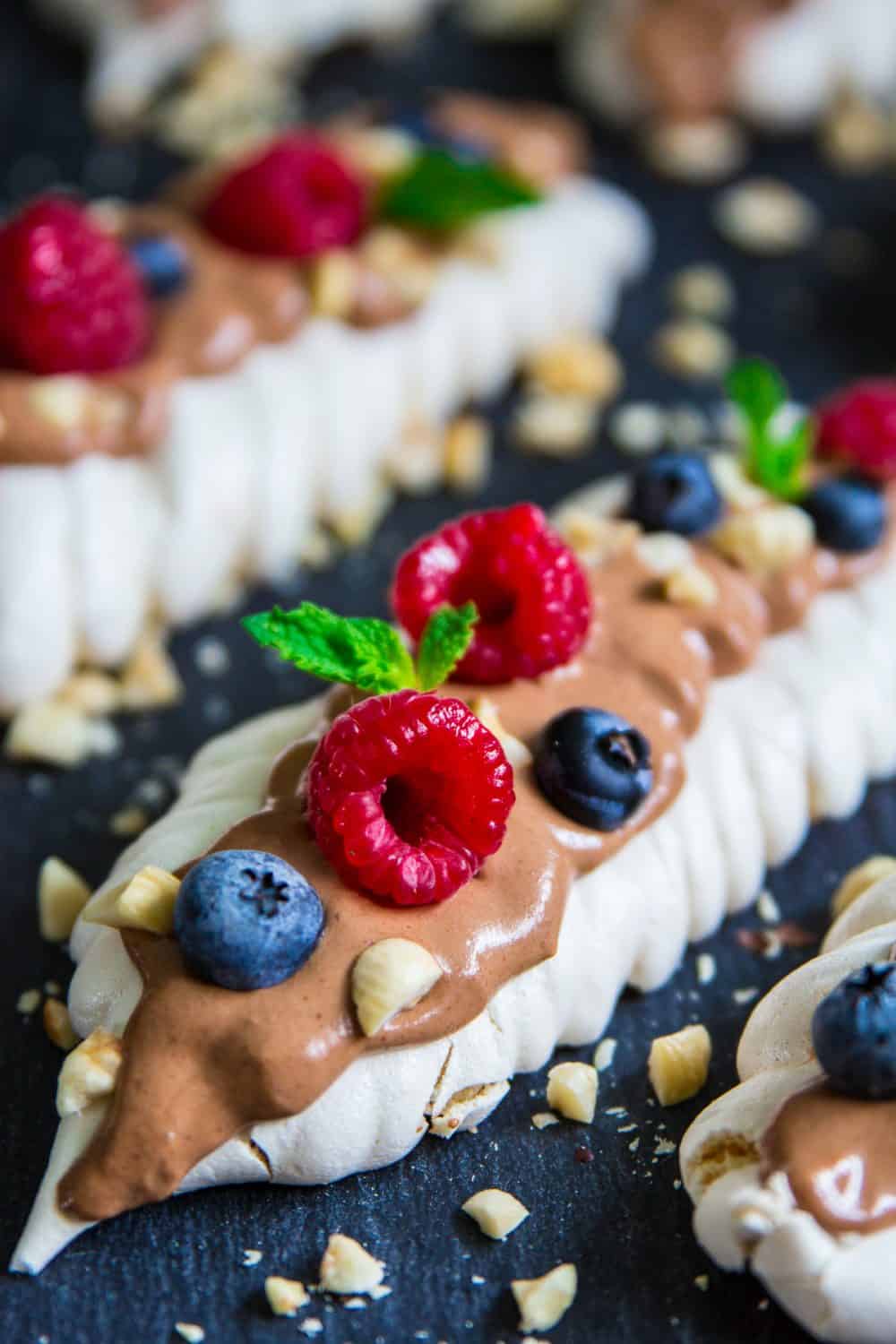 Meringue Cookies
To all the meringue lovers out there, this treat is for you! These elegant meringue bites are crisp on the outside and chewy-soft on the inside. This meringue cookie recipe is topped with chocolate cream, toasted hazelnuts, and fresh berries.
How to make meringue cookies
Egg whites– Make sure your eggs are NOT cold (use room temperature). Meringue always turns out better with room temperature egg whites. If you forget to let them sit out, just place the uncracked eggs into a bowl of hot water and let them sit for about 10 minutes.
Use a clean mixer bowl– Sometimes, if your mixing bowl isn't clean and has a greasy residue, it can ruin your meringue. Meringues hate grease of any form, so make sure no traces of grease get in there (especially avoid any trace of egg yolks).
Add the sugar gradually– Whenever making a dainty dessert like this, always incorporate ingredients gradually. You never want to dump anything in quickly.
Use cream of tartar– This is crucial for helping stabilize your egg whites. And you can't really substitute it wit anything.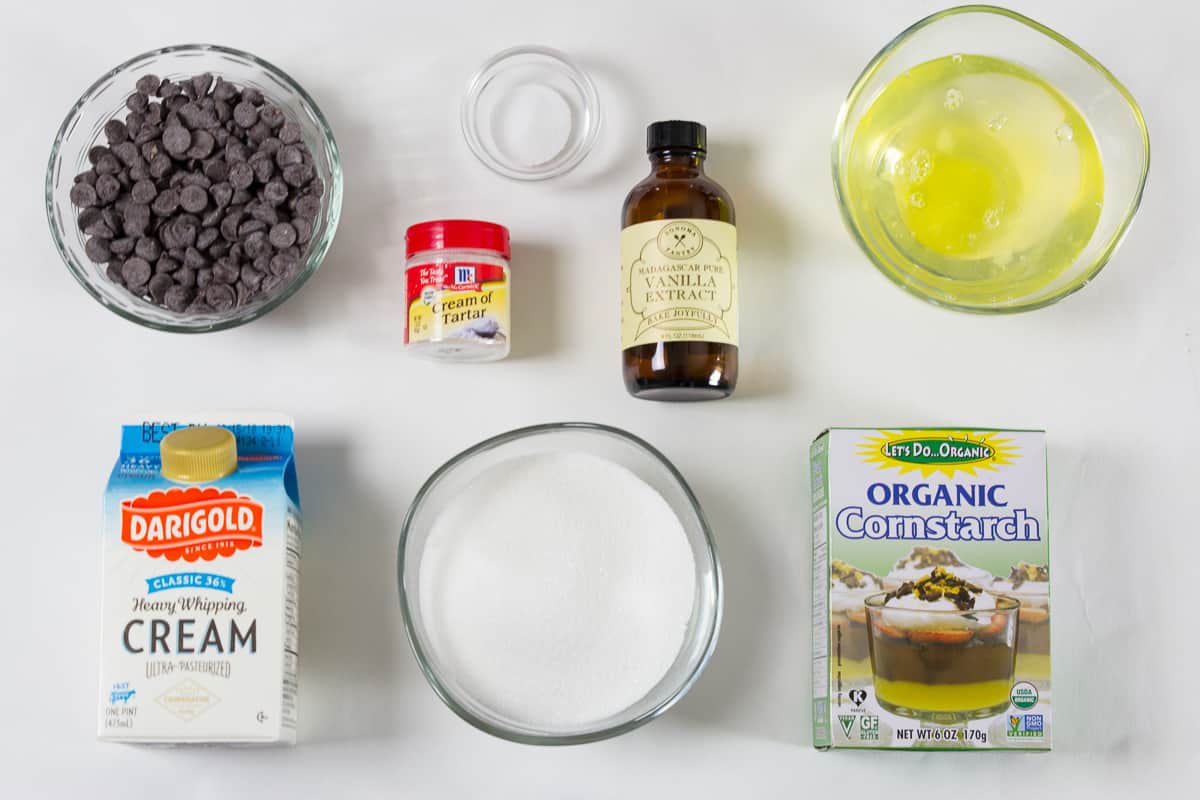 How to pipe out meringue
Piping tip– Depending on if you're making a pavlova or meringue cake like my Russian Kiev cake, you will need different piping tips to pipe out this fluffy dessert. For these mini meringue bites, I used a Wilton 366 tip.
One fluid motion– Always be sure to pipe out the dessert without stopping. And make sure to maintain the same speed during this process to ensure the prettiest meringue shapes.
Use parchment paper– Some people confuse parchment with wax paper. They are not the same thing so AVOID using any type of greasy filmed sheets like wax paper.
How long to bake this meringue cookie recipe
I like to set my oven to the conventional setting (meaning there is no fan running). Then bake the pipe out meringue on a baking sheet in the oven at around 240 degrees Fahrenheit for at least 1 hour and 30 minutes.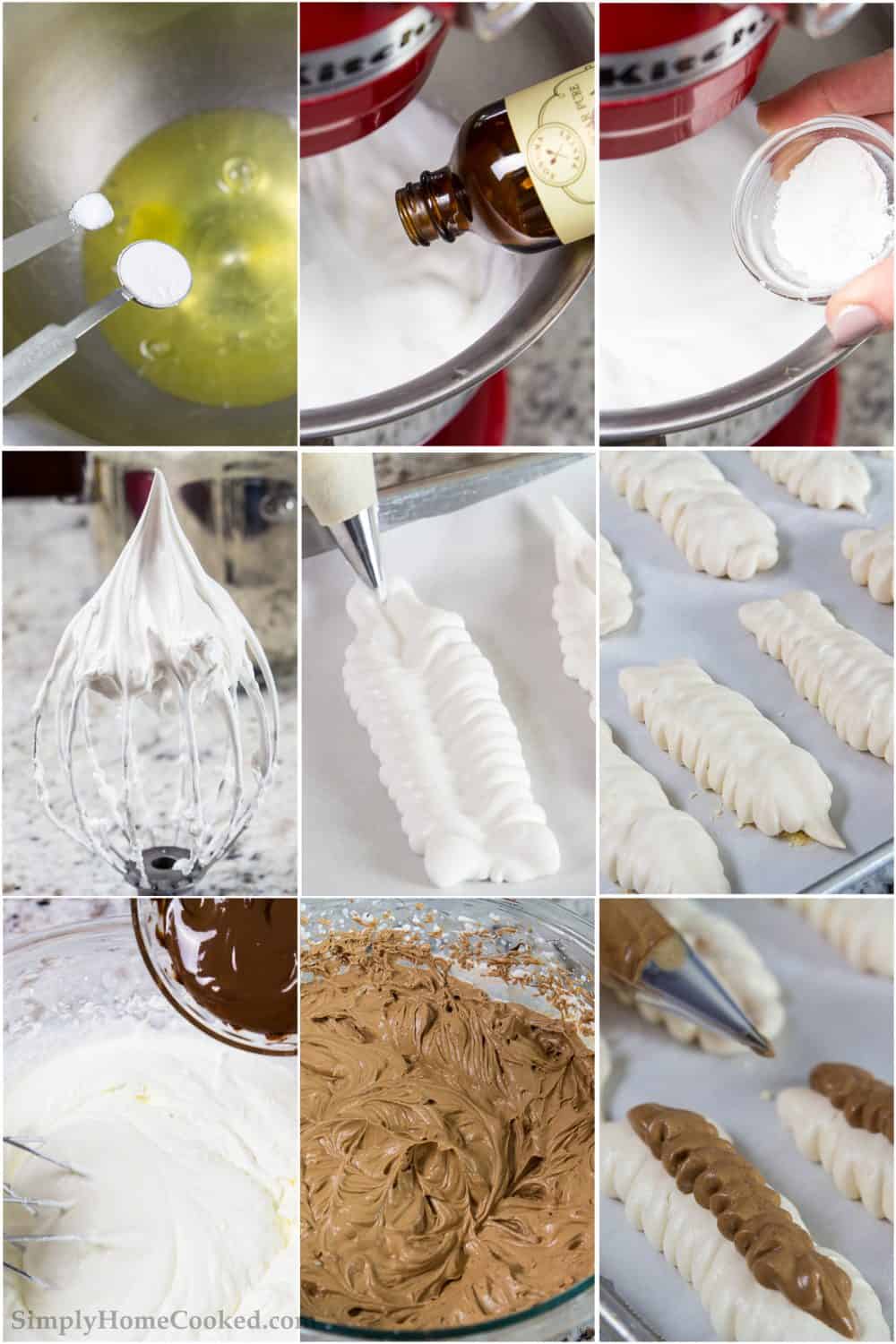 What to serve on top of these meringues?
Well, the possibility of toppings is endless here. You can make the rich and creamy chocolate filling as instructed in the recipe card below. It's super easy to make! Or try some of these-
How to store meringue cookies
Baked meringue cookies will store best at room temperature, preferably in an airtight container.
How long does homemade meringue last?
Without topping– Once your meringue cookies are baked and cooled, they will last up to 2 weeks at room temperature.
With cream topping– after you place the cream on top of your dessert, they will last up to 4 hours before they start to soften.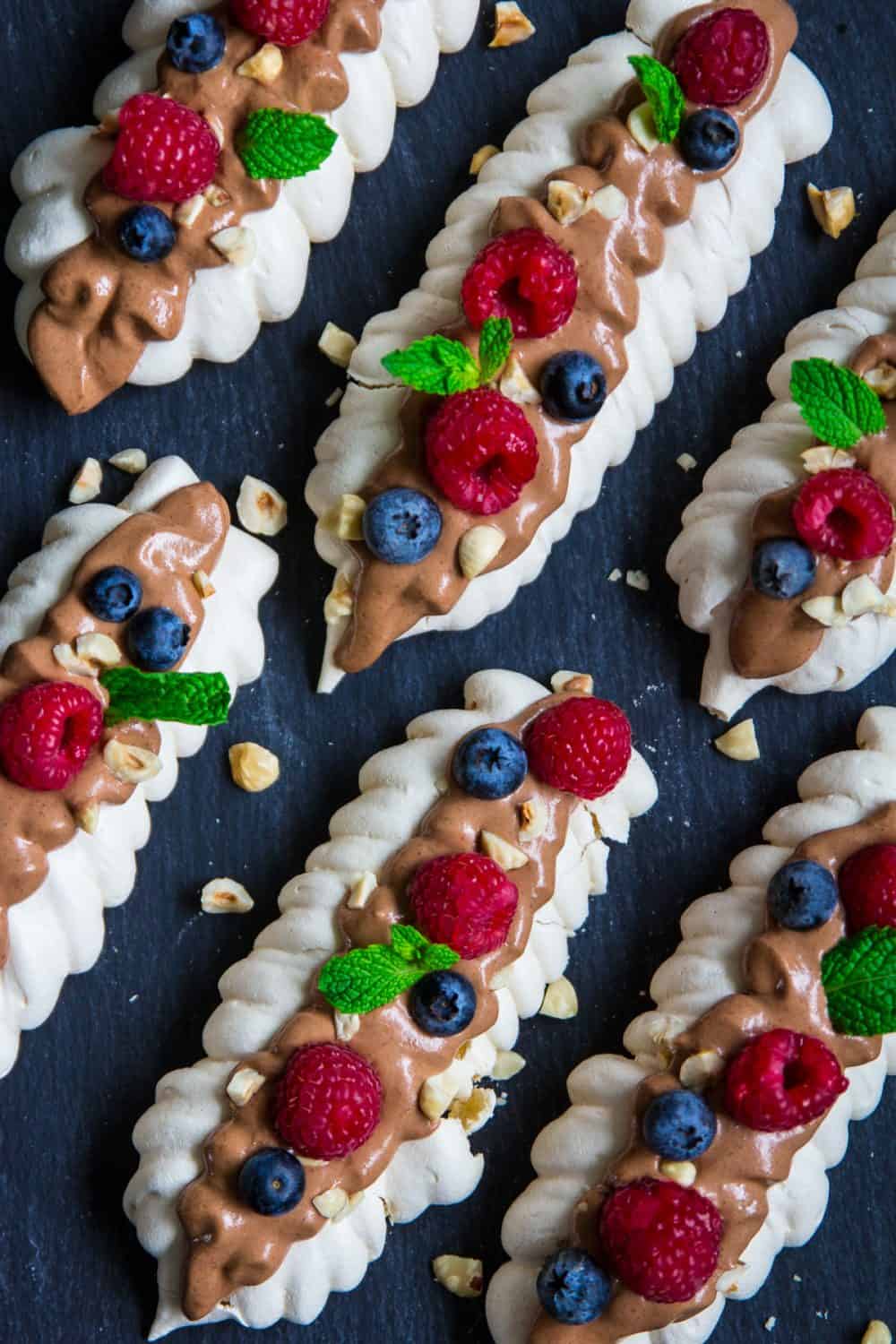 Looking for more delicious desserts with berries? Try these out!
Full Recipe Instructions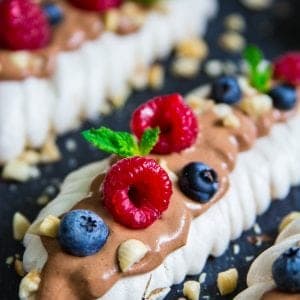 Easy Meringue Cookies with Berries and Cream
These meringue cookies are topped with chocolate cream, hazelnuts, and fresh berries. It's an elegant dessert that everyone loves!
Print
Pin
Rate
Servings:
20
meringue bites
Ingredients
Ingredients for the meringue:
Ingredients for the chocolate cream:
Instructions
Make the meringues
Preheat your oven to 240 degrees Fahrenheit. Line 2 baking sheets with parchment paper.

Place 6 egg whites, 1 tsp corn starch, and 1/2 tsp cream of tartar into the bowl of a stand mixer. Using the whisk attachment, beat the egg whites on high speed.

Once the egg whites begin to form soft peaks, gradually add the sugar, then vanilla extract. Continue beating on high speed until stiff peaks form (about 10 minutes). At this point the egg whites should have a smooth and glossy look.
Pipe the meringues and bake
Pipe the meringues onto the parchment paper using a Wilton 366 tip. Pipe in and back a forth motion to create a ruffled looked. I piped each meringue into about 4 inches.

Bake the meringues in your preheated oven for 1 hour and 30 minutes. Once they're baked, transfer the the baking sheet onto the counter to cool to room temperature.
Make the chocolate cream topping
Meanwhile, place the chocolate chips into a microwave safe bowl and melt it in the microwave with 30 second intervals. Make sure to mix throughly in between intervals.

Place the cold heavy whipping cream and 2 tbsp sugar into a large bowl. Using an electric mixer, beat the cream on high speed until soft peaks form.

Quickly add the melted chocolate to the cream and continue beating on high speed until stiff peaks form.
Pipe the cream and top with nuts and berries
Pipe the chocolate cream onto the cooled meringues using the same Wilton 366 tip.

Top the meringue bites with chopped hazelnuts and fresh berries. Once the cream is placed on top of the meringues, they taste best up to 4 hours.
Nutrition
Calories:
176
kcal
|
Carbohydrates:
20
g
|
Protein:
2
g
|
Fat:
10
g
|
Saturated Fat:
6
g
|
Cholesterol:
25
mg
|
Sodium:
23
mg
|
Potassium:
91
mg
|
Fiber:
1
g
|
Sugar:
18
g
|
Vitamin A:
267
IU
|
Vitamin C:
1
mg
|
Calcium:
18
mg
|
Iron:
1
mg
This recipe was originally posted on Feb 12, 2018, we've tweaked it a bit since then.