Mini crispy meringue pavlova recipe filled with chocolate ganache, chopped pecans, a simple whipped cream topping, and fresh berries. Best summer dessert recipe!
Do you love meringue and berries together? You absolutely have to try out mini meringue bites with chocolate cream and berries!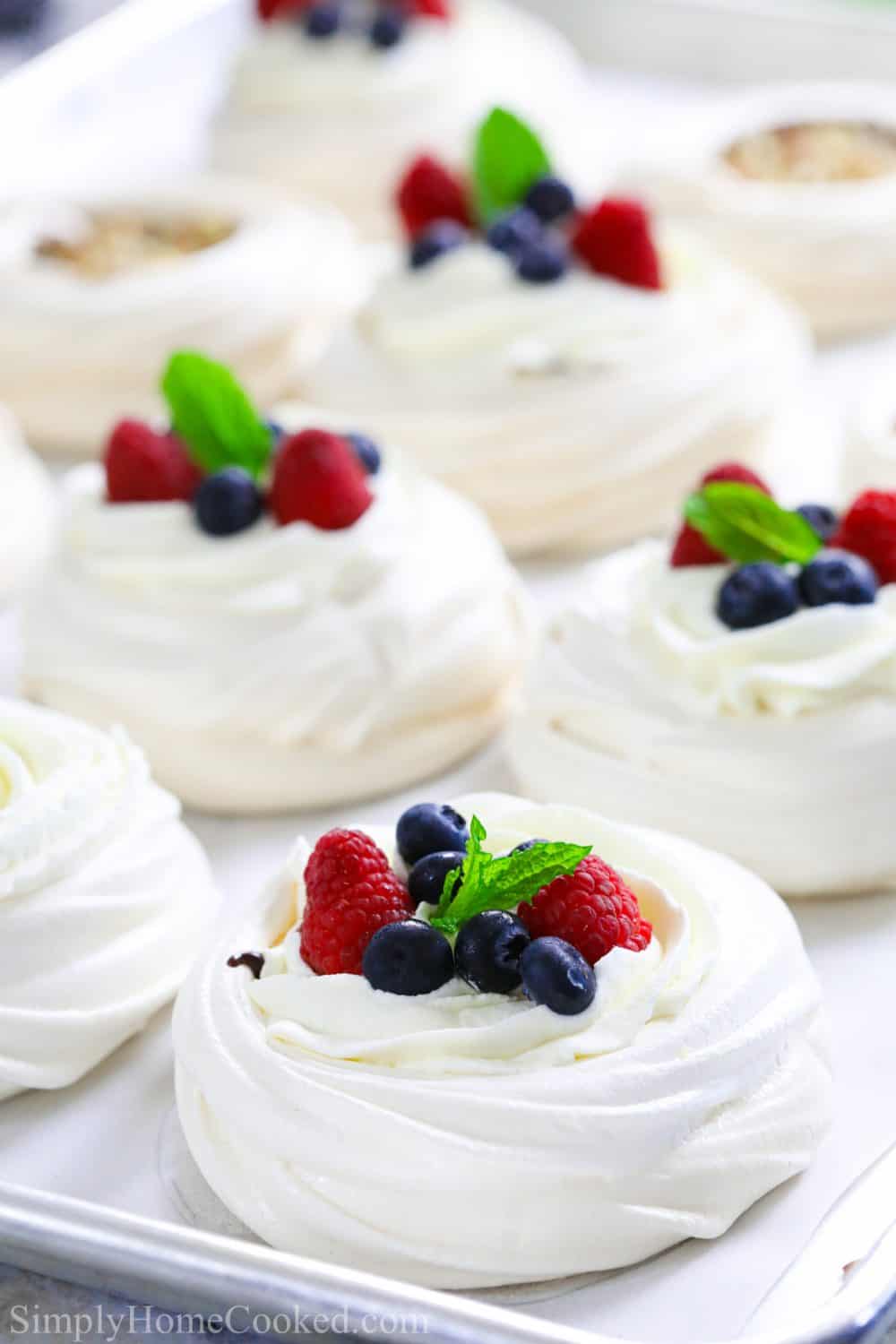 What is pavlova
Pavlova is a cake recipe made up of a meringue base, then filled with whipped cream and fresh berries. The texture is very light, crisp, and mild. This meringue dessert is meant to be eaten within a few hours.
How to make this pavlova recipe
Whenever making any Pavlova recipe, you want to start off with room temperature egg whites. Whisk them on high speed with some sugar and vanilla. Then place the meringue into a pastry bag and pipe them onto a baking sheet in a circular motion. I like to use a Wilton 1E piping tip for this step.
When baking the meringues, always make sure your oven is set to the conventional setting (meaning the fan is NOT running). And never open the oven at all during baking (nope not even to peak at them).
Now make the whipped cream by mixing cold heavy cream, sugar, and vanilla extract using an electric mixer until stiff peaks form. Then pipe the whipped cream on top of each mini pavlova and add a few berries for extra pops of color and fresh vibrant flavor.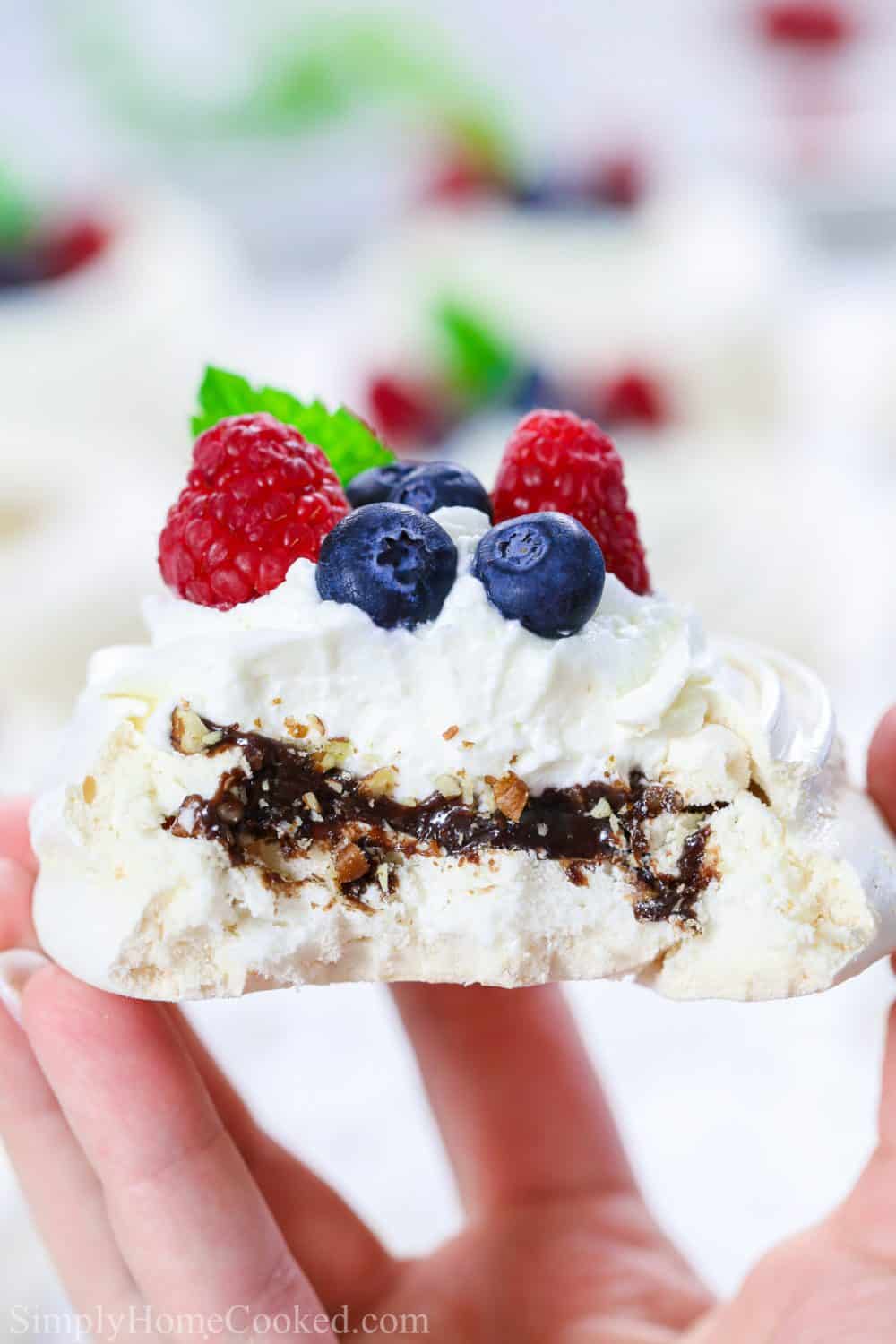 Can you make pavlovas ahead of time?
This mini pavlova recipe can be made in advance to a certain point. You can make the meringue, let it cool, and place them into an airtight container until ready to serve with the cream topping.
How long do pavlovas keep?
Once the pavlova dessert is finished with the berries and cream on top, they will keep for about 4 hours at room temperature.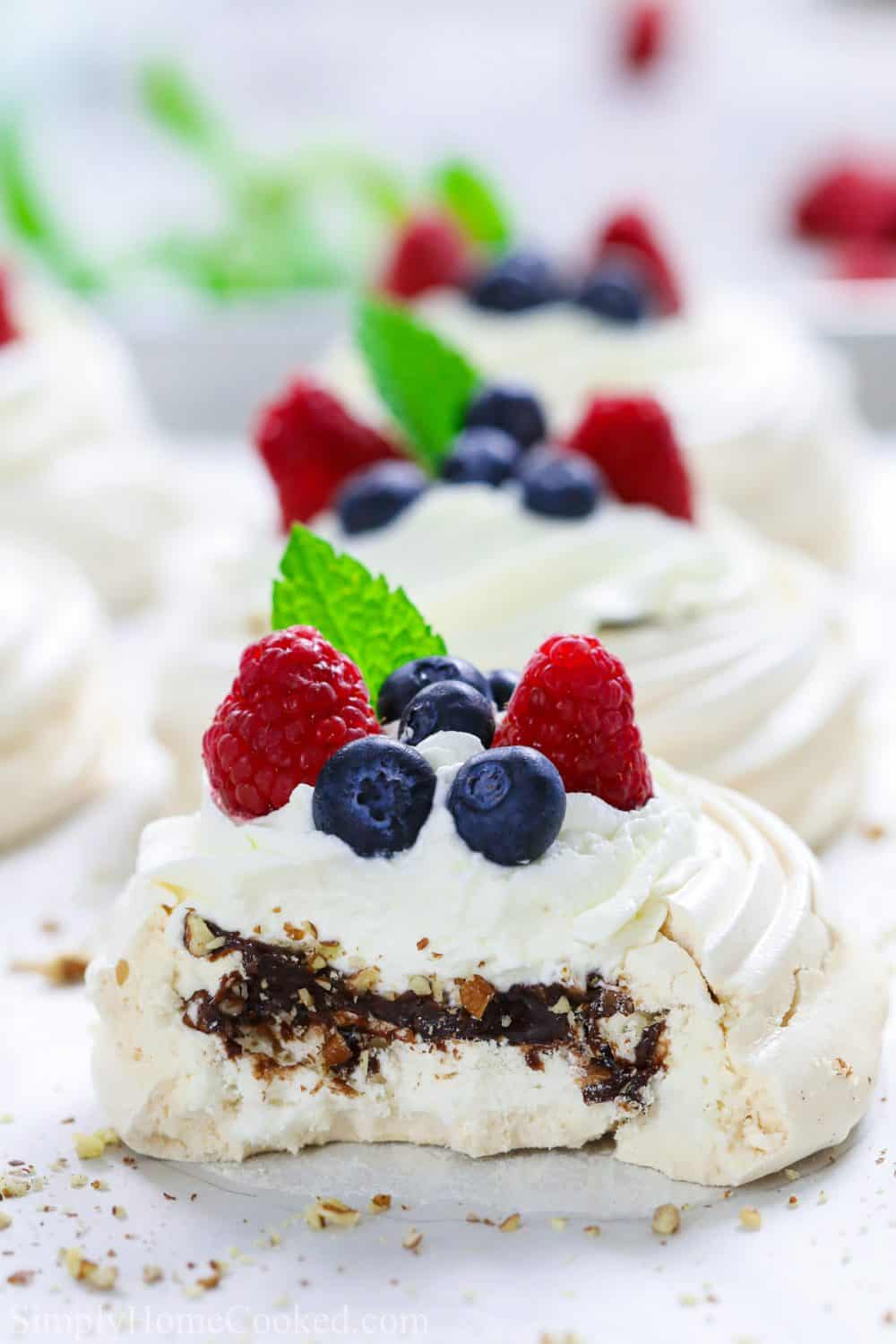 Looking for more desserts that include a light crisp meringue? Try these!
Watch how to make this dessert here: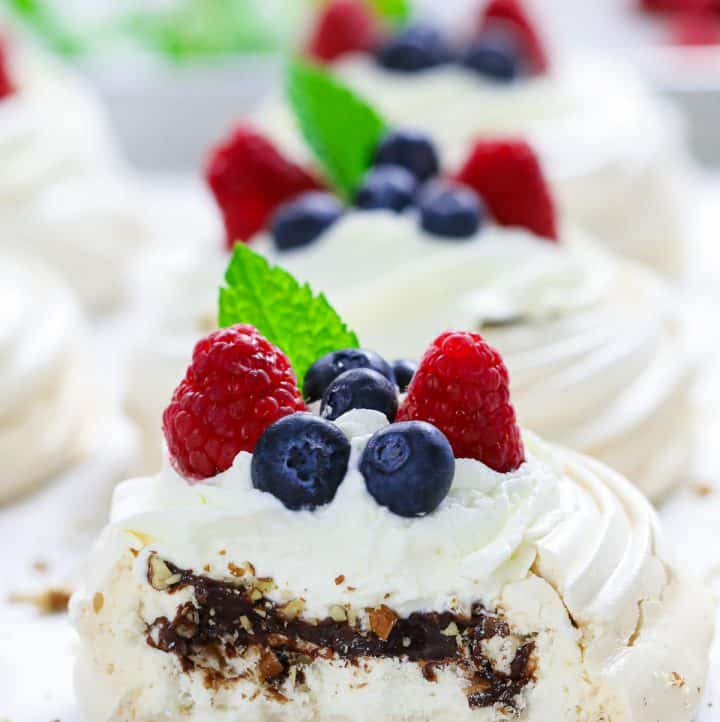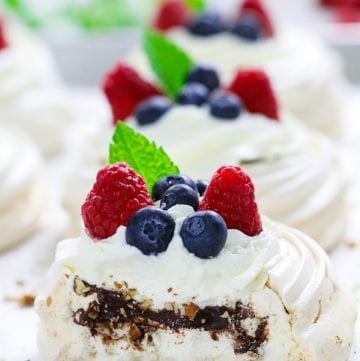 Instructions
Prepare your baking sheet by lining it with parchment paper. I used a 21.5 x 14.5 size. Now trace about 12 (3 1/2 inch circles onto the parchment paper. Then flip it over and set aside.

In the bowl of a stand mixer add 5 room temperature egg whites, 1/8 tsp cream of tartar and pinch of salt. whisk on high speed until soft peaks form.

Now slowly add 1 1/3 cup granulated sugar. Once you see stiff peaks form (about 10 minutes) 1 1/2 tsp cornstarch and 2 tsp vanilla. Beat just until incorporated.

Now place a 1E piping tip into a disposable pastry bag and snip off the end. Begin piping the meringue in a circular motion starting from the center. Then you'll want to pipe out a border on the top.

Bake the pavlovas at 225 degrees Fahrenheit for 1 hour and 30 mins on the conventional setting. Then turn the oven off and let the Pavlova sit in the oven for another 30 minutes.

For the ganache- pour 1/4 cup hot heavy over 1/2 cup of semisweet chocolate chips. Let it sit for a minute so and mix until smooth.

Now add the ganache to a piping bag and drizzle it inside each pavlova. You want to coat the entire bottom. I like to spread it around with a small spatula. Now sprinkle some chopped toasted pecans on top of the ganache.

For the cream topping- Combine 1 1/4 cup of cold heavy whipping cream with 1 tbsp granulated sugar and 1/2 tsp vanilla. Beat on high speed using an electric mixer until stiff peaks form.

Now place the whipped cream into a piping bag using the piping tip of your choice. I used a 1M.

Pipe the cream onto each pavlova and top with some berries. Serve immediately.
Nutrition
Serving:
1
g
|
Calories:
274
kcal
|
Carbohydrates:
29
g
|
Protein:
3
g
|
Fat:
17
g
|
Saturated Fat:
9
g
|
Cholesterol:
41
mg
|
Sodium:
33
mg
|
Potassium:
107
mg
|
Fiber:
1
g
|
Sugar:
26
g
|
Vitamin A:
435
IU
|
Vitamin C:
0.2
mg
|
Calcium:
28
mg
|
Iron:
0.6
mg

Latest posts by simplyhomecooked
(see all)