This chocolate lava cake is so rich, fudgy, and downright indulgent. You won't believe how easy this heavenly chocolate dessert is to make!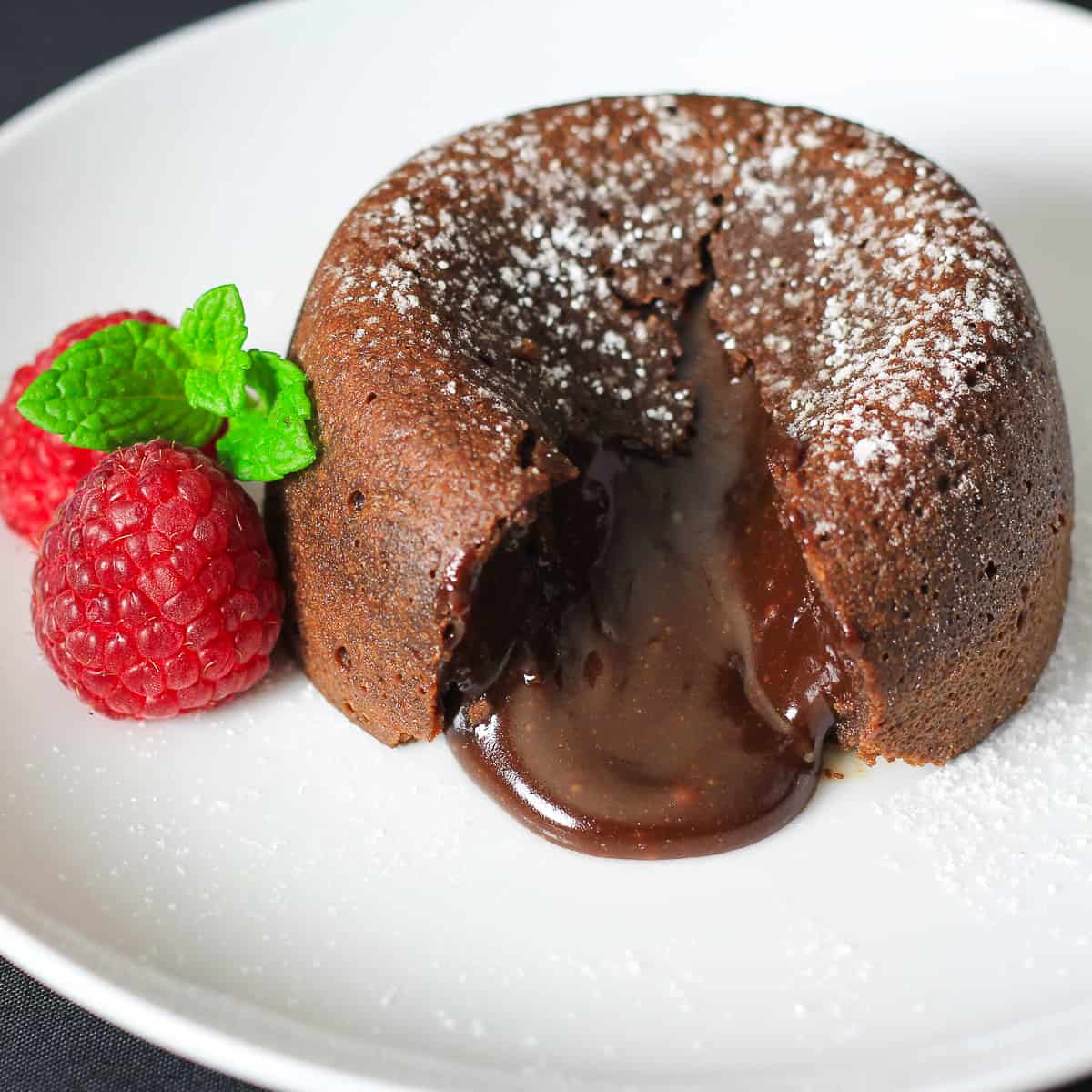 This recipe was originally posted on Feb 20, 2015, we've tweaked it a bit since then.
The best part about this chocolate lava cake is that it can be made hours in advance, and refrigerated until ready to serve. If you want to impress your guests with a warm dessert, this chocolate lava cake recipe is ready in a matter of minutes!
How to make a chocolate lava cake
Melt the butter and chocolate chips over a double boiler. Then, in a separate bowl, beat the eggs until they become foamy and add the powdered sugar, vanilla, and melted chocolate.
Now sift the flour in and whisk all the ingredients together until the chocolate batter is smooth.
Pour the chocolate lava cake batter into the greased 4oz ramekins and bake at 410 degrees Fahrenheit for 8 minutes.

Try some of my other great chocolate desserts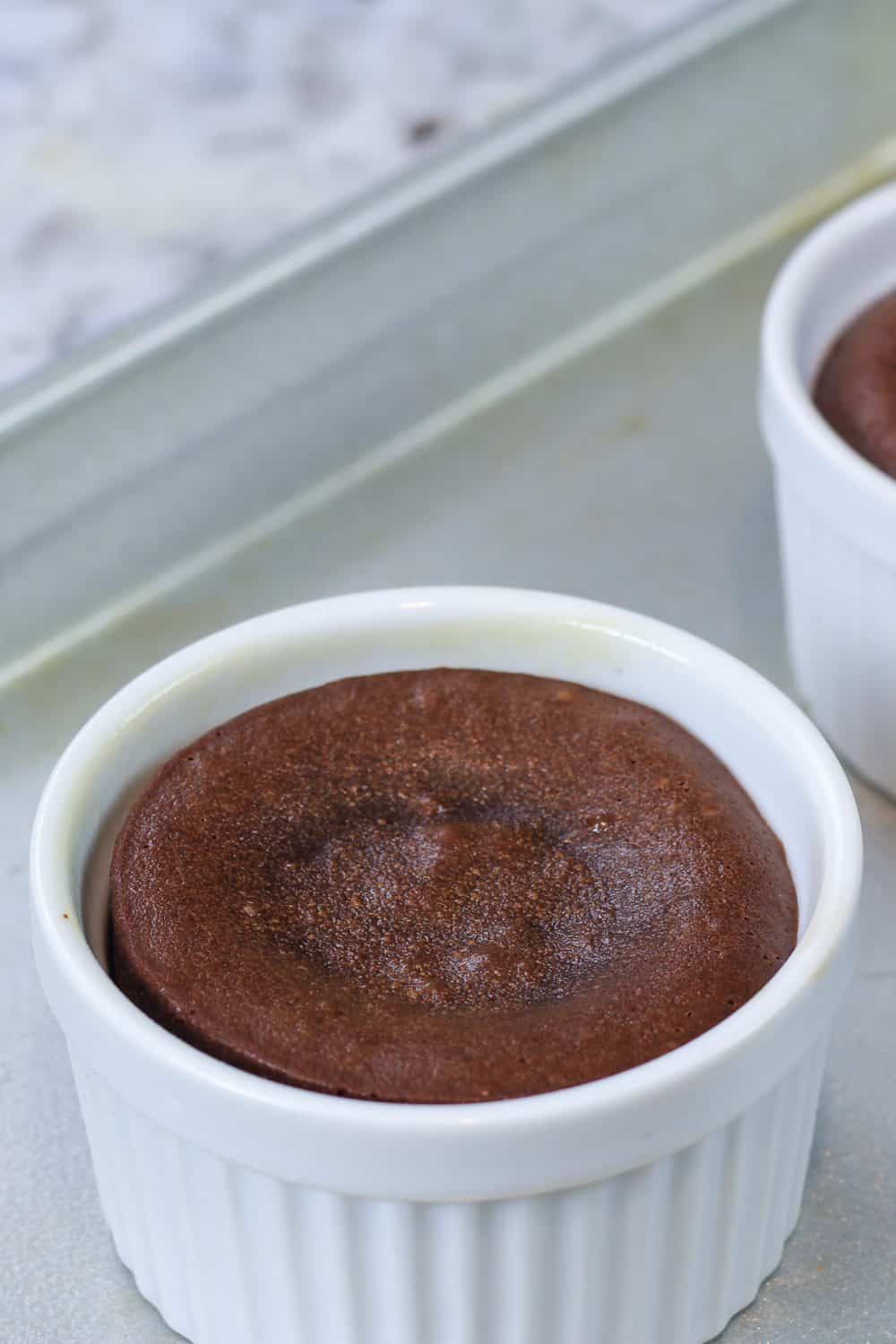 How to remove chocolate lava cake out of ramekin
The best way to remove the lava cake out of the ramekin is by making sure to grease it generously prior to filling with the lava cake batter. If you don't, it will stick too much.
The lava cakes will be super hot when you take them out of the oven, so don't try to flip it with your hands at lightning speed (obviously, you'll burn yourself). Instead, place a small plate on top of the ramekin, then grab the side of the ramekin with a kitchen towel and flip it over. And voila its all in one glorious piece, so you can go ahead and Instagram it.
If you're too impatient for this step, don't even bother taking it out, just top it with some fine quality vanilla ice cream and berries, and eat it right out of the ramekin. We won't judge 🙂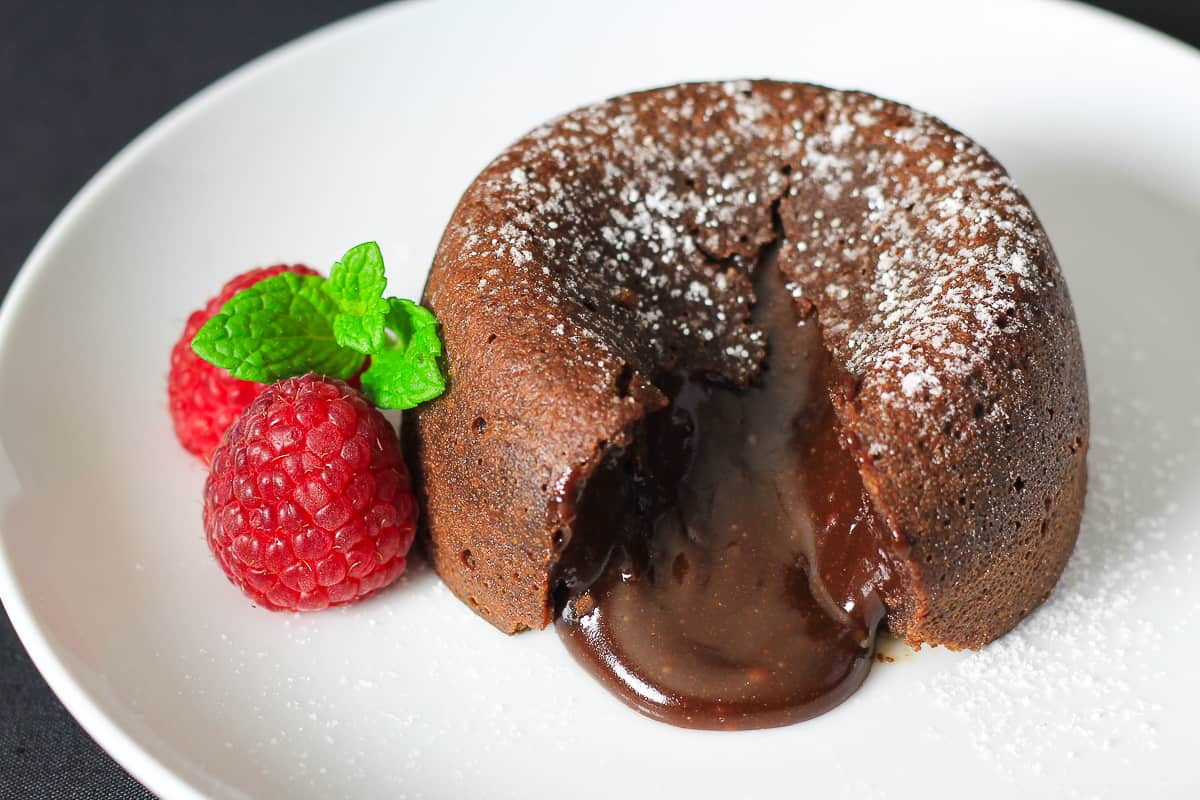 Can I make chocolate lava cake ahead of time?
Sure thing! Once you pour the batter into the greased ramekins, cover each lava cake with cling wrap and place in the refrigerator. Once you're ready to bake the lava cakes, bake at 410 degrees Fahrenheit for 10 minutes.
How long can I keep chocolate lava cake in the fridge?
You can keep the lava cakes refrigerated for up to 2-3 days before baking.
Can you freeze molten lava cakes?
Yes, you can. Cover each molten lava cakes with cling wrap and keep frozen for up to 3 months. Bake the frozen lava cakes at 410 degrees Fahrenheit for 11 minutes.
Watch here for Chocolate lava cake VIDEO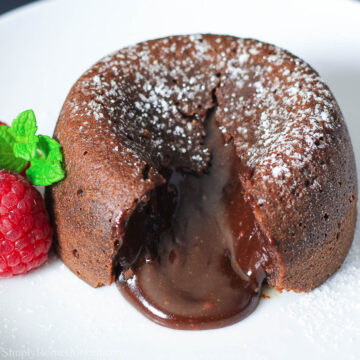 Chocolate Lava Cake
Decadent molten chocolate lava cake that goes perfectly with a scoop of ice cream.
Print
Pin
Rate
Instructions
Preheat your oven to 410 degrees Fahrenheit. Over a double boiler, melt butter and chocolate chips. Keep stirring until it reaches a smooth silky consistency. Tip: make sure the bottom of your glass bowl does not touch the hot water of your double boiler. You only need the steam to gently melt the butter and chocolate.

In a separate bowl, lightly beat the eggs and egg yolk. Then mix in the powdered sugar, vanilla, and melted chocolate. Sift the flour with a fine-mesh strainer and whisk it into the chocolate mixture.

Spray each ramekin with nonstick spray and fill with the batter. Make sure NOT to fill each one all the way to the top. I used 4 oz ramekins.

Place each filled ramekins on a baking sheet and bake for 8 minutes. Tip: you can fill the ramekins in advance then cover them with plastic wrap and keep them in the fridge until ready to bake. If you refrigerate your lava cakes, bake them for about 10-12 minutes.

Once they're done, immediately flip them over onto a plate using a kitchen towel. Or you can always eat them straight out of the ramekin if you prefer not to flip them. Serve warm with berries or ice cream.
Nutrition
Calories:
420
kcal
|
Carbohydrates:
48
g
|
Protein:
7
g
|
Fat:
21
g
|
Saturated Fat:
11
g
|
Cholesterol:
101
mg
|
Sodium:
35
mg
|
Potassium:
315
mg
|
Fiber:
4
g
|
Sugar:
30
g
|
Vitamin A:
165
IU
|
Calcium:
46
mg
|
Iron:
4.1
mg