Homemade Kiev Cake Recipe with rum Infused Buttercream is the dessert of your dreams. A classic Slavic dessert that combines rum infused buttercream, chocolate, and hazelnuts will make your taste buds scream with happiness.
If you love traditional European Cakes, you should definitely try my chocolate honey cake (Spartak)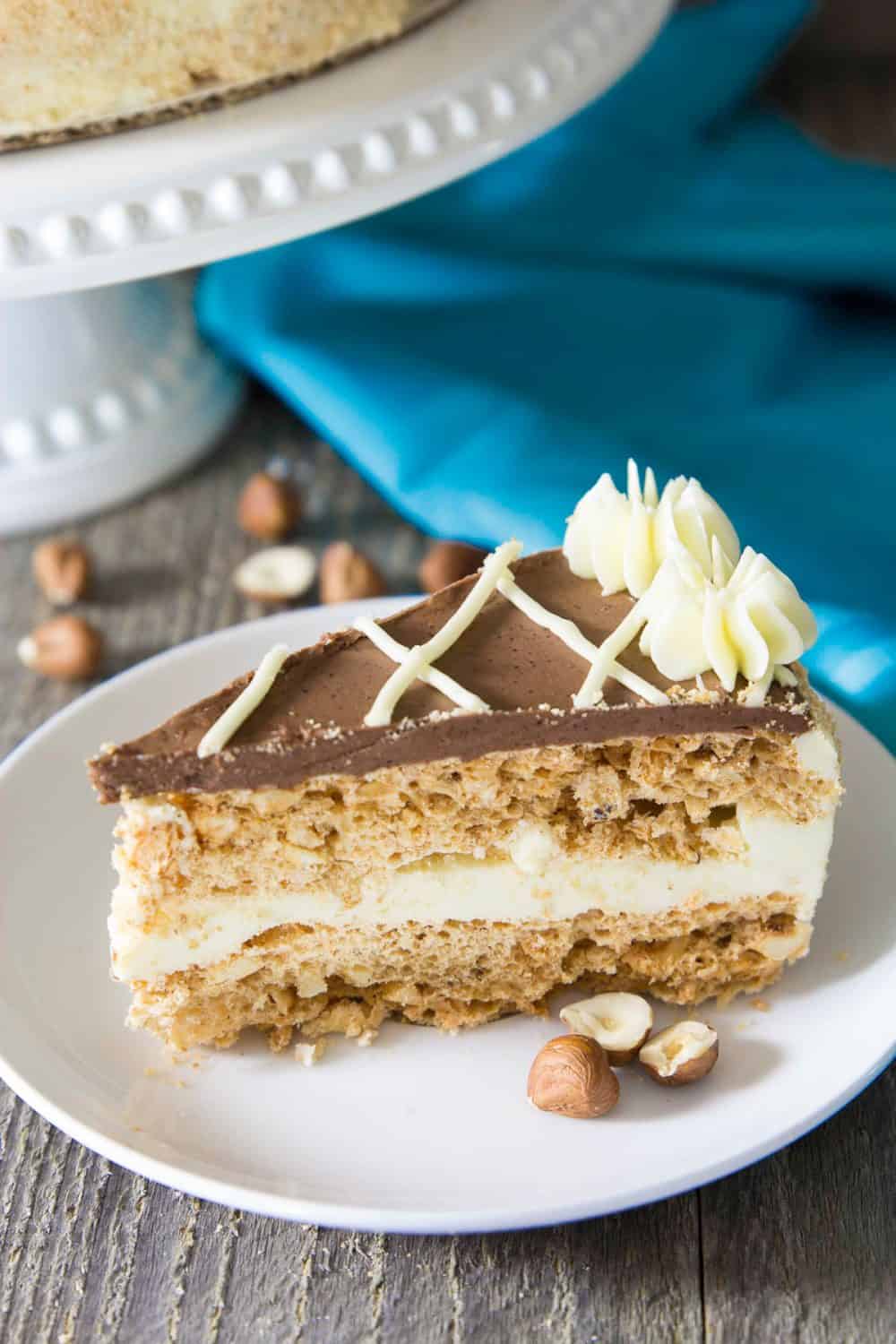 This recipe was originally posted March 16, 2016. We've tweaked it a bit since then. This post may contain affiliate links. Read my disclosure policy here.
Homemade Kiev Cake Recipe with Infused Buttercream
Kiev cake is perhaps one of the most well known Slavic cakes. It is made with layers of crunchy hazelnut meringue (made with a little bit of flour) and rum-infused buttercream (a little different from regular buttercream). The original Kiev cake uses cashews instead of hazelnuts though.
This is my mother's tried and tested recipe. Since I grew up in the states so I've never actually tasted a real Kiev cake. Our local European store sells Kieve cakes made by the Roshen company. My father grew up in Kiev and he told me my mother's cake is very similar to the Kiev cake he used to eat in his childhood.
Fortunately, I too have been able to taste Roshen's cake at our local European store. I've seen many Kiev cake recipes with layers of Russian sponge cake, but I prefer to make it the more traditional way. I happen to love meringue and hazelnuts, so the more the merrier 🙂
Ingredients for the Kiev Cake:
wheat flour
granulated sugar
toasted hazelnuts
whole eggs and egg whites
milk
butter
cocoa powder
rum or cognac
cream of tartar
vanilla extract
Directions for making a Kiev Cake with Infused Buttercream
Prepare your baking circles using baking pans and set aside for later.
Combine ingredients as shown in printable option below to build the cake layer.
Use a stand mixer for convenience to beat eggs until frothy as directed.
Fold in egg and flour mixtures gently using a spatula carefully not overwhip the eggs.
Layer and cook the meringue layer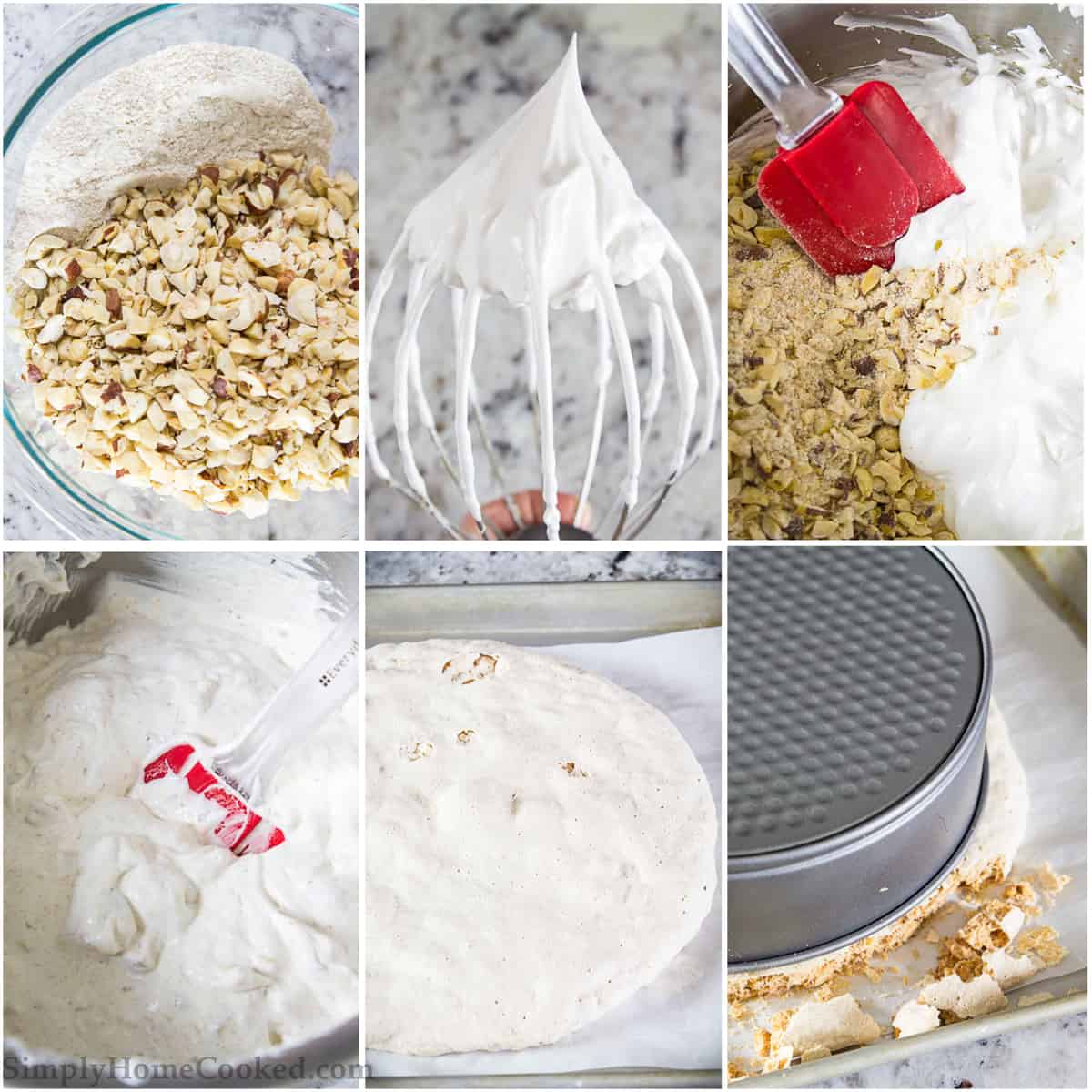 Create and bake the cake batter as directed
Infuse the buttercream with your choice of rum or cognac
Create the cake layers as directed and top with chocolate buttercream. You may ice or decorate the cake as shown in my images, or as you prefer.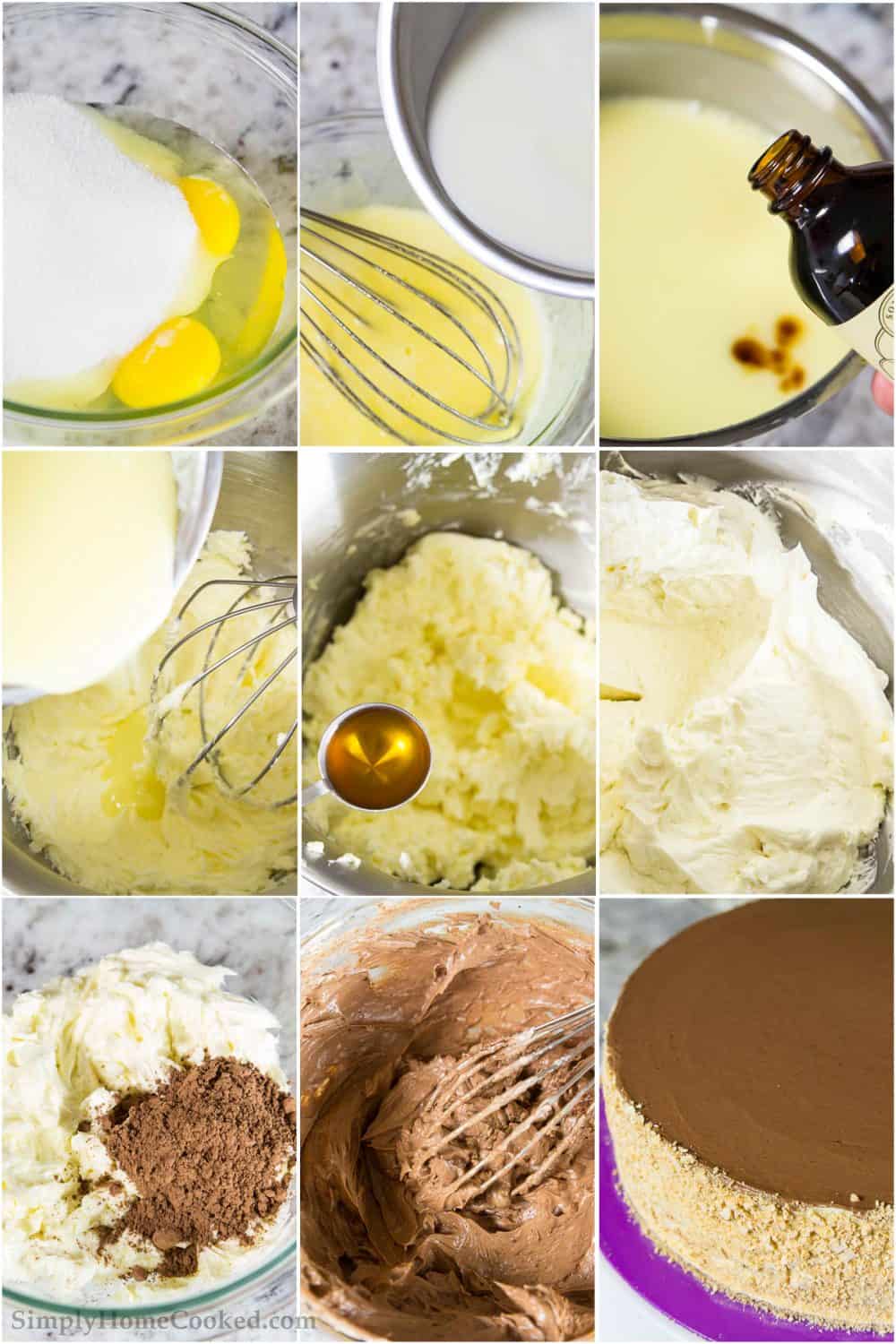 Top the cake with the deliciously rich chocolate buttercream base
More Delicious Homemade Desserts
While I love the flavors of this homemade kiev cake with rum infused buttercream, it can be a bit rich for every day. Below I am sharing even more of our best homemade dessert recipes for you to create at home. Enjoy these with your family!
Printable Kiev Cake Directions
Below you can print the Kiev Cake directions and full ingredient list for your convenience.
Full Recipe Instructions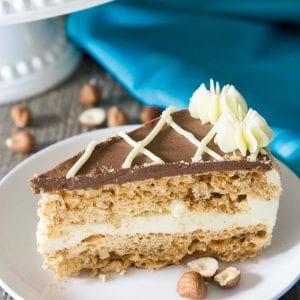 Kiev Cake
Homemade Kiev Cake Recipe with Infused Buttercream is the dessert of your dreams. A classic Slavic dessert that combines flavors in one rich dessert!
Print
Pin
Rate
Instructions
Trace a 9 inch circle on 2 sheets of parchment paper. Set aside for later use.

In a bowl combine wheat flour with 1/3 cup sugar. Then add the chopped hazel nuts and mix to combine.

In the bowl of a stand mixer, beat the egg whites on high speed until foamy,

Add the cream of tartar and beat until soft peaks begin to form. Add the sugar and vanilla and beat until stiff peaks form.

Gently fold in the hazel nut and flour mixture into the egg whites.

Dab 5 dots of the meringue onto each baking sheet. Lay the prepared parchment paper on top (traced side down). This will help hold the parchment in place.

Split the hazelnut meringue amongst the 2 (9 inch) circles. Try to spread within the lines as bet as possible. Bake at 300 degrees Fahrenheit for 10 minutes then drop the temperature to 220 degrees Fahrenheit, bake for another 3 hours and 45 minutes.

Let the meringue cool completely. Place a 9 inch round pan on top and cut around the edges. Do this to both cakes. Reserve the outside edge that's been cut; you will need it to coat the sides of the finished cake.

In a bowl lightly beat 2 eggs with 1 1/4 cup sugar.

In a sauce pan, bring the milk to a simmer (not a boil). Slowly pour it into the eggs and sugar making sure to stir constantly.

Pour the egg and milk mixture back into the saucepan and continue stirring over medium low heat until it becomes yellow and thickened. This may take up to 10-15 minutes.

Remove the saucepan from heat and add the vanilla extract. Stir to combine. Let it cool to room temperature.

Beat the room temperature butter in a stand mixer using the whisk attachment.

Pour in the cooled egg mixture while continuing to mix. Then add the rum.

Reserve 1 1/2 cups of the butter cream. Combine it with 1/4 cup cocoa powder.

Spread the white buttercream on top of the first meringue layer. Don't use up all of the white butter cream; reserve about 1/3 cup for decorating.

Place the second meringue layer on top of the buttercream. Then spread enough buttercream to thinly coat the sides of the cake.

Spread the chocolate buttercream on the top portion of the cake.

Coat the sides of the cake with the left over meringue crumbles. From here, decorate the cake as you wish.
Nutrition
Calories:
425
kcal
|
Carbohydrates:
70
g
|
Protein:
8
g
|
Fat:
13
g
|
Saturated Fat:
1
g
|
Cholesterol:
35
mg
|
Sodium:
66
mg
|
Potassium:
255
mg
|
Fiber:
2
g
|
Sugar:
63
g
|
Vitamin A:
85
IU
|
Vitamin C:
1.2
mg
|
Calcium:
57
mg
|
Iron:
1.5
mg