These lemon cupcakes with raspberry buttercream are the ultimate treat for any cupcake fan! The sweet fluffy lemon cupcakes pair all too well with the best raspberry buttercream.
We also love putting cream cheese frosting on our cupcakes, especially our pumpkin spice cupcakes!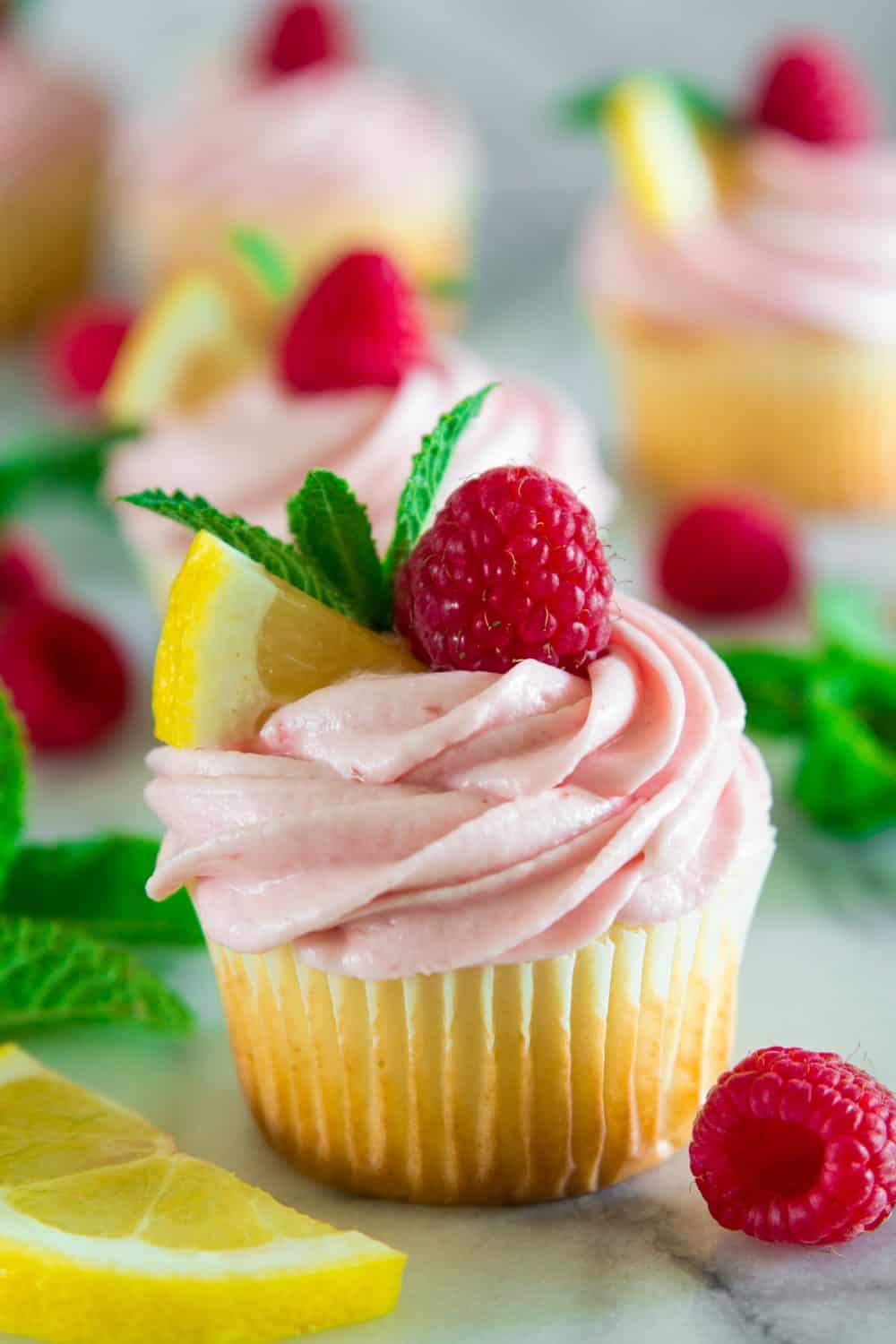 This post may contain affiliate links. Read my disclosure policy here. This recipe was originally posted on Jul 14, 2017, we've tweaked it a bit since then..
Cupcakes are a sweet treat loved by many. Whether it's your weakness or your child's; some treats are truly hard to resist, especially these lemon cupcakes with real raspberry buttercream. The lemony cupcakes are sour cream based which give them an irresistibly fluffy texture. These lemon cupcakes alone are scrumptious enough, but the raspberry buttercream makes this recipe top notch. Every bite is pure bliss!
There is something about raspberry desserts that just scream summertime. When raspberries are abundant in the summer, raspberry cream cheese danish, honey raspberry cake, and fresh raspberry sauce are always on repeat in our kitchen.
How to make lemon cupcakes
Combine butter and sugar in the bowl of your stand mixer using the paddle attachment.
Then add the eggs, lemon zest, and lemon juice. Now add in the sour cream, milk, and vanilla.
For the dry ingredients- mix the flour, baking powder, baking soda, corn starch, and salt. Then sift it into the lemon cupcake batter.
Now place cupcake liners into a muffin tin and pour the lemon cupcake batter amongst 12 cupcake liners. Bake the lemon cupcakes for 20 minutes at 350 degrees Fahrenheit.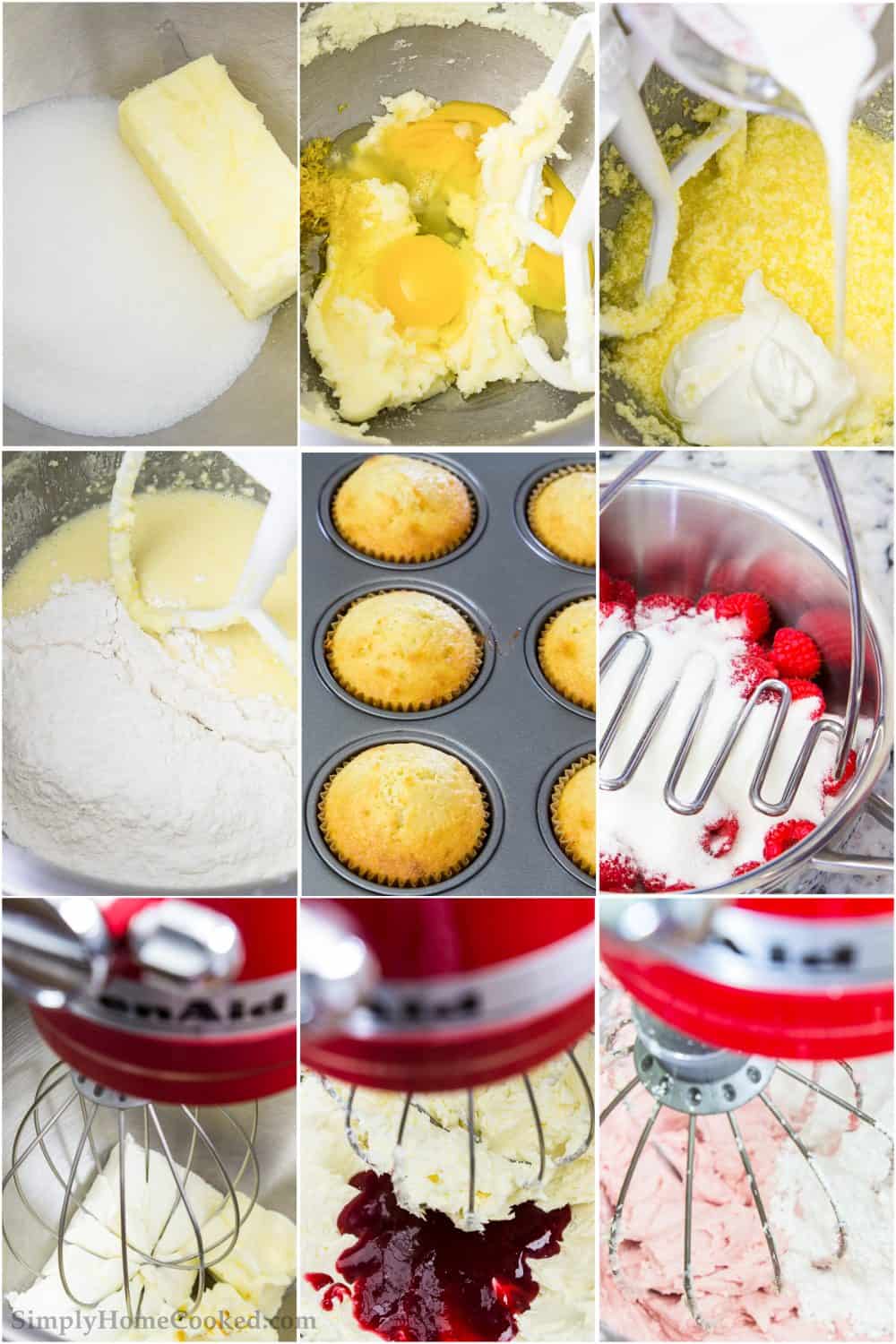 How to make raspberry buttercream
Combine the fresh raspberries and sugar into a saucepan and mash it using a potato masher. Then bring it to a simmer and let it thicken. Let it cool and strain it through a mesh sieve.
Now beat the softened butter and cream cheese first, then add the strained raspberry sauce, and vanilla until the raspberry buttercream has a smooth consistency.
Then add the powdered sugar and continue to beat on low and slowly bump up the speed to high.
How to decorate lemon cupcakes with raspberry buttercream
You can literally smother the raspberry buttercream onto the lemon cupcakes using a spoon if you'd like. No shame in that!
Or you can fill a disposable piping bag with the raspberry buttercream and pipe it in a circular motion using a Wilton 2D tip.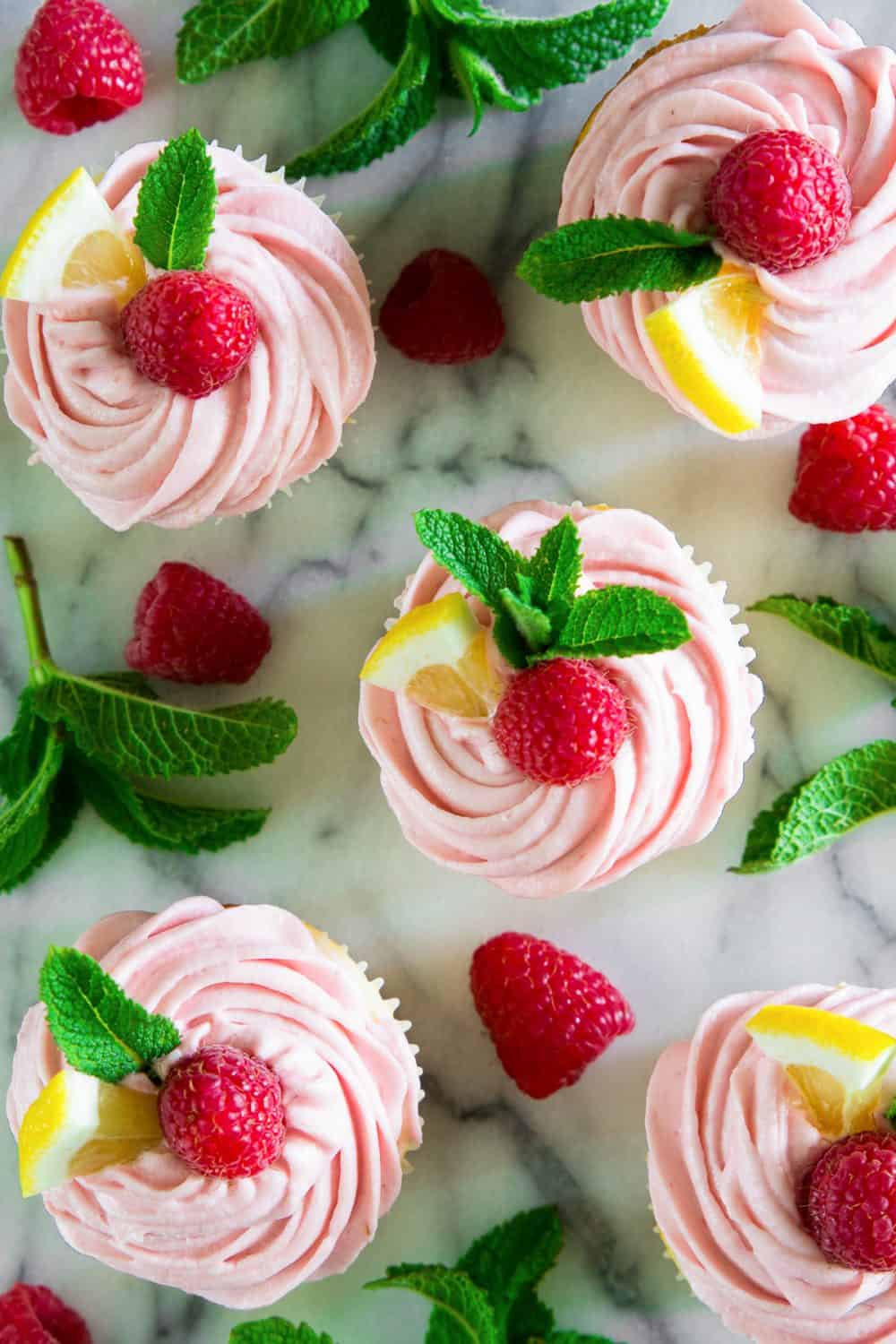 How to thicken buttercream
The best way to thicken up raspberry buttercream or any buttercream is to add powdered sugar. Add a little at a time and watch for consistency to determine if the buttercream needs more thickening.
Sometimes refrigerating the raspberry buttercream will thicken it enough to frost a cake or cupcake properly.
Full Recipe Instructions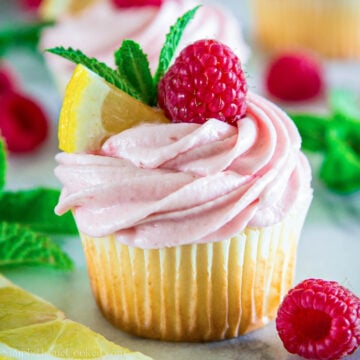 Lemon Raspberry Cupcakes
The best Lemon Raspberry Cupcakes made from fresh raspberries. A delightful summer cupcake recipe that everyone will love.
Print
Pin
Rate
Ingredients
For the raspberry buttercream
Instructions
In the bowl of a stand mixer, combine butter and sugar using the paddle attachment.

Add the eggs, lemon zest, and lemon juice. Beat on medium speed until well incorporated.

Then add the sour cream, milk, and vanilla extract. Mix on medium speed.

In a bowl, combine flour, baking powder, baking soda, cornstarch, and salt

Combine the flour mixture into the rest of the batter. Careful not to over-mix.

Distribute the batter amongst 1 muffin tin (12 muffins) lined with cupcake liners. Bake at 350 degrees Fahrenheit for about 20 minutes or until a toothpick comes out clean when inserted into the cupcake.

Meanwhile, begin making the raspberry buttercream by mashing 12 oz raspberries and 3/4 cup sugar in a small saucepan.

Bring the raspberry and sugar mixture over medium-high heat until it comes to a simmer. Keep it over heat until it begins to thicken (about 15 minutes).

Strain the raspberry mixture through a mesh strainer. Let the mixture cool completely or refrigerate to speed up the cooling. You DO NOT want it to be warm at all. Having it even the slightest bit warm can make your buttercream too runny.

In the bowl of a stand mixture, combine the softened butter and cream cheese using the whisk attachment.

Add 1/2 cup of the cooled raspberry mixture and 1 tsp vanilla extract into the buttercream while mixing on medium-high speed. Ps: Don't throw away the leftover raspberry mixture. Use it as syrup on your pancakes or waffles!

Lastly, add in the powdered sugar and beat until well incorporated.

Using a decorating tip of your choice (I used Wilton 1M piping tip), pipe out the raspberry buttercream onto each cooled cupcake. Note: if your buttercream ended up a little runny due to warm ingredients, place it in the refrigerator for about 1 hour. This should help thicken the consistency. You can also add a little extra powdered sugar to thicken it up as well.
Nutrition
Calories:
442
kcal
|
Carbohydrates:
59
g
|
Protein:
3
g
|
Fat:
22
g
|
Saturated Fat:
13
g
|
Cholesterol:
83
mg
|
Sodium:
265
mg
|
Potassium:
143
mg
|
Fiber:
2
g
|
Sugar:
46
g
|
Vitamin A:
710
IU
|
Vitamin C:
8
mg
|
Calcium:
58
mg
|
Iron:
1
mg