Hands down the best blueberry pie recipe that's made with a flakey homemade pie crust and fresh summer blueberries. It will become your favorite pie recipe!
Take advantage of blueberry season and make my blueberry pie filling and can it for later. That way you can have a delicious pie, blueberry crepe, or dessert year-round.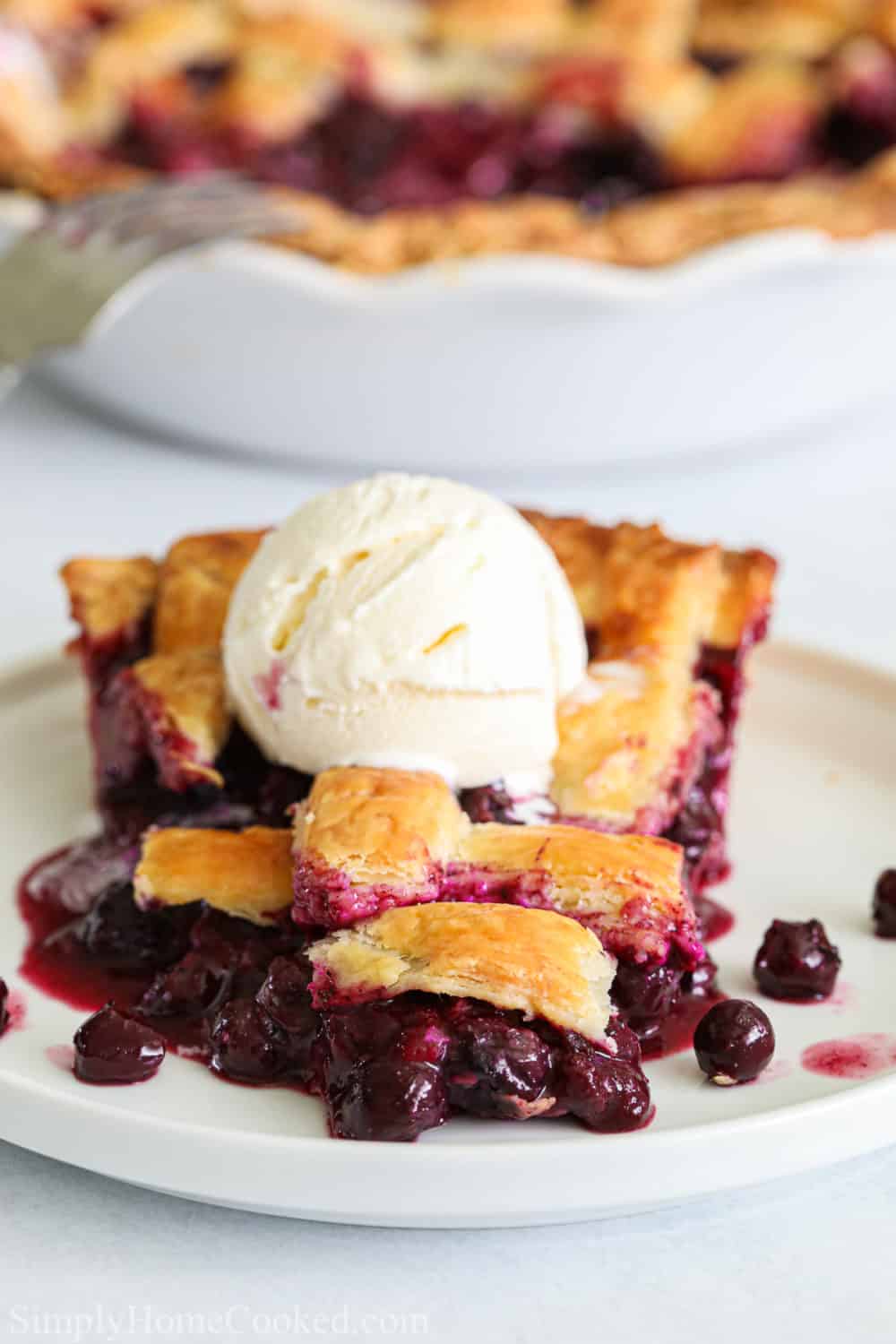 Ingredients for pie
For the dough: you'll need basic ingredients like flour, sugar, salt, butter, and buttermilk
For the filling: you will need blueberries, cinnamon, salt, sugar, and cornstarch.
How to make blueberry pie
Start off by combining your blueberries with cinnamon, salt, brown sugar, white sugar, cornstarch, vanilla extract, and lemon juice. Give it a good thorough mix and set it aside.
Now take out your chilled pie dough and place it onto a floured surface. Then roll it out with a rolling pin. You'll want to roll it out to about 14 inches in diameter. Now place the dough into your pie pan.
Fill the pie with the blueberry filling and begin rolling your second piece of dough out to about 13 inches.
At this point, you can place a few pieces of butter on top of the blueberry pie and add the second piece of pie crust on top. If you want to make your pie with a lattice pattern on top, follow my lattice pie video tutorial.
Now brush the pie with egg wash and bake at 370 degrees Fahrenheit for 50 minutes. I like to use a pie crust shield during baking to prevent the pie edges from browning too much.
Can you make blueberry pie with frozen blueberries?
Yes! The beauty of blueberry pie is that you can make it year-round. Even if it isn't blueberry season and you cant get fresh blueberries, most stores carry frozen blueberries.
However, you want the blueberries to remain frozen until you are ready to use them in the recipe. Otherwise, they can bleed there color and there moisture content may be off. This can cause your pie to become soggy.
How to store pie
You can store a blueberry pie in the fridge for up to 5 days. Just make sure it is covered with foil or plastic wrap. However, you can also freeze the pie.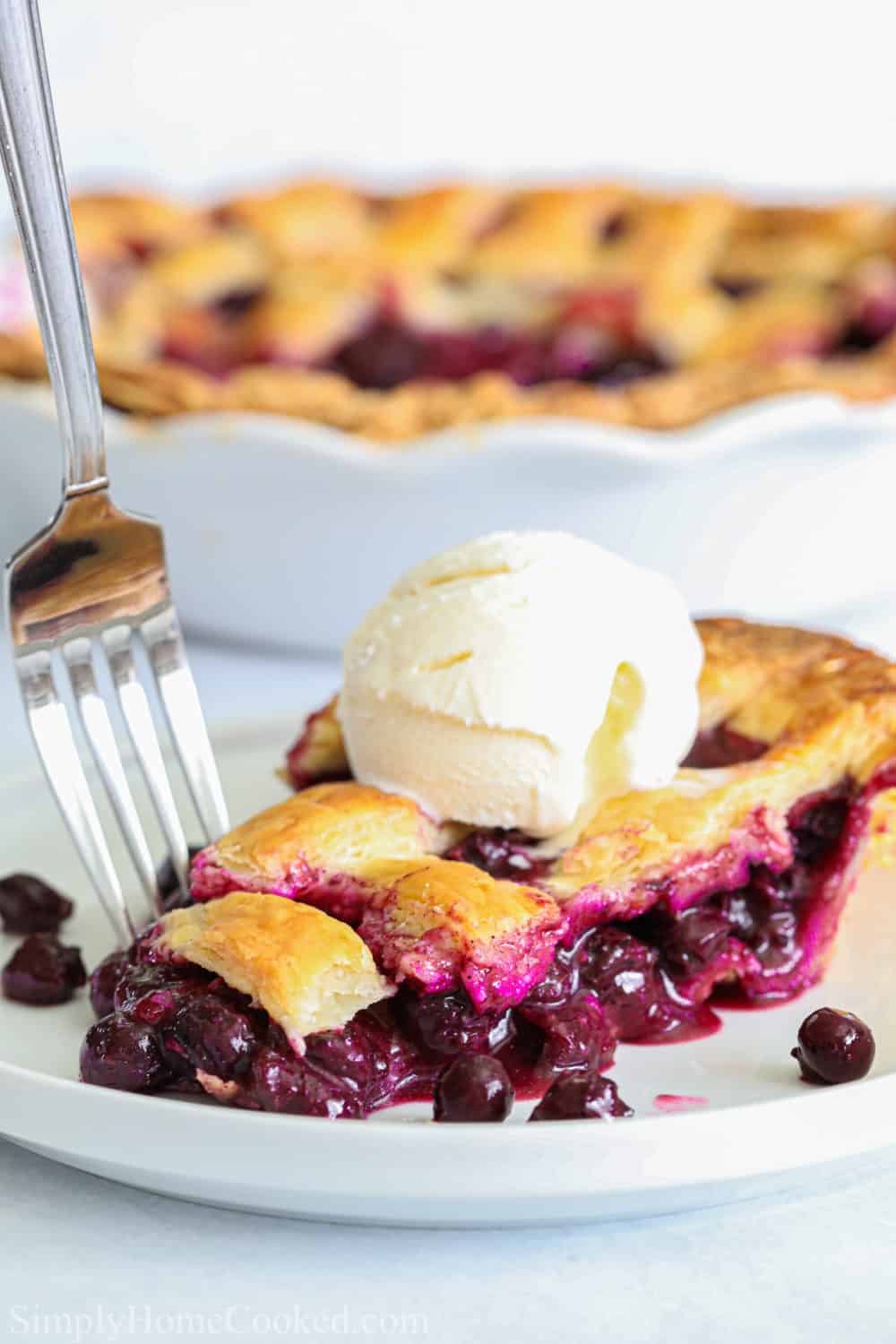 Can you freeze a blueberry pie?
Yes, homemade pie can definitely be frozen. To freeze a pie, tightly wrap the entire pie with plastic wrap, then again with foil. You can keep the pie frozen for up to 4 months.
Why is my blueberry pie soupy?
Almost all fruit pies can become runny because baking fruit draws out its juices. You can prevent a pie from becoming too runny by adding flour or cornstarch in the fruit prior to baking. Keep in mind, adding too much of these thickening agents can cause the filling to obtain a starchy texture. Which does not feel all too well on the palate.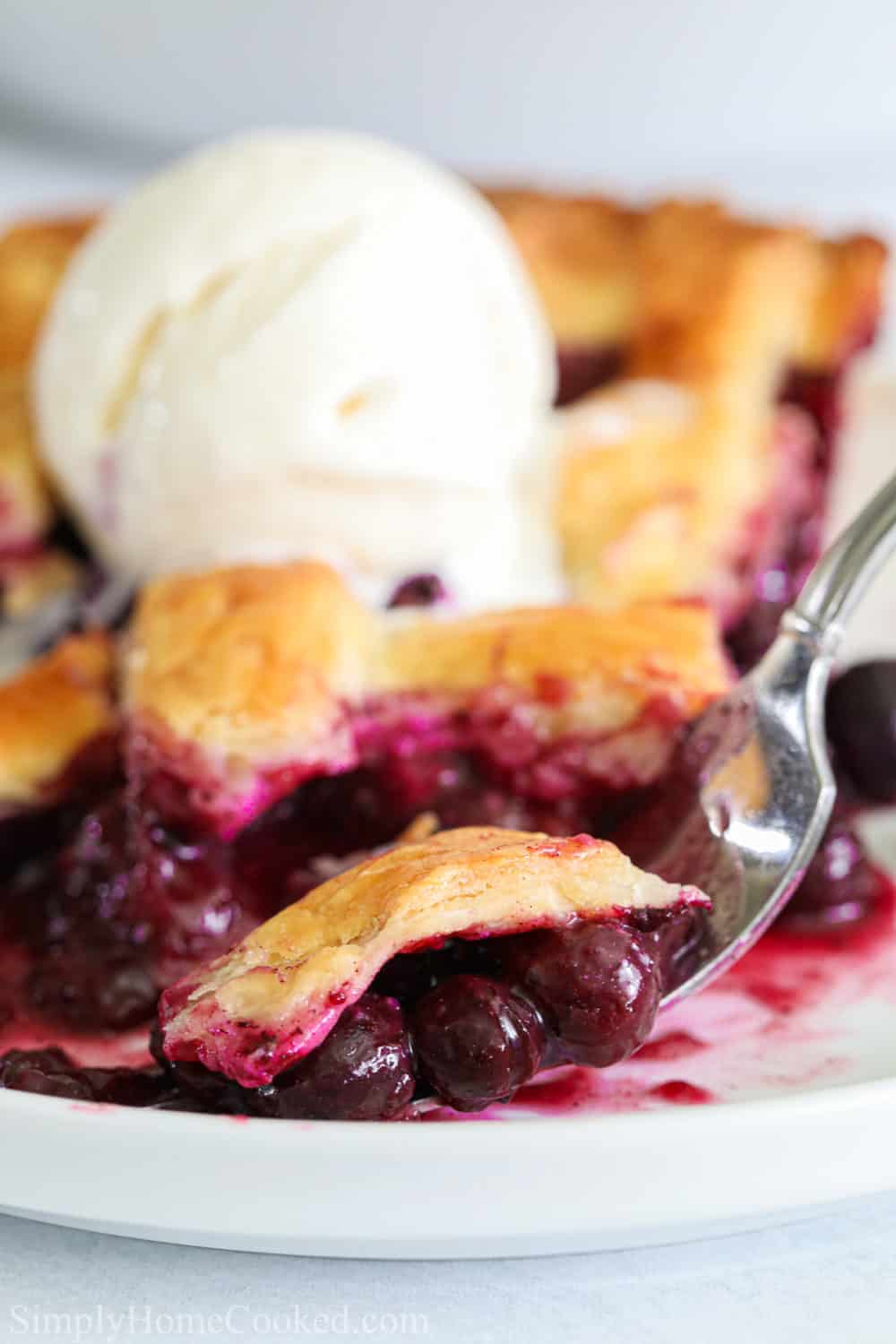 Can't get enough of blueberry recipes!? Then here is a list just for you
Want a different pie filling and just want a pie dough recipe, then try this homemade pie crust recipe.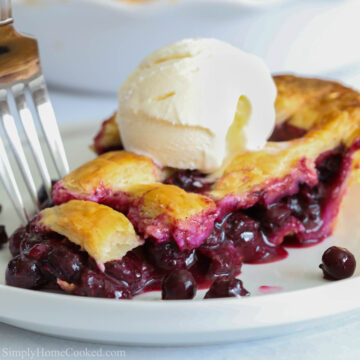 Blueberry Pie Recipe
Hands down the best blueberry pie recipe that's made with a flakey homemade pie crust and fresh summer blueberries. It will become your favorite pie recipe!
Print
Pin
Rate
Instructions
In a food processor add 2 1/2 cups of all-purpose flour, 2 tablespoons granulated sugar, 1/2 tsp of salt, and 1 1/4 cup of cold unsalted butter. Pulse on high speed until butter becomes the size of a pea.

Place the dough ingredients into a large bowl and pour 1/2 cup of buttermilk in. Then mix it all together.

Form the don't into a bowl and divide it into two equal pieces. Then shape each piece of dough into a disk and cover with plastic wrap. Refrigerate for about 30 minutes to 1 hour.

While the dough is in the refrigerator begin making the blueberry pie filling. In a large bowl add 5 cups of blueberries, 1 1/2 tsp cinnamon, 1/2 tsp salt, 1/2 cup brown sugar, 1/4 cup granulated sugar, and 4 tbsp cornstarch. Roughly the dry ingredients, then add 1 tsp vanilla and 1 tbsp lemon juice. Mix again.

Take out 1 of the dough pieces and place it on a floured surface. Using a rolling pin roll it out to about 13 to 14 inches in diameter.

Then place the dough into a 9-inch pie dish and place the blueberry filling inside. Then evenly place 1 tbsp of unsalted cubed butter on top.

Now roll out the second piece of dough to about 13 inches in diameter and slice out 12 (3/4 incstrips using a pastry wheel.

Place 6 strips evenly spaced on top of the pie dish vertically from you. Then pull back the odd numbers (1,3,5) now lay 1 strip of Dough across. Placed the odd strips back. Now peel back the even numbers (2,4,6) and Place another strip of dough across. Continue doing this with the odd and even numbers until all remaining strips of dough are put on.

Then trim the edges of the pie with a sharp knife.

Now brush the pie with egg wash and bake at 370° Fahrenheit for about 50 minutes.
Nutrition
Calories:
575
kcal
|
Carbohydrates:
68
g
|
Protein:
6
g
|
Fat:
32
g
|
Saturated Fat:
20
g
|
Cholesterol:
102
mg
|
Sodium:
324
mg
|
Potassium:
153
mg
|
Fiber:
3
g
|
Sugar:
31
g
|
Vitamin A:
1025
IU
|
Vitamin C:
8
mg
|
Calcium:
55
mg
|
Iron:
2
mg