This Easy Cheese Danish Pastry is sweet, creamy, and flaky. Not only is it easy to make, but it also goes great with your morning coffee or as an after-dinner dessert.
If you love homemade danishes, you should try making our danish pastry dough and easy raspberry danish.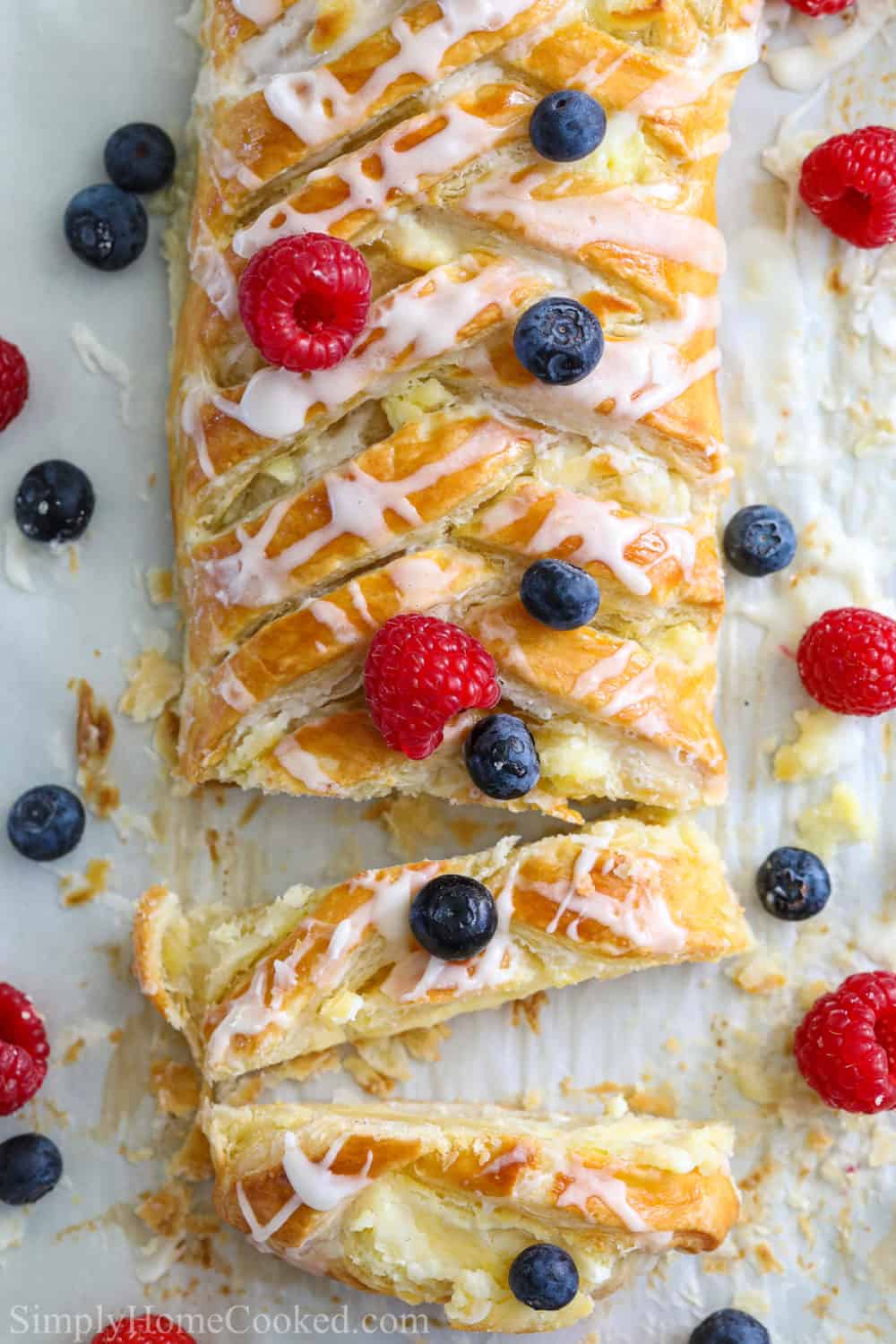 Easy Cheese Danish
Cheese danishes look so pretty but are a lot easier to make than people think. And they make a really great dessert, breakfast, or snack. Flaky puff pastry, smooth cream cheesy center, and sweet icing drizzled on top – these danishes are amazing. You can also change things up and make minis, like these mini cherry cheese danish, or with another filling, like this almond danish recipe. This easy cheese danish recipe is great the way it is, but you can make it your own with a few variations and tweaks to fit your preferences. You can even make your own homemade danish dough instead of using store-bought. Experiment and enjoy!
What type of filling is used in a danish pastry?
The filling used in this cheese danish is made of cream cheese, granulated sugar, vanilla extract, egg yolk, and lemon zest. The mixture is blended until it is smooth and creamy, with a cheesy flavor that is both sweet and with a hint of tang.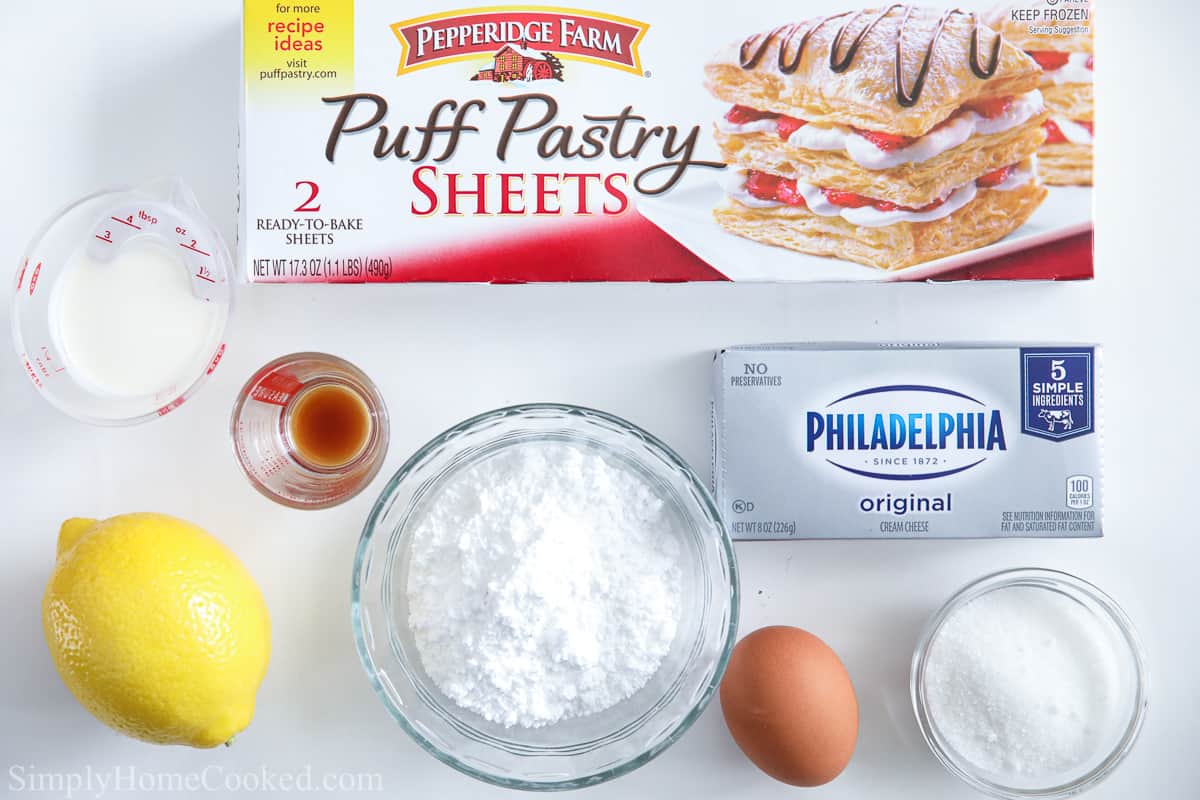 Filling variations
This cheese danish pastry is delicious, but also very versatile. You can try it with fruit fillings, chocolate, and even make a savory danish. Here are a few tasty suggestions:
Blueberry and cream cheese
Raspberry jam and cream cheese
Strawberry jam, cream cheese, and lime zest
Chocolate and Nutella
Bacon, maple syrup, and cream cheese
How to make a braided cheese danish
Make the cream cheese filling. In a large bowl, combine the softened cream cheese, sugar, egg yolk, vanilla extract, and lemon zest. (Make sure that you only use the yellow part of the rind because the white tastes bitter.) Blend on high speed with an electric mixer until smooth.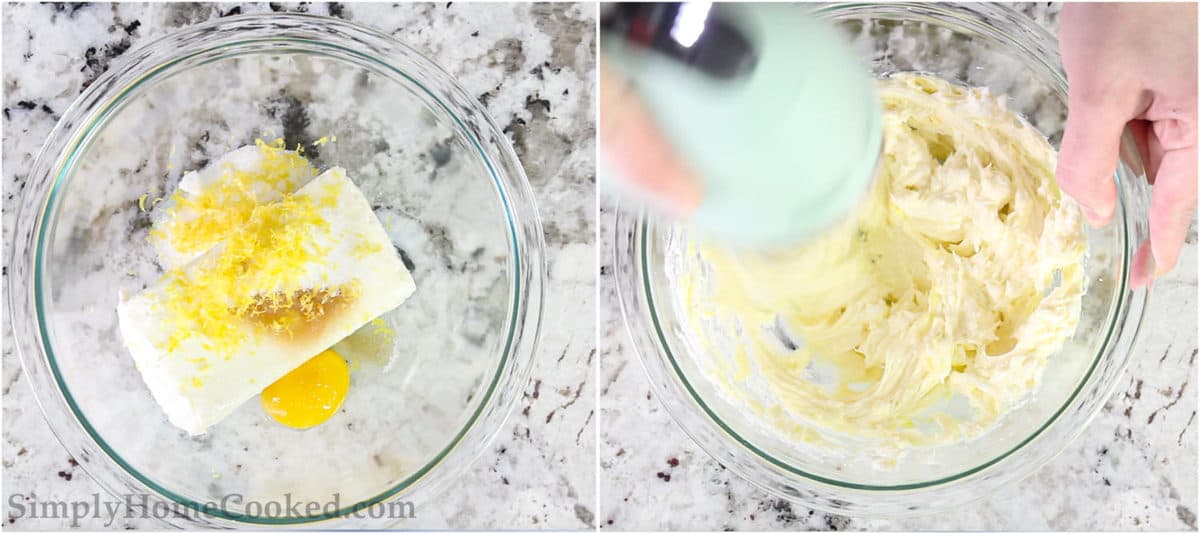 Roll out puff pastry. On a lightly floured surface, roll out each sheet of thawed puff pastry until it measures 9×11 inches.
Cut each sheet. Using kitchen shears, cut off the two top corners of each sheet (set aside) and then cut 9-10 slits into each side, stopping about 1/3 of the way in from the edge. Cut off the two remaining flaps at the bottom (set aside).
Put the filling into the danish. Split the filling between the danishes, placing it in the center.
Braid the cheese danish. Starting at the top, cross the strips over each other, alternating left and right. When you get to the last two strips, just fold up the bottom flap and cross those last two strips over it. Place the danishes gently on a baking sheet lined with parchment paper.
Make the egg wash. In a small dish, combine the egg and 1 tsp. of water, mix, and brush over the tops of the danishes with a pastry brush.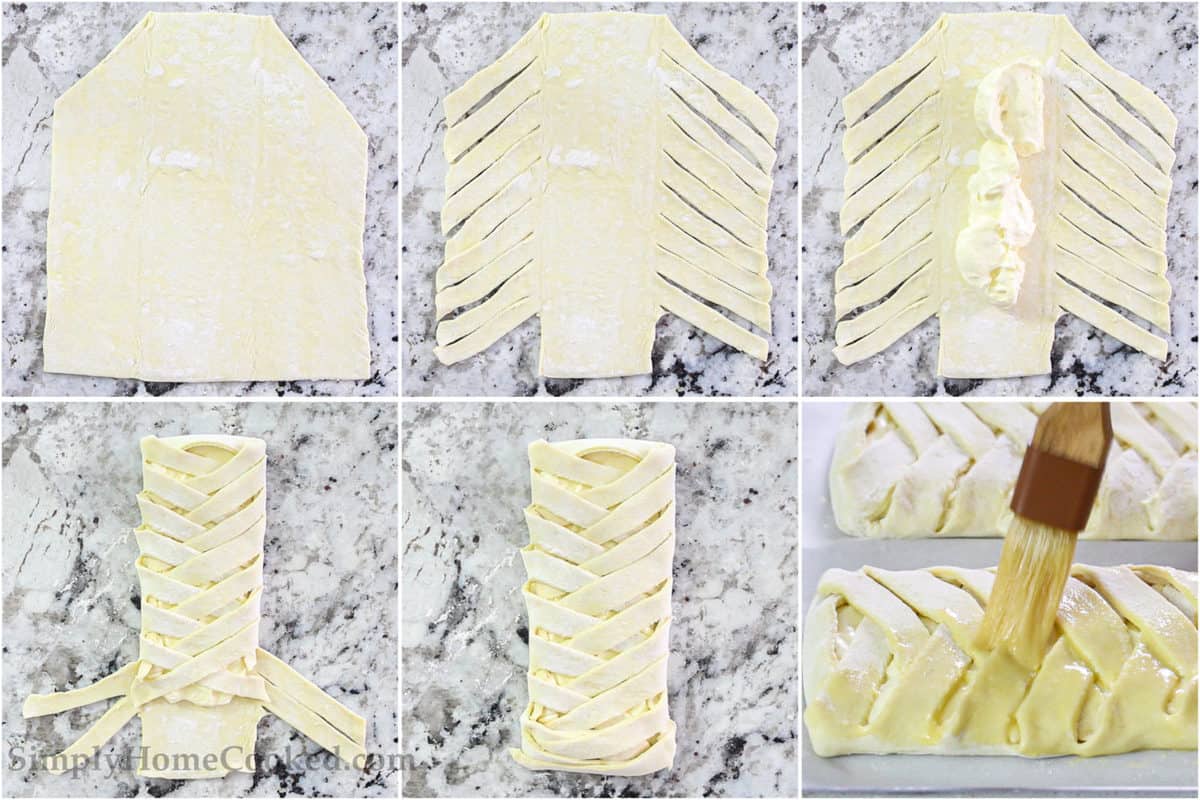 Bake. Place the danishes in the oven and bake at 400 degrees Fahrenheit for 20-25 minutes, until golden brown. Then, remove them from the oven and allow them to cool to room temperature.
Make the icing. Combine powdered sugar with heavy cream and then drizzle the icing over the cooled danish. Serve these danishes on their own or alongside other delicious desserts, like this Napoleon cake vanilla custard (VIDEO) with Chantilly cream on top.
Tips to perfect a danish braid
Thawed puff pastry- Make sure the puff pastry is thoroughly thawed so it is malleable and easily folded.
Plan the strips before cutting- Pre-make the indents in the puff pastry so there are enough strips and they are all the same width and even.
Use kitchen shears- For strips with smooth edges, use kitchen shears so the lines of the strips are clean and not ragged.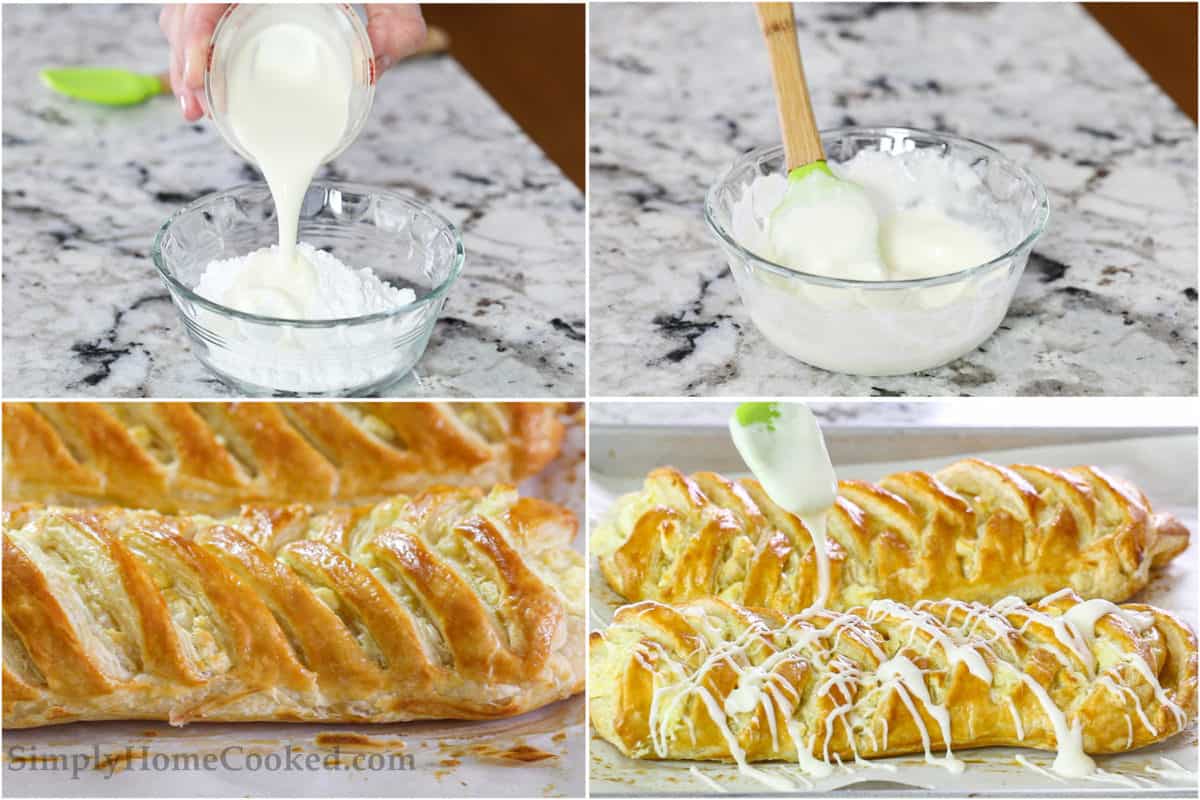 How do you store a cheese danish?
The best way to store a cheese danish pastry is by wrapping it in plastic wrap or aluminum foil and keeping it in the refrigerator. This will keep it fresh and from drying out.
How long will it keep?
Cheese danishes will last in the refrigerator for up to 7 days. If you keep them wrapped and at room temperature, they will only stay fresh for 1-2 days.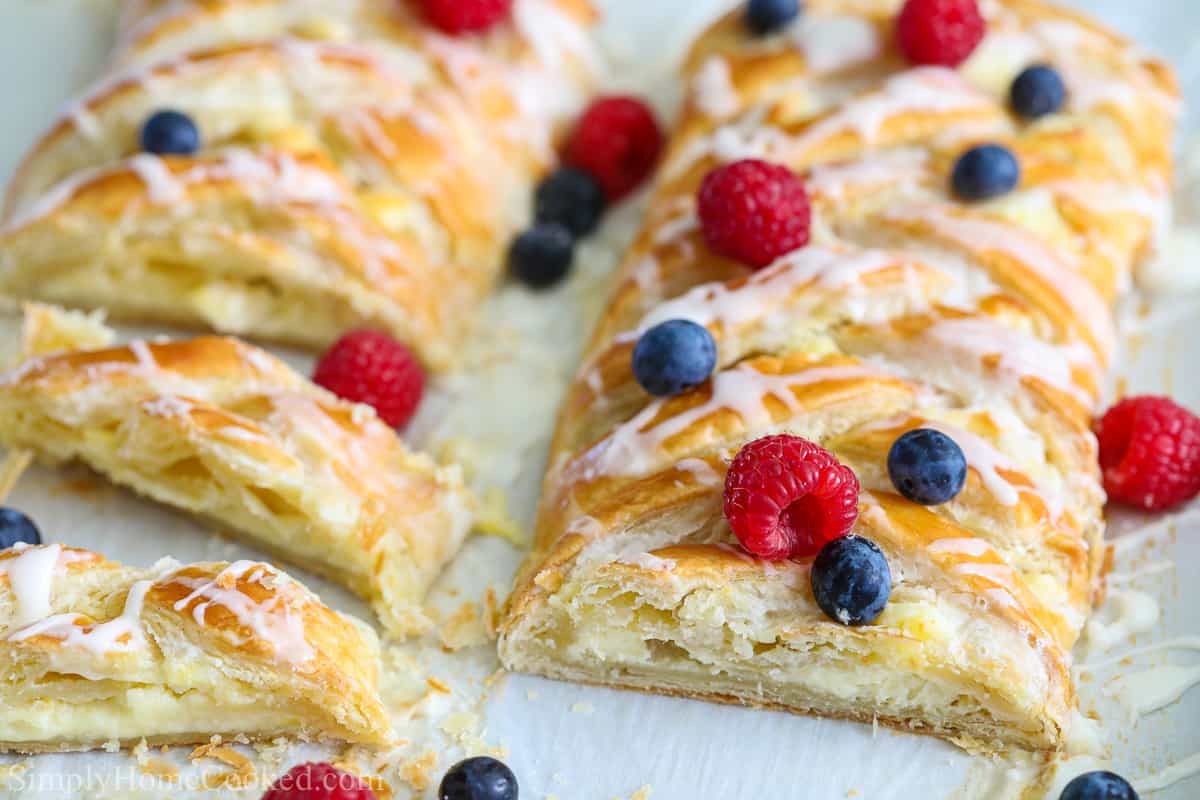 Can I freeze it for later?
Yes, you can freeze these danishes. Once they have cooled completely, wrap them in foil or plastic wrap and place them in a ziplock freezer bag. They will keep in the freezer for about 2 months.
What to do with leftover puff pastry scraps
Bake them! Don't waste the cut-off scraps of your puff pastry. Just bake them on the same baking sheet as the cheese danishes. When they cool enough, you can spread some Nutella or jam on them. Yum!
Watch how to make this danish pastry here
Full Recipe Instructions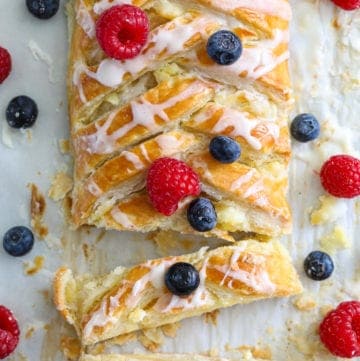 Cheese Danish
This Easy Cheese Danish Pastry is so flaky and creamy. You'll love the sweet tanginess of the filling and the delicious crust drizzled with icing.
Print
Pin
Rate
Instructions
Make the cream cheese filling
In a large bowl add 8 oz of softened cream cheese, 1/4 cup of granulated sugar, 1 large egg yolk, 1/4 tsp of vanilla extract and the zest of 1 lemon. Make sure to only use the yellow part and avoid the white rind since its very bitter.

Alright now that you have all your filling ingredients in the bowl, beat it on high speed using an electric hand mixer until the filling is smooth and creamy.
Roll out the puff pastry and cut out strips
Now set that aside and lightly flour your work surface. Then unfold 1 lb package of thawed puff pastry and begin rolling out each sheet of puff pastry lengthwise about 2 inches. so that they measure (9x11 inches).

Now cut off the top 2 corners of the puff pastry. And set them aside. Don't toss them. Bake those along with the danish and eat them with some jam or Nutella.

Take your kitchen shears and begin making slits into the dough along both sides. You'll want to make about 9-10 slits per side. See where the puff pastry is was folded into 3rds, make sure not to cut past that line.

Once you get to the last strip at the bottom you'll be left with 2 flaps, just cut those off and set them aside to bake with the other corner scraps.
Add the cheese filling
Now split your cream cheese filling among both danishes, keeping the filling contained in the middle third of the puff pastry.
Assemble the danish braid
Now fold over the top flap and begin crossing over the strips for the braid. So you'll want to just switch from right to left until you get to the last 2 strips. Fold bottom flap up and cross the last 2 strips over.

Now you want to gently transfer the danishes over to a baking sheet lined with parchment paper.
Brush with egg wash and bake
Then make your egg wash by combing 1 egg with 1 tsp of water. Give a good thorough swish then brush it over the danishes using a pastry brush.

Now place the danishes in the oven and bake them at 400 degrees Fahrenheit for about 20 to 25 minutes or until they're golden brown. Remove the cheese danishes from the oven and let them cool to room temperature.
Make the Icing
In a small bowl combine 1/2 cup of powdered sugar with 2 tbsp of heavy cream. Once the pastry has cooled to almost room temperature you can begin drizzling the glaze on top.
Notes
How long will it keep? Cheese danishes will last in the refrigerator for up to 7 days. If you keep them wrapped and at room temperature, they will only stay fresh for 1-2 days. Can I freeze it for later? Yes, you can freeze these danishes. Once they have cooled completely, wrap them in foil or plastic wrap and place them in a ziplock freezer bag. They will keep in the freezer for about 2 months
Nutrition
Calories:
463
kcal
|
Carbohydrates:
40
g
|
Protein:
6
g
|
Fat:
31
g
|
Saturated Fat:
11
g
|
Cholesterol:
31
mg
|
Sodium:
233
mg
|
Potassium:
74
mg
|
Fiber:
1
g
|
Sugar:
15
g
|
Vitamin A:
381
IU
|
Calcium:
33
mg
|
Iron:
2
mg